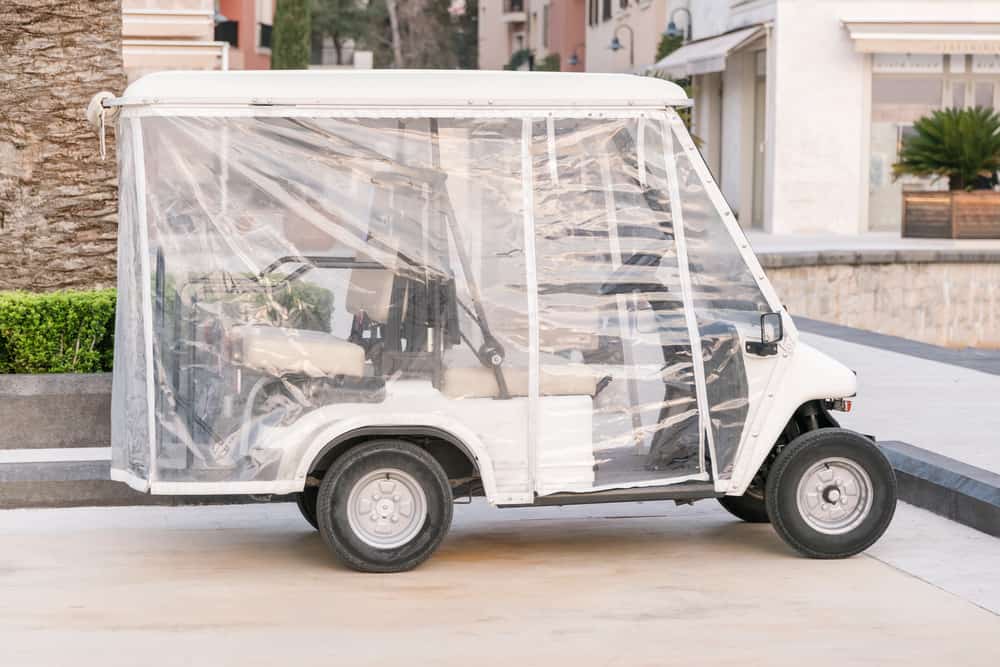 Golf cart covers are a necessity for those who can't park their cart in a garage or covered shelter.
A golf cart cover needs to be made of a fabric that can handle weather conditions and won't blow off the cart.
It is essential to cover your golf cart if you want to keep your cart in excellent condition for years to come.
Purchasing a golf cart cover is a great investment considering it can greatly prolong the life of your golf cart.
Here are ten of the best golf cart covers on the market.

Top 10 Best Golf Cart Covers (Updated 2021)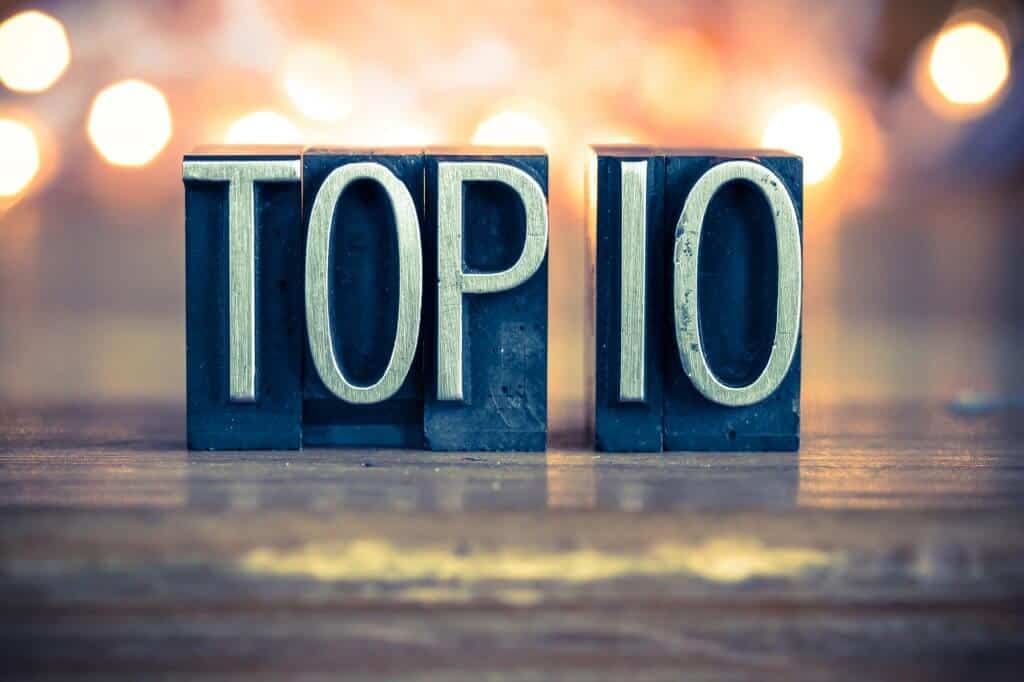 1. Explore Land 600D Waterproof Golf Cart Cover Universal Fits for Most Brand 4 Passenger Golf Cart
No products found.
Key Features
Three colors
600D Polyester
Fits four-passenger cart
The Explore Land 600D Waterproof golf cart cover is a great choice if you have a four-passenger golf cart.
This cover is designed to be a universal fit that will work on Yamaha, E-Z-Go, and Club Car models.
The Explore is made with 600D polyester fabric that is waterproof.
The waterproof feature will help to keep your cart from getting wet even during a bad rainstorm.
The cover itself is stitched with very high-quality material so that it will not pull apart in wind and rain.
Another great feature of this Explore cover is the fact that it is UV protectant as well.
If you are worried about your golf cart fading, the 600D fabric is also UV resistant and capable of keeping the cart clean and bright.
There is a zipper on this particular model which you can use to get the cart cover off and on in a matter of seconds.
Once the cover is on, there is a Velcro buckle at the bottom to ensure your cover stays on.
If you happen to be leaving your cart for an extended period, keeping the cover on is a very important feature.
This golf cart cover features two air vents, which really helps if you are storing in humid areas for a long period of time.
Without the air vent, you could have mold issues if left for a long time.
With a storage bag and a warranty, this is a great value which will check all the boxes for any golf cart owner who needs a safe and secure storage option for their golf cart.
Pros
Velcro closing
It fits a four-person cart
Waterproof fabric
Air vents
Two colors available
Cons
A bit big for a two-seater cart
2. Himal 4 Passenger 400D Waterproof Sunproof Golf cart Cover roof 80" L, fits EZ GO, Club car and Yamaha, dustproof and Durable
No products found.
Key Features
400D fabric
Waterproof
One-year warranty
If you are a golf cart owner who only occasionally leaves their cart out for the night, the Himal 4 Passenger is a great choice to consider.
This is built for a four-passenger cart and comes at a price that is considerably lower than other choices on the market.
One of the issues with the Himal is the 400D fabric which is slightly thinner than other choices on the market.
This makes it not the best option for those who are leaving the cart out for long periods of time.
Even though the 400D fabric is slightly thinner, it is still waterproof.
With the waterproof fabric, there is also adhesive tape in the stitching so that nothing seeps in and damages your golf cart.
The Himal is a windproof cover as well, so it will not blow off your golf cart when you leave your cart unattended.
When you are not using your golf cart cover, there is a storage bag provided which you can use to make sure your cover stays in great shape.
After several days of storage, you can easily wash this cover, let it dry and then store it in the bag.
If you have any issues with your golf cart cover, it does come with a one-year warranty where they will fix any issues that you should come across.
Pros
Waterproof
Has adhesive tape to let less water in
Windproof
Cons
Thinner fabric is not great for long term storage
3. 10L0L 4 Passenger Golf Cart Cover Fits EZGO, Club Car and Yamaha, 400D Waterproof
Key Features
Fits four-passenger cart
Protects against rain, snow, sun, and water
Two-sided zipper design
The 10LOL Cart Cover is built for a four-passenger cart that needs to be left out in any type of weather condition.
Whether you are protecting your cart from rain, snow, or the sun, this 10LOL model can do the trick.
One of the best features of this 10LOL design is the wind strap.
A wind strap will help to keep the cover in place for the duration of the time that you are storing it.
The 10LOL comes in three different colors, so you can definitely find something that is a good fit for your home.
Although there is a strap that helps keep the cart cover in place across the bottom, it is still recommended to use some bungee cords if your cart will be left unattended for any length of time.
Another thing we really like about the 10LOL is the venting located at each of the top corners.
When golf carts are left covered for long periods, moisture can accumulate and lead to the development of mold issues in the cart.
The cover has a rear zipper and two side zippers.
These will be important when it comes time to put the cart cover on and take it off.
If you have ever tried to get a cart cover on or off by yourself, you will certainly appreciate this feature.
Pros
Waterproof
Several zippers
Available in a few colors
Low pricing
Cons
Will blow away in windy conditions
4. Moveland Golf Cart Cover Outdoor Accessories|Waterproof Dust
Key Features
Heavy duty
Fits a six-seater golf cart
300 Denier filament
The moveland Golf Cart Cover is a great choice if you have a six-seat golf cart.
It can be a little difficult to find a golf cart cover that will fit properly on a six-seater.
The four-seater covers cannot be stretched to fit on a six-seater.
The moveland is made of top-quality filament polyester that will not shrink or be damaged by exposure to water.
Another great thing about the filament polyester is that it won't let sunlight through to damage the golf cart.
The moveland is a waterproof cover, so water will not trickle down into the covered cart.
At the bottom of the moveland, you will notice that there are grommets which allow you to lock your cover down if necessary.
If you live in a windy area, it is recommended to keep the cart cover locked down.
Another nice feature is that there is an elastic cord all the way around the bottom of the cart which will keep the fit tight around the bottom of the golf cart.
Pros
Easy to install
Elastic to tighten the bottom
Waterproof
Cons
Need additional set up for windy locations
5. HiCaptain 2/4 Passengers Waterproof Golf Cart Cover with Driver Side Opening fits EZ GO Club Car Yamaha Golf Cart
Key Features
Works for two- and four-seater
Driver side opening
Waterproof
The HiCaptain is a unique and more premium golf cart cover.
With this cover, you will be able to open the driver side and check for any issues which may have come up.
We like this when you have long-term storage and you want to check on battery health or mold which could potentially be developing.
Although the HiCaptain is supposed to be a universal fitting cover, it is important to measure before you make your final purchase.
There is an elastic hem cord around the bottom of this cover which helps to make sure the fit is custom.
The zipper and buckle help to enclose the cart completely and keep any water from getting inside.
In addition to the waterproof protection of this golf cart cover, you will also get some UV resistance.
At the top, you will notice a dual air vent which helps keep the cart cool and make sure that no mold will be created under the cover.
Overall, this is a high-quality premium cover that should last you for quite some time.
Pros
Windproof elastic hem
UV Resistant
Premium material
Cons
Priced higher than other options on the market
6. Classic Accessories Fairway Golf Cart Cover, Khaki
Key Features
Available in multiple sizes
Good protection from the sun and weather
Two-year warranty
Classic Accessories is a great name when it comes to golf cart covers.
They are very well made covers and will hold up for long periods of time.
The khaki color is going to blend in quite well with your other landscape.
This is made with a thick and high-quality fabric which helps to keep the cart protected from the sun, weather, and dirt as well.
As part of this Classic Accessories cart cover, you will also get a storage bag to keep the cover in at times.
The Classic Accessories models have been known for a long time as being some of the best on the market.
Pros
Fits long or short roof
Protects from sun
Comes with a two-year warranty
Air vents help keep everything in place
Cons
Can be a little tricky to get on and off
7. Deluxe 4 Seater Golf Cart Cover roof 80" L
Key Features
UV Coated Satin Polyester
Double polyurethane undercoating
Rear zipper for access
The Deluxe four-seater golf cart cover is a great choice for those who are looking for quality.
This cover is built for a four-seater and works to protect against sun and weather.
The one thing which sets this model apart from some of the others is the fact that it goes all the way to the ground.
The Deluxe cart cover is double top stitched so that it will remain durable for years to come.
This is a universal fitting cart cover, so it will fit many different golf carts.
We still recommend checking measurements before you make your final purchase.
Pros
Rear zipper
Comes with storage bag
Heavy-duty UV Protection
Cons
8. ConPus 4 Passenger Golf Cart Cover Fits For EZGO Club Car and Yamaha, Waterproof with Extra PVC Coating
Key Features
High-quality polyester
UV resistant
Rear air vents
The ConPlus golf cart cover will fit all standard four-passenger golf carts.
This ConPlus comes with a carrying bag which makes it easy to store as well.
Not only is the ConPlus a great choice for the golfer who wants to protect the cart from the rain, but from the sun as well.
In the back of the cart, you will find two air vents which will help to reduce the wind lifting the cart cover off, and it also helps with less moisture creation.
At the bottom of the cart is a Velcro strap to help secure the cart cover in place.
The internal insulation also makes sure the cart stays dry all season.
This is a cart cover you can count on for a long-term storage solution.
Pros
Tear-resistant
UV resistant
Waterproof
Cons
Only available in one color
9. Seamander Waterproof Golf Cart Cover 2-4 Passenger Dustproof Storage for EZ Go Club Yamaha
Key Features
Fits all standard two-seaters
210D waterproof oxford cloth
UV Treated
If you have a two-seater golf cart and you want to make sure it is well protected, the Seamander is a great choice.
This model will fit all standard two-seater golf carts, and it is built to handle all weather conditions.
Whether you are dealing with intense sun, wind, or rain, the Seamander is a great protector.
The rear zipper in the back of the cart allows golf cart owners access without having to remove the whole thing.
The Seamander is treated with a UV resistant coating to help make sure your golf cart does not fade while in storage.
This is a durable and long-lasting option that many two-seat golf cart owners find to be a good fit for their cart.
Pros
Durable
Easy to get on and off
Built specifically for two-seater
Heavy fabric
Cons
Priced high for a two-seater cover
10. Club Car Golf Cart Cover, Tan
Key Features
Made specifically for Club Car
High-quality materials
Classic tan coloring
The Club Car Golf Cart Cover is a great choice for any Club Car cart owners.
When you own a Club Car cart, you can always trust the Club Car brand to put out a great product.
One thing to keep in mind about the Club Car cover is that it is built for long term protection of your cart.
Although you may pay a bit more, your cart will be around for many years to come because of this cover.
You can purchase this in two different sizes, depending on whether you have a two- or four-seater.
Overall, this is a quality product that will keep your cart dry and do a great job of protecting it from damage from the sun.
Pros
Thick materials
Protects against water
Long term protection
Two- and Four-Seater options
Cons
Only designed for Club Car models