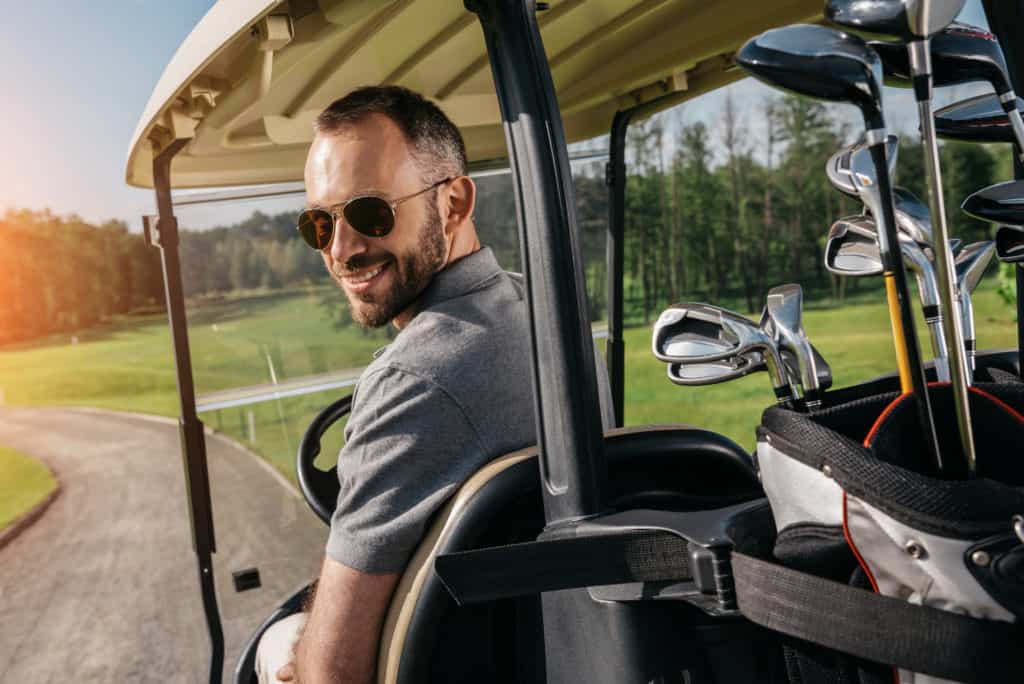 Golf balls rolling around in the golf cart are very annoying.
Spending time trying to find a golf ball in the bottom of your golf bag slows down play.
It would help if you had a solution to keep golf balls in place that is easy to access in your golf cart.
There are quite a few options out there that can get this job done.
Some of them will require you to think a bit outside the box, but there will be an option on this list that works for you and your cart.

Top 10 Best Golf Ball Holders For Golf Cart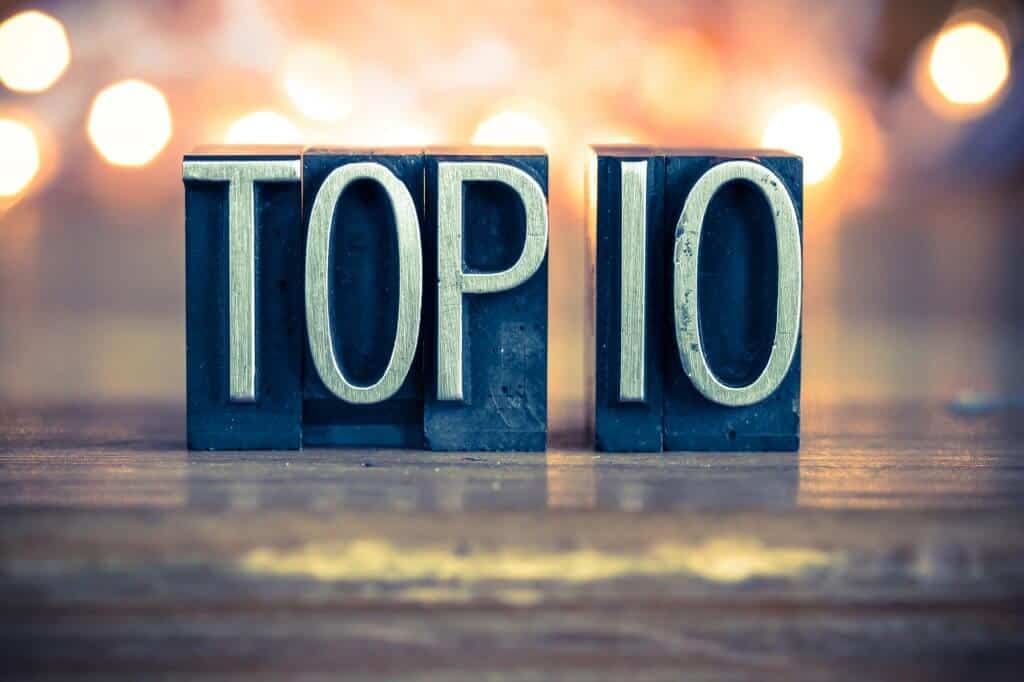 1. Performance Plus Carts EZGO Gas and Electric 2008-Up RXV Golf Cart Ball Holder Insert – Driver Side
Key Features
Fits on drivers side
Holes two golf balls
Will work with EZ Go Carts
At the top of our list is the Performance Plus Carts EZ GO Golf Cart Ball Holder Insert.
This is a model that goes on the driver side of your golf cart, but there are passenger side models as well.
This particular model will fit all EZGO Gas and Electric Carts 2008 and up.
If you want a golf ball holder that matches your cart exactly and will work with other accessories on your cart, this is the way to go.
Most of the other options on the market are going to act more like an accessory than an original golf cart part.
Pros
Easy to install
Will work on all EZ Go carts 2008 and up
Driver side model
Cons
Need to purchase passenger side separately
2. Golf Ball Holder – Pro with Quick-Draw Release (Blue)
Key Features
Easy access
Can clip to several places on your cart
Holds three golf balls
Many of the golf ball holders on the market are designed to attach to a golf bag or even your belt.
The good news is that you can modify these to work on your golf cart as well.
There are plenty of areas that you can get a golf ball holder to quickly and easily attach to your cart.
Finding something convenient and sturdy where you can grab a golf ball quickly.
This Golf Ball Holder with Quick- Draw Release is a great way to keep three golf balls at your fingertips.
This aluminum design will hold up well to the elements and will fit all standard golf balls.
You will not have trouble loading or unloading this golf ball holder.
Nothing is more annoying than digging in your cart or golf bag to find a ball.
The Golf Ball Holder Pro makes it much more manageable.
Pros
Quick access to golf ball
Aluminum finish and rubber-coated will hold up
Very affordable
Cons
Designed to fit on a golf bag, will have to find a spot on your cart to hook this
3. Ready Caddy Holder Golf Cart Accessory Organizer Accessories
Key Features
Large size
Fits all square tube cart bars
Quick mount
The Ready Caddy Holder Golf Cart Accessory Organizer is another option that you can quickly install to your golf cart.
This model will mount on all golf cart models with a square tube.
This will be the majority of your EZGO, Club Car, and Yamaha models.
You can mount this to your golf cart in a matter of minutes, and it will stay sturdy and in place while driving.
Now, this is not just for golf balls, as you can store quite a few things in your accessory organizer.
We love that the height is very adjustable, and you can keep this organizer as high or as low as you would like.
If you don't want to keep this golf cart organizer on your golf cart at all times, you can unclip it and bring it with you or put it in your golf bag.
Inside the organizer, there are two divided sections.
If you want to keep your phone or your rangefinder on one side and a few golf balls on another side, that is a great option.
If you are tired of fishing around in the side receptacles of your golf cart and you want a simple and go-to option, this is a perfect choice.
Its priced a bit higher than some of the other choices on our list, but for the convenience factor, it is worth the money.
Pros
Clips on and off easily
Can hold a variety of product
Adjustable height
Cons
4. Range Gripper The for Golfers – an All-in-One Rangefinder/Smartphone Holder
Key Features
Fits right in the cupholder on the cart
Easy to fit a variety of products
Variety of colors
The Range Gripper is not built for just golf balls.
It is a unique solution intended for your cell phone and your range finder; however, we have found the pocket to be perfect for golf balls.
The Range Gripper fits right into the cup holder on your golf cart.
It is available in many colors, and there is no installation or setup involved.
You will have to decide if you are going to put the rangefinder in the storage compartment or if you would like to fill it with golf balls.
There are plenty of other range finder storage holders on the market.
Keeping your cell phone in the side compartment of the golf cart leaves it subject to damage; this product will help to keep it safe.
This is a lightweight and flexible design that will fit all golf carts.
When you are done playing, you can put this in your golf bag or leave it set up in your cart.
Pros
Keeps valuables safe
Can put in golf bag after round
Available in many colors
Cons
Not explicitly built for golf balls, but works well
5. ELVES 3 PCS Lightweight Nylon Mesh Golf Ball Bags with Sliding Drawstring Cord Lock Closure
KeyFeatures
Comes in a package of three
Can be used for other things
Mesh fabric
The ELVES is a three-piece mesh bag option that can hold up to twelve golf balls.
These little bags are much bigger than you may think.
They can easily clip to many different areas on your golf cart.
You can simply loosen the drawstring and get golf balls out when you need them.
The bags won't spill while you are driving with your golf cart.
We love that the mesh design allows water and dirt to spill out the sides, and this is easy to clean as well.
Pros
Works for a wide variety of storage
Can use one in your golf bag and attach one to your cart
Easy to clean
Holes ten golf balls
Cons
Must find a place to clip on the cart
6. Amy Sport Golf Ball Holder Soft Silicone Clip 2 Pack with Cleaner Pouch Pocket
Key Features
High-quality silicone
Wear-resistant
Holds two golf balls
The Amy Sport is a two golf ball holder that can attach to a wide variety of things.
It comes with an easy to use an aluminum hook with a carabiner key chain.
You can attach this to your cart or keep it attached to your belt from time to time.
This package set also comes with a golf ball cleaning tool to make sure your ball is always ready to be played.
The design of this Amy Sports product makes it so that it will last for many years.
Pros
Durable design
Strong clip for hanging
Cons
Only holds two golf balls
7. Clip Wipes Golf Pouch | Personalized Initial Monogram Letters (A-Z) Drawstring Valuables Pouch
Key Features
Monogram
Holds a good amount of material
Drawstring with toggle cord lock
The Clip Wipes Golf Pouch is excellent if you want a monogrammed way to store your golf balls.
This is a leather-like material that you can simply wipe lean when you are finished.
Although this pouch is designed to hold a wide array of golf accessories, it works great for a golf bag as well.
You can have this bag monogrammed with one letter on the front at no additional charge.
You will have to get a bit creative to hook this to your golf cart.
We love to keep it in the large side compartments on the cart; it keeps the balls from sliding all around and bumping out of the cart when you are driving.
Pros
Holds a bunch of golf balls
Allows you to monogram with a letter
Easy to clean material
Cons
Have to be creative with how to hang this on your golf cart
8. A99 Golf Utility Pouch II Neoprene Golf Balls Holder Tees Accessories Bag with Clip
Key Features
Neoprene fabric holds up well outdoors
Holds tees as well
Easy to clip on
The A99 golf ball storage holder is a simple and affordable option.
You can clip this on your bag, your cart, or even your belt if you would like.
The Neoprene fabric holds up well in the elements, and the plastic clip is quite sturdy as well.
You can choose between black, red, or blue, and you will be able to fit three golf balls in this holder.
Pros
Holds three golf balls
Neoprene is an easy material to care for and clean
Comes with a durable clip
Cons
Can be a little challenging to get the balls out
9. 3G Front Inner Storage Basket for EZGO TXT Golf Carts
No products found.
Key Features
Entire front inner storage basket
Store a variety of items
Easy to mount
The 3G Front Inner Storage Bracket will fit across the front of your EZGO TXT Golf Cart.
This is not just for storing golf balls but will work for a variety of items as well.
The storage basket is divided into several compartments that allow you to store your personal items and golf accessories.
This basket is easy to install, but you will need to purchase four self-tapping screws separately.
Pros
Made specifically for golf carts
Will hold a variety of golf accessories
Cons
Will require purchasing additional mounting screws
Expensive
10. GTW EZGO TXT (96-up) Inner Storage Utility Basket Also fits S4, S6, L4, L6, TXT Redesign/Freedom Models
Key Features
For EZGO TXT Carts
Heavy Steel Mesh
Lots of storage
Last on our list is the GTW EZGO TXT Inner Storage Utility Basket.
This is going to give you plenty of storage room for golf balls or any other accessory you need to store.
We love that this storage unit works almost like a tray and allows you to grab a golf ball within seconds.
The material is a rubberized coated heavy steel mesh that will hold up well to having golf balls rolling around it at all times.
All of the hardware you need to mount this golf cart storage unit is included.
Pros
Easy to organize
Holds a variety of products
Fits EZ GO TXT
Cons
Will take a bit of installation