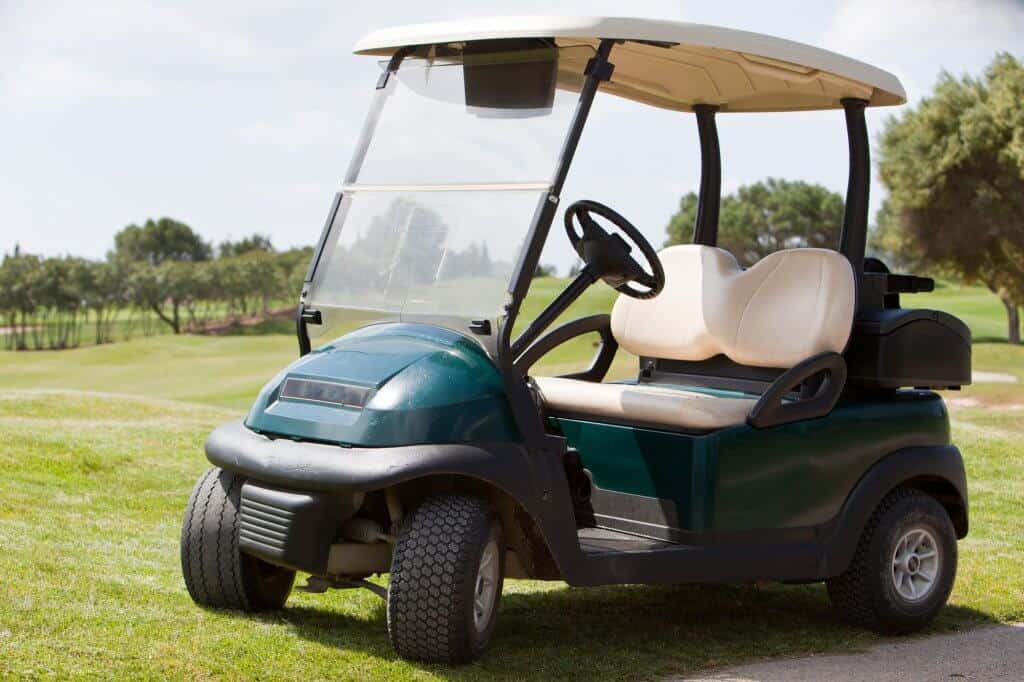 A golf cart fan can be a simple and easy addition to make summer golf a bit more comfortable.
Golf cart fans come in several different styles.
Some styles will work for your golf cart, and others won't.
Make sure to read all specifications about any fan you purchase.
If you are not comfortable doing electrical work on your golf cart, there are still some options that could work for you.
If electrical work is not your thing, there are battery operated options that are quite powerful and efficient.
Here are our top ten best golf cart fans on the market today.

Top 10 Best Golf Cart Fans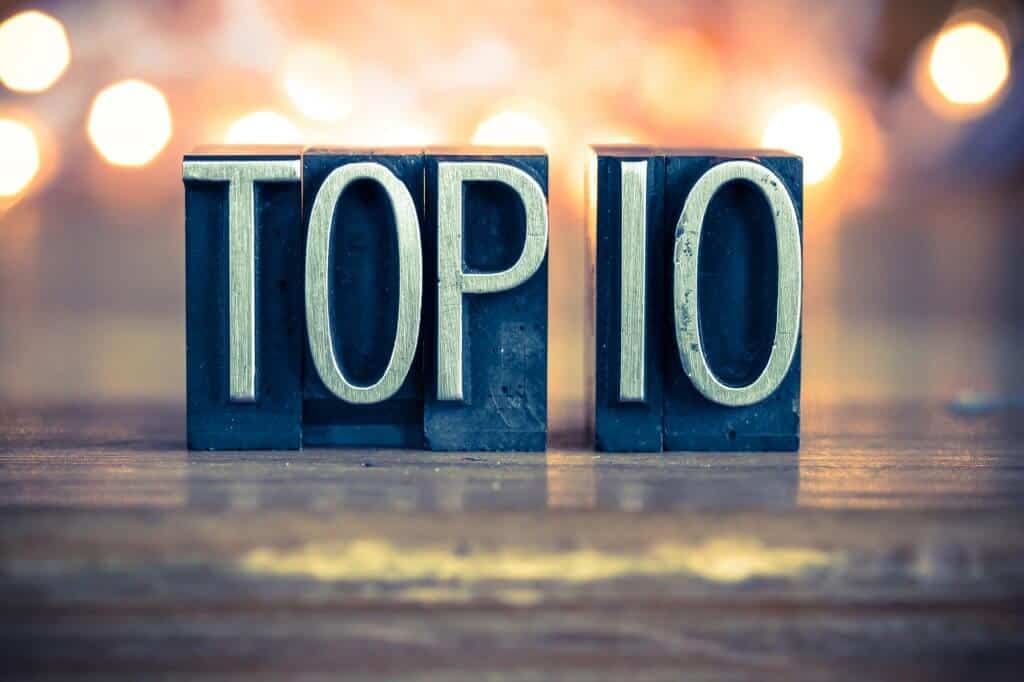 1. GOLF CART FAN CLUB CAR EZ-GO YAMAHA
At the top of our list is the most universal and traditional golf cart fan you can find.
This is a high-quality unit that plugs into a cigarette lighter.
You will not have to hardwire this fan to your cart, and you can easily remove it when you don't need it.
The Golf Cart Fan comes with a bracket to help you hang the fan as well.
As far as pricing is concerned, this is a fair to moderate price, and the fan should last you many years.
The twelve-inch size makes it a great fan to keep you cool but not block your view as you drive.
Depending on how many people you have riding in your golf cart, you may want to purchase one of these for both sides of the cart.
Another great thing about golf cart fans that many people don't realize is that they keep bugs away.
If you are stopped somewhere to have a picnic on your golf cart, the bugs will often start joining the party.
By turning the fan on, you will create a good amount of wind/breeze that will keep bugs away.
Pros
Twelve-inch size
High quality
Fits most golf cart models
Fairly priced
Cons
2. Coleman Zephyr Cup Holder Fan with Battery Lock
If you are looking for the best budget option, the Coleman Zephyr Cup Holder will be your best choice.
This is a straightforward model that can work in a variety of situations, from golf carts to camping.
All you need to get this Cup Holder Fan working is some double-A batteries.
You will not get continuous runtime from this cooler because the batteries will eventually die out.
The good news is that the fan is relatively efficient, and on eight batteries, you should get about 55 hours of power if you set it on low.
If you set your fan on high, you will get about 20 hours before you have to replace the batteries.
One of the best things you can do with a fan like this is to purchase rechargeable batteries to go with it.
Although they are going to be more costly upfront, you will get a lot more out of them in the long run.
Some people may be turned away from a battery-operated fan, but if you are only using your fan occasionally, this is a great choice.
The Coleman Zephyr Cup Holder Fan comes with a pivoting head and a battery lock system.
The battery lock system helps to lessen the drain on the battery and keep battery corrosion to a minimum.
Pros
Fits right in the cup holder
Works with double A batteries
Easy to set up and use
Low price
Cons
Doesn't give off a lot of power
Not very strong
3. Buggies Unlimited 24-Volt Breezeasy 2 Fan System for All 48-Volt Golf Carts
The Buggies Unlimited 24-Volt Breezewasy 2 Fan System will work if you have a 48-Volt Golf Cart.
There are other 12 Volt versions of this golf cart fan that you can purchase if you happen to have a cart with a bit less power.
As far as golf cart fans are concerned, this is going to be your top of the line model.
Since it is a hardwired option, the pricing is also quite a bit higher when you get the initial unit.
However, as far as cooling power and strength, the Buggies Unlimited will lead the way.
The golf cart fan comes with all the hardware and brackets you need to mount the fan on any golf cart successfully.
The features on the Buggies Unlimited model include two adjustable vents and some serious power.
You will get about 310 cubic feet of air per minute when using this golf cart fan.
When it comes to installation, there will be a bit of work involved.
If you are not comfortable working with wires and your golf cart batteries, you will need some professional help.
A fan installed incorrectly could drain your batteries and leave you stranded on your cart somewhere.
So unless you know what you are doing, let a local golf cart repair shop install this model for you.
The only issue we have seen with this fan is that it creates a bit of noise when it is operating.
For the power the Buggies Unlimited Golf Cart Fan produces, this is to be expected.
Pros
Powerful
Premium model
Adjustable vents
Cons
Expensive
Can be a little loud
4. Performance Plus Carts Universal Golf Cart Overhead Fan
The Performance Plus Carts Universal Golf Cart Overhead Fan is a more traditional golf cart fan option.
You will need to hardwire this fan into your golf cart, but it is a universal fit regardless of the model you have.
The Performance Plus Overhead Fan is a ten-inch fan that will mount directly to the roof of your golf cart.
Everything you need to install and operate this fan is included in the kit.
As far as pricing is concerned, this model is a bit less expensive than the Buggies Unlimited, but it is still a premium accessory for a cart.
This is a single-speed unit that you can either turn on or off.
The overhead placement of this fan makes it an excellent spot for all passengers.
If you have a cup holder fan or a sidebar fan that you have been thinking of upgrading to a complete option, this is a great choice.
Pros
Effective
Overhead location is excellent for passenger and driver
Hardwired into a golf cart, switch for turning it on and off
Cons
Expensive
Needs electrical work to complete it
5. PGF-V Personal Go Fan
The PGF-V is a personal fan that is intended for outdoor use.
Getting a fan that is intended for outdoor use is essential for several reasons.
First of all, the indoor use fans will deteriorate when exposed to the elements.
Secondly, outdoor use fans have higher airflow.
The higher airflow allows you to feel the effectiveness of the fan even when being in an outdoor location.
There are a few things we love about this fan (and one thing we don't).
For starters, the PGF-V has it's own rechargeable lithium battery.
When the battery is ultimately charged, you can turn the fan on high for about 3.5 hours.
If you choose to keep the fan on low, it would be about 40 hours.
Although 3.5 hours may not seem like a very long time, when this fan is set to high, it feels like a 20mph wind.
Not too many people will want a 20 mph wind blowing in their face for 3.5 hours straight.
You can take this fan out for a round of golf, plug it in and use it for your nightly cruise around the neighborhood.
Included with this fan are screw-on cup adapters and polymer rings to make sure you get the perfect fit in your golf cart cup holder.
This is not an oscillating fan, but you can adjust the speed and the angle of the airflow.
As we mentioned, there is one downside to this fan, and it is the price.
The PGF-V is more expensive than any of the other fans we have reviewed.
It costs more than the hardwired permanent fans that you can install in your cart.
If you have other uses for this fan and can take it on your boat or use it on your patio, then maybe the extra money spent will be justified.
Pros
Very high powered
Adjustable
Fits in the cup holder
Rechargeable battery
Cons
Very expensive
Not oscillating
6. Performance Plus Carts Golf Cart Heavy Duty Multiple Speed Black Fan – 12 Volt – Universal
If the overhead golf cart fan is not the best model for you and you want something that blows directly in your face, the Performance Plus Carts Heavy Duty is a great choice.
What we love most about this option is that it has adjustable speed.
Sometimes you can get tired of high speed on a fan, but turning it off is also not comfortable.
Having the option to put this fan on high or low makes it a great choice.
This is a heavy-duty fan that will be hardwired into your golf cart and mounted on the center of your dashboard area
You will want to make sure that you have adequate space for this model before purchasing.
The blades on the fan are metal, and there is a black fan guard that will protect any fingers that get close.
A metal fan is going to hold up much longer than a plastic fan will.
You will spend a bit more on this fan than you would on other portable battery-operated models, but it should hold up long term.
Pros
High quality
Metal fan blades
Center-mounted
Cons
May not fit on your cart depending on the current setup
Does not oscillate
7. Ryobi 18-Volt ONE+ Hybrid Portable Fan(P3320) with P163 Lithium-Ion Battery(2.00Ah) and Charger
Rechargeable batteries are great because you won't be having to replace batteries each time you use your cart fan.
The problem with AA or AAA rechargeable batteries is that they don't last very long and sometimes don't hold their charge after a while.
A different option would be this Ryobi Lithium-Ion powered fan.
This is not a fan specifically designed for a golf cart, but you can set this up to work on your cart.
The package set comes with the battery, fan, and charger.
The upfront costs will be a little higher than some other options, but you should have this for years to come.
If you happen to have a Ryobi battery at home already, you can get away with just buying the fan.
Purchasing the fan alone will bring the costs down considerably.
The Ryobi model is built for both indoor and outdoor use, and it has a carrying handle to make it easy to transport.
The Ryobi will serve multiple purposes for you through the years.
You can use this to keep bugs off your patio while you enjoy dinner or use it during a power outage to stay cool!
Pros
Long-lasting power
Strong fan
Suitable for indoor and outdoor use
Cons
Not specifically built for golf cart use
Will need a bit of engineering to get it to work well
Expensive
8. OPOLAR 10000mAh 8-Inch Rechargeable Battery Operated Clip on Fan
No products found.
The OPOLAR Rechargeable Battery Operated Clip Fan is a golf cart fan that you can have up and running in a matter of minutes.
This fan comes with a rechargeable polymer battery that you can charge with a USB charging port.
If you happen to have a power outlet of some kind on your cart, you may be able to charge as you go.
We love that the Opoalar has four-speed settings and an easy to use clip.
The clip can be opened a total of three inches and then mounted on your golf cart in a variety of areas.
We like the ability to move that fan around in case you find that it works better in certain areas.
The Opolar is an eight-inch fan, so it is a bit smaller than some of the other options we have reviewed, and it does seem to move plenty of cool air.
Recharging the fan is quick and should not take more than an hour or so.
This is not an oscillating fan, but you can turn it 360 degrees to adjust the angle and have it pointed exactly where you need.
The only real negative about this fan is that because it is portable, it tends not to be a very tight fit when in motion.
You may notice some rattling or a bit of noise coming from the fan while in motion.
Pros
Priced fairly
Easy to clip on
Four-speed settings
Cons
Not a very firm hold if going through rough terrain
9. Taotuo 12V Electric Car Fan 360 Degree Rotatable 2 Speed Dual Head Car Auto Cooling Air Circulator Fan for Van SUV RV Boat Auto Vehicles Golf
No products found.
Traveling in your cart with your favorite passenger is part of what makes a golf cart so fun.
If your golf cart fan only cools off one person, it can feel a little unfair.
Luckily with the TaoTuo 12V Electric Cart Fan, you get two fans!
The Taotuo fan uses a minimal amount of energy, and it is not noisy.
You can rotate each of the fan heads independently to make sure you have this configured precisely how you need it.
Although you may want to install this fan using something a bit more permanent, it does come with adhesive stickers for a quick setup.
To operate the fan, you plug it into a cigarette lighter and adjust the speed to what you need it to be.
The downside to this fan is that you will need to purchase the adapter to plug into your cart separately.
Even with the price of the adaptor, this is going to be one of the most economical options on the market.
Pros
Will cool two people
Easy to install
Cons
Need cigarette lighter on cart already
Not the highest quality material
10. Mr. Heater MH4GC 4000 BTU Propane Portable Golf Cart Cup Holder Heater (2 Pack)
Last on our list is not a fan for those hot days but instead a way to give yourself a bit of heat on the cold days.
The Mr.Heater Propane Portable Golf Cart Cup Holder heater has push-button ignition for instant heat in your cart.
Things can get quite toasty using this model, and you will be able to extend both your golf and cart riding season.
You will need a one-pound propane container to get through five hours.
Just make sure to turn your heater off when you are finished with it.
Leaving the propane open and parking your cart can be very dangerous.
Pros
Good to stay warn
Helps extend season
Cons
Not versatile
Not handling propane properly is dangers
When it comes to golf cart fans, there is no shortage of options on the market.
Hopefully, our guide helped you determine what you need to make your golf cart more enjoyable all year long.
A golf cart fan is something that you should have for a long time, do not be afraid to spend a few dollars more if it means you get better quality.