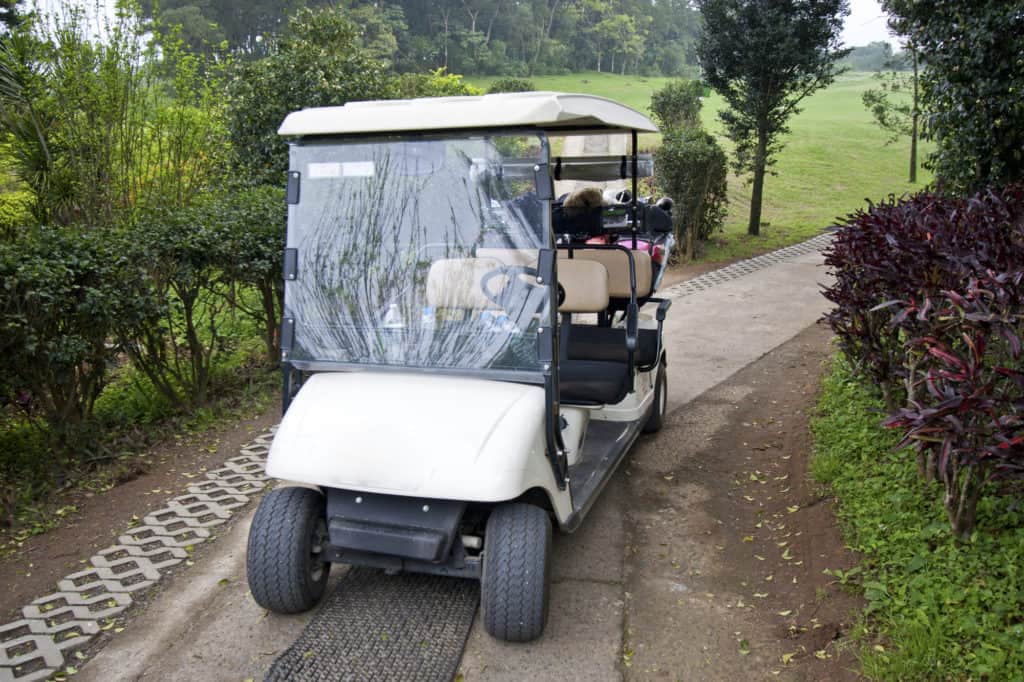 Many people think that golf cart enclosures are for the winter.
In reality, golf cart enclosures can provide several benefits.
They are designed to help with cold weather, wind, and rain.
If you get stuck out on the golf course or at the grocery store and it starts to pour, you will be glad you had a golf cart enclosure.
You can get enclosures for almost any type of golf cart that you have.
Choosing the proper fit is essential to making sure that your enclosure is effective in protecting you from the elements.
There are a lot of enclosures out there to choose from.
We put together a list of the top ten best golf cart enclosures on the market today.
Top 10 Best Golf Cart Enclosures


1. Formosa Covers Premium Tight Weave Golf Cart Driving Enclosure
The first option on our list has been heavily tested by a large group of golf cart owners, and it has held up well.
The Formosa Covers Premium Tight Weave Golf Cart Driving Enclosure is built to protect you from the cold, wind, and rain.
The entry door for this enclosure rolls towards the front to better protect you from wind and rain.
If you have a four-seater cart with a shorter than 60″ roof, the Formosa should fit your cart easily.
One of the biggest complaints on any golf cart enclosure is the zippers.
Unless the zippers are very high quality, they will deteriorate over time.
As the zippers get harder to use, the cart enclosure itself becomes almost inoperable.
The zippers on the Formosa cart have been upgraded so that you can zip yourself in and out of the enclosure.
As far as the windows are concerned, you can roll up the front and rear of the cart.
Another great feature with the Formosa is that you can keep it on your cart in the included carrying bag.
If you happen to be at the grocery store and it starts to pour, at least you can get home relatively dry.
Pros
Upgraded zippers
Commercial grade windows
Protects from cold, wind and rain
Good for a four-seater golf cart
Easy to put on and take off
Fits most golf carts
Cons
Problems with zippers in years past but has been addressed in newer models
2. Classic Accessories Fairway Golf Cart FadeSafe Enclosure for E-Z-Go
If you have a two-seater cart, the Classic Accessories Fairway Golf Cart is a great option to consider.
This is a polyester golf cart cover that is available in both navy and khaki colors.
One major complaint that golf cart owners have about their cart is the fact that they tend to fade rather quickly.
You will notice that most of these covers are either white or khaki, and that is to help with fading.
The Classic Accessories brand is very aware of this issue, and they have incorporated a fade-resistant fabric to help control this.
This golf cart enclosure has zippered doors and panels that are very easy to adjust.
We love that this enclosure has several access points for you to get in your cart while it is covered by the enclosure.
It has a removable windshield panel, rear access, and roll back removable doors.
With this golf cart enclosure, you can protect yourself from the elements but still have access to your belongings.
This product is a bit more expensive than others, but it holds up well long term.
Pros
Easy access to your golf cart belongings
Fade-resistant fabrics
Available in two colors
Cons
Expensive
Only for two-seater golf cart
3. Ace Golf Cart Cover – Premium Extended Roof Drivable
The Ace Golf Cart Cover is an excellent option for those four-seater golf carts.
There is no questioning this is a premium golf cart enclosure that has dual zipper technology and rear-seat access.
One problem that golf cart owners face with enclosures is the ability to quickly and easily get the cover on and off your cart.
The Ace Golf Cart Cover is perhaps one of the easier enclosures to get on and off.
You simply throw this cover over the top of the cart and use the bungees provided to pull it down and secure it.
Once in place, the hooking design helps to avoid having to do any kind of tying down.
This cart will not fly around while driving, and it helps to keep you warm in the winter months.
The windshield has both an upper and lower protection so you can modify the amount of air that you let in or out of your cart.
One of our biggest pet peeves is when rear passengers have no way to get back in an enclosure cart.
Luckily the Ace Golf Cart Cover allows easily zippering from both the inside and out to get your passengers in and out of your cart.
Pros
Easy access to the enclosed cart
Very simple to put on
Hooked design helps to keep enclosure secured
Cons
Only for four-seater
A bit more expensive than other choices
4. Trademark Innovations 7′ Golf Cart Enclosure Cover for 2-Seater
If budget is a concern of yours, then the Trademark Innovations 7′ Golf Cart Enclosure is a perfect choice.
This is a 100 percent polyester option that will fit most two-person carts.
Although you can use this enclosure for a variety of purposes, we look at this as a quick savior from the rain.
If you want to keep this on your cart in case you get caught in a rainstorm, it's perfect for that.
The weatherproof material will help keep you and your cart dry.
The zippered openings make this cart easy to get in and out of.
You will have PVC windows that allow you to see out with a good amount of clarity.
As the price will show, this is not a high-end cart enclosure with a ton of features, but it certainly will do the job for a two-seater.
Pros
Excellent price
A good solution for the rain
Simple model
Cons
Doesn't hold up as well long term
Won't keep you all that warm in the winter
5. Happybuy Golf Cart Cover 4-Sided Golf Cart Enclosure
Next on our list is an excellent option if you are worried about losing some visibility when adding a golf cart enclosure.
The Happybuy Golf Cart Cover is available in several different colors to help your cart stand out from the crowd.
This particular design will fit more four-seat golf carts.
It does have some adjustability to make this a bit easier to get a custom-like fit.
The HappyBuy is made of oxford cloth with a PVC Coating.
There are PVC window surrounds that are very large and surround the entire top half of this enclosure.
You will stay warm, dry, and protected from the wind inside the enclosure.
You will get both the inside and outside zippers with this golf cart enclosure.
The roll-up doors are pretty sturdy and seem to stay in place even while driving around with them open.
You will not need tools to get this enclosure on and off, and it even comes with a nice carrying bag.
We love that you can keep this on your cart in case the situation to attach it should arrive.
Pros
Available in several colors
Provides a ton of visibility
Easy to get in and out while the cover is on
Cons
Does not fit all carts properly
Check dimensions before purchase
6. 10L0L Golf Cart Enclosures 2 Passenger for EZGO TXT
The 10LOL Brand makes a large variety of golf cart products and accessories.
This 10LOL enclosure is for a two-passenger cart, and it does a very excellent job of protecting the cart from wind and rain.
This is designed for the EZGO TXT Cart, but if you check the dimensions, it will fit a wide range of golf carts.
The cover itself is black, which brings up the topic of fading over time.
The black color enclosures look quite sharp, but if they are not the correct quality material, they will fade.
The 10LOL is a UV Resistant cover that will help to protect against fading.
If your cart is left out in the sun all day every day, it will eventually fade.
The side openings have functional quality zippers that help you to roll up the doors and fix them with magic tape at the top.
You will not need any tools to get this cover on and off, and it is one of the easier models to install and use.
You will get a 100% guarantee and a lifetime warranty with this golf cart cover.
Even if you don't have this specific model cart, it is worth checking to see if this versatile and high-quality enclosure could work for you.
Pros
Fair pricing
No tools to setup
UV Resistant
Cons
The window material is not as high quality as other models
7. Greenline Club Car Precedent 2 Passenger Drivable Golf Cart Enclosure
The Greenline Club Car Precedent 2 Passenger Drivable Golf Cart Enclosure is made with a heavy-duty denier polyester.
This fabric will resist water and mildew, and it is guaranteed not to shrink.
The Greenline Club Car model almost resembles a simple blanket that you toss over your cart.
You can have this enclosure up and running in just a matter of minutes, without using any tools.
The windows of the Greenline cart enclosure are very clear.
They are made with double polished vinyl.
When you are not using this enclosure, you can simply roll the sides and attach them to the top.
When you are using, you can pull the sides down and hook the enclosure to the bottom with the attached hooks.
Greenline allowed for your taillights to be visible while your enclosure is on, and that is a fantastic safety feature.
You get a three-year warranty and a free carrying case with the purchase of this model.
This is an excellent value for an enclosure you will have for many years.
Pros
Heavy-duty and durable fabric that will last for years
Can still see taillights while in operation
Double polished vinyl windows
Cons
A bit higher in price than other models
Only fits the two-seater
Reports of the J hooks breaking
8. DoorWorks Hinged Door Enclosure – EZGO TXT 2014+ – Sunbrella Canvas – Golf Cart Cover Hard Swinging Doors
If you are looking for a more permanent solution for your golf cart, the DoorWorks Hinged Door Enclosure is a great choice.
This will essentially transform your golf cart into your car.
The doors on this enclosure are hard panel doors and not roll up fabric like most other golf cart enclosures have.
This is, for sure, a premium option and will cost almost as much as a used golf cart will cost in some situations.
This is a versatile model that will fit your cart with golf bags on it, or if you have a four-seater.
You can get the Door Works Sunbrella in three colors, Black, Linen, and Cream.
The fabric is a high-quality design that is going to hold for years to come.
Pros
Very high-quality material
Will hold up over time
Hard panel doors for a more permanent solution
Cons
Very expensive
May not want something that stays on the cart all the time
9. Portable Yamaha Drive Golf Cart Cover by DoorWorks
The Portable Yamaha Drive golf cart cover is designed specifically to fit on the Yamaha Drive golf carts.
This option has sides that roll up and down to adjust to the current weather conditions easily.
If you are particular about your golf cart style, you will love the four different color options.
This Portable Golf Cart Cover comes in black, tan, forest green, and blue.
The overall material is a marine-grade vinyl that does a terrific job of repelling water away from you and the interior of your golf cart.
When you don't need this enclosure, you can simply roll it up, but keep it attached to your golf cart.
If you are tired of a golf cart enclosure that flies all over while you are driving, you won't have to worry about this model.
The Portable Yahama Drive comes with reinforced bungee hooks that will secure the cover in place and keep it from flapping in the wind.
You also get a three-year warranty with this.
We like the overall design, but we have seen some issues with fading over the years.
Pros
Great secure fit for the Yamaha Drive
Comes in a variety of colors
Cons
Fades through the years
Only a good fit for Yamaha
Material is not very UV Resistant
10. 9.99WORLD MALL Golf Cart 2 Passenger Driving Enclosure
Last on our list is the 9.99 World Mall Golf Cart Camouflage Golf Cart Cover.
This is not last on our list for any other reason than that it won't be the most needed golf cart enclosure for most people.
However, if your golf cart is a hunting cart and needs to blend in, this is a great enclosure.
The transparent PVC window is very clear and gives a great deal of visibility.
You can use the zippers on both the inside or the outside to quickly get in and out of the cart.
This is a very durable cover that should hold up even while being driven around in the woods.
You will need the durability on a cover when you take your cart out into the woods; otherwise, you will be replacing your cover often.
The pricing of this golf cart enclosure is very fair, considering the pattern, design, and longevity.
It takes just a few minutes to get the enclosure on your cart, and you won't need any tools.
You get a free carrying bag when you purchase this golf cart enclosure.
Store it with your hunting gear, so you are ready to go the next time you take your cart out into the woods.
Pros
• Great pattern for hunting carts
• Fair pricing
• Comes with carrying bag
Cons
• Not all cart owners want a camo pattern
• Will fade in time
Conclusion
As you can see, there is a large variety of golf cart enclosures to choose from.
We hope that our list of the top ten best golf cart enclosures helped you to decide on the perfect fit for your cart.
Just be sure to take perfect measurements before you order, so you end up with something that fits appropriately.