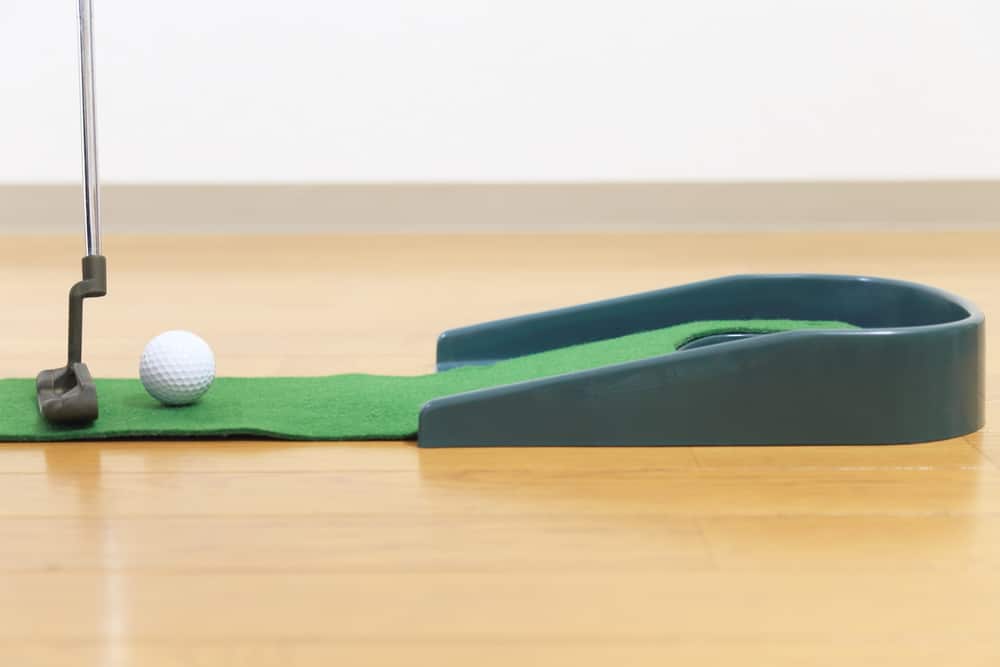 Practicing putting is very important, but having access to the putting green is not always possible.
If you want to be able to practice golf at home, an indoor putting green is the perfect solution.
These indoor putting greens are available in many different sizes and prices as well.
Here are the top ten best indoor putting greens.

Top 10 Best Indoor Putting Greens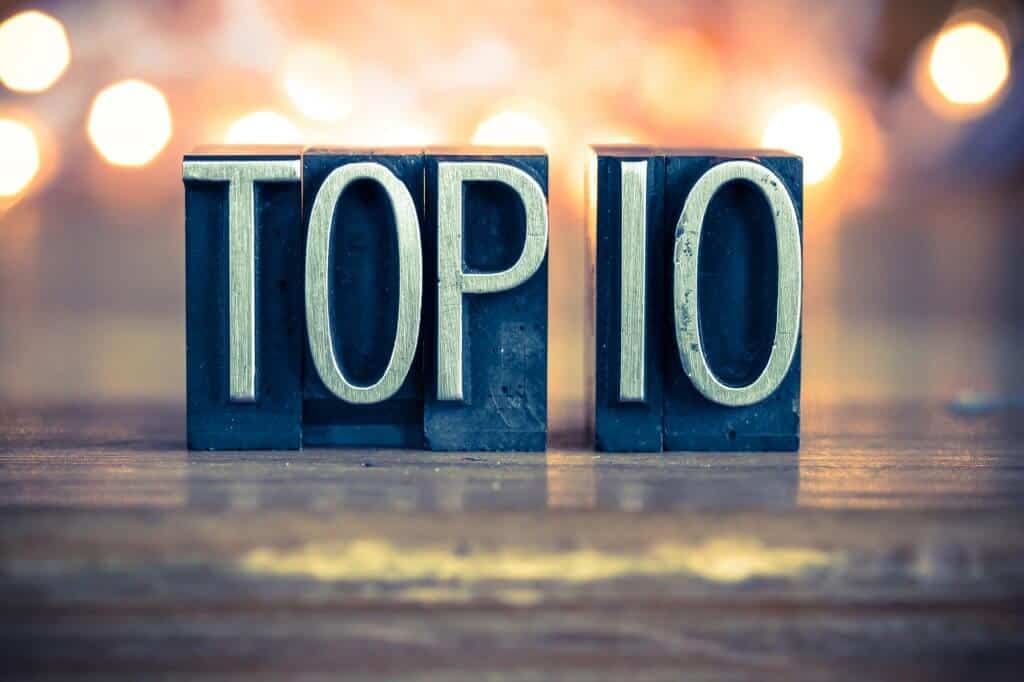 1. Golf Putting Green System Large Professional Golf Practice Training Putting Mat
Key Features
Large space to walk around
High quality mat
Thick foam base for better feel
The GraceTech Professional practice green stands at the top of our list.
This is a very high-quality model that will work for any golfer who wants to spend more time working on their game from home.
One of the things to make a note of with the GraceTech is that the pricing is going to be a bit higher than some other options out there.
This higher upfront price will absolutely come back to you in the length of time that you can keep this mat.
The GraceTech mat measures four feet by 10 feet with three sets of golf holes and the flags and cups that come along with it.
The four-foot by 10-foot size is large enough to move around on while you practice and allow different putts and angles as well.
The GraceTech is easy to clean, and you should get about eight years out of this mat if you treat it properly.
The foam base under the putting surface is going to help give the green a much more natural feel.
Pros
Great size
Plenty of different putts to try out
Comes with three golf holes
Cons
Priced higher than a lot of other options
2. Abco Tech Golf Putting Green Grassroots Mat
No products found.
Key Features
Wrinkle free
Professional quality
3 feet x 9 feet
The Abco is a much lower priced option than our first choice, the GraceTech.
You will get a slightly smaller putting green but at a fraction of the cost.
The Abco comes with three putting holes, and there is a ridge in the back of the green which will catch anything that has made it past the hole.
The Abco is large enough that you can stand on the mat while you are putting on it.
The foam under your feet will help to make sure you are getting a much truer roll.
One of the best things about the Abco is its unique shape, which they call the kidney shape.
The good thing about the shape is that it allows you the ability to get some putts in at different angles.
The last thing you want to do is practice hitting the same straight eight-foot putt over and over again.
Pros
Easy to pull out and put away
Wrinkle free design
3-ft by 9-ft design allows for plenty of room to stand and putt as well.
Cons
Sometimes you will have to stand off the mat while putting
3. BOBURN Golf Putting Green/Mat-Golf Training Mat- Professional Golf Practice Mat
Key Features
Very good feel
Heavy Duty design
Hole is similar to the golf course hole
The Boburn golf putting matt is another premium type option.
With the Boburn you get a very heavy-duty mat which has a very real feel.
With this mat, you can practice putting both inside and outside, but most will choose to use it indoors.
The base on the Boburn is made with a soft elastic base so that it will stay in place while you are putting.
Some mats will slide around as you use them, and this can get a bit frustrating.
You won't have that issue with the Boburn.
Pros
Very high quality
Stimp reading of a ten
Can use indoors or outdoors
Heavy duty
Cons
4. PUTT-A-BOUT The Par 1 "360" Putting Mat, Green, 18-Inch x 8-Feet (57P1808930)
Key Features
Very good value
Narrow but eight feet long
Feels like a real green
The Putt-A-Bout Putting Mat is going to be one of the best values for a putting surface.
You will notice that this model will have the look and feel of an actual putting green, but it is offered at a very low price.
The Putt-A-Bout is eight feet long, but it is only about 18 inches wide.
You will still have room to move around and putt from different angles because this is a flat mat.
Your feet will not be raised in any way while you are putting on this surface, so it can be used in a variety of ways.
If you don't have much money to spend but want to practice at home, this Putt-A-Bout mat beats practicing on the plain carpet.
Pros
Feels like a real putting green
Comes with one cup
Easy to roll up and put away
Very low price
Cons
5. Rukket Golf Putting Green | Indoor & Outdoor Mini Putt Mat for Office & Backyard
Key Features
Lifetime warranty
Versatile system
Percentages market
The Rukket Golf Putting Green is a great choice if you want versatility.
When you start looking for putting mats, you will find that there are many options on the market.
Very often, the options are either a putting mat or putting green, and some are just long strips which allow you to make one long, straight putt.
The type of putting mat you use will vary, but the Rukket is a two-in-one option.
With the Rukket, you are going to get a large putting green type of surface and then a single straightaway cup.
The straightaway also has a ball return feature that sends the ball back your way.
One of the unique features of the Rukket is that it is marked with the percentages a professional would make in their putting game.
For instance, at the two-foot mark, there is a sign showing that 99 percent of putts would be made.
This is a high percentage, and it allows golfers to understand how they should be practicing and the number of putts they should be making.
Pros
Two-in-one model
Has ball return on the straightaway putt
Total of four golf holes
Fair price for being two in one machine
Cons
Ball runs off the back of the mat for the larger area
6. Shaun Webb's Signature Putting Green Indoor Mat 9'x3' (Designed by PGA Pro & Golf Digest's Top Teacher)
Key Features
Developed by a PGA Pro
Feels like a real green
Helps to improve tempo and stroke
The Shaun Webb Signature Putting Green is a nine-foot by three-foot indoor putting green which feels like a real putting green.
The mat is a bit thicker than some of the others on the market, and that is to help give it more of a realistic feel.
If you are serious about working on your golf game, the Shaun Webb projects do a great job.
This mat comes with three holes and two fake sand traps behind it that will help to catch the ball should you hit it a bit too hard.
We like the way the three holes line up on this putting green, allowing you a few different holes you can practice from.
Overall, this is a very natural feeling mat with a slight uphill roll which will help you become a better golfer.
Pros
Great for golfers working on speed
Thicker mat than some others on the market
Slightly uphill design
Cons
Sometimes, you will have to stand off the mat to make the putt
7. FORB Professional Putting Mats | Golf Accessories | Putting Practice Golf Mat | Indoor Putting Green
Key Features
Largest size available
Plenty of room to walk around
Can practice from different surfaces
The FORB Professional Putting Green is one of the most expensive options on the market, but it is also very high performing.
This putting green for the indoors is going to take up a lot of space and require you to dedicate an area of your home to it.
One of the best things about the FORB Professional is that it gives you two different areas that you can putt from.
You have an area of grass similar to the first cut of rough which you can practice on as well.
This putting green is large enough that you can put another mat down and chip from the mat to the green.
If you know you are going to put the time in, you won't find a better mat on the market than the FORB.
Pros
Large area to walk around and hit different shots
Two surfaces to practice from
Four holes separated by a good distance
Cons
One of the most expensive on the market
8. Gagalileo Putting Mats Putting Green Indoor Golf Putting Mat Indoor Putting Green
No products found.
Key Features
Affordable and easy to use
Rolls out
Available in a few sizes
The Gagalileo Putting Green is a great option because of the way it utilizes the space it has.
Instead of having a player putt from one side of the green into the hole over and over again, you can putt it back and forth from one hole to the other.
Around the outside of the putting green is a different thicker grass which allows you to practice from a few different surfaces.
Although the Gagalileo only has two golf holes, it has just as much room as some of the other putting greens on the market because of the way it is designed.
Pros
Can putt back and forth from one hole to the next
Has thicker grass around the outside
Durable and heavy duty
Can roll it up
Cons
Does not hold up well if left outside
9. SkyLife Golf Putting Green Mat, Professional Golf Practice Training Aid System for Home Office Indoor Outdoor Use
No products found.
Key Features
Very realistic feel
Rubber backing
Rolls up for storage
The SkyLife is another indoor putting green which allows golfers to putt from one side to the other.
The total size of the putting green is 3.5'' by 10'.
This is plenty of room to work on putting from one side to another.
One of the things we really like about the SkyLife is that you can roll it up and pull it back out whenever you need to use it.
The rubber base is thick and allows the mat to be pulled down to the ground and held in place while you practice
Some of the roll up mats do not have a thick enough bottom, and they will never lay flat after you roll them up.
Luckily, the SkyLife always seems to sit flat.
Pros
Durable and realistic
Large size
Lasts for a long time
Had to stainless cups and one flag
Cons
Only three feet wide, sometimes you have to step off to practice
10. SPRAWL Golf Putting Mat Golf Pong Practice Green 11.5 Feet x 19.7 Inch Alignment & Distance Golfer Training Mat
Key Features
Has six holes
Several lines and alignment help
Fair pricing
The SPRAWL is last on our list, and it is certainly a mix between a putting mat and a putting green.
The great thing about this option is the six holes that you can fill when you are not using.
With these six holes, you can also play several different golf putting games with friends or against yourself.
If you want your at-home putting practice to be a bit more fun, the SPRAWL indoor putting green is a great choice to consider.
Overall, you will be impressed by the features this model offers.
Pros
Alignment and distance information
Very fair pricing
Has six holes
Cons