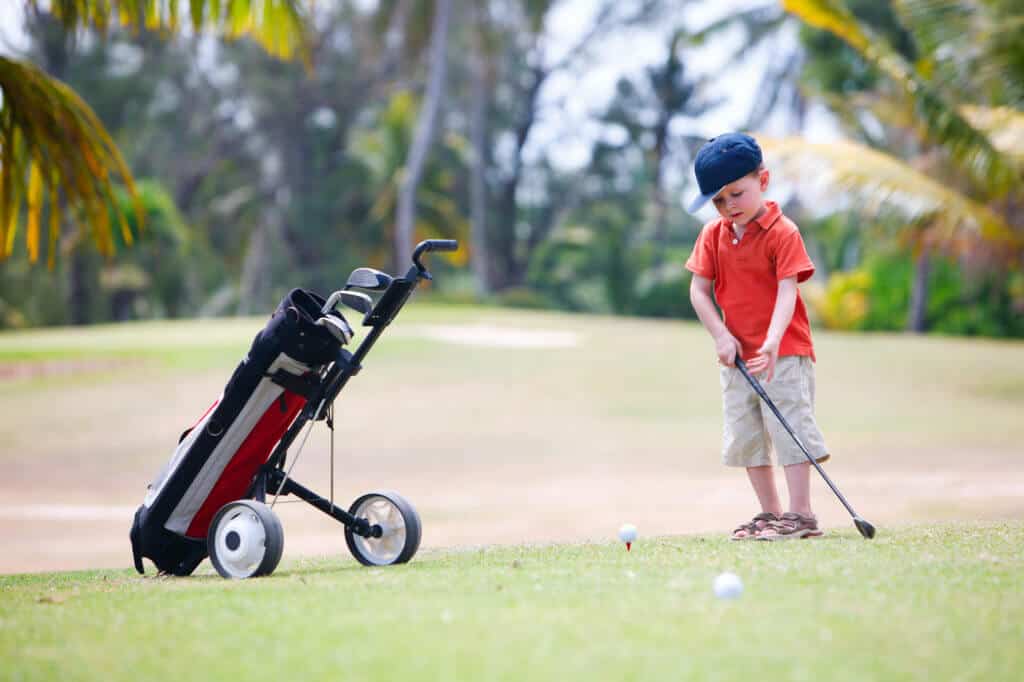 When you are out at your favorite golf course to play with your family, there is a lot of walking around with heavy golf gear in the field that cannot be done without having a good golf push cart.
Now, if you brought your children to play, they also need a junior golf push cart to be able to carry their golf gear around.

The best junior golf carts in the market are very reliable and can be used by juniors of every age group.
They have increased stability to prevent accidents and injuries.
If you see your kid turning into a great player in the near future, getting a junior golf push cart will prove to be a good investment.
The security that these golf push carts offer to your kids lets them play the game without stress.
That said, as with everything else, the market is flooded with various types of golf push carts from different brands.
While the ones priced on the higher end may seem more attractive and give you the notion of being the better choice, it is not always so.
This article aims to help you understand your needs to help you learn what you need.
Let's first go through the various advantages a good junior push golf cart can offer you and your kids.
Why Do Your Kids Need a Junior Golf Push Cart?
If you have been playing golf for a long time, you know the pain of having only a golf bag to store your equipment and moving around with your heavy gear hanging down your shoulder.
We surely don't want our kids to despise the game before they can even begin enjoying it.
Therefore, it is important that they have their own push carts to be able to carry their golf gear with ease.
Lifting a whole bag of golf gear can cause many problems such as neck strain, shoulder problems and back injuries.
On the other hand, a golf push cart is very convenient to push around and the best ones are designed to accommodate golf gear meant for children.
Apart from this, a junior golf push cart can even improve your kids' performance at the game by saving the energy they would have spent carrying their bag for each hole.
Using a push cart has a further psychological benefit of making them feel like an important professional player.
What Are the Features to Look For in the Best Junior Push Golf Carts?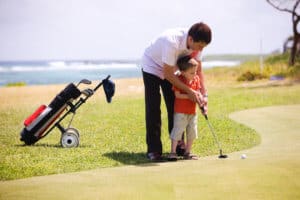 Well, junior golf bags are designed to be small, so they obviously don't fit in the straps of a regular golf push cart.
Kids, therefore, need their own version of a golf push cart so that they can safely place their golf bags in the small straps.
Their junior golf push carts must be durable and easy to fold so that they do not cause any unwanted inconvenience.
To make sure you get the best golf cart for your children, here are the main features that you must look for:
Durability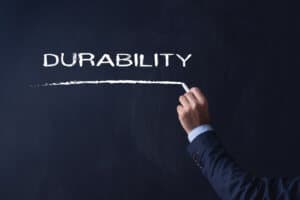 Since the golf cart will be used by children, it is highly likely that it will be used roughly.
The cart will most probably be tossed and pushed around harshly.
Hence, you need to consider the material used in its manufacture to ensure it can withstand a child's rough use.
Furthermore, the durability of a junior golf push cart means that it should come with lightweight and airless tires so that your kid never has to worry about the tires puncturing.
That said, tires must be large and sturdy to avoid any tripping accidents.
The push cart should also have a good handle that is not too big for a kid's palm and does not have an extremely small diameter.
If the cart is battery operated, the batteries must last for months; no one likes to worry about batteries draining frequently.
Convenience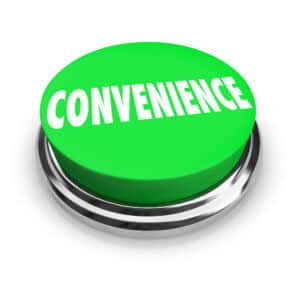 Since many families play golf even while traveling, the junior golf cart must be foldable while having other important features like an umbrella hole, a cup hole, a seat, and compartments for storage.
It must also be lightweight and easily movable by kids of all ages.
Stability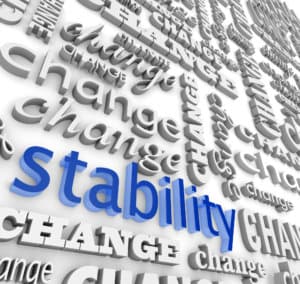 As mentioned earlier, a good golf push cart should be stable.
While using it, the child must not have any fear of tripping over or losing hold of the golf gear.
Moreover, the cart must have a good braking mechanism and have sturdy wheels to provide a smooth ride.
Top 8 Junior Golf Push Carts
Let us now review the eight best junior golf push carts available for your kids and study the pros and cons of each one so that you can decide which one will suit your kid better:
1. Clicgear Rovic RV3J Golf Push Cart for Juniors
The Clicgear Rovic RV3J push cart is a very stylish option for junior golfers.
Apart from having great looks, this cart is excellent for many other reasons.
It is one of the best golf push carts due to its oversized wheels that offer perfect terrain navigation. It also comes with very responsive brakes.
The RV3J is also provided with a beverage holder and space for other accessories, which is a great addition for many junior golfers.
Pros
Has a holder for beverages
Can accommodate an umbrella as well
There is also a ball clip included
Cons
The scorecard holder usually hinders the game
The oversized wheels do not allow it to be folded easily
2. Spin It Golf Products GCPro II Push Golf Cart
What can be better than getting your junior golfer an automatically folding golf push cart and that too on a budget?
The Spin It Golf Products GCPro II is a great option for kids of all ages.
It comes with a super easy folding mechanism, making it a very user-friendly option for kids.
Apart from these features, the golf cart comes with compartments for balls, tees, scorecard, and drinks.
Other features include durable wheels, a very long-lasting battery and adjustable handles.
All this allows the GCPro II to last a long time, making it a great investment.
Pros
Super easy to fold. The push cart comes with an automatic red button that folds it within a matter of seconds
Very reasonable price
Sturdy
Cons
The wheels are larger than they should be
The cart is very heavy for juniors
3. Young Gun Junior Golf Cart for Kids
This cart by Young Gun is the most lightweight option in the list that is fairly convenient to use for juniors.
This stylish golf push cart allows your kid to carry it around their shoulders due to the shoulder strap that comes conveniently attached with it.
It is a very lightweight push cart and weighs about 8 pounds.
It is the only junior push cart that comes with a shoulder strap.
Other features include two wheels and a central leg that helps keep the cart stable.
Pros
The bag holder can be adjusted to accommodate many different bags
It is a simple and lightweight product
Easily transportable due to the availability of a shoulder strap
Cons
The product has a tendency to trip
The handle is non-extendable
4. Bag Boy Quad XL Golf Cart
Bag Boy is well known for manufacturing the best golf products and accessories.
Just as it specializes in golf items for adults, it does so quite well for kids as well and this cart is a good example of that.
The Quad XL is an aesthetic four-wheeler with stable tires that can glide smoothly over the roughest of terrains.
Another unique feature is that it has a lock system to secure your kids' golf bags in place so that there is no fear of golf clubs slipping out of a bag.
Furthermore, it comes with an umbrella holder to give your kid complete shade from direct sunlight.
Pros
It offers four wheels for added stability
It comes with a smart design and appeal
Wheels are big and can handle the roughest terrains
The clamp holds the bag firmly in place
It has a scorecard console built in
Cons
It has a tendency of tripping over due to heavy winds
It could be shaped to have a lighter weight than it does
Cannot be folded
5. Total Automatic Folding Golf Push Cart by Golferpal
This is another automatic golf push cart for young golf players. It is more suitable for teenagers than younger kids as it weighs 16.8 pounds.
It can be easily folded down to a size of 12.8″ x 26.4″ x 16.5″ so that it can be carried easily.
Although lightweight enough to be carried around by your teen, this golf cart is made of steel that adds to its durability.
The thick and wide tires add to its feasibility and it can move smoothly over rough terrains.
It is an eye-catching, four-wheeled cart with huge tires to glide smoothly on rough terrains.
Pros
The wheels are thick and designed well for rough terrains
It is a very simple and user-friendly product
Battery lasts for six whole months
Cons
It does not contain a good braking system
The cart is only good enough to keep bags larger than 26 inches in diameter
6. Bag Boy Compact 3 Push Cart
The Bag Boy Compact 3 push cart is another favorite when it comes to selecting a golf cart for juniors.
While it does not boast any exceptional features or have extra clamps to handle accessories, it is still a good option to choose for your kid.
It has a very eye-appealing design that comes in a unique three-wheel makeup.
The build of the cart gives it exceptional stability and ease of maneuvering over the roughest of terrains.
It is also easy to handle and move around, placing less stress on a junior golfer's physique. There are three wheels plus a front leg that add a lot to its stability.
Pros
It is lightweight and easy to move
Comes with three tires and a front leg
It has an attractive design
Weather-resistant
Cons
It does not have extra compartments
It does not come with a folding option
7. Bat-Caddy X3R Electric Golf Caddy
This one is another eye-catching golf cart that is more suitable for teenagers rather than younger kids.
Teens will be able to move it around with unbelievable ease on very rough terrains.
It is an electric push cart that can conveniently hold the heaviest of gear and lock it into place without anything falling apart.
It has a very lightweight and slim frame which is strong at the same time.
It also provides the user with a good grip so that it can be easily maneuvered over any kind of terrain.
There is a leg located at the front to provide stability.
Pros
Lightweight and user-friendly design
Strong, sturdy wheels
Good clamps for holding golf gear in place
Appealing design
Front leg keeps it stable in the windiest weather
Cons
The axle on the wheels is not properly aligned
There is always a risk of accident due to the tires moving in opposite directions
Does not contain clamps for accessories such as an umbrella
8. Clicgear Model 3.5+ Golf Push Cart
If your child wants to be more like a professional, the Clicgear Model 3.5+ Golf Push Cart is the one!
It is basically a miniature adult push cart that comes with many storage options.
It has a sturdy design and is durable enough to last many years.
It also has an automatic folding button and comes in two color options, pink and black.
The three wheels also add to its stability.
Furthermore, the wheels have a small diameter and are airless.
Moreover, the handle is made of rubber and is styled to easily fit the palms of a child.
As a result, excellent maneuverability is the main feature of this junior golf cart.
It also comes with a mesh bag that can be adjusted to support multiple accessories.
Pros
The push cart folds neatly within a few seconds
It has a carry bag made of mesh that can store many accessories
It has nicely pivoted wheels that provide stability
It can hold a lot of golf gear belonging to professional junior golfers
Cons
The design can be a bit complicated to use for novices
The mesh bag needs to be purchased separately
Final Words
Durability, ease of transport, automatic folding, stable and sturdy wheels, availability of different clamps, a good cart handle, and nice braking systems are what make the best junior golf push carts.
Although many parents might not consider it so important to get their kids such push carts, investing in one many change golf for your kids, who might start taking it more seriously than ever.
It is, however, highly recommended to let your kids do the choosing by telling them about the pros and cons of all the top junior golf push carts so that they can better decide what they want.
It will also help them feel like a professional adult golf player.