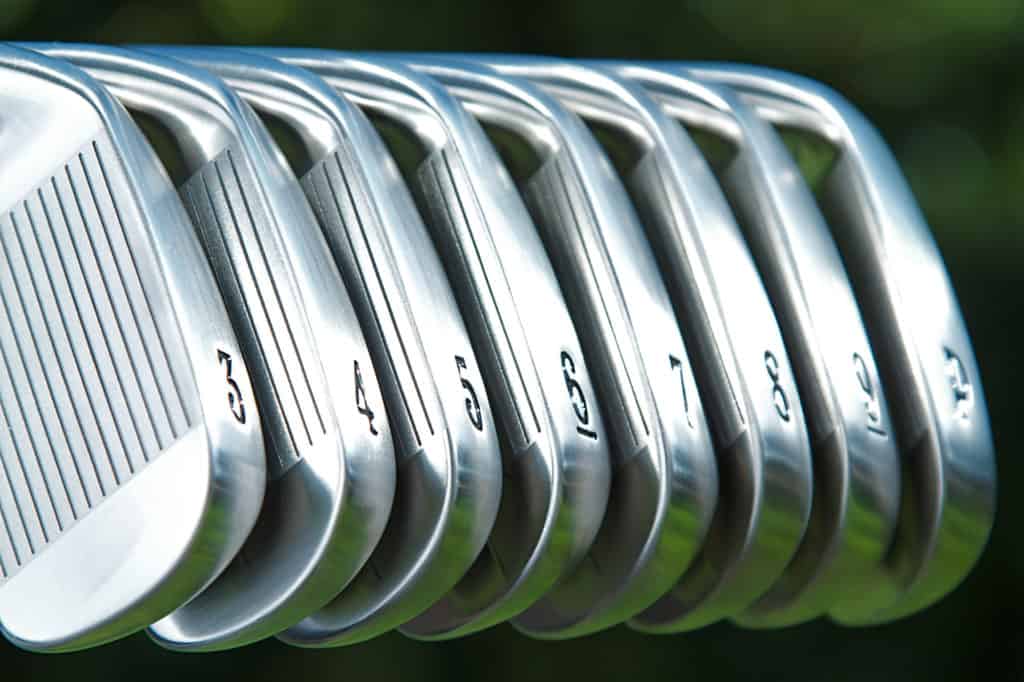 When you turn on the television and watch professional golfers hitting a seven iron two hundred or more yards, it can get a bit discouraging.
You may be wondering if they are exceptionally good or you are exceptionally bad.
You can rest assured that the majority of golfers are not getting distances like the pros.
In this guide, we will give you some information about how far you should be hitting a seven iron and some helpful tips to make your seven irons shots even better.

How Far Should You Hit A 7 Iron?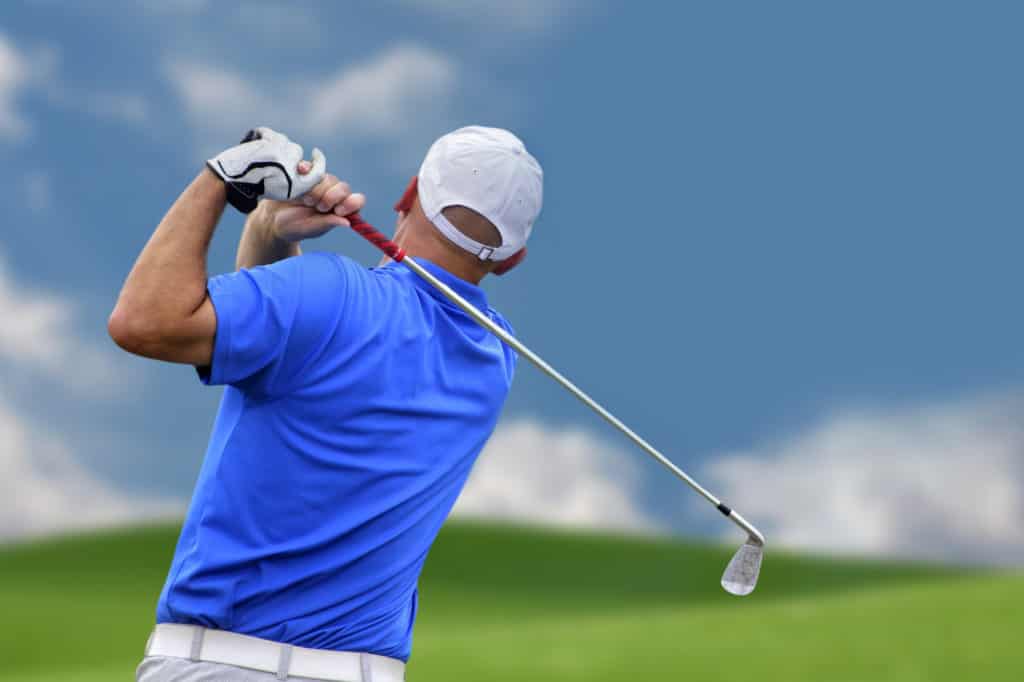 An average golfer should be able to hit a seven iron about 140 yards.
This distance will vary greatly depending on a person's age, swing speed, the clubs they are using, and the course conditions.
Lower handicap or stronger players tend to hit the seven iron 150 yards or more.
Senior golfers or women golfers with slower swing speeds may hit the seven iron 130 yards.
For golfers that hit the seven iron more than 160-170 with a seven iron, their swing speed is exceptionally fast.
If you can get at least 140 yards of distance out of your seven iron, you will be making the game of golf quite a bit easier on yourself.
This will make approach shots into greens much easier than having to use a five iron.
Video Example of hitting irons
What Are The Specs On A Typical 7 Iron?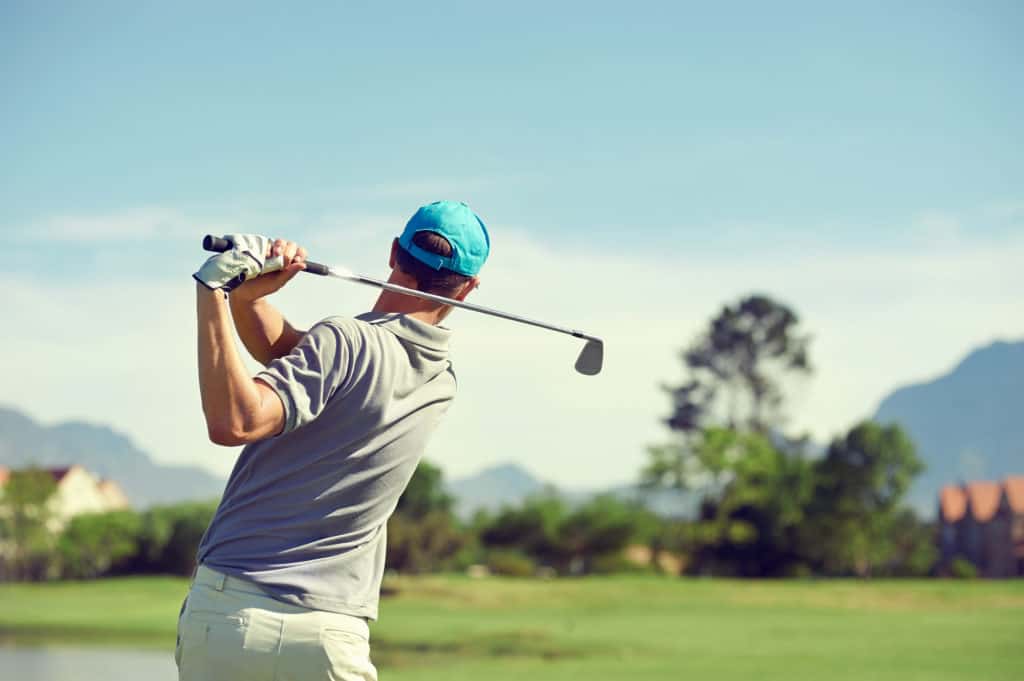 A modern seven iron will have about 34 degrees of loft.
This is four degrees less loft than a seven iron would have had several years ago.
Traditionally seven irons were closer to 38 degrees of loft.
There has been a large shift in what golf club manufacturers do to help people get more distance.
This process some people refer to as delofting golf clubs.
Since the club has less loft, it should technically fly further.
Of course, the forgiveness and the center of gravity on the club need to be adjusted to accommodate this change in the loft.
This process has been headed this way for several years now.
However, golf clubs for lower handicap players and some for higher handicap players are heading back towards the higher lofted clubs.
Lower handicap players don't need the extra distance, and they want the launch and the workability of a traditionally lofted seven iron.
Higher handicap players are finding that the lower lofted clubs don't offer them the forgiveness that they need.
The average handicap golfers are enjoying the extra distance that the delofted seven irons provide.
What Is A Typical Swing Speed For A 7 Iron?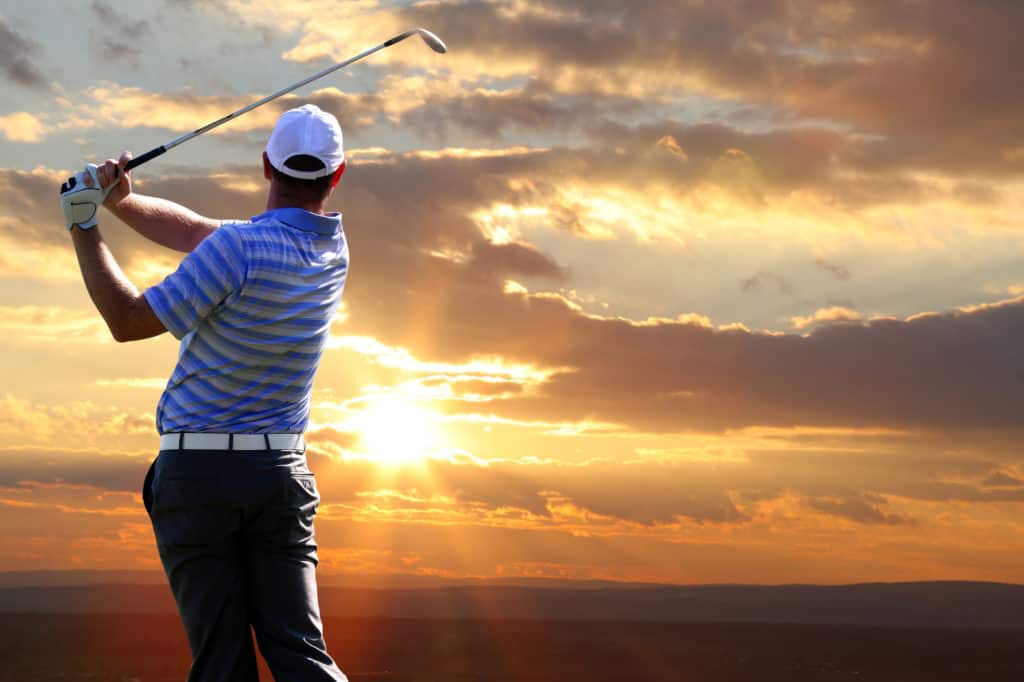 An average golfer will swing a seven iron about 75 mph.
This number can change based on the weight of the club and if it is steel or graphite.
The faster you swing a seven iron, the further it will go.
If you can swing at about 85 mph, you will see distances closer to 165 yards.
At 75 mph the distances will be closer to 140.
If you want to increase the distances that you hit the ball, you need to increase your swing speed.
Your swing speed can be increased by making your swing more efficient, choosing the proper clubs, and increasing your physical strength as well.
Is There Such Thing As A 7 Hybrid?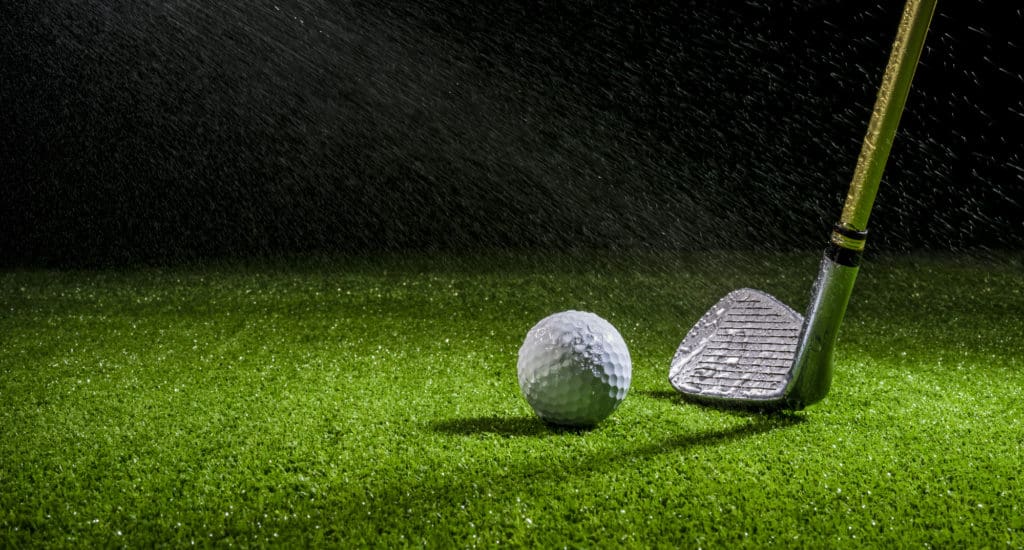 Yes, several companies make seven hybrids.
The seven hybrids can be used to replace a seven iron, or it can be an addition to your golf bag.
Although you may think it is strange to put a seven hybrid in your golf bag in addition to a seven iron, very often, these two clubs will be used for different things.
The seven hybrids will be a very easy golf club to hit.
Since it is easy to use and has a good loft, players will be more confident with the seven hybrids.
When you have confidence in a club, you can get a much better loft and distance with it as well.
Some players will only be able to hit their seven-iron 140 yards, but they can get 150 out of their seven hybrids.
This is a perfect ten-yard gap and will make much more sense than carrying a six iron.
Just because both clubs are called sevens does not mean that you can have both in your bag.
Seven iron hybrids are always going to be made with a graphite shaft.
Most of the time, they will be offered in products for senior and women golfers.
Some companies like Cleveland and Cobra make entire sets of hybrid irons should you not like playing with irons at all.
Do I Need A 7 Iron In My Bag?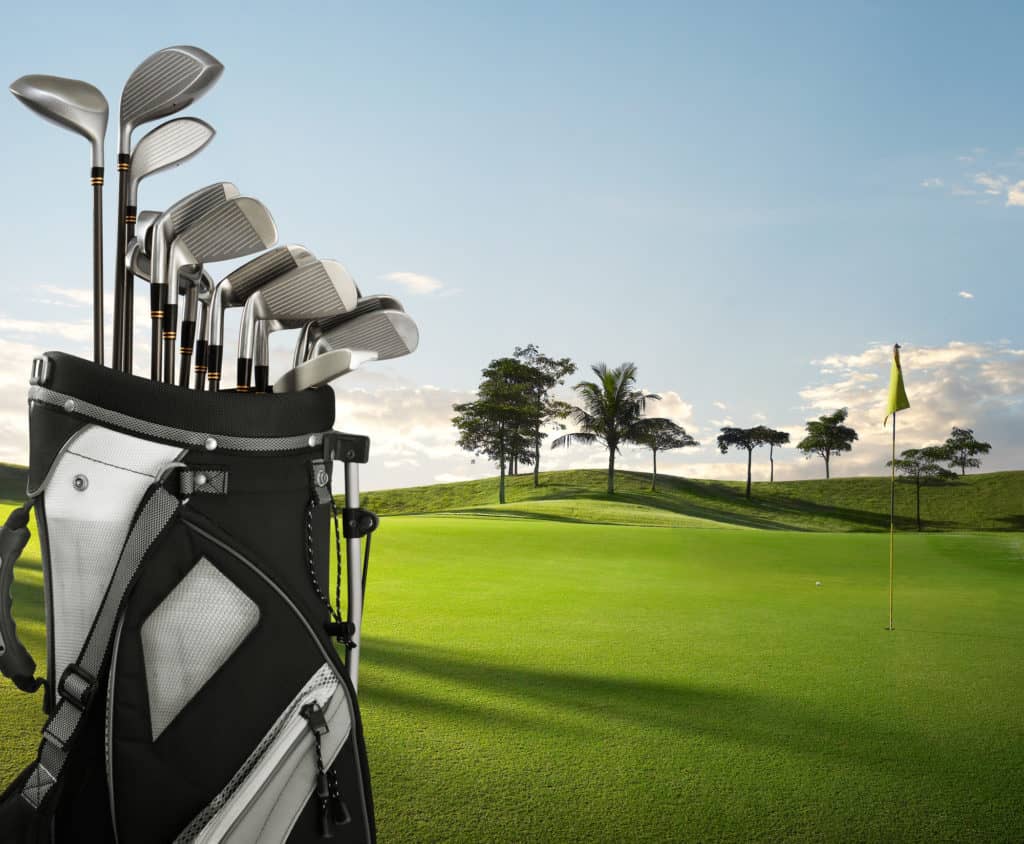 No.
You can choose whatever set makeup you would like for your set of golf clubs.
Most golfers will use a seven iron, and most will also use a six iron.
More and more golfers are moving away from using a five iron and switching to a hybrid.
Some golf sets for women do not include seven iron.
They will start at the eight iron, and the seven iron is going to be a hybrid.
This is simply because the seven hybrids are a bit easier to hit than the seven iron.
A seven iron is a versatile golf club with an average amount of loft that should make it a comfortable club to hit for most people.
Why Do Golfers Love Their 7 Iron?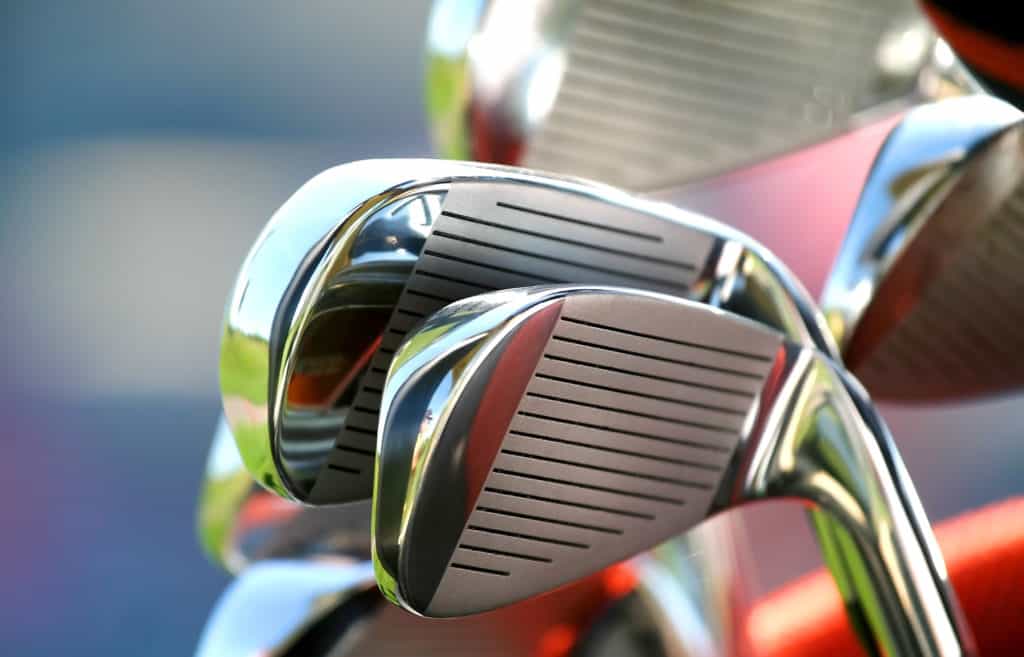 Golfers tend to love their seven iron.
This is because it has the perfect mix of distance and forgiveness.
You won't have a hard time trying to get your seven iron up off the ground, or out of the rough.
Even if you are a long way from the hole and you need to get out of a bad lie, the seven iron is a great go-to club.
You can also use a seven iron for hitting high or low shots.
Many golfers learn to play the game with an old seven iron.
It seems to just stay with them that this is the golf club that is generally forgiving and easy to hit.
Shots You Can Hit With A 7 Iron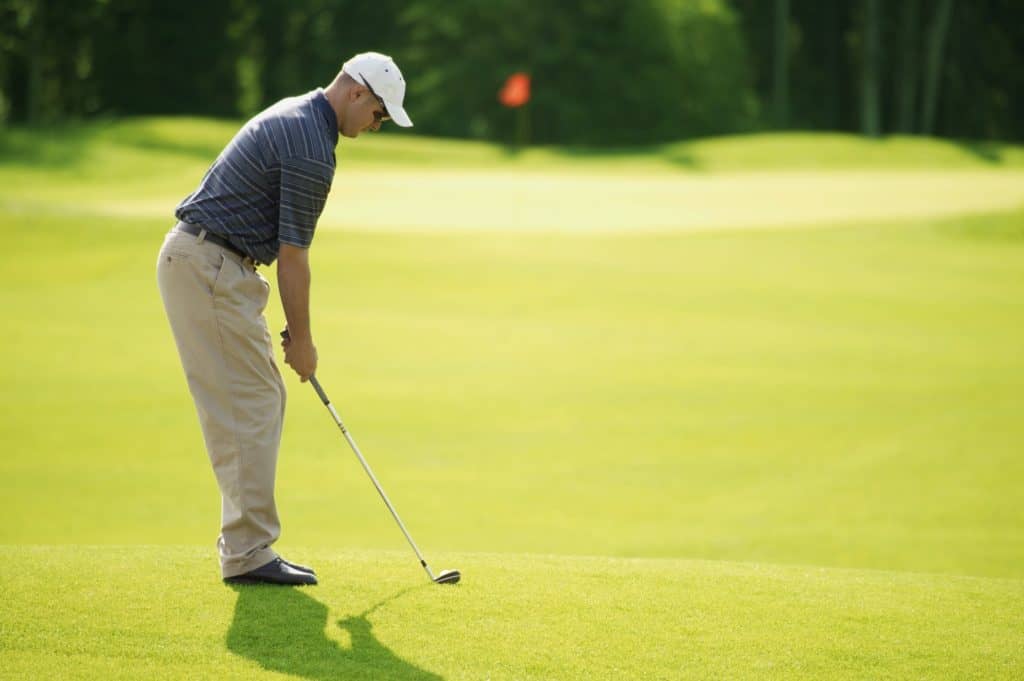 Since a seven iron is a very versatile golf club, there are lots of different shots you can hit while using it.
We will discuss the different shots and some tips for hitting them better.
Full Swing 7 Iron
The standard seven-iron shot using your regular full swing.
This shot will go anywhere from 135-165 yards depending on your ability to get clubhead speed.
The full swing seven-iron shot can be used from the tee or on your approach to the green.
Keep the ball in the center of your feet
Make sure you set up with your shoulders and hips square to your target
Leave the clubface square to the target do not manipulate it
Complete the golf swing and fully release the golf club
Knock Down 7 Iron Shot
If you want to hit a lower shot that gets you out of trouble, you can use your seven iron.
When you happen to hit the golf ball out of the fairway, or you are stuck behind a tree, your seven iron may be an easy club to get out of the situation.
You can narrow your stance a bit
Feel like you close the clubface down a little to deloft the club
Only swing back halfway
Keep the club down low on the follow-through
You will feel like you are directing the ball to be lower and punch out of the trouble
Chipping With A 7 Iron
Many golfers forget that a seven iron can also be a great club to chip with.
If you need a low running shot that goes across the entire green, you will love the seven iron.
This would work best if you were located at the front of the green and the pin is in the back of the green.
Take a narrow stance
Only swing the club back a few feet
Follow through just a few feet
Try and clip the ball very clean and pick it off the turf
You will have to practice this shot a bit to learn how far it will roll
Should You Tee A 7 Iron Up?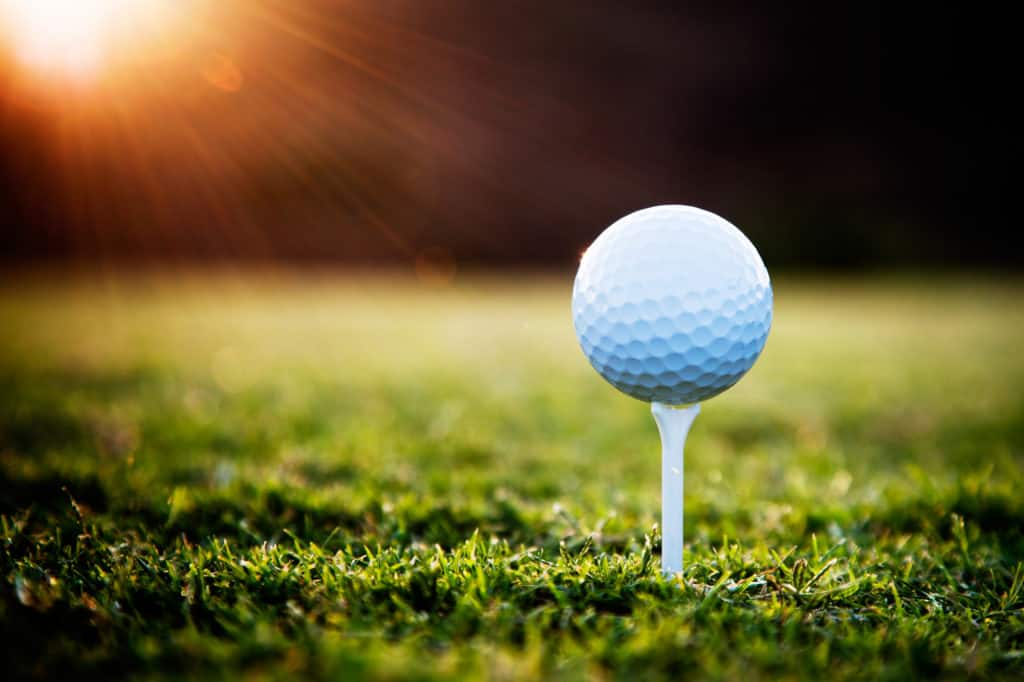 On a par three that requires seven iron-distance, a player may consider teeing the ball up.
Teeing the ball up a slight bit off the turf is completely acceptable.
Teeing the ball high like you would a driver, or fairway wood is not going to help.
You will very likely end up hitting the clubface in a spot that won't help you get more distance or forgiveness.
Tee the ball up slightly to make things a little easier on yourself but don't feel the need to get it way up off the ground.
Why Beginners Should Start Practicing With A 7 Iron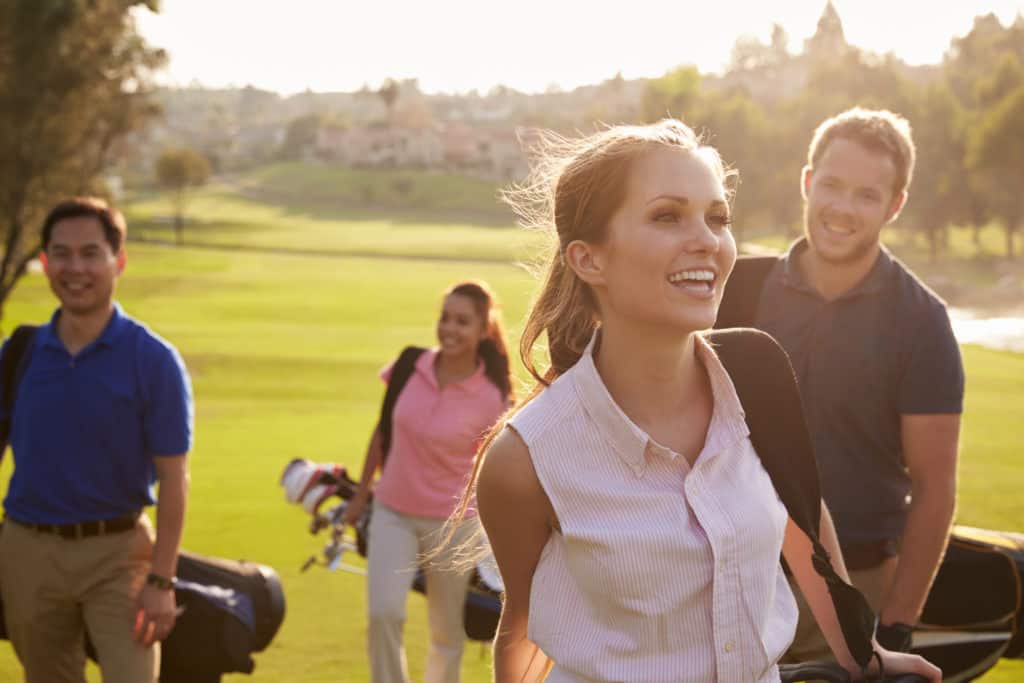 When a person decides they want to take up the game of golf, a professional may hand them a seven iron to start with.
Seven irons are a great middle ground.
They won't be as easy to hit as a wedge, but they also won't be as hard to hit as a five iron.
If a beginner makes a good connection with a seven iron, they may see the ball fly 100 or more yards.
This is some great distance and will give them the confidence they need to keep practicing and improving their game.
Beginners can use a seven iron a wedge and a driver until they start to understand the game a bit more.
Having a full set of golf clubs will not help a beginner that much.
They won't have enough consistency in their distances for different clubs to make a real difference.
A beginner can hit a seven iron 150 yards one day and 100 yards the next.
It takes time to become better at the game of golf.
What Does It Take To Hit A 7 Iron 150 Yards?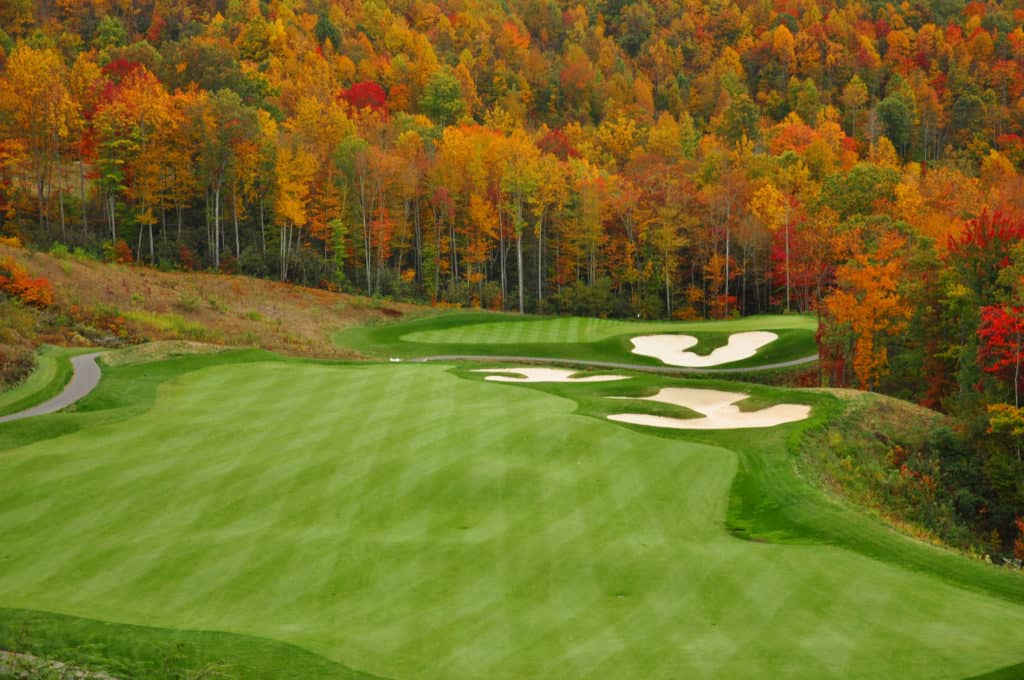 One hundred and fifty yards seems to be the distance that all golfers want to get to for a seven iron.
If you can hit a seven iron 150 yards, you generally have enough distance to start lowering your scores from mid handicap to lower handicap.
Although there is a lot more that goes into being a good golfer than just your score, having enough distance is important.
Having enough distance makes shots into the green much easier and allows you to be closer to the pin as well.
Here are a few things that you will need to be able to hit a seven iron about 150 yards.
Speed
Your club head speed will have to be around 80mph with your seven iron to get it to go 150 yards.
You may need to be fitted for a lighter shaft or a graphite shaft.
The graphite shaft will be easier to swing faster and could help you get the clubhead speed that you need.
Accuracy
Hitting a golf club in the center of the clubface will help it go much further than a club that is not hit in the center.
When a golf ball is hit anywhere but the center of the club, you lose a percentage of the yards that you should have gotten.
Sometimes these differences are just a fraction of a centimeter, but they can be the difference between a 145-yard shot and a 155-yard shot.
To start getting 150 yards out of your seven iron, you need to start hitting the center of the clubface consistently.
Forgiveness
If you are struggling with hitting the center of the face, it could be because your clubhead is not forgiving.
A forgiving club head is going to be on a cavity back iron.
Cavity backs are perimeter weighted golf clubs; they are designed to help you launch the ball higher and further.
Cavity back irons don't feel as great as forged or blade irons, but they certainly are easy to get to perform.
If you find that you are not getting enough forgiveness with your current seven iron, you may need something more of a cavity back.
Physical Ability
Golf is becoming more and more a physical sport.
Anyone that tries to say that you don't need to be in good physical condition to play the game of golf should look at the PGA Tour players.
You will see that the majority of these players are in excellent physical condition.
This is not an accident.
Golfers are learning that if they want to hit the ball further and more consistently, they need to have the physical strength in addition to technique.
Any way you choose to improve your overall physical health will affect your golf game.
Can You Hit A 7 Iron Out Of A Bunker?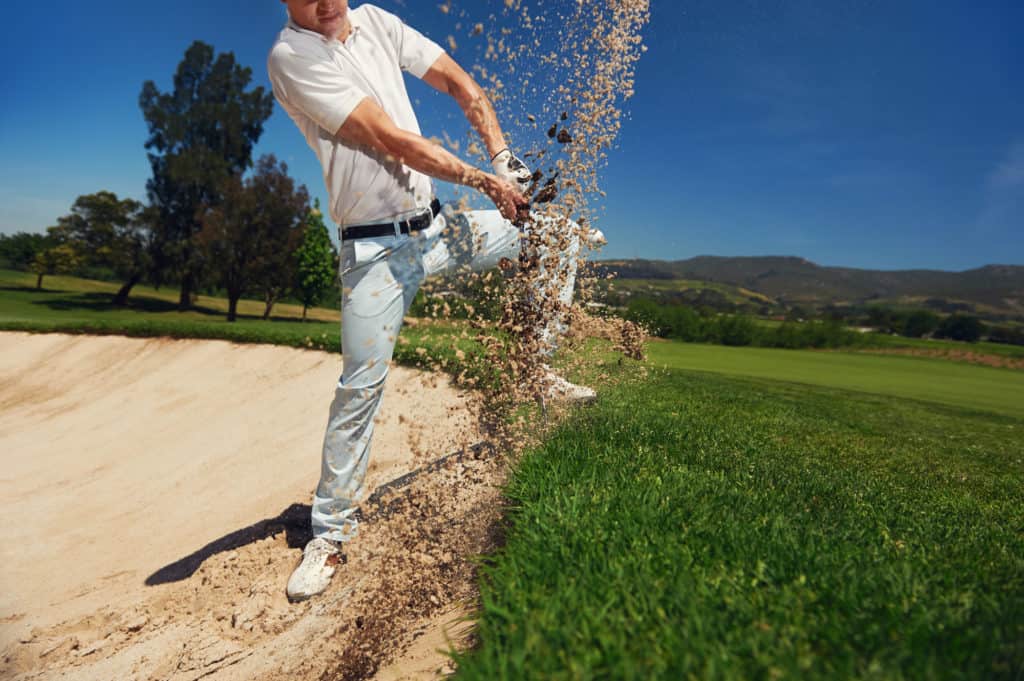 A seven iron is a great club to choose out of a fairway bunker.
If you are trying to use a seven iron out of a greenside bunker, you will struggle to get enough loft.
When hitting a seven iron out of a fairway bunker, make sure that it has enough loft to carry you over the lip of the bunker.
When hitting out of a fairway bunker, it's best to keep your body still and try and pick the golf ball clean.
If you make a big turn and transfer a ton of weight, you may end up hitting behind the ball.
When you hit behind the ball in a fairway bunker, you may not have given the ball enough force or speed to escape the bunker.
Keep your body still, use more of an arms swing and pick it clean when in a fairway bunker.
If you are afraid that the seven iron does not have enough loft to get you out of the bunker using an eight iron or a wedge instead.
What Are One Length Clubs?
One length golf clubs are all made the same length as a seven iron.
This is done because of how comfortable it is to hit a seven iron, for the average golfer.
One length golf clubs are becoming more popular, and people love the consistency it provides them when they set up.
Recap
If you are hitting your seven iron about 140 yards, that is about average for an amateur golfer.
Adding more distance to this shot and eventually being able to hit closer to 160 yards is a possibility for many players.
You must consider your game, your equipment, and your physical condition to be able to add distance.