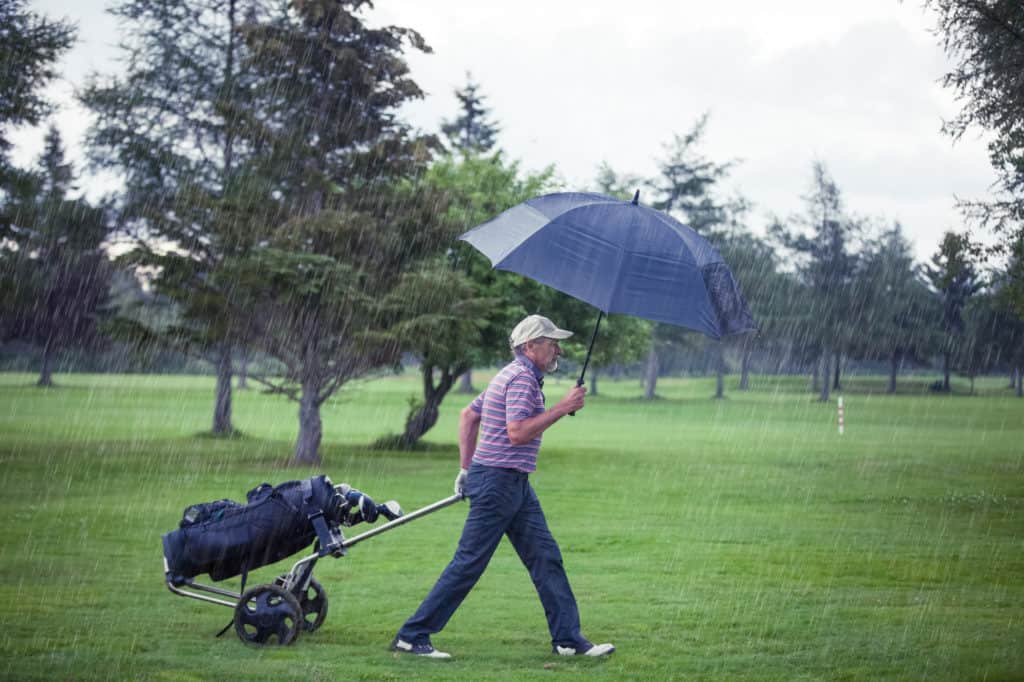 If you are playing golf with a pushcart, you will be very exposed to the sun.
Standing out in the direct sun for four or five hours can do a lot of damage to your skin over the long term.
When you play golf with a golf cart, you at least get some protection from time to time.
Luckily, the golf push cart umbrella is an excellent solution for those who want some shade but still want to walk the golf course.
Here are our top ten best golf push cart umbrellas to make your next round of golf a little cooler and a bit safer as well.

Top 10 Best Golf Umbrellas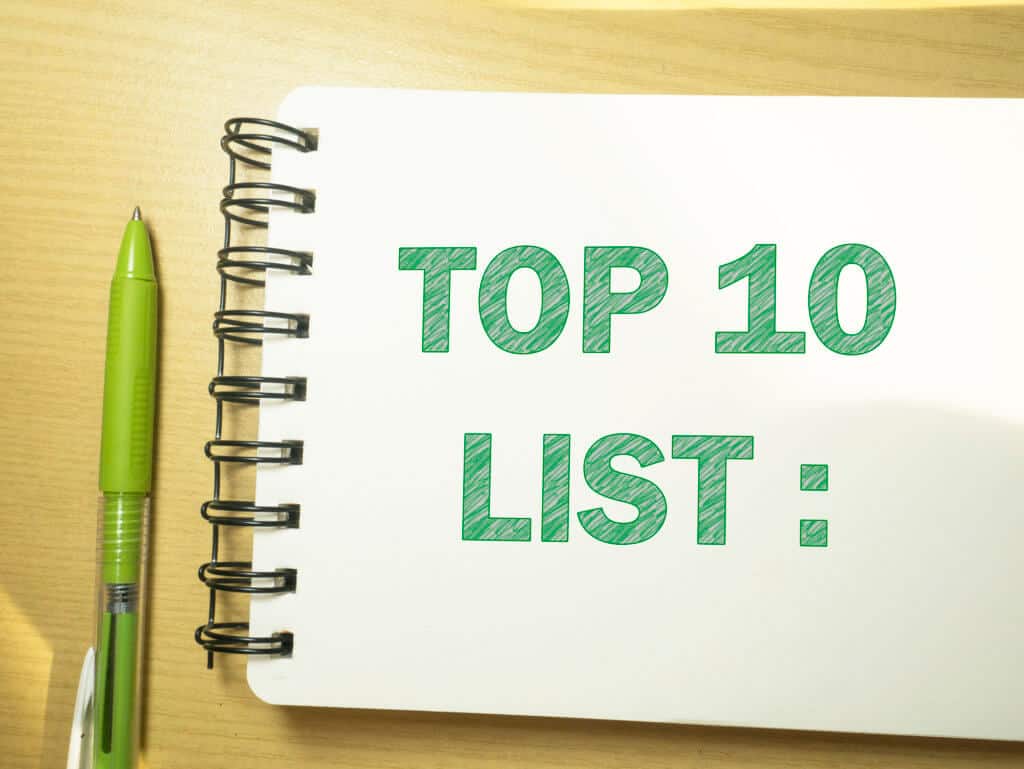 1. UV-Blocker UV Protection Golf Umbrella
Key Features
UV Blocker
UPF 55+
Keeps golfers cooler
At the top of our list is the UV Blocker Golf Umbrella.
If you don't want to take our word for it, you can check with the Melanoma International Foundation.
This is recognized as an umbrella that will help protect against skin cancer and keep people safe while playing golf in the sun.
In addition to staying safe, the UV-Blocker umbrella claims it is 15 degrees cooler underneath than when out in the open sun.
Part of what helps this happen is the patented Double Canopy Vented Mesh System.
The airflow this system allows will allow golfers to feel a nice breeze and plenty of airflow even while under the umbrella.
This is a great option to use even when you aren't playing golf and you are spending the day at a park.
Of course, umbrellas are also built for rain protection, and this umbrella is water repellant and designed to give players plenty of coverage from the rain.
Since this is a heavy-duty umbrella, you will need to ensure your umbrella holder on your pushcart can handle it.
You can purchase a separate umbrella holder that will keep your umbrella in place.
This is an umbrella that will no doubt help protect you from the sun and rain, but it does cost a little more money.
Pros
Excellent sun protection
High-quality materials
Water repellent
Cons
2. Sun Tek 68" UV Protection Wind Cheater Vented Canopy Umbrella
Key Features
UV Protection
Large canopy
Comfortable handle
The Sun Tek 68" umbrella is a larger-style umbrella with UPF protection of 50+.
This model will help block ninety-nine percent of the rays you don't want to hit you while you are out there playing.
The Sun Tek is made with 100% nylon, and it has a double canopy design.
With the double canopy design, you have a much lower chance of this umbrella inverting itself.
The fiberglass shaft and ribs also make the umbrella safer should you get stuck out on the golf course when there's lightning.
It is never safe when this happens, and you should always work on finding shelter as soon as possible.
In addition to the excellent rain protection, the Sun Tek has a UPF of 50+ when it comes to sun protection.
Another great feature of the Sun Tek is that it will fit in most standard golf cart umbrella mounts.
If your golf cart is set up for an umbrella, the chances are that this affordable and lightweight umbrella will fit and be an excellent option for your game.
Pros
Fairly priced
Available in lots of colors
Fiberglass shaft
Great rain protection
Cons
3. Sun Mountain Golf- 68" Manual UV Umbrella
Key Feature
60-inch size
Nylon material
Sun Mountain makes some of the best products in golf when it comes to weather protection.
The Sun Mountain products combine to give you great outerwear, sun wear, cold gear, and wind gear as well.
With this 68-inch manual UV umbrella, you will get some protection from the sun, the rain, and the wind as well.
The double canopy design allows players to use the umbrella as a protection from the wind without the umbrella flipping itself inside out.
The fiberglass shaft on the Sun Mountain helps to keep the umbrella lightweight and durable as well.
The Sun Mountain handle is made with rubber and will fit in most pushcarts without any trouble.
This is a manual umbrella, so you will have to push it open yourself.
There are good and bad things about this; the good news is that there are fewer parts to break.
The negative is that it may take you a second longer to get your umbrella up and running when you need it.
Overall, the Sun Mountain is a product to consider if you want a long-term umbrella to keep on the side of your bag and break out when needed.
Pros
Double canopy
High quality
Large in size
Cons
4. Procella Large Golf Umbrella 
Key Features
Waterproof
Very tough quality, hard to break
Tear-proof inner mesh
The Procella Large Golf Umbrella is a well made, high-quality choice that will work for any golfer.
This is considered to be a windproof umbrella, which is essential for a golfer who is using an umbrella on their pushcart.
When you are walking the golf course, the last thing you want to happen is for your umbrella to take off and fly away on its own.
This is not only going to slow you down, but it also could ruin your umbrella.
If you play golf on windy days, you will need a windproof option for your cart.
The Procella is excellent when it comes to rain protection as well.
It has a double canopy design which helps to make sure water repels off the umbrella with ease.
The Procella is a great option not just for golfing but for other outdoor events as well.
If you are heading out to a sporting event or the park and want some extra shade, the Procella will do the trick.
Pros
Very lightweight
Auto open
Long-lasting/high-quality option
Cons
Not the largest umbrella on the market
5. Sport-Brella Versa-Brella SPF 50+ Adjustable Umbrella with Universal Clamp
Key Features
UPF 50
Clamp-on shade canopy
Durable connector
The reason we love the Sport-Brella Versa-Brella is that it works not only for a pushcart but for a golf cart as well.
This is not a very large umbrella, but it has some unique features which set it apart from the crowd and make it a great choice.
To start off, it has UPF rating of 50+ and a clamp-on shade canopy.
The clamp is what makes it work for even your golf cart.
If you have parked your cart at an event and feel like you aren't getting the shade protection you need, clamp the Sport Brella on and adjust it to work for you.
The connector used to clamp the umbrella in place is very high quality and should hold up for a long time.
We love that you can adjust the angle on the umbrella.
There is a four-way 360-degree swivel which lets you get the angle you need.
This is great for shorter and taller golfers who are walking the course and may need an adjustment from the standard golf umbrella on the bag.
The Versa-Brella looks a bit different, and you may be concerned about where to store this, but it is foldable.
You can put it into a compact carrying case that only weighs 1.8 pounds.
This is an option you could easily leave in your golf bag.
Pros
One-year warranty
Folds small
Adjustable angles
Cons
Not a very large umbrella
6. Clicgear Double Canopy Umbrella (68")
Key Features
Rain or sun umbrella
Fits all golf pushcart umbrella holders
Oversized design
The Clicgear umbrella has a double vented canopy and a very large size to keep you protected from the wind, sun, and rain.
The Clicgear is a 68-inch umbrella with a universal handle that will fit into any golf pushcart.
This is a benefit golfers should take seriously because many umbrellas don't have this feature.
When you have to buy an additional umbrella holder to keep your umbrella in place, it will only add to your costs.
The Clicgear is known for having lots of excellent coverage and for holding up in severe rainstorms.
The double canopy helps to ensure your umbrella doesn't take off down the fairway without you.
Pros
Extensive coverage
Protection from rain, sun, and wind
Over 68 inches of protection
Double-vented canopy
Available in several colors
Cons
7. BAGAIL Golf Umbrella 68/62/58 Inch Large Oversize Double Canopy Vented Automatic Open Stick Umbrellas for Men and Women
Key Features
Available in many colors
High-quality fabric
Lifetime warranty
The Bagail umbrella is one of the least expensive yet highest functioning umbrellas on the market.
You can get a pattern or a design on this umbrella to match almost any golf bag.
If you want something solid, striped, or patterned, chances are the Bagail will have an option for you.
The Bagail is made with high-quality fabric, yet it is very lightweight.
The Bagail is not just great for rain protection, but it will work when it's sunny as well.
Since this is such a lightweight option, it is easy to fit in our bag and set yourself up for a day out in the sun.
Many of the lower-priced golf umbrellas do not have the double vented canopy.
This becomes a problem when you are playing in the wind, and your pushcart starts taking off down the fairway without you.
The ergonomic handle on this umbrella will help to make sure you have a secure hold and it will fit in the umbrella holder as well.
Pros
Fast to dry
High-quality fabric
Lifetime warranty
Cons
Not as large as some other options
8. The Weatherman Umbrella – Golf Umbrella Made with Teflon-Coated Fabric and Withstands Winds Up to 55 MPH – Available in 2 Sizes and 5 Colors (68 inches, Navy Blue)
Key Features
Premium fabric
Tested in very high winds
UPF 50+
The Weatherman Umbrella is an excellent choice if you want quality.
This is not the cheapest umbrella on the market, but it is something that will hold up for many years.
The Weatherman umbrella is available in several high visibility colors, and it will stand out in a crowd.
The Weatherman umbrellas will stand up against inverting, even in winds as high as 55 mph.
The Teflon coated exterior on the Weatherman umbrella will help keep the rain repelling off of you when you are stuck in some bad weather.
When it comes to opening and closing this durable option, you should have no issues using the automatic features.
Pros
Comes in different sizes
Lots of colors
Tested in very high winds
Cons
9. Doubwell Golf Umbrella Large Oversize 68 inches air Vent Double Canopy Windproof Automatic Straight rain Umbrellas for Men and Women
Key Features
Automatic opening
Large 68-inch diameter
Windproof double canopy
The Doubwell Golf Umbrella is another excellent option when wind and size also matter.
If you need to quickly open your umbrella and protect yourself from some poor weather, the Doubwell is an excellent choice.
The automatic open on this Doubwell will have you up and running in a matter of minutes.
This is a very large umbrella design with a diameter of 59 inches when opened.
One of our favorite features of the Doubwell is that this umbrella weighs only 1.6 pounds.
You could easily keep this on your cart bag or carry bag and barely notice a difference in the weight.
The comfortable foam grip handle should easily fit in your pushcart umbrella holder and stay in a secure place.
Luckily, the Doubwell is also windproof, and the double canopy system will keep it from inverting even during stormy weather.
Pros
Available in several colors
Windproof design
Large coverage
Comes with a waterproof cover
Cons
The foam handles don't hold up as long as the rubber handles
10. Prospo 62/68 inch Golf Umbrella UV Protection Auto Open Large Windproof Stick Vented Sun Rain Umbrellas
Key Features
UV and rain protection
Made with Pongee water repellent fabric
Lightweight construction
The Prospo Golf Umbrella finishes out our list.
The Prospo is a great budget-friendly choice which meets all of the essential requirements for wind, sun, and rain protection.
This is a larger design you can purchase in either a 62- or 68-inch size.
The Prospo is also offered in a few different solid colors as well.
You will notice that the inside of this umbrella has a silver coating.
The coating is designed to isolate the UV rays and reflect heat.
This will keep you cool while under the umbrella.
If you are a golfer who walks on the course, then the Prospo is a perfect choice to consider.
With this model, you get a one-year warranty, but you will quickly see these umbrellas are designed to get you through much more than just one season on the golf course.
The umbrella itself is made from lightweight fiberglass, so you can easily keep this umbrella in your golf bag without feeling the added weight and burden.
Pros
Available in several colors
Does a great job of reflecting heat
Easy to open and close
Cons
Double canopy is not as strong as some other models