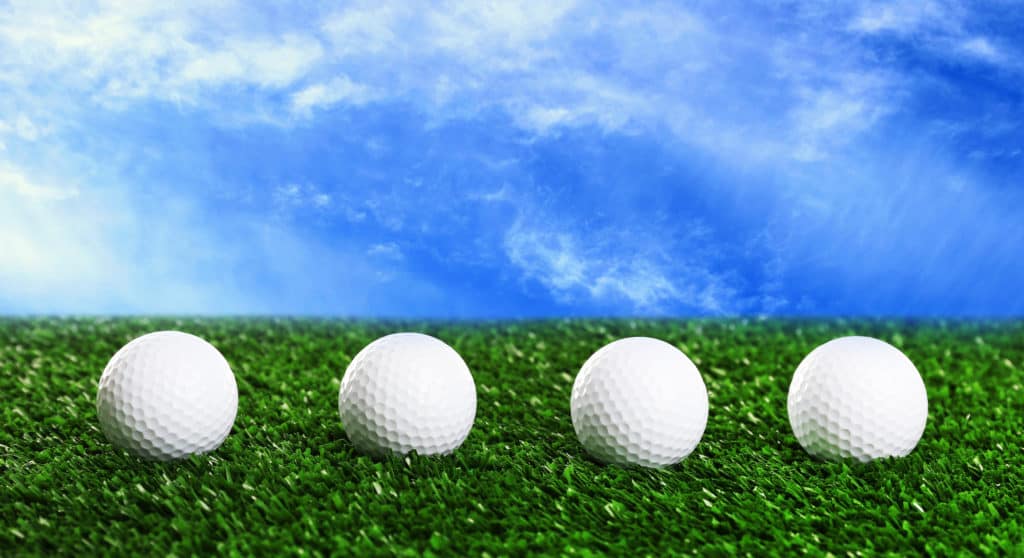 As a beginner, there are so many things about golf that you need to figure out.
Between choosing clubs, shoes, clothes, and golf balls, it is easy to get overwhelmed.
Luckily we have put together some great golf ball choices for you.
There is an option on this list for all price ranges and all beginner preferences.
Keep in mind that a beginner golf ball should be affordable, long, and provide some type of soft feel for around the greens.

Top 10 Best Golf Balls For Beginners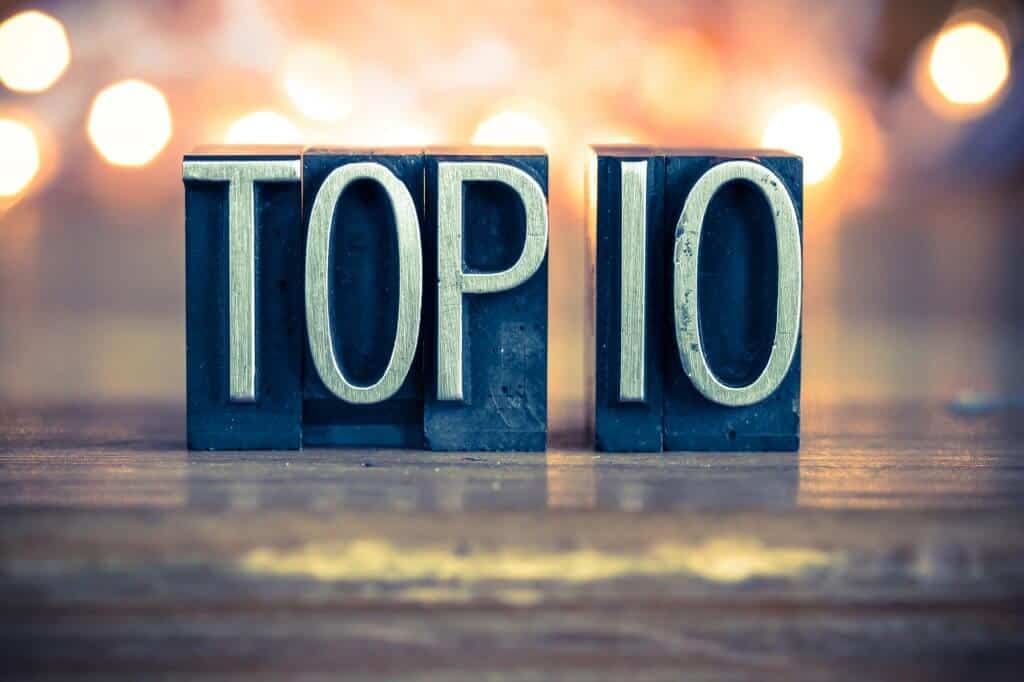 1. TaylorMade Noodle Long & Soft Golf Balls
Key Features
Lots of distance
Soft enough around the greens
Low compression
Finding a perfect beginner golf ball should not be difficult.
Beginners need a mix of value and performance.
Picking a pure performance golf club is very likely a mistake as it will end up getting lost rather quickly.
Beginners will lose golf balls from one hole to the next, and that is very normal.
The TaylorMade Noodle has everything that a beginner golfer needs in a ball without costing much money at all.
The Noodle is a low compression golf ball designed to give plenty of distance but still have some decent feel around the greens.
The Noodle is a low spinning golf ball, so you will notice that your drives will roll quite a bit further when you have this ball in play.
Low spinning golf balls do not have much spin around the chipping and putting greens, but you will have to get used to that in time.
As long as you adjust and play accordingly, it won't cause any issues.
As you become a better player, look for a three and four-piece golf ball that has more spin and feel around the greens.
Pros
Lower compression
Great distance
Low spinning
Great pricing
Cons
Not as soft as some other golf balls around the green
2. Wilson Staff Fifty Elite Golf Balls, Pack of 12
Key Features
Ultra-low compression
Fast core
Shallow dimples
The Wilson Staff Fifty Elite is a golf ball that has been around for quite some time.
It has been improved to help meet the needs of more and more players.
This is a distance golf ball that the beginner golfer will need to get the ball flying as far as they want.
The Wilson Staff Fifty is a lower compression very low price golf ball.
In fact, you won't find too many golf balls priced lower than this ball.
Beginners can stand on the tee with confidence, knowing that if they lose a golf ball, it won't cost them $6.00 each time.
The dimple design on the Wilson Staff Fifty is unique.
The dimples themselves are rather shallow, and they help to promote a ball flight that is unaffected by wind and other parameters.
If you are looking for a strong and penetrating ball flight, the Wilson is a good choice.
Even though the core of this golf ball is great for the distance, it is also soft enough that you get a bit of spin around the greens.
Certainly, it won't perform around the greens like a more expensive three or four-piece ball would, but it functions just fine.
For the price, it's tough to have any complaints about this golf ball.
Pros
Low compression
Easy to get distance
New dimple pattern for straight flight
Cons
Not much spin around the greens
3. Callaway Golf Supersoft Golf Balls
Key Features
Low compression
Hex dimple design
Soft around the greens
In the first two golf balls, we reviewed you may have noticed that we said they were great for distance but not as much around the greens.
The Supersoft is excellent around the greens for distance.
This is still a lower priced golf ball, although not quite as affordable as the Wilson Staff.
The Callaway Golf Balls feature the standard HEX dimple design.
The dimples are hexagonal in shape, and this is done to try and help reduce drag on the golf ball.
The reason the Supersoft golf ball an be so long but still provide feel around the greens is the cover.
The cover is a Trigonometry formulation that is quite a bit softer.
Even though you get the distance off the tee, you can still spin the ball and get it to move how you want it around the greens.
As you improve as a beginner, this will become even more important.
As far as forgiveness is concerned, the Supersoft is one of the most forgiving golf balls that Callaway has ever made.
Pros
Low compression core
Reasonable distance, forgiveness, and feel
Some greenside spin
Cons
Not quite as long as some other choices
4. Callaway Golf Superhot Bold Matte Golf Balls Prior Generation
Key Features
Long-distance golf ball
Three-piece construction
Bright colors
If you have not heard about the new wave of purchasing golf balls in various colors, you may be missing out.
There is more to colored golf balls than the fact that they look cool.
These golf balls are very easy to find when in the rough and easy to focus on while on the tee as well.
Colored golf balls are great for beginners because you can guess that beginners are going to be in the rough from time to time.
Finding a yellow or lime green golf ball in the rough is much easier than finding a white one.
Many of the colored golf balls are also a matte finish.
The matte helps to make sure there is not an intense glare involved when looking at the ball.
This Callaway Superhot Golf ball is exactly like its name says, Superhot.
When you hit this golf ball, you will feel the instant jump that it takes off of your clubface.
Again, you will get the HEX aerodynamic pattern that helps with lower drag and higher launch.
This is a three-piece golf ball so that you will pay a little more, but you will get some extra features as well.
The Callaway SuperHot is excellent for spin around the green because of the three-piece construction and also the softcover.
Luckily the cover has a soft feel, but it is not easily cut when you are hitting shots.
The Superhot golf balls should last the entire round of golf and maybe even for more than one round of golf.
Pros
Great distance
Spin around the greens
Easy to spot
Cons
Some golfers don't like the colored design
5. Bridgestone Golf e12 Soft Golf Balls
Key Features
Soft feel around the greens
Higher ball speeds
Less drag
Bridgestone makes a wide range of golf balls for all player types.
If you are not sure which Bridgestone golf ball is best suited for your game, you can do a ball fitting on their website or at a local course.
For the most part, the beginner golfers will find the most success with the balls that are the distance golf balls.
The e12 soft is a distance golf ball, but it has plenty of performance around the greens as well.
The e12 soft features the Active Acceleration Mantle that helps give a player more initial velocity but allows a soft cover on the ball.
Bridgestone used the Delta Wing Dimple Pattern to make sure that the ball flies through the air with very little drag.
Similar to the Hex pattern on a Callaway, the dimple pattern is very important when it comes to forgiveness.
Beginners need forgiveness and low spinning golf balls.
High spin golf balls are better around the greens, but off the tee, if a newer golfer puts a bad spin on a shot, it will go even further away from the target.
The cover on the Bridgestone is a high-performance polymer that helps add to that soft feel.
Pro
Very soft feel around the greens
Plenty of distance off the tee
Bright yellow easy to see
Cons
Priced a little higher than other options
6. Bridgestone 2019 e6 Golf Balls
Key Features
Long-distance
Soft feel
Low compression
Another Bridgestone golf ball that works well for beginners is the e6.
The e6 is priced more affordably than the e12, but it is still packed with plenty of performance.
The e6 is another distance type golf ball that still offers plenty of feel around the greens.
This is a two-piece golf ball, so although it mentions a soft feel, you will not be sacrificing any of the distance.
The aerodynamics on the e6 has been recently updated to make sure that there is less drag and more forgiveness when hitting this golf ball.
Once you get started using the Bridgestone products, you will have an entire line of options to go through as you improve your game.
It's hard for a beginner to go wrong with the e6 in their golf bag.
Pros
Consistent performance
Soft feel
Plenty of distance
Affordable
Cons
Built for higher handicapper and beginner
Will need to change balls as you improve
7. TaylorMade Soft Response Golf Ball
Key Features
Brand new technology
Soft Ionomer cover
Long-distance
If you are a beginner looking for some brand new technology and the best of the best in distance, this is a great golf ball.
The TaylorMade Response series comes in both a soft response and a tour response.
The soft response will be better suited for the higher handicapper beginner.
This is going to be a very low spinning golf ball that will help you get lots of rolls and a much straighter ball flight.
The soft response has an ionomer cover that keeps it very tough.
In addition to the cover being tough, it also has lots of soft feels as well.
The TaylorMade Response only has a sixty compression core.
If you have a slower swing speed and you are just working on trying to figure this game out, you will do well with the Soft Response.
It is also offered in plenty of different colors, including red.
Although you may not think that red stands out on the golf course, you may be surprised.
The red color is effortless to track and may even help you pay closer attention while on the golf course.
The good news is you will very likely be playing a different color golf ball than your playing competitors.
The three-piece Soft Response ball is an excellent choice for beginners, but you will be able to use this ball as your handicap lowers as well.
Pros
Low compression
The red color and other options
Great for slower swing speeds
Cons
Not much spin around the greens
8. Pinnacle Rush Golf Balls (15 Ball Pack)
Key Features
15 Ball pack
High energy core
Lots of distance
Regardless of your handicap, Pinnacle claims they can get you more distance.
We don't disagree.
Pinnacle knows how to make a very long and forgiving golf ball.
We are not going to say that these golf balls will give you the most performance when you are on and around the greens, but for the long game, they are great.
Pinnacle accomplishes their long distances by using a high energy core that helps develop incredible ball speed.
As you probably know, more ball speed is going to translate to more distance directly.
The Ionomer cover is very durable and will keep this golf ball in play for several rounds.
The Pinnacle features a 332 dimple design that helps give is excellent feel and plenty of distance.
Pros
Priced well for 15 balls
High energy core
Cons
9. Titleist Velocity Golf Balls
Key Features
Lots of distance
Titleist is the number one ball on tour
Good ball flight
The Titleist Velocity golf balls can be an excellent choice for the beginner player.
Titleist has a long history of making the best of the best in almost every product category.
Their Pro V1 golf ball is one of the best golf balls ever made, and it is played on tour week in and week out.
A beginner does not need a ProV1 golf ball, mostly because it is so expensive it wouldn't be worth the cost.
The velocity is essentially a cheaper version of the ProV1.
You will get much less spin than the Pro V provides, but as a beginner, you will not want much spin.
Low spin will help you keep the golf ball straight and the driver rolling for many yards.
Another great feature of the velocity is the fact that it is high launching and easy to compress.
Pros
Great brand name
High-quality product
Durable cover
Cons
More expensive than other beginner choices
10. Volvik Power Soft Golf Balls
Key Features
Available in many colors
Lots of ball speed
Large and powerful core
Last on our list is the Volvik Power Soft Golf Ball.
The Volvik name is gaining quite a bit of traction when it comes to golf balls for all handicap levels.
This is a reduced spin golf ball that will give you plenty of ball speed and lots of distance off the tee.
The softcover means that you will have some extra feel around the greens.
These are not the matte versions when it comes to color, so make sure you are ok with trying to see the glossy golf balls.
Some people enjoy the glossy look, but others say it is hard to focus on when the weather is very sunny.
The Power Soft is one of the cheaper golf balls that Volvik has to offer, most of their other options will be two or more times the price.
This is a 70 compression golf ball, so it will work best for moderate swing speed players.
This is an excellent choice for those that have some athletic ability as most beginner golf balls are geared towards the very slow swinging player.
Pros
Tremendous ball speed
Available in lots of colors
Pricing is great
Cons
The hi-gloss finish can be hard to see
As a new golfer, make sure you don't go overboard with modern equipment, balls, shoes, clothes, and more.
This is an expensive sport, and you will want to ease yourself in.
Remember, there are usually only 12 golf balls in a pack.
If you end up trying something out that doesn't fit well for your game, you won't have to spend much time with them before picking up the next pack.