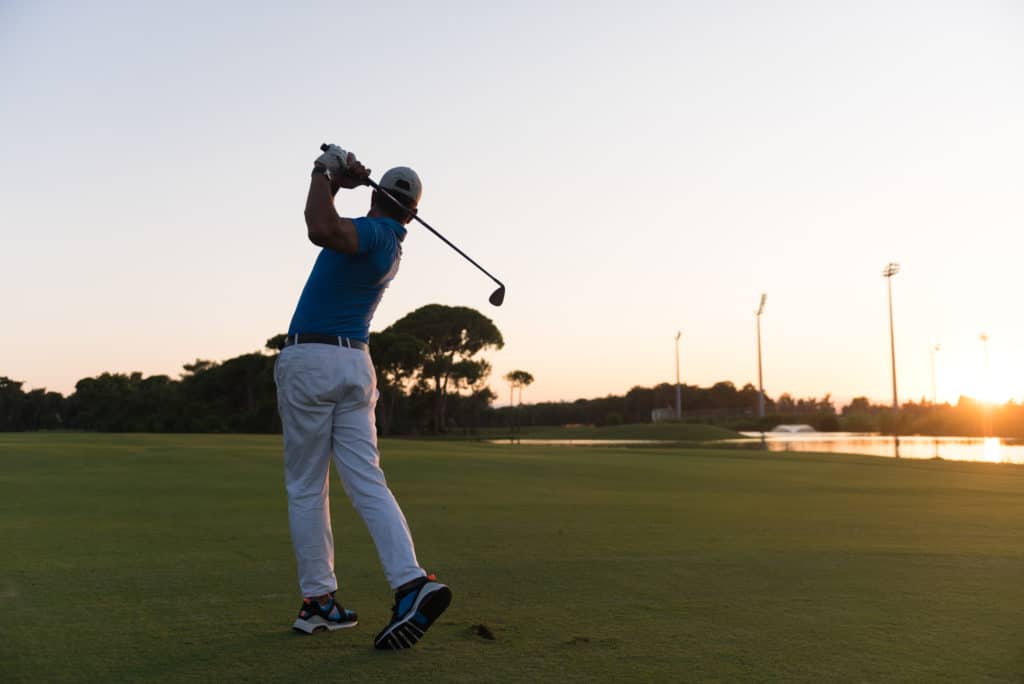 Hitting a golf ball high is a good thing.
If you hit the ball high in the air, you are getting more of a chance for the ball to fly for as long as possible.
However, some people hit the ball so high that it causes issues in their game.
Not being able to control the trajectory of your shots can be a problem.
In this guide, we will help explain why the ball could be going so high and things that you can do to help fix it.

How Do I Stop Hitting The Golf Ball So High?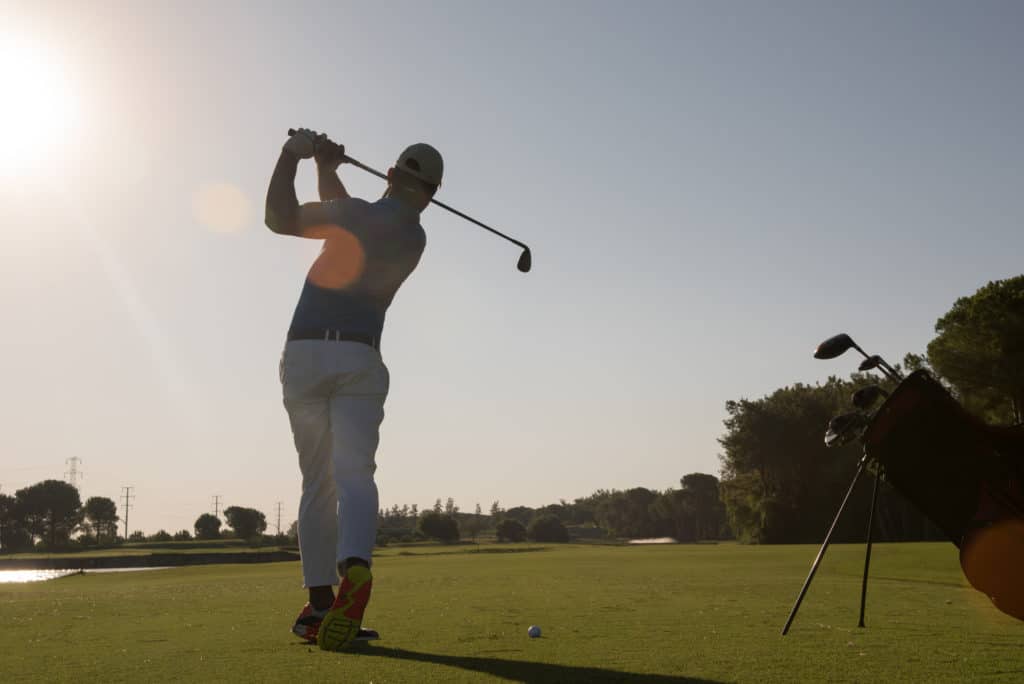 To stop hitting the golf ball so high, you need first to determine why it's going so high.
Sometimes it isn't easy to control the trajectory of the ball because you are playing with the wrong equipment.
Other causes of high ball flight are set up and swing plane.
We will break down each of these and give you some tips to help control your ball flight.
1. Wrong Equipment
Typically speaking, the faster your swing speed, the easier it is to get the ball up in the air.
Players with slow swing speeds will need to purchase equipment that helps them get the ball up in the air.
This type of equipment will usually be much lighter and much more flexible.
For golfers that hit the ball too high, they may need a stiffer and heavier shaft.
If you are hitting the ball straight and you don't want to play around with the flex on your shaft, then you can always add weight.
Many companies will offer a regular flex shaft in 50 grams but also one in 60 grams for the faster swing speed player.
Sometimes you will need to replace your shafts for this to happen ultimately.
Luckily you may not have to replace the entire golf club.
2. Swing Plane
Have you ever seen a golfer hit a driver that went straight up in the air and came straight down?
This is a significant problem, and it is more about a swing flaw than it is about controlling the trajectory.
The steeper your swing plane, the easier it is to hit the ball up in the air.
For some shots, this may be a good thing.
If you are trying to get a ball out of a bunker and you need it to go straight up and down, you will want a steep swing plane.
Off the tee, or from the middle of the fairway, this is not ideal.
To get your swing plane a little shallower, you need to work on your takeaway from the ball.
Make sure the club is not going straight up as soon as you take it back.
The more you can work on shallowing out your swing plane, the easier it will be to control the trajectory of your shots.
3. Setup
Sometimes when your golf ball is too far back in your stance your golf, it can cause your swing to get too steep.
For most of your golf shots, you are going to want to keep the ball up towards your front foot.
This will help to make sure you hit the ball as cleanly as possible.
Especially when hitting your driver, you want to ball teed up towards the front of your stance.
4. Finish
Another reason you can hit the ball a bit too high is if your finish is high.
This will apply more when you are trying to hit a punch type shot or a wind shot as opposed to just your regular swing.
The lower finish can lead to a lower ball flight.
When Should You Hit A Golf Ball High?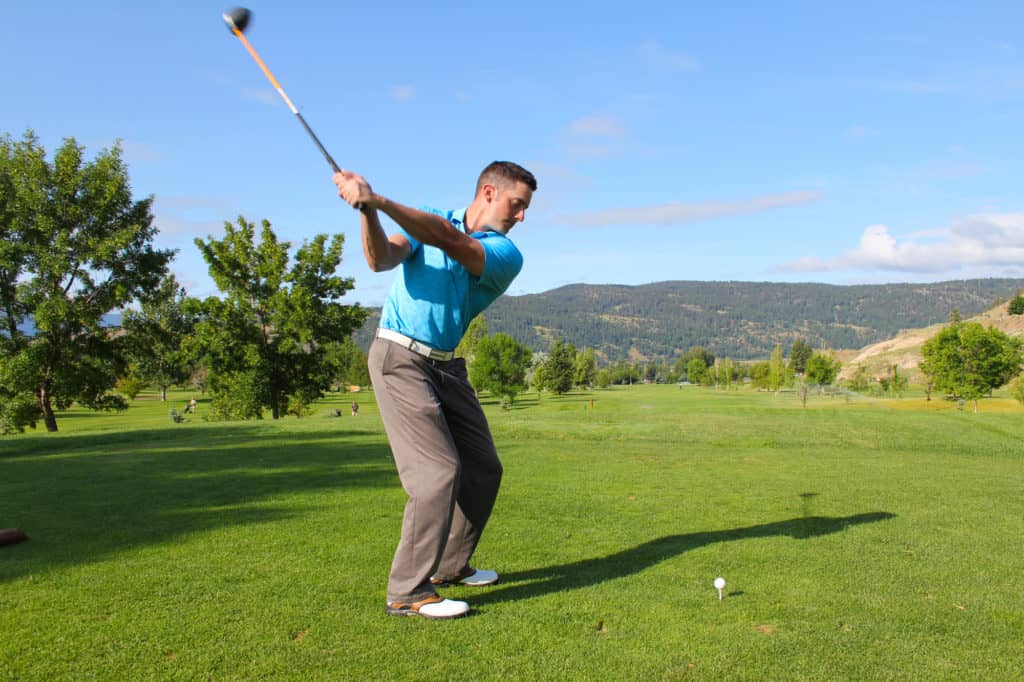 If you are taking a full swing approach shot to a green on a clear day, you will want to keep the golf ball up in the air.
The more it stays up in the air, the more penetrating the ball flight and the better results you can get.
If you have a club you feel confident in; then you should be looking for maximum ball flight.
It is also good to make sure you get plenty of height off of your driver.
The longer the ball flies, the further it will go.
You will also need to hit the ball relatively high when you are around the greens.
The height will help you stop the ball exactly where it lands and sometimes help the ball spin back as well.
When Should You Hit A Golf Ball Low?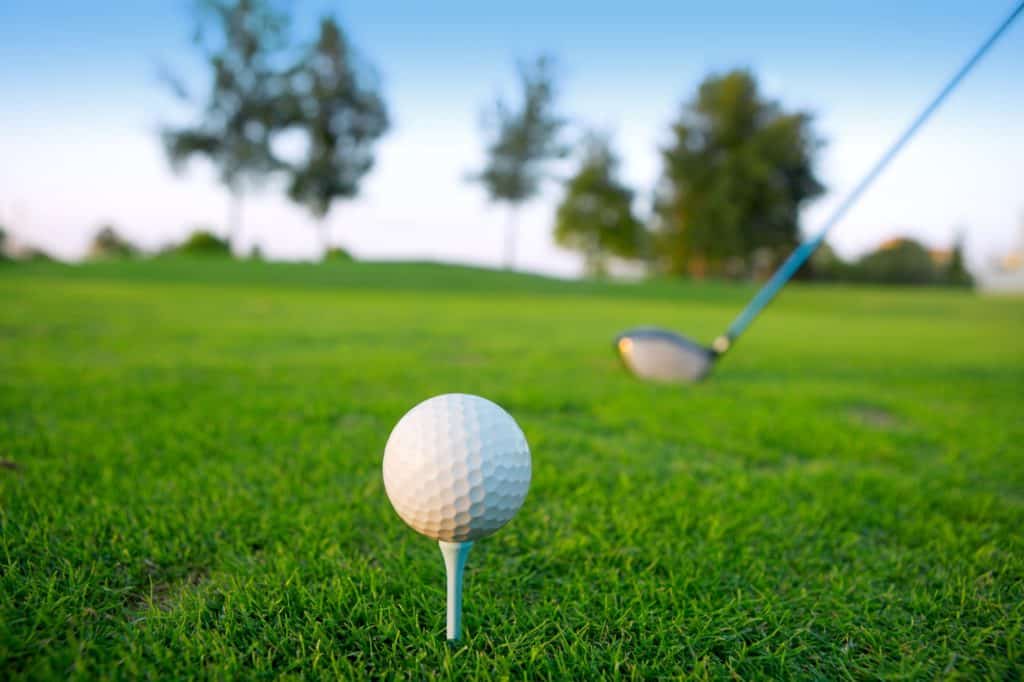 On windy days the best thing you can do is to keep your golf ball out of the wind.
As soon as you hit a high shot up into the air, you will end up being subject to whatever the wind wants to do to your golf ball.
If you can keep the ball under the wind, you will probably end up getting more distance, but most importantly, you will get more control as well.
Another time to keep a ball low is when you are hitting a bump, and run type approach shot to a green.
If there is a wide opening in front of the green but lots of trouble around it, you may want to run your shot up.
To do this, it is best to keep the ball in the middle to the front of your stance, take a ¾ type swing and finish low.
These types of shots are sometimes referred to as punch shots or stingers.
Another great spot to use something like this would be when you are punching a shot out of the woods.
If you get into trouble, it does not always pay to hit the hero shot.
Hit something that gets you back into play and move on.
Very often, this shot will have to be lower in trajectory to get you out from under the trees.
Do Golf Balls That Are Hit Low Still Stop When They Land?
Some lower lofted golf shots can still stop when they land.
Spin is partly what helps a golf ball stop when it lands, not just trajectory.
If you hit a wedge type punch, shot your ball will not go as high as it normally does, but it should still stop when it hits the green.
Will A Lower Lofted Driver Help You Hit The Ball Lower?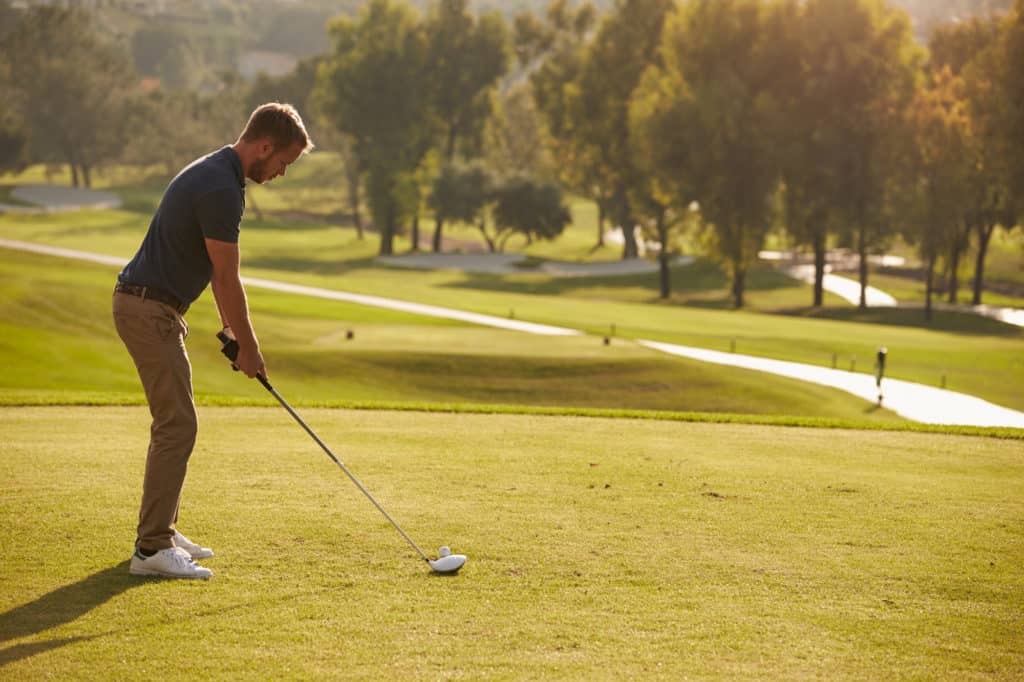 Drivers often come with lofts ranging from 9 to 12 degrees.
Having loft on a driver makes it more forgiving.
The lower the loft, the harder the ball can be to control.
Most amateur players will hit a driver with about 10.5 degrees of loft.
As long as you have a low spinning driver when the ball lands, it should continue to roll even if it is hit high.
A lower lofted driver can help you hit the ball lower, but it also can make golf more difficult.
If you think you can handle a lower loft on your driver, but you aren't quite sure then try borrowing a friends club to see how you do.
Another great option is purchasing a driver with an adjustable loft.
This way, you will always be able to make adjustments and get a product that works well for your swing at the time.
Do Golf Balls Affect Trajectory Of A Shot?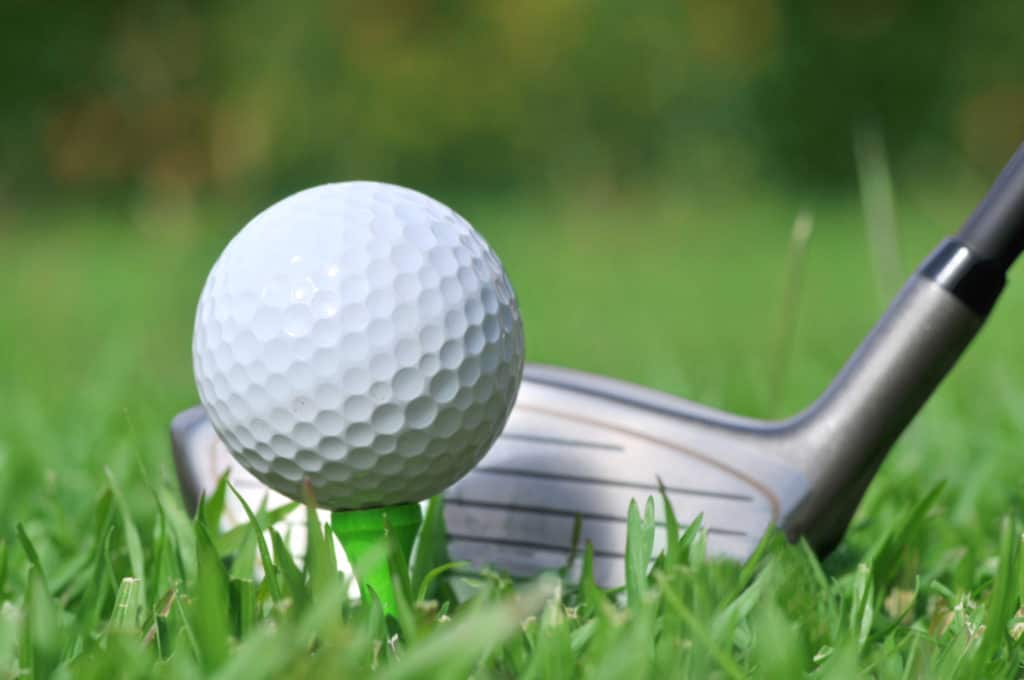 The golf ball you choose can affect how high your golf shot goes.
Typically speaking, the lower compression golf balls are easier to hit high.
Since these golf balls are easier to compress, they can jump off the club even with a slower swinging player.
Golf balls with higher compression are much harder to hit high.
They are hard to hit far as well if you don't have the proper swing speed.
Golfers with high swing speed should be using golf balls with high compression.
Choosing a golf ball that is several pieces will also help to make sure that you can control the ball flight better.
Three and four-piece balls tend to work best for golfers that want to lower the ball flight a bit.
Will Choking Up On The Club Help Keep The Ball Lower?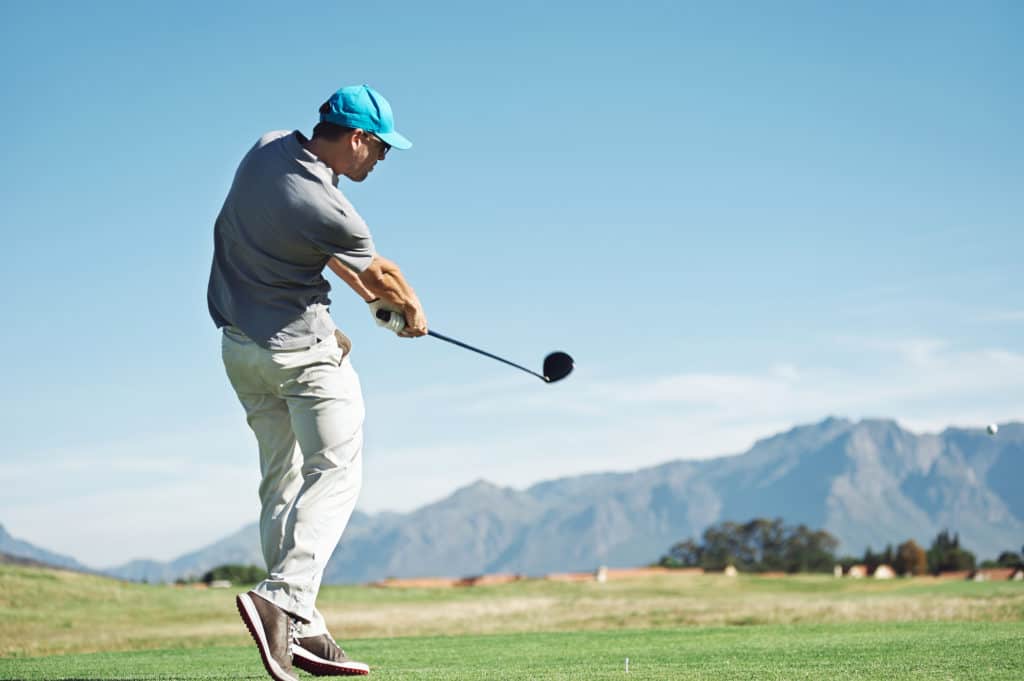 Anytime you narrow your stance and choke up on the club, you gain more control.
When you have more control, you can manipulate your clubhead and your swing to do what you want it to do.
When you hit punch type shots where you try and keep the ball below the wind, it helps quite a bit to hold the golf club about halfway down the grip.
The combination of this with the narrow stance and the abbreviated swing will make a big difference when it comes to results.
Will The Height Of My Tee Affect The Ball Flight?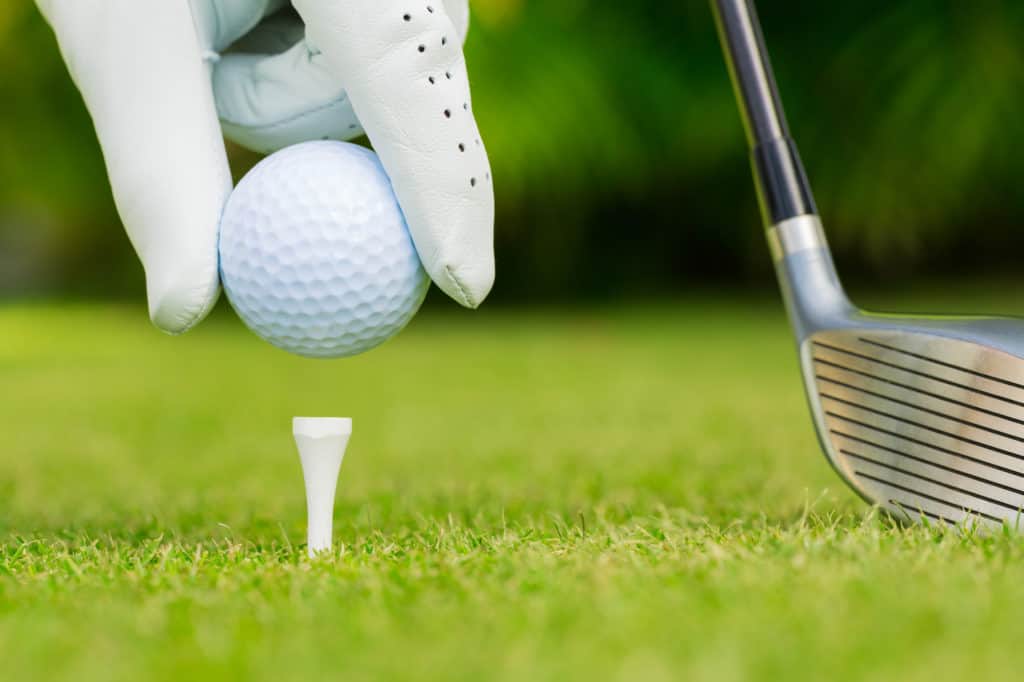 Yes, you can be teeing the ball too high.
This is one of the easiest ways to fix ball flight issues.
It would help if you teed the ball so that about half of the ball is over the top of the face of the driver.
If you are teeing it any higher than this, you may be losing some distance.
On the flip side, if you happen to tee the ball too low, you could miss the sweet spot on your driver.
Finding the perfect tee height can take a bit of trial and error.
When you do find the right height try to pay attention to the tee size that you are using.
Sometimes keeping the tee size consistent will help you to keep setting up properly.
Does Weight Distribution Affect Ball Flight?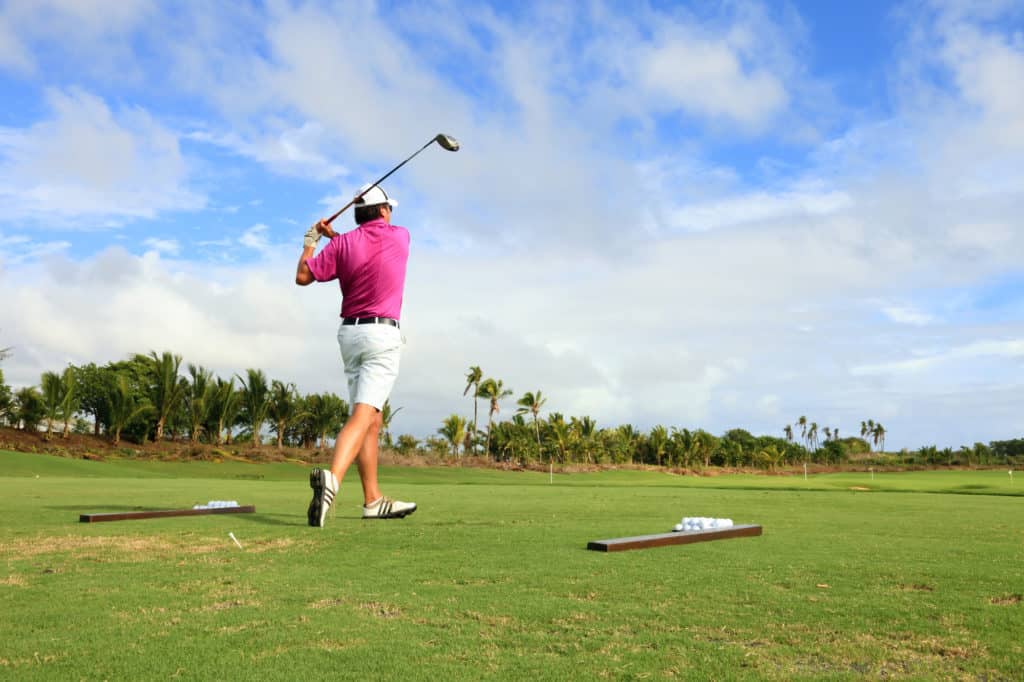 Setup and stance are so important when it comes to performance.
If you do not have your weight evenly distributed when you set up to hit a shot, you could end up hitting throwing off your swing plane.
Most of the time, if too much weight is on your front foot than your swing will end up being very steep.
This happens because it would take a great deal of effort to transfer all that weight back to your back foot and then get it through the ball again.
If you want to hit the ball with the perfect trajectory, make sure your weight Is evenly distributed, to begin with.
Recap
If you want to stop hitting the ball too high, think about setup, plane, and equipment.
You can make simple adjustments in your game that will help lower the flight to a better angle.
Be careful you do not lower the flight too much that you start costing yourself distance.
Try not to get too focused on the roll when it comes to golf shots.
Even though it may seem like roll gives you more yardages, that is only accurate when you first get plenty of time in the air.
The longer a golf ball is in the air, the more distance you will get.