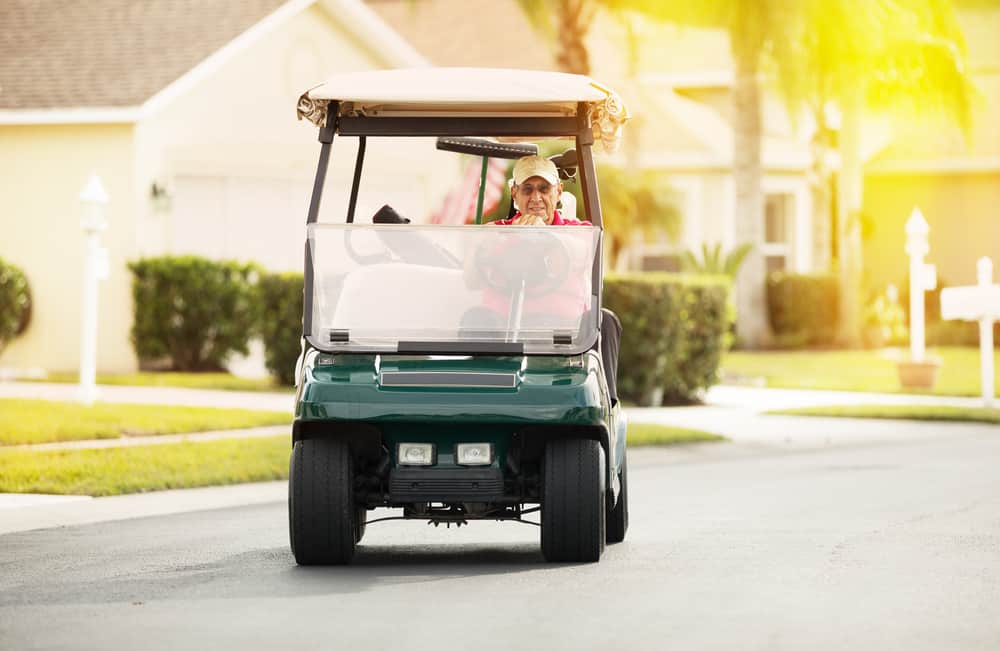 Golf cart communities are starting to grow and pop up all across the nation.
A golf cart community is a place where many people want to live and enjoy.
If you are thinking about a golf cart community, what is involved, and where you can look to find one, we have all the answers you need.
Living in a golf cart community is more than just owning a golf cart.
It is a lifestyle that you will likely learn to enjoy rather quickly.

What Is A Golf Cart Community?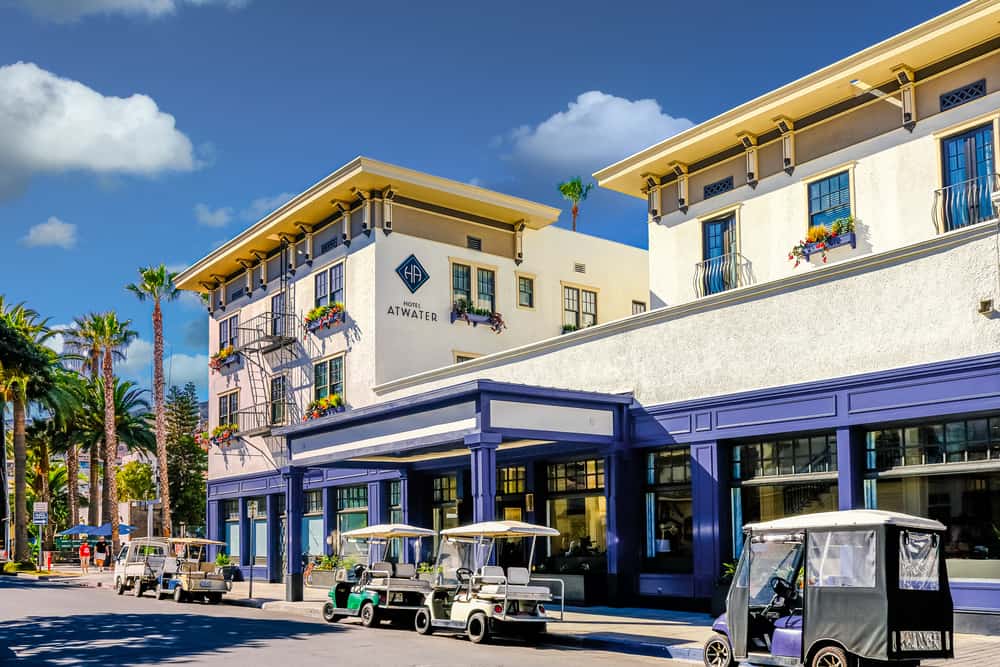 A golf cart community is a place where you can get from point A to point B by taking your golf cart.
Some golf cart communities will have a rule that no cars are allowed, and you can only drive your cart.
Others will have a mix of carts and cars, and people will choose which they find to be the most convenient for their needs.
Golf cart communities are a great choice for those who play golf, but you don't need to be a golfer to enjoy a golf course community.
Many people find that the stress of everyday life seems to be decreased quite a bit when you can take your golf cart to get to the store or a dentist's appointment.
Golf cart communities are becoming increasingly popular, and because of that, you will see new developments that are making room for golf carts.
Many of the best golf cart communities are going to have paths around the neighborhood for carts, and there are even parking spots at the grocery store for you to park your cart.
In addition to new communities being built with room for golf carts, many older communities are trying to transform to more golf cart-friendly ways.
Being part of a golf cart community can mean that you spend a lot more of your time outdoors and enjoying all that nature has to offer.
Let's take a look at some of the benefits of living in a golf cart community.
Benefits Of Living In A Golf Cart Community
Living in a golf cart community has some really great benefits.
If you think this could be the lifestyle for you, here are some important things to keep in mind.
1. Less Gas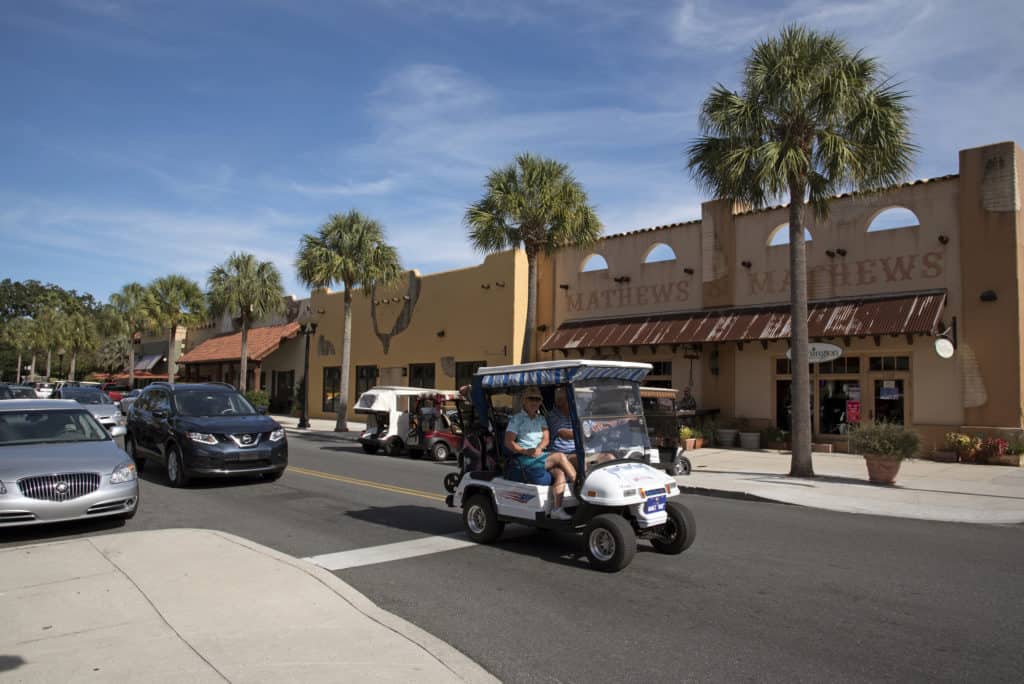 Most of the golf cart communities are going to have electric golf carts.
The electric golf carts make it quite a bit easier for golfers to get around and enjoy the neighborhood peacefully.
The noise is the main reason that some golf cart communities will completely ban gas golf carts.
Even if your golf cart is gas-powered, it is still going to burn less gas than your vehicle.
Many people enjoy being able to take their golf carts to run errands and to bring the kids to school because they won't burn nearly as much gas.
In fact, the way that many golf cart communities are set up, the idea is that you won't have to leave to go anywhere outside of the range of your golf cart all that often.
This means that many families are going to be able to get rid of one of their cars and simply use a golf cart to help them get around.
2. Better For The Environment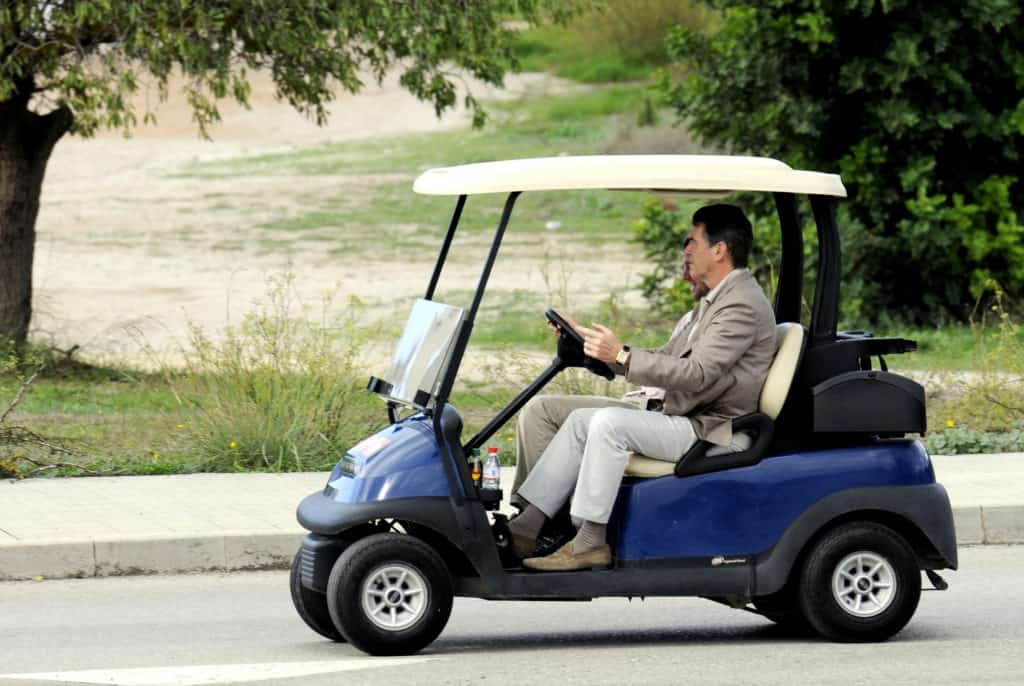 Golf carts tend to be better for the environment than cars.
In addition, many people will take their golf cart and then walk part of the way as well.
Sometimes the golf cart communities end up becoming more active than typical communities as well.
There is something about already being halfway outside that helps people decide to be more active and get exercise in.
Overall, the golf cart community tends to be better for the environment and better for our bodies as well.
3. More Entertainment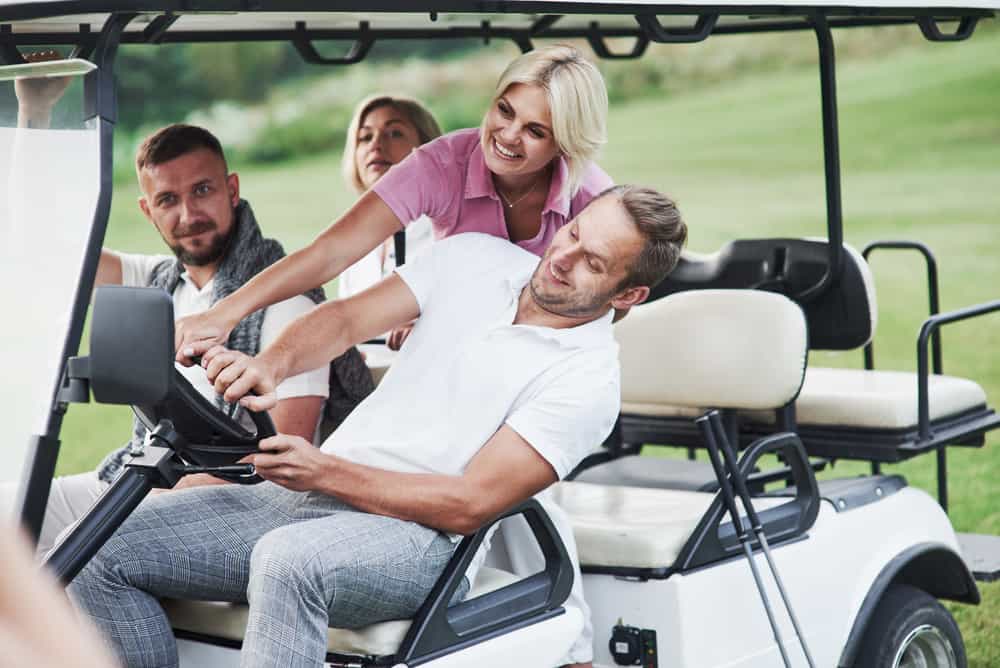 Most people will find that golf carts are an excellent option for entertainment as well.
It is undoubtedly quite a bit more fun to ride in a golf cart than it is to ride in a car.
Unless, of course, you have a convertible or a sports car, you are going to be mostly enclosed and not able to enjoy the outdoors as much.
With a golf cart and being able to be outside the entire time you are in it, the overall feel and experience are much more enjoyable.
Golf carts are great from an entertainment perspective, but you must make sure that you are safe when you are riding in golf carts as well.
Try to stay safe so that you will be able to enjoy the golf carts all year round.
4. Be Outdoors More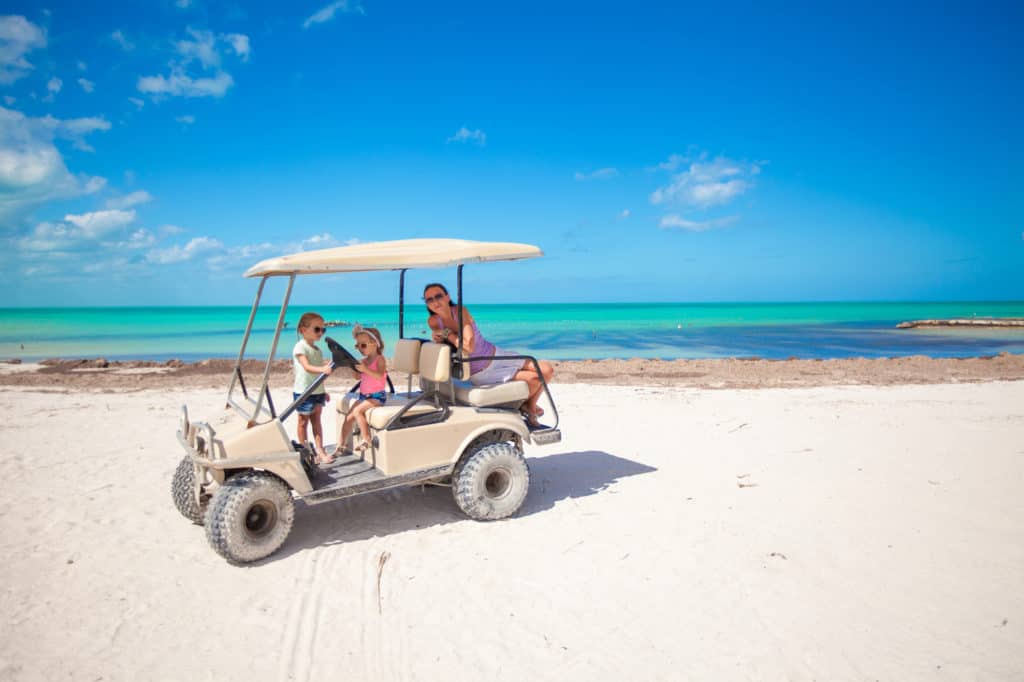 It's nice that when you get in and out of your golf cart, there are no doors to close.
Simply step in and start enjoying the benefits of being in the golf cart.
You can easily transport yourself, your pets, and your entire family without having to load everyone into a car.
If you are lucky enough to be near a beach in your golf cart community, you will also do less damage to your vehicle.
Most golf carts can be easily rinsed out, and therefore, you won't have to worry nearly as much about the cleaning process that goes into these golf carts.
5. Convenient And Easy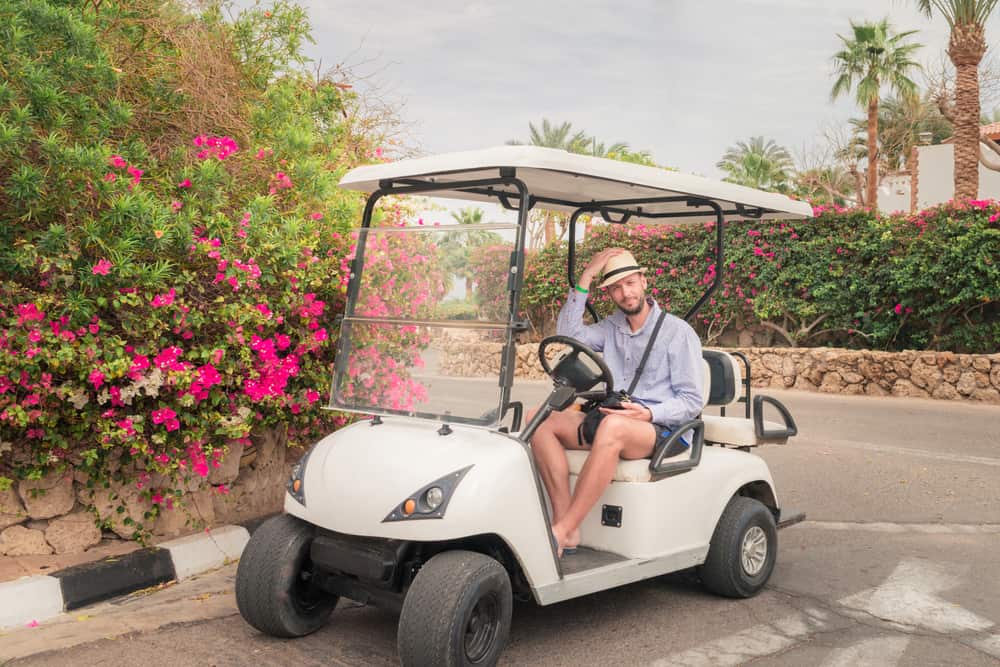 Golf carts are simply convenient and easy.
They have all the features that you need from a car, and they are just easy to operate and deal with.
If you want to take your golf cart to a grocery store or the local park, there are ways to load up all the gear you need and have all the modern conveniences at the same time.
The only thing you will really miss out on is air conditioning, but the breeze from the cart and the fans you can install will undoubtedly help.
6. Can Be Quieter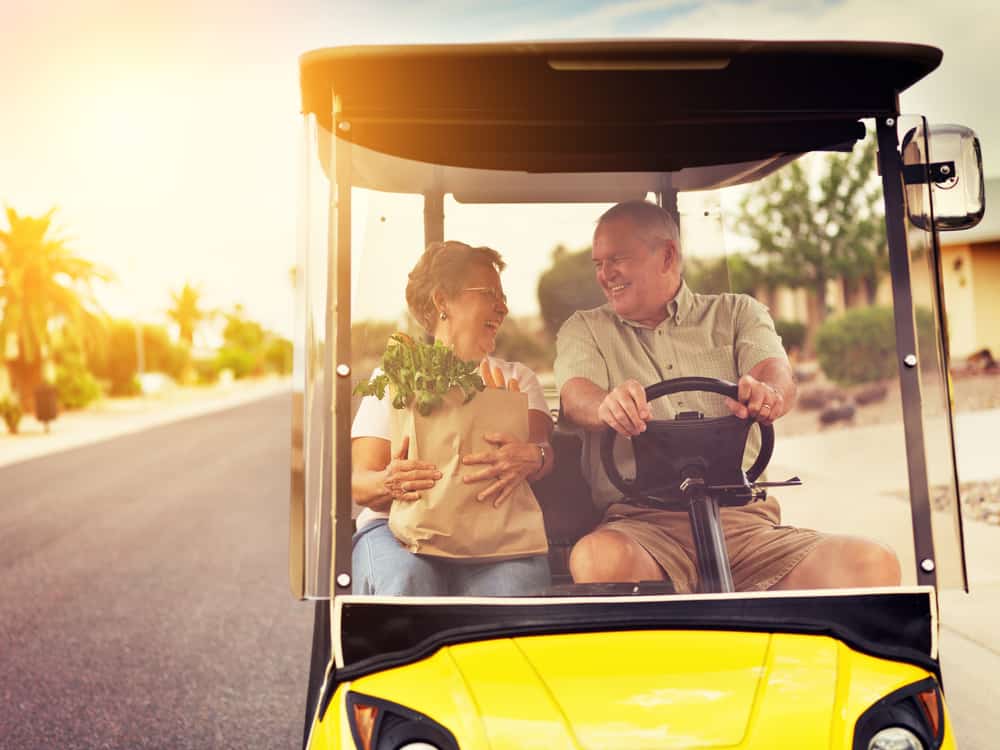 A golf cart can be quieter than a car.
With an electric golf cart, there is almost no noise at all.
The only time a golf cart is going to make noise is when you have a gas-powered cart.
This is fairly standard because of the gas-powered engine and the noise it produces while you use it.
If you care about preserving some of the peace in your life, you will likely want to look into a golf cart and the benefits that it can offer.
In addition to the noise of the golf cart, most golf cart communities are not in very highly populated areas.
This means that you will be able to enjoy the time spent in the community and not dealing with traffic and other issues that come along with large populations and congestion.
7. Easier To Take Care Of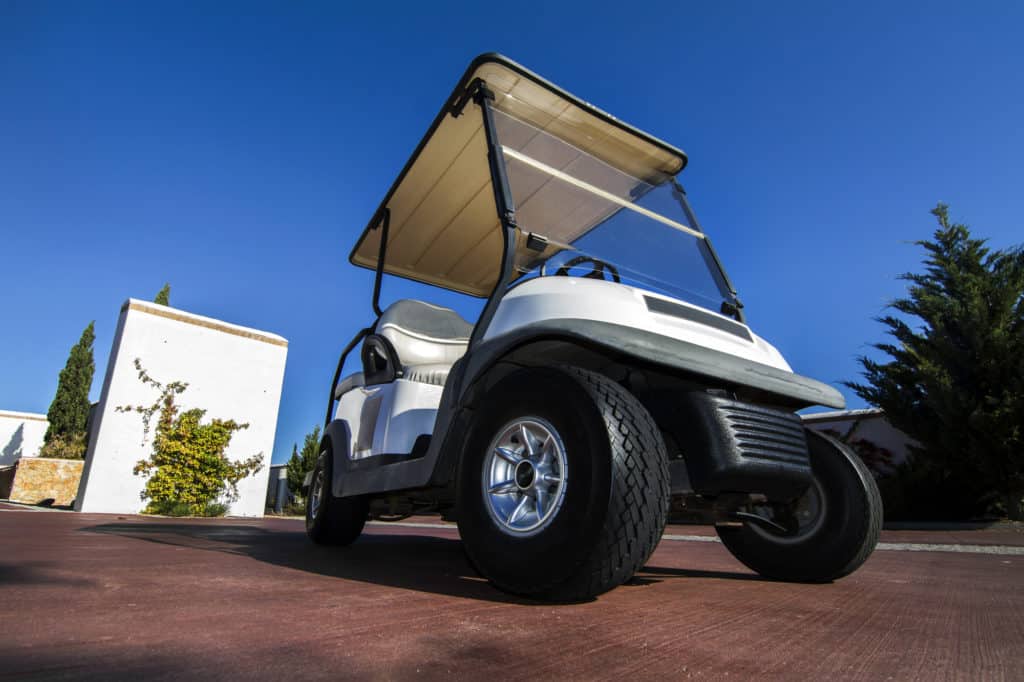 If you are not good at taking care of a car, the golf cart could be a good alternative.
For the most part, golf carts are very easy to take care of.
You won't have to worry about so many moving parts and electronics.
Battery-powered golf carts, in particular, are going to be extremely simple to operate and will allow you to work on them with ease.
Many golf cart owners have found that they have plenty of the skills that are necessary to be able to work on the golf cart themselves.
Over time, you will probably have to have a professional look at specific issues on the cart, but this should not be something that you continually run into.
Golf carts are easier and cheaper to maintain than cars.
8. Price Of A Golf Cart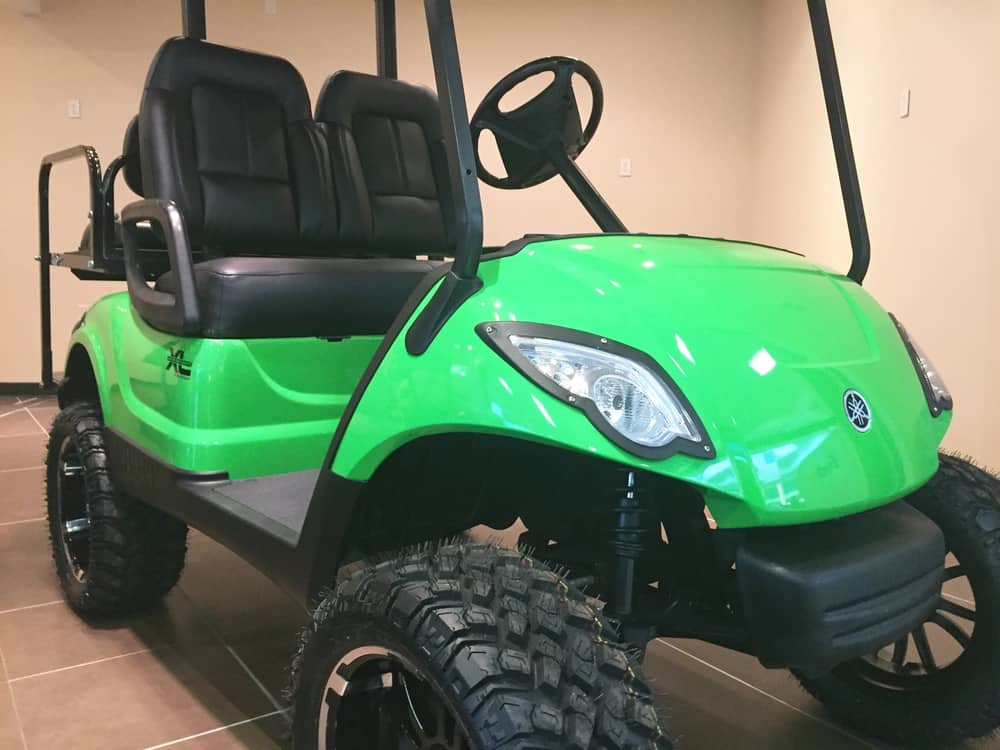 Golf carts are certainly getting more expensive.
People are realizing how much fun it can be to customize golf carts and get them to the highest potential possible.
This has led to an overall increase in price.
However, the total increase in price is not going to be nearly as much as it would be if you were going to compare it to the price of a car.
Cars are the highest they have ever been priced, and when you compare the cost of a small car to a high end, top of the line golf cart, chances are the cart will still be cheaper.
The price of a golf cart is going to help many people who want a simple and less expensive overall way to live.
In addition, plenty of golf carts that are twenty or more years old are still functioning without any issues.
Negatives Of A Golf Cart Community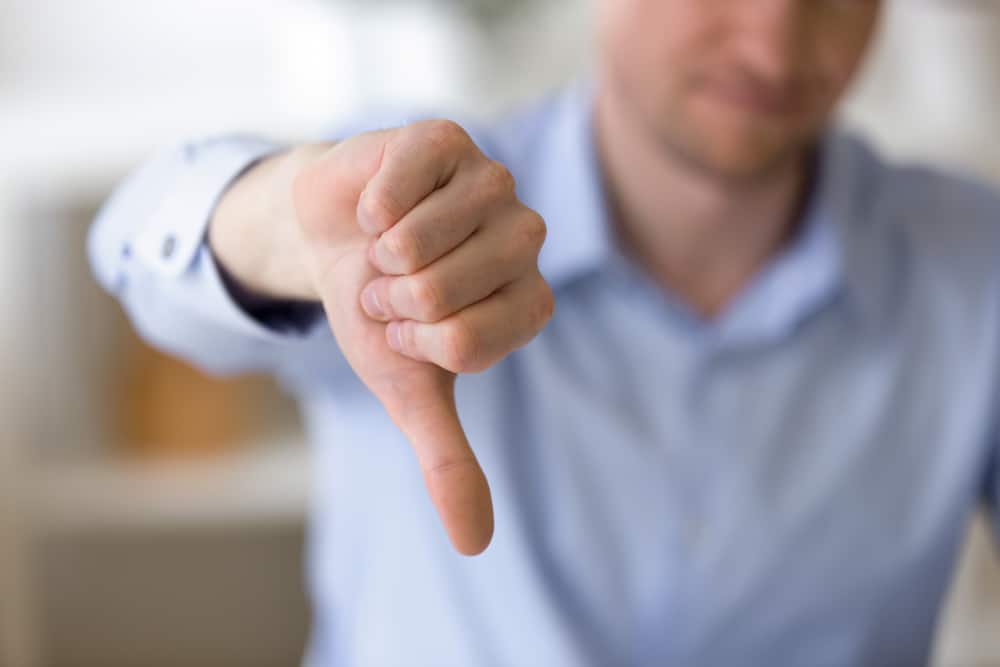 Now that we have explored all of the great positives of the golf cart community, it is only fair to look into the negatives as well.
As with anything else, there are a few downsides to life in a golf cart community, and it is crucial to understand what they are.
1. High End Communities
Many of these golf cart communities are considered to be high end.
This means that the pricing for the homes in the area is going to be well above what you would typically pay.
The fact that there are golf cart paths and amenities that you can travel to by golf cart has undoubtedly become a more enjoyable way to live, and that is why the pricing is going up.
Even though golf carts are typically less expensive than cars, and they can save you some gas money, the community you have to buy into could be rather expensive.
The great thing about this is that you can purchase your lifestyle.
If you know you want to live in the golf cart community and you don't plan on leaving the area to do all that much outside of the community, then this may be a great option to consider.
For those who are going to want to travel around and get out in the car, it may be best to skip this type of environment.
For the most part, people who buy into the golf cart communities will be rather pleased with their decision and will enjoy all that their new life inside the community has to offer.
2. Safety
Golf cart safety is often overlooked.
So many people think that you can't get hurt when riding in a golf cart, which is just not the case.
If you are not careful and you ignore safety regulations, you will get into some serious complications when riding a golf cart.
These safety issues are a major problem in communities where golf carts are going to be on the road at all times.
If you have your cart on the road, you must make sure that it is adequately equipped to handle any type of traffic.
Essentially, you will need mirrors, turn signals, and lights so that cars on the road are well aware of your intentions while you are driving your golf cart.
If you are not careful about this, many dangerous safety issues can come up with owning a golf cart.
In addition, it is important that kids and families understand the dangers of a golf cart.
The golf carts used to transport people around should certainly have seat belts so that everyone can stay safe.
In addition, be prepared that golf carts can go as fast as 20 miles per hour.
Certainly, this is quite a bit of speed, and if you are not careful about it, the injuries will be bad.
If you are concerned with the way people drive in your community, and you feel as though you could be in danger on a golf cart, try going with some other type of transportation where you are better protected.
3. Weather
The last major negative of a golf cart community is that the weather will not always be on your side.
It's one thing to have to drive to the grocery store when you are in the car and it's raining.
It's another to have to drive in a golf cart.
Chances are, by the time you get to the store, you will be soaked and struggling to get comfortable after your trip.
This is really only a problem in the communities where no cars are allowed.
If you live in a community that is a mix of golf carts and cars, simply choose the method of transportation that makes the most sense for that day.
If things get ugly with the weather, take your car.
If it's a nice day and you want to be outside, the golf cart will do nicely.
Living in a community with only golf carts and no cars takes a bit more planning when it comes to grocery shopping and quick trips to the store.
If you move to one of these communities, you will quickly learn that the entire lifestyle will be quite a bit different.
However, after a certain amount of time, you will likely adjust to what will work for your needs.
Is A Golf Cart Community Worth It?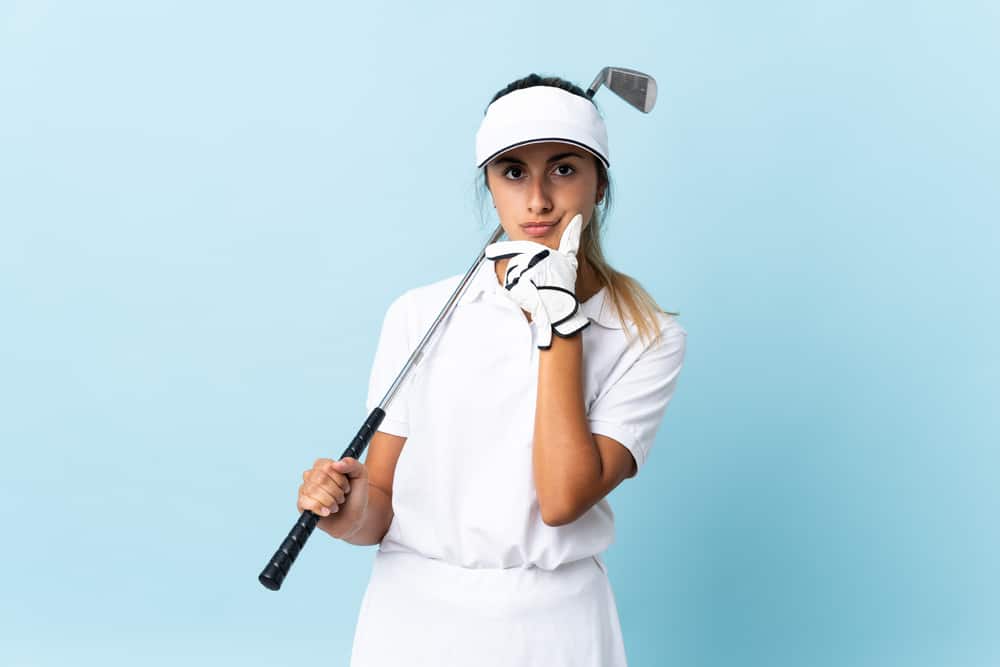 As we mentioned, some of these golf cart communities are getting a bit up there in price, especially the communities that allow you to play golf in addition to riding your golf cart around the town.
The type of lifestyle usually works best for areas in the south or out west where the weather will be a better fit for using a golf cart year-round.
If you have the time to enjoy the lifestyle that comes with a golf cart community, you will find the community well worth your money.
Getting to take an evening ride to watch a sunset or simply taking the cart up to the grocery store when you need eggs seems like a relatively simple concept.
However, the simplicity of this concept is exactly what makes it appealing to people.
Since we live in a world with so many distractions and annoyances, getting to enjoy just a quick golf cart ride around the block will likely be something you look forward to each day.
Don't let the thought of having to purchase a golf cart scare you away.
Golf carts are very likely more affordable than you think, and they last a very long time.
There is a vast marketplace for used golf carts if that is something that fits your budget a bit better.
Once you own your cart, you will need to charge it and maintain it, but the price of this is going to be quite a bit less than dealing with a car.
Overall, we find golf cart communities to be very well worth the money you will spend to live there.