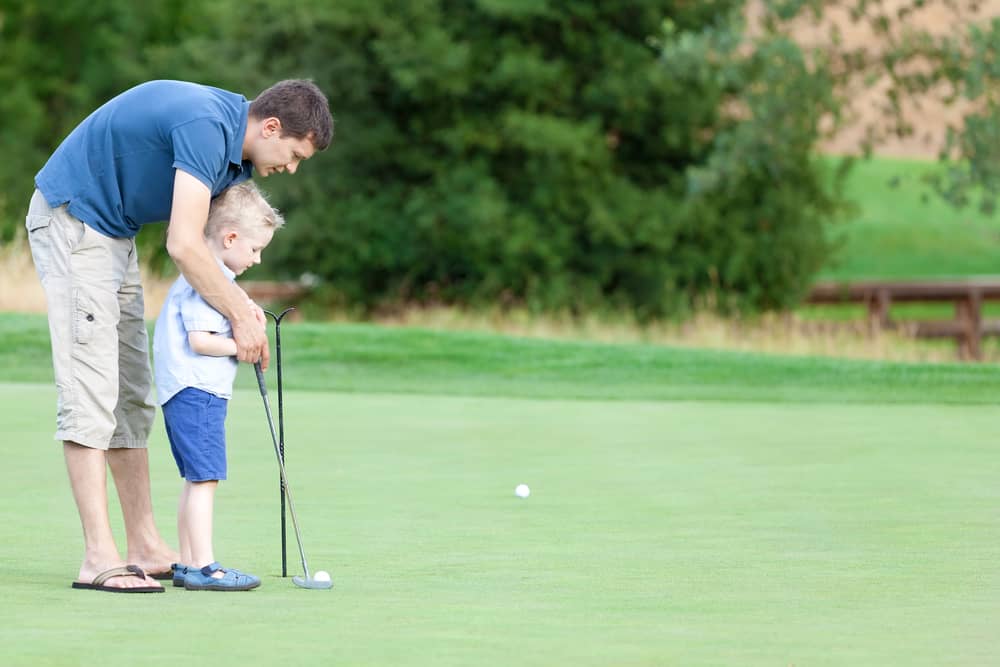 Years ago, it was rare for a kid to start playing golf.
As time has gone on, golf has become more popular, and kids are finding it interesting at younger ages.
Golf is a great sport to get involved in, and taking a golf lesson can make the sport even more fun to start.
If you are wondering at what age you should start your child in golf lessons or if it is a good time for you to start golf lessons, here is everything you should know.

What Age to Start Golf Lessons?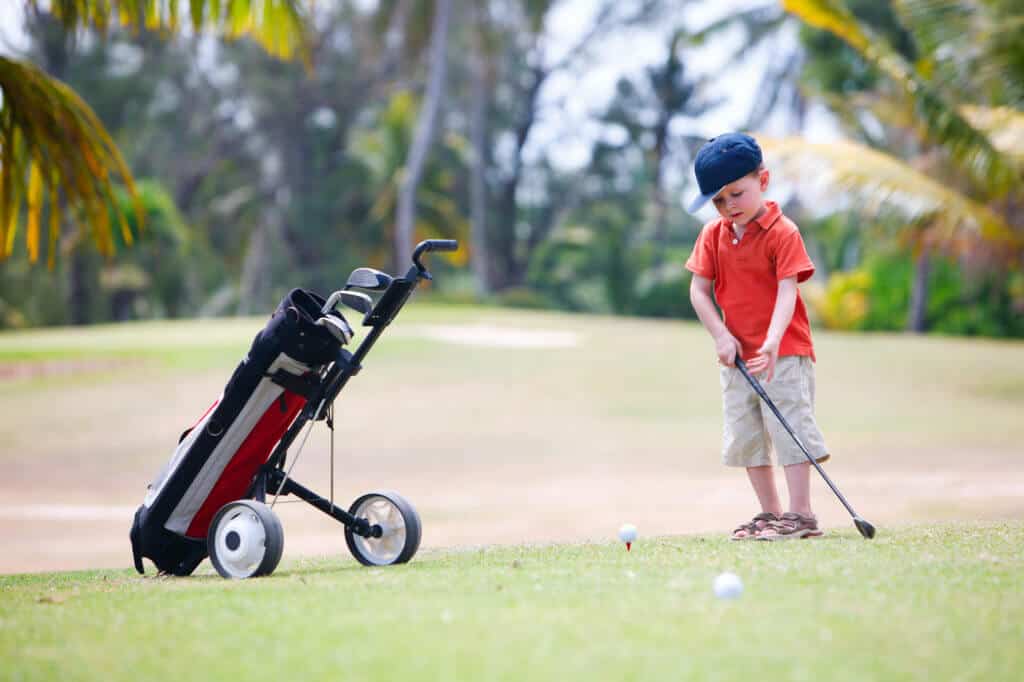 The best age to start golf lessons for a child is around the age of seven.
For an adult who is considering playing golf, it makes sense to start lessons right away.
If you are older than 70 and wondering if it is worth taking up the game, you should absolutely take a lesson and see if you have what it takes.
Many parents are starting their kids with golf lessons when they are three or four years old.
Although this can be a fun experience for the child (and the teacher), the child will have a hard time understanding and applying any concepts until they get a bit older.
The most important thing to do with young kids is to allow them to have fun playing the game.
As kids get older, they will have plenty of time to get serious about golf and learn the technique.
As a young child, knowing where to put your hands and feet is an essential lesson.
How Often Should Kids Take a Golf Lesson?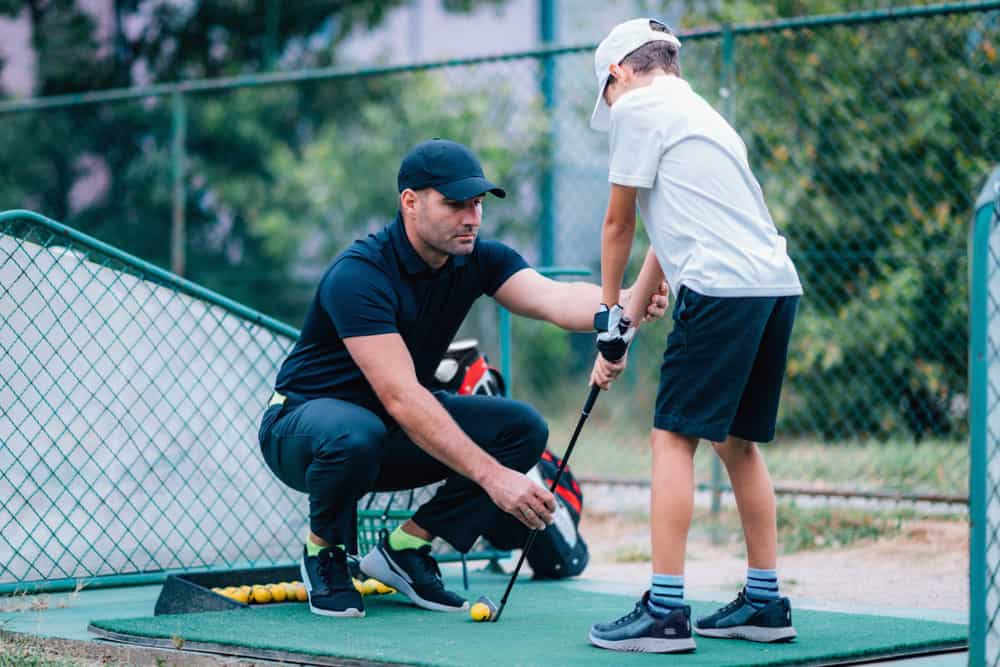 If you do decide to involve your child in golf lessons, it is a good idea to understand how many lessons they can handle.
It is smart to talk to the golf professional who is helping your child to see what they recommend.
The most important thing to remember is that each child is different, and they will all progress at different speeds.
Some kids are going to pick up the game very quickly, and they will want to play and practice all the time.
Others will take one or two lessons and realize that the sport is probably not for them.
In the beginning, it is worth taking two or three lessons just to see how interested your child is in the sport.
If it seems that they really like it, then a lesson every week makes sense.
It is important to remember that a child will need time to practice in addition to the lessons.
Taking a lesson for a half hour each week, not practicing or working on the game, and then showing up for a lesson the next week is not enough.
If you don't have the opportunity to practice or play in between lessons, there will be very little progress.
If you think your child can take a lesson on a Saturday, practice on a Tuesday and Thursday, and then return for a lesson on another Saturday, that is ideal.
For young kids, this is going to be difficult, mostly because of the attention span.
This is why we recommend starting this process as your child gets a little older.
Of course, there are always those child golf prodigies who will prove us wrong, but they are certainly the minority and not the majority.
As a parent, you will need to know your child's maturity level to be able to help them reach their golf goals in an appropriate period of time.
How Often Should Adults Take a Golf Lesson?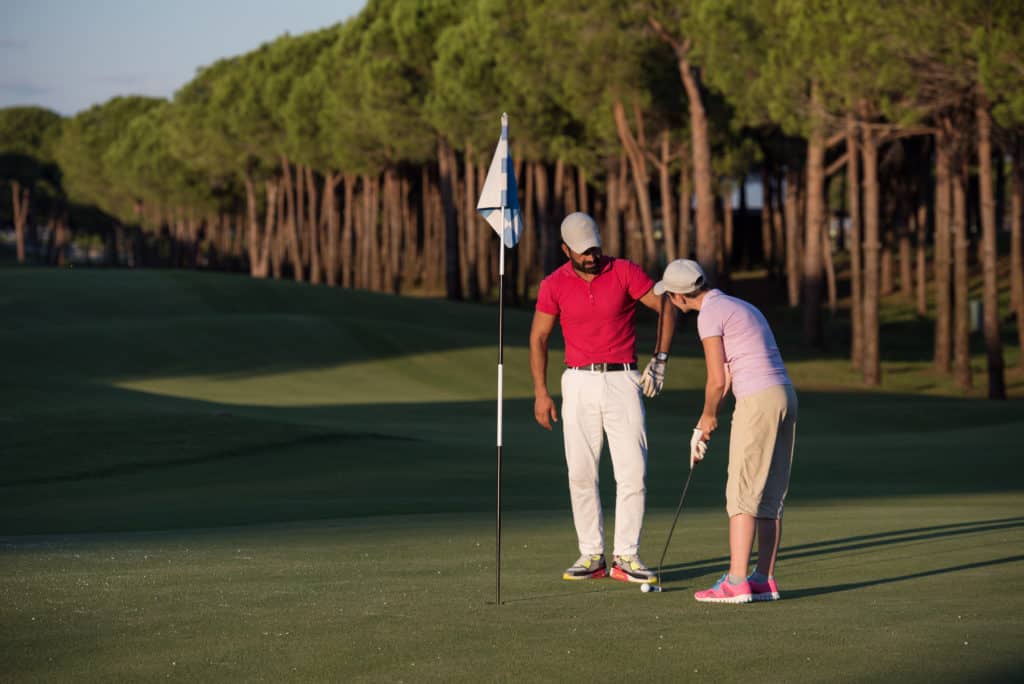 Taking golf lessons should depend on how often you are practicing and playing.
If you play golf three or four times a week and practice all the time, having your swing looked at weekly or biweekly is a smart idea.
Golf professionals can catch small issues in your swing before they turn into bigger problems.
If you are a golfer who plays golf just on the weekends, once a month is a good timeframe to schedule your lessons.
If you don't have much time to put into your game in between lessons, then it is not worth taking them all that often.
A golf professional is going to give you a lot of valuable information, but this cannot all be applied during the course of a lesson.
A lesson is usually about 30 minutes to one hour long.
To change your golf game in a short period of time like this would be very rare.
You will have to give your muscles and your brain time to adjust to the new information.
How Much Do Golf Lessons Cost?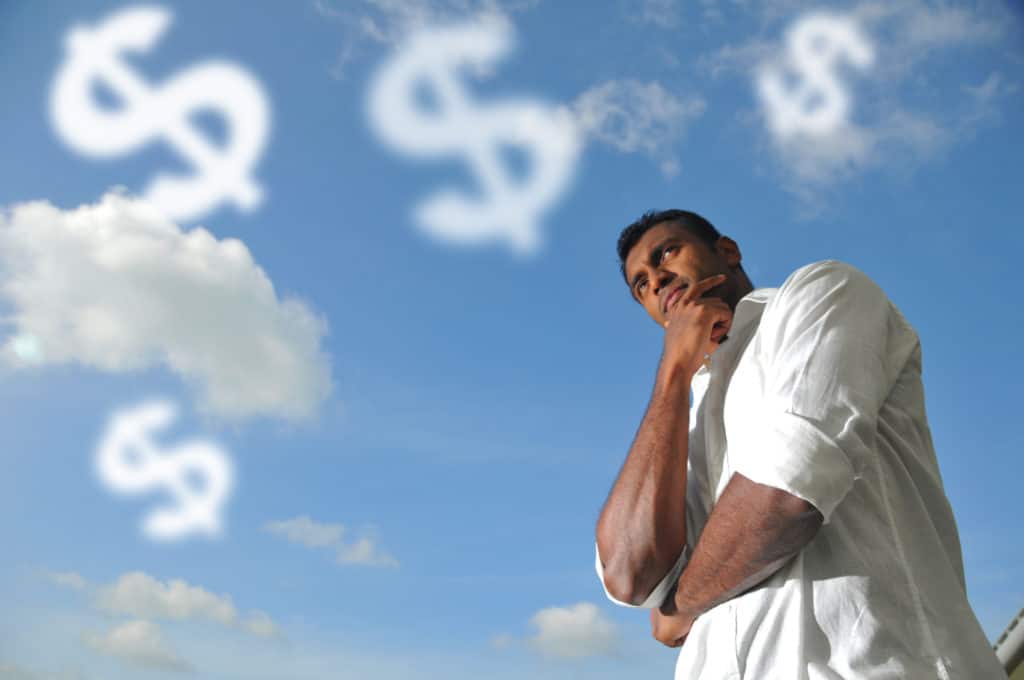 There are several factors that are going to affect the cost of a golf lesson.
Unfortunately, golf lessons are not usually cheap, but they are quite valuable if you are serious about your golf game.
You will be able to take the information provided and make some serious changes to your game.
Here are some of the factors that will affect the price of your lesson.
1. Location
If you are taking a lesson at a private country club on the coast of California, you will pay quite a bit of money.
At prime locations and private country clubs, golf lessons are generally a lot more expensive.
Public golf courses tend to have professionals who will price things out a bit more fairly.
They will make it easier to access certain clinic and group lesson rates as well.
The facilities at a private club can also increase the price.
With state-of-the-art video and training aids, your lesson will be priced higher.
2. Age of Person
Golf is going to grow when more and more juniors take up the game.
Most golf professionals like to encourage junior golf, and they will lower the rate of their golf lessons for juniors.
Sometimes you will see things like half price or a 45-minute lesson for the same price as a 30-minute lesson.
Also, look for packages for junior golfers.
Maybe the professional will give you a discount if you sign up for ten lessons with them.
3. Reputation of Professional
The reputation of the professional is another factor which can influence the cost.
If your golf teacher has been featured in Golf Digest and is coaching other professionals, you may pay quite a bit more for lessons.
For a junior just starting out, a golf lesson from a young professional just out of school will be a good fit.
It's likely that these younger professionals will have lower rates and lots of enthusiasm to help a young player learn the game.
4. Length/Type of the Lesson
There are several different types of golf lessons you can take.
For instance, a playing lesson on the course will be quite a bit more expensive than a lesson on the range.
Golf professionals will also sometimes do club fittings, and there will be different rates for these as well.
If you take a group lesson with several people, it will sometimes be cheaper than a private lesson.
Take a look at the rates that the local golf course offers, and don't be afraid to ask questions.
See if they do a military, senior, or junior discount.
As long as you start the conversation with the professional, they may be willing to help you somehow.