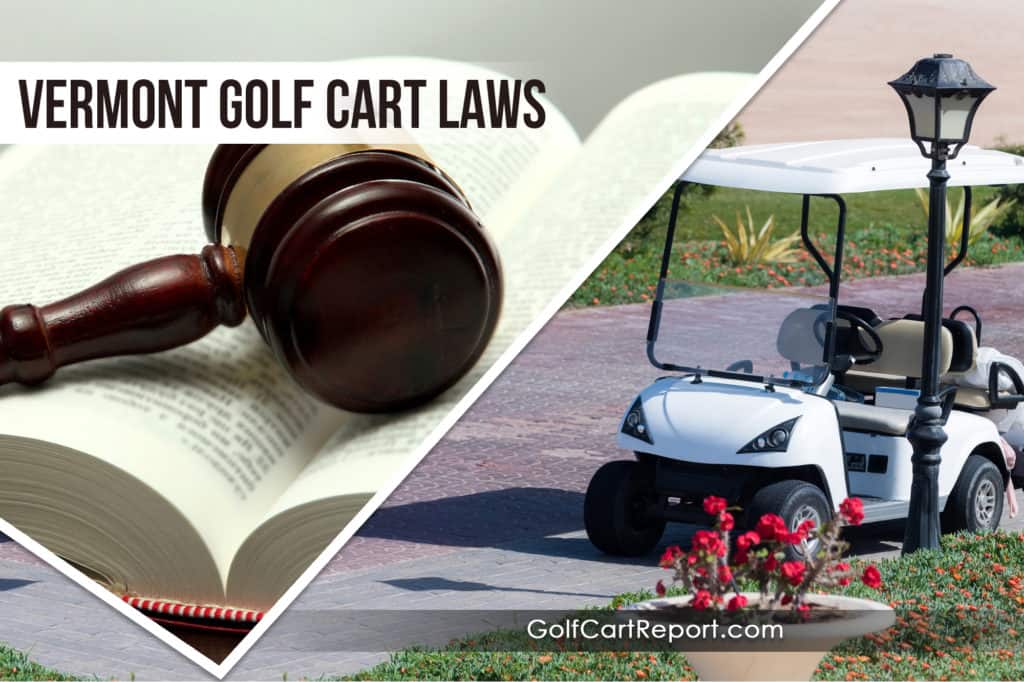 Vermont Golf Cart Laws
Vermont is a small, but lovely, northeast state that provides visitors and residents with many beautiful places to visit.
You can see many of these on the winding rural roads that exist throughout the state.
And on many of these streets, you might find golf carts or low-speed vehicle cruising.
If you're interested in using these types of vehicles, you must understand how they operate and what rules and laws dictate their use on Vermont state and local highways.
Federal Laws That Dictate Cart Use
Currently, federal law does not dictate how states use and regulate their golf carts.
As a result, each state has different guidelines that must be considered.
Often, states further pass the buck of this control to local municipalities instead of creating individual laws.
That said, the federal government does have specific guidelines on low-speed vehicles that will dictate how they are manufactured and used.
For example, all low-speed vehicles must possess headlights, taillights, stoplights, turn signals, reflex reflectors, rearview mirrors, windshields, seat belts, and a vehicle identification number or VIN.
These elements of a low-speed vehicle help to keep it fully legal and safe when on the road.
And Vermont follows all of these rules, like all states, and don't seem to change up these guidelines in any way.
For example, some states will dictate how heavy your cart can be when on the road.
State Laws for Golf Cart Use
Finding information on golf cart use in Vermont was, unfortunately, rather difficult.
Currently, it does not appear that the state has a law on its books regarding golf cart use.
As a result, this means that usage is likely dictated by individual city, rather than the state, government.
However, one exciting bit of information was found on the Vermont Natural Resources Council website regarding a policy known as "Complete Streets."
This concept states that the needs of riders of all ages and abilities must be considered when designing new roads or upgrading old ones in Vermont.
For example, pedestrians, bicyclists, motorists, and those who use public transportation must all be considered during the road planning and building process.
This includes considering elements like roads requiring access holes that must be traveled by other vehicles – these access holes are called Complete Streets.
And, according to this strategy, golf cart use must be considered by those planning new streets.
So, it is likely that cities can dictate when and where golf carts are used in their communities.
This information is, sadly, not complete at this time.
Expect regulations such as the ability to ride on roads of 25 miles per hour or less and limitations on which routes you can ride.
These concepts are typical for most states and help to create a coherent and safe riding situation for all drivers.
States Laws on Low-Speed Vehicles
Thankfully, Vermont state law on low-speed vehicles is not as hard to find as their information on golf carts.
According to Bill SB297 – Act No. 91, a low-speed vehicle is a "neighborhood electric vehicle" that follows all federal guidelines for low-speed vehicles.
These include adding the upgrades mentioned above, including reflex reflectors, better brakes, and a series of lights and turn signals throughout the body of the cart.
However, Vermont also asks that all low-speed vehicles possess a flashing caution light or reflector to keep them safe when on the road.
And unlike some states, they also require you to have a reflectorized slow-moving vehicle symbol.
This symbol can be picked up at a DMV office after you get your cart inspected to make sure that it meets all federal safety standards.
After your cart is appropriately qualified, you can take it out on roads with speed limits no higher than 35 miles per hour and cannot cross roadways with speeds of over 50 miles per hour.
As for the registration of carts, this information was not as easy to find.
That said, federal regulations require that a cart possess a VIN before it is driven.
And you must own a VIN if you want to register and license your cart.
Therefore, it is fair to say that you will probably need to register your cart correctly before you take it out on any highway.
Doing so can help you to keep your cart legal while on the road and avoid any dangers that may occur.
And also, make sure that you have a valid driver's license, as your cart is now considered a motorized vehicle.
Therefore, you must follow all licensing rules and regulations to keep your use legal.
And you must also insure your cart with personal injury and property damage policies.
These help to keep you from undue financial damage while riding your cart and protect you from lawsuits as well.
Federal Golf Cart Laws
Helpful Links
Disclaimer
Even though our guides are thorough and researched, it is highly recommended that you perform your own research and check with your local municipality on rules as well.