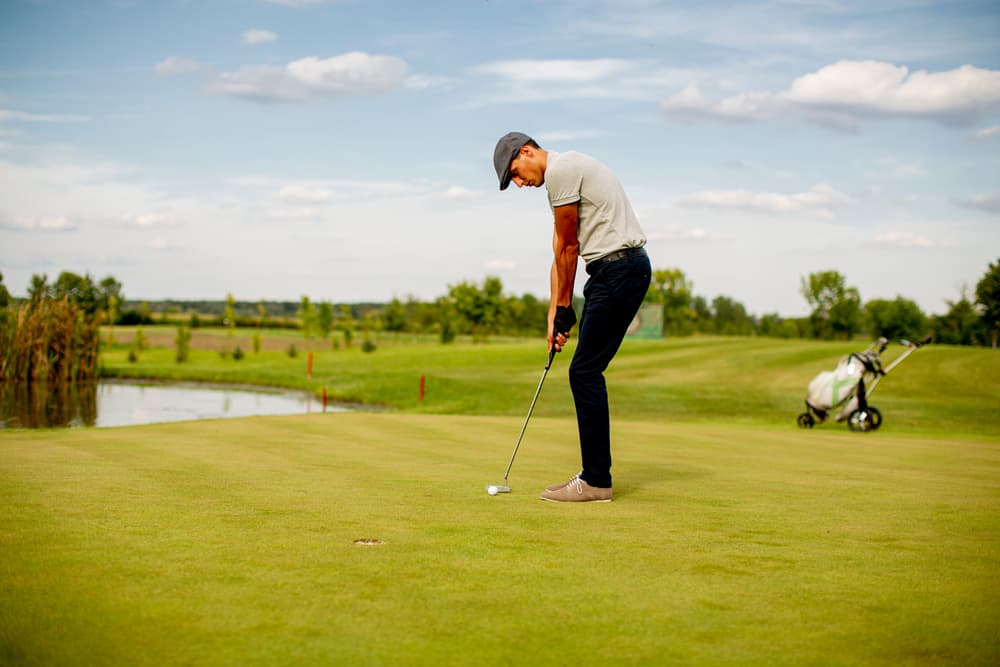 Tall golfers have a big advantage over short golfers.
The way that our bodies are developed along with the way golfers play the game ensures that a taller player can get plenty of distance and power.
Shorter players often complain about not being able to get the distance they need out of their golf shots, but tall golfers don't have these same concerns.
Tall golfers need to learn to control their speed and use everything that they were given to succeed in this game.
There are some great ways that tall golfers can learn to play the game of golf well.
It is no wonder that some of the greatest players on the PGA Tour are also very tall.
Having a few extra inches will certainly help you get the performance you need on the golf course.

10 Tips For Tall Golfers
1. Slower Tempo Is More Effective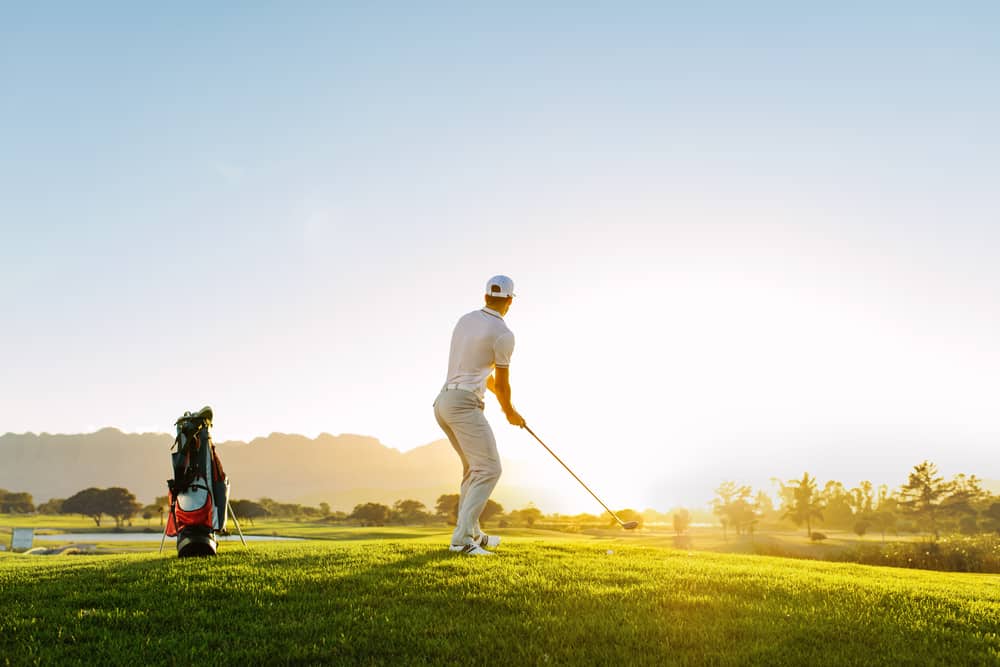 Golfers with a slower tempo are going to have an easier time than those who try and speed things up.
Tempo is not just about how much speed your swing has, but it is more about the timing and how your body is working together with the club.
You can't expect to take a very fast backswing and a slow follow-through and see a great golf shot.
There are lots of ways to play the game of golf, but the tempo is something that needs to be universally good for golfers to be able to become great players.
Tall golfers tend to have faster swing speed than short golfers.
Simply with the size of the arc that they have, it is much easier to get higher ball speed and club head speeds.
Therefore, the tall golfers can slow down their tempo and ensure that they are completely balanced and stable before swinging.
The faster swing speed golfers who don't have a good tempo will see big misses in their game.
They will often hit shots that go very far left or right, and they struggle to get the ball flight and performance that they need.
A slower tempo is most effective, but it takes some time to develop this.
Practice on the range by taking a seven iron and trying to only hit it at about 75% capacity.
You will find that this slower tempo will actually end up helping you hit the ball further and more accurately, but having that concept of 75% capacity is a great way to work on tempo.
Some players find that a tool like the Orange Whip swing trainer also works to help improve tempo.
These tools ensure that golfers have lots of weight in their hands, and they can use that to gain power as opposed to swinging at it so fast.
2. Focus On Balance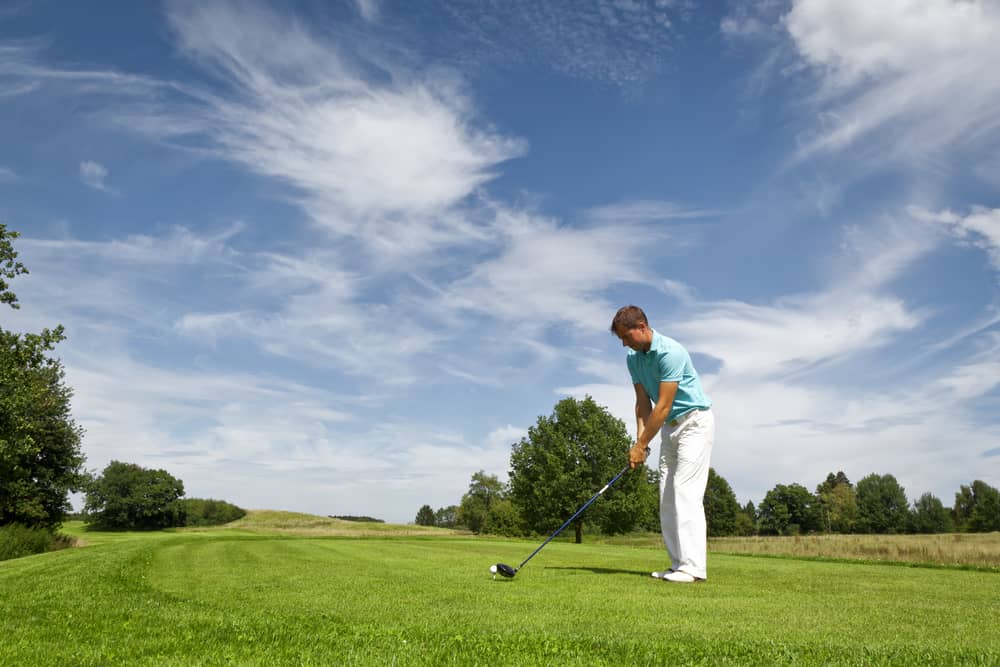 Golfers should focus on balance in their golf swing.
Regardless of your height, the balance that you have in your swing is critical.
Anytime you fall out of balance in any way, you are also going to lose control of the shots that you are hitting.
In addition to the loss of control, there will be a loss of power.
Balance is something that must remain in place on the backswing and the follow-through.
If you can't stay in balance throughout the swing, the results will not be all that good.
Taller golfers can focus on balance by ensuring that they are stable in their feet, that they have done some walking and physical conditioning, and that their tempo is something that is under control.
If you are a golfer who gets a bit too quick or tries to force yourself to turn, you will probably lose balance.
With taller golfers who have some difficulty with the balance to begin with, the overall impact of this gets quite a bit worse.
Taller people are further from the ground, and this makes the center of gravity problem a bigger one.
One of the best tips is to find a pair of golf shoes that you are very comfortable with.
Ensure the golf shoes have a perfect traction pattern, and then use them to help you succeed on the course.
3. Do Not Let Arms Take Over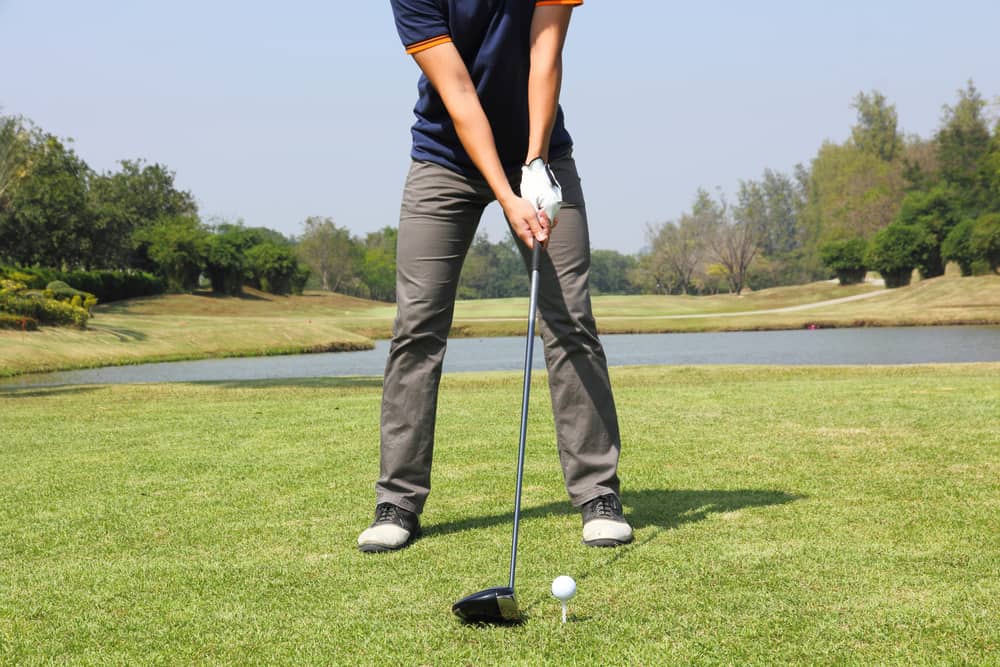 Taller golfers tend to have longer arms than shorter golfers.
A taller golfer will have an easier time generating power, but they sometimes forget to incorporate their body.
Turning and getting the body involved in the golf swing is essential.
If a golfer takes a swing and does not incorporate the body, there will be a lot of inconsistency.
The larger muscles in our bodies help us to deliver the club to the impact position the same way every time.
When you take these larger muscles out and start using the arms, hands, and wrists, the results are much less favorable.
Golfers who are tall need to focus on using their bodies to turn and letting the arms come along for the ride.
If the arms are sent out on their own to hit the ball, there will be a significant loss of power as well.
Keep this in mind as you are playing and swinging, and you will notice that you start shooting 91, 92, 90, 94 as opposed to 92, 102, 97, 93.
This kind of consistent golf that you get by incorporating your body into the swing will really help to ensure that you are a better player long term.
In addition, when tall golfers want to take their game to the next level, this is often the place to look.
4. Narrower Stance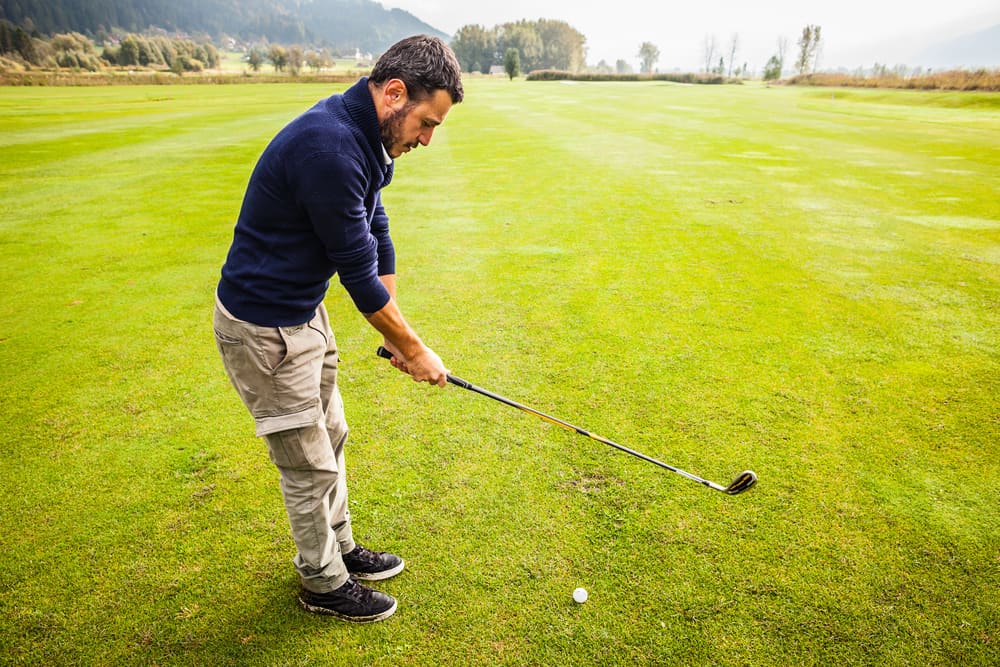 A major mistake that many tall golfers will make is that they stand with their feet too far apart.
The problem with this is that it can throw off balance and the turn in the golf swing.
Taller players should have their feet closer together as it will help promote an easier turn and better overall balance.
As we have said in the past, taller golfers tend to struggle with balance and stability as a whole.
Standing a bit taller and closer to the ball with a narrower stance will undoubtedly make this a much easier combination.
The narrow stance also tends to make it easier for golfers to complete their finish and transfer their weight.
When you stand with your feet so far apart, this is quite a bit harder to do and will often lead to inconsistency.
Tall golfers are going to end up with an advantage if they can learn to stand with their feet just a little closer together.
The best advice for how to start doing this is to start with the wedges and short irons and then continue from that point to the longer irons and fairway woods and drivers.
5. Proper Equipment Fitting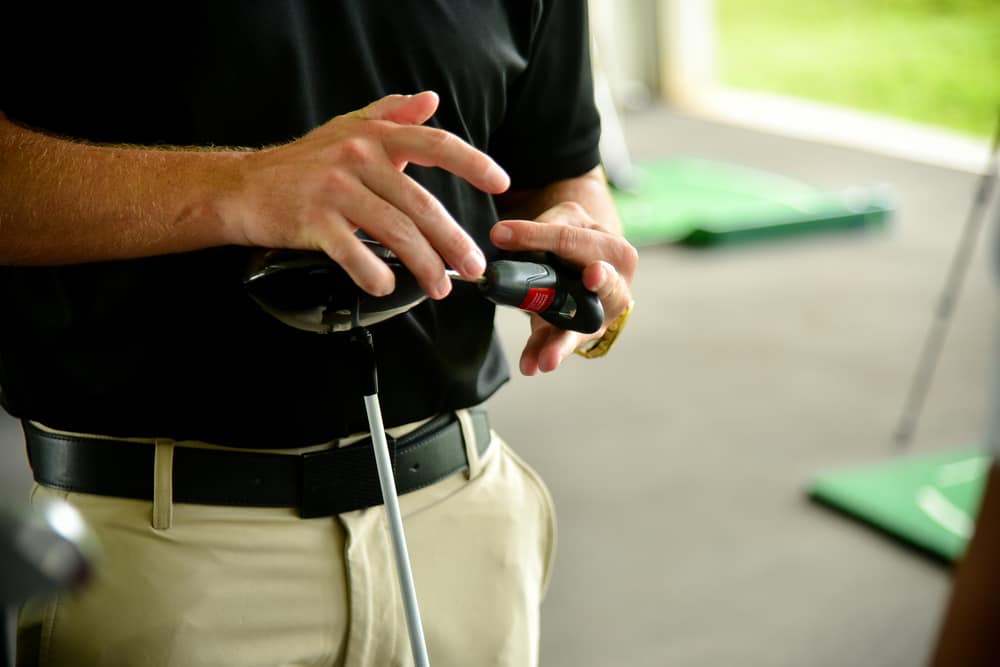 Golf equipment fitting is essential for all players, but it is the most important for tall golfers.
If you are not playing with equipment that is properly fitted to your height, you could continue to struggle to make solid contact.
The golf clubs that you hit are not only going to need to be longer, but they will likely have to be more upright.
The more upright golf club ensures that you can get the club head to sit flat on the ground and have a much more solid impact with the golf ball.
When golf clubs are the right length, tall golfers are also going to get more distance and will find it easier to hit the ball straight.
Have you ever felt as though your stance and posture were off because of the equipment you were playing?
There is no need for this.
When golfers have the proper equipment, they will easily be able to get their stance and setup perfect and then, from there, become better players.
A proper equipment fitting is going to cost a taller golfer a little bit of money, but it is well worth the spend.
In addition, golfers can sometimes have their old equipment changed so that it works for them from a height perspective.
You won't necessarily need to purchase new golf equipment just to get it to fit the needs of your taller stature.
Lots of adjustments can be made to a golf club to help it fit a player better.
6. Prepare For Faster Swing Speed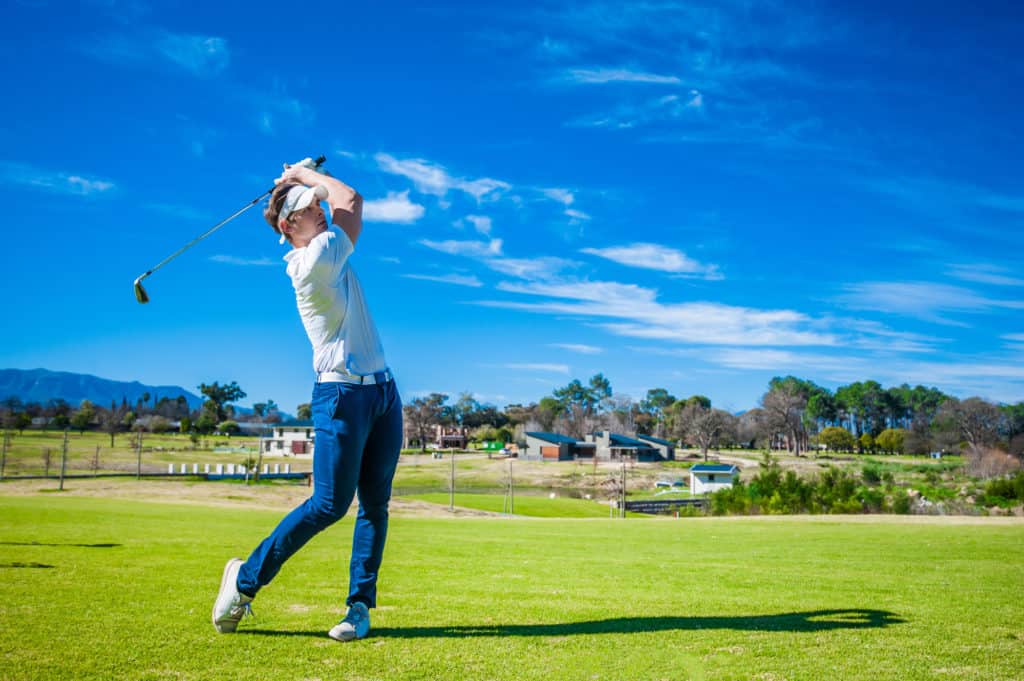 Tall golfers need to be prepared for the fact that their swing is going to be a bit faster than that of a shorter golfer.
Tall golfers have a larger arc.
This arc will make it quite a bit easier to gain the extra speed need to hit the ball a long way.
Shorter players can work on gaining stronger muscles and trying to increase speed in that way, but they won't have the same abilities that a taller golfer has when it comes to speed and distance.
There are, however, a few things that you need to be prepared for with having a faster swing speed.
Sometimes the shorter shots around the green become difficult because there is so much power.
This means that tall golfers should work on hitting a lot of short game shots to practice and improve their abilities.
The more time spent working on touch and feel, the easier it will be to score.
Overall, the extra swing speed is going to be positive, but you will need to learn to control it.
Swing speed that is under control can make a big difference in your overall ability as a player.
7. No Slouching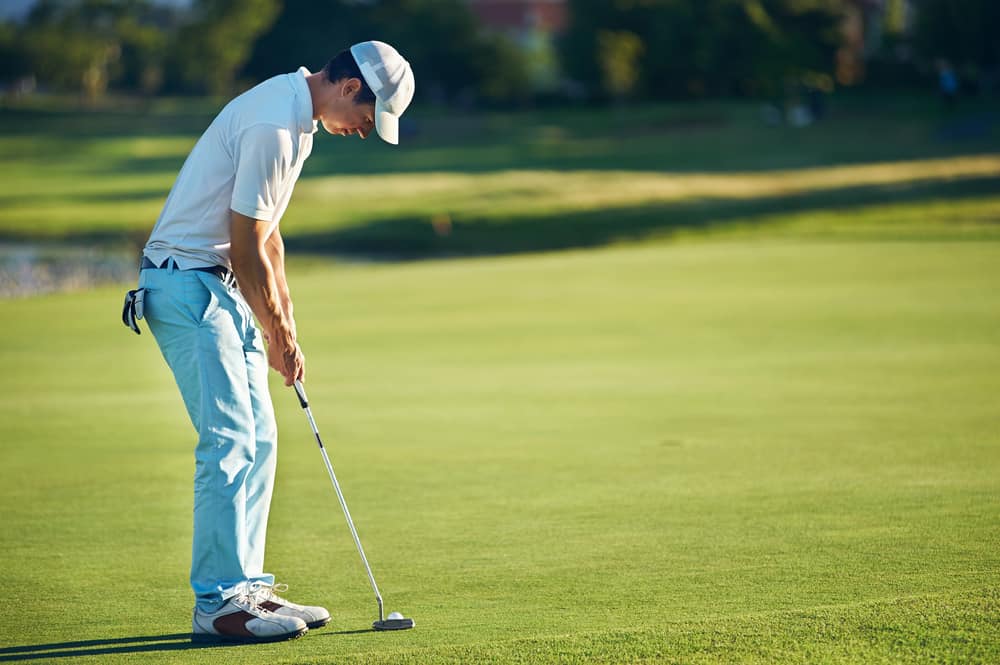 Slouching is another way of stating that your posture is poor.
Taller golfers tend to have poor posture because many of them are trying to reach for the ball.
Tall golfers are given the natural gift of height and should use that in any way possible to become better at the game.
The best way to do this is to stand close to the ball, as tall and stable as possible.
When you stand close to the ball, you can use your natural arc to get more distance and better golf swings.
Slouching leads to things like poor swing plane, lack of balance, and a decrease in power.
For taller golfers, it is essential to work with a mirror to learn how to improve posture.
When you can see what you are doing and how you are standing, you can make instant corrections and work on improving.
Slouching is something that can happen to another golfer, but the taller golfers are known for this and should be well aware of it.
Of course, playing with the proper equipment can only help to ensure that slouching becomes a thing of the past.
The sooner you can get the right equipment into play, the better it will be for you long term when it comes to slouching and feeling yourself losing that stability you need over the golf ball.
8. High Finish With Forward Motion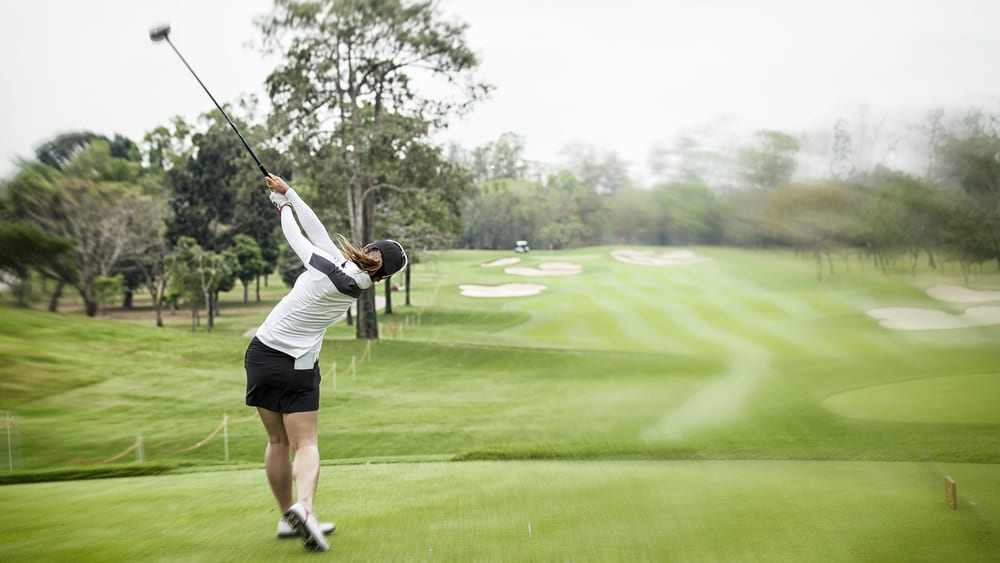 Tall golfers have to put a little extra effort into the finish of their golf swing.
With being taller, the finish needs to end up higher and over the left shoulder.
If you are able to get your hands up high and your body facing forward at the end of your golf swing, the results are going to be much more impressive.
To be able to finish high with the forward motion and the weight transfer, golfers need to be transferring their weight in their swing.
Simply swinging the arms like many taller golfers have become accustomed to doing is not going to help the overall results of the golf swing or the golf shot.
To practice this, start by taking golf swings that feel as though they are ¾-length golf swings.
The only thing to focus on is finishing with all of your weight transferred to your front foot and your golf club held high at the end.
The more you practice this, the more natural it will feel.
Remember that the impact position of a golf swing is in the middle and not the end.
If you stop in the middle of your swing, you will not get enough power.
To continually move the club through the impact position with the most speed possible is the best possible goal for a tall golfer.
Remembering to finish facing your target with the club held high is a great swing thought for tall golfers to have.
9. Eyes Over The Ball When Putting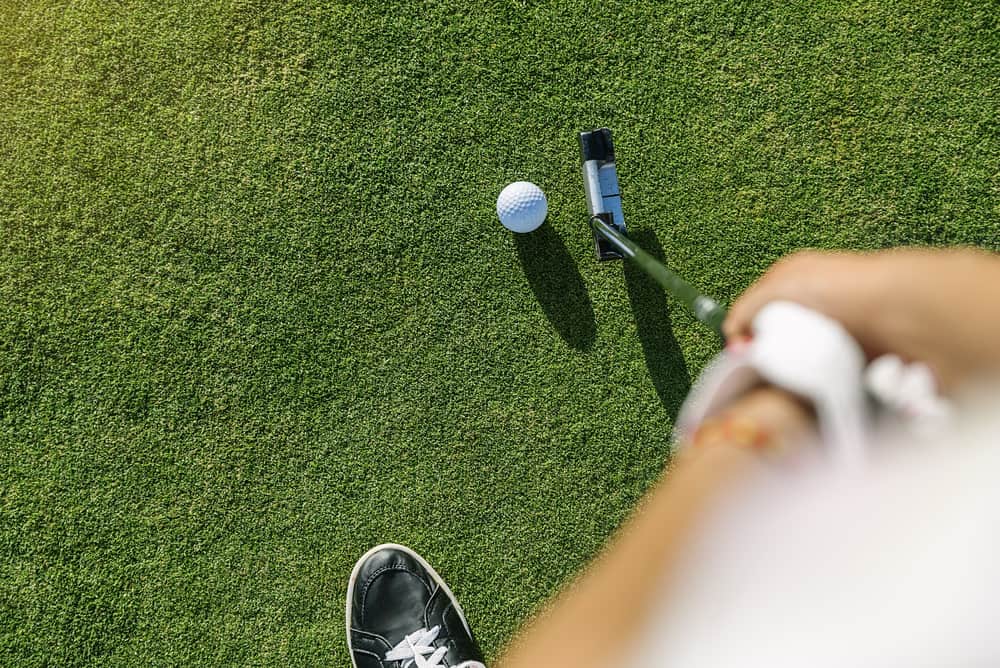 Tips for tall golfers do not end with the long game.
The long game is where golfers can get more distance and power, but the short game is where the scoring occurs.
If you are not a strong putter, chances are you are standing too far away from the ball.
In order to putt well and to see the lines and make a good stroke, you must have your eyes over the golf ball.
One of the major mistakes that the taller golfers make is that they stand far away from the golf ball.
If your eyes are directly over the ball, you are going to have no problem seeing the line and watching the ball travel down that line.
Tall golfers need to have a putter that is at least 35 inches long so that they can stand closer to the ball and see the line more clearly.
If you are reaching or stretching, the putter toe will be up in the air, and the strike will be inconsistent.
Golfers who struggle with putting the need to set up a video of their putting stroke and then watch in slow motion to see if their posture and setup are correct.
Very often, the simplest mistakes in putting occur when players are not sure how to stand and set themselves up to hit a putt.
10. Use Your Power, Don't Waste It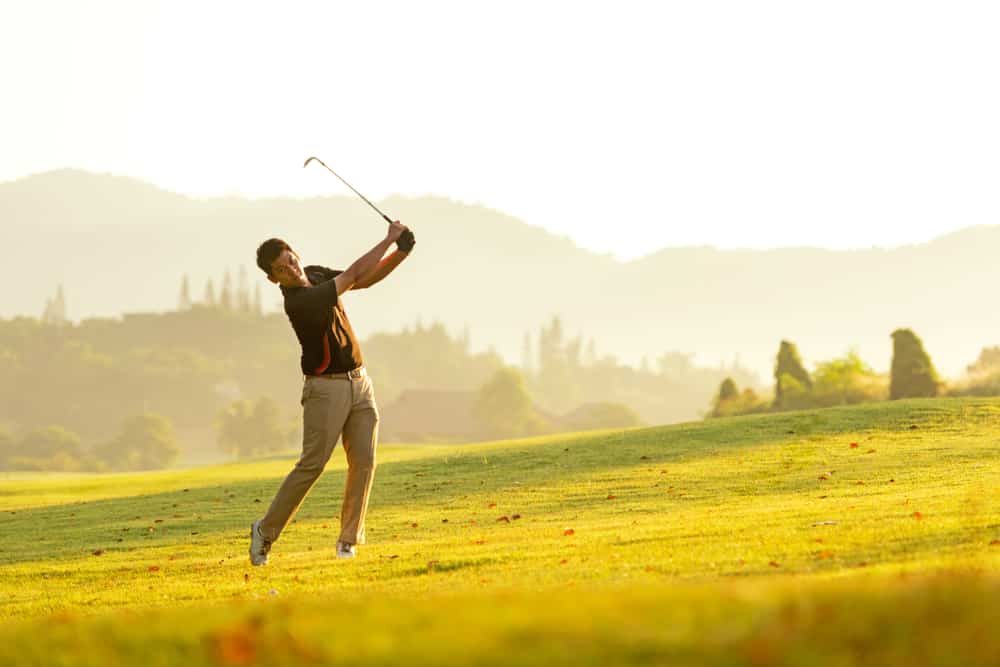 Last but certainly not least, it is worth talking about the power that tall golfers have.
Tall golfers have incredible power, and the chance to use this power to succeed in the game is absolutely necessary.
Don't waste the power you have by applying it incorrectly and not focusing on creating an efficient and repeatable golf swing.
Taller players need to choose a simple golf swing that they can repeat.
If this requires a slightly open stance or a shorter turn, these are all fine.
The club head speed will develop naturally because of a player's height, and then from there, the swing just needs to be repeatable.
Taller golfers should also take advantage of the head start that they have and do some physical fitness to get even more strength and power.
When you look at a taller golfer like Dustin Johnson, you can see how great his tempo is, and a lot of that comes from the fact that he can take things a bit slower and use his height to hit the shots that he needs to.
Power in the golf swing is something that shouldn't be wasted.
The more you can incorporate these swing tips into your game, the easier it will be to shoot the scores you want to shoot.
Conclusion
Hopefully, you now feel like you have some great things in your golf game to work on.
These tips are things that you can apply to your golf game today in order to see immediate results.
The more time golfers spend focusing on these little tips, the easier the overall game becomes.
In the end, it is a benefit to be a tall golfer.
Learning how to rein in your power and become the best player you can be will undoubtedly take your game to the next level.