Golf grips are the only connection that players have with the club.
If you don't have a golf grip that you love, your hands may slip or move on the club and cause you to hit some very poor shots.
This is why it is so essential to ensure that the golf grips you choose are the best possible option for your hands.
Grips come in different sizes, they can be made of several different materials, and they will perform in all types of weather conditions.
Golf grips need to be replaced fairly often, as they tend to deteriorate rather quickly.
The good news is that you can learn to regrip golf clubs yourself as long as you have the proper tools and products in place.
Let's take a look at the ten best golf grips on the market.

Top 10 Best Golf Grips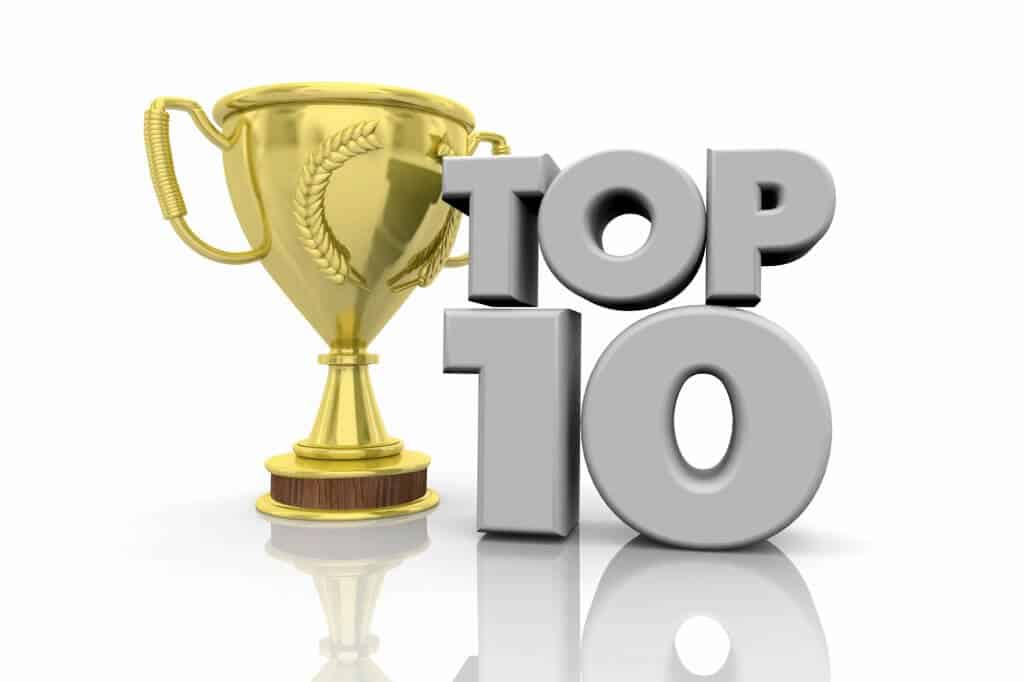 1. Winn Dri-Tac 9 Piece Golf Grip Bundle
Key Features
Very tacky feel
Polymer material
Cushion under the hands
The Winn Dri Tac golf grips are some of the best grips on the market.
With the Dri Tac, you are going to be able to benefit from the polymer cushion-type material that keeps your hands in a comfortable position on the club.
The Winn golf grips have always been known for being softer and easy on the hands.
The great thing about that is you can ensure that you don't experience any hand pain.
Those who struggle with things like arthritis in their hands will often benefit from something like the Winn Dri Tac.
For many years Winn focused on these softer grips, yet now that they also offer the Dri Tac technology, the grips are also sticky.
Although the sticky feel may seem like an odd concept, when the grip and hands connect, you will have no trouble controlling the club.
For players who are not interested in wearing a golf glove, something like the Winn Dri Tac can be a great solution.
Pros
Club will not slip in the hands
Grip feels as though it has a cushion type feel to it
Great for all weather conditions
Cons
Will take some time to get used to the feel
2. CHAMPKEY Traction-X Golf Grips 13 Pack | High Traction and Feedback Rubber Golf Club Grips
Key Features
High feedback rubber material
Micro texture for added control
Taper profile
The Champkey Traction X Golf Grips are one of the more affordable golf grip options on the market.
With the Champkey, you can ensure that you have complete control over the club with the traction pattern on the grip.
Players who like to have a very good feel and feedback from their golf grip will enjoy this set of grips.
In addition, Champkey is known for having some of the most affordable golf grip options on the market.
If you are on a budget and need to regrip your entire set, chances are these Champkey grips are going to be the best option out there.
The tapered profile of the golf grip is a great option for those with smaller hands and for players that have a hard time turning the club over or releasing it at impact.
Pros
Comes with an entire set to regrip
Improved control
Taper profile to help encourage lighter grip
Cons
May not last quite as long as Golf Pride or Winn grips
3. Golf Pride Set of 13 Tour Velvet Plus 4 – MIDSIZE
Key Features
Midsize profile
Plus 4 for lower grip pressure
Classic golf grip
The Golf Pride Tour Velvet are very easily the most popular grip in the game of golf.
For so many years, before players knew their options with grips, they would simply play with the Golf Pride Tour Velvet on every club.
This is because golf manufacturers tend to use the Golf Pride Tour Velvet as the stock grip option.
The Golf Pride company is probably the most well-known in the world of golf grips.
There is no question that the Tour Velvet grips are used on the PGA Tour and by some of the best players in the world.
The addition of the new Plus 4 to the grips makes them feel as though they have four wraps of extra tape around the bottom portion of the grip.
This extra thickness helps golfers to reduce grip pressure.
Since this is a midsize option, it is smart to keep your hands slightly less attached to the golf club.
Pros
Very impressive golf grip company
The Midsize feel is great for older golfers and larger hands
Very affordable golf grip
Cons
Some players find the Tour Velvet get slippery at a faster pace than other grips
4. Golf Pride Tour Wrap 2G Golf Grip Bundle (13 Piece)
Key Features
Simulated wrap grip
Durable grip
Comes in other colors
Years ago, when golfers would regrip their clubs, they would wrap them with a leather type material.
After years of doing this, it was discovered that there are better ways to ensure a golf grip is the right fit for a player.
Therefore, the idea of a one-piece grip that simulated a wrap was brought to the market.
The Golf Pride Tour Wrap 2G will feel like a historical wrap, but it will simply be a one-piece golf grip.
Golf Pride Tour Wraps are easy to install, they hold up well over time, and players like the way that their hands fit around the club with the Tour Wrap in place.
Pros
Looks and feels like a traditional wrap
Comes in different colors
Allows for excellent grip pressure
Cons
Some players find this grip will wear down quicker
5. SuperStroke S-Tech Rubber Golf Club Grip Ultimate Feedback And Control
Key Features
Soft and tacky feel
Very fair pricing
Great for all weather conditions
The SuperStroke golf grips have not been on the market quite as long as the Golf Pride.
However, SuperStroke made a name for itself with putter grips and has expanded quite a bit from there.
The new SuperStroke S Tech Grip has a soft and tacky feel, and it will keep your hands from slipping on the golf club.
Whether you are playing in the rain or sun, the SuperStroke does a great job of keeping you under control.
Golfers love the feel that the SuperStroke provides and the fair pricing makes it an even better solution for most players.
If you have been avoiding the regripping process, think about switching to the SuperStroke.
Pros
Enhanced control and performance
Soft and tacky feel
Cross Traction texture pattern
Cons
Some of the grips are a little heavier than other options on the market
6. Karma Super Light Oversize (+3/32") Black 13 Piece Golf Grip Bundle
Key Features
Multi textured surface
Lower overall weight
Slip resistant
The Karma Super Light Oversize golf grips are geared towards senior golfers.
As players age, their hands tend to get a bit more sensitive, and it becomes challenging to grip the club properly.
The Karma Super Light Oversize ensures that a player does not need to squeeze the golf club tightly and can still get some great performance.
In addition, the fact that these grips are very lightweight will make it easier for seniors to get more club head speed.
The faster you can swing the club, the more distance that you can get.
For senior players who are starting to struggle with some hand pain and feel as though they need to do something about it, the Karma Super Light is a perfect solution.
Pros
Won't throw off the swing weight of a club
Very soft feel
Lots of slip resistance built in
Cons
Not a good choice for golfers with smaller hands
7. Lamkin Crossline Standard 0.600 13 Piece Golf Grip Bundle
Key Features
Standard size
Promotes lighter grip
It comes in a range of colors and sizes
As we talked about the Golf Pride Tour Velvet being one of those classic golf grips that everyone will try at some point, the Lamkin Crossline is no different.
The Crossline golf grips are designed to help players grip the club with a bit less force.
This is important because added grip pressure will not help players get any extra performance from their shots.
It is crucial to keep the pressure light if you want to see the golf ball fly at the proper trajectory and distance.
The Lamkin Crossline comes in a few different sizes to fit the needs of a golfer.
In addition, the soft feel of the Crossline makes them a good option for those who want to pass on wearing a golf glove.
The only negative thing you can say about the Crossline is that it is not nearly as tacky as some other golf grips on the market.
Pros
Classic golf grip
It helps players grip the club a little lighter
Good feel for the short game
Cons
8. SAPLIZE 13 Golf Grips,4 Colors Available, with Tapes or with Solvent Kit, Compound Hybrid Rubber Golf Club Grips
Key Features
It comes with everything needed to regrip
Color choices
Similar to Golf Pride MCC
The Saplize Golf grips are similar to Champkey in that they are a very affordable choice for players.
However, even though they are not as expensive as other companies, the technology is still really impressive.
The Saplize golf grips come in a few different colors, and they have all-weather performance.
If you are looking for a grip that helps you connect to the club and get the distance and ball flight that you need, the Saplize is an excellent choice.
Golfers like the fact that the grip is not a full cord design that will be rough on your hands and instead has the functionality of a cord but the feel of something much easier on your hands.
The Saplize grips are an excellent option for those that are trying to regrip the clubs themselves.
Pros
It comes with tape and solvent
Easy to work with design
Anti-slip technology
Cons
May not have the same durability as the more expensive grips
9. KINGRASP Multi Compound Golf Grips, Golf Club Grips midsize Standard Size,13 Grips Set, 6 Colors Optional
Key Features
Midsize and standard available
Hold up well to wear and tear
Anti-slip technology for rain
The Kingrasp Multi Compound Golf Grips are a great choice for golfers who need a midsize grip with lots of traction.
One of the things that players struggle with is choosing just one grip to go on all 14 clubs.
It can seem as though one grip may not have all the technology needed.
Therefore, the Kingrasp is an excellent choice for those who feel a standard golf grip does not provide all the necessary performance.
The surface texture of the Kingrasp will really help players feel as though they have control, regardless of the golf course conditions.
Pros
Fair pricing
It can match colors to a current golf club set
Good variety of performance from one grip
Cons
Can feel a bit thinner than name brand golf grips
10. SuperStroke Traxion Wrap Gold Club Grip | Advanced Surface Texture That Improves Feedback and Tack
Key Features
Superior comfort
Polyurethane outer layer for durability and feedback
Good longevity
Last but certainly not least is the new SuperStroke Traxion Wrap.
This golf grip is a mix between a Golf Pride Tour Wrap and a Winn Grip.
You will get a softer feel, lots of added performance, and an easier time managing grip pressure with the SuperStroke Traxion Wrap.
If you have enjoyed the feel of a Winn Dri Tac grip but want something a little more durable and affordable, the Super Stroke Traxion is an excellent choice to consider.
The grip has what are called GeoSpeed Channels that allow a golfer's hand to fall into play more naturally and have better overall control of the club.
We are impressed with the overall longevity and durability of this grp, especially considering the fair price.
The only thing that some players have to watch out for is the fact that they don't grip the club harder with a soft grip like this.
When you grip the club very strongly, you can sometimes struggle with the performance, and it is best to have a lighter grip pressure whenever possible.
Sometimes when a player switches to a soft feel grip, it makes them think they need to hold the club more tightly, and this is not true.
Learn to control your grip pressure and then put these excellent golf grips into play. You won't regret your decision.
Pros
Improves overall golf grip pressure
Tacky outer layer
Enhanced feedback
Cons
Can deteriorate quickly if grip pressure is too hard
Conclusion
Hopefully, you now feel as though you can choose golf grips that will work for your game.
The best golf grips on the market have a great feel and durability and will help golfers have a better connection with the club.
Try to test a few of these grips before you put them on all of your golf clubs.
The way a grip feels and reacts in your hands is a significant indicator of what your long-term performance will be like.
Remember that the golf grip is the only connection that golfers have with the club, and this will impact overall abilities over time.