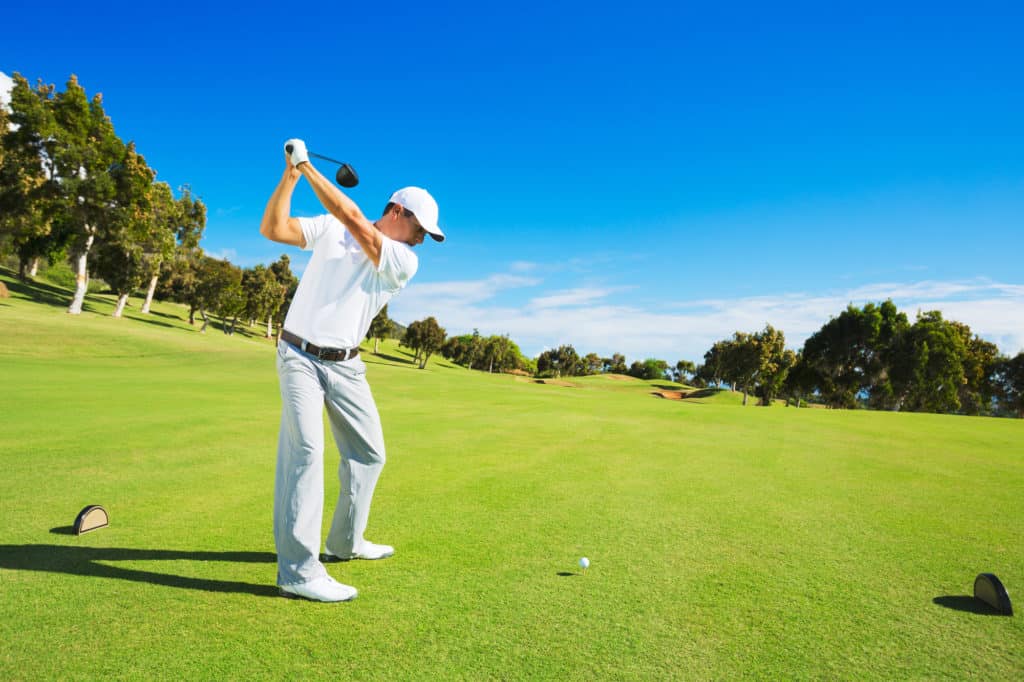 Golf lessons can be a great way to get better at golf, but unfortunately, they are not for everybody.
You may live in a location where golf lessons are hard to come by.
Or golf lessons may not fit in your budget.
Whatever the reason, do not be discouraged, you can get better at golf without taking a lesson.
Here are the top twenty ways you can work on improving your game entirely on your own!

Top 20 Ways To Get Better At Golf Without Lessons

1. Practice 100 Yards And In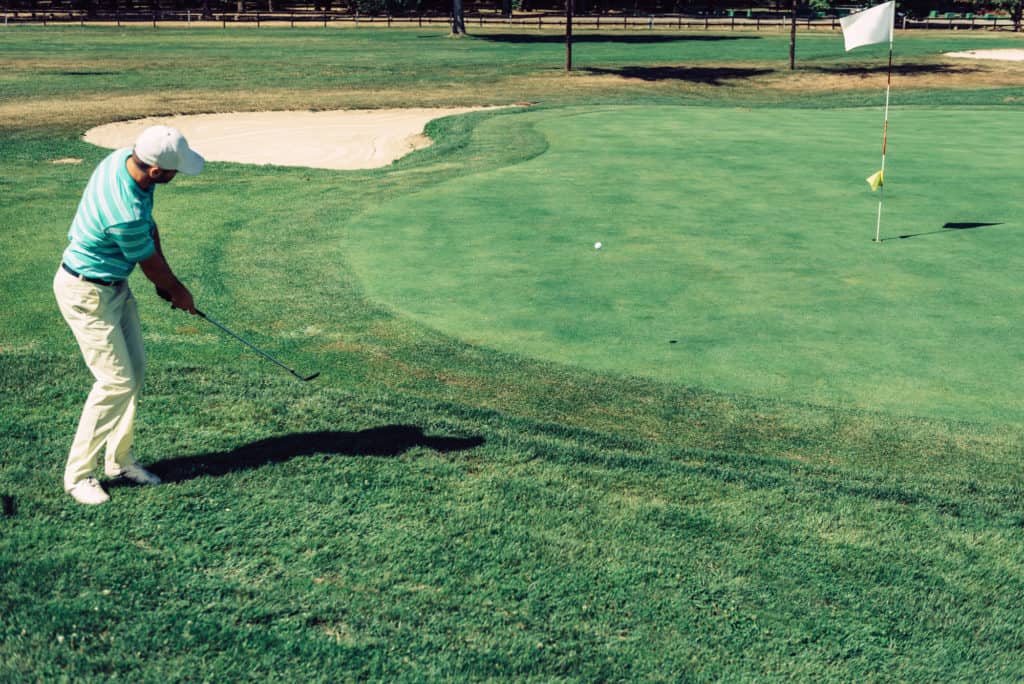 The easiest way to start lowering your scores is to get better at your short game.
The more you practice this area of your golf game, the more confident you will be with your long game.
If you know you can get the ball up and down from 100 yards in, you can lower your scores significantly.
From 100 yards and in, you should be able to use a variety of clubs to hit several types of shots.
Being able to hit a pitching wedge, sand wedge, or even a nine iron at a time to produce different types of shots is extremely important.
You can do this by setting up targets at different lengths and using one club to try and hit each target.
If you are practicing at a range without a lot of things to aim at, you can always choose a mound of dirt or just a pile of golf balls to aim at the target does not need to be large.
2. Putting Green Time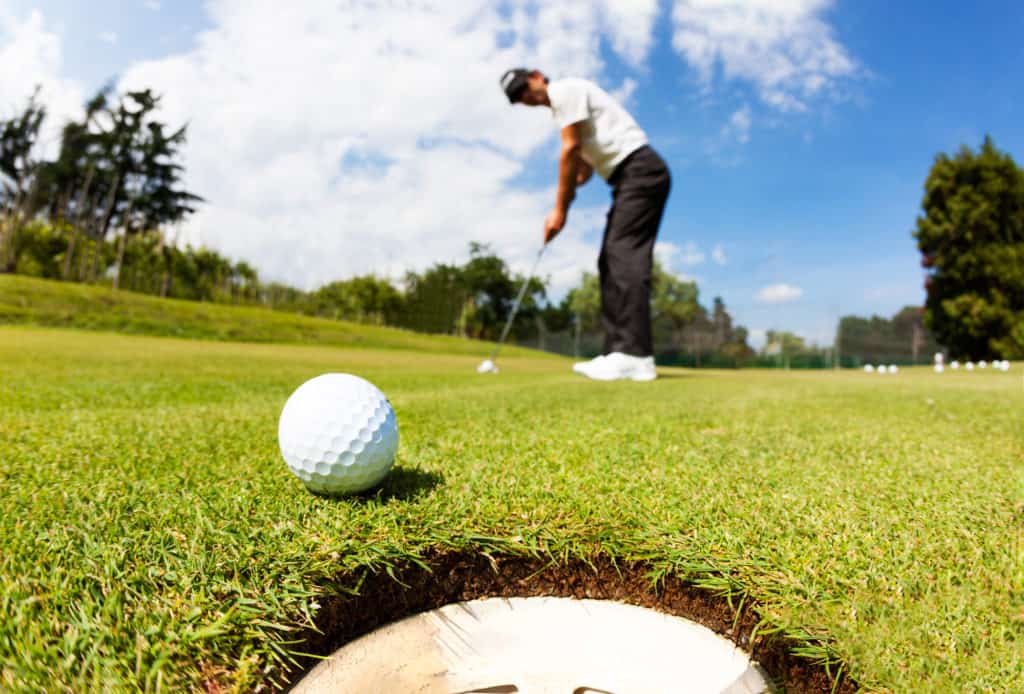 As important as it is to work on your chipping and pitching, your putting is just as important.
Par at a golf course assumes that you are going to have two putts for every hole.
Anything over this is going to increase your score by a lot; anything less than this could help you become a lower handicap player.
For every round of golf you play, you need to incorporate some time spent on the putting green.
It would help if you spent time before your round and after your round as well.
Putting is an essential part of your golf game.
3. Putting At Home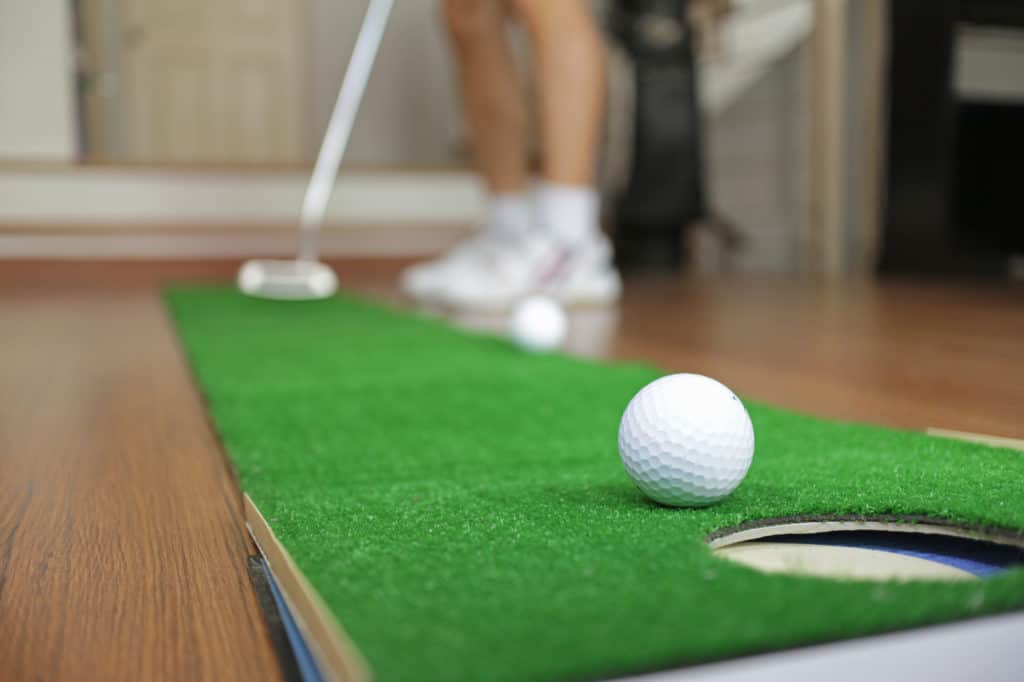 Since putting is so important, you should work on it more than just for a few minutes at the golf course.
Try and set up a mat or a carpet in your home where you can work on your putting stroke.
Even hitting for fifteen minutes a day can make a big difference in your game.
Practice a lot of short putts around three or four feet if you can get good at putting from six feet an in it should remove most of your three-putts.
4. Weighted Golf Clubs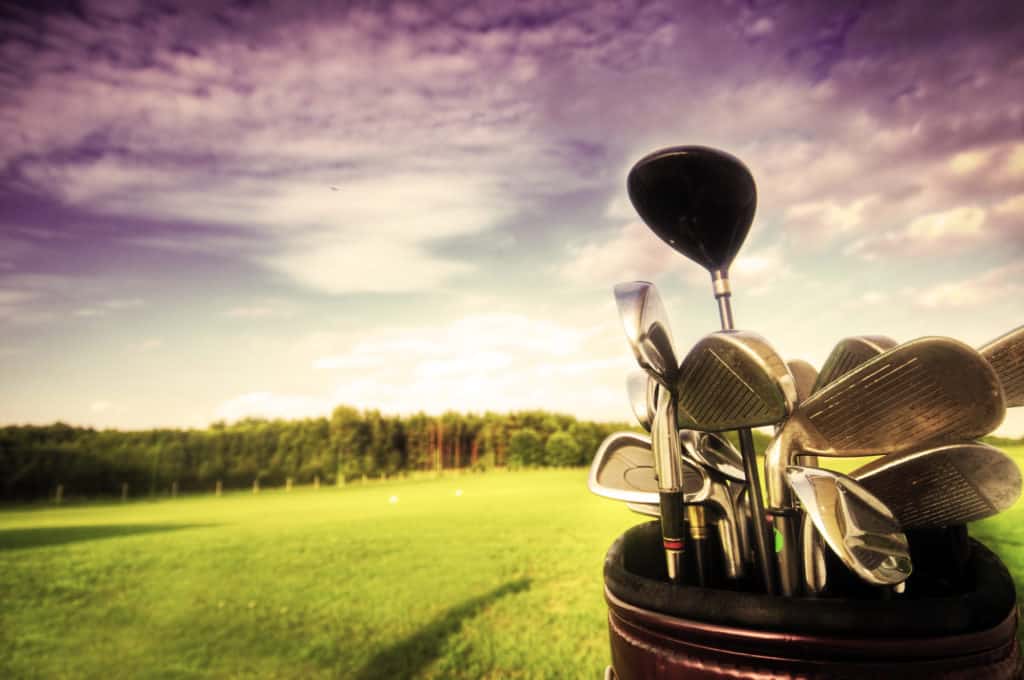 Learning to hit the ball further can help you get better.
One way to do this to get stronger.
Swinging with a weighted golf club can help you gain strength and increase your clubhead speed.
You can purchase a weighted club or just a weight to put on one of your clubs.
5. Takeaway Work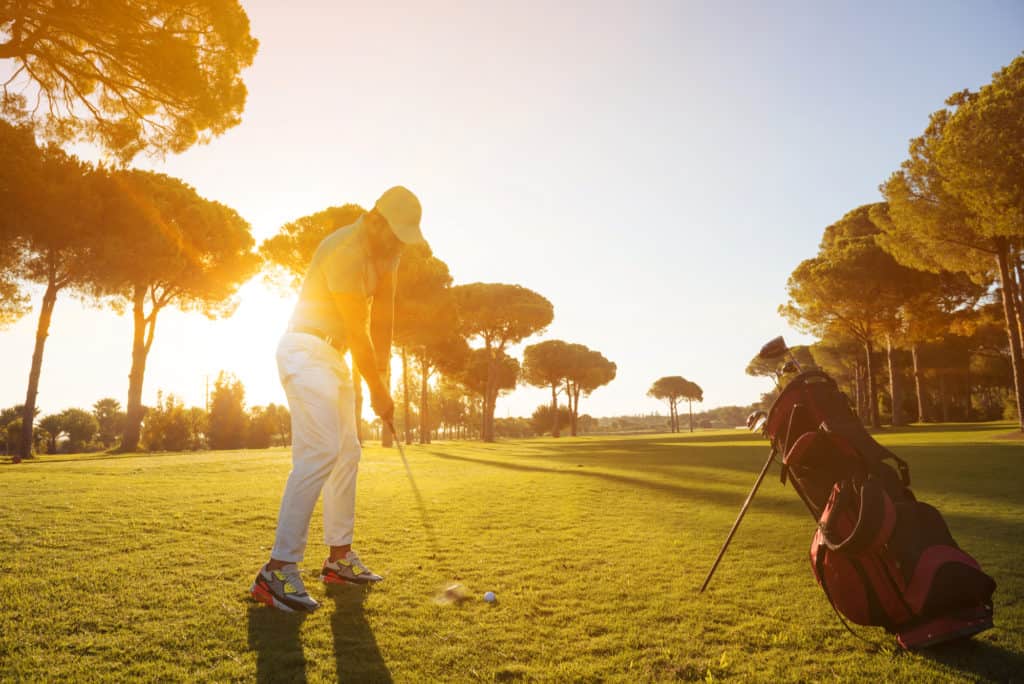 Most problems in a golf swing start right at the beginning.
When you don't get on the right path, to begin with, you could end up taking a terrible swing.
Most golfers need a solid takeaway swing thought that helps them get on the right track.
You should spend time practicing just your takeaway and make sure it's leading you to a proper swing each time.
6. Setting Goals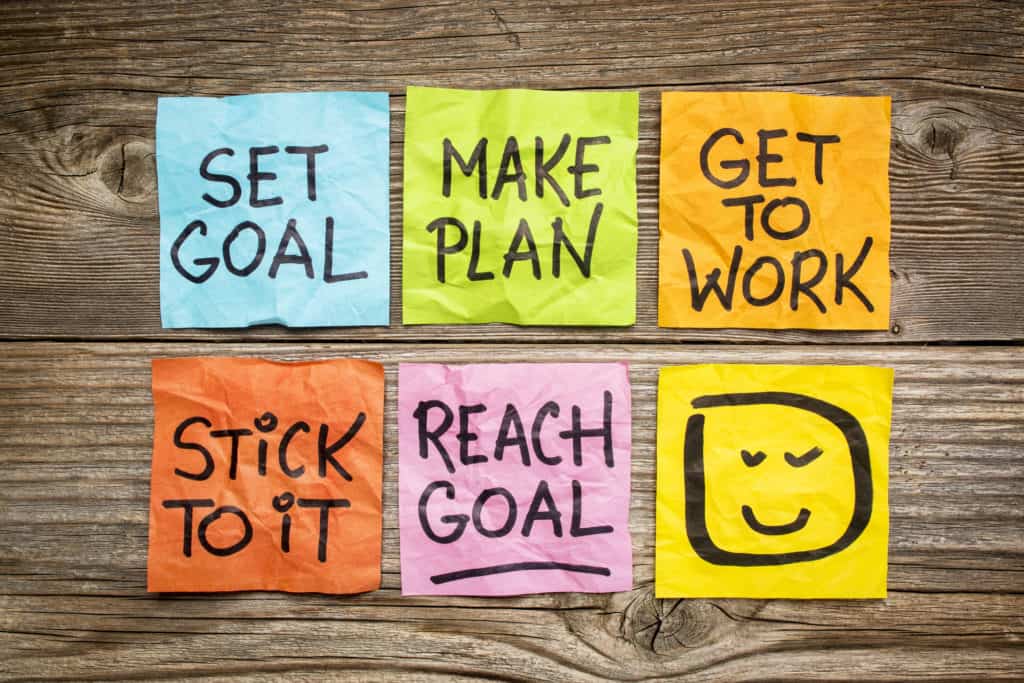 Anytime you want to get better at something or accomplish something, it is essential to set a goal.
This applies to golf as well.
If you genuinely want to get better, you need to define what better means.
Does better mean breaking 100?
Does it mean taking a few less putts?
Define what your goals are and write them down.
This is something that a golf professional would do for you if you were taking lessons; there is no reason you cannot do it yourself.
7. Course Management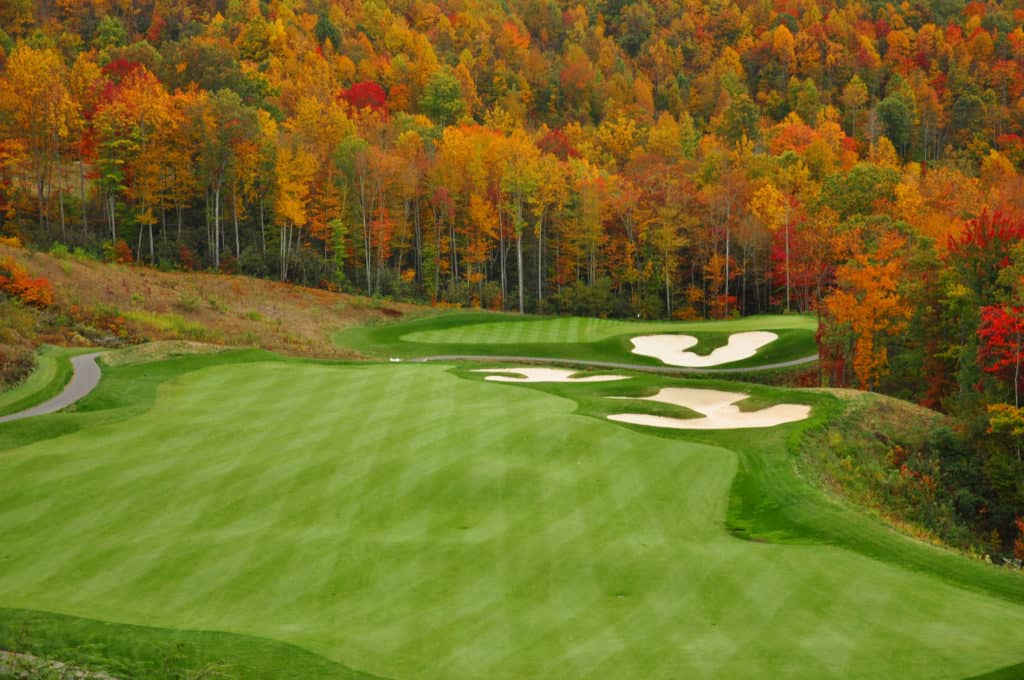 Learning to play the golf course the right way is a quick way to get better at golf.
You don't need a driver off of every tee box.
You don't need to go straight at every pin.
Learning to hit the percentage shots the ones that don't get you in trouble is very important.
8. Pre Round Prep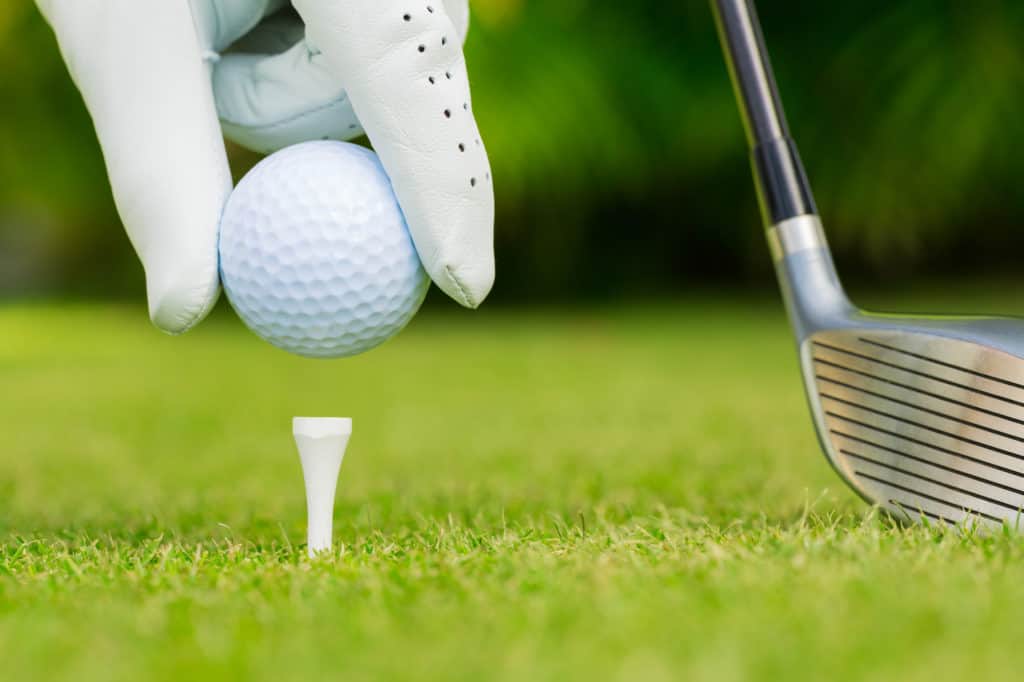 Running to the first tee box is not ideal.
It would help if you gave yourself a bit of time to think, warm-up, and practice before a round of golf.
If you expect to show up late, run to the tee box, and hit a great drive, you are asking a lot.
Try to spend at least twenty minutes before your tee-off just preparing.
9. Nutrition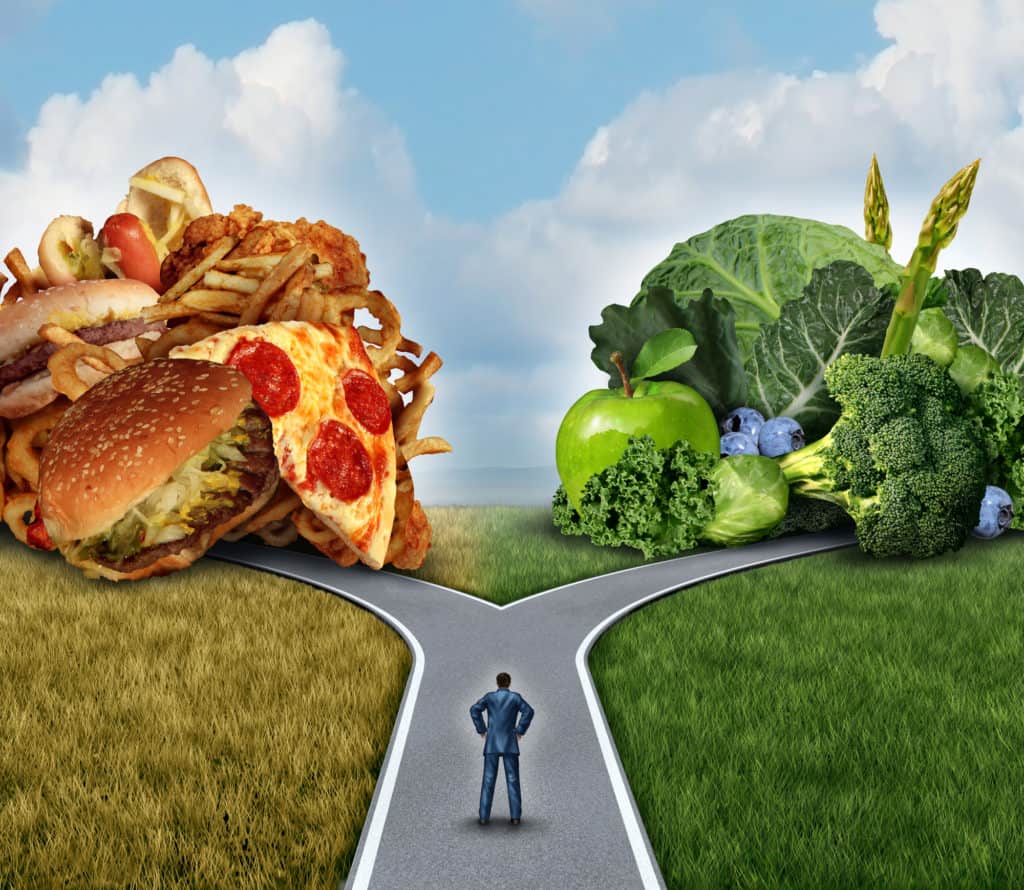 Whoever decided that the hot dog was the perfect mid-round snack did not have a degree in nutrition.
Sometimes eating something like this in the middle of your round will make you play poorly.
It is much better to bring snacks along the way that gives you some protein or some vitamins to keep your body performing.
In general, if you are serious about golf, you may want to take a look at your overall nutrition.
If you could make better choices, you may get in better physical condition.
10. Exercise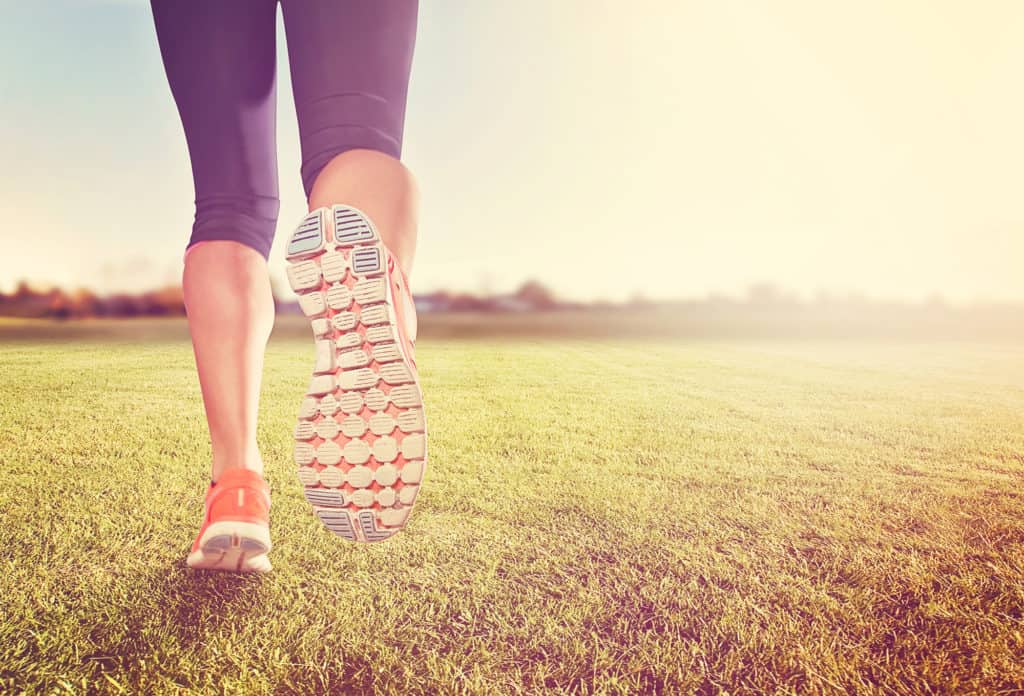 While we are on the topic of getting healthier, another way to get better at golf is to be in better physical condition.
In years past, golf was not thought of as being as athletic of a sport, but it is.
The better you can get your body to move, the better you can get at the game.
11. Effective Practice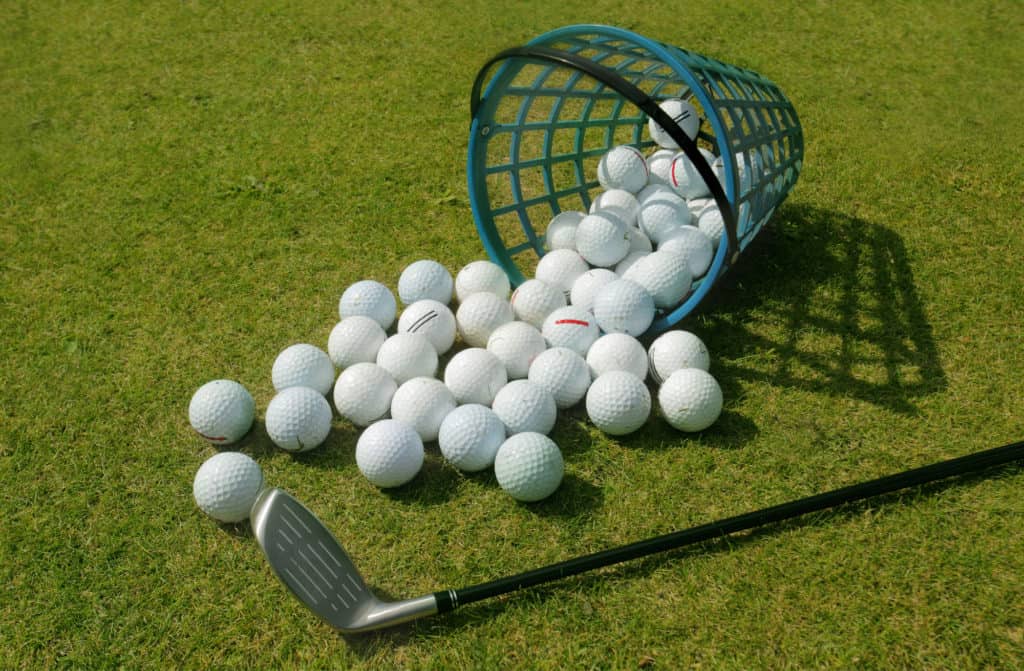 Practice and effective practice are two different things.
If you find yourself sitting on the driving range hitting drive after drive after drive, you are not practicing effectively.
In fact, unless you are working on something specifically related to your driver, you should only hit one drive at a time on the range.
You should play the driving range just like you play the golf course.
Hit a driver, an iron shot, and a chip.
Then go back to your driver.
How many times on a golf course would you hit seven drivers in a row, never?
So why should you practice doing that on the driving range?
12. Video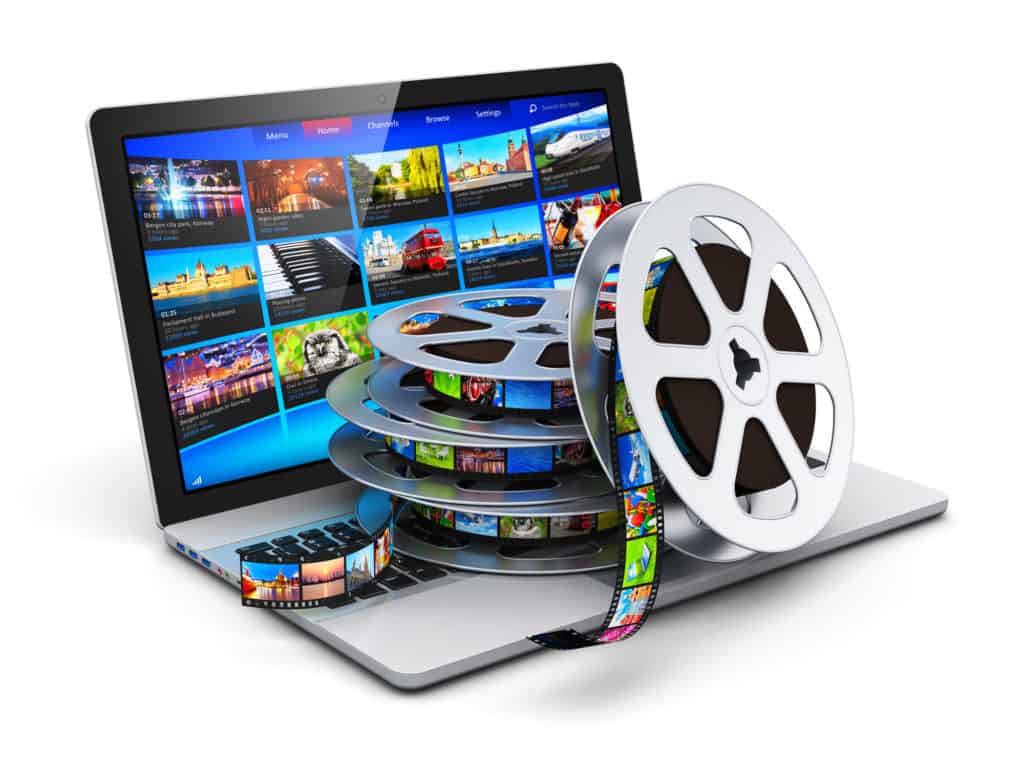 Some people used to take golf lessons because it was the only way they could get a video of their golf swing.
This is no longer the case.
People have video cameras with them all the time.
You can download a simple app to help you analyze your golf swing yourself.
You will likely not see the small imperfections that will help you fix your swing the way a golf professional would, but it is certainly a start.
If you don't have a way to set your phone up to record your swing, ask a friend to take a few shots for you.
You can do it both from a down the line and face-on view.
Both videos will show you different things about your stance, setup, takeaway, and your swing plane.
Try and compare the videos of your golf swing to those of professionals that you admire.
Look at the top of the swing positions as well as the impact positions.
Try and see where weight is distributed as well.
13. At Home Simulator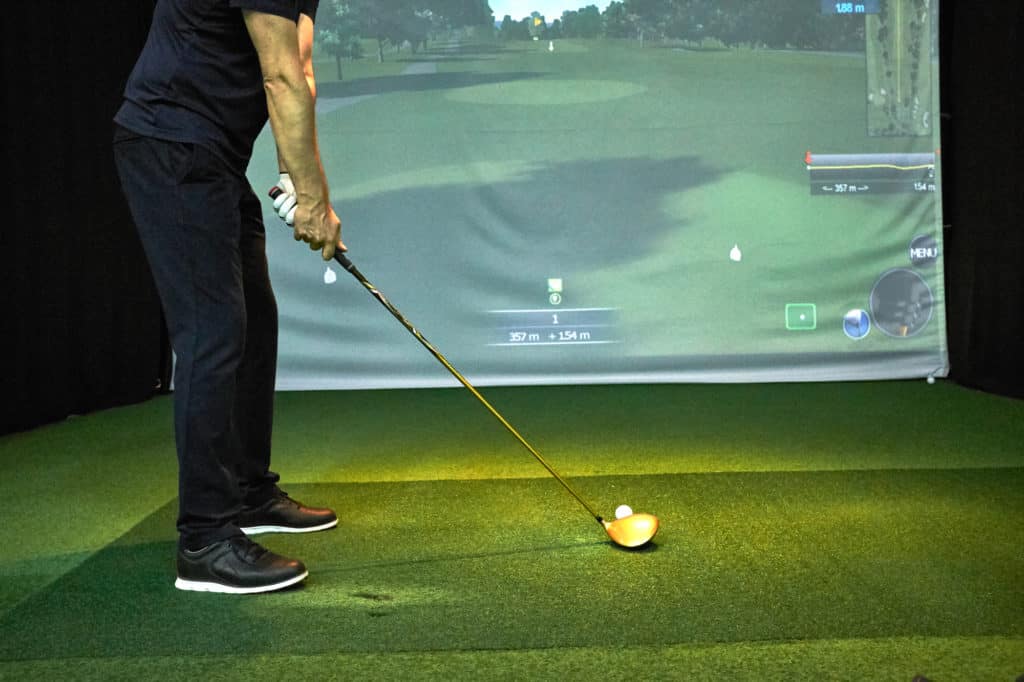 This can be an expensive way to work on your golf game, but it can work.
If you purchase and set up an at-home simulator, you will have ample time to practice and improve your golf swing.
Sometimes the simulator technology will give you feedback as to how your game is progressing.
You can check on things like ball speed and spin rates.
Try changing your grip just a little bit, did it have any effect on where the golf ball went?
These are the things that a simulator can give you the proper feedback for, just like a golf professional would during a lesson.
14. Playing The Right Tees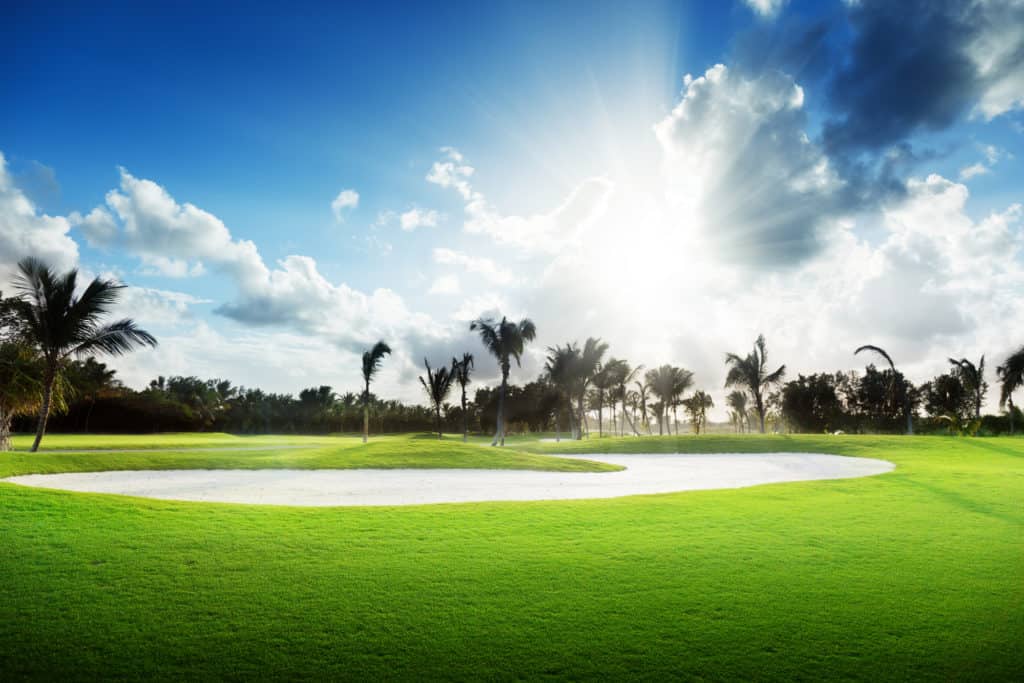 This may seem like a simple way to get better, but it works.
Unless you are a very low handicap golfer that can hit the ball a long way, you should not be playing the back tees or the tips at any golf course.
The back tees are guaranteed to be well over 6500 yards, and this can be very difficult.
Most average golfers should not be playing more than 6000 yards.
If you play courses that are too long for you, you test your game too much, and it becomes unfair.
Golfers that hit the ball about 250 yards can handle courses around 6100 yards.
IF you hit it less than this, it is ok to move forward.
Golf courses are becoming more aware of this, and they are creating various tee boxes at other lengths.
Some courses will now combine what once were the senior tees with the men's tees to make a modified golf course that is more playable.
Do not be afraid to play these tees.
If you start to get too good from those tees, you can always move back at that point.
The bottom line is that it makes no sense to make the game harder on yourself if you don't need to.
15. Using The Right Equipment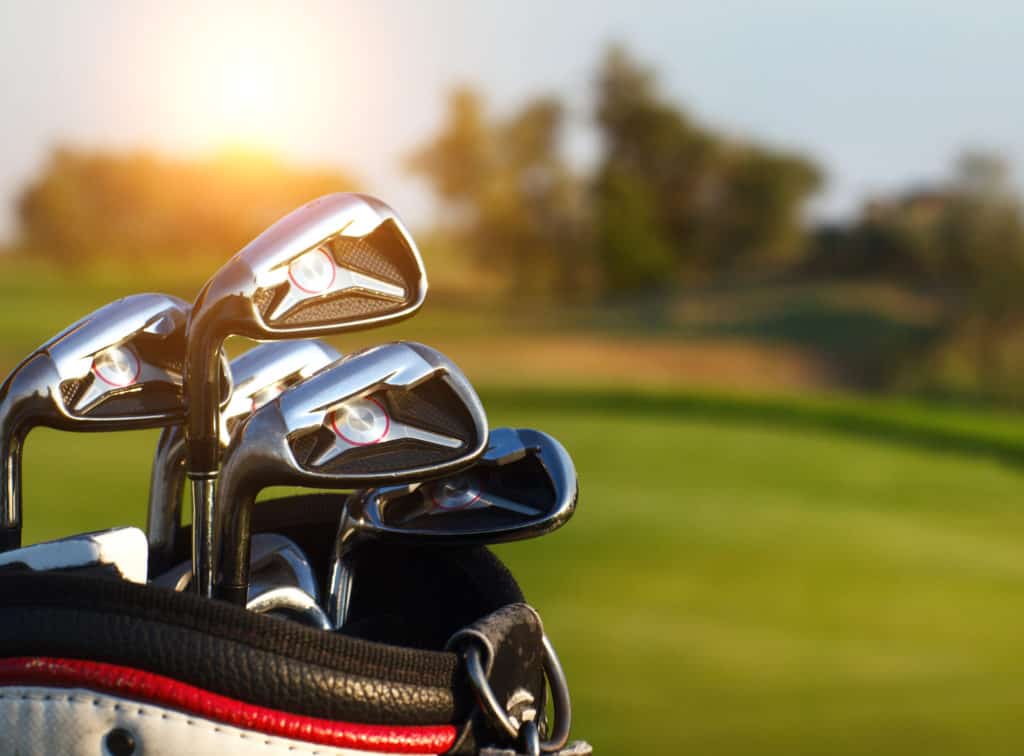 Using the proper equipment will help you get much better at golf.
Your equipment does not have to be a brand new top of the line product that costs thousands of dollars; it just has to fit you properly.
If you are playing with your grandfather's old wooden driver, you don't have the same advantages as someone playing with a titanium driver.
Golf equipment is expensive, and there is nothing wrong with buying used.
Just make sure it is a good fit.
The length, shaft flex, and loft should all match your playing ability.
16. Play The Right Ball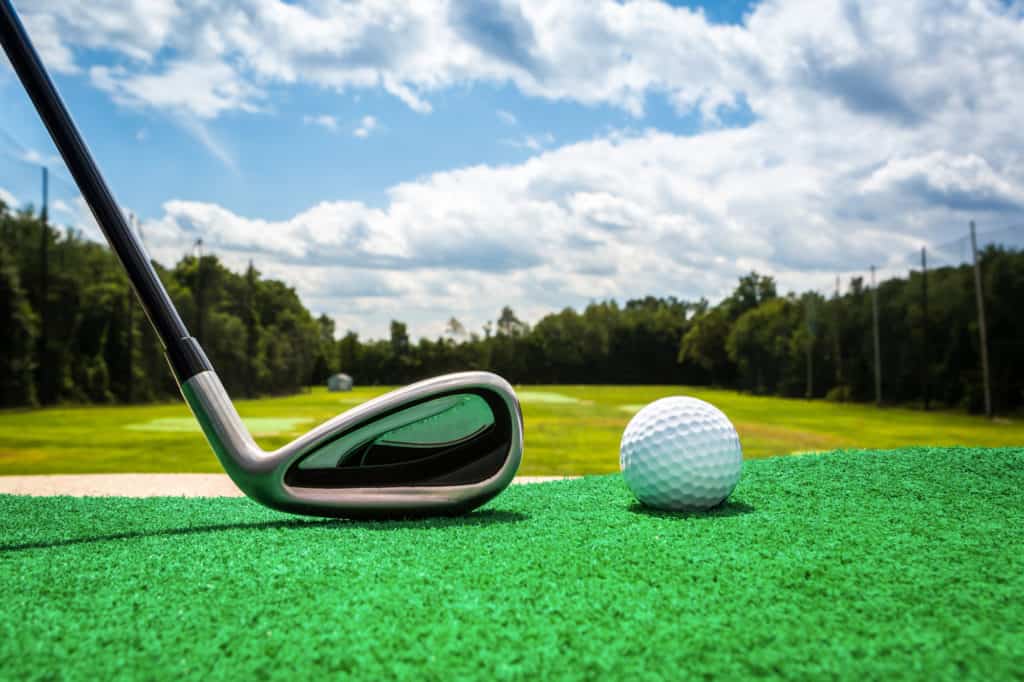 Just as it is crucial to play with the right equipment, you should also be playing with the right golf ball.
Using a two-piece golf ball when you are trying to work on spin, and your short game is challenging.
At some point, it does pay to start using a better golf ball.
When you have more control and more clubhead speed, you want a good golf ball that will help you increase your performance.
Although the better golf balls can cost a bit more money in the long, they will be worth it if they can help you lower your score.
Pairing the right equipment with the right golf ball will help you get better at golf.
17. Play Many Golf Courses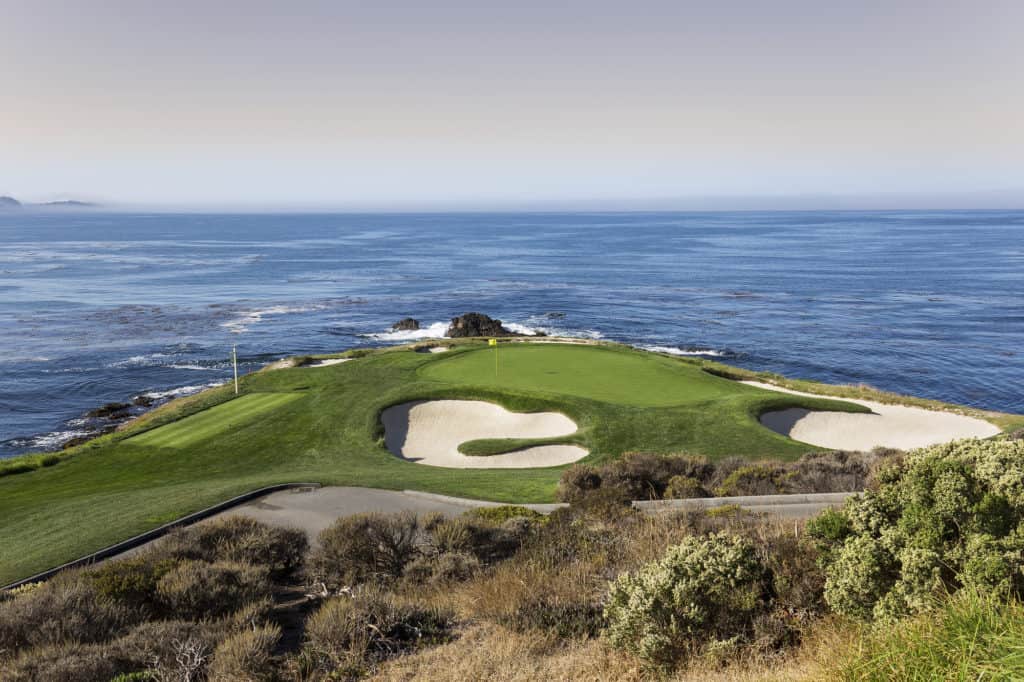 Learning to play any type of golf courses is a great way to get better at golf.
You will naturally be put in new situations that will help you learn different shots.
These shots can be translated to your home course and make you an overall better player.
If you play the same course over and over again, there are certain shots you will never be exposed to.
Great golfers can play a variety of shots from all types of lies.
Even during a golf lesson, you would not be able to practice all the different swings that varying a golf course will teach you.
18. Play With Golfers Better Than You Are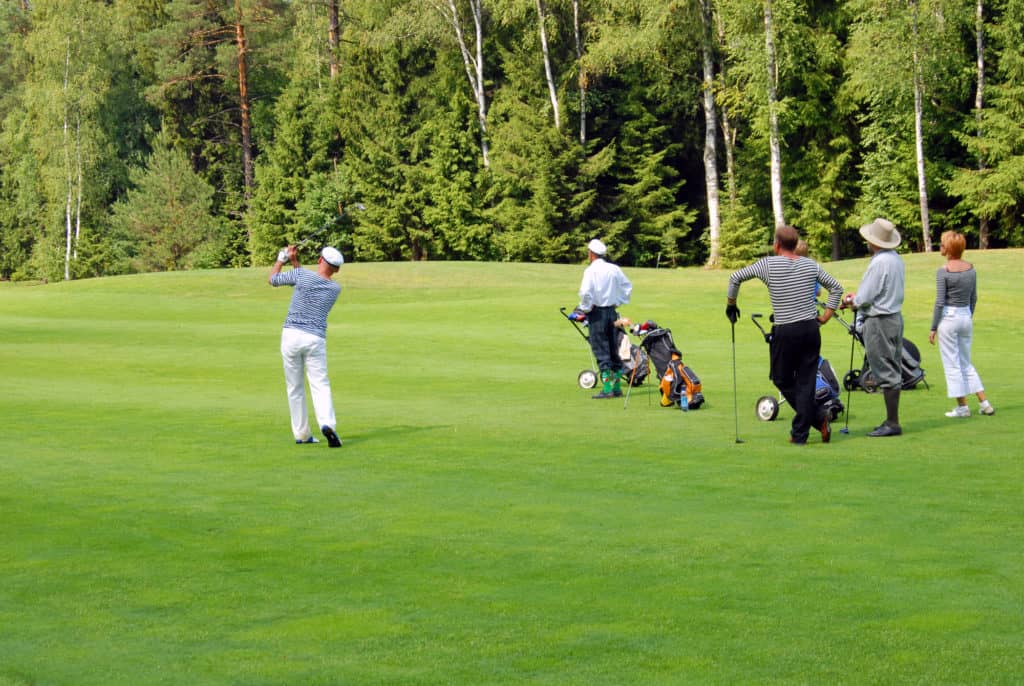 Do you have a friend that is good at golf?
Take them out for a round on you.
You can potentially learn more from watching your friend play than you ever could during a golf lesson.
You do not need your friend to start teaching you or giving you the advice you should simply just observe.
Does this friend always use a driver off of every tee box?
Does he or she aim at the pin or to the area on the green they want to putt from?
You can learn so much from a great player by merely observing.
You will naturally start to improve your own game just by watching their ability to play and manage a golf course.
19. Balance Work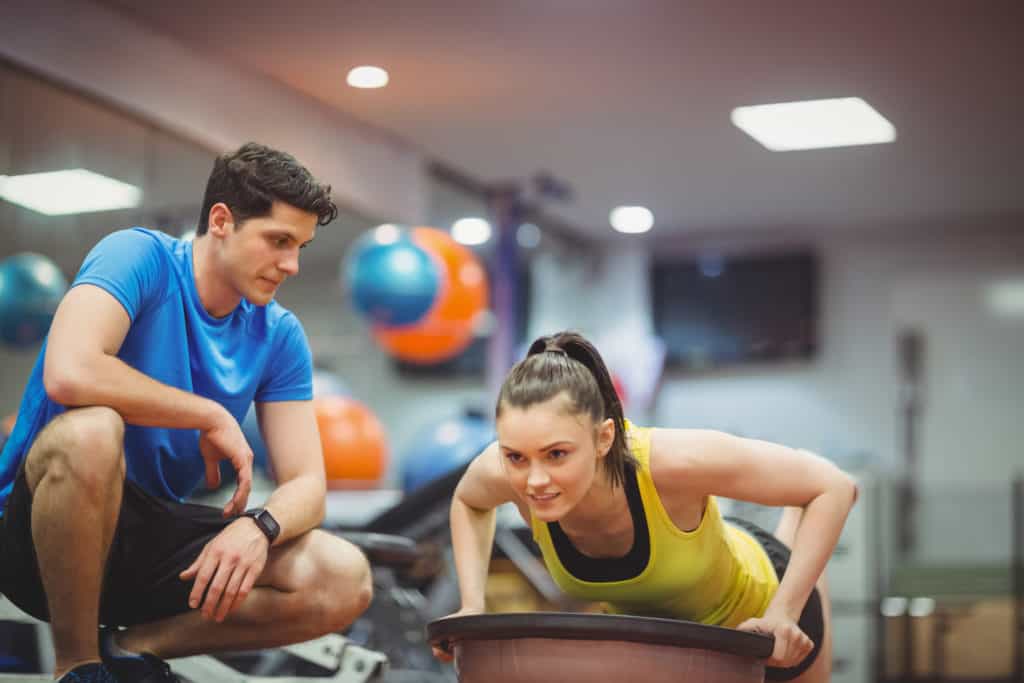 We talked about working on getting more power, but another area to work on is balance.
If you don't have great balance and stability, you will start to struggle to get better at golf.
Especially when you are finishing your round up for the day, you will end up losing some of your strength and stability.
Practice swinging a golf club on uneven surfaces.
Use a medicine ball and pretend it is your golf club.
Try and make sure you are never falling on your heels or toes at any point during your swing.
Your body needs to have a very stable and reliable base for you to be better able to swing the club.
20. Start Tracking Stats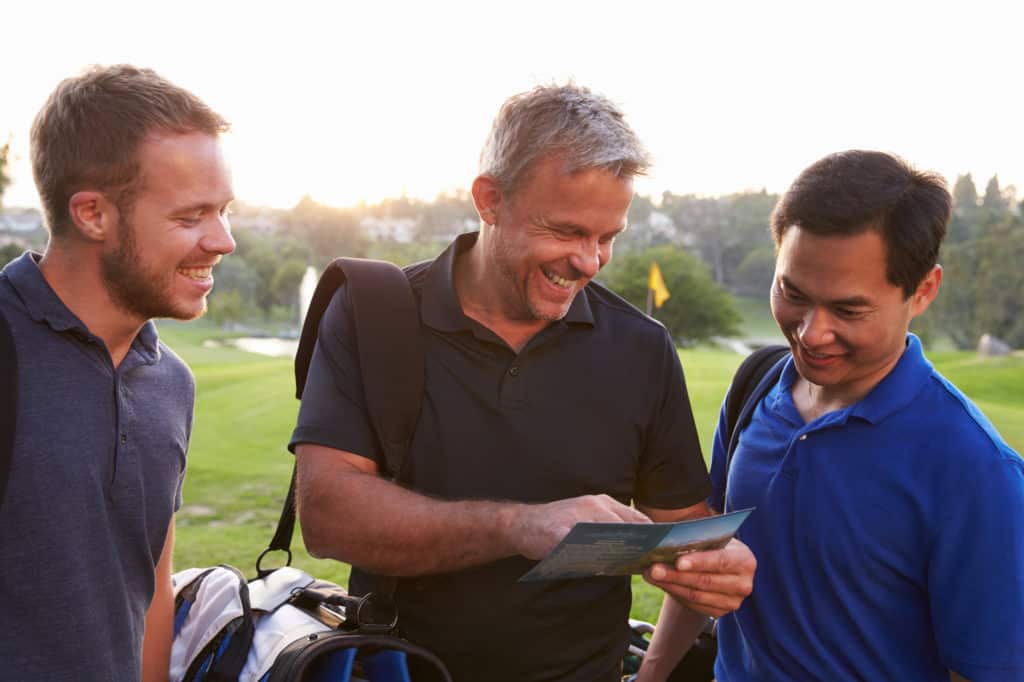 Last but certainly not least is to start tracking your stats.
By stats, we don't just mean your score.
It is essential to start seeing how many putts you take, how many fairways you hit, how many greens in regulation you hit.
On a par four, if you hit the ball on the green in two shots, that are considered hitting a green in regulation.
When you look back at your stats, you can learn a lot about your golf game.
For instance, if you hit every single fairway but only had two or three greens in regulation, then your iron game needs work.
Some people don't realize this at all until they start tracking stats.
You may be shocked by how many total putts you take in a round.
If you are close to 36 or more putts, that is just too many.
Golfers on tour who have great rounds will have less than thirty putts.
When you start paying attention to these numbers, you are going to put a bit more pressure on yourself.
This pressure will make you feel as though certain shots matter, and this is a good thing.
Swinging the golf club with no goals and no plan in place is not going to help you become better.
If you get into stat tracking, there are some programs you can use to help.
There are also golf watches available that will track your stats for you without you having to record it manually.
Most people are just fine with a little tally on the side of their scorecard, letting them know what they did well that day and what still needs work.
Do not let anyone tell you that you cannot get better at golf without golf lessons.
Anyone can get better as long as they put the time in to get better.