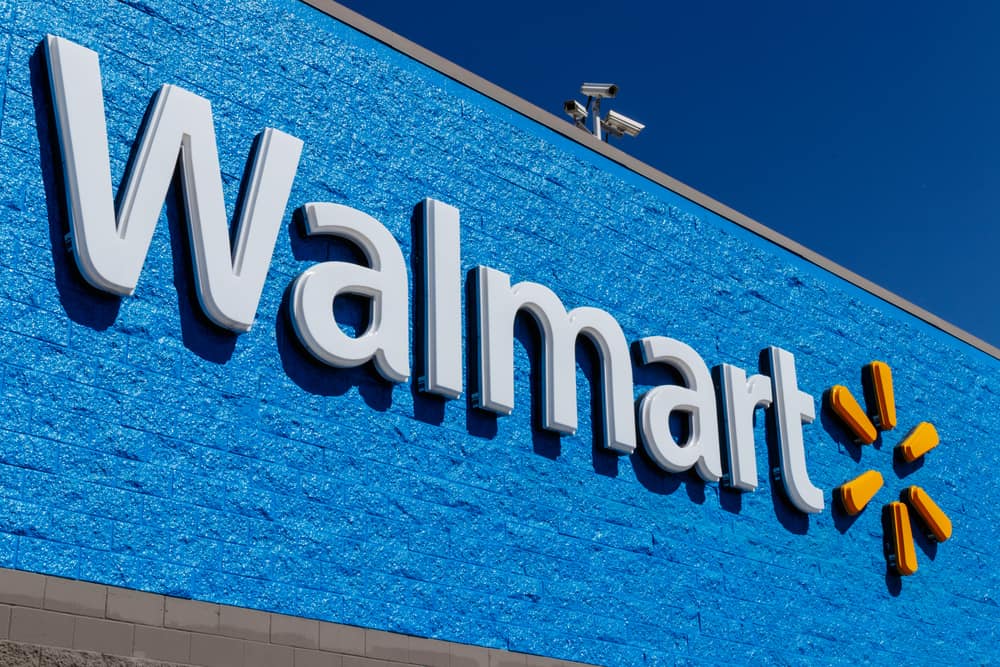 When shopping for golf equipment, you may not think of Walmart as the place to go.
However, Walmart has some of the best golf deals around.
Although you may not find a consistent selection from one Walmart to another, there are typically some great deals on the market.
If you are looking for golf balls at Walmart, we have put together five of the best options for you to consider.
Here are some of the best golf ball choices that you will find at Walmart.

What Are The Best Golf Balls At Walmart? (Top 5)
1. Vice Golf Pro Drip Blue/Red Golf Ball – 1 Dozen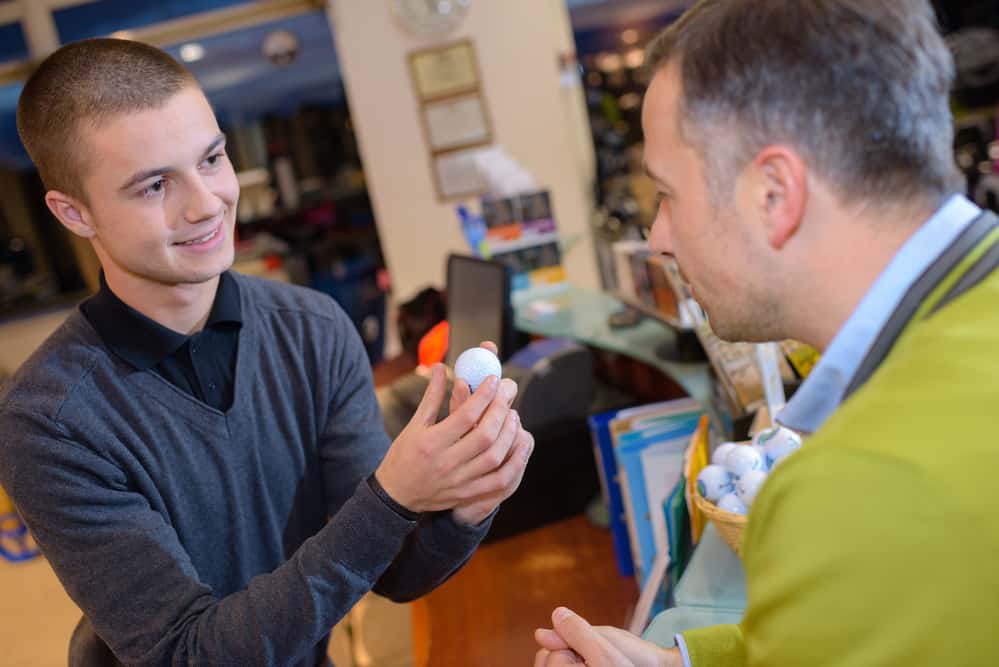 The Vice Golf Pro Drip Blue Red Golf Ball is a great option for the higher swing speed golfer.
With the Vice Golf Pro Drip, you will get a very unique coloring on the ball that makes it stand out.
If you are constantly having trouble identifying which golf ball is yours, or you feel as though the golf ball you choose is important to keep you focused, the Vice Golf Pro Drip is a great option to consider.
We love the features that the Pro Drip has around the greens as well.
The first thing you will notice is the new S2TG technology.
This technology is what allows golfers to have an incredible short game spin and be able to stop the ball on the green.
So many players think that they are struggling to get spin on their golf shots simply because of their golf swing.
In reality, you could just be playing with the wrong golf ball.
The technology in the Vice golf ball allows the ball to feel as though it is going to stick to the green.
This is exactly what you need when hitting your golf shots close to the pin.
We love the new coloring on the Vice Golf Pro Drip.
It has red and blue particles built into the outside cover of the ball.
You won't notice any change of performance in the golf ball, but you will quickly see that the ball is going to be much easier to find and focus on.
Since the golf balls are made with luminous color particles, you get incredible visibility from the ball, and it's almost a bit like it sparkles.
Those who play with the Vice Pro Drip are going to need to be in the 95 to 110 mph swing speed range.
This is obviously a ball for the faster swing speed player who needs performance from the tee as well as performance around the green.
There is a new KIL line on the golf ball that is very easy to see and can help you line up your shots on a tee or around the green as well.
Overall, the Vice Golf Pro Drip is a smart addition to the faster swing speed golfer's game, and it is available at Walmart now.
2. Callaway SuperHot Golf Balls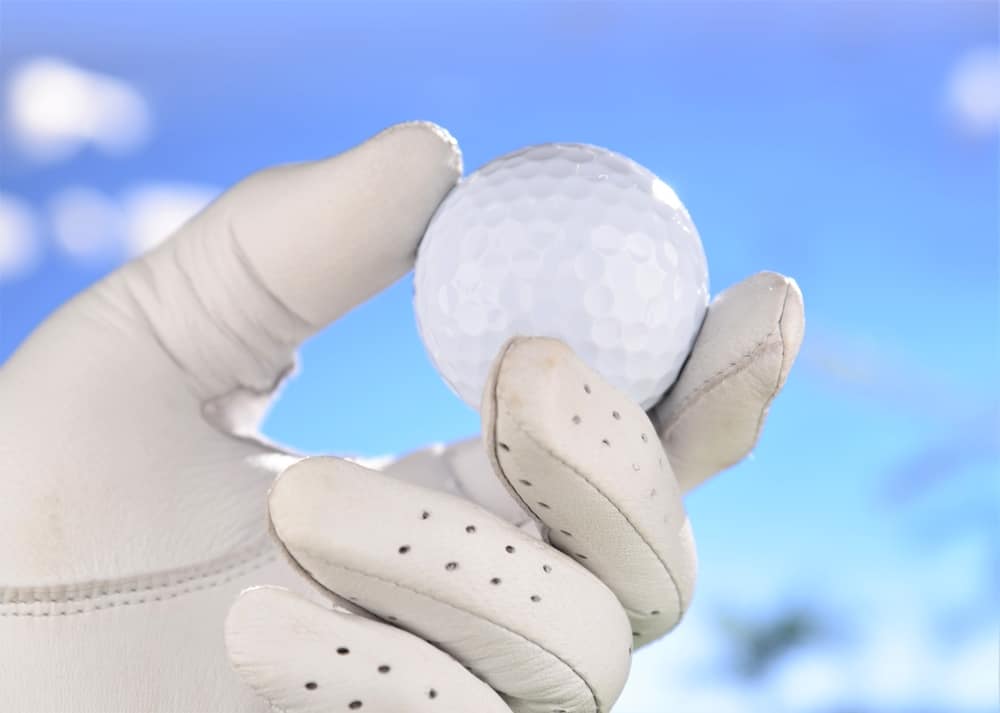 Callaway makes a variety of golf balls for players of all different swing speeds and skill levels.
The SuperHot golf balls are for the golfer who is seeking distance.
If you like to hit the golf ball far, the Callaway SuperHot will have the necessary technology.
One of the things that makes the Superhot so great is that it is a three-piece golf ball.
Many of the distance balls on the market are two pieces, and this becomes a bit of an issue around the green.
When using a two-piece golf ball, distance will be the primary goal, but this can make a ball feel a bit hard and unresponsive around the greens.
The fact that the SuperHot is made with three pieces allows a golfer to have a slightly softer feel around the green and a bit more spin as well.
In addition, the SuperHot is sold as a 15-ball pack.
With 15 golf balls, you won't have to be shopping for more golf balls for quite some time.
You can save money by purchasing in bulk like this, which is something that we all should pay attention to when buying golf balls.
Callaway likes to try and give players as much ball speed as possible.
When you have higher ball speeds, the distances will naturally be longer.
Through a combination of their clubs and their golf ball equipment, Callaway will ensure that players get the ball speed that they need to improve their game.
Overall, you are not only going to notice distance with your driver, but the short irons should go considerably further as well.
Don't let these golf balls sold in a 15 pack fool you because this is not another value ball.
It will be a high-performing option to help you improve your game and take your distance to the next level.
3. Nitro Golf Ultimate Distance Golf Balls, White, 45 Pack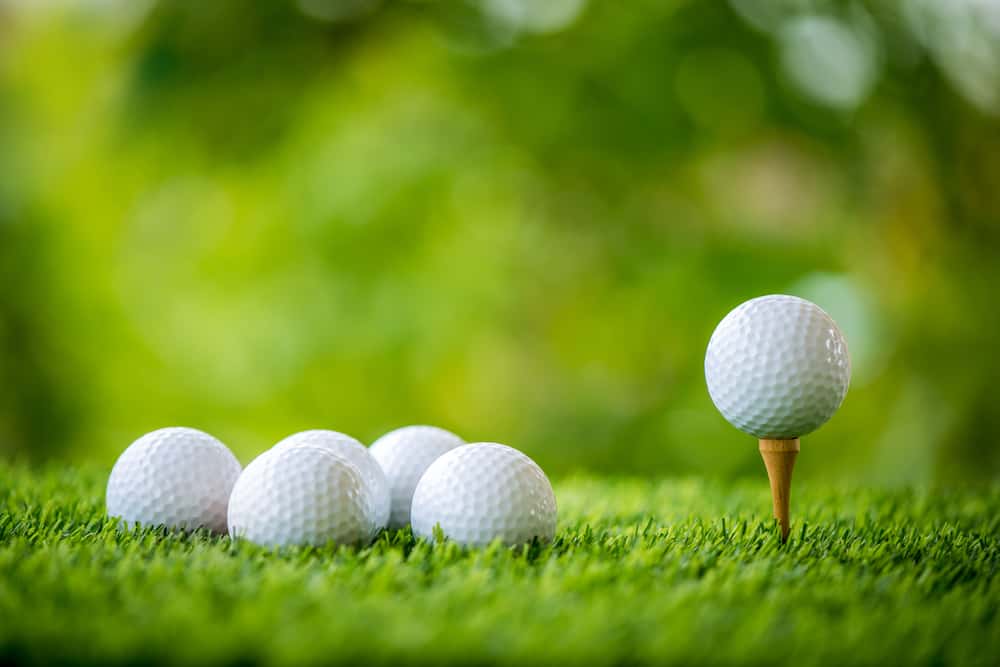 If you think of Walmart as more of a value or discount store, then you may want to take a look at the Nitro Golf Ultimate Distance Golf Balls.
There is no question that Walmart offers excellent pricing on a majority of their golfing products.
However, some golf companies will set their pricing, and it won't matter if you are purchasing golf balls from Walmart or a golf distributor because the pricing will be set at a certain amount.
However, the Nitro Golf Ultimate Distance Golf Balls seem to be offered at a very reasonable price, and there are 45 of them in the pack.
The Nitro Ultimate Distance Golf balls will work for a wide range of players, which is partly what makes them so appealing.
It doesn't matter if you have just started the game or are simply looking for a high-performing and long-hitting golf ball for a great price as the Nitro Ultimate can work for you either way.
Many golfers play at courses where there is a lot of water or rough, and this can often lead to the golf ball being lost more than once per round.
One of the things you will notice right away about the Nitro Ultimate distance is the low spin off the tee.
If you struggle with your driver stopping when it lands and not continuing the longer roll, you will enjoy all that the Nitro has to offer.
Low spin off the tee is going to also help with golfers who tend to slice or hook the ball.
When you have less spin, the ball will control itself and stay on the proper line quite a bit better.
Even with the low spin off the tee, many golfers feel that they are able to get a good spin around the greens with the Nitro as well.
You won't be able to expect the three- or four-layer golf ball performance that you get with other brands, but for the price, players are pleasantly surprised.
Sometimes when you purchase a cheaper golf ball like this, the feel is what is most important.
As long as the ball does not feel all that bad at impact, that is all that matters.
Great players will tell you that if something feels like a rock coming off the clubface, they won't be able to use it in their game.
However, with the DuPont Lithium Surlyn cover, there is plenty of feel in the Nitro ball to make it work for various players.
In addition, the cover of the ball is relatively durable.
You won't be able to cut the ball all that easily, and you may get more than one round from your golf ball.
Getting to play a few rounds of golf with the same ball is certainly a benefit and will only save you more money.
Since the Nitro comes in a 45-ball pack, make sure that this is a golf ball you are going to use for quite some time.
It can take most golfers many rounds to go through 45 golf balls, but at this price, you would be crazy not to give this golf ball a try.
If for no other reason, you can purchase a box of these when you are playing practice rounds or working on the game in your yard.
You may find that they have more performance than you ever expected they would have.
4. Wilson Boost Golf Ball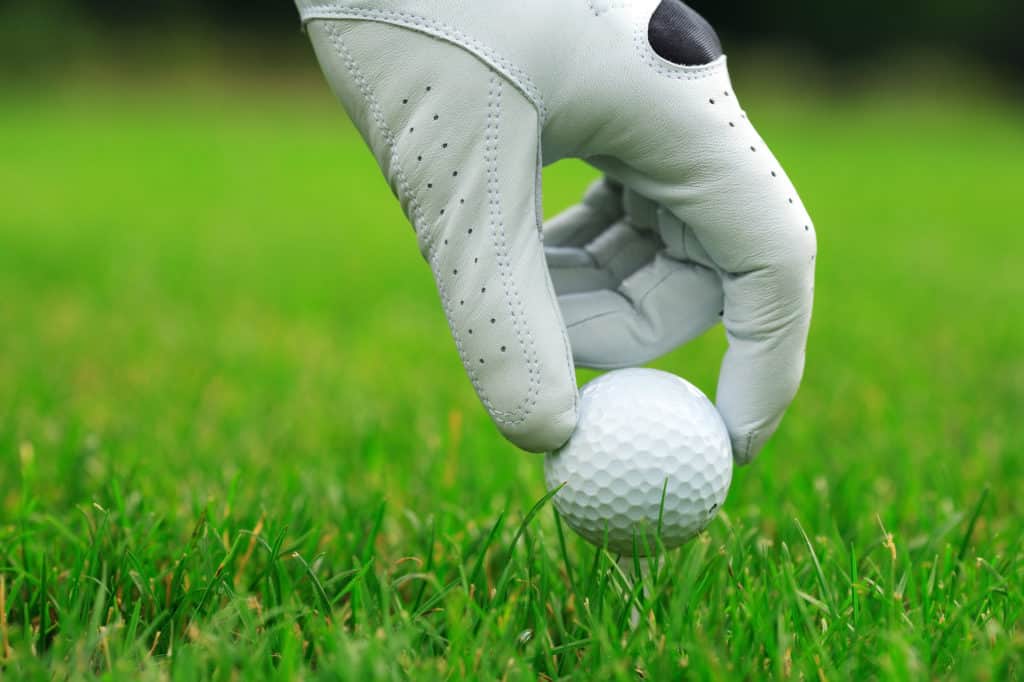 Staying on the theme of affordable golf balls, the Wilson Boost is another great option to consider.
When you first see the price for dozen of the Wilson Boost Golf balls, you will be surprised that it's not a price for one sleeve of golf balls.
There is no question that this is going to be one of the more affordable golf balls on the market.
In general, Wilson makes some great products for the game that tend to come at really fair prices.
The Wilson Boost is a versatile and durable golf ball that can work for golfers from the tee and the green.
To properly categorize this golf ball, we should explain that it is, without a doubt, a value golf ball.
If you want something that will provide a premium feel and the highest greenside spin and traction, the Wilson Boost is not your golf ball.
This is a two-piece ball that is mostly built to give players distance with a bit of forgiveness and feel mixed in.
Another great feature of the Wilson Boost is the higher trajectory that these golf balls offer.
With a higher ball flight, you can get more distance and a softer landing on the green.
Wilson can provide this because of the dimple pattern they have placed on the golf ball.
In addition, the Wilson Boost is made to be durable.
Again, as a value ball, Wilson is well aware that not all those who hit this are going to have an excellent swing or make contact with the center of the ball.
You won't have to worry about one bad bunker shot leaving the golf ball all scuffed up.
The only thing that could really be better about the Wilson Boost is the greenside performance.
If you are already quite good at getting spin around the greens, this may not bother you.
However, if you struggle to get the type of spin that you need to stop a chip from rolling off the back of the green, then the Wilson Boost is likely not a great choice.
Instead, choose something like a Vice or a Callaway ball that has more technology for greenside performance.
Chances are you will need to pay a bit more, but in the end, the technology may be worth it.
5. TaylorMade Distance Plus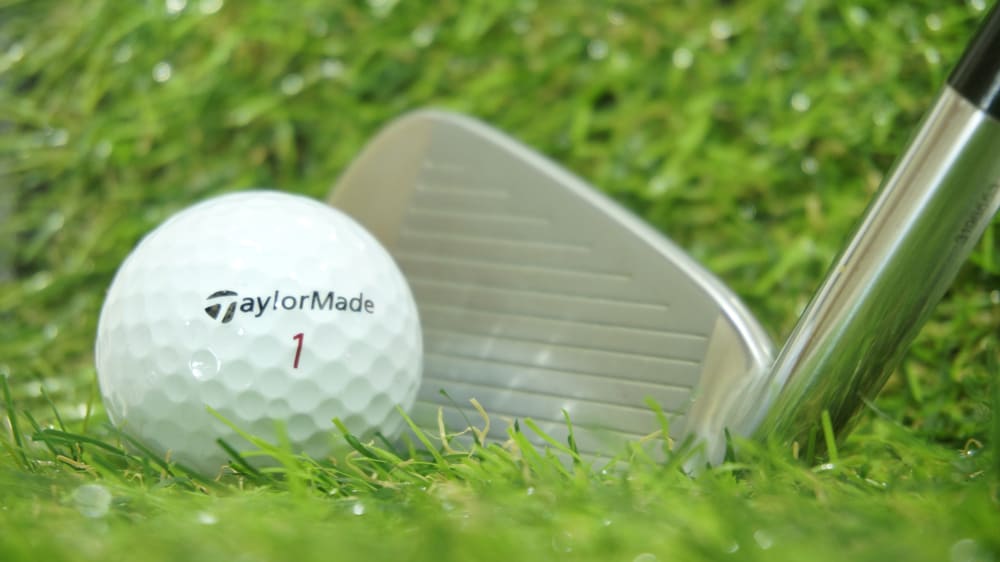 Although TaylorMade is a premium golf ball manufacturer, they still make some products that are built to help golfers of all playing abilities.
If you are a fan of the TaylorMade brand, you likely know how important speed is to them.
TaylorMade loves to help golfers hit high-speed golf shots.
The Distance Plus golf balls feature top-of-the-line speed technology to give golfers better aerodynamics and quite a bit more speed.
The new React Core technology is an extreme ball speed booster.
If you are a player who tends to struggle with swinging the club all that fast, the Distance Plus can help.
This golf ball has a compression rating of 77, which is a good choice for someone with an average club head speed.
As many golfers understand, going from average club head speed to fast club head speed can mean the difference between shooting 95 and 88.
More speed means shorter approaches to greens and much more distance from your golf shots.
Another great thing about the Distance Plus golf ball is a built-in alignment aid.
This is a subtle but noticeable line on the golf ball that you can use to set yourself up to the golf hole.
The line allows a putt to be lined up, but some people will use it on the tee as well.
With alignment being such an essential factor in the game, making sure that you are correctly seeing your lines is necessary.
Overall, this is one of the best-selling golf balls for the average golfer, and it is easy to see why.
Golf balls for the average player should be affordable and distance producing, and the TaylorMade Distance Plus has no issue with this.
Conclusion
Hopefully, you now feel a bit better about the technology you can find at your local Walmart.
Walmart is known for its great pricing, and there is no question it will remain competitive when it comes to pricing on golf products.
Some discount or value brands will skip high-end golf stores altogether and simply sell at Walmart.
If you are looking for a deal or you go through quite a few golf balls at a time, the Walmart brand golf balls are likely going to be a wise choice to consider.
In the end, finding a golf ball that works for your budget and your game can take a bit of trial and error, but you can save some money by shopping at Walmart.