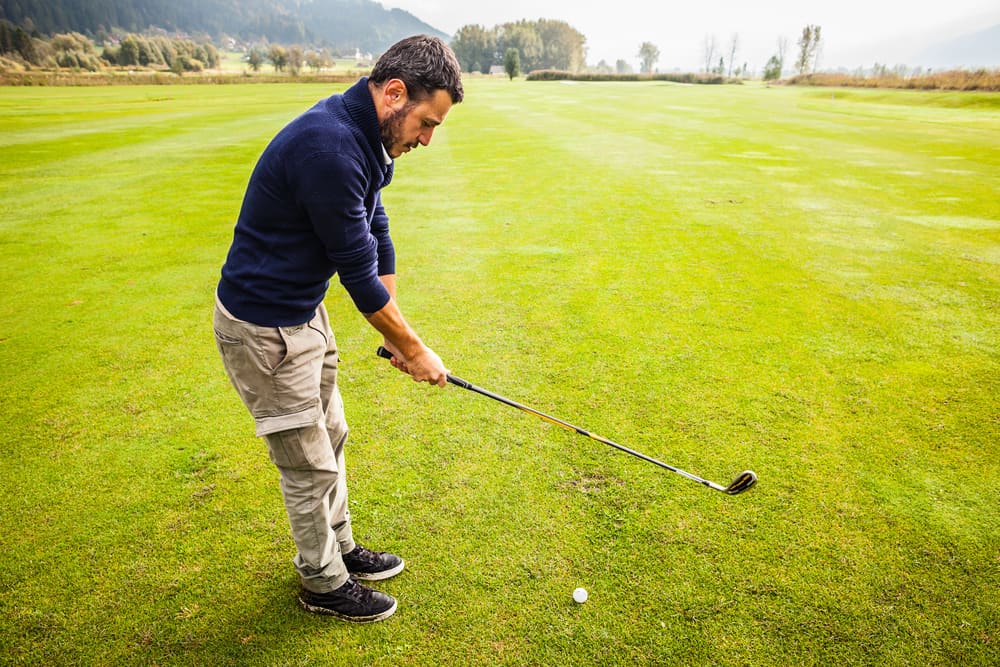 The more involved you get in the game of golf, the more you will see the importance of stance and setup.
If your stance and your setup are not ideal, you are going to have a hard time making consistent contact with the ball.
Although you will have a hard time finding golfers who consistently play with the feet entirely together, there are some advantages to a narrow stance.
If you have been wondering if your stance is a bit wide and are trying to decide if narrowing it could help your game, here are some reasons it might.
A narrow stance can be a very good thing for some golfers, depending on their strengths and weaknesses.

Narrow Stance in Golf (Top 7 Advantages)
1. Better Rotation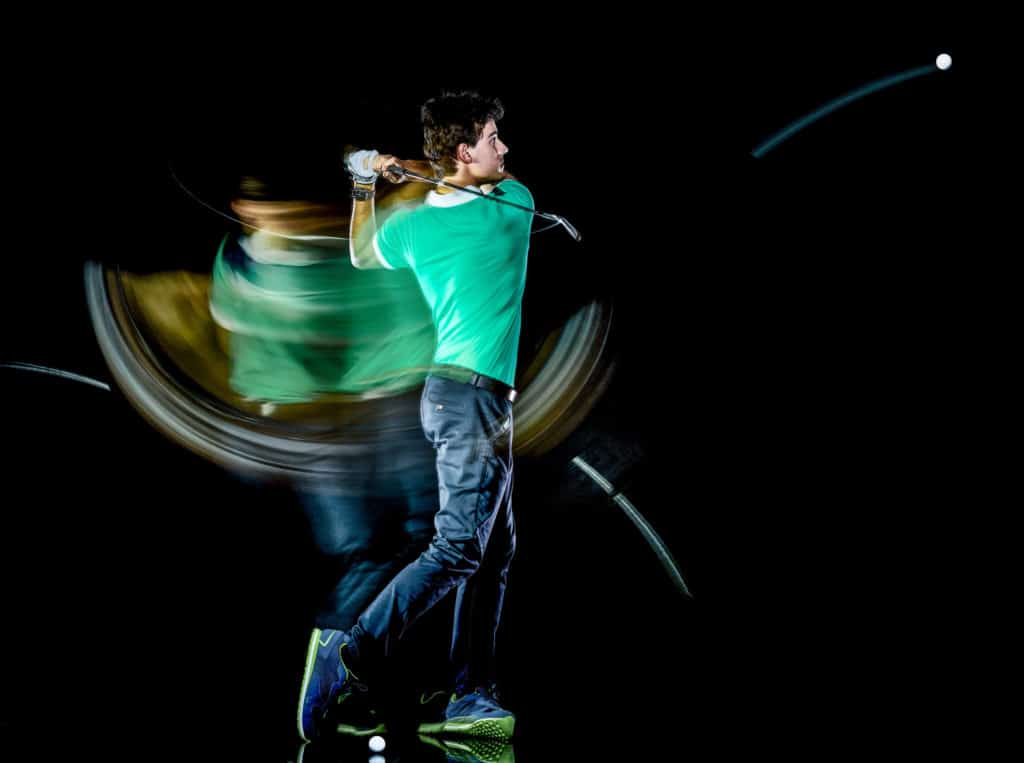 If you want to generate speed in your golf swing, you must have a great rotation.
The rotation includes all parts of your body, like your shoulders, hips, and legs, but mostly, it is your core.
Rotation of the golfer's core is essential to creating club head speed and hitting great golf shots.
When your feet are very far apart from each other, rotation is difficult.
As the feet get closer, it becomes much easier to turn and have better rotation.
Think about having to reach three inches to grab a pencil or having to reach three feet.
Certainly, three inches will be much easier for a person to do and will allow them to complete the task at a much faster pace.
This is precisely how it is with a narrow stance in golf.
Some golfers who struggle with slicing the golf ball will notice that, as soon as they adjust their stance to be a little less wide, they will start to hit the ball straight.
This just proves the point that you can get much better rotation when your feet are close together.
Finding the perfect stance width can take a bit of time.
However, most golfers will find that they are going to settle on something that is slightly narrower than their current stance.
2. Good Setup for a Draw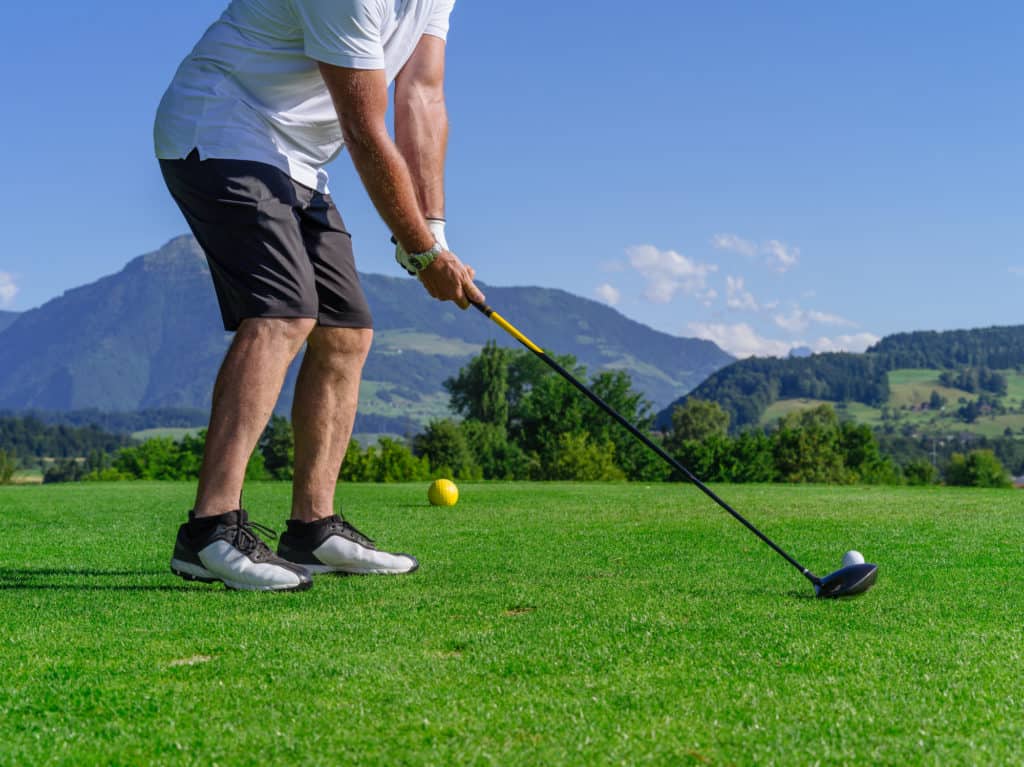 If you are a golfer who wants to learn how to hit a draw, narrowing your stance can help.
A narrow stance helps golfers square up their clubface and hit more of a draw.
The wider stance is better when you are trying to hit a fade.
Some great players who start to notice a fade developing in their swing will realize that it could be from a stance that is a bit too wide.
Luckily, this is a quick fix, as setup and stance issues usually are.
Another reason the narrow stance is better for a draw is the ease of setup.
When you hit a draw, you are going to want to make sure your setup is perfect.
Most of the time, your feel will have you aimed a bit to the right of your target, and you will swing around with a slightly closed clubface and get that nice draw ball flight.
To pay attention to your aiming and setup and complete this proper draw setup, it is best to be in a narrower stance.
The narrow stance gives golfers more control over their swing and helps them feel as though they know what they are doing.
Overall, a draw is a great ball flight and one that many great players count on.
If a slightly narrower stance is all you need to get yourself into a draw setup, it is certainly worth considering.
3. Easier to Get to a Finish Position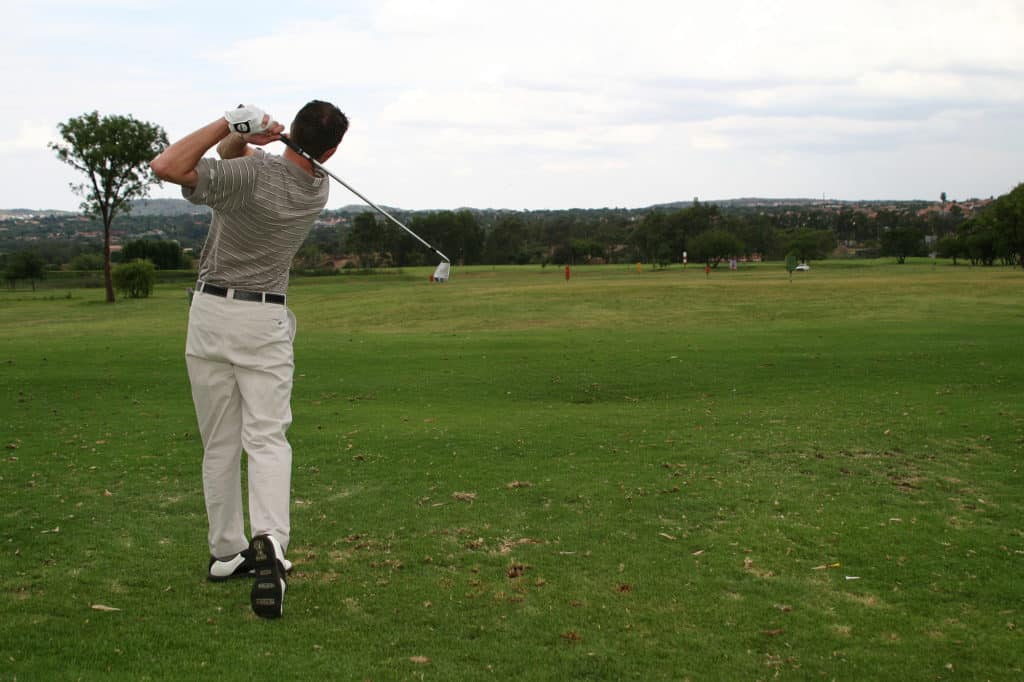 How many times do you finish a golf swing and fall backward onto your back leg?
This is a very common mistake golfers make, and it very often has to do with the stance.
Golfers seem to think that taking this wide stance is going to help them to have lots of extra balance and stability.
People think this balance and stability leads to greater ball speed.
At times, this type of balance can certainly make a difference when it comes to ball speed.
However, the finish is extremely important.
If you are not finishing your golf swing properly, chances are your impact positions are wrong somewhere along the way.
In order to get to a proper finish, the backswing and impact have to be great as well.
Some golfers take a very wide stance, and then they get stuck on their back leg.
When they try and swing through at impact and transfer the weight, it is too hard to do and takes too much time.
This usually results in shots that are not as powerful and which cause the ball to trail off to the right.
This can all be fixed by taking a slightly narrower stance.
Some golfers will take shots with their feet completely together and realize they can easily finish the golf swing.
They are just requiring too much from themselves when it comes to a turn.
Try narrowing your stance just a bit and see if it makes a difference when you try and finish your golf swing.
Most golfers will find that it is much easier to manage.
4. Improved Lower Body Motion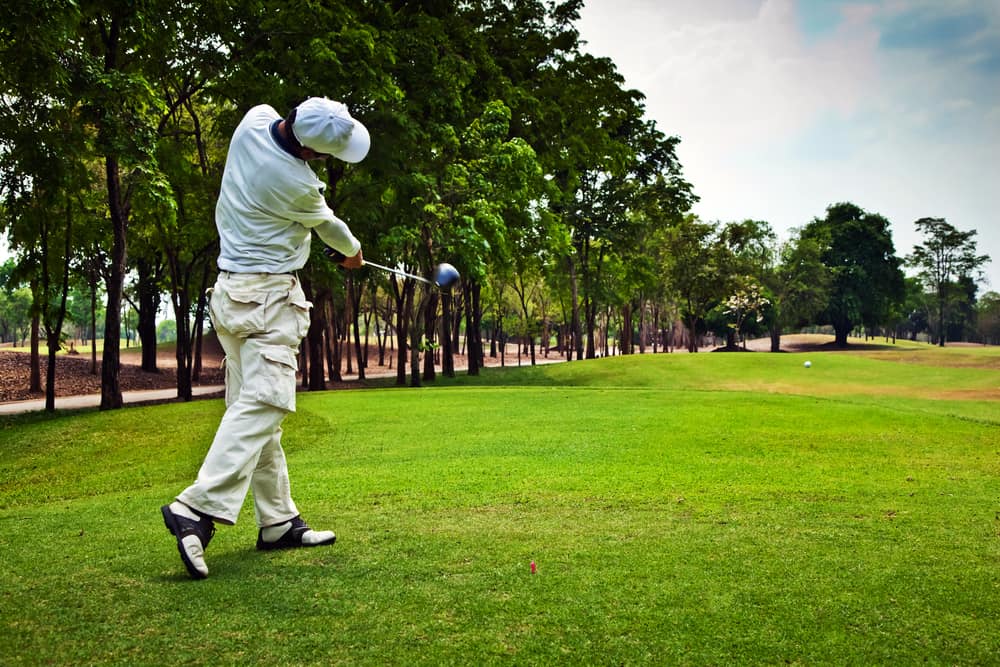 Lower body motion in a golf swing is important.
Your hips and legs need to be fluid and ready to turn.
The longer the golf club you are swinging, the more important that turn is going to be.
Lower body motion also needs to be paired with upper body motion to make sure your golf swing has good tempo and timing.
We recommend a narrower stance if you are a golfer who forgets to incorporate the lower body.
If your tendency is to use your arms to swing, the narrow stance could certainly help get your lower body involved.
The lower body motion is going to be quicker and easier to control with a narrow stance.
Golfers who stand with their legs closer together also have a better view of their legs and how they are performing in the swing.
This view will subconsciously remind the player that they must incorporate their lower body.
When your stance is really wide, and the ball is placed in the middle of the stance, you may not even think to start your turn back with a leg action.
If a golf pro has told you that your lower body is too quiet and not involved in your swing, the narrow stance could help.
Even if you need to narrow your stance only temporarily, this is still going to be helpful in the long run.
Learn how to incorporate the lower body, and then your stance can get wider again when you are ready.
5. Athletic and Ready Stance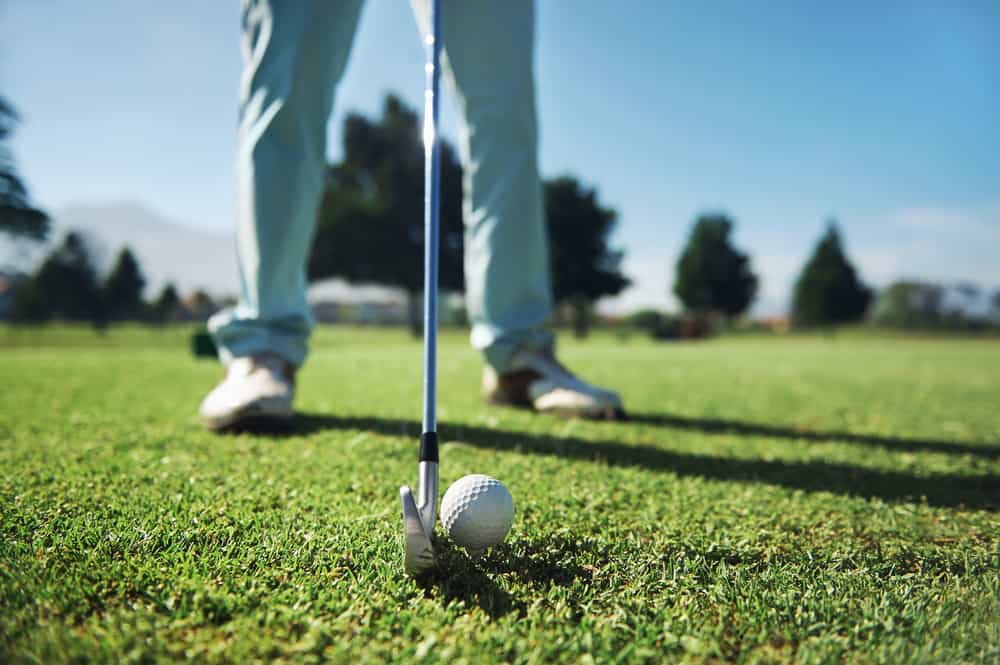 When you take an athletic and ready stance, it means that you are prepared to swing a golf club, sometimes more than 100 mph.
When we swing a golf club, it is a very athletic movement.
However, some players do not think of this when they are setting up.
When you set up to play baseball or even tennis, you are in an athletic and ready position.
Chances are your feet are about shoulder width apart, your weight is balanced, and you are ready for whatever is coming at you next.
This should be no different when it comes to golf.
Having an athletic and ready stance allows golfers to get themselves into a good position and be ready to make a good and fast swing.
The best way to get into this ready position is a narrow stance.
The narrower stance is a good choice for those who often feel unathletic or unable to take a proper golf swing.
When your feet are spaced too widely, you are likely going to have a hard time feeling as balanced.
Another issue with the wide stance is that it will also cause some golfers to feel as if they are playing some foreign game.
Great golf professionals will teach you that golf is much like other sports.
You will need to have balance, stability, and control when you play golf.
All of these things are part of other sports as well.
Just like you have to be ready to catch a baseball that is hit at you, you also need to be ready to hit a 300-yard drive.
Make sure that the width of your stance is something that matches your athletic and ready position.
6. Better Leg Connection to the Ground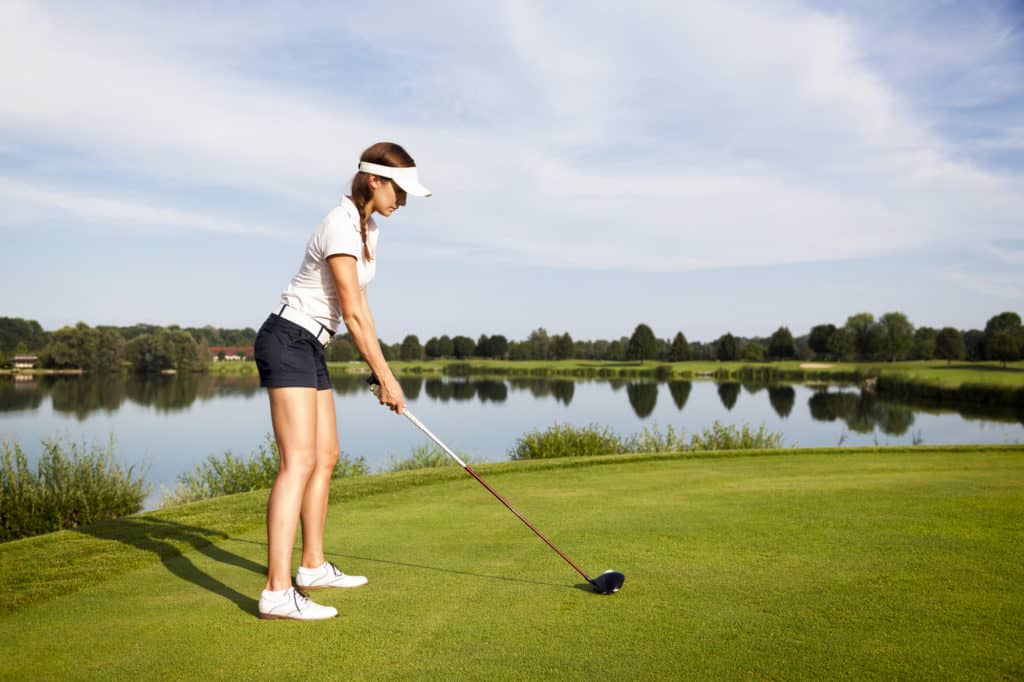 Making sure you are connected to the ground is an essential part of the balance.
When golfers first set up to hit a golf shot, they will want to have an excellent ground connection.
This ground connection helps with stability and the overall feeling of control that the golfer has.
If you are a golfer who struggles with feeling clumsy and out of balance in your game, the narrow stance will absolutely help.
Players should focus and think about their connection to the ground.
A better ground connection is going to lead to better speed as well.
You will notice that many golf professionals will work on ground connection and feel like they have a better connection.
This is something that takes players quite a bit of time to learn.
However, if you want to learn and grow in your game, it is a goal you should keep in mind.
7. Simplified Movements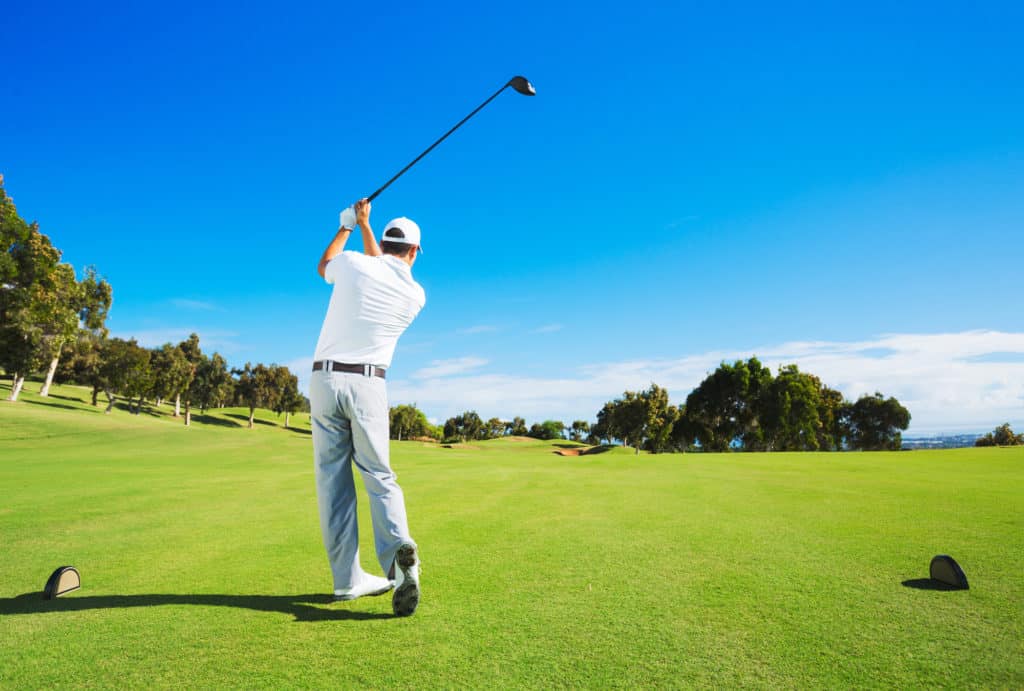 Last but certainly not least, the narrow stance is going to help the golfer feel as though they can take a much simpler golf swing.
The golf swing can be a very complicated sequence of events.
Anytime a golfer can simplify what they are doing in their golf swing, the better it will be for their scoring.
When your feet are closer together, you will be able to take a much simpler golf swing.
As your feet get further apart, the movements get more complicated and larger.
Keeping a shorter, tighter rotation and movement is going to certainly help your swing be more consistent.
Narrow stances lead to more compact and controlled golf swings.
When movements are compact, your results will be better.
Golfers should play around with different stance widths until they find something that works well for them.
How Far Apart Should My Feet Be in My Golf Swing?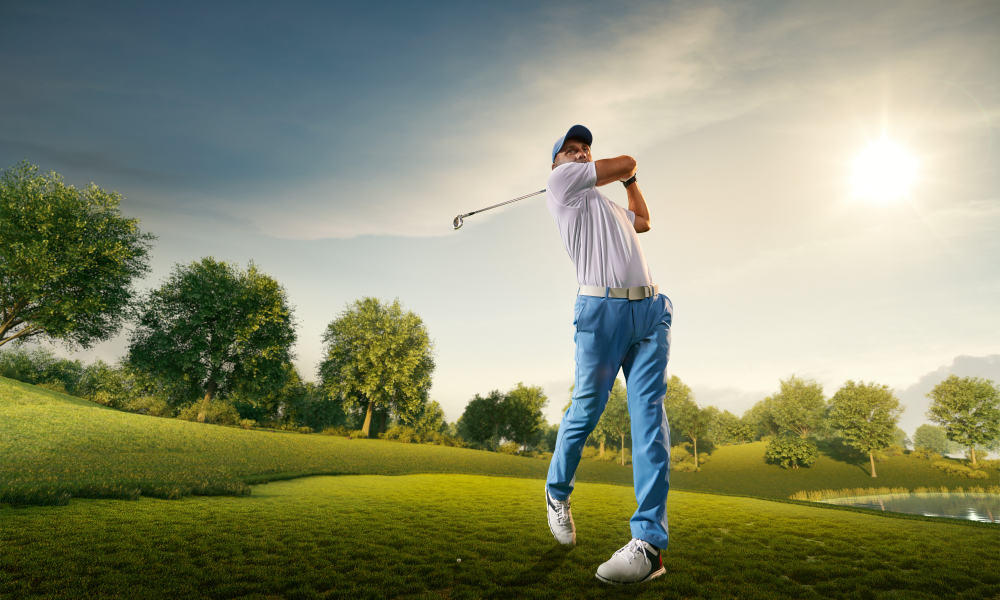 Now that you know the benefits of a narrow stance, you may be wondering exactly how narrow the golf stance should be.
It is hard to precisely identify the perfect width of your feet when you swing.
For the most part, if your feet are about shoulder-width apart, they will be in a good position.
Depending on your physical ability and stature, the width of your stance will vary.
One of the best ways to figure out the proper width for your stance is to start testing it out at the driving range.
Try to make some markings on the grass to be about shoulder width apart.
Then mark something narrower and something wider.
Try to hit five to ten shots from each of these places and determine which works the best for you.
You will have varying results based on other swing factors, so taking about ten shots from each position will probably account for the most outliers.
We recommend doing this with something easy to hit, like an eight iron.
Once you have your results, you can see if a traditional shoulder width stance is best for you or if you need something a bit different.
Conclusion
Hopefully, these seven advantages to a narrow stance have helped you see some good reasons to play around with the width of your stance.
If you find that you are fading the ball, losing club head speed, or lacking the ability to finish your golf shots, your stance could be too wide.
Make sure your stance changes based on the club you have in your hand as well.
Your driver's stance is going to be a bit different from the stance for your sand wedge.
If you follow these tips, you could be setting yourself up for a much easier day on the golf course.