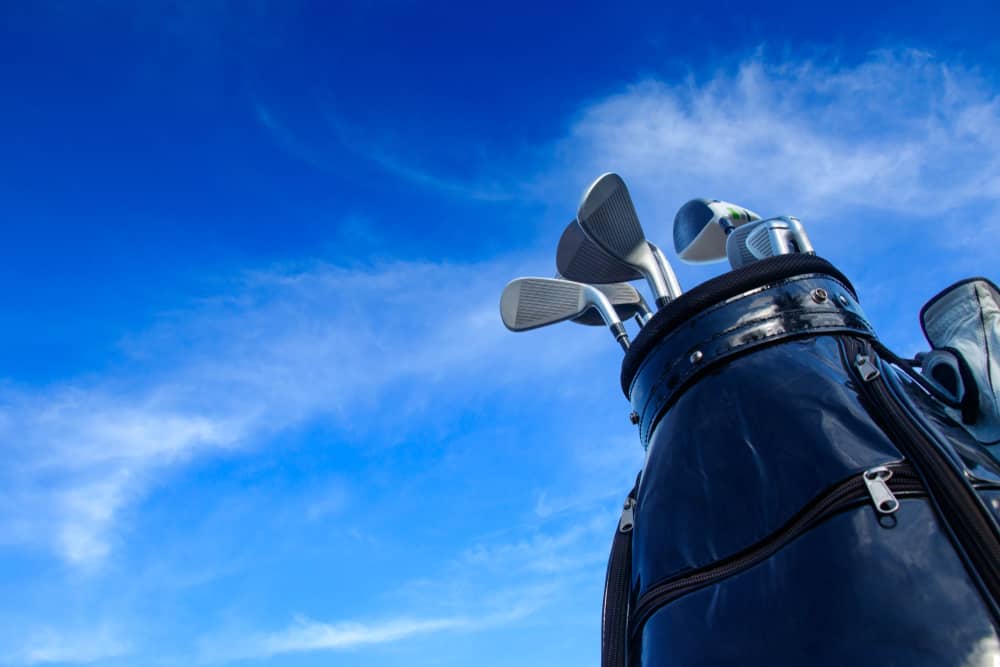 It seems like golf bags keep getting bigger and bigger.
Players want to carry more and more with them, and they don't seem to care that this comes along with more weight and more annoyance.
However, there are still many golfers who find it more enjoyable to play with golf bags that are simpler in style and easier to manage.
We have come up with a list of ten golf bags that are more minimalist and will appeal to the golfer who doesn't want to be burdened with all of that extra gear.
If you like to play light, here are the best golf bags for you to choose from.

Top 10 Minimalist Golf Bags
1. JEF WORLD OF GOLF JR1256 Pitch & Putt Sunday Bag with Stand & Handle, Black
Key Features
Stand bag
Good choice for walking
Durable materials
The JEF World of Golf Pitch and Putt Sunday Bag is the perfect choice for the golfer who does not want to carry a lot of gear with them.
The JEF World of Golf bag is not going to carry all 14 of your clubs, but maybe you won't need them for every golf course you play.
When you travel or when walking a golf course, this is the perfect size bag to make your day more enjoyable.
You will even use this if you are headed out to the driving range, and you do not want to bring the entire golf bag with you.
The JEF World of Golf Pitch and Putt Sunday Bag can fit eight clubs, and this is usually more than enough to play a full round of golf.
The entire bag weighs only two pounds, and that will make it quite easy to lessen the fatigue you experience when walking the golf course.
In addition to being lightweight and easy to use, the stand on the bag also makes it highly functional.
Any minimalist will love this golf bag.
Pros
Only weighs 2 pounds
Can accommodate 8 clubs
Has a stand
Great bag for walking
Cons
Not much pocket space at all
2. Jones Players Series Carry Bag
Key Features
Classic styling
Retro look
Mesh beverage sleeve and phone compartment
The Jones Players' Series Carry Bag is built for the golfer who appreciates both style and tradition.
With the Jones Players' Series Bag, you will only be carrying about three pounds of bag, but you still have enough room to store your gear and plenty of golf clubs.
Some players use this as their regular golf bag and carry all 14 clubs in the bag.
The Jones Players' Series bags are meant to resemble the bags used years ago by the early golf professionals.
With this bag, you can play with a caddy, or you can strap it on your own back.
You should remember it does not have a stand that goes along with it.
You won't want to use the Jones Players' Series if you are enjoying a round of cart golf as it won't give your clubs too much protection.
There are three pockets on the bag to help you stay organized, and the overall quality and fabric are quite impressive.
Pros
Three pockets with lots of storage
Mesh beverage sleeve
Phone pocket on interior
Single strap retro look
Cons
It can be hard to carry for 18 holes without backpack-style straps
3. Cobra Golf Ultralight Sunday Bag
Key Features
Great size
Has three-way divider top
Good organizational features
Cobra makes a variety of golf bags, and they come in several different sizes.
With the Cobra Golf Ultralight Sunday bag, you will get a 100% polyester golf bag that comes with a three-way top and plenty of organization.
Minimalists tend to also be interested in organization, and the Cobra Ultralight can undoubtedly help with this.
The fact that this is a stand bag also helps to ensure that it stays clean and is a good solution for walking the golf course.
There is an apparel pocket on this bag which is a nice option to have if you are playing in poor weather.
Some of the minimalist style golf bags lack this functionality, and you will be happy when you see that your rain gear has a spot reserved for it in your bag.
Pros
Durable construction
3-way divider at the bag top
Oversized apparel pocket
Cons
Does not come in a variety of colors
4. Tangkula Golf Stand Bag, Lightweight Organized Golf Bag, Easy Carry Shoulder Bag with 3 Way Dividers and 4 Pockets for Extra Storage
Key Features
Lightweight
Easy to Organize
Two color options
The Tangkula brand is not as well-known as other golf manufacturers, but they make some very high-quality bags and products that are certainly worth considering.
The Tangkula golf stand bag weighs only 3.5 pounds, and it is very clean and simple looking.
We love that this bag offers the backpack strap to help players who enjoy walking and carrying their bag.
The Tangkula is an excellent bag for when you are traveling as it won't take up all that much room in your car or on the plane.
The stand on the Tangkula bag was built with durability in mind, so you won't have to worry about it slipping away from you.
Pros
Smaller in size
Good backpack strap
Perfect choice for streamlined travel
Cons
The three-way dividers are not full length
5. TaylorMade Cart Lite Bag
Key Features
Cart bag but light
8 pockets
Only 5.5 pounds
If you are a minimalist but still enjoy a golf round while riding on the cart, then this is the bag to choose.
You will be pleasantly surprised by the amount of storage you get from the TaylorMade Car Lite, even considering the fact that it is a lightweight cart bag.
The front-facing pockets make it a great decision for when you are playing a round of cart golf and need easy access to your gear.
At a total weight of 5.5 pounds, you won't have to worry about this great-looking golf bag wearing you down.
Overall, TaylorMade makes high-quality products that are built to last for many years.
Pros
4 club dividers
Front-facing pockets
Lightweight
True Cart strap passthrough
Cons
It weighs more than a Sunday or stand-style bag
6. Founders Club 7" Mini Light Weight Golf Stand Bag
Key Features
Lightweight stand bag
Comes with warranty
Has a glove holder
For a minimalist, one of the most important things about a golf bag is the organizational factor.
If you don't have ten organizational pockets like the big bags, you still need some space to keep your gear.
The Founders Club bag does a great job of balancing space and functionality.
The bag comes with five pockets, and it is lightweight and very easy to carry around the golf course.
If you have always wanted a simple spot to hang your glove or a towel, this bag will provide what you need.
The Founders bag is lightweight and has a good combination of pockets for a player to use.
If you enjoy having the ability to walk the golf course, the Founders bag is set up for exactly what a walker would need to enjoy the golf course.
Overall, you will be impressed with the functionality of this bag for the price.
It is a great option for a minimalist who cares about what they spend on their golf gear.
Pros
Lightweight
Has five pockets
Simple bag to carry around the course for walking
Cons
Does not have many color choices
7. TOURBON Canvas Golf Club Travel Case Lightweight Carry Bag for Men Women
Key Features
High-quality canvas and leather
Adjustable and removable shoulder strap
Small zippered storage pocket
If you love that traditional and classic golf design, then chances are you are going to enjoy what the Tourbon Canvas Golf Club bag has to offer.
This is a traditional design, and it is meant to be carried over your shoulder as you make your way around the course.
The materials are high-quality canvas and leather.
The minimalist who wants to just bring a few tees and balls along for the round will be in luck.
With the Tourbon, you can bring your bag right along with you and barely notice it is there.
With a thick padded lining on the strap, you will be comfortable as you make your way around the course.
Although you could probably get most of your clubs in this bag, we recommend trying to play a round with about eight clubs in place.
Pros
High-quality canvas and leather
Adjustable shoulder strap
Zippered storage pocket
Cons
No stand, tends to get rather dirty
8. IZZO Golf Izzo Lite Stand Golf Bag Ultra Light Perfect for Carrying on The Golf Course, with Dual Straps for Easy to Carry Golf Bag
Key Features
Full length dividers
Magnetic pockets
Valuables pocket
Izzo is another great golf company known for making lightweight and easy-to-carry golf bags.
This Izzo Golf Lite stand bag is only 4.5 pounds, and it is considered to be quite heavy-duty.
Sometimes the weight is not all that matters in these bags, and the quality and durability are just as important.
You can absolutely have a golf bag that is considered to be minimalist yet still has quality.
One unique thing about this bag is that it offers free personalization on the ball pocket.
You can get your name or your initials put on the bag as part of your purchase.
There are six club dividers that will keep your clubs from hitting each other, making this a good option for both cart play and walking.
Overall, you will find that the Izzo is a fair value and that it makes a good long-term solution for a golf bag.
Pros
Weighs only 4.5 pounds
6 club dividers
Durable and long-lasting nylon construction
Cons
Lighter color tends to get dirty easily
9. Pencil Golf Bag, Golf Carry Bag Lightweight Travel Bag, Foldable Case Golf Club Sunday Bag, for up to 9 Irons
Key Features
Wear-resistant nylon cloth
Several small pockets
Can carry nine clubs
The Pencil golf bag is a great choice for a minimalist or for someone who is playing a few holes of golf on a Sunday.
You can fit nine clubs in this bag, and it is going to make traveling to and from the course quite a bit easier.
When you use this bag as directed and keep it limited to about nine clubs, you will notice that it has very good functionality.
Some players have trouble when they try to add 14 clubs to the bag.
This golf bag is easy to carry and has large pockets and a very comfortable handle to make it easier to get around the course.
Overall, you will be pleasantly surprised by how simple this bag is and how fair the value is.
Pros
Unique pattern makes the bag stand out
Very lightweight
Easily fits in spaces for travel
Cons
10. Ultra-lightweight golf club travel bag set with wh WZP-Lightweight Golf Stand Bag
Key Features
Nylon fabric
Multi-functional pockets
Can hold up to 14 clubs
Last but certainly not least is the ultra-lightweight Precision Z3.
This is not a very well-known bag, but if you are interested in keeping things lighter and traveling the golf course with ease, it is one you will want to consider.
The bag comes with dual shoulder straps to make carrying it around quite a bit easier.
In addition, you will find that the bag was well designed and works very well from an organization standpoint.
You can bring along all your clubs should you wish or leave a few of the less popular ones at home.
Overall, this is a clean-looking and high-functioning bag that most any golfer would enjoy having as part of their lineup.
Pros
Carries full amount of clubs
Streamlined design for easy travel
Has dual shoulder straps to help carry it around course
Easily fits in car trunk or in travel bag
Cons
Is a Minimalist Golf Bag Worth It?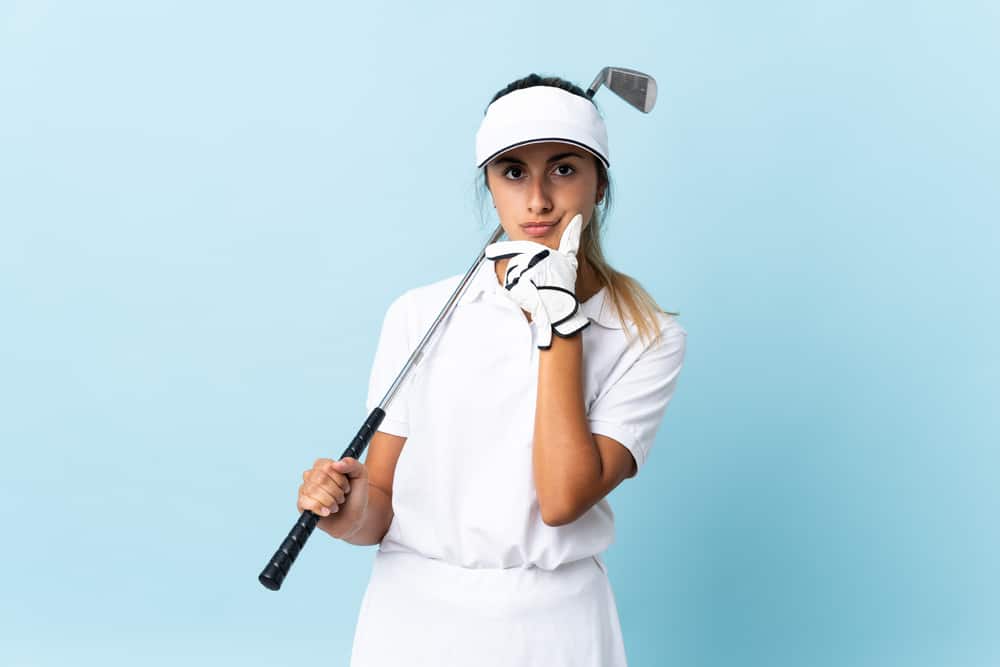 These minimalist golf bags can be a great choice for your golf game.
You won't end up carrying a bunch of things that you don't need around the golf course, and you can enjoy the time that you spend.
The minimalist golf bag is usually going to have fewer pockets than something that you would put on a cart and bring around with you.
The cart bags all try to get bigger from year to year.
This is essentially their way of showing that the cart bag is better because of all the gear it can hold.
For minimalists, this is just not necessary.
Most great players can admit to the fact that four or five good clubs, a few balls, and a few tees are all that is really necessary to get around the golf course with ease.
The minimalist golf bag can make it easier to run out for a few holes of golf without feeling burdened by your belongings.