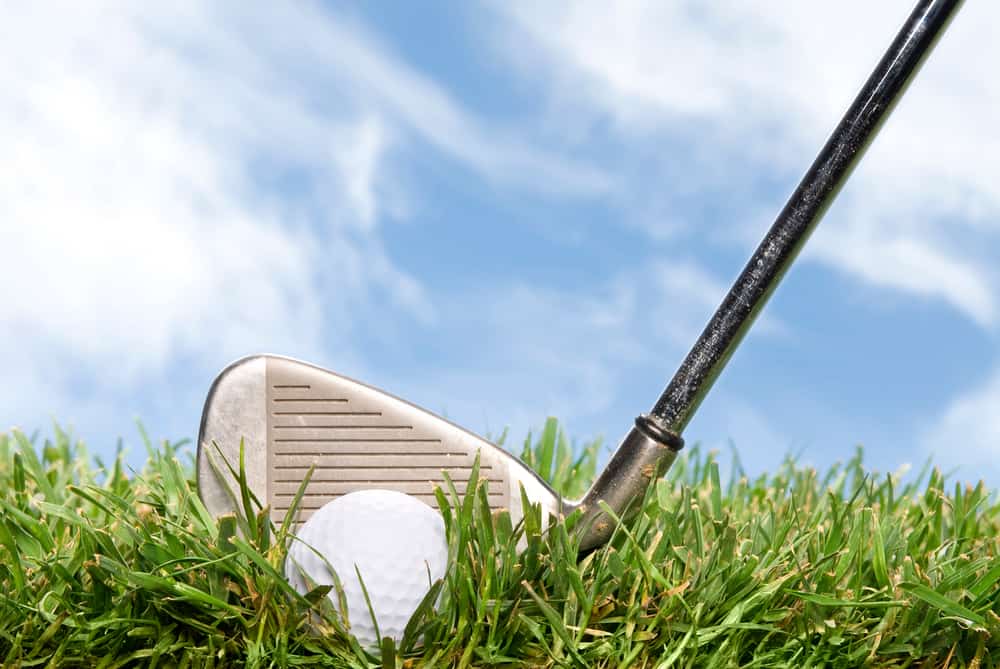 Although you will mostly want to hit your iron shots high so that they can land softly on the greens, there are times when it makes sense to keep the launch angle down.
If you are playing a golf course that experiences a lot of wind, it helps to keep the ball flight down.
In addition, there could be times when a lower ball flight will keep you under a tree or a branch so that you can approach a green.
In general, it is a smart idea to know how to lower the launch angle of an iron.
Luckily, there are several different ways to get this done, and in this article, we will help you to determine which is the best for you.
Here are the best ways to lower the launch angle with your irons in your next round of golf.

How To Lower Launch Angle With Irons (4 Ways)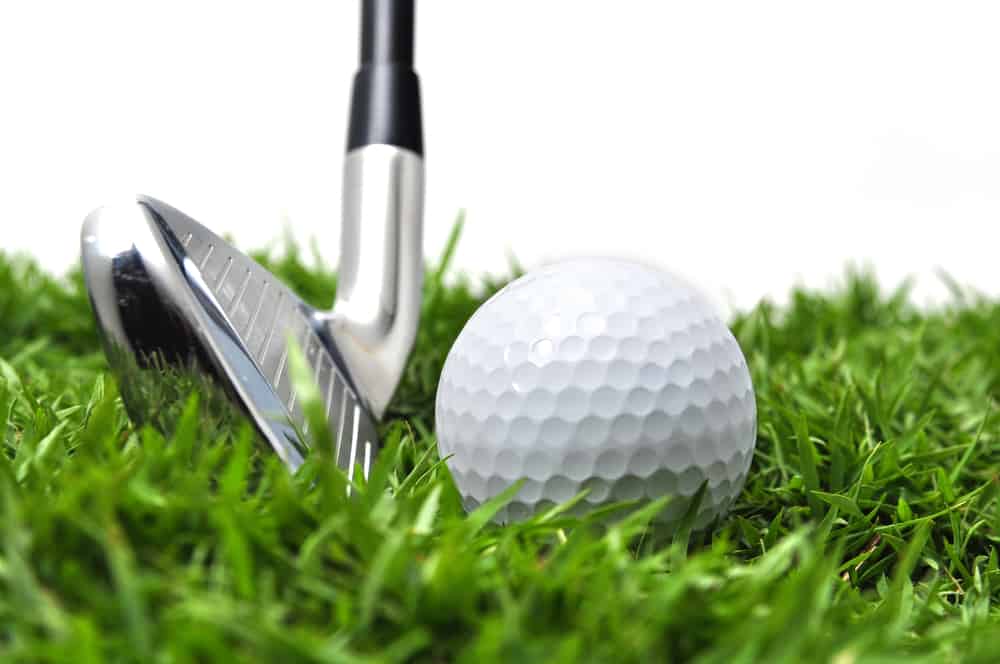 There are several different ways that you can manipulate the launch angle with your irons.
You will find that some of these concepts work well for you, while others are a bit more difficult to adjust to.
It's a good idea to read through all of these different methods before deciding which is the best for your game.
1. Equipment Change
Although this will take more of an investment of your money than of your time, one way to lower the launch angle with irons is to get different golf equipment.
Sometimes the reason you are hitting the ball so high is that you don't have the right shaft or clubhead for your game.
One of the things that will impact the ball flight the most is the weight of the shaft.
A very lightweight shaft is going to hit the ball much higher than a heavier golf shaft.
Golfers with fast swing speeds typically put golf shafts in that are quite heavy.
The heavy golf shaft is not hard for these stronger, faster swinging players to use, and it allows them to keep the ball flight down.
In addition, there are some game improvement type irons that have a very low center of gravity.
A golf club with a low center of gravity typically has a much higher ball flight.
One of the best ways to avoid this is to choose more of a forged-style player's club.
The forged-style clubs are easier to control and manipulate, and you should be able to keep the ball flight down.
Overall, an equipment change is unfortunate because golf equipment is so much money.
However, if you are able to effectively control the flight of your golf shots after you change equipment, it will be well worth the price you pay.
One thing to consider before making an equipment change is to really make sure that you do, in fact, need this equipment change.
Sometimes the issues are geared more towards a player's ability than to the equipment itself.
Learning to manipulate the ball flight so that you can hit the shots you need is a very important aspect of the game.
2. Ball Position
Now that we have the obvious equipment change out of the way, let's look at some other ways that you can lower the launch angle of your shots with your irons.
A simple change in the position of the ball is a very simple method that will work for many players.
Most golfers will keep the golf ball close to the middle of their stance for the short and mid irons.
As you move towards the longer irons, the ball tends to move up a bit in the stance, but not as far up as with a wood or a driver.
The alterations in ball position are subtle, but they are a part of the game.
One of the ways you can lower your launch angle with your irons is to move the ball back in the stance a bit.
When you move the ball back, you technically make contact with the ball a bit sooner, and the clubface will still be a bit shut down.
In other words, the angle at which you make contact with the ball will ensure that you are using the full loft of the club.
However, when you pull the ball back an inch or so, you may not be using the full launch of the club, so you are delofting it just a bit.
The opposite of this position can apply if you want to hit a ball a little higher.
For higher shots, you can move the ball up in the stance a bit and get that really impressive and high launch.
Golfers love to change the ball flight of their shot through their ball positioning.
The change is so simple, and you can easily revert to your old ball position if this does not feel as though it is working.
There are a few things to watch out for when you start changing the ball position around.
If you are not careful, you can move the ball so far back that it starts to change the flight of the ball.
If the ball is too far back in your stance, it can be harder to release the club and hit a straight shot heading towards your target.
The best way to avoid this is to ensure that your changes are subtle.
You really only need to lower the launch angle of your shot by a few degrees to have it be effective.
Therefore, moving the ball back in your stance by an inch or so can be all that it takes to get the desired result.
We highly recommend giving the ball position adjustment a try to see if it is an answer to your launch angle issues with your irons.
Some golfers find that the combination of the ball positioning with another method of manipulating the launch angle tends to be the most effective.
3. Create Shaft Lean
Have you ever set up to hit a golf shot and had another player tell you to lean the shaft forward?
The slight lean of the golf shaft is going to help keep a ball lower, and it can also result in a more accurate impact position.
Many players are going to create this lean when they set up to hit their shots.
Others are going to make this more of a feeling as they come into the impact position.
Some golfers who play on windy golf courses have learned how to push the club forward and create this lean at all times.
Many of these players will have their clubs set up with that forward push so that they can always control the launch angle and keep the ball a bit lower.
The science behind this move is that, as you push the lean on the shaft forward, you are essentially delofting the club.
When you deloft a golf club, you will be able to take the iron and essentially manipulate it into being another iron.
For instance, if you deloft a six iron, it will be more like a five iron.
In a situation where you are looking to get some lower ball flight on your golf shots, this is a good thing.
However, some players also make this move inadvertently, and this can make golf more difficult.
Any time you take the launch angle of a club and make it lower, you also make the golf club less forgiving.
This is why when you decide to hit a golf ball lower by using the leaning shaft method, you have to be certain that this type of swing is going to work for you.
It is very easy to exaggerate any of these methods and end up with some poor shots that you are not used to seeing.
Always make sure that you are aware of how much you are changing your swing.
This way, you can easily go back to the methods that you had originally put in place.
In addition, it is smart to ensure that you have not changed any of your alignment lines or clubface angles when you are working on the shaft lean method of lowering your ball flight.
4. Connect Arm And Body
The fourth and last way to help lower the launch angle of your iron shots is to feel as though your left arm is connected to the body throughout the swing.
When this happens, you are going to be creating a really good impact position where your arms and wrists are not overly involved.
In addition, keeping the left arm more connected to the body promotes more of an inside golf swing which will naturally lower the ball flight.
Many golfers tend to get the club a bit too far away from their body, and therefore, the club ends up on an outside and upright plane.
This is going to make it hard to keep the ball flight down as this type of plane will lead to a higher golf shot.
Overall, keeping the left arm more connected throughout the golf swing is a smart thing to do regardless of how you are trying to hit the golf ball.
One thing that we recommend is trying to do this arm connection combined with a bit of shaft lean.
This combination has proven to be one of the more effective ways to be able to keep ball flight down without changing much of your golf swing.
In addition, the fact that your arms are connected and you are creating a bit of forward shaft lean is certainly not going to be a bad thing for your golf game.
What Is The Ideal Ball Flight For An Iron Shot?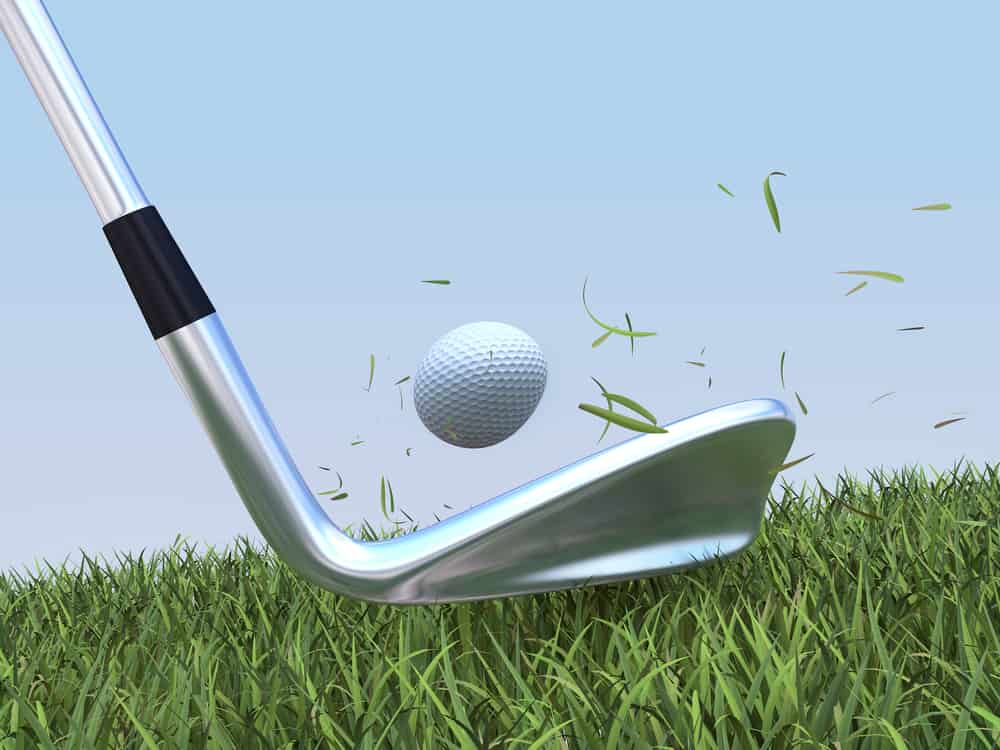 You came here looking to find the answer on how to lower the ball flight with your irons.
There are some great reasons to lower the ball flight with the iron, but the most important is to establish control over your golf shots.
The better you can control what you are doing on the course, the better your chances of scoring lower.
The ideal ball flight for an iron shot is going to land on the green and roll a few feet before it stops.
In order for this to happen, you have to have quite a bit of height.
For golfers who tend to hit shots that roll through every green, chances are the golf ball flight is just too low.
A low golf ball flight is a good thing on a windy day or when trying to create plenty of roll, but you will not want that for the majority of your shots.
In addition, the longer a golf ball stays in the air, the further it is going to go.
Keep this in mind if you are seeking distance.
Don't try to get more distance from your shots by lowering your ball flight because this is not going to work.
How Does The Loft Of The Club Impact The Ball Flight?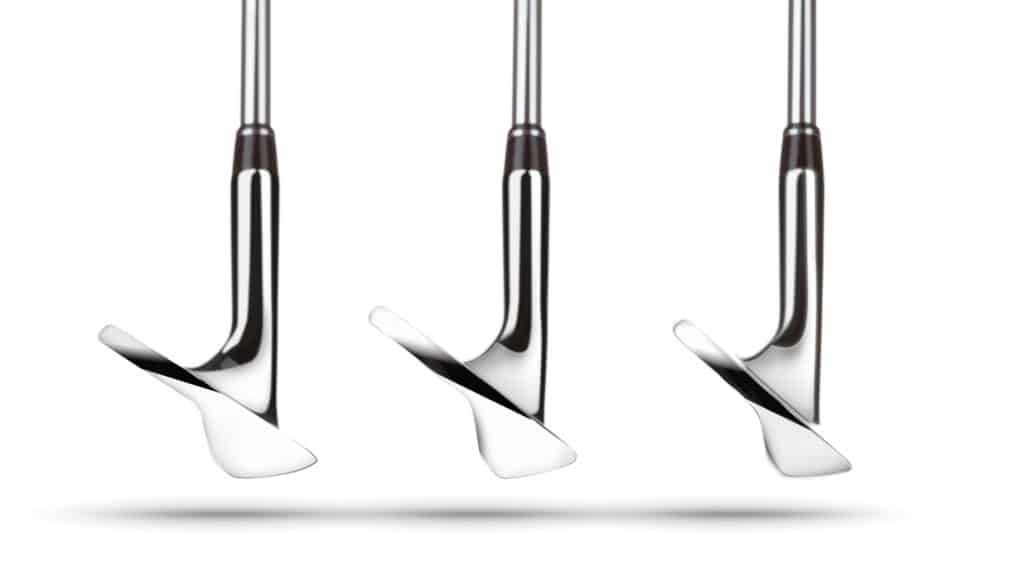 You may have noticed that the loft of golf irons has been a big discussion over the last few years.
Manufacturers are continuing to lower the flight of the irons that they are producing because it is making people feel as though they can hit the ball further.
What happens is a golfer knows that they can hit a seven iron 150 yards and goes shopping for a new set of irons.
When they try an updated piece of equipment, they are able to hit the new clubs 150 yards with an eight iron.
This makes golfers think that they are instantly hitting the golf ball ten yards further.
However, the real difference is likely in the loft of the club rather than the actual iron being that much more effective.
As these changes have happened, golf manufacturers have had to make golf irons that have a lower center of gravity and more forgiveness.
The extra forgiveness and the lower center of gravity are going to make up for the lower loft on the irons.
Overall, the lower lofts in these irons are going to be great from a distance perspective, but it will have some effect on ball flight as well.
This is partly why golfers are trying to learn to lower the ball flight of their irons and try and get the performance and maneuverability that they need.
Should I Use A Punch Shot To Lower Launch Angle?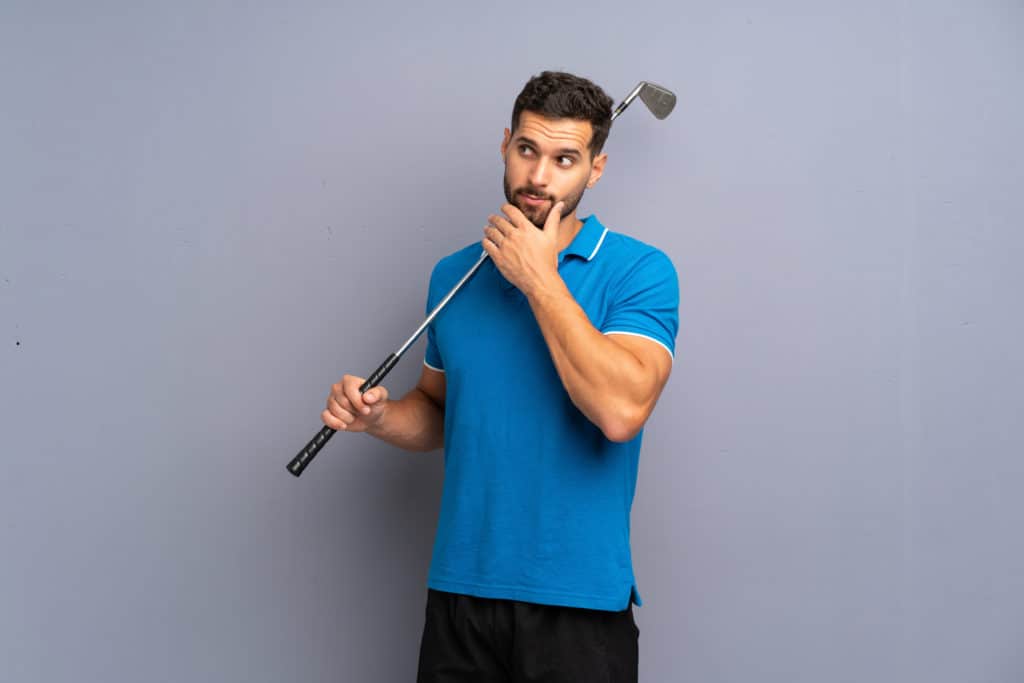 One way in which golfers try to lower the launch angle on their iron shots is to use a punch type shot.
This concept is a good idea, and it can help players who are stuck in a bad lie and need to get out.
One of the ways to hit a punch shot includes having a bit of an abbreviated backswing and follow through.
You will want to stop the club short on your follow-through so that the club does not finish high with the ball flight finishing high.
Golfers are going to need to hit a punch shot with an iron many times throughout their golf career.
These types of shots are going to help you get out of trouble and back into play.
So many players wait until they get in this situation to ever attempt hitting this shot, but this is the wrong idea.
Instead, you should practice a punch-type shot before you find yourself in that situation.
Learn what it takes to keep the ball flight down and to send the ball rolling down the fairway.
If you can get this figured out, then you will also be able to feel what it takes to lower the launch angle on any of your iron shots.
These concepts are not all that difficult.
It is just a matter of you spending some time on the range and getting a feel for it.
Conclusion
Hopefully, you now feel able to lower the launch angle of your iron shots without making too many changes in your golf swing.
All golfers should have some ability to lower the launch angle of their shots.
This is essential for golfers who want to keep the ball under control as they make their way around the golf course.
Overall, the ability to hit lots of different types of shots is a part of making sure that you play great golf.
When you know how to hit the ball high, low, left, and right, you can almost guarantee you will become a better player.