Most golf cart batteries should provide your cart with more than enough charge to start for a long time without fail.
However, there comes a time when you may end up stuck with a golf cart that doesn't want to start because the battery died without warning.
This situation is a very frustrating one, and it will require you to take a handful of different steps which will vary depending on your golf cart type.
We will talk about both electric and gasoline carts in this article, as they have slightly different jump-starting needs.
Beyond that, we will also talk about not only how you can jump start your cart without trouble but also the problems that may cause this concern.
By fully understanding this problem in this way, it should be much easier for you to jump your golf cart and keep it running without any issue.
We'll also discuss the tools that you need to jump start a cart, as there are a handful of items that are needed for this task.
Note: These steps should be pretty uniform across all cart models, despite potential differences in their designs, because their batteries are likely to work in more or less the same ways.

How to Jump Start a Golf Cart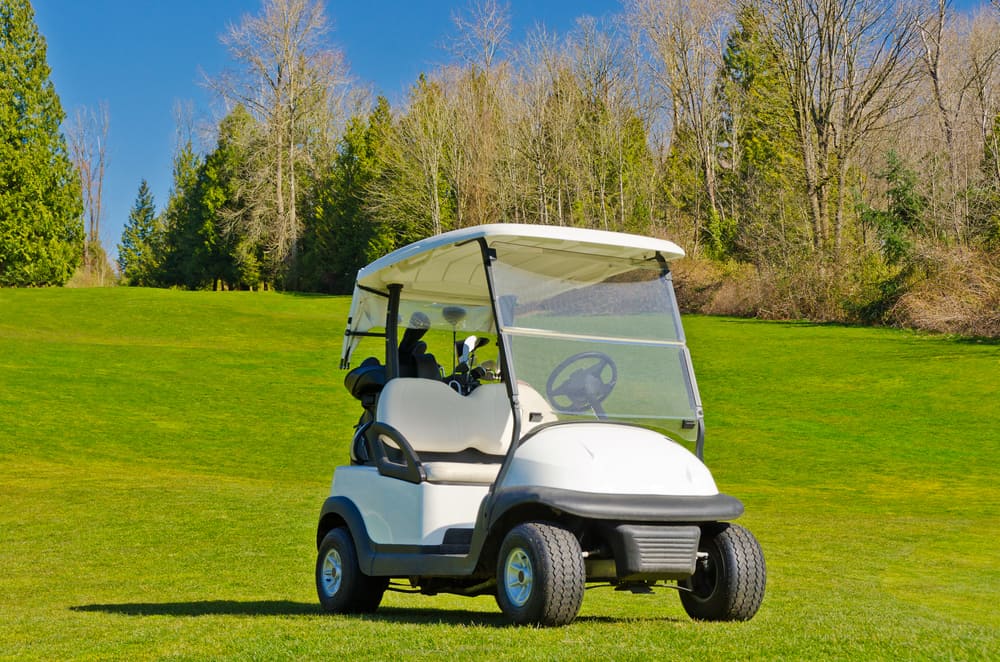 The most basic items that you will need to jump start your cart include a pair of jumper cables and a second cart that you can use to jump the battery.
You typically want to use a golf cart rather than a standard vehicle, as the batteries are likely quite different and produce different levels of charges.
However, you may also have a battery jumper or charger that you can use for this process, one that helps to eliminate the need for a secondary golf cart.
This option is something that all golf cart owners should invest in because it helps to eliminate the risk of getting stuck if your battery dies.
When it comes to electric and gasoline golf carts, the differences in this process will mostly center on the type of jumper you use.
You'll need a slightly different jumper and charger for gasoline and electric carts because they'll have different battery needs.
A gasoline golf cart will just need a temporary burst of electricity that helps the engine run, allowing the alternator to charge up the battery.
However, an electric cart needs not only a jump but a consistent flow of electricity to charge the battery properly.
Beyond this difference, though, the overall jumping process should be more or less the same between the two types.
Make sure to read through your golf cart and charger manual before attempting any process of this type, checking for any suggestions or tips that they may provide.
Step One: Creating a Safe Work Environment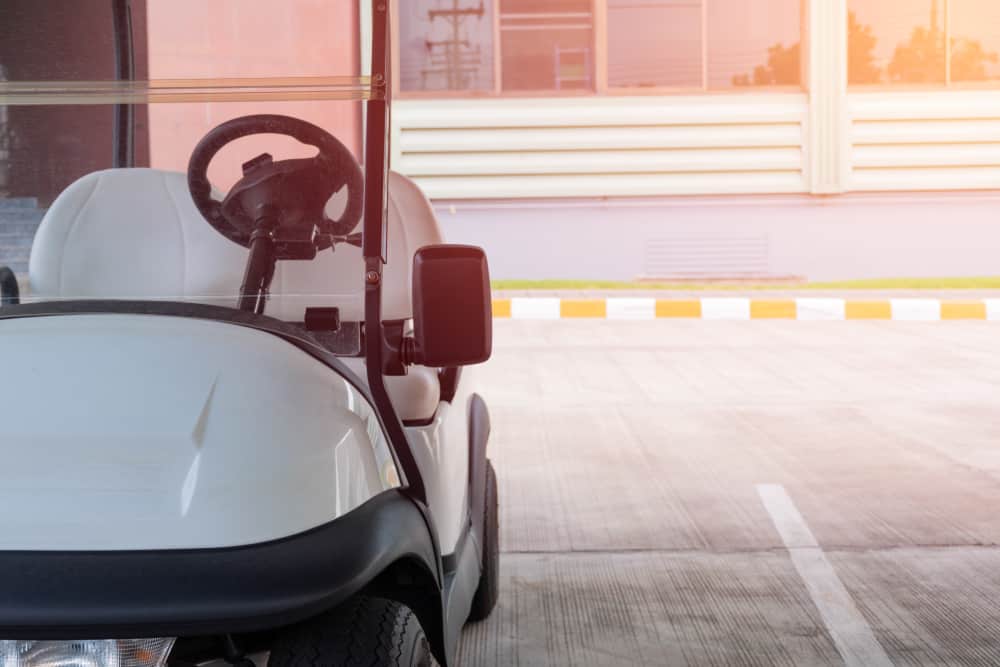 Before you attempt to use the tools above to jump start your cart, you need to make sure that you take a handful of different safety steps for your protection.
Doing so will minimize your risk of shock from the battery and also help to ensure that you don't damage your cart battery at the same time.
Start by turning off your golf cart's motor and removing the key from the ignition to eliminate the risk of accidental starts.
You also need to make sure that you check your clamps and wires to make sure that they are not frayed or damaged, as this may also cause a shock.
You may also want to test your jump start kit or your charger with other batteries to see if they run properly.
Typically, you won't need two or more people to handle this job because most people should be able to perform this task without assistance.
However, a second person may be good to have on hand in case you suffer from a battery shock and need to get medical help.
Don't worry, though; the risk of serious shock from a golf cart battery isn't that high and shouldn't injure you if it does occur.
However, it is always wise to minimize risks with electricity because it can be a painful problem if you get a burn on your hand.
You may even want to wear gloves to protect yourself from this type of electrical burn, buying electrician type gloves for this purpose.
Step Two: Inspect the Ignition Wires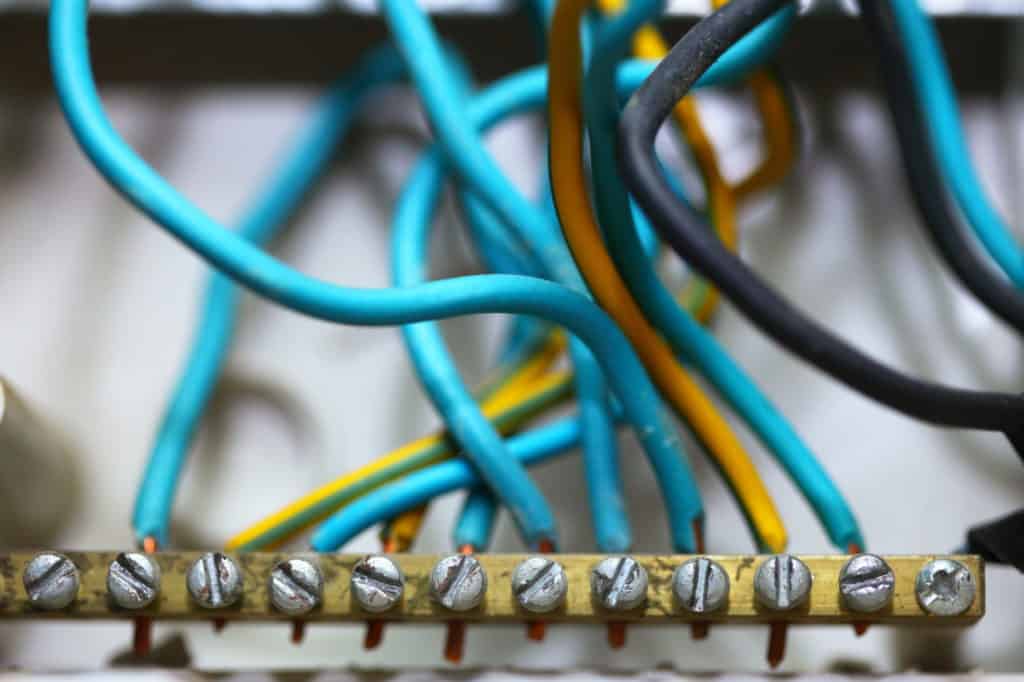 After you are properly prepared for working with the electrical elements on your cart, put it into park and take the time to check the ignition wires.
The ignition wires are can easily become disconnected as you ride your golf cart, which may cause it to drive poorly and discharge the battery much more quickly than normal.
Even worse, loose ignition wires may cause the battery to fail to turn over, even if you jump it multiple times, which may cause you to overreact and install a whole new battery.
Open up your golf cart hood and check the solenoid's wires, and make sure that they are all properly connected to this part of the engine.
Wipe away any corrosion that you may notice on the wires and replace them if they appear to be damaged or frayed in any way.
Step Three: Inspect the Battery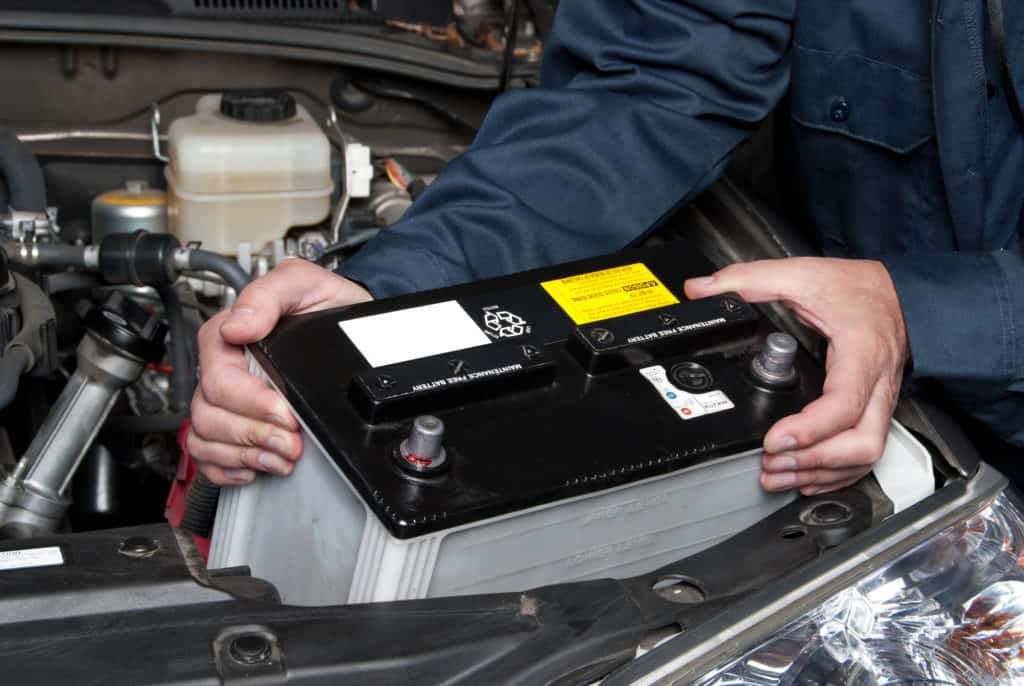 If your ignition cables are just fine on your golf cart and don't seem to be the cause of your cart's poor operation, it is time to inspect the battery to make sure it is properly connected.
Look over the connections on your battery, particularly that which connects it to your engine, and see if there is any corrosion on any of the cables and contact points.
Make sure that you also look for frays on the wires and breaks in the covers to make sure that they aren't open and sparking in a way that may damage your cart.
Adjust and tighten the contacts, as needed, to make sure that they are properly touching the battery.
You can use a wrench to make sure you do this step properly.
Pro Tip: If you do find a lot of corrosion spread throughout your battery, soak a towel in rubbing alcohol, wring it out, and wipe away the corrosion with the towel.
Step Four: Jump the Battery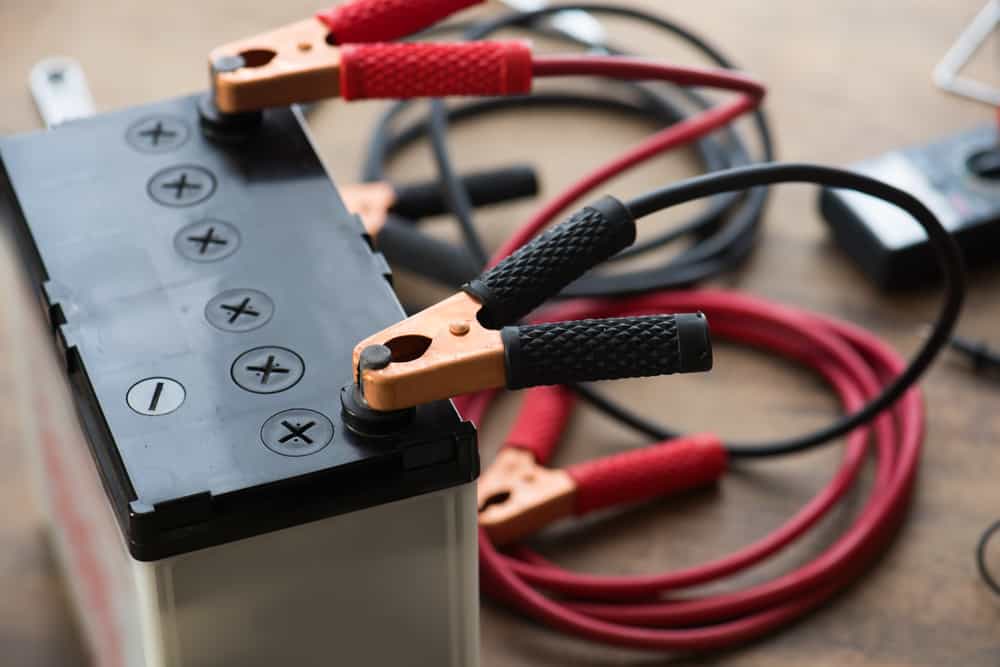 If your battery is connected properly and there's a minimal amount of corrosion through its structure, you can now jump start your battery.
Thankfully, the inspection steps above shouldn't take that long and will give you the kind of help that is necessary for keeping your cart operating properly.
Open up your jumping source, whether it's the engine of another golf cart or your emergency jumper and charger kit you purchased, and place it as close to your golf cart battery as possible.
Attach the red clamp of your jumper cable to the positive (usually marked as red) post on your dead golf cart battery, holding the black cord away from you as you do so.
Now, clamp the black wire to the negative (usually marked as black) post on your dead golf cart battery, holding the second ends away from you (if you're using two-ended cords).
If using two-ended cords, attach them to the second golf cart battery or the jumper, or if you are using one-end cables off of your charger, you are done.
Attempt to start your cart as the jumper or running a second cart charges your battery.
If it does not start immediately, wait about five minutes and try again.
Problems That May Cause Battery Issues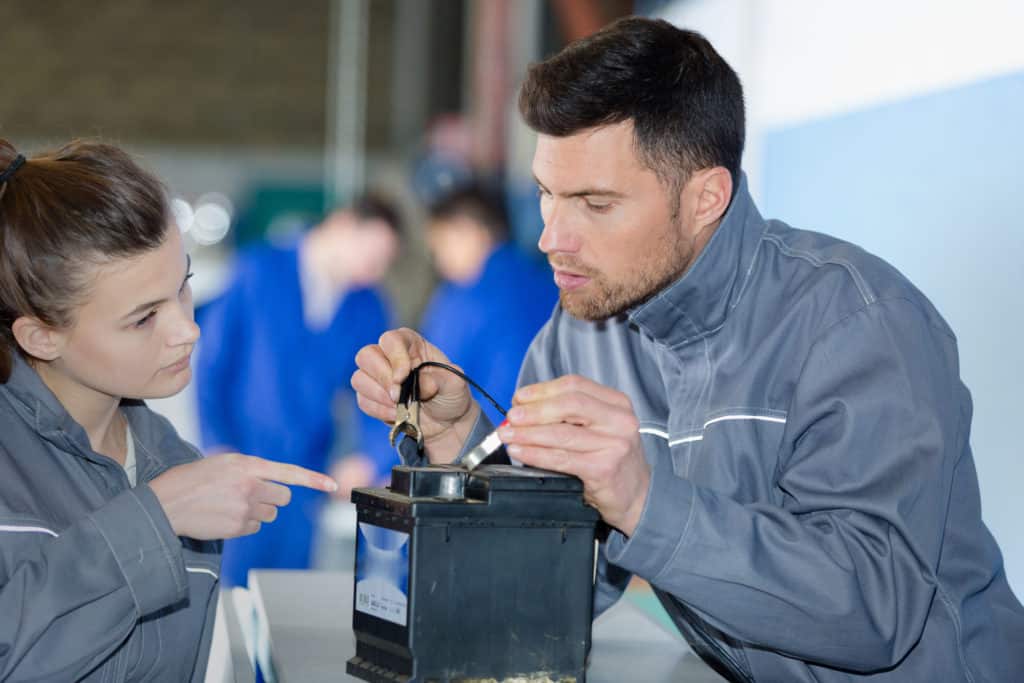 If you jump start a cart battery once and it runs and charges smoothly after your jump, you probably don't have any serious problems that need to be addressed with its operation.
Unfortunately, if your battery keeps failing to charge properly and you need to jump it repeatedly, there may be a problem with its operation that must be addressed.
By fully understanding a few of the most common issues that can affect your batteries, you will know where to look and what types of repair and maintenance may be needed.
Irregular Use—If you don't use your battery often enough, it may end up getting damaged because of a deep discharge. This problem can be avoided by using a trickle charger, which keeps the battery strong without causing damage to it via overcharging. When not in use, keep your cart's battery connected to this unit.
Low Water Level—A golf cart's battery has water inside that helps to keep the system operating smoothly and prevents various types of damage to the structure of the battery. Make sure that you check this water often and replace it with distilled water, as needed, to keep your battery strong.
Intense Temperatures—Golf cart batteries are prone to various types of damage in extreme weather, both high heat and freezing cold. Make sure to take your battery out of your cart during these weather periods and store it in an area with a temperature between 70–80 degrees Fahrenheit.
Cracked Cases—Damage to your battery case may cause problems such as an inability to hold acid or water, causing your battery to die. These cracks usually require you to replace the entire battery because they usually end up getting worse with time and cause more issues for cart owners.
Lead Sulfate Crystals—Inside your battery, there is a chance that lead sulfate crystals may form on the plates and cause the battery to improperly charge. Related to improper charging and water maintenance issues, these crystals may require battery replacement if they spread too far.
Old Age—Like any mechanical item, a golf cart battery may just end up wearing out with age and charging more poorly than it did in the past. This problem typically occurs if your battery is more than 10 years old, and it's pretty easy to fix. Simply buy and install a new battery to get your cart running well.
If you feel comfortable handling any of these repair processes, including replacing your battery, you can save some maintenance money by doing it yourself instead of taking your cart to a mechanic.
However, if you find that you lack the skills for these processes or don't fully understand how to do them, it is a good idea to get professional help.
These experts will take the time to assess what is happening with your battery and either repair or replace it to keep your cart operating smoothly.
There is also a small chance that they may need to perform other repairs on your cart to keep it safe, such as adding new wiring to the cart.
These steps are typically simple mechanics to handle without a lot of difficulty and may even be done in as little as an afternoon or a few hours if whoever is doing it is skilled enough.