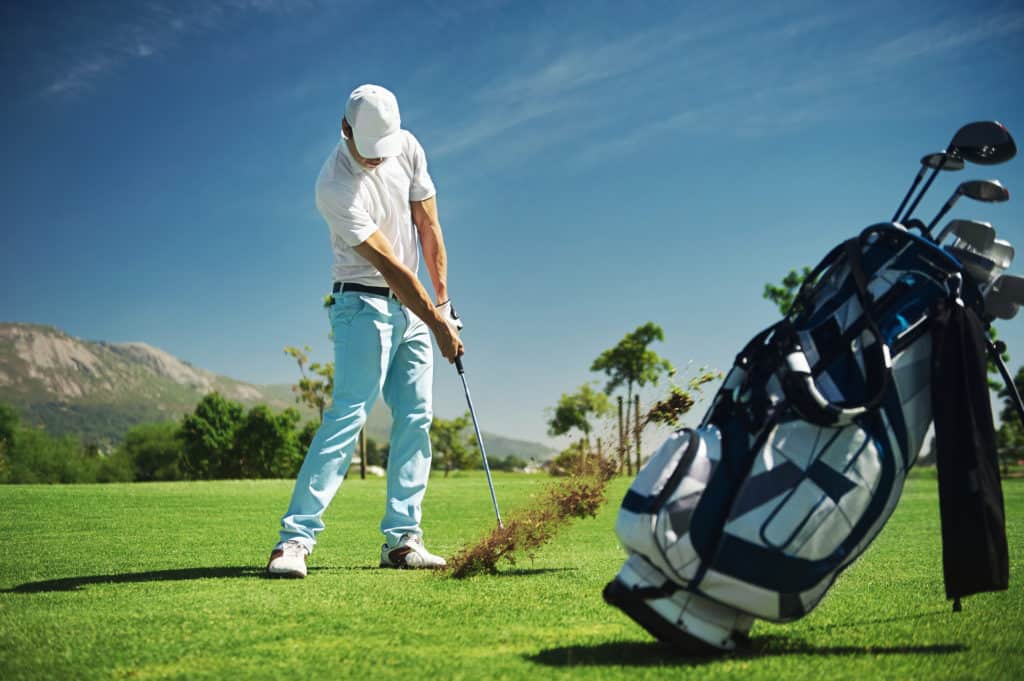 If you have been around the game of golf for some time, you know there are lots of different ways to get good.
Not all great golfers approach the golf game the same way.
There are many different strengths and weaknesses from one golfer to the next; however, most will agree that the short game is of the utmost importance.
If you want to start lowering your scores, the shots from 75 yards and in need to end up close to the hole.

How to Hit a Wedge Shot 50 to 75 Yards—6 Easy Methods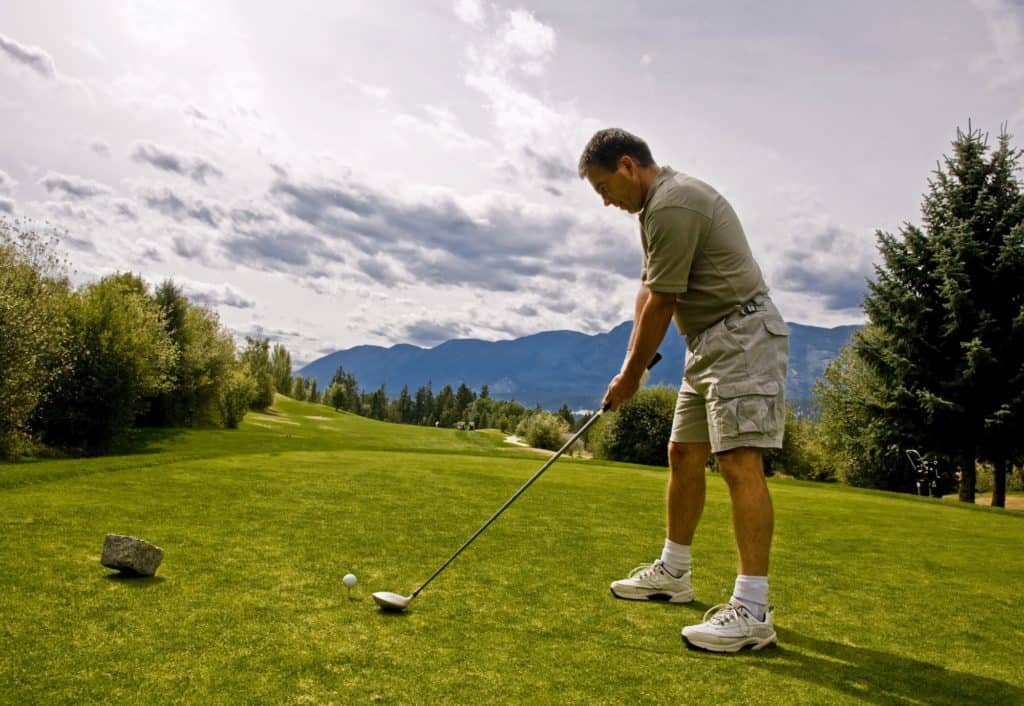 Method 1: Full Swing with High-Lofted Club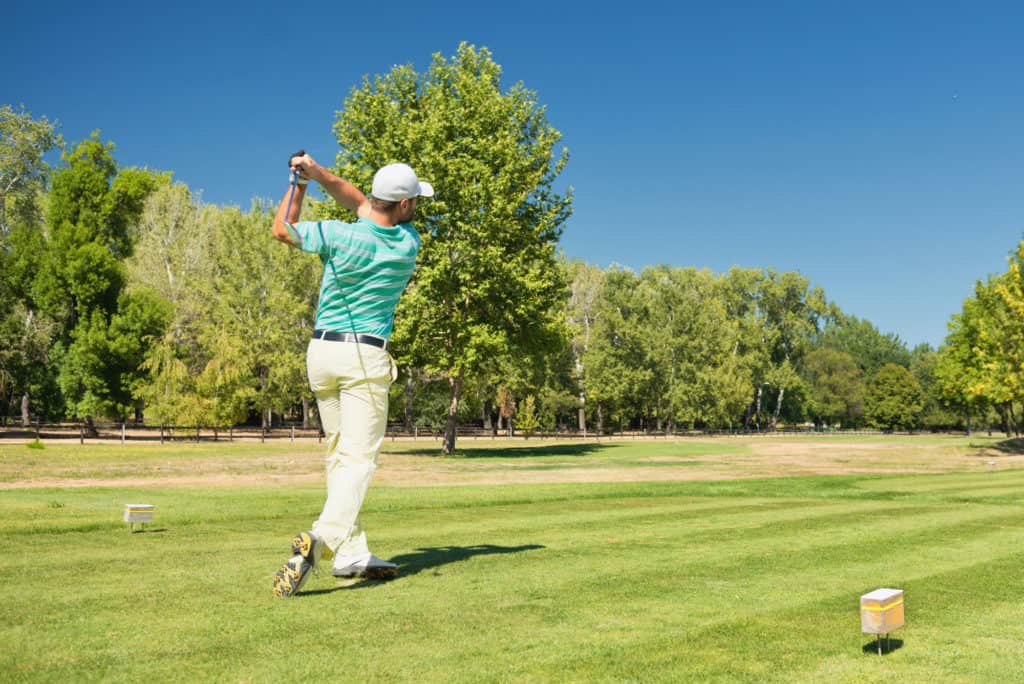 There are many ways to hit a wedge shot between 50 and 75 yards.
We will discuss all the methods we think are the best to help you find some options that work for your game.
When you play on a golf course, it is a good idea to have several different shot choices in any given situation.
If you are stuck with only one club and one shot, you may not be able to get close to every pin.
In general, golfers do not like the 50- to 75-yard range.
It is challenging to hit shots this distance because, most of the time, your swing is going to need to be shortened or adjusted.
This makes players nervous, and it can throw off tempo and swing speed.
With our first method, you are going to take a very high-lofted club and take a full swing.
For some golfers who have lots of clubhead speed, this method may not work.
If you can hit your lob wedge 120 yards, then clearly, this won't work for you.
However, most golfers can use their 60-, 62-, or 64-degree wedge to get a full swing shot about this distance.
Just because this is our first method does not mean it is our top method.
A full swing with a lofted club leaves a good amount of room for error.
If you happen to miss the ball slightly, your results are likely going to cost you a few more shots.
The two most common misses with a shot like this are to blade it over the green or hit a chunk shot that only goes a few yards.
As you become a better golfer, you will realize the smaller swings with more medium-lofted clubs are going to be more productive.
It takes a bit of time to learn the feel, but once you get it, you will open many doors on the golf course.
If you feel as though you aren't ready for a shorter golf swing and you want to stick with the full options, this is the method you should consider.
Method 2: Half Swing With Mid-Lofted Club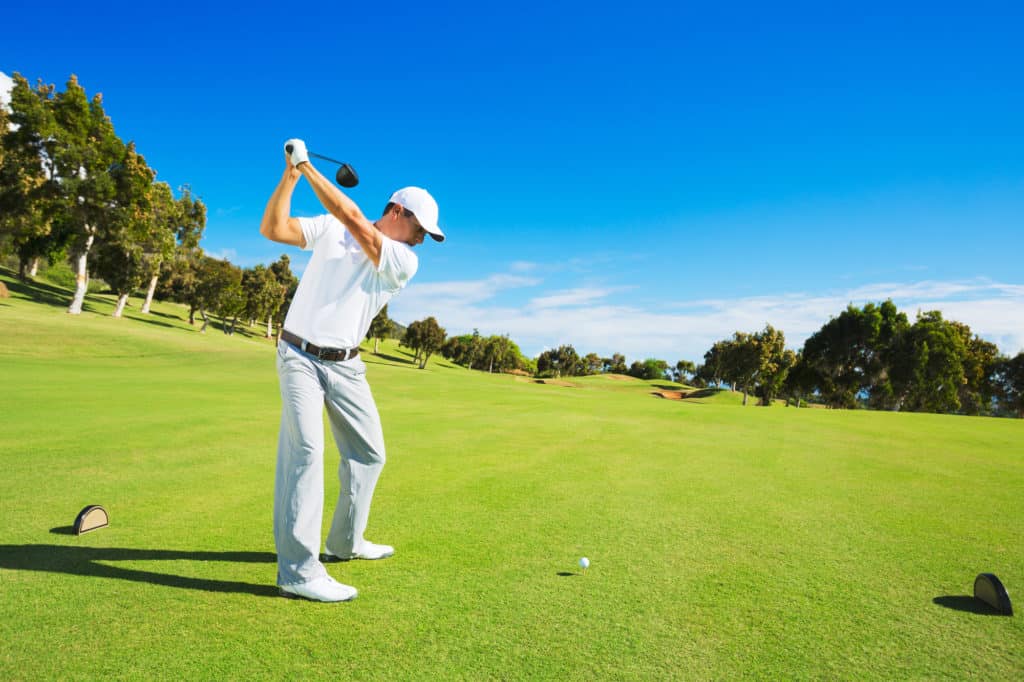 Our second method of taking a half swing with a lofted club is the most common shot you will see in the 50- to 75-yard range.
This is your typical pitch shot.
You can use a pitching wedge, sand wedge, approach wedge, and sometimes even a lob wedge depending on your distances and swing speed.
Most people like the 56-degree wedge or sand wedge for this shot.
You can do a few things to your setup to help manipulate the alignment and the ball flight, but for the most part, you can usually do this with a short swing.
The ball will be played in the middle of your stance, and your stance may be a bit more narrow than it is for a full swing with a hybrid or an iron.
Knowing exactly how far back to swing the golf club will take some time and patience.
You will need to practice this shot until you feel as though you have it mastered.
It is a good idea to make sure you are always taking a shorter swing and accelerating through the shot.
The acceleration will help get the launch and the spin on the ball you need.
If you try and take a long swing and then decelerate as you go through the ball, your results will not be consistent.
Method 3: 7 or 8 Iron Bump and Run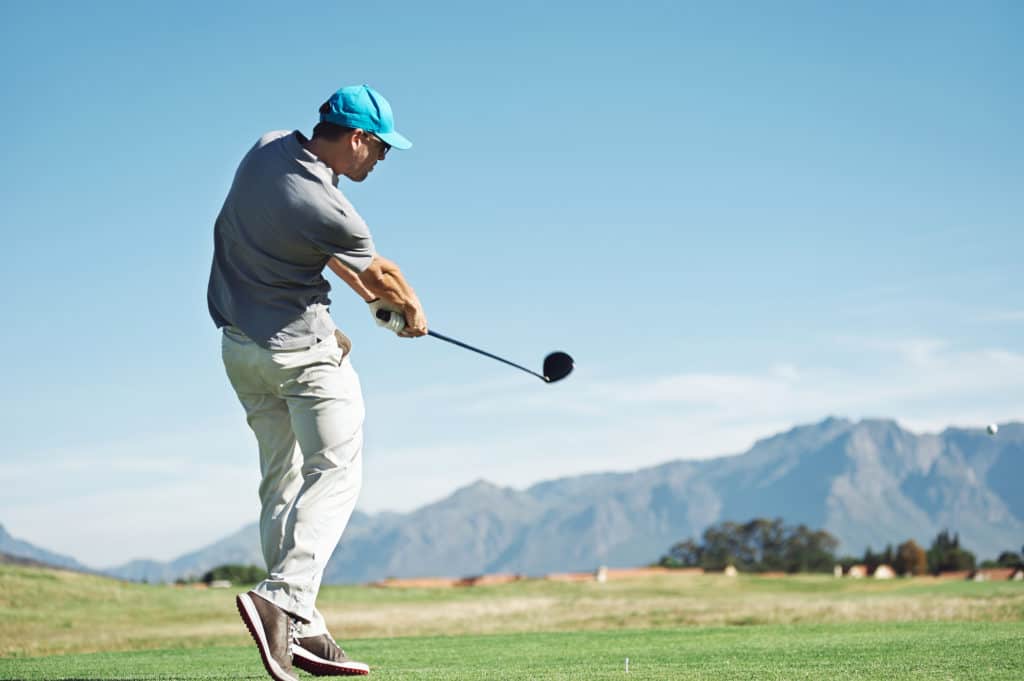 If you remember, we mentioned that the shorter golf swings have less room for error.
When there is not as much weight transfer and turning and wrist movement for players to worry about, the shots are generally better.
One way to avoid a lot of extra movement in the swing is to take a lower-lofted club and let the ball run up to the hole.
With these types of shots, you will not need to take more than a putter stroke-type swing at times.
You will try and clip the ball very cleanly, and it will go in the air for a few yards and then roll most of the way to the hole.
These types of shots are not possible if there is quite a bit of trouble between you and the hole.
If you have a clear view to the pin, then the bump-and-run shot may make a lot of sense.
With these types of shots, you need to pay close attention to slope and bumps.
If you see a large mound before the ball gets to the green, you have to think about how your shot will be affected as it travels over this mound.
The bump-and-run shot is a favorite of senior golfers.
They know the golf courses so well from playing them for so many years, and the bump-and-run shot keeps the ball close to the ground and error-free.
Just like our shots in both method one and method two, you will need to make sure you practice the bump and run to see about how far you can get these shots to fly.
You may find that your eight iron is the perfect 60-yard shot, and your seven iron works great for 75 or 80 yards.
Spend some time on the driving range practicing this type of bump and run before you attempt to use it on a golf course.
Method 4: Open the Club Face Up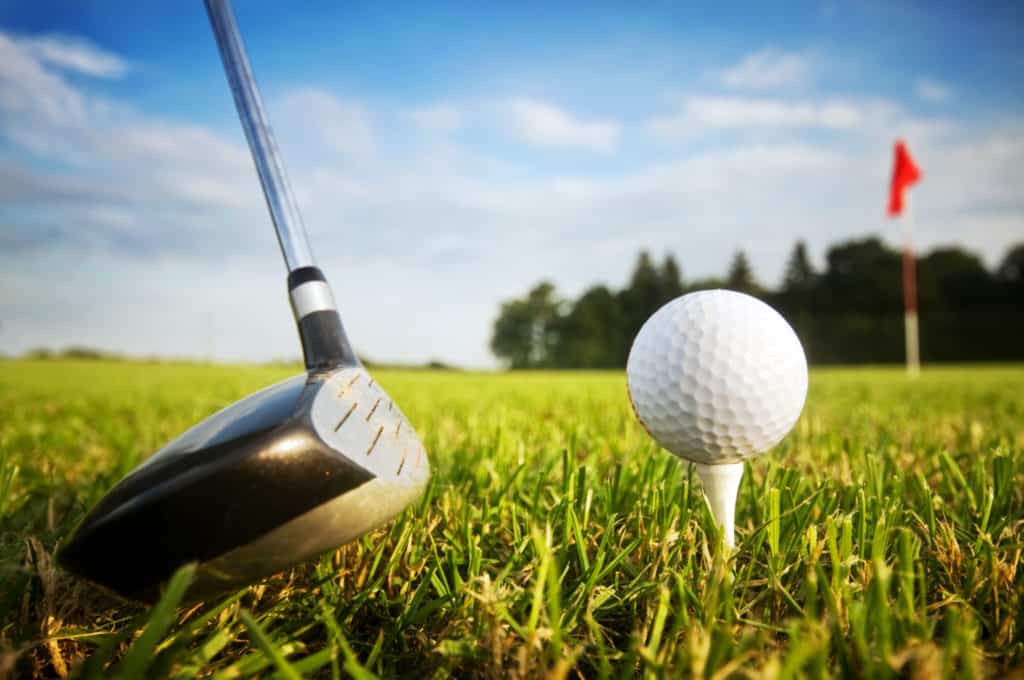 Another way to get these tricky in-between yardages down is to use a golf club with an open clubface.
When you open the clubface to a golf club, you will get some extra loft and a little less distance.
Since you may be in between clubs with the 50–75 yard shot, this can be a perfect solution.
When you open the clubface to a golf club, make sure you are turning your body so that you are a bit open to the target.
If you open the clubface and you don't adjust your stance, you may end up hitting the ball right.
When you have the clubface open, you must also make sure you accelerate through the shot as we mentioned in previous methods.
An open clubface that decelerates through impact could result in the dreaded shank shot.
Method 5: Choke Up on the Club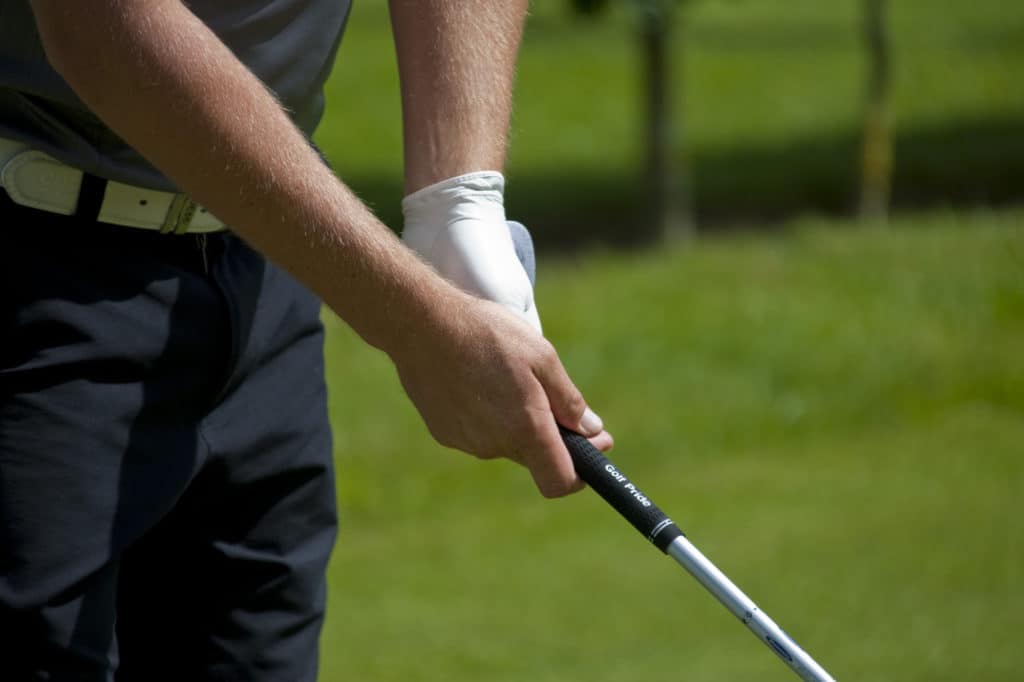 To choke up on the club is a great way to take away some of the yardage of the shot.
If you take your pitching wedge and hold it much closer to the shaft as opposed to the butt of the club, you will get much less distance out of the club.
Depending on which yardage you need and which club you have in your hand, choking up on the club may be all you need to get closer to a target without adjusting much else.
When you choke up on the club, it also makes sense to make your stance a bit narrower.
The narrow stance and standing closer to the golf ball help to make sure that you get less distance.
Although golfers always seem to want more distance in their games, for the 50–75 yard shot, you need to lessen your distances.
Method 6: Feet Together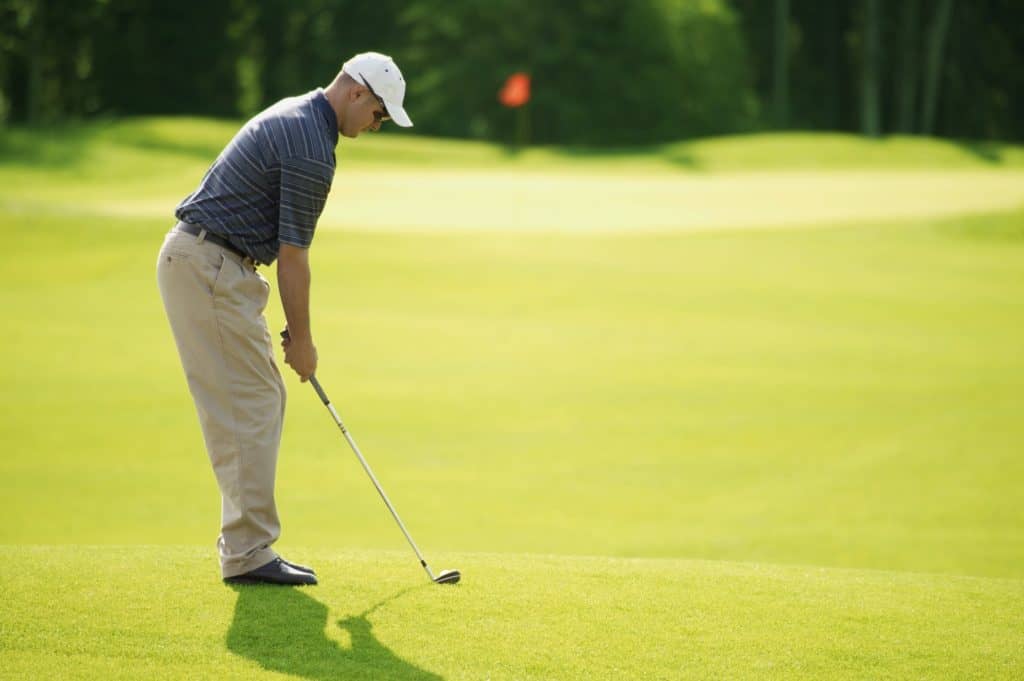 Our last method is to stand with the feet together.
This is more of a drill that people have found to be effective for hitting a 50–75 yard pitch shot.
If you have ever had one of those times in your game where you struggle with every type of shot, it makes sense to simplify things.
One of the best ways to do this is to make everything more compact.
You can put your feet almost entirely together and start taking smaller swings where you rotate your body slightly.
If you can hit solid golf shots using this method, then you can slowly start to take a larger setup and get your swing back under control.
Many golfers find that this compact and simple swing makes golf much easier.
They will notice that, regardless of what club they have in their hands, they are getting consistent and crisp shots.
You can take this drill and turn it into a go-to pitch shot option for those shots that are 50 to 75 yards from the hole.
How to Avoid the 50–75 Yard Shot Altogether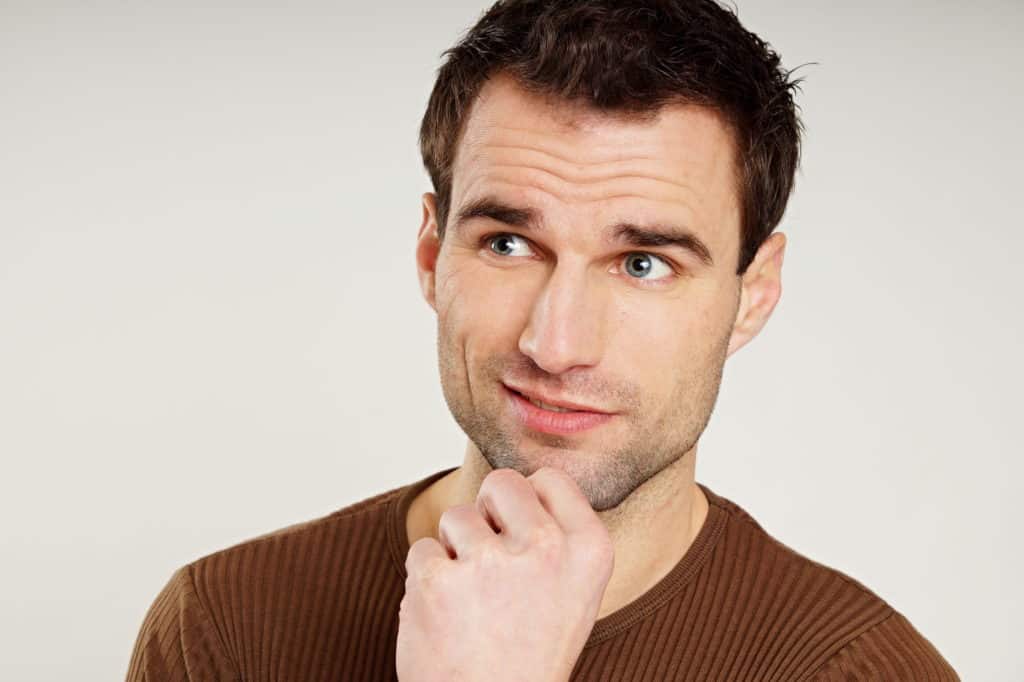 As we mentioned, the 50 to 75 yard shot is not ideal for a golfer.
It is going to take some manipulation of the golf swing and the golf club.
Anytime you have to do this, the required skill level is going to increase.
One reason golfers end up with shots of this length is that they don't plan their approaches well enough.
Many golfers will hit a driver on a par five and then try and hit the longest club they have in their bag.
They want to get as close to the green as possible for their next shot.
Sometimes being as close to the green as possible is a disadvantage.
It can make more sense to be a little further from the green and have a full swing shot you can take.
Most golfers have a club they hit exactly one hundred yards.
The one-hundred-yard spot is further from the green, but the actual approach could end up being easier if you lay up at this point.
If you are trying to hit your three wood from the fairway on a par five, maybe consider hitting a five wood and figuring out if that makes more sense for a better layup position.
Sometimes golf takes a little bit of math to get good.
Conclusion
Hopefully, all of these methods have helped you feel more confident in your ability to hit the 50–75 yard wedge shot.
Having a few different techniques and being able to use several golf clubs will help you get better at golf.
When you are stuck with just one method, your options are limited, and you won't be able to get as close to the hole as you would like.