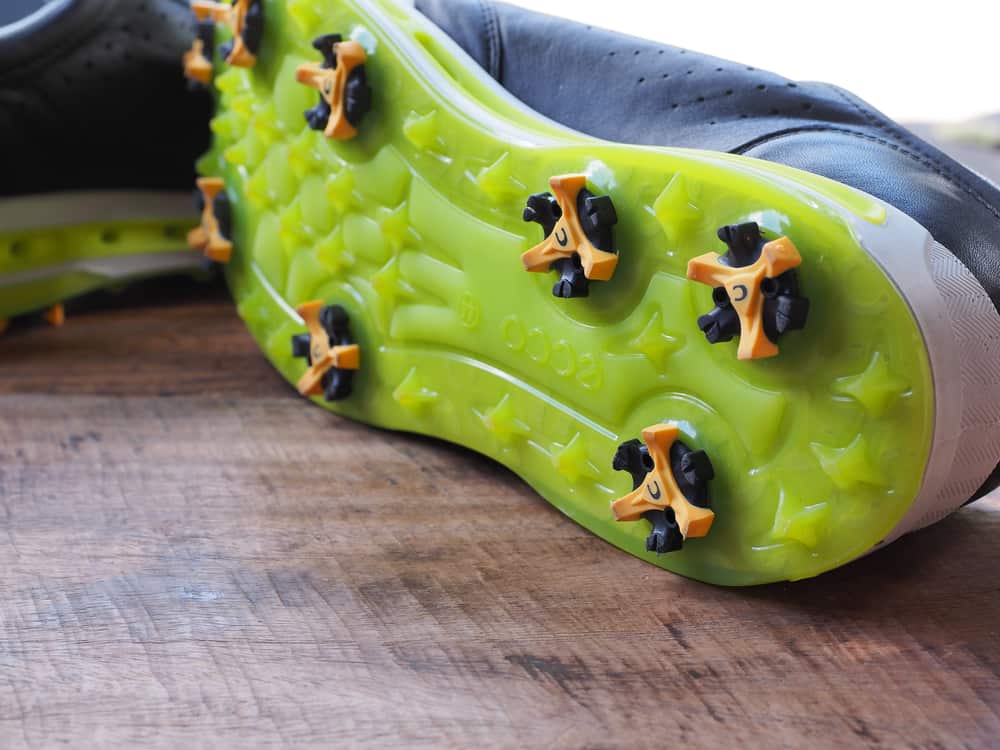 Ecco golf shoes are some of the most premium shoes on the market.
With a pair of Ecco golf shoes, you are going to have comfort, protection, and stability.
The Ecco shoes also tend to last for quite some time as long as they are properly cared for.
If your Ecco shoes are new to you and you are curious about the best ways to take care of them, we have all the information you need.
Take a look at our step-by-step guide on how to clean your Ecco golf shoes.

How To Clean Ecco Golf Shoes (Step By Step)
Cleaning Ecco golf shoes will vary slightly depending on the type of shoe that you have purchased.
Some of the Biom shoes are going to have some additional features to them that may make the cleaning process a bit more complicated.
However, the most important thing is that you are cleaning the shoe and taking care of it properly.
Always look at the manufacturer's recommendations as well as our recommendations before proceeding with the cleaning process.
Step 1: Gather Supplies
You will need to gather the necessary supplies to get this project completed.
We highly recommend purchasing an Ecco Shoe Care kit.
Although this kit will cost you a bit of money, you will find that it has everything you need to keep your shoes in great shape.
If you don't purchase the shoe care kit, you are going to need a brush, soap, water, and a few different shoe care products.
For the brush, we really like using an old toothbrush.
The size of the brush and the bristles are perfect for the Ecco shoes, and you will know that you are not using something that is too tough on the shoe.
In addition, you may want to get a waterproofing spray and a polish for the shoe.
In the Ecco Shoe care kit, you also get a conditioner for the shoe which is a good option to consider as well.
The bottom line is that if you want your Ecco shoes to last for a long time, you will have to purchase some shoe care products to go along with them.
Also, it's a good idea to get a towel of some sort to work on and to leave the shoes on when you set them out to dry.
Remember that the shoes have likely just come off the course, and they are going to have lots of grass, dirt, and debris on them.
Ultimately, performing this process on an unsuitable surface could damage it.
Step 2: Remove Laces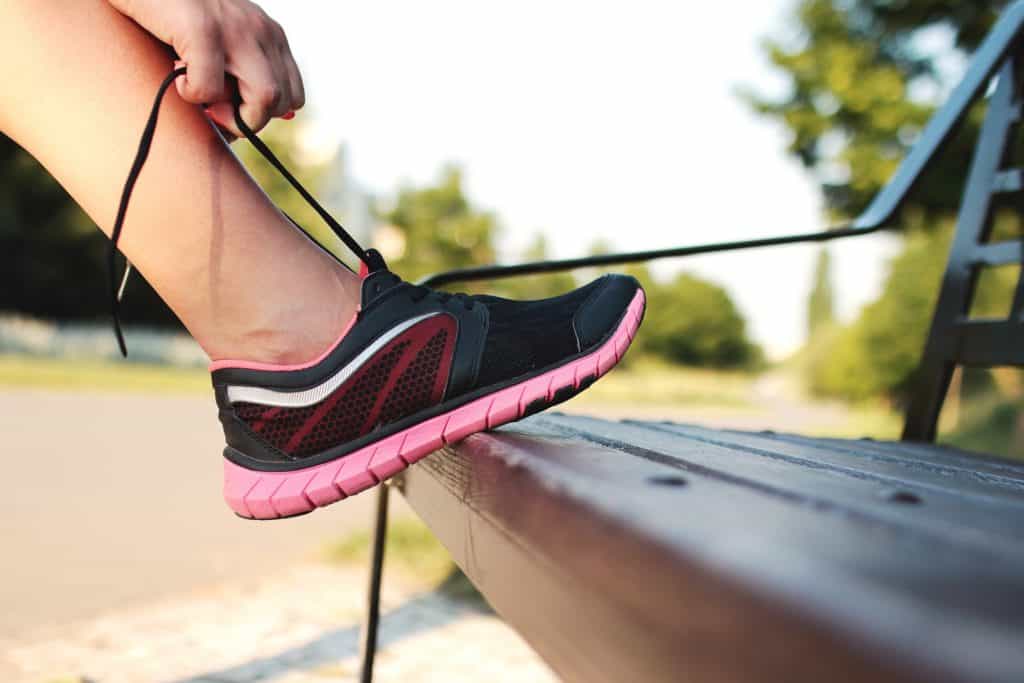 The next part of this process is to prepare the shoe to be cleaned.
You will need to remove the laces on your Ecco golf shoes.
Removing the laces is necessary for two reasons.
The first reason is that you must make sure the laces are out in order to properly clean the dirt in each of the lace holes.
Where the laces sit is a perfect area for dirt and debris to accumulate.
Unless you fully remove the laces, you won't be able to get to these areas.
In addition, you will want to take the laces out so that you can adequately clean the laces themselves.
Sometimes all it takes with laces is a vigorous wipe down with a cloth, and they look normal again.
Other times, you may realize that it's time for a new pair of laces in your shoe.
This is a good time to evaluate the condition of the laces and decide what is best to do.
While you are removing the laces, it is also a good idea to remove any inserts.
The inserts are not really going to be cleaned as part of this process.
Since you will be using soap and water, it's a smart idea to take them out and put them somewhere that they will stay dry.
If the insoles get wet, it could take a long time for them to dry, only prolonging your shoe cleaning process.
Once you have these removed, you are ready to move to the next step of the process.
Step 3: Clean Upper Part Of Shoe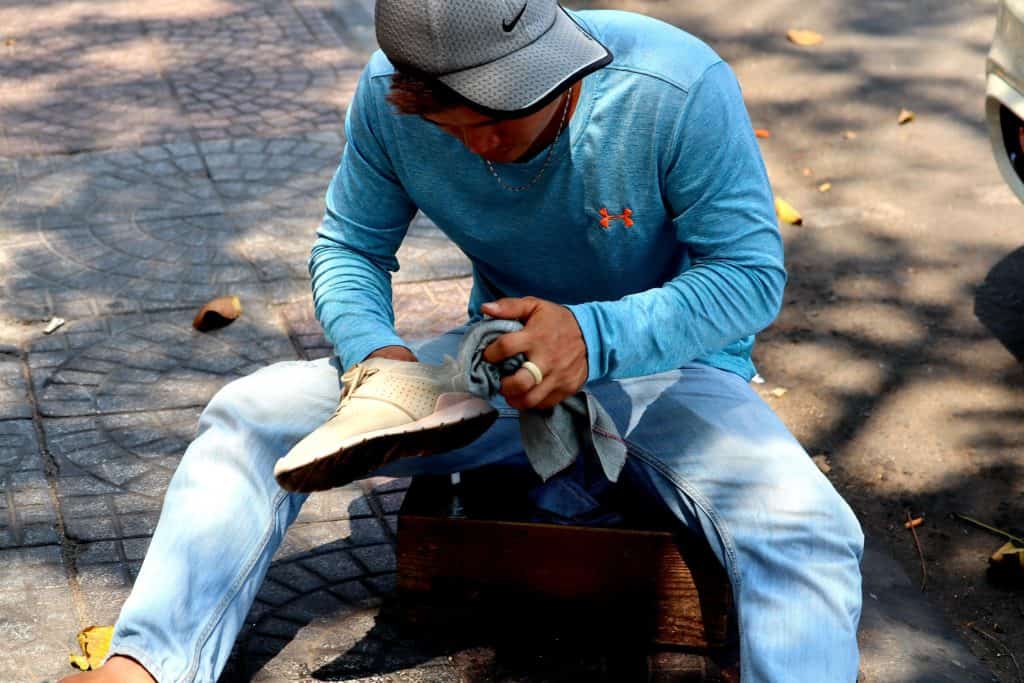 We like to start this process by cleaning the upper part of the shoe.
If you start on the upper part, you will notice that the water and dirt will flow to the bottom part of the shoe.
This is expected and really not a problem, as long as you are prepared for it and have not already cleaned the bottom of the shoe.
Therefore, you should always start at the top.
We like to make a mixture of soap and water and start applying it to the shoe using a toothbrush.
The idea is to use the soap (dish soap is just fine) to get into the problematic areas and scrub them with the toothbrush you have in your hand.
You do not want to submerge the shoe in water as it is just not necessary.
Most Ecco shoes are made with premium yak leather, and although these shoes hold up quite well in wet conditions, there is no need to soak them completely.
When cleaning the upper part of the shoe, use the toothbrush to get all the areas you can and go in and out of the designs and crevices on the shoe.
You will notice that some of the areas may be a bit damaged from lack of care, but most of the debris should easily come off.
Once you have the upper part of the shoe cleaned, you can move to the bottom.
Some people will recommend polishing the upper part before cleaning the bottom.
However, we have tried this before, and it was too difficult to keep the debris from the bottom of the shoe from getting to the top and ruining your clean project.
Step 4: Clean Bottom Part Of Shoe
Next, it is essential to get the bottom of the shoe clean.
This is done using the same process as described above.
The outsole usually has some crevices that are going to hide dirt and debris, so you will need to use the toothbrush to get these all clean.
While you are completing this process, also check out the bottom of the shoe.
Take a look and see if the spikes are in place or if they require replacement.
Don't let it go too long between spike replacements.
The longer they are in there, the harder it is to remove them and replace them.
Step 5: Shoe Polish
Next, you are going to want to use some shoe polish to get the shoes looking like they did before you wore them around the course.
Shoe polish comes in many different types and colors.
Make sure you choose something that matches exactly with the shoes that you have.
This is where you may find that the Ecco golf shoe polish is the best choice.
With the Ecco shoe polish, you can rest assured that you are applying the proper product to your shoes.
Not only is the shoe polish going to restore the shoes to their original condition, but it is also going to keep them protected from further damage.
Always keep your shoes clean and polished if you are going to expect them to last for quite some time.
Step 6: Waterproofing Spray
Many of the Ecco golf shoes on the market are waterproof.
This means that you can play a round of golf, and even if it starts to rain a bit or you have to walk through some morning dew, the water won't get to your feet.
This is quite powerful and an excellent thing for those looking to upgrade their golf equipment.
However, after a while, it gets more and more difficult for a shoe to maintain its waterproof capabilities.
The best way to combat this is to give the shoe a bit of help by using a waterproof spray.
Once your shoe is finished with the polish and it is completely clean, you can put a waterproofing spray in place to ensure that it does not allow water to get to your feet.
The thing to remember about this waterproofing spray is that it may need to be applied fairly frequently.
However, it is an excellent choice to consider if you are looking for full protection on your shoes.
Step 7: Allow Time To Dry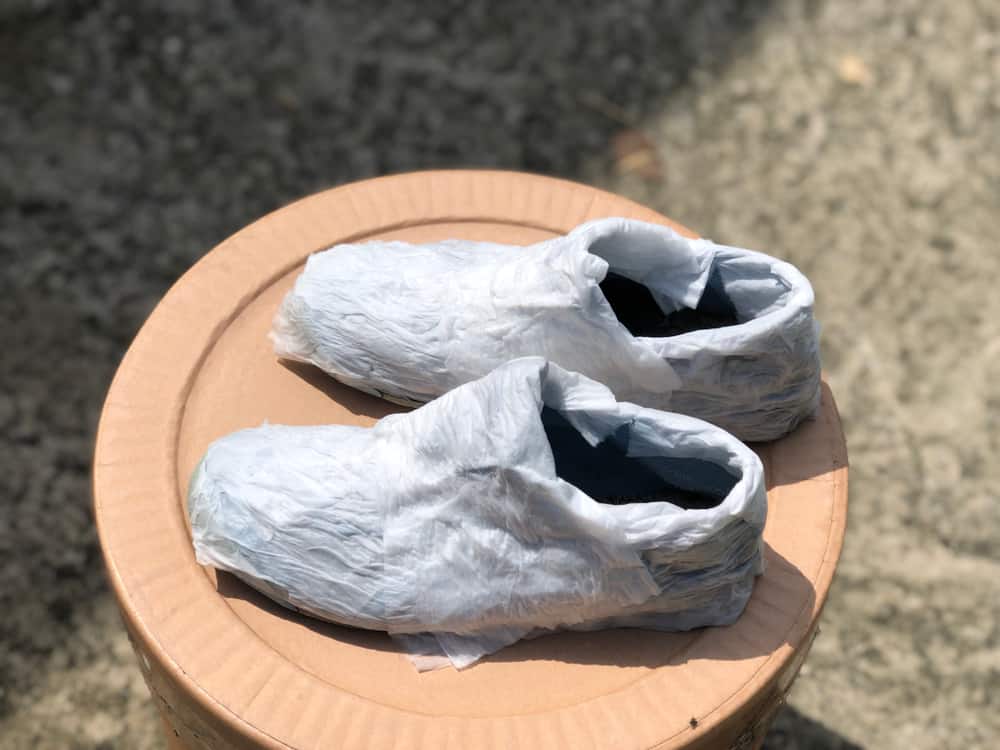 You may think that allowing time for the shoe to dry seems like common sense.
Although this is generally true, you must ensure that your shoes are entirely dry before you put them away.
When the shoes are still wet, they could actually get some mildew or mold if they are put away in a damp environment.
The best thing to do is to ensure the shoes have ample time to dry.
The best place to put a shoe that is drying is to leave it in the shade outside and give it time.
Many people have the idea that putting the shoe in direct sunlight is going to make it dry faster and therefore be a better solution.
This is not the case, as the direct sun is quite bad for the shoe.
It can crack the leather on the shoe and end up causing some irreversible damage to your Ecco golf shoes.
If your shoes get damaged in this way, you may not be able to fix them.
It's best to just put the shoes on a towel in the shade and then give them time to air out and dry.
You will likely be ready to use the shoe again in just a few hours.
However, if you can wait up to 24 hours, you may find that your polish and waterproofing spray will last a bit longer.
These are the basic steps for cleaning your Ecco golf shoes.
As you can see, they are not hard to follow, but you must make sure you follow the recommend guidelines so that you don't do any damage to your shoes.
Overall, Ecco golf shoes can last you for many years, but you have to ensure that they are properly taken care of.
Let's look at some tips to help you take care of the Ecco shoes.
Tips To Take Care Of Ecco Golf Shoes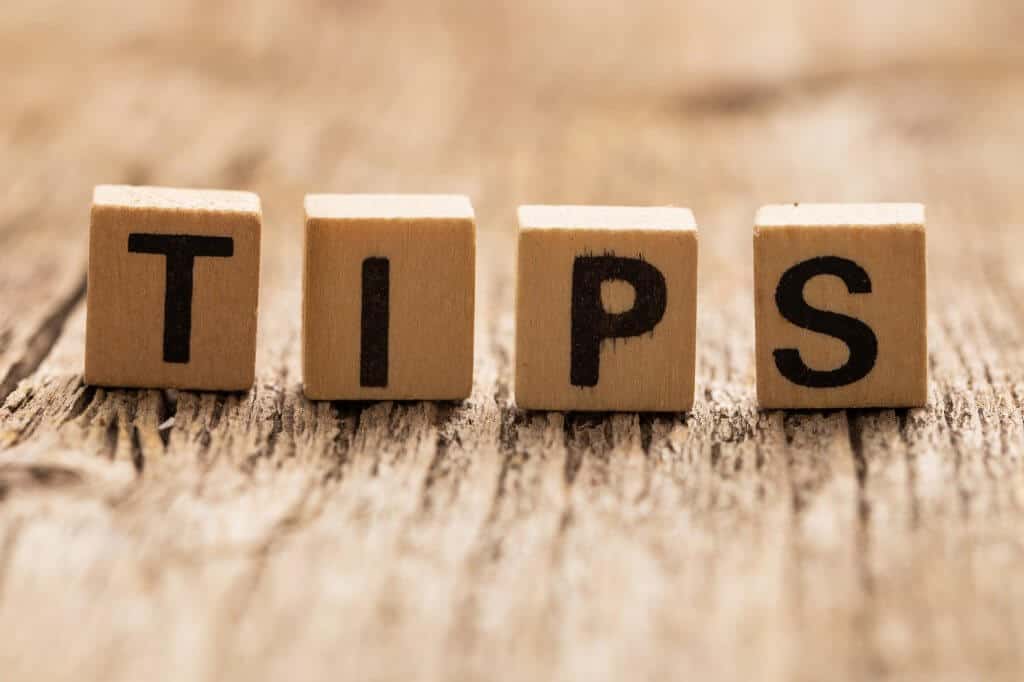 It's great to know how to clean your Ecco golf shoes, but you will have to ensure that you are doing everything possible to make this cleaning process easier.
The best way to do that is to take some precautionary measures that allow you to properly take care of the golf shoes.
If you follow these basic maintenance tips to care for your shoes, then you may find that the cleaning project is quite a bit easier to do.
Here are some of the tips that we recommend for taking care of your Ecco shoes.
1. Clean After Each Round
It is best to clean your shoe each time you use it.
We don't expect you to go through the entire process we just described.
Instead, use a shoe cleaner at the golf club or even a damp microfiber cloth to wipe the shoe down when you are done playing.
This is a great way to prevent dirt from caking and building up and making your next deep cleaning a much larger and more tiresome project.
2. Use A Shoe Tree
A shoe tree is the best way to store all of your golf shoes.
With a leather shoe, it is essential that the shoe is properly stored, so the leather stays firm and in good shape.
Shoe trees are not expensive, and they can prolong the life of your golf shoe.
3. Schedule Periodic Deep Clean
Chances are, if you don't schedule a deep clean on your shoes, you are not going to remember to do it.
Try to do it every few months when you clean your bag and your clubs as well.
This ensures that you won't forget and that you can get it done when necessary.
4. Purchase Ecco Shoe Care Products And Use Them
Ecco tells you that your golf shoes can last for life.
However, this requires that you take good care of them.
Since they have shoe care products specifically designed to take care of the Ecco shoes, you might as well use them.
Ensuring that you are taking care of your shoes according to the manufacturer's requirements also helps to prolong the life of the shoe.
Ecco golf shoes are not cheap, yet some believe they are the best.
If you want to have the best and to ensure that they last, you should follow this essential guide.