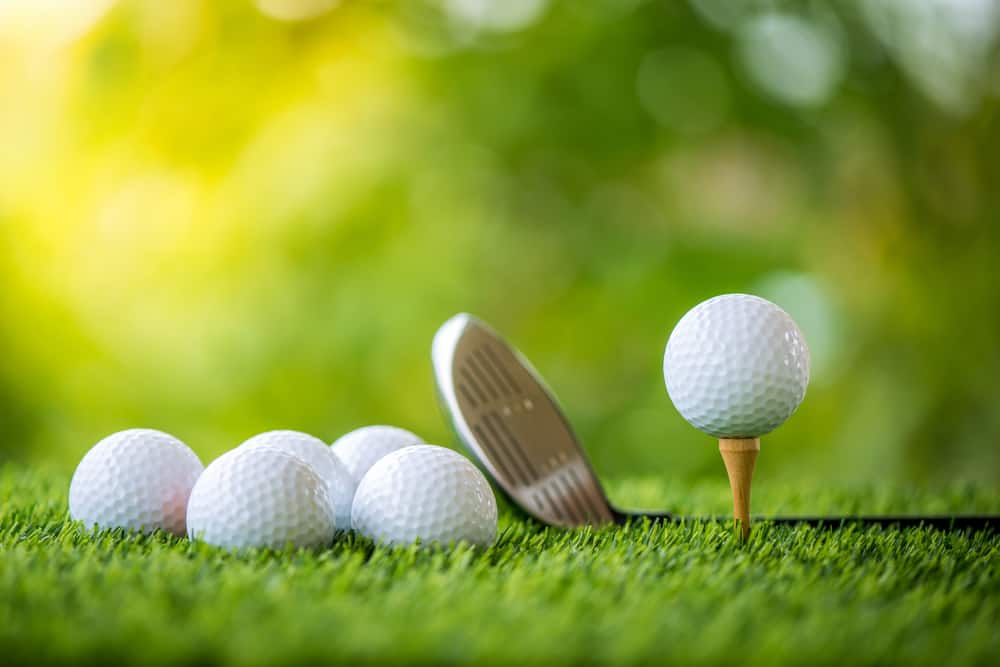 The number of golf balls one should keep in their bag has always been a topic of conversation for golfers.
If you don't have the proper number of golf balls in your bag, there is always that chance that you could run out.
The number of golf balls that a player needs will vary depending on the type of game that you typically play.
In addition, the golf balls you have in your bag could vary depending on whether you are playing in a tournament or out for a casual round of golf with friends.
Let's take a look at how many golf balls you should bring for 18 holes of golf.

How Many Golf Balls Should I Bring For 18 Holes?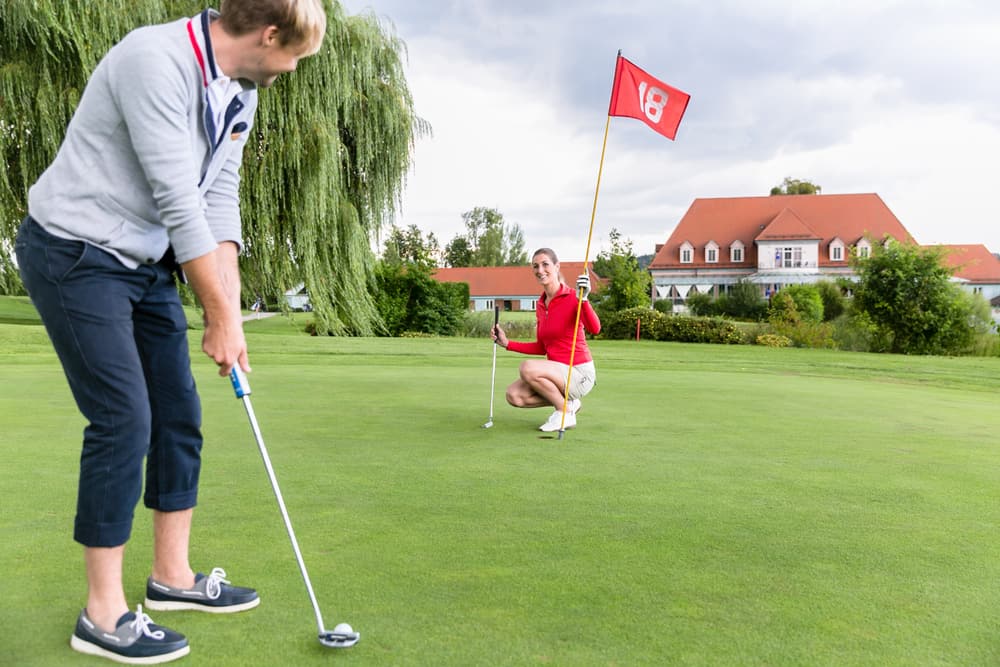 Golfers should have nine balls in their bag for an eighteen-hole round.
The right number of golf balls will help ensure that, if there is a bad hole or the golf ball gets cut, there are plenty of replacement options in the bag.
Golf balls are typically sold by the dozen, but this does not mean that you need to keep twelve golf balls in your bag at all times.
In fact, sometimes carrying more golf balls could end up making your golf bag unnecessarily heavy.
The perfect number of golf balls to have in the bag typically ranges from around six to 10.
Here are the things to consider before you decide how many golf balls you should bring.
1. Walking Or Riding
When you are walking the golf course, you must remain conscious of the weight of your golf bag.
When a golf bag gets heavier, it will be harder to maneuver and can cause fatigue for a player.
Walking a golf course is great exercise, but there is no reason to cause more stress to your body by loading down your golf bag with golf balls.
Riding the course can be a little different.
Chances are you won't need to worry that much about the weight of the bag because the cart helps you get around.
At the same time, you will still have to lift the clubs into and out of your car, and therefore, the forty extra golf balls you have are probably not worth it.
Most golfers carry too many golf balls, leading to issues that could have been completely avoided.
Always consider how you plan to get around the course when choosing the number of golf balls in your bag.
2. Tournament Or Casual Play
Golfers who are playing in a tournament will likely have the one-ball rule in effect.
The one-ball rule ensures that the same golf ball is used throughout the entire round.
With the one-ball rule, a player must choose only one brand and model to use from the start of their round to the end.
Obviously, there will be times when a golf ball gets lost and needs to be replaced, but this is done with the same type of ball.
Essentially, if you tee off with a Titleist Pro V1 and finish the round with a Titleist Pro V1, you will have fully complied with the one-ball rule in golf.
This rule is in place to help ensure that golfers are not getting an extra advantage by changing the technology from one hole to the next.
In a tournament round of golf, it is important to have the proper number of the right type of golf ball in your bag.
For casual play, the one-ball rule is probably not in effect, and the golfer can use whatever makes them feel more comfortable.
Remember that neither tournament nor casual play will require a dozen or more golf balls.
3. Difficulty Of The Golf Course
The more difficult a golf course is, the more golf balls you will likely need to carry in your bag.
When a golf course has a lot of water hazards or the fairways are lined with trees, the chance of losing your golf ball is relatively high.
This is a situation where you may want to play with eight to ten golf balls in your bag.
However, if you are playing your regular home course and you haven't even lost a ball the last few times you went out to play, you will probably be safe with about five golf balls in your bag.
Most of the time, players will lose balls at a faster rate when they are playing a golf course for the first time.
Sometimes you won't know which way to hit the ball, and it could end up with a few extra golf balls in the woods.
4. Skill Level
In addition to the difficulty of a golf course, you must also consider your skill level as a player.
The more advanced you are as a golfer, the better the chance you have of keeping the same golf ball in play for the entire round.
Most of the average or higher handicap golfers who lose balls are losing them because of an inability to hit the golf ball straight.
If you can't hit the ball straight, you will lose quite a few more golf balls.
For players who slice the ball, the slice is typically a way to lose at least a few golf balls per round.
The lower your handicap is, the fewer the golf balls you need to keep in your bag.
For higher handicappers, the skill level comes into play, and some beginners may find that carrying a dozen golf balls on the course is not a bad idea.
Should I Take Old Golf Balls Out Of My Bag?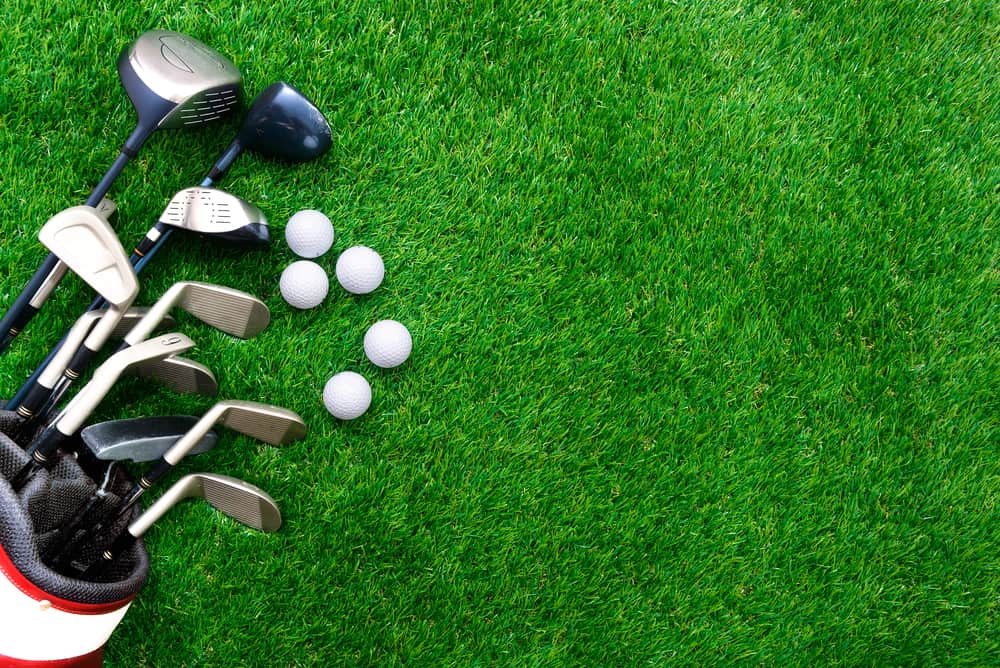 How many times have you finished a round of golf and taken the ball, and thrown it in the back pocket of the golf bag?
This is typically what golfers do, and then the golf ball stays there for weeks or even months.
You will need to consider a couple of things when you finish a round and where you put your golf ball.
The first thing to do is consider the ball's condition and whether or not it makes sense to use this golf ball again.
You may find yourself in many situations where you can play the same golf ball for four, five, or even six rounds of golf.
If the golf ball is good enough for play, put it in a certain pocket of your bag where you keep golf balls that you can recycle.
However, there are times when a golf ball will have a cut on it from playing out of a sand trap or even bouncing along a cart path.
If this is the case, the ball really should not be used for another round of golf.
Instead, it makes sense to use this golf ball for practice.
The next time you are looking for something to do around your house on the weekend, set up a little chipping area where you can practice.
There are plenty of nets and mats on the market to make this possible in very confined spaces.
The best thing to do is take these used golf balls and make them your practice balls in the yard.
There is no need to carry them all around in your golf bag and end up with a massive collection of used golf balls that will not help your game in any way.
For golfers who play a lot of golf and end up with tons of used golf balls, there are typically local junior golf programs where you can donate the golf balls for kids who want to play and practice.
What Is The One-Ball Rule?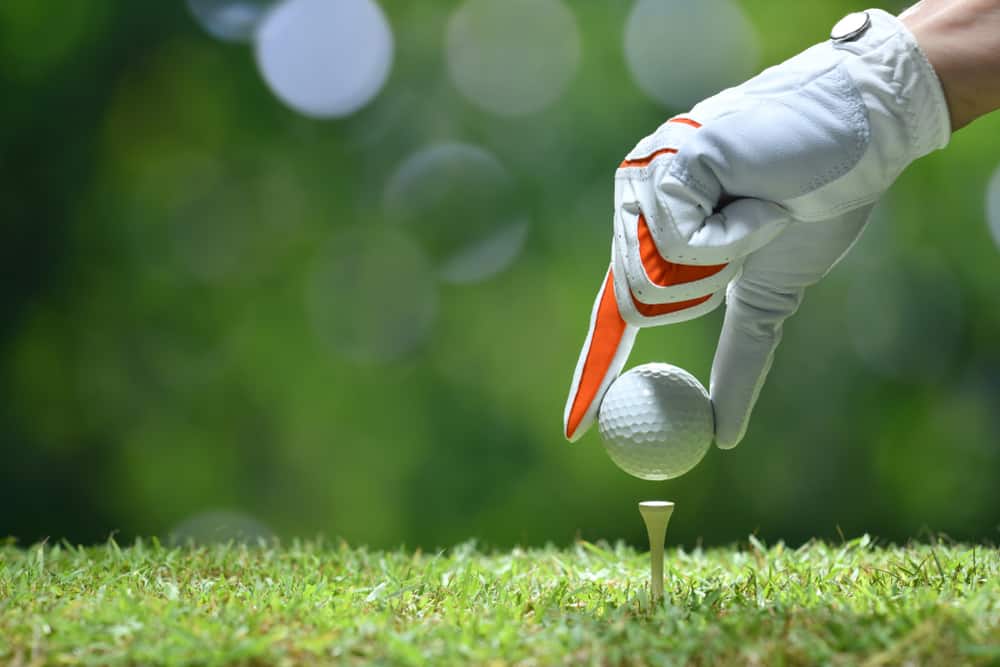 The one-ball rule is something that has changed how players think about the number of golf balls they need in their bag.
A one-ball rule states that the type of golf ball you finish your round with must be the same type you teed off on the first hole.
Essentially, if you start your round with a Callaway Supersoft, you must also finish it with a Callaway Supersoft.
This ensures that players are not using distance golf balls on long holes and feel golf balls on the shorter ones.
This would provide too much of an advantage and make it unfair for players who are playing with just one ball.
The one-ball rule is mostly in play during a golf tournament or event.
Players who are starting to lose golf balls in the hazard or because the balls are scuffed need to ensure that they only replace with the same model and style.
This is why professional golfers will carry about nine golf balls in their bag, but they are all the same make and model.
These players do not want to risk choosing the wrong ball and putting it into play in the middle of an event.
The one-ball rule really doesn't come into play during a casual round of golf.
In fact, during these casual rounds, many golfers will play with a few different types of golf balls to ensure they find a fit that is good for their game.
What Do You Need For 18 Holes?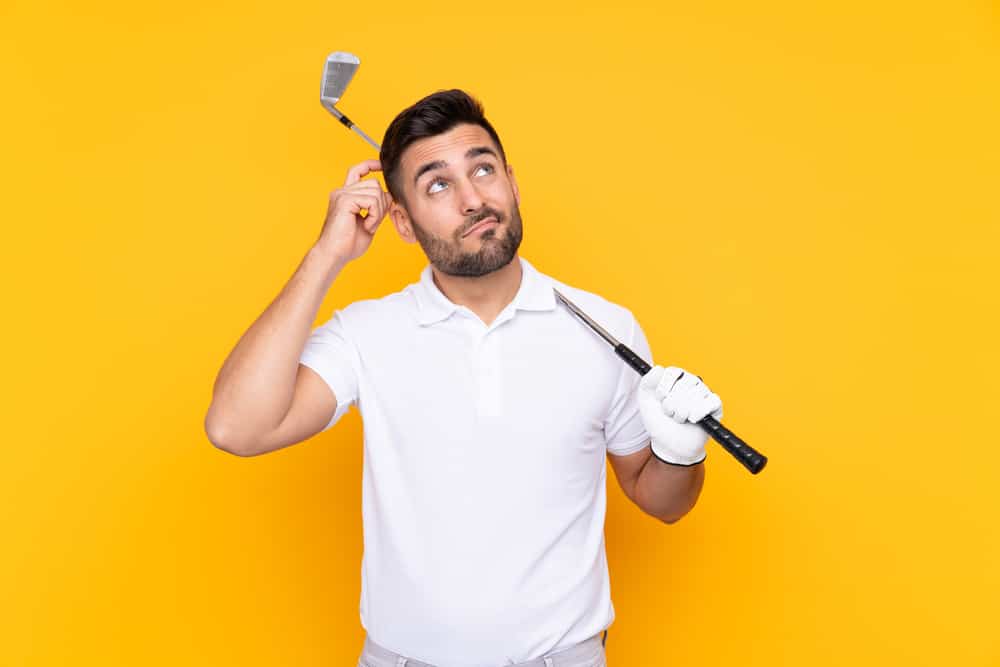 Now that you know how many golf balls you should carry for eighteen holes, you may be wondering what else is necessary for an 18-hole round.
Chances are you have some extra gear in your golf bag that you do not need.
However, there are some critical accessories and pieces of equipment that are also hard to go without.
Here are the things that all golfers need in their bags for 18 holes of golf.
1. Clubs
Callaway Golf Men's Strata Ultimate Complete Golf Set (16-Piece, Right Hand, Steel)
Most players need between ten and fourteen golf clubs in their bag to have a great round of golf.
The clubs should be a mix of irons and woods to ensure the variety of golf shots are available.
Finding the perfect combination of golf clubs is not tricky, but it should be something that players take time to consider and set up.
Loft gapping on modern-day sets takes some knowledge of equipment.
2. Headcovers
Bozily Golf Headcovers - French Bulldog Golf Club Covers for Woods and Driver
Headcovers are designed to protect golf clubs from damage that they may experience on the course.
Having headcovers on your drivers, woods, and hybrids is very important.
If you spend money on golf clubs that have premium performance and technology, it is a good idea to protect them.
3. Tees
Pride Professional Tee System, 3-1/4 inch ProLength Plus Tee, 135 count, White
Golfers will need a handful of tees with them for 18 holes.
Tees can and should be reused.
Most golfers will carry two different sizes of tees, one for the driver and one for the shorter holes where an iron is hit off the tee.
4. Golf Balls
Golf balls are essential to play the game, and most players will do well to keep about nine golf balls in their bag for a round.
If it is has been a long time since you cleaned out the bottom of your golf bag, take a look and get that worked out before your next round.
5. Towels
MOSUMI 3 Pack Golf Towel for Bags with Clip and Microfiber Waffle Pattern, Tri-fold Blue, Black and Gray
The towel is essential, even when the weather is perfect.
Being able to keep your hands dry and clean as well as your golf equipment is a major benefit of the golf towel.
Golf towels made with a cotton or microfiber material tend to hold up better over time.
6. Ball Marker
CUALFEC 6 Pack Golf Ball Line Drawing Marker Golf Ball Liner Golf Ball Marking Tool Kit - 2 Golf Ball Marking Stencils and 4 Color Markers
A ball marker allows you to mark your ball on the putting green, pick it up, and replace it in the same spot.
Golf ball markers are typically small and flat so that another golfer won't find them distracting.
7. Divot Repair Tool
Callaway 4-in-1 Golf Divot Repair Tool
A divot repair tool allows players to fix their pitch marks on the green.
With a divot repair tool, players can fix the mark quickly and ensure that there are no long-term issues on a putting green.
The sooner you fix a divot mark on the green, the faster it will heal and the better the course conditions for all players.
The combination of equipment you keep in your bag should work for your game and help ensure the golf course stays in excellent condition.