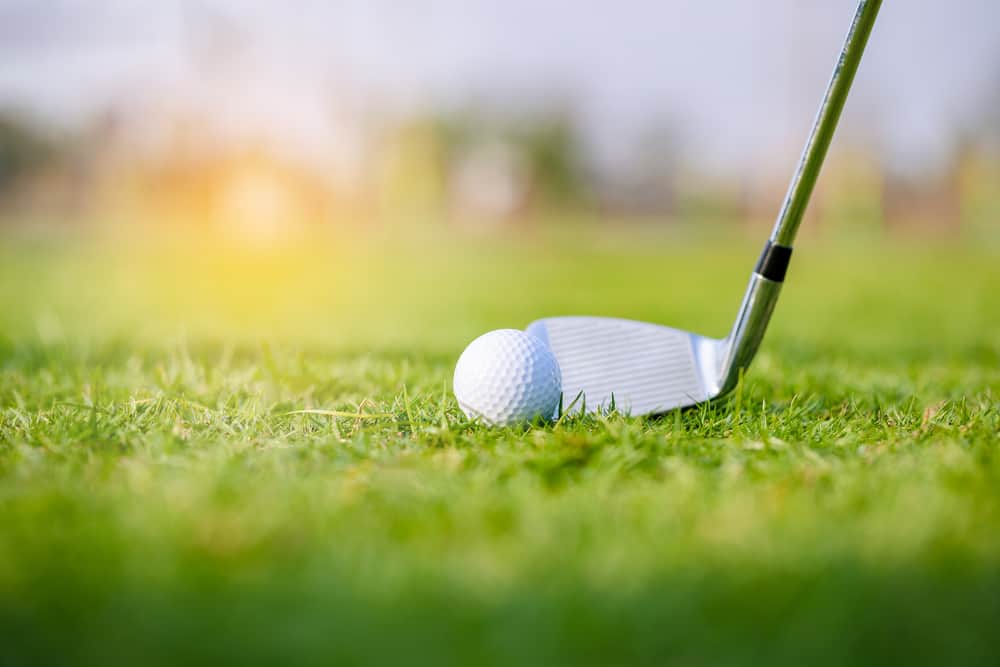 Hybrid irons are still quite popular.
More and more golf manufacturers are making their long irons look more like hybrid irons.
In addition, golf companies are releasing new sets of hybrid irons that will appeal to anyone who is looking for more forgiveness in their game.
The question that many golfers ask before they make the switch to hybrid is whether or not these clubs are actually that easy to hit.
The easier a club is to hit, the better the chance of getting the ball close to the target.
If you are on the fence about whether or not a hybrid iron is the right choice for you, we have all the answers you need.

Are Hybrid Irons Easier To Hit?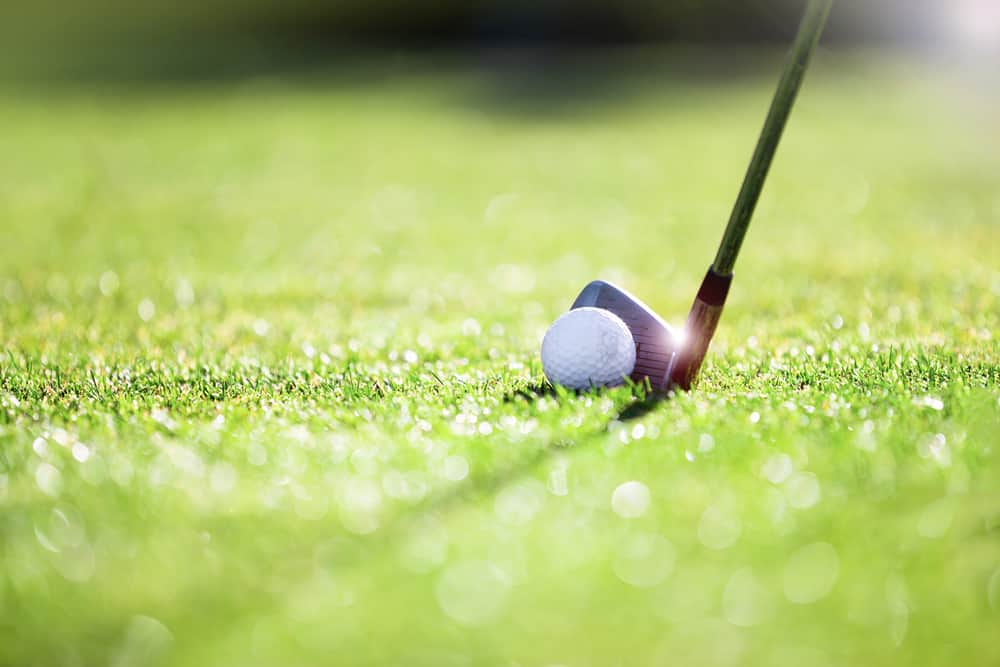 Hybrid irons are easier to hit for players looking for a high loft, longer distance, and more consistent turf interaction.
For players who are interested in hitting a draw or a fade or controlling the ball flight of their golf shots, the hybrid irons are not easier.
The key is that the hybrid makes certain aspects of the game easier for the golfer.
If those are the aspects that you are looking for, then you may benefit from switching to a golf club like this.
Benefits Of Hybrid Irons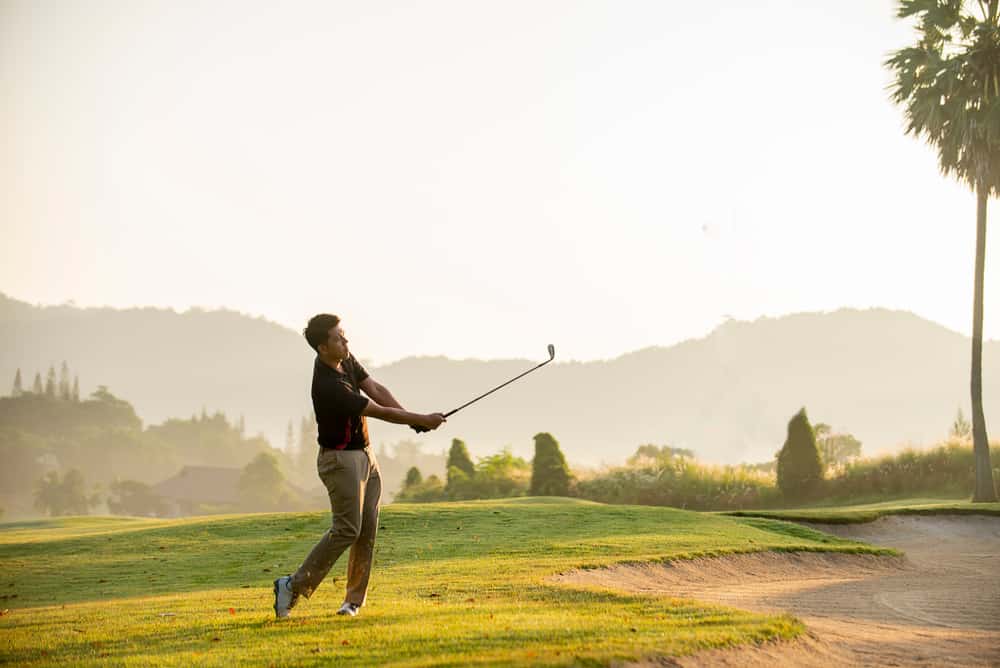 Hybrid golf irons have some impressive benefits.
Years ago, Cobra and TaylorMade dominated the market when it came to hybrid irons.
However, as the years have gone on, other companies like Cleveland and Titleist have come out with options for players who would like hybrids throughout their entire set of clubs.
Here are the benefits of hybrid irons and why they have grown in popularity.
1. Easy Out Of The Rough
Golf balls that are stuck in a deep rough are difficult to hit.
When you attempt to get a golf ball out of the rough, it typically gets stuck, shuts the club face down, and causes a decrease in total distance.
This is typical because the clubface of the iron shot does not do a good job of cutting through the rough.
Of course, this is one of the significant benefits of a hybrid, as it is considerably larger than the standard golf iron.
The bigger club head makes it much easier for the golf club to make it through a bad lie.
Players notice an increase in performance from the rough almost immediately.
Many players struggle with keeping a golf ball in the fairway, and the hybrid irons can really help to ensure this is not an issue.
2. High Launching
Another great benefit of a hybrid iron is that it is high launching.
The golf club has a heavier weight in the bottom, and this increases the ability many players have to hit down and through their golf shots.
With a higher launching hybrid, expect a golf shot that will have an easier time stopping on the green as well.
Even though hybrid clubs have long distances, they still tend to have the ball flight necessary to stop the golf shot on the green.
Hybrid irons almost always have a low center of gravity.
This center of gravity position increases the ball's flight as well.
Players that use hybrid irons typically play with graphite shafts.
The graphite shafts also make getting the ball higher in the air easier.
3. Increased Distance With A Center Strike
When you hit the center of a hybrid iron, expect that the distance is going to be quite good.
Unlike the face of an iron, the face of a hybrid golf club is typically made of a titanium-type material, and it will allow for a jump in speed.
Players who are interested in increased yardage will be able to benefit from having a club like this in the bag.
When you compare something like a five hybrid to that of a five iron, the faster ball speed from the five hybrid typically wins each time.
Once players can hit a hybrid iron, they tend to understand the feel and the way the club feels in the swing.
When you get this technique down and become comfortable with a hybrid iron, the total distance is usually quite impressive.
4. More Clubhead Speed
One of the main reasons behind getting more distance in your golf shots is increased clubhead speed.
The faster you can swing a golf club, the further it will go.
Increased clubhead speed results in more distance every time.
Therefore, it's important to remember that for players who need distance, the hybrid irons are often the best fit.
Increasing clubhead speed by becoming stronger and making your golf swing more efficient is also an option, but increased use of the proper equipment is just as easy to accomplish.
Who Should Use Hybrid Irons?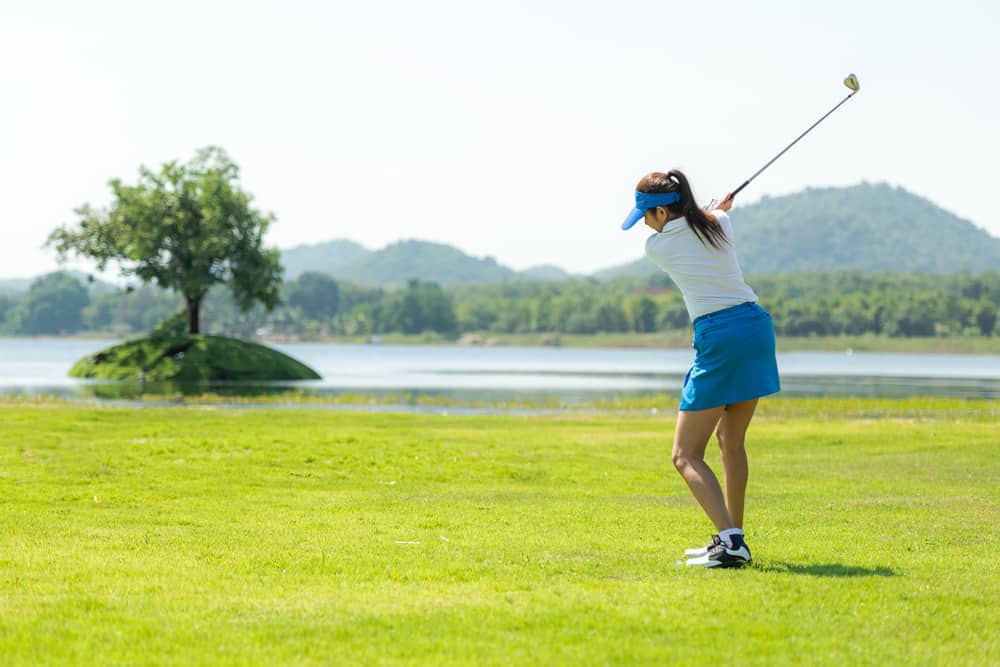 Hybrid irons are best for slower swing speeds, mid to high handicappers, beginners, and golfers looking for simpler performance on the golf course.
Of course, in golf, nothing is stopping you from using any type of golf iron you would like.
However, these golfers will benefit the most.
1. Slower Swing Speeds
The slower swing speeds of a golfer can make it hard to hit consistent iron shots.
Players who have a slow swing speed are often struggling from a distance perspective as well as forgiveness.
Irons tend to be much heavier than hybrids and fairway woods.
Therefore, golfers who have slower swing speeds are slowed down even more simply by the weight of the golf club.
To avoid this, players must consider a more lightweight club that still forces the clubhead into the ground for clean turf interaction.
That is the hybrid iron.
Slower swing speeds are really able to benefit from the hybrids in the shorter irons as well.
In a standard golf club set, the pitching wedge, gap wedge, sand wedge, and lob wedge are typically quite heavy.
The heavy weight in the club head improves spin and control of the shots.
However, when you switch to a hybrid iron, you will notice that the lighter weight increases clubhead speed and consistency for the slower swinging golfer.
2. High Handicappers
High handicappers often have a hard time getting the golf ball in the fairway.
When you struggle to get the golf ball in play off the tee, it then becomes difficult to get it close to the pin.
This is where it makes sense for high handicappers to choose the hybrid club.
With more of the shots being hit from the rough, it is considerably easier to get the shots close to the pin and improve overall accuracy and distance on the course.
High handicappers will also find that an improved center of gravity and increased total distance help their game.
3. Beginners
The game of golf is one of the hardest to start playing.
When you are new to golf, expect to have a challenging time getting the ball to do what you want it to do.
The golf swing is incredibly inconsistent for the first few years that a player is in the game.
Once you have increased your ability to make a solid strike, it becomes considerably easier to play great golf.
Many beginner players feel as though the hybrid irons can help them make the contact they want with the golf ball.
Most of the hybrid iron sets on the market are geared toward beginner players.
The clubs are made with the optimal weighting and technology to benefit a golfer who needs forgiveness over a player who is looking for precision and control.
4. Golfers Searching For Forgiveness
Regardless of your handicap or your history in the game, if you are searching for forgiveness in your golf swing, the hybrid ions can benefit you greatly.
Some players want to find forgiveness in their golf game by practicing and working on new techniques.
Others simply want to put a club in their hands that is easier to hit.
If this describes you, then you will love what the hybrid irons offer.
This is a simple and quick solution to hitting more consistent iron shots.
Some golfers will replace all of their irons with a hybrid, and others will just work on the longer irons being replaced.
Companies like Cobra and Callaway regularly sell their hybrids in 6 and 7-iron lofts now to accommodate the player that knows this added forgiveness is necessary.
Do Any Pros Use Hybrid Irons?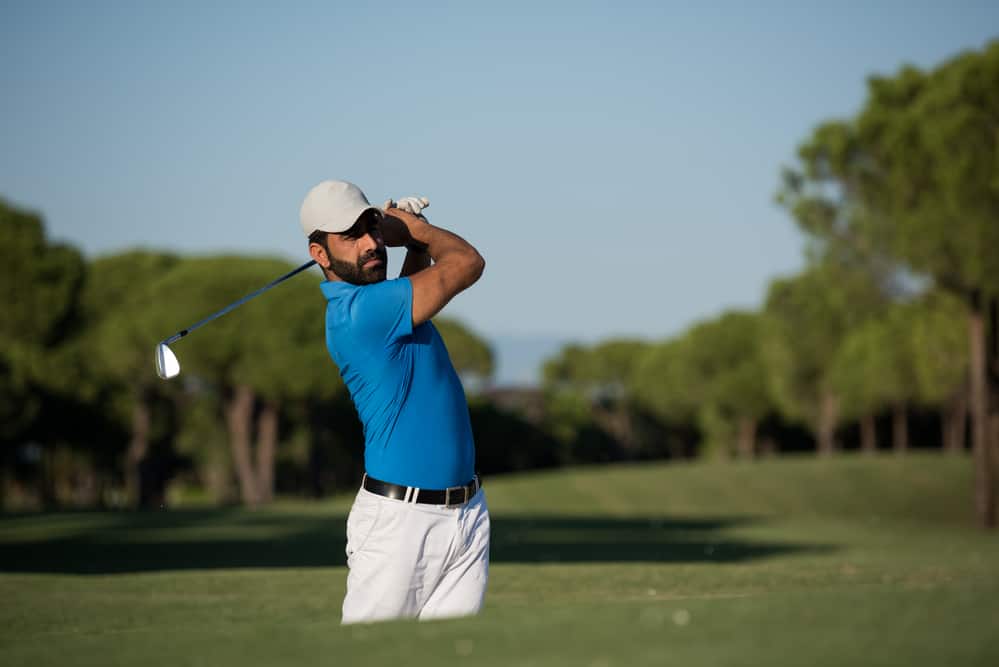 Professional golfers will sometimes keep a 2, 3, or 4 iron hybrid in their bag.
Anything more than 3 iron hybrids is pretty rare.
The reason here is that professional golfers need to worry about precision and accuracy more than anything else.
These golfers know how to make solid and consistent contact with the ball.
The trouble for them is getting the shots to land as close to the pin as possible.
It's easier to attack a pin with an iron in your hand than any type of wood or hybrid.
Some professional golfers will use a utility iron or driving iron in the 2 or 3 iron loft to help them bridge the gap to their 3 wood.
It's rare to see a player using a forgiving game improvement iron. It simply doesn't offer the type of performance these golfers need.
Do You Hit Hybrids Like Irons Or Woods?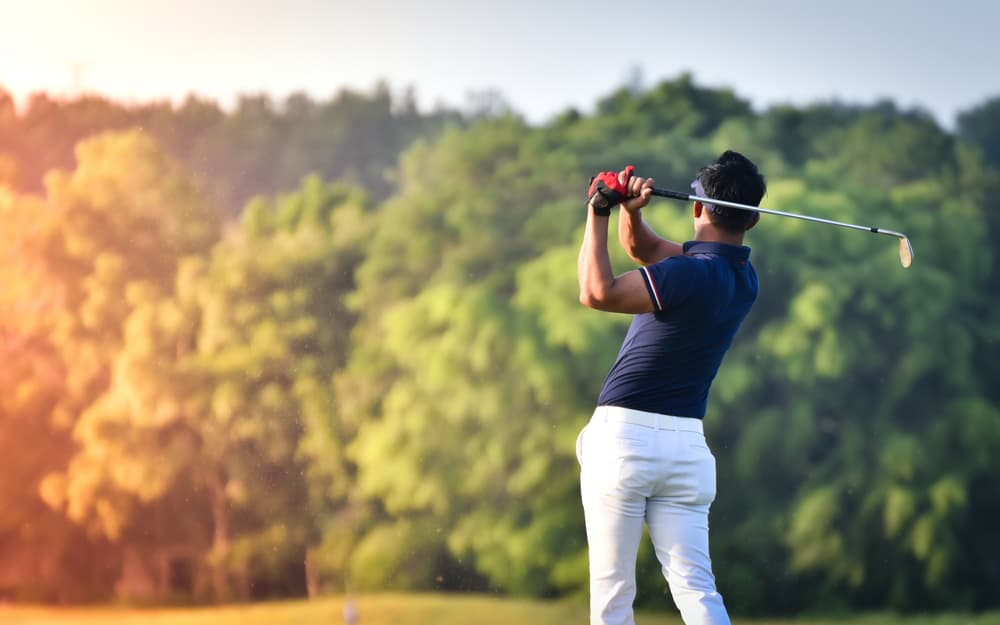 The hybrid iron should be hit more like an iron.
It's best to take a small divot with the club to ensure that you are getting the best spin rate and total distance.
When you don't take the divot, it's difficult to get the total distance and ball flight you are looking for.
When you swing a hybrid iron more like a wood, the result is typically more of a line drive type shot that is difficult to stop on the greens.
Should I Replace My 6 Iron With A Hybrid?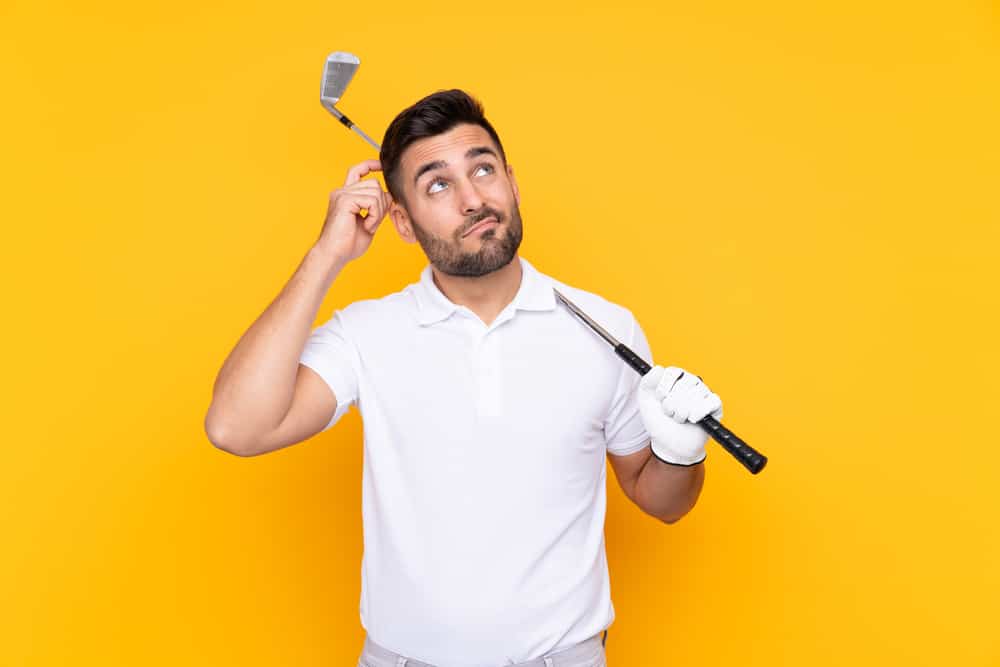 Many golfers are finding that replacing their longer irons with a hybrid is giving them more confidence in their long game.
Test out a 6 iron hybrid and see how far you hit it compared to your current 6 iron.
In addition, check the dispersion rates and see which one you are hitting straighter.
Straight shots are just as important as long golf shots.
Conclusion
We hope you now feel a bit more confident in knowing that hybrid irons are easier to hit.
However, even though they are easier to hit, they are not necessarily the best club choice for all players.
Easier in golf means that you can hit the ball straighter and potentially even be more consistent.
However, easier does not always mean more precise.
Instead, you will need to work on a mix of golf irons that help you find the perfect balance of precision, forgiveness, and distance.
For more and more golfers, this means increasing the number of hybrids in the bag.