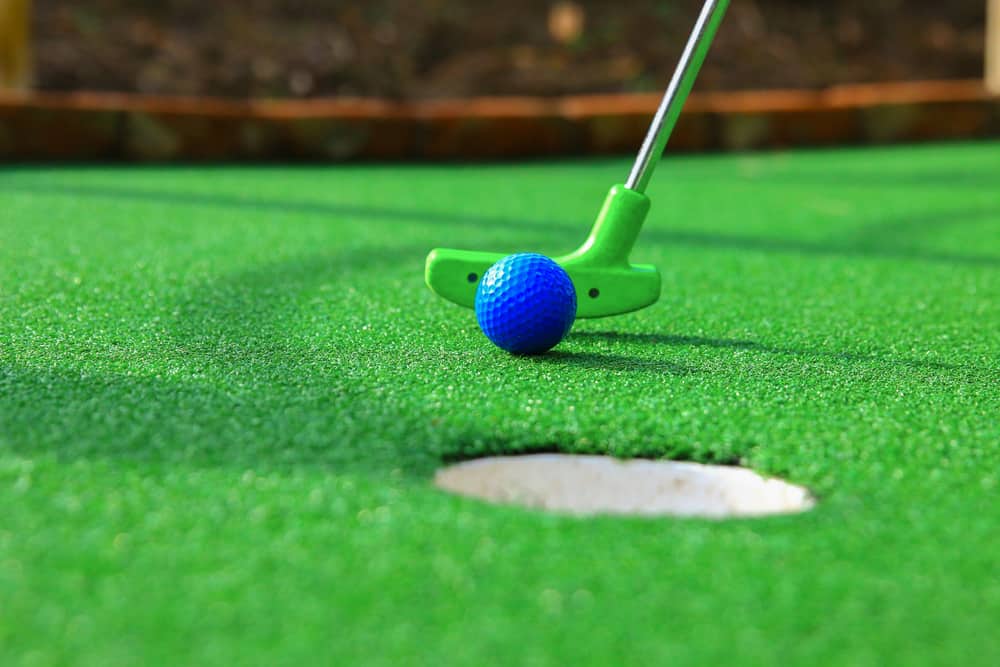 Whether or not you are a golfer, playing putt putt is quite a bit of fun.
Even those who are serious about golf can admit that a round of miniature golf or putt putt is a way to take their mind off of the game and enjoy it.
There are putt putt golf courses all over the country, and they can be very popular places for events, gatherings, and a weekend full of fun.
If you are curious how long putt putt will take you the next time you head out to the course, we have the answers for you.

How Long Does It Take to Play Putt Putt?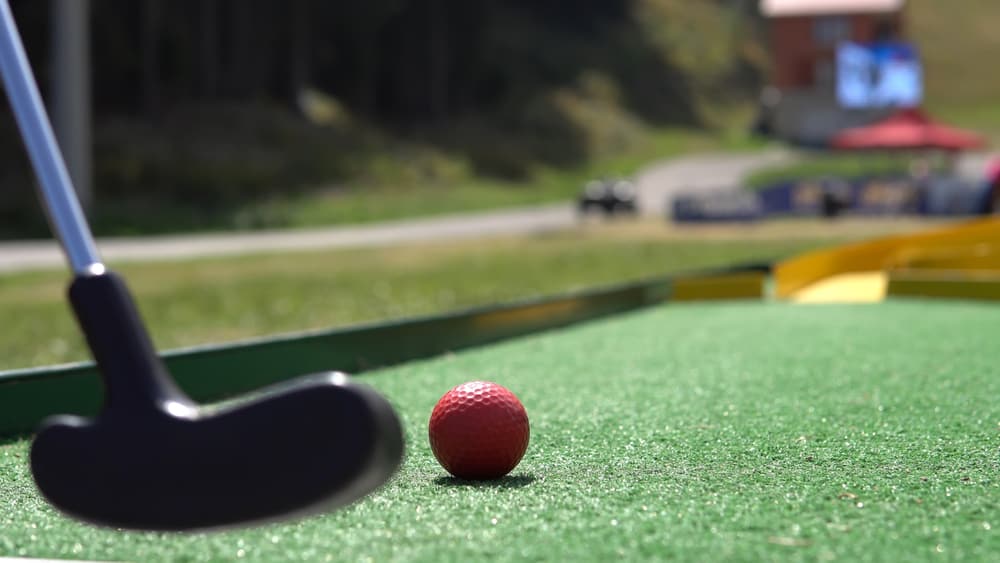 It will take about 45 minutes to play an 18-hole putt putt golf course.
There are a few factors that are going to impact this time.
If you are in a hurry and need to play quicker, see if there is more than one course and one has fewer people on it.
There are usually options for playing nine holes if you feel the 18 is out of your range.
Here are some of the factors that could affect your playing time and what you can do to help speed along with your putt putt round.
Factors that Impact Length of Putt Putt Round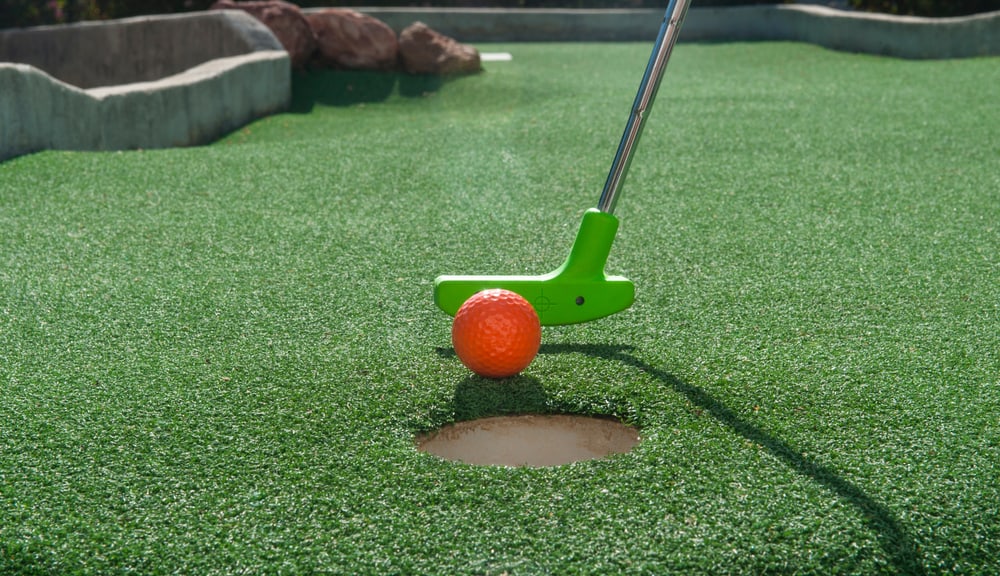 The pace of play at most putt putt courses is going to vary from day to day.
It is rare to find a place that will keep the same pace of play all week long and all year long.
There are, however, a few factors that you can use to help you determine how long your putt putt round is going to be.
Understanding these factors prior to heading out to the golf course will make it easier for you to adjust your schedule accordingly.
1. Number of Courses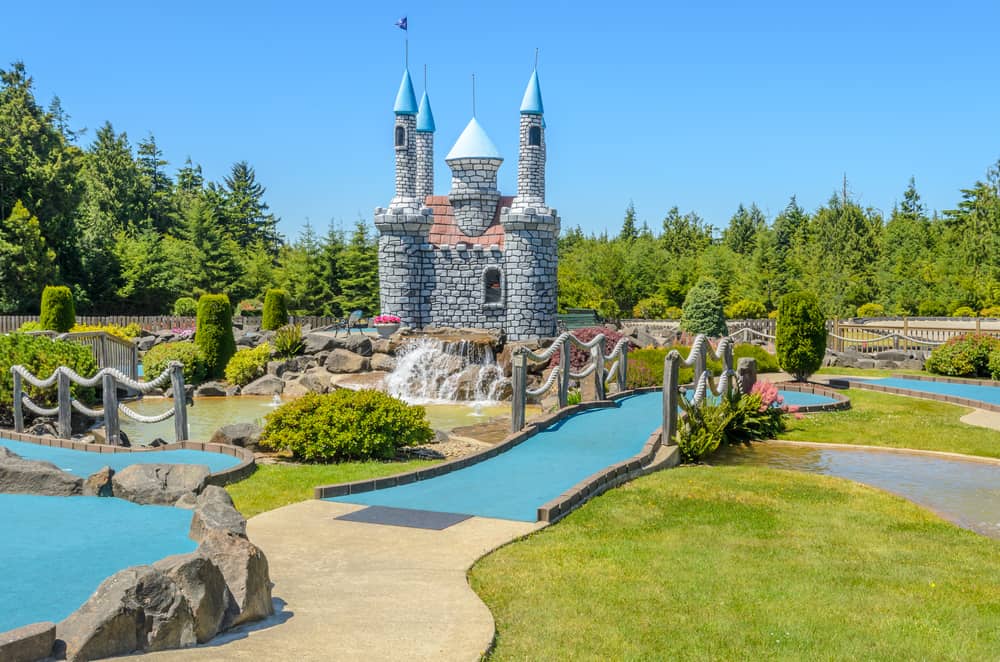 Some miniature golf facilities will have one 18-hole course.
This can make it a bit difficult for those looking to get out for a quick round.
There are, however, other places that have two or three courses.
When a facility has more than one golf course, they can send people out at different locations and times, and it helps to keep the pace of play moving along.
If you are in a hurry to play, be sure to ask the employees which course has the fewest people on it.
Typically, they will have a good understanding of which course moves faster and will get you through your round quicker.
On the flip side, if you are playing with several young children and you think your round is going to be slow, alert them to this fact so that you don't hold up other golfers.
The idea of putt putt is to have fun on the course, and when you have people behind you who are trying to get through you, it's hard to have quite as much fun.
2. Time of Day/Day of Week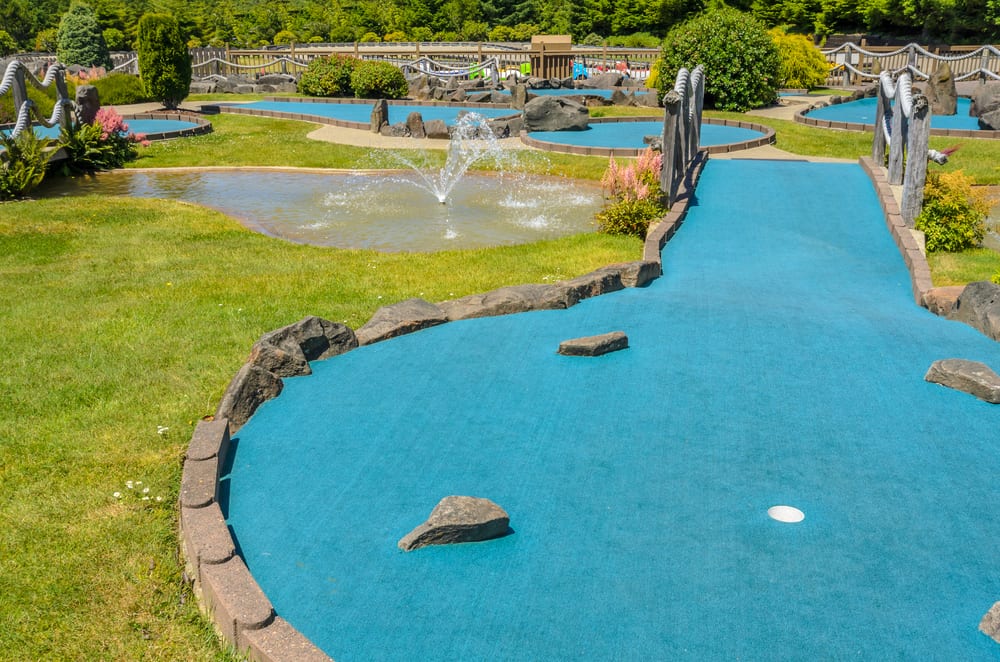 Be mindful that the day of the week and the time of the day are going to impact the length of your round.
As you may imagine, playing putt putt on a Tuesday morning is going to be quite a bit quieter and faster than a Saturday afternoon.
If you want to go at a time when your pace of play will be faster, choose a time when people are at work and children are in school.
Of course, there are always those who are on vacation or have the day off, but the crowds certainly will not be as large as prime times.
If you call the miniature golf course ahead of time, chances are they have specials during these non-peak times to help generate some extra revenue.
Take advantage of these specials to get better value for your rounds.
3. Difficulty of the Course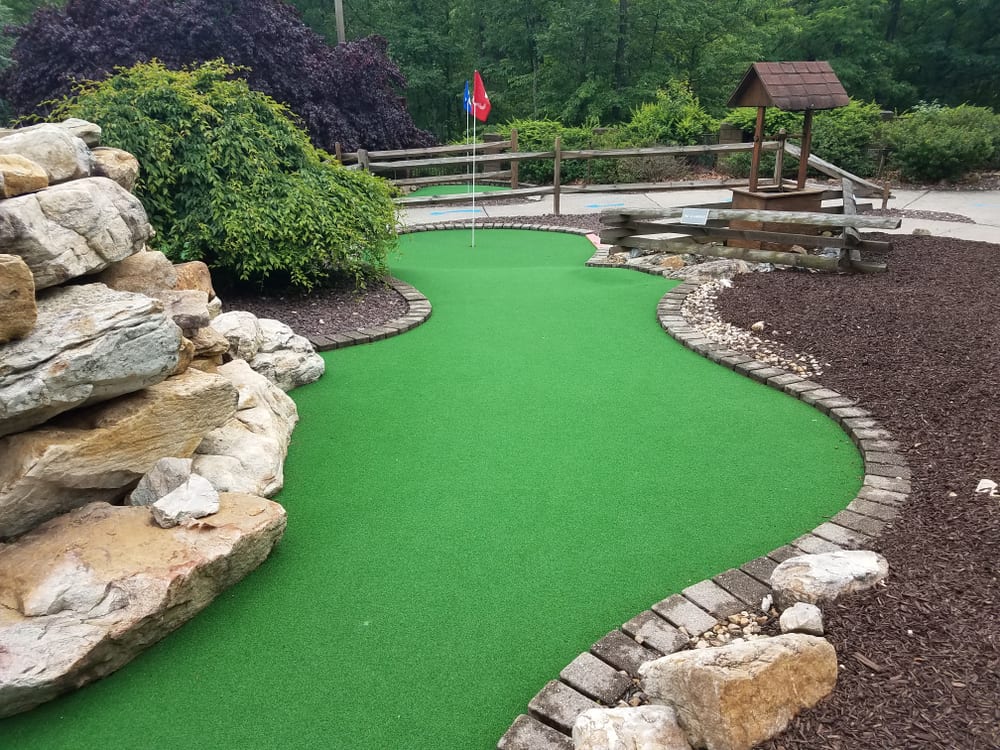 Just like traditional golf courses, miniature golf courses are not all the same.
In fact, part of the appeal and the fun of the putt putt courses is that they are unique and interesting to play.
If you have played some putt putt, you know that the courses will either have very simple holes with few hazards, or they will be quite a bit more difficult.
Some courses will have bridges and other features that people have to putt over.
If you end up hitting a bad putt, there is a chance that your ball could end up in the water or even at another hole.
If you have to do a lot of chasing of your golf ball to be able to keep it in play, chances are it will take a bit longer to get your round completed.
The thing about putt putt courses and their difficulty is that the more difficult courses are also more interesting.
Even if you are struggling because you can't get the ball up the hill or down the right tunnel, the course becomes quite a bit more fun and enjoyable.
This factor should always be considered when you choose which miniature golf course you are going to play that day.
Try and see what options are out there and enjoy the more complex designs.
4. Number of People on Course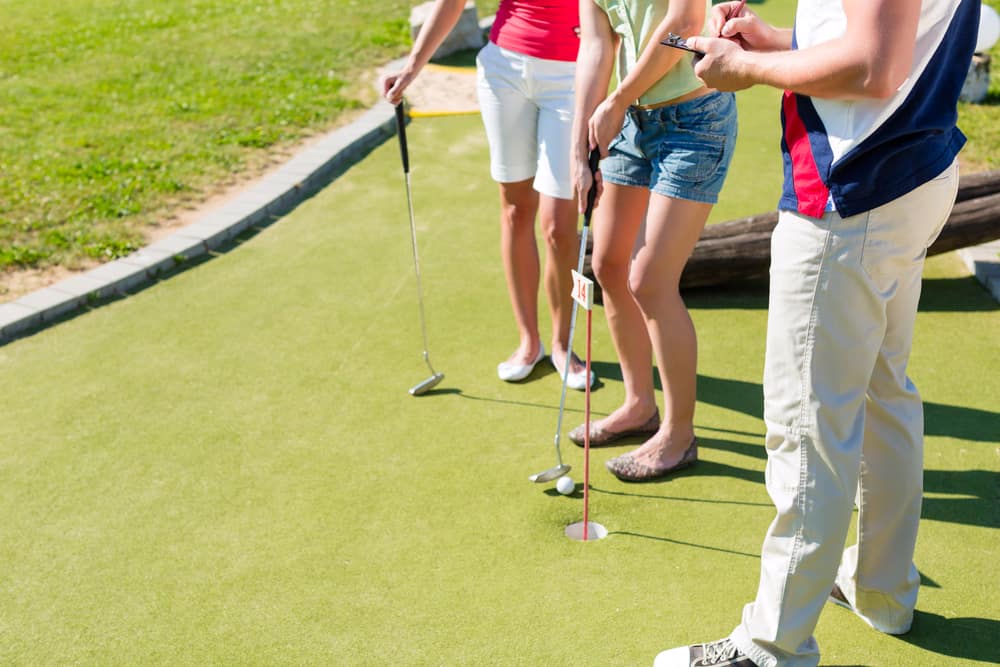 Just like a traditional golf course, a miniature golf course can only hold so many people.
Some groups will go out as a twosome and others as a foursome.
Some putt putt golf courses do not have a limit as to how many players can be in a group.
This means that you could end up with a family of six people in front of you, and that is considered acceptable.
The number of people on the course will significantly impact how long it takes to play putt putt.
As you can imagine, each hole can only accommodate one group at a time.
After you finish a hole, if the hole in front of you is occupied, you will be left with a wait before starting the next hole.
The playing and waiting routine can get a bit old and frustrating.
This can make you realize the importance of finding a better time to head to the course.
5. Number of People in Your Group
The number of people in your group will impact how long your putt putt round will take.
Two people can often get around the course relatively quickly, especially if there is no one in front of them.
However, when you have a group of five or six people and none of them have played any type of golf in the past, get ready for a long day!
Even though putt putt is quite a bit simpler than traditional golf, you still need to have a certain level of skill to compete.
The more people in your group, the more you should watch for other people behind you to make sure you are not holding them up.
The last thing you want to do is cause someone else a long round because you are not in a rush.
There is always the option of letting people play through, and it's one that should be considered.
6. Skill Levels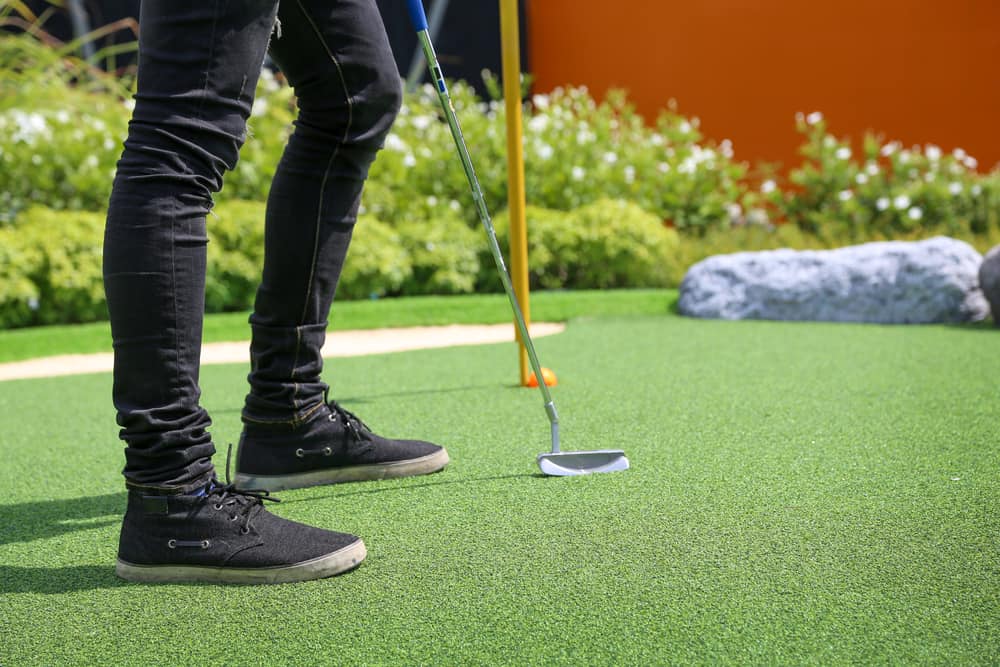 Putt putt golfers have various skill levels.
Since playing putt putt is not nearly the same thing as playing the game of golf, many people decide to take up this hobby.
There could be someone in a group who is a scratch player and excellent at putt putt, or there could be a three-year-old who is out to play for the first time.
Skill levels will impact how long it takes to play putt putt, but that is also part of the fun of the game.
Since golfers can play the course regardless of their abilities, they have an equal opportunity to enjoy it.
If your skill level is not quite as good as some of the other people around you, try to be mindful of where golfers are and whether you should let them play through.
If the course in front of you is wide open and you have a group waiting behind you, talk to them about it and explain that they can make their way through your group.
Although letting a group play through means that you will have to wait for a minute or two, you will have less stress for the remainder of your round.
Knowing a group is no longer waiting on you can make the rest of the round quite a bit more fun.
Are Putt Putt and Miniature golf the Same?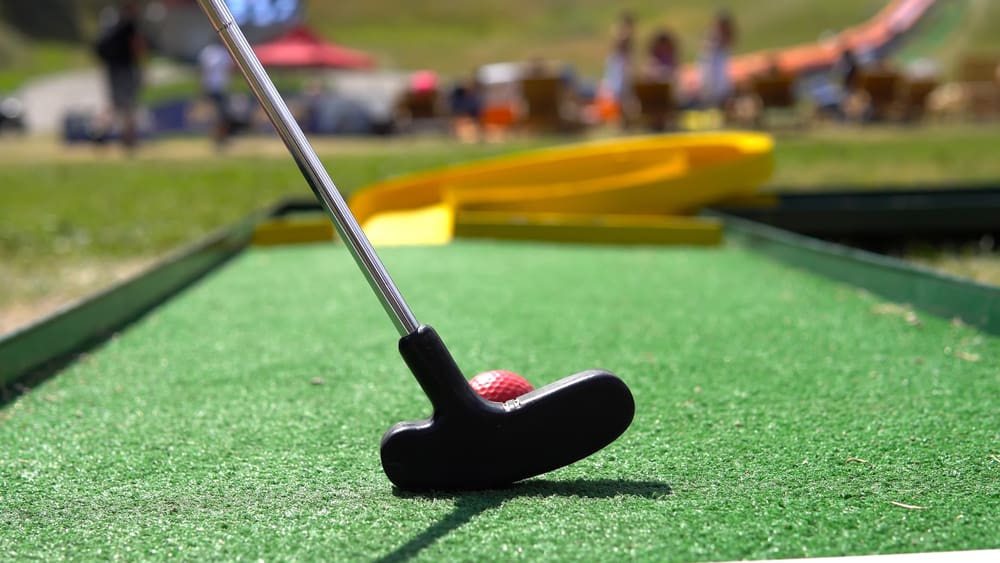 Through the years, the terms putt putt and miniature golf have come to be thought of as interchangeable.
However, there is a slight difference between these two games.
When playing putt putt, golfers typically only have a par of two for each hole they play.
Golfers will step up to the tee and see if they can get the ball in the hole in two putts or less.
The holes are typically a bit shorter, and the ability to make a two on a hole is rather apparent.
With the popularity of putt putt and the imagination of some great miniature golf course designers, miniature golf is a bit more involved.
With miniature golf, you will have pars that range from two to about six.
These are holes that have bridges, towers, windmills, and more.
The holes will wind around and back through previous holes to make it so that you will need four, five, or six putts just to get the ball in the hole.
With most golfers thinking that miniature golf and putt putt are the same, it will be hard to tell which type of course you are playing just by the name someone calls it.
If a friend asks you to play putt putt, chances are they could be talking about either putt putt or miniature golf.
There is no question that both games are fun and easy for the average person to pick up and try at any time.
Conclusion
Playing putt putt or miniature golf on a vacation or for a Saturday afternoon full of fun can be a really great way to pass time.
Whether you are serious about golf or just want to try out a new hobby, you will find that miniature golf is a good fit.
There are some putt putt golfers who have learned how to play courses very well.
Most of the putting surfaces at these putt putt golf courses will roll rather true, and it can be a fun way to practice your game off the course.
If pace of play on the putt putt golf course concerns you, don't be afraid to call the course ahead of time and ask about availability.
If they tell you that the courses are wide open, it certainly makes sense to head on over to enjoy your round.
The best thing about putt putt is that people of any age can play together, and for the most part, they will be done in 30 to 45 minutes.