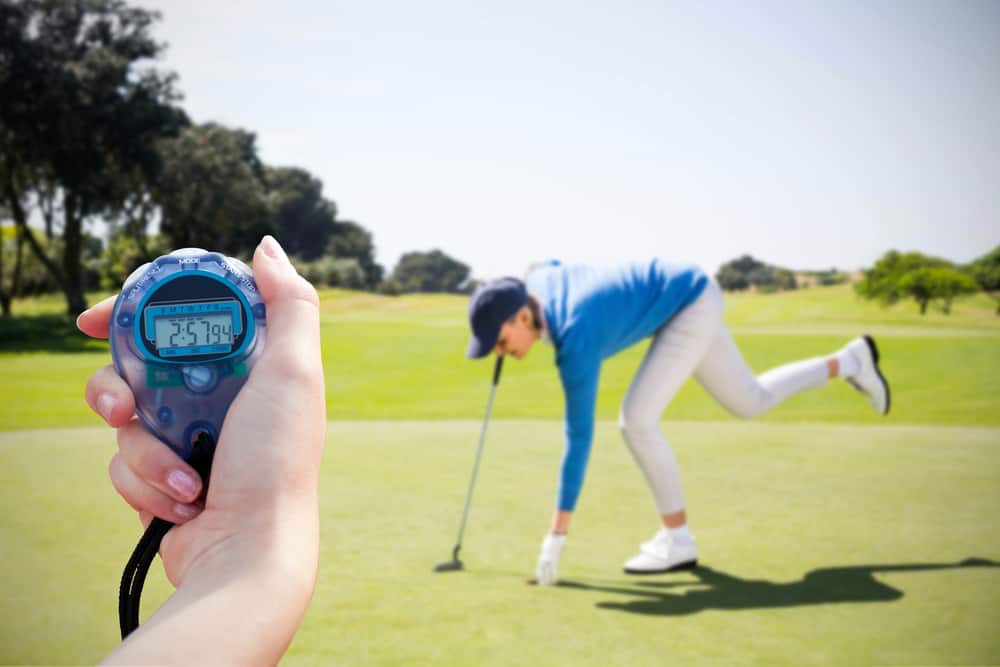 If you have been looking for a new set of golf clubs, you will often see that a question asked to help narrow down your choices is your swing speed.
If you don't know your swing speed, you may not know which shaft to choose in your irons.
Getting a golf club with the right shaft is essential.
Golf swing speeds can change based on the way you are swinging and your personal strength.
It's a good idea to have a device that helps you keep a better handle on your swing speed.
You will want to be able to check your swing speed often to see if there are changes and updates.
A golf club speed measuring device is the best way to get this done.
Some of these models are going to be full launch monitors, and others will simply give you the speed of your club.
Here are five devices to try if you are looking for a few more statistics in your game.

Golf Club Speed Measuring Devices (5 To Try)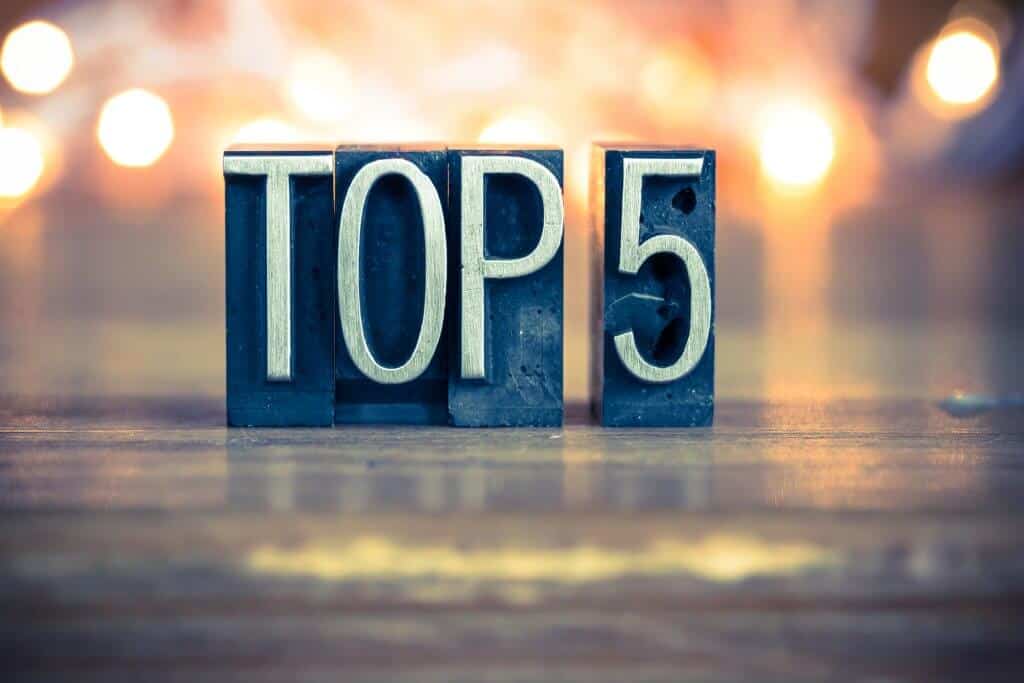 1. Voice Caddie SC 200 Portable Golf Launch Monitor With Audible Output, Blue
Key Features
Different modes
Full launch monitor
Will read you the results
The Voice Caddie brand makes a variety of launch monitors and voice-activated golf devices.
Overall, the company incorporates some of the latest technologies, and they are known for being accurate and high quality.
The Voice Caddie SC is one of our favorite devices for measuring golf club speed.
This is a launch monitor that will give you more information than just your swing speed, but the price on the Voice Caddie SC is much more affordable than other launch monitors on the market.
There are three different modes to help you get the most out of a Voice Caddie model.
Practice mode allows you to get your distance and speed, and it will keep displaying the information for you without you having to reset the monitor.
There is also a remote control if you don't want to bend down and adjust the monitor manually.
The target mode is almost like a game that you can practice with.
Simply give the launch monitor some information about the target that you are shooting to, and it will determine how close you get to the target.
The Voice Caddie will let you know how close you are and then rate you on a scale of one to ten.
This is an excellent option for those who are learning to take their golf game to the next level and narrow in on a target.
The last mode is the random mode.
The random mode is our favorite option because it really gives you a better idea of what the actual golf course conditions can be like.
With random mode, there are random target distances, and you will have to change up the club you are using to ensure that you can hit your target.
Practicing in this way can really help you take your game to the next level.
Any time a golf club speed measuring device can also work as a practice partner, you are certainly going to enjoy the benefits and see the value in the product.
Overall, the Voice Caddie is a smart purchase that will help you understand so much more about your game and the things you can do to improve.
If you are ready to start enjoying your golf game and working towards becoming a better player, think about adding the Voice Caddie to your equipment.
Pros
Easy to operate
It comes with a remote control
Has a few different practice modes
Will not take long to setup
Cons
Priced a bit higher than a club speed measuring device that only measures speed
2. Sports Sensors, Inc Swing Speed Radar Blue
Key Features
It can be used for a variety of sports
Range is 20 to 200 miles per hour
Battery powered and easy to set up
One of the problems you will find with club speed measuring devices is that the pricing tends to get a bit high.
Sometimes the models that come with all of the extra features for measuring launch and distance will add up in price rather quickly.
The Sports Sensors Swing Speed Radar helps give you a very accurate measure of your swing speed.
It is a simple model to use, and you can set it up within a matter of minutes.
The swing speeds are going to range in measurement from 20 to 200 miles per hour.
This is the perfect amount for a golfer that needs clubhead speed on the irons and the driver speed.
The Sports Sensors Swing Speed Radar is simply placed a few inches away from the golf tee, and you take your typical swing.
With the lower price on this model, you can't expect to get too much functionality when it comes to the recording of these numbers and the keeping of your swing data.
However, you will find this to be a quality machine, overall, with simple results.
Pros
Put right next to your tee and start using
Works well for both golf and baseball
Simply insert a few batteries, and you are ready to go
Cons
Does not give you a lot of other data
3. PRGR Black Pocket Launch Monitor (Newest Model)
No products found.
Key Features
Very accurate because of Doppler radar
Been making products for many years
Can use for a variety of sports
The PRGR is one of the most talked-about launch monitors and club speed measuring devices on the market right now.
With the PRGR, you are going to get tremendous accuracy, and you can fit this model in your pocket to take you from one practice session to the golf course.
Although this PRGR model may seem as though it has some basic functionality, it actually has all you could ever need when it comes to clubhead speed measurements.
You won't need Wi-Fi or apps to get this to work, which makes it a perfect choice for those who like to disconnect when out on the course.
Many people enjoy a game of golf because it can help to give you a break from your phone and the internet.
Unfortunately, many of the golf club measuring devices are going to require you to connect to an app on your phone and still be looking at it the entire time you play.
The PRGR will give you your swing speed, ball speed, carry distance, total distance, and your smash factor.
This information can also be determined if you switch to tennis, soccer, or baseball.
The main benefit that most golfers love with the PRGR is the hands-off ability of this club speed measuring device.
You can really just set it up on the range and just capture all of your shots without you having to do anything.
In addition, the setup of a launch monitor like this can often take a long time to get perfect.
You will end up fiddling with the setup and the angles, so some launch monitors like this will be frustrating and not worth your time.
However, the PRGR makes things simple and very easy to work with.
Lastly, just because you may not have heard about the PRGR brand should not make you leery about purchasing from them.
The PRGR products have been on the market for more than 40 years across various industries.
The company stands behind its products, and it even comes with a one-year warranty.
Pros
Measures total distance and speeds
Can use for other sports
Easy to use and continually takes measurements
Cons
Won't record your past swing speeds
4. Supido Multi Sports Personal Speed Radar Precision Training Instrument
Key Features
Lightweight and durable
Can measure from far away
Large easy to read screen
If you have ever seen a radar on the side of the road letting you know the speed of your vehicle, this is a very similar device.
With the Supido personal speed radar, you will have hands-free operation and very accurate measurements.
As long as your speed is between 25 and 150 mph, this model will give you the exact measurements and information that you need for your game.
Our favorite feature of the Supido is that you can look down and have no issues seeing your exact speed.
The speed measuring device does not require you to have a friend nearby to help with the measurement.
Simply place it down, take your swing and look down to see how fast you are.
Another great feature of the Supido is that you won't have to place it very close to your golf ball.
Some people get nervous with these launch monitors and how close they need to be placed to the golf ball that you are hitting.
If your swing can be a bit unpredictable, this may be setting you up for a disaster on the range.
However, the Supido will be able to detect your speed from nine meters away.
We don't recommend putting the Supido that far away as it could decrease the accuracy, but this is a nice feature for the speed measuring device to have.
If you want to take advantage of the technology, you can also have the speed read out loud to you after your swing.
After you take your golf swing, simply ask what your speed was, and the Supido will read it for you.
This is a nice feature, but truthfully with the bright and easy-to-read screen, you will easily be able to tell what your golf club swing speed is.
Pros
Easy to read
Can set up quickly
Does not need to be right next to the golf ball when you swing
Cons
Not entirely as accurate as some precise launch monitors
5. FlightScope Mevo – Portable Personal Launch Monitor For Golf
Key Features
Accurate measurements
Lightweight and portable
Can be used both indoors and outdoors
Last on our list is a more complete portable personal launch monitor.
With this model, you are going to be able to measure and get all kinds of data on your swing.
This is an option that is going to work in conjunction with an app on your phone.
The phone will give you more details about what your stats look like and how to evaluate them.
The FlightScope Mevo helps you both indoors and outdoors.
This is something that is important to consider if you are going through a long winter break and you still want to work on your game.
The measurements that you will get with the FlightScope Mevo include carrying distance, clubhead speed, ball speed, spin, and even flight time.
Certainly, this model gives you more information than any other club speed measuring device on our list.
You have to decide as a golfer if these types of measurements matter to you or if you are just looking to get your club speed.
Chances are if you want your club speed you are starting to take a greater interest in your abilities in your golf game and how that relates to the equipment that you play with.
FLightScope Mevo is a great option to go in on with friends.
Chances are you are not going to need this monitor each time you head to the practice green.
Instead, you can split the cost with a few friends and pass the launch monitor around between all of you.
One other feature that is worth mentioning is the ability of the Flightscope to capture video.
When you look at the statistics that were captured on your phone or device you will see there are also videos of your swing.
You can use these in combination with the data to determine which swing movements and theories are going to work best for your golf game.
Start practicing with a better idea of what you are doing and help get your game to the next level.
Pros
Helps you practice while getting accurate results
Ability to capture video
Can use this both indoors and outdoors
Cons
The most expensive option on our list
Conclusion
The golf club speed measuring devices are a great choice for players who are looking to learn a bit more about their game.
Each of the options on our list is known for its quality and accuracy.
It really doesn't matter if you are trying to search for a new driver shaft or simply work on increasing speed, the club speed measuring devices can help.
Keep in mind that the more time you spend working on increasing the speed, the more it will help you get distance on the course.