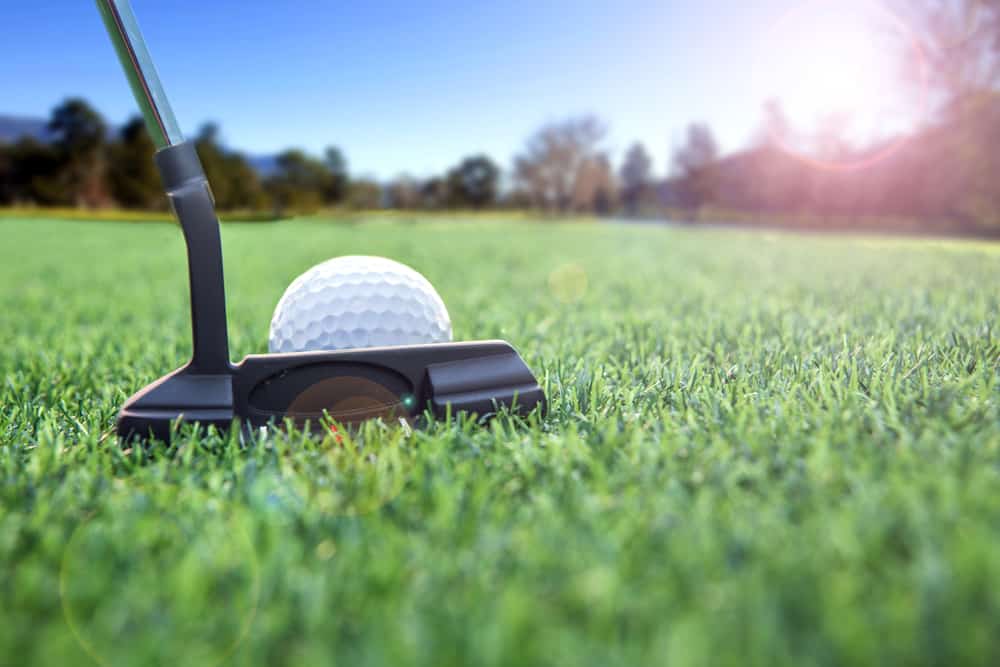 Your golf putter is the most important golf club that you have in your bag.
The golf putter can help make or break your day on the golf course.
More and more golfers are starting to realize that they need to pay a bit more attention to the putter they put in their bags.
Since you have to use this club on every hole, you will need to ensure that you have confidence in your putter.
There are lots of custom putters out on the market that are worth considering if you are in the market for a golf putter.
Here are 15 that you should know about.

Best Custom Putters (15 You Should Know About)
1. Piretti Golf
As you will quickly learn, it is a bit easier to make a custom putter than some of the other custom golf clubs on the market.
Piretti Golf started back in 2008, and their goal was to make some of the best custom fitted golf putters on the market.
These Piretti putters are milled, and they tend to be quite a bit heavier than the other putters you can find.
The heavy design helps to ensure that this putter will be a better choice for the golfer who plays on fast greens.
One of the main benefits of a Piretti golf putter is that it is known for being smooth and accurate.
Another great thing about Piretti is the quality.
Since this putter is made with very tight tolerances using a CNC machine, this is one of the best options that you can find on the market.
Another great thing about Piretti putters is that they make them with 2.5 degrees of loft.
With 2.5 degrees of loft, you can ensure that your putt will stay nice and low along the ground and will not get off track in any way.
2. Argolf Putters
The Argolf putters are not just about performance.
With these putters, you can get customization that works for your personality and style as well as for your golf game.
When you go to the Argolf website, you can choose one of their milled putters and start to customize it.
When you are customizing the putter, you can get very detailed in how you would like the putter to come out.
The team at Argolf will reach out to you and talk to you about the details and colors that you want on your golf clubs.
The Argolf brand makes each putter specific to your preferences and gives you updates on the process as they are completing the putter.
Overall, this is an option that is going to stand out to those who are worried about how the putter looks as much as anything else.
3. Black Lab Golf
Black Lab Golf is a smaller custom putter company located in Savannah, GA.
When the founder of Black Lab Golf started making custom clubs, he realized what a market there was for custom putters.
The putters that you get from Black Lab golf can come in a few different models, and you can get them custom-fitted in any way that you want.
The Black Lab Golf putters tend to look just like other high-end putters on the market.
We see a lot of resemblance to the Scotty Cameron putters and the Odyssey as well.
There is no question that this is going to be a personalized and unique finished product for the serious golfer.
Black Lab Golf is a smaller company, and that is one of the reasons that we like it so much.
Ensuring that your putter needs are taken care of and kept at the forefront of the building process is essential.
As we know, custom putters are not cheap, so it makes sense to get one that you will keep forever.
4. Bettinardi
Some golf companies will only manufacture custom putters, and others will put lots of options out on the market with the added benefit of customization if you are interested.
Bettinardi is an impressive golf club manufacturer that makes PGA Tour-level golf putters.
Although you can buy these off the shelf, you may be missing out.
One of the best ways to get a Bettinardi is to have it custom to fit your playing ability and your style.
The thing that helps Bettinardi stand out is that the feel coming off the putter head is extremely good.
You will have a soft but high MOI roll, and the ball is often relatively easy to line up as well.
We love that Bettinardi has some classic designs that they have stuck with through the years.
Although they update and modify technology, overall, this is a classic staple in the world of golf that you can continue to return to year after year.
5. Edel Golf
You will notice when shopping for new custom putters that some companies are going to focus on the look of the putter, and others will focus on the fit.
Edel is a golf club manufacturer that strongly focuses on the fit of the putter.
They want to ensure that every club they put in the hand of a golfer is going to be the exact fit for their game.
We love the different designs that Edel Golf puts out as well as the alignment aids that they produce to help golfers with their putting.
If you are ready to take your putting game a bit more seriously, this is the club you are going to want to consider trying in 2021.
Edel golf putters are expensive, but they are going to live up to the performance that they promise their users.
6. Carbon Putters
Carbon Putters is a Colorado-based company that is very serious about its putter manufacturing.
They make a variety of blade and mallet style putters perfect for the golfer who understands the importance of a golf putter.
Although you can get these putters with a variety of unique designs, their Colorado mallet style blade putters are really interesting.
If you happen to call Colorado home, this is a putter to think about.
In addition, there is an entirely new line of putters from Carbon that features a black putter head.
This putter head helps to eliminate glare and make things a bit easier for a golfer to see while out on the course.
Overall, the quality and the look of the Carbon putters set them apart as one of the best custom companies around.
In addition to high end putters, Caron Putters also makes some accessories and some golf bags for you to choose from.
This is a company that we are hoping to see quite a bit more from in the future.
7. Low Tide Putters
Low Tide Putters is a small custom putter company located in Charlotte, NC.
Each of the putters that comes from Low Tide is sort of a nautical theme.
If you are a golfer who enjoys some golf close to the sea, you are going to like what this putter has to offer.
With the Low Tide Putters, it is important to remember that the putter options are very limited.
When they release a model, there will only be a few models to choose from and a limited supply of putters as well.
You have to jump on one of these as soon as they come out.
We recommend signing up for their email list if this is something you are really interested in.
The Low Tide Putters are also going to have some of the most impressive finishes on it.
The finish looks so nice that you are probably not even going to want to use this on the course.
However, that is the whole point.
Once you start sinking those fifteen-footers with this putter in your hands, you will have a hard time giving it up.
Just do yourself a favor with the Low Tide putters and purchase them as soon as you see them become available.
8. MLA Putters
If you are a golfer who likes the futuristic style and design in a putter, then MLA putters could be a great choice for you.
This is a design that is going to stand out from others on the market because of its tough and utilitarian look.
This is a putter that looks like it is ready to get some work done, and we certainly believe it is capable.
The Tour Series putters are where the MLA brand is doing most of its business.
If you are interested in something that professional golfers are using, you will be happy to know that this is played by several golf professionals on tour.
MLA putters are very easy to recognize as they all have the black and green finish that you see.
As far as pricing is concerned, we know that most custom putters are very expensive.
However, the MLA putters are actually quite fair in their pricing.
9. See More Putter Company
See More putters have been around for a long time.
When you take a look at their website, you will see the number of different models on the market and the way you can order each of these models.
With the See More Company, you can have your pick between mallet, blade, and even some really unique larger club head models.
The one thing that all of these putters are going to have in common, however, is the alignment system.
The alignment system is different from others.
In fact, the entire company is built around this alignment system and the help that it can bring a golfer.
If you feel as though the main weakness in your putting game is your ability to line the ball up to the target, this See More is the perfect choice for you.
Since the company has so many options to choose from, there are some that are more affordably priced which could work for any budget.
Because See More is a bit more established and larger company, you can expect to find some of these locally to try before you purchase from the website.
10. Evnroll Putters
It's hard to think of a better name for a putter company than Evnroll.
Isn't that all we are looking for when we make a putt: a straight and even roll into the cup?
The Evnroll putters have really started to get more popular through the years.
Although a bit bulky initially, players are starting to realize the impressive capabilities of a putter like this.
In addition to the putter heads that you can order in a variety of custom configurations, you will also find that the Evnroll putters have two unique grip options.
The Armlock grip is something that is becoming a bit controversial because of how well players are beginning to putt with it.
In fact, if you like this style of putter, you may want to take advantage of it while you still can.
There are several different head styles on the Evnroll putters.
The alignment system and impressive and clean look of the Evnroll make these putters a good investment.
11. Byron Morgan Putters
Some golfers want a putter that is built for them, and others want to go through the design process step by step.
If you are a player who gets very involved in your game and wants to ensure all details are exactly how they should be, we recommend the Byron Morgan putters.
These putters are built for the golfer who is interested in a variety of different aspects in their game.
When you go through the Byron Morgan putter building process, you are first going to choose a putter head.
From there, you will also need to choose the neck, the finish, and the materials.
You get quite a bit of say in how the final result will turn out.
If you want more guidance in this process, there is a gallery with some great photos of completed projects that you can use as inspiration.
Also, the company employees can help to talk you through the process.
You can use the specifications that you know work for you to get the length and the lie of the Byron Morgan putter set to your needs as well.
Overall, you will find that this is not just a custom putter but an entire custom putting experience.
12. Ricky Johnson Putters
Ricky Johnson is another smaller putter manufacturer that puts a great deal of time into their putter designs and models.
The thing we like about these putters is that all of the materials and all of the manufacturing is done in the US.
So many golf companies have to go overseas to be able to afford the production of their golf clubs.
As golfers, we have become used to this, but so many players still want to use a golf putter that is made in the USA.
If that is something that interests you, then Ricky Johnson could be a perfect golf club to consider.
The putter heads are typically a wider body, and that helps to increase the MOI and the weight of the putter.
If you are playing a course that has fast greens, this putter will help you get the job done.
Everything used in the putter is high quality, and all the materials in the shafts and the grips are going to help you to improve your putting abilities.
13. Tad Moore Golf Putters
Each time a new putter is released, it seems to get bigger and have more technology involved.
For many young players or golfers who are new to the game, this can sound like a great thing.
However, over time, the putters have become a bit extreme for some.
If you are more of a traditional player looking for a simple, classic design that gets the job done, Tad Moore Golf Putters could be a great choice.
The Tad Moore is cast from stainless steel, and it has a German Silver face insert.
This means that the feel that you are going to get with a Tad Moore putter will, without a doubt, be unique.
This is a putter that you will invest in and keep in your bag for the rest of your life.
When you decide you are ready for a Tad Moore, be sure to contact the company directly to ensure that you are getting something that is fitted exactly to your needs.
14. Dave Curry Flatsticks
Putter companies tend to come and go.
People think that they have a unique idea that hasn't been done before, only to find out that the market doesn't really support the concept.
If you want to deal with a golf manufacturer who understands the world of putters and all that is involved, then the Dave Curry Flatsticks could be the way to go.
These putters have been on the market since 1998, and they have been used on the PGA Tour as well.
Some of these putters are even considered to be collector's items by some very serious golfers.
The styles and designs of these putters are unique, and they are very well done.
Since some of the putters are limited edition, they can end up being quite pricey, but you are going to end up with a unique golf club to take to the course with you.
Not only do these putters look great, but they also function very well on the golf course.
15. Slighter Golf
Last but certainly not least is Slighter Golf.
If you want other people to turn their heads when you putt, this is a putter to put in your golf bag.
When you see some of these unique designs, you will understand why Slighter Golf has earned its place in the putter world.
Take a look at the Spider and the Gaijin designs for something truly unique.
This is another small company that will likely be willing to work with you on the custom fit that you need for your game.
Part of the great thing about going with one of these smaller putter manufacturers is that you can easily choose a club that is fitted for your game and made just for you.
With most of the clubs in our golf bag, we don't get this same chance.
Take advantage of the technologies offered by these 15 companies and get yourself something that can help to lower your scores.
Although a custom putter can cost several hundred dollars, you must remember it is a club that is used on every single hole.
Considering that and the number of years or even decades you will have your putter, you will be sure to get your money's worth from any of these options.