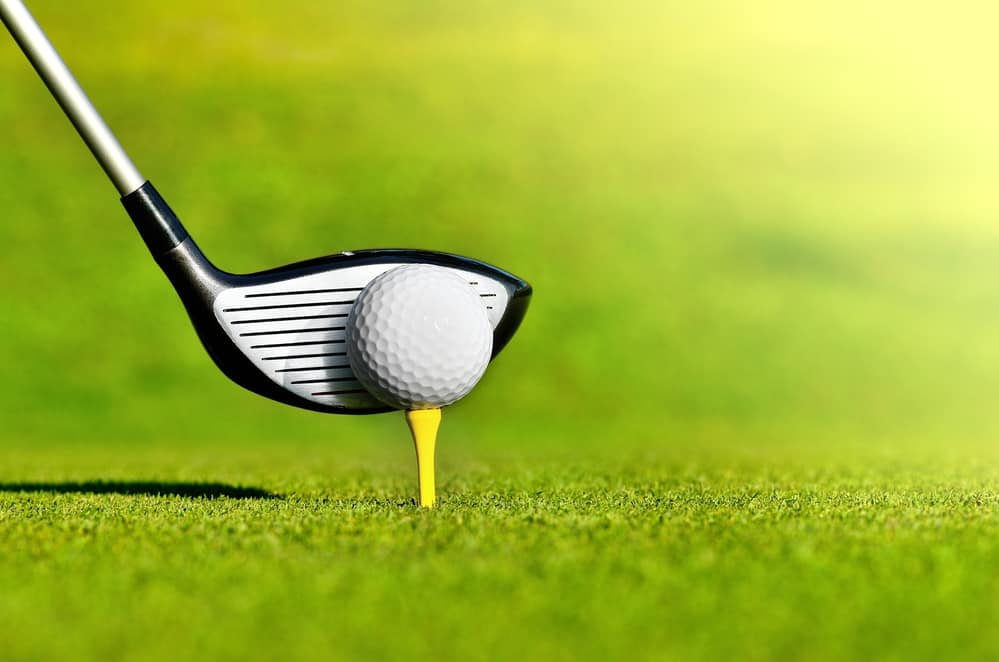 The most common miss for golfers is a golf ball that goes to the right.
This is probably one of the most frustrating misses in golf because a ball that goes right also tends to go a little shorter as well.
If you are tired of hitting your golf ball to the right and ready to make some improvements in your swing and your game, we have all the answers that you need.
Hitting the ball right does not have to ruin your golf game.
Typically, a few quick fixes can get you back on the right track.
Here are some of the top reasons your golf ball goes right and what you can do about it.
Why Does My Golf Ball Go Right?
The main reason that a golf ball goes right is the fact that the club face is open at impact.
However, your club face could be open because of a number of different things.
Let's take a look at why your golf ball might be going to the right and the things in your game that could be causing this to happen.
1. Golf Equipment Is Not A Good Fit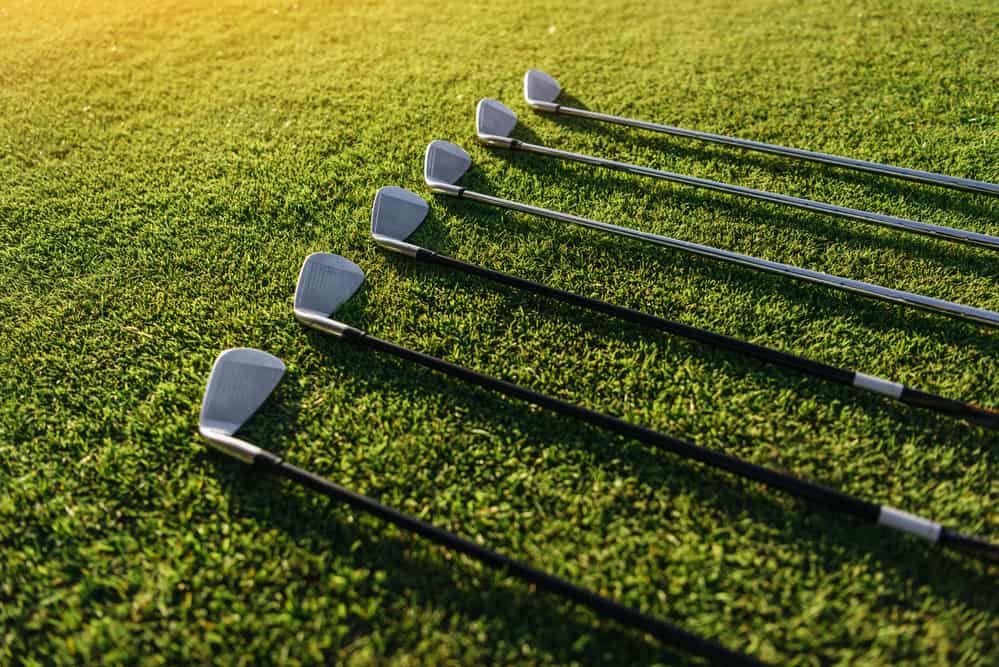 One of the main reasons that a golfer will struggle with hitting the golf ball straight is the fact that the golf equipment is not a good fit.
When golf equipment is the culprit, players can rest assured that they will not have to make changes to their swing.
The golf equipment you play with is often made for a specific type of player, and if you are not that player, it becomes very difficult to hit the ball straight.
Golfers who are playing with a golf shaft that is too stiff are the ones who usually struggle to keep the ball straight.
When the golf shaft is too stiff or sometimes if it is too heavy, it will lag behind as a player swings it.
When the club is stuck slightly behind when a golfer gets to the impact position, the club will still be slightly open.
This open clubface is a difficult thing to recover from when the equipment is the problem.
Sometimes, no matter how hard a golfer tries, they will not be able to square the clubface up and connect with the ball.
Another issue with equipment is the length of the club.
Sometimes if a club is too long players will also struggle with hitting the ball straight.
Golf equipment should be fit for a player's height, arm length, and even their ability to swing the club through the ball.
If you are trying to swing a club that is too long for you, chances are it will head to the right more often than not.
The Fix
The best way to fix this is to find golf equipment that is fit specifically for your needs.
This can often require a golfer to go for a custom golf club fitting to ensure that the clubs are the proper length.
These fittings are typically going to come with a cost, but they are often well worth the price that you will pay.
Having the right golf equipment in your hands is very important and a good thing for golfers to be focusing on.
When you have the right equipment, you can swing with full confidence.
2. Not Releasing The Club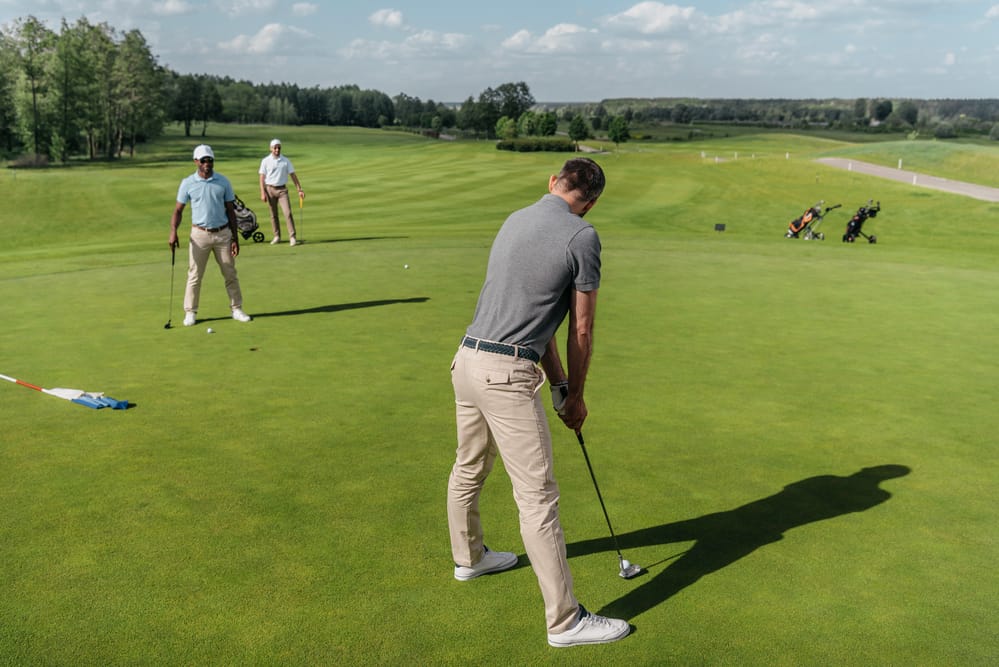 Golfers often struggle with releasing a golf club.
As they try to swing through and make the connection with the ball, they forget to turn their hands over and square the clubface.
This is a very common mistake for beginners and amateurs, and it does take some time to become better at releasing the golf club.
Over time, golfers will learn what it takes to turn the club over and get that extra distance and a straighter shot, but there is a learning curve.
Some players feel as though this is a harder problem to fix with the driver than it is with other clubs in the bag.
With the other clubs you are dealing with a much shorter overall club length and that makes it easier to turn the club over.
The Fix
The best way to fix the issue of your golf ball going to the right is to start thinking about turning the club over as you begin your downswing.
Some golfers learn to release the golf club, but they do it too late in the swing.
When you can think about this concept directly from the top of the swing and start to turn the hands over, you will end up hitting the ball much straighter.
A golf shot that is hit straight comes from a perfectly timed release.
The more you practice and work with this concept, the easier it is to repeat.
3. The Angle Of Attack Is Too Steep
Sometimes golfers struggle with the fact that the angle of attack is a bit too steep in their golf swing.
When the club comes in from a steep angle, it may be hitting the ball on the center or even the outside center.
This means that as you move into the impact position, the club face is a bit more open.
The major reason this happens to some players is that they start their golf swing a bit too steep.
If you can take a shallower golf swing, there are ways that you can release the golf ball and get it to travel straight.
The takeaway is one of the most important parts of the golf swing.
When your takeaway is correct, your swing path will start out on the right path and hopefully help you return the ball to the proper position.
When your swing path is shallow, it is much easier to hit the ball from the inside out, and this creates a straight path and longer overall golf shot.
The Fix
Fixing this type of golf shot is not all that difficult as long as you can work on your takeaway.
The takeaway of a golf shot is low and slow.
If you keep the club down along the ground and take it back just a little slower than usual, you will end up on a much better path.
For this path, you can then attack the ball with full confidence and hit your golf shot the way that you need to.
Overall, having a video camera and golf alignment sticks will help make this fix considerably easier.
4. Weight Is Not Transferring Forward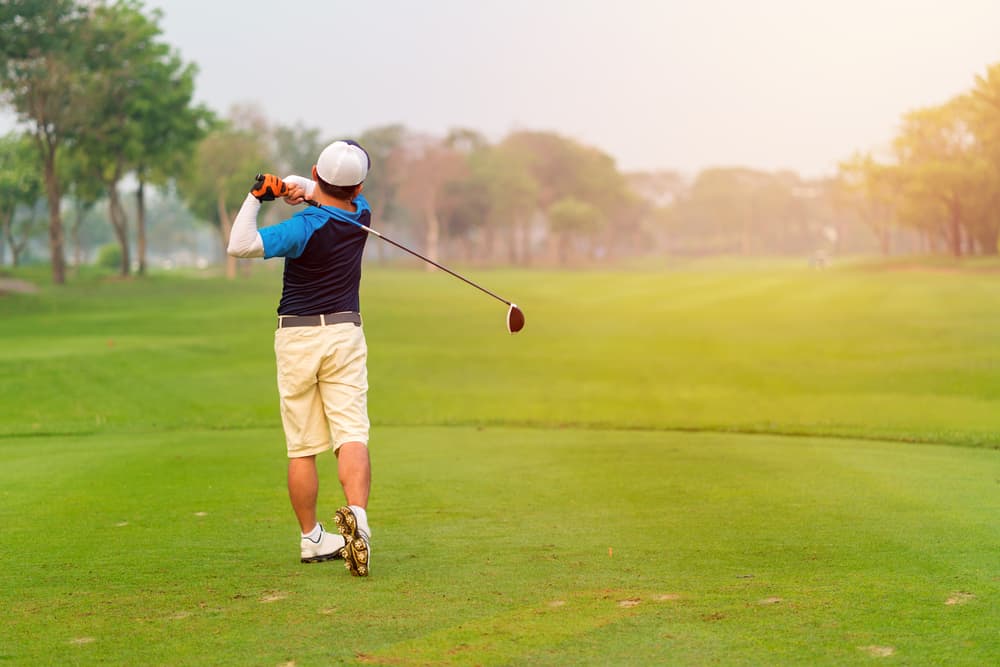 Weight in a golfer's swing can impact the direction that the ball goes.
In almost all golf swings, there is some transfer of weight from the slightly balanced center position to the right leg and eventually to the left side.
Many players can get the weight loaded onto the back leg, but they struggle with getting the weight further to the left side.
With the weight not transferring, it can be really difficult to hit the types of golf shots that you need to hit.
If weight remains on the back foot at impact, it will naturally open the clubface up.
Bringing in this entire right side of the golf course is a problem.
The player may be swinging with a great deal of speed, and then holding back on the right side will leave the clubface open yet quite powerful.
The result is typically a shot that goes considerably further right than other shots.
The good news is that the weight transfer issue can be fixed.
The Fix
The great thing about fixing a weight transfer problem in a golf swing is that you don't even need a club in your hand to do it.
When you have to fix the weight transfer, you can take your hands and cross them over your chest so that each palm is on one of your shoulders.
Then as you turn, you will be able to focus on getting your weight to load up on the right side and then having it transfer over to the left.
This fix is simple, and it will require more of a feeling than anything else.
As you learn what this transfer feels like and how to time it properly, you can then start taking little half shots or even chip shots and trying to feel this.
When you take a chip, try to have most of your weight transferred to the left side by the time you make contact.
This is a perfect way to ensure that you are hitting the ball from the right location.
Although this takes just a bit of time to perfect, you can easily make the adjustment and start hitting many straighter shots.
5. Aim And Setup Are Incorrect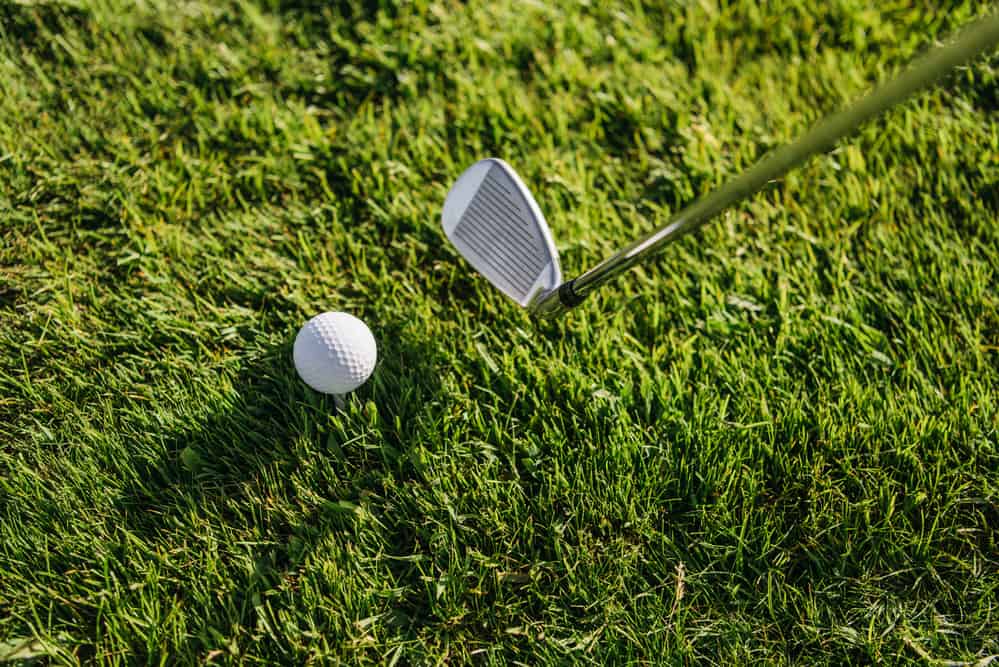 Have you ever thought about the fact that the ball could be going to the right simply because you are aimed there?
This is a novel concept for many players, but it is one that should be considered.
Aiming in the game of golf is hard.
You will have to stand parallel to your target but aim directly at it.
When playing other sports, you are often looking at your target as opposed to being parallel to it.
Overall, the aim and setup being incorrect can happen quite often if you are not diligent about the way you step up to a golf ball.
If you ask professional golfers, they will tell you that they spend a great deal of time working on setup.
Most of the time, when the aim is the issue, the ball will go directly to the right as opposed to turning right after you hit it.
It's hard to get a golf ball to do exactly what we want it to do, but when you are aimed incorrectly, and you hit a great shot, it is a complete waste of your talent.
Try to learn to trust the line you have and swing with full confidence.
The Fix
Fixing aim issues is quite a bit easier today than it ever was.
There are all kinds of teaching aids and contraptions that can help you.
However, we find that the one that makes the most sense for golfers is the golf alignment sticks.
These sticks should be kept in the golf bag to ensure that you are ready for a practice session at any time.
If you are standing on the range and working on your golf game, you should have at least one or two of these sticks on the ground at any given time.
Make sure you have a stick for the line that your feet should be on.
In addition, have a stick for the line that your club should be on.
When you have both of these in place, you can then swing along this line with full confidence.
The other area of aiming that golfers often forget to pay attention to is the hips and shoulders.
Players should have their hips and their shoulders matching this line as well.
When things match up, and all areas of the body are square to the target, it becomes increasingly easier to hit a golf ball straight.
Over time, this aiming position will feel more natural, but in the beginning, you may need to think about it quite often.
6. Poor Tempo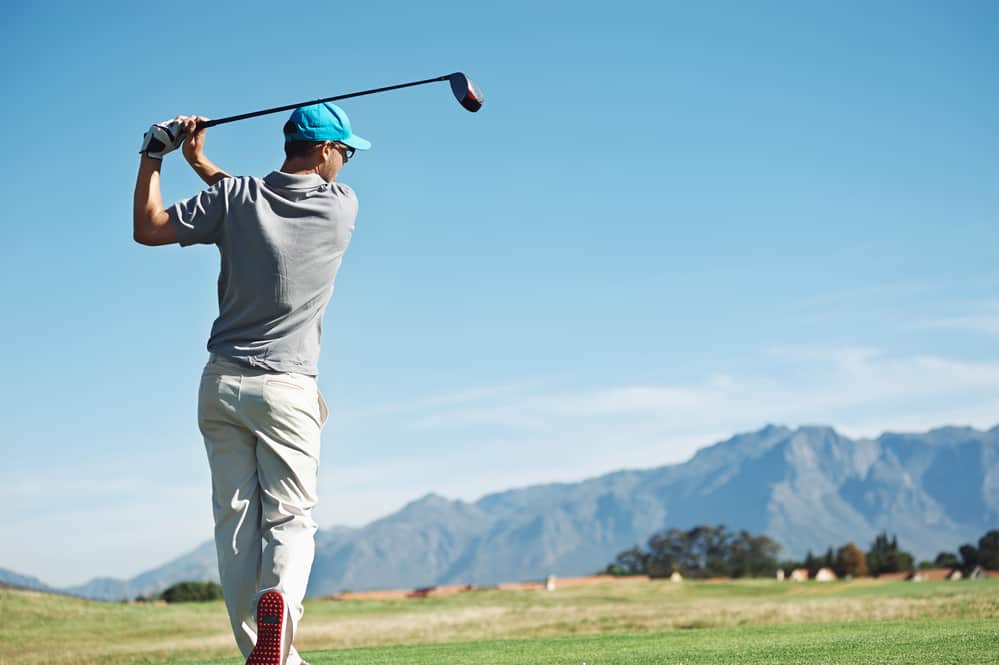 Another reason that golfers struggle to keep the ball straight is poor tempo.
When we talk about tempo, it is more about the way the entire golf swing works together than simply talking about the speed of the golf swing.
This is why so many golfers struggle with tempo.
The player will often think that in order to fix tempo, they need to slow down.
Sometimes this is the case, but if you simply slow your golf swing down, it can actually make the problem of hitting the ball to the right quite a bit more difficult.
Slowing down the golf swing is not an ideal way to fix tempo.
Instead, players need to work on everything in the swing, working together and finishing in a balanced and complete position.
Tempo in golf is one of the most critical factors, and it's not something that golfers can learn overnight.
However, if you are hitting the golf ball to the right inconsistently, then you likely have an issue with a tempo that needs to be corrected.
If you are one of those players who talk about how one day on the golf course can be better than the next, chances are there is a tempo problem.
The Fix
The best way to fix your tempo is to learn to swing in a balanced and controlled manner.
If you look at a golf professional who plays on the PGA Tour, you may say that their swing looks effortless.
This is because their swing is efficient, and they are able to keep the ball on the proper path while remaining in balance.
These golfers have faster swing speeds than almost all amateur players, but because of the control they have, you would never know.
One of our favorite ways to improve tempo in a golf swing is to take some shots with your feet together.
If your feet are close together and you start swinging, you will have to be in balance and capable of getting your body and the club to work together.
The first few shots you take can feel really out of balance.
However, once you get used to this concept, you will start to hit the ball much straighter and more accurately.
Over time, golfers who practice this drill will gain more clubhead speed and power, but the tempo will be considerably better.
Conclusion
We hope that you now feel you can understand why your golf ball goes to the right.
This is a very frustrating miss and one that you will want to fix sooner rather than later.
However, it is entirely possible to fix these types of issues in your golf game, and learning to hit the ball straight is a very powerful thing.
Once you understand what is causing the problems, you will have an easier time getting the golf ball to go where you want it to go.
Sometimes becoming a better golfer has everything to do with knowledge and understanding.
The more you can learn and understand, the better your chances are of turning your game into something that is consistent and accurate each time you head out to play.
Golf takes a time commitment, but it is well worth it in the end.