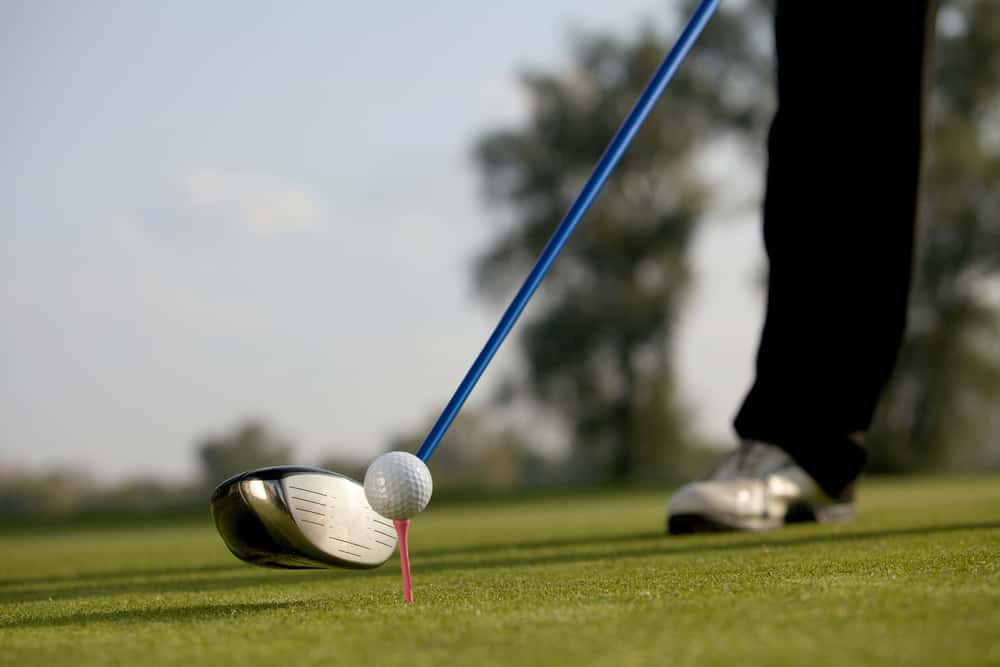 There are typically three key factors that golfers look for in a golf club.
They are forgiveness, distance, and feel.
Golf club forgiveness will vary from one club to the next and from one brand of golf clubs to the next.
Finding golf clubs that are forgiving, high performing, and capable of making you a better player can be a bit of a challenge.
The first step in this process is to understand what golf club forgiveness is and how it is going to impact your game.
If you have been curious about what golf club forgiveness is and how you can ensure that your clubs have it, we have all the answers you need.

What Is Golf Club Forgiveness?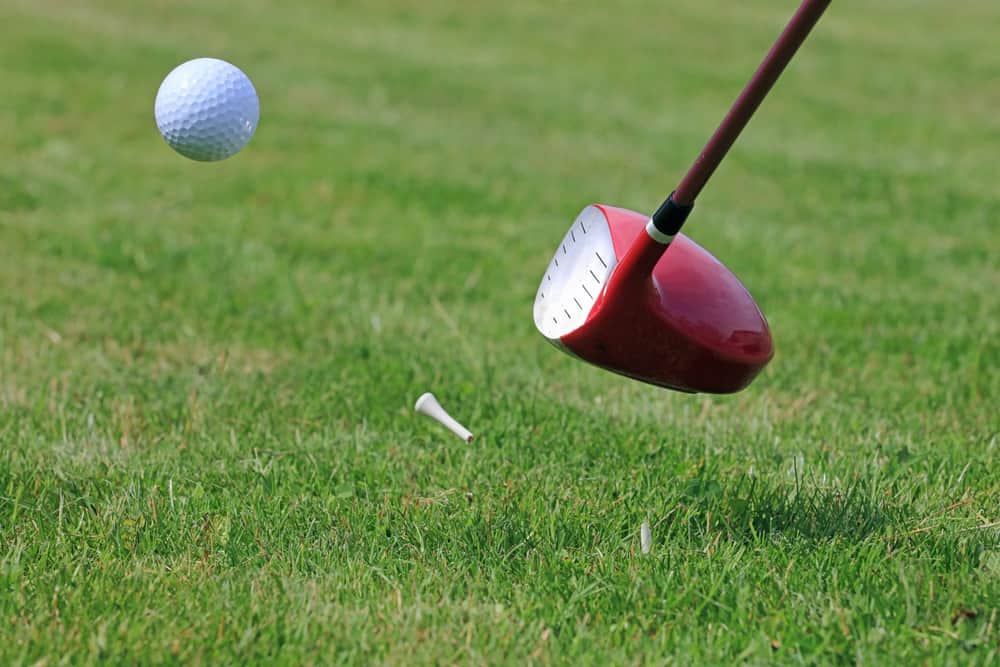 Golf club forgiveness is a way to describe how responsive your golf club will be to any mistake in your impact position.
When you hit a perfect golf shot, you will hit the golf ball in the center of the club face, and the ball will take off on a straight line, with perfect height towards your target.
Golf shots that are not hit in the center of the clubface can go varying distances (mostly shorter), will have less ball speed, and could end up spinning left or right and out of control.
Golf club forgiveness is a way to describe how easy a golf club is to hit.
For golfers who are experienced in the game and have lower handicaps, forgiveness is not the most critical factor in the clubs they are hitting.
Players who are new to the game are going to seek out clubs that are more forgiving.
Forgiveness in golf clubs helps players to square the club face up, hit the ball higher, and ultimately, hit shots further and straighter.
Knowing what to look for in a forgiving golf club is essential.
If you are not sure what it takes to get forgiveness out of your golf clubs, we have some answers that could help you narrow this down.
Each golf club in the bag can be forgiving as long as you are careful about what you are purchasing and what you need.
Let's take a look at each club in the bag and let you know what you should be looking for from a performance and forgiveness standpoint.
What To Look For In Forgiving Golf Clubs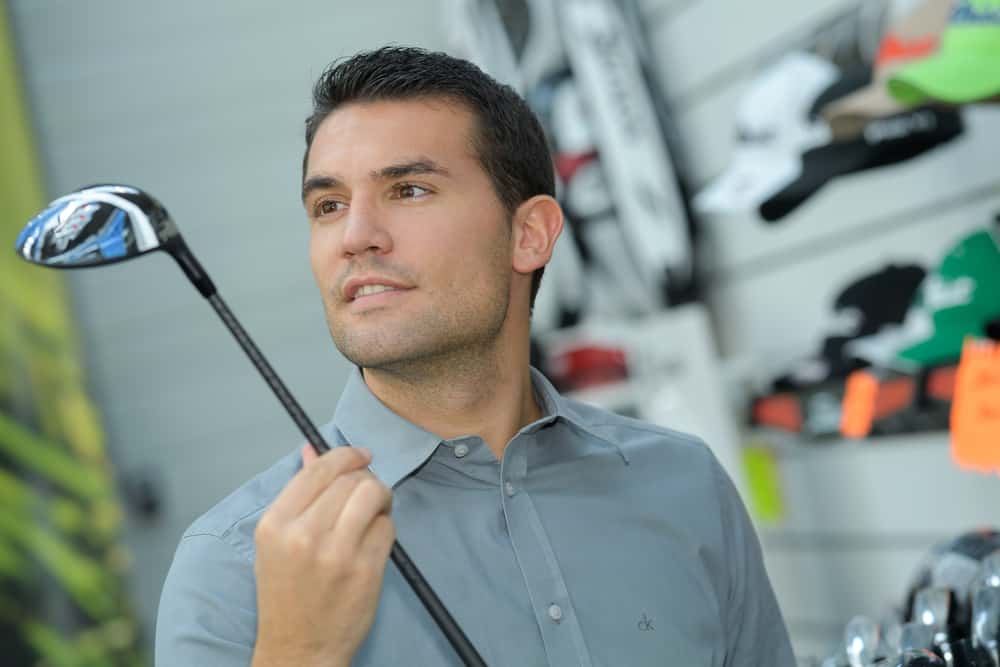 A forgiving golf driver is going to look quite a bit different than a forgiving golf iron.
Understanding what the differences are between these golf clubs is essential.
If you can make sure that your golf irons are forgiving and a good fit for your game, you may be able to play much better golf.
Here are some things to look for.
1. Driver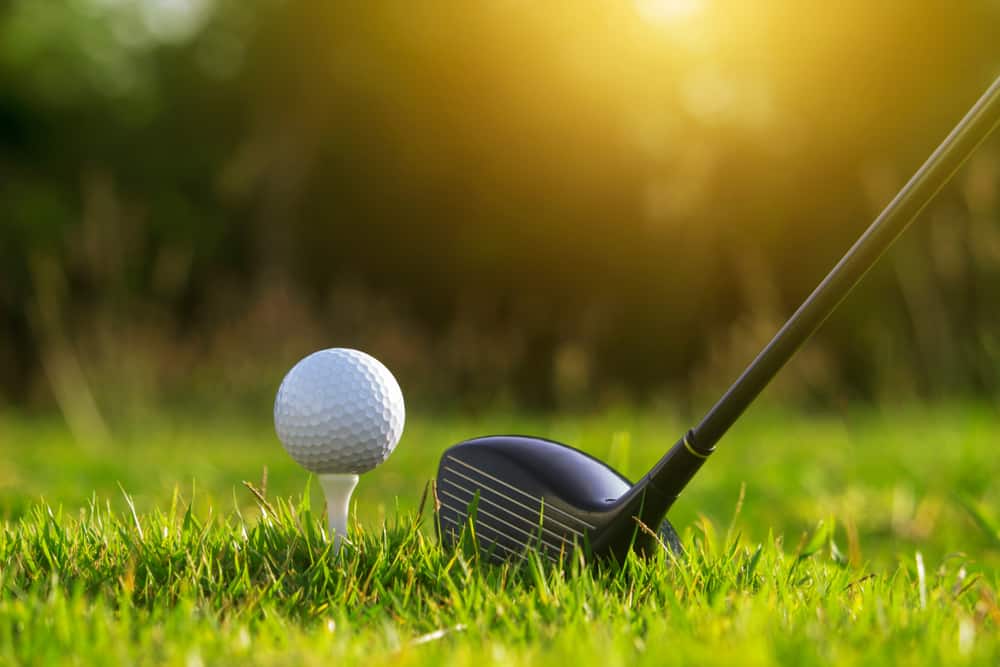 A golf driver can only have a head that is 460 cc.
This is going to help the golf clubs to have a very large sweet spot.
Of course, as the sweet spot gets larger, the areas where you can hit the ball and still see great results are going to be quite a bit larger.
A golf driver that is forgiving will naturally have a large sweet spot.
In addition, one of the things that makes golf drivers so hard to hit is that they have a very low loft.
Lower loft in a golf driver means you can't launch the ball as high unless, of course, your swing speed is quite fast.
The best way to get around this is to get a golf driver that has a bit more loft.
Most of the time, if you are a golfer looking for a forgiving driver, around 12 degrees of loft, or potentially more, will be a good fit for your game.
In addition to the golf driver's loft and sweet spot size, there are still a few more factors that make it forgiving.
Spin rates are a concept in golf that is getting researched and studied more and more.
Driver with low spin rates tends to be much more forgiving as they can help a golf ball to roll for quite some time when it hits the ground.
Lower spinning drivers also allow a golfer to straighten out their slice or their hook.
Lastly, a draw bias or offset on a golf driver can make it more forgiving.
Essentially, these two factors will slightly close down the face of the golf club to help golfers get the ball straightened out.
With the face slightly shut, players can get a shot that heads straight towards the target as opposed to ending up left or right.
2. Fairway Woods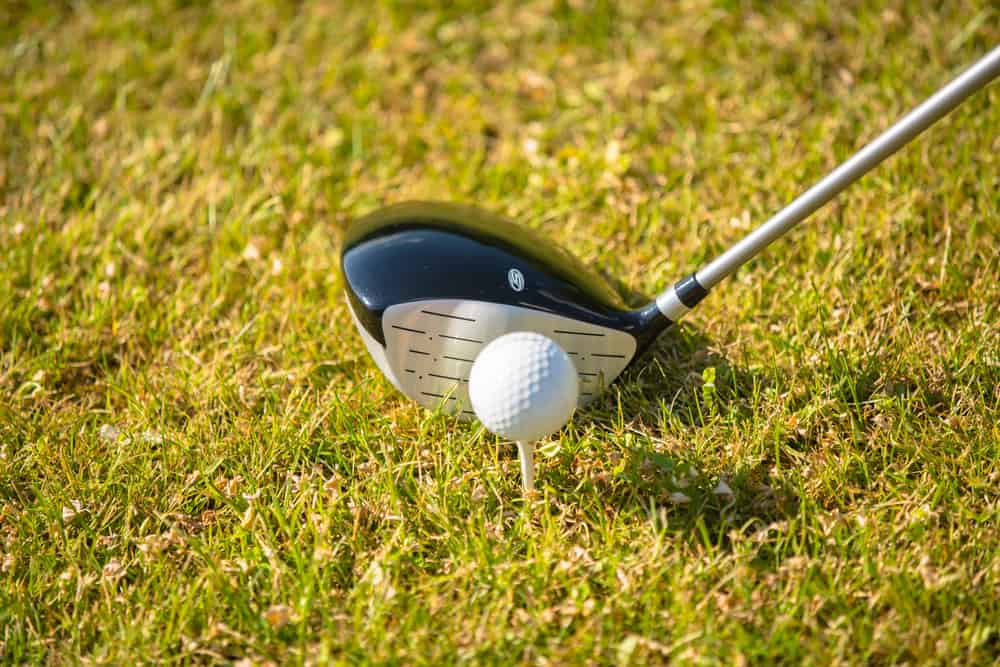 Fairway woods are similar to drivers in their low lofts.
Therefore, the 3 wood, which has the lowest loft of any of the fairway woods, will be the hardest to hit.
Some golfers will take the 3 wood out of the bag completely a put in a 5 wood instead.
The 5 wood makes things easier both off the tee and from the fairway as well.
Fairway woods are typically easier to hit straight than drivers, but they are not the most forgiving clubs in the bag.
Look for something that has a larger sweet spot and a bit of offset if you want the most forgiveness.
It can also be a smart idea to get a club that is adjustable so that you can set it to be a better fit for your golf game.
3. Irons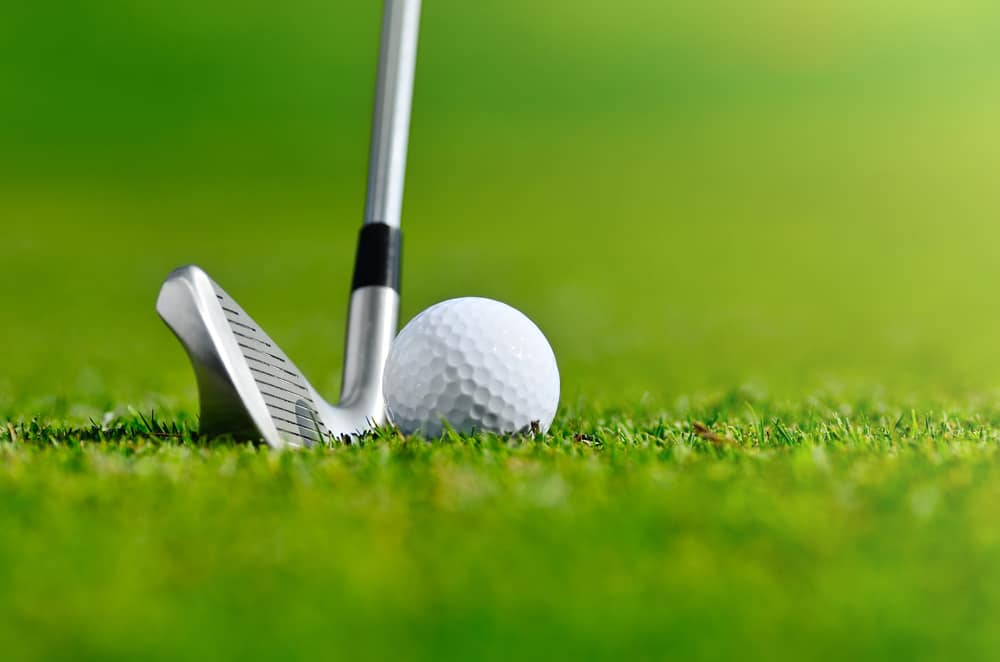 Golf irons can be made in two different ways.
You can either purchase cavity back golf irons or forged blade irons.
The cavity back irons are going to be considerably more forgiving than the forged irons.
The reason behind this is that the process to make the forged golf irons allows for fewer technological interventions to increase forgiveness.
Essentially, you are not going to have as much room to put forgiving technology into this club head.
Overall, the golf club forgiveness in irons will be much greater with cavity back irons.
In addition, the shaft that you put in a golf iron is going to help it become more forgiving.
With the graphite shafts, you can have slightly slower swing speeds and still see tremendous advantages in your golf distance.
In addition, irons with a wider sole also tend to be more forgiving.
Golf irons with wide soles are easier to launch and have a better time cutting through the rough.
Another critical factor to look for in a forgiving golf iron is a low center of gravity.
If the center of gravity in your irons is low, you will be able to get great launch and distance from the shots that you hit.
Overall, the impressive forgiveness in golf irons is entirely different than it was just five years ago.
The world of golf has come a long way, and you will notice how much easier it is to hit golf irons than it ever was.
Many golf irons are also featuring lower lofts, and this helps them go further.
Golfers looking for complete forgiveness will have to be aware of these lower lofts and the fact that they don't always make a club more forgiving.
Overall, you will have no issues finding a variety of forgiving golf irons on the market.
4. Wedges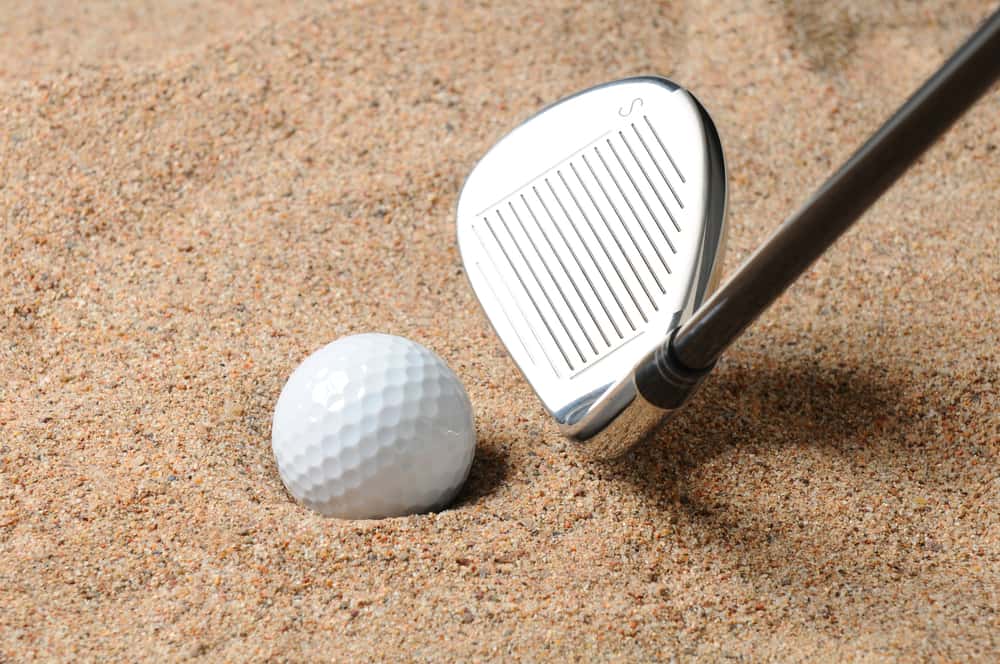 A golf wedge is a very important club in the bag.
Without a golf wedge that you can trust and rely on, you will have a very hard time playing a solid round of golf.
As golfers learn more about the game and how important the wedge is, they tend to put more and more wedges in their bag.
Most golf wedges are blade style wedges that require a precise hit each time they are used.
There are, however, some newer cavity back style wedges that are becoming more and more popular.
Cavity back wedges are going to have the same forgiveness that you see in the golf irons.
In addition, there is usually a larger sweet spot and potentially a bit more bounce to help increase the forgiveness.
Cavity back wedges have come a long way, and they should be highly considered for those who are looking for forgiveness.
In addition to the cavity back wedge club head, you should seriously consider the shaft of the wedges as well.
If you have graphite shafts in all of your golf clubs, don't hesitate to put them in your wedges as well.
Wedges are typically sold with steel shafts, but that does not mean they have to be steel.
Find something that works specifically for your game to get the most forgiveness and performance.
5. Putter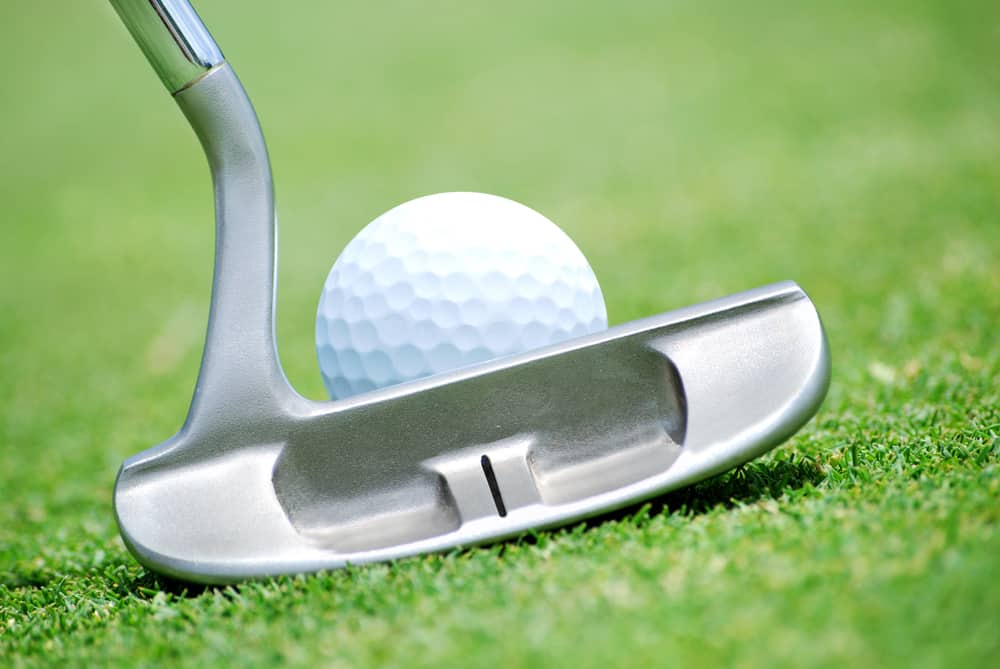 Some golfers find it amusing that there can be forgiveness in a putter.
However, you can absolutely have a putter that is more forgiving than another.
For the most part, a mallet putter is more forgiving than a blade putter.
Mallet putters have a larger sweet spot, and therefore, it makes it a bit easier to hit the ball on the center of the clubface.
In addition to the size of the clubhead, many times, the mallet putter can also have easier alignment.
The top of the golf club head can have a line on it that is quite a bit longer, and it will allow you to see the way that the ball is going to roll towards the hole.
Using a golf putter that is forgiving will help you make more putts but also help you ensure that your long puts end up a bit closer to the hole.
Putting is the hardest part of the game of golf, and you must be really good at it to shoot low scores.
Therefore, finding a putter with enough forgiveness is going to be well worth the money that you spend.
Which Golf Club Brands Are The Most Forgiving?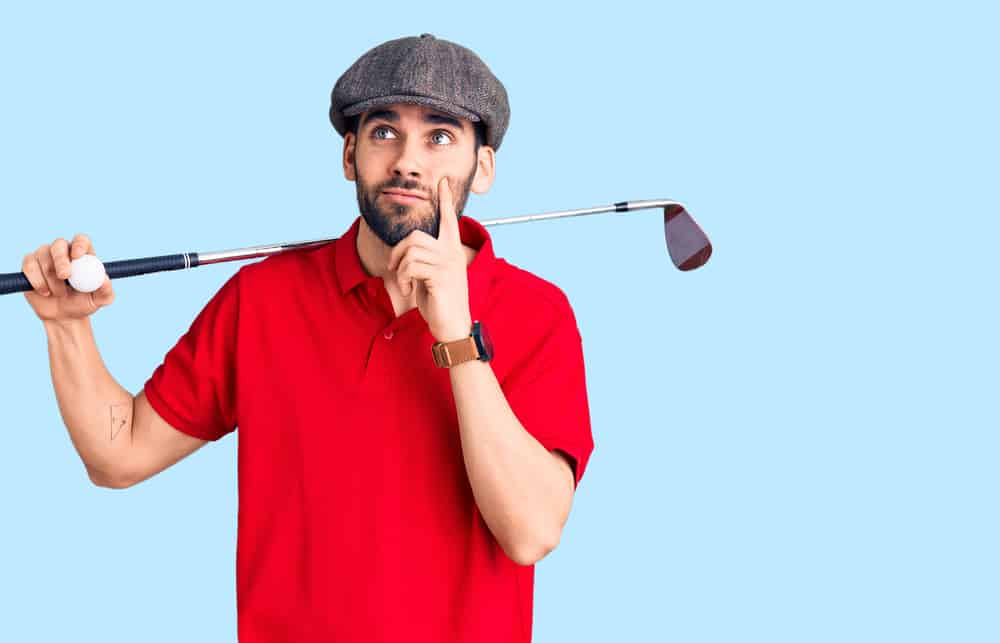 Some golf club brands are known for being more forgiving than others.
If you are a serious golfer, then you will want to make sure that your equipment matches your golf game.
The more time you spend on the golf course, the more critical it is to be playing with clubs that make you a better player.
There are a few companies that make some of the most forgiving golf clubs on the market.
If you know that your next set of clubs has to be more forgiving, start with an option from this list.
1. Cobra
Cobra makes golf clubs for players of all levels, but the Cobra F Max series is known for being one of the most forgiving.
In addition, this past year, Cobra released the T Rail hybrid golf irons that are especially easy to hit.
We love the fact that Cobra makes most of their golf clubs with impressive technology that is easy to use and to work the ball.
They also love to add adjustability to their golf clubs.
If you can adjust a club to fit your needs on the golf course, chances are you can end up with a much better overall performance.
Cobra is an impressive manufacturer that also offers fair pricing, so this is a great place to start for golf club forgiveness.
2. Cleveland
Cleveland golf also makes a wide range of forgiving golf clubs.
You will notice that some of Cleveland's clubs come with fewer features like adjustability, and instead, they are built to be lightweight and forgiving.
Many people with slower swing speeds will find that Cleveland is a great golf club to consider.
Cleveland helps players who are looking to launch the ball higher get more distance and be able to reach their golf goals.
Similar to Cobra, Cleveland also offers fair pricing on their golf clubs.
3. Callaway
Callaway golf is another manufacturer that makes forgiving golf clubs.
The Big Bertha series released more than 20 years ago established Callaway as one of the most forgiving golf manufacturers on the market.
By producing this club, Callaway let everyone know that they were going to take care of the average golfers who needed help making the game more fun.
Callaway is a very reputable golf company, and it seems as though their equipment only gets more forgiving and higher quality each and every year.
If you care about golf and want to get something that is top of the line from a technological standpoint, the Callaway golf clubs are a great option to consider.
Conclusion
Hopefully, you now feel as though you understand what golf club forgiveness is and how it can help your game.
Even the best players in the world are looking for more forgiveness in their golf clubs.
We are all human, and each swing that we make will be a bit different.
Forgiveness is there to help players who can get the club within a certain range, and then the forgiveness is used to help make the shot perfect.
Think about hitting a spot the size of a dime on the clubhead or a spot the size of the quarter.
The forgiving golf clubs give you the space of a quarter or more to make contact while the non-forgiving clubs expect you to make perfect contact with the club.
Overall, forgiveness should be looked at as a positive when purchasing a set of golf clubs.