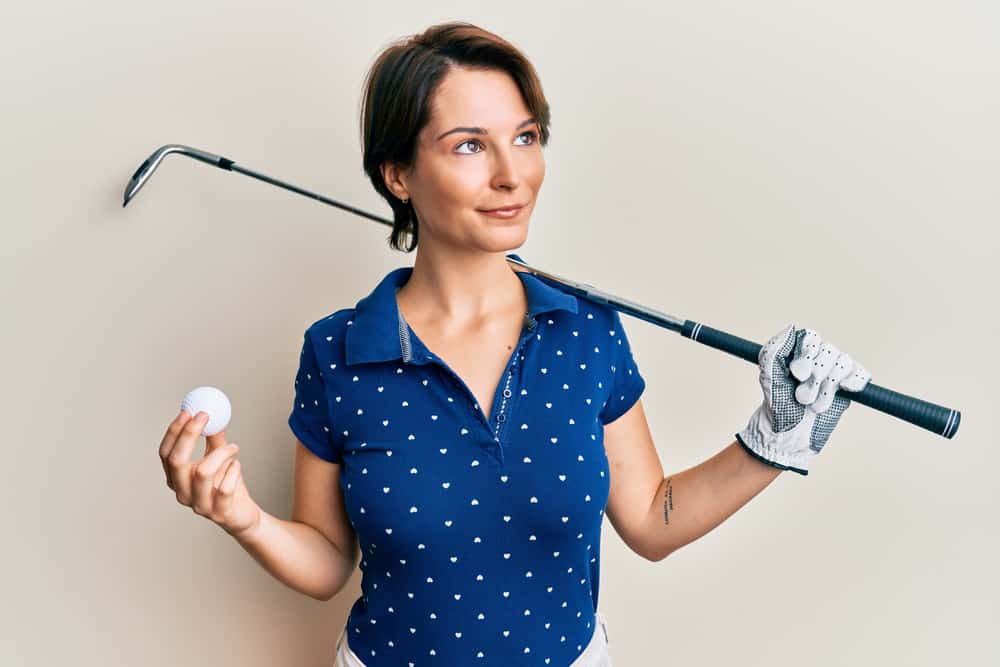 Some golfers mark their golf ball with an initial, while others use a special number.
Some players are known for just adding a line of color on the golf ball.
However, there are the other players who are likely the jokesters of your group.
These golfers have all the one-liners and are always looking to make another golfer smile.
If this describes you, maybe you are looking for something clever to write on your golf balls for your next round.
Here are some great sayings that you should be able to fit on your golf ball and make another player smile.

Funny Things To Write On Golf Balls (25 Ideas)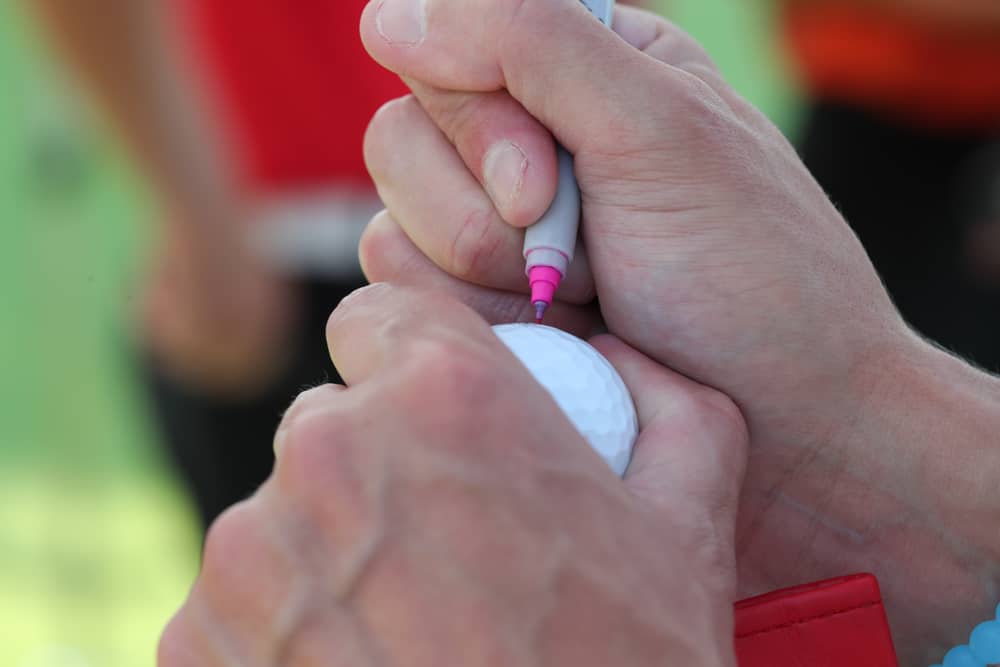 1. Free Golf Ball
When someone stumbles upon a golf ball that says it's free, they are likely to pick it up.
If you have lost your golf ball in the woods or in the rough, chances are you are happy to give it up for free.
The free golf ball comment is likely to make someone smile when they see that they have indeed stumbled upon the rare free piece of golf equipment.
A complimentary golf ball should be played until it is eventually transferred to the next guy who needs it!
2. May The Course Be With You
"May the course be with you" is a Star Wars reference.
If you are a Star Wars fan, this could be an option to put on your next golf ball.
Overall, this phrase is intended to wish a person good luck.
For the golfer who has just lost their golf ball and stumbled upon yours, wishing some good luck is a nice thing to do.
This is a perfect way to pass on the golf tradition of wishing someone luck without having to be there to say it yourself.
3. Keep Calm And Yell Fore
This "Keep Calm" quote has been around for many years now.
The "Keep Calm" concept was initially used in World War II.
In preparation for the war, the British government put out posters that said, "Keep Calm and Carry On."
This has now turned into "Keep Calm and" just about anything.
You will see this on T-shirts, hats, and apparently some golf balls.
"Keep Calm and yell fore" is a funny but accurate thing to write on a golf ball.
4. Yell Fore, Shoot 6, Write 5
It's an unfortunate truth that some golfers are not all that honest about their scoring.
Many players will shoot a bit higher than they record on their scorecards.
If you are one of those golfers, then you may have a little fun with this golf ball.
Yelling fore, shooting six, and writing five is a golf scenario that many players will be able to relate to.
5. Eat, Sleep, Golf, Repeat
Any obsessed golfer will understand the "eat, sleep, golf, repeat" reference.
Golf is something that many people are obsessed with.
They will play round after round and still never feel as though they have enough time to get it all in.
When it comes to retired golfers, the amount of time spent on the golf course in a day will likely exceed the amount of eating and even sleeping that happens.
6. I'm Not Lost, I'm Just Hiding From "Name"
This is a very funny thing to put on a golf ball.
When a player finds your old golf ball, they will be reading it as if the golf ball has a mind of its own.
When the ball says, "I'm not lost, just hiding," it seems as though it has a mind of its own and has escaped to the location.
We like this idea because all golfers sometimes feel like the golf ball has a mind of its own.
7. Hands Off My Balls
"Hands off my balls" is a funny and slightly inappropriate comment that sort of explains itself.
Golfers have all different types of senses of humor, and this is undoubtedly one type!
If this is a good choice for your personality, you will likely make another golfer laugh at some point.
8. I Once Was Lost, But Now I'm Found
Amazing Grace is one of the most famous songs of all time.
Although the song has some religious references, it is known for being a standard to celebrate special events.
This is quite a funny reference because of the travels that a golf ball has to go through.
Not to mention that, when people find a golf ball, they are constantly feeling a little lucky to add it to their bags.
9. You Found This Because I Stink
Losing a golf ball is frustrating, and we all know that sometimes it happens because our golf games are less than stellar.
If you don't have much hope for your golf game or your golf balls and where they will end up, you may want to consider this phrase.
However, most professionals will tell you that a bit of positive thinking can go a long way for golfers.
Don't get too hard on yourself and put these types of negative comments on your golf balls.
You never know how it will impact your mental game.
10. Adopt Me
A lost golf ball looking for a new home may be best suited with the "Adopt Me" phrase on it.
With this phrase, you will know that this golf ball truly needs a new home, and you can put it directly in your golf bag.
Most golfers who find a lost golf ball on the course are going to pick it up and keep it for themselves.
This is understandable considering the cost of golf balls and the fact that we are all losing them from time to time.
11. Hit Me
After all, we are supposed to be hitting the golf ball, aren't we?
Not to say that golf balls should have directions, but it is rather funny to put directions on the ball like this.
Clearly, you don't need the "hit me" instruction on it, but this is rather funny for anyone in your foursome or the lucky person who finds your golf ball.
This brings back memories of the old "kick me" signs that were so popular in Middle School.
Overall, the "hit me" reference is likely to make someone smile.
12. Save Me
Have you ever felt as though your golf ball was trying to escape?
Many people forget to consider the fact that maybe our golf balls have had enough of us and are headed to be with the next player.
It's awfully funny to stumble upon a golf ball that needs saving.
The "save me" phrase has been a popular one for some time.
This is also a short phrase so that it won't take up as much space on the golf ball.
Some players are a bit particular about the amount of room that the text takes up.
They want to make sure that there is still plenty of white space on the ball.
13. Retired
A lost golf ball should be starting to enjoy the best part of being a golf ball: retirement.
When a golfer hits a ball into a bad location, they think they will likely never find it.
Therefore, that golf ball would be considered retired.
The next person to stumble upon the ball may find it funny to think about a golf ball actually retiring and escaping to the water or into the woods.
These are a great option to give to players who have just entered into their own golf retirement years.
It's a nice gift for them but also a funny thing to find on a golf ball.
14. Grip It And Rip It
"Grip it and rip it" is a commonly heard phrase in golf.
Although this one is not going to be quite as funny as some of the others, it's a standard piece of advice used in golf.
The concept of "grip it and rip it" is not quite like keep your head down or your left arm straight, but it is still something that golfers use to get ready to hit their next shot.
When you grip it and rip it, you will usually hit the ball quite a long way.
It's a statement that has to do with power in the golf swing as opposed to finesse.
15. Not Your Ball
Do you play in a group of golfers that has a hard time identifying who is playing what ball?
Golfers should be marking their ball so that it clearly shows whose golf ball is in play at any given time.
Playing the wrong ball in golf is a penalty, and it must be avoided.
Putting "not your ball" on the golf ball you are using is a surefire way to tell other golfers that they are indeed about to hit the wrong golf ball.
The "not your ball" quote is a funny and interesting way to show which golf ball is yours.
Combining the mission of identifying your ball with making people laugh is a great thing.
16. Put Me Down
When you find a golf ball in the woods or thick grass, the first thing players likely do is pick the ball up.
They pick the ball up and then take a look to see if it is the kind of golf ball they usually play with.
Golfers are always looking to find a Titleist or a Callaway golf ball.
Brand new, these golf balls cost quite a bit of money, and it's like finding $4.00 each time you see one on the course.
Therefore, finding a golf ball is always a welcome discovery.
When a golfer picks up a ball that they found in the woods and then decides to put it into play, it's quite funny for the ball to say, "Put me down."
It will seem as though the golf ball is talking for itself.
17. Kiss My Putt
This is an option that will sort of explain itself.
Depending on the sense of humor you have and your behavior when on the golf course, this can be a funny one to use.
However, we don't recommend this as your best option for tournament play or a round of golf at your friend's private country club.
18. Be The Ball
"Be the ball" is a common phrase used to work on the mental game of golf.
If players focus on being the ball, they can then learn the mental aspects of the game quite easily.
This "Be the Ball" comment is nice because it easily fits on the golf ball, and it is a positive thought.
It's certainly not the funniest of the golf ball phrases on our list, but it could be one of the most positive and functional of them all.
19. Help, I Can't Swim!
Although we have mostly talked about golf balls that are found in the woods or the rough, plenty of poor shots end up in the water.
If you are a player who is known to put a few of your shots in the water each round, the "help, I can't swim" reference is quite funny.
Many golfers will have a ball retriever in their bag, and they will fish for a few golf balls that have landed in the water.
If yours is one that is pulled out, it is sure to give a laugh to those who have found it.
When you pull a golf ball from the ponds at a golf course, you don't often think of the golf ball as something that has floated in the water trying to swim.
If you typically play a desert golf course with no water hazards, this may not be the funniest choice.
20. Can You Help Me Find The Fairway?
Lost golf balls are typically just looking for the next fairway.
Writing this quote on your golf ball is funny, yet it can be a positive thought as well.
At least when you are lining up to hit your shot, you are thinking about the fairway and where the golf ball is supposed to end up.
Go ahead and send it there!
If the next one doesn't work out, at least maybe someone else can find a way to get the golf ball to the fairway.
21. Birdie Hunter
A birdie hunter can mean two things, and that is where the humor in this option originates.
Humor can be found in the fact that golfers are always seeking birdies.
The birdie is a score of one under par, and it will significantly impact the overall score that a player has for a round of golf.
The more birdies you make, the lower the overall score of your round will be.
However, the other reference for this golf ball could be an actual hunter who looks for birds.
If you know an outdoorsman who is just getting into the game of golf, this is a great option to consider.
22. Who's Your Caddy?
The "Who's your caddy" reference is obviously a play on the "who's your daddy" comment that players will sometimes say.
With this phrase, you may leave some golfers wondering if you are looking to replace your caddy since your golf ball is likely no longer in play.
This is a simple and unique thing to put on a golf ball and will certainly help you identify which one is yours.
23. Hello, Friend
Again, some of the golf ball quotes or sayings that make it seem as though the golf ball can talk to you are some of the funniest options out there.
Leaving this on a golf ball is a great way to remind people that they have plenty of friends out on the course.
This is another short and simple phrase, and we like that from a mental and visualization standpoint.
Putting something like this on the ball is wholesome, friendly, and good clean humor.
If you are new to the funny phrases on a golf ball, maybe you should start here and see how it goes.
24. Smile! Remember You Paid To Do This
As frustrating as golf is to play, we all keep paying to do it.
Most golfers forget that golf course torture is something self-inflicted.
Help them all remember by having this printed on your golf ball.
25. Oops, Another Shank
Last but certainly not least is "oops, another shank."
Chances are some of the golf shots that don't go well could have been shanks.
You can put this funny reference on the ball for the next person who finds it.
Indeed, they will get a good laugh considering they may be looking for a ball because of a shank that they hit.