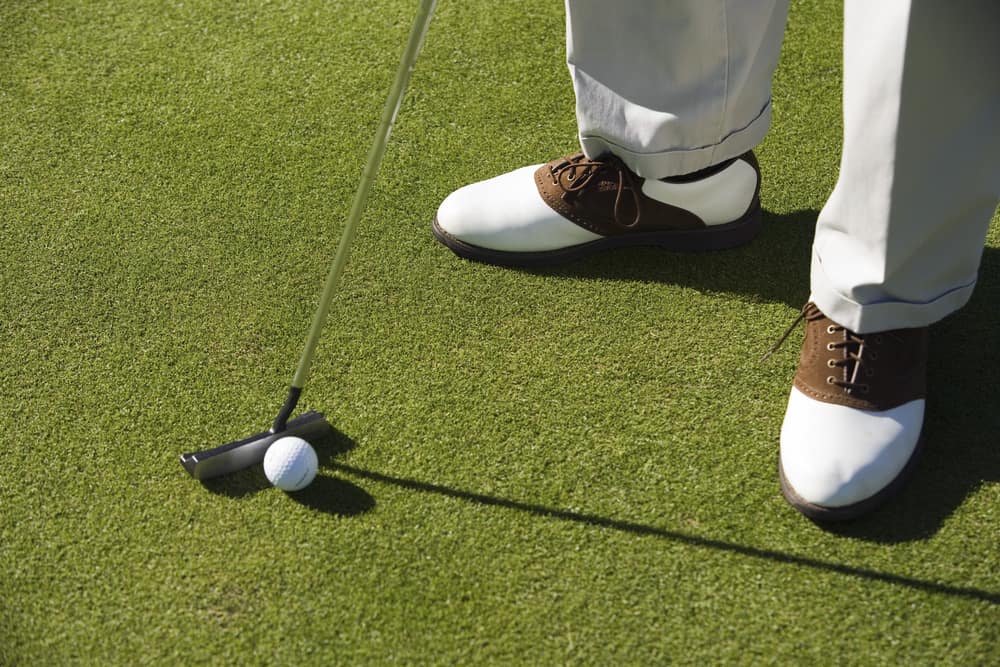 The right pair of golf shoes can make or break a day on the golf course.
Professional golfers will wear shoes that are made by their sponsors, but they still have quite a bit of say in the shoes that they put on their feet.
After all, walking a golf course puts quite a bit of wear and tear on the body.
If you are not careful about the shoes that you are choosing and how you are wearing them, don't expect to comfortably finish your round of golf.
If you have ever wondered whether or not professional golfers are wearing the same shoes that we are and if they are keeping their shoes on throughout the round, we have all the answers you need.

Do Pro Golfers Use New Shoes Every Round?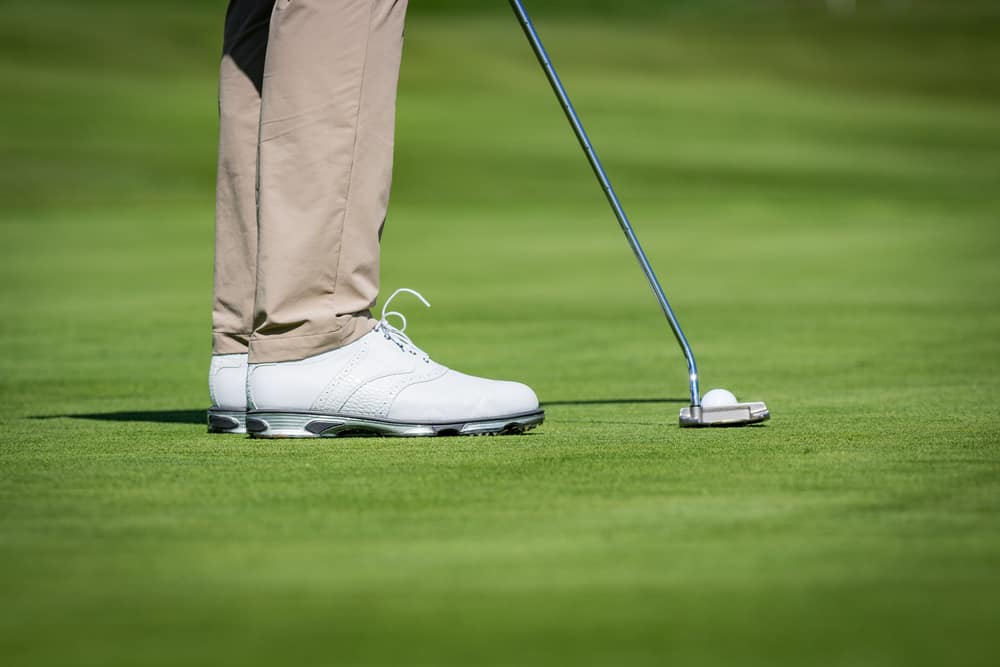 Professional golfers do not use new shoes every round.
Any golfer who has purchased a new pair of golf shoes can easily answer this question as to why this is.
New golf shoes are not always better.
In fact, most golfers will agree that, in order to enjoy wearing a pair of golf shoes and have it go well on the course, you must break the shoes in a bit.
The first day with a new pair of shoes can sometimes lead to issues like blisters and other uncomfortable situations.
In addition, there could be something about the shoe that makes it so that it doesn't hold up well against water or even uneven turf.
Professional golfers will typically have a few pairs of golf shoes that they travel around with.
As they go from one tournament to another, they will bring several pairs of shoes and wear them all.
There are a few ways that professional golfers determine which shoes to wear and when it is time to retire a pair.
Let's look at a few of the things that these professionals consider when choosing their shoes and the same information that you should consider when choosing your shoes.
How Do PGA Professionals Choose Golf Shoes?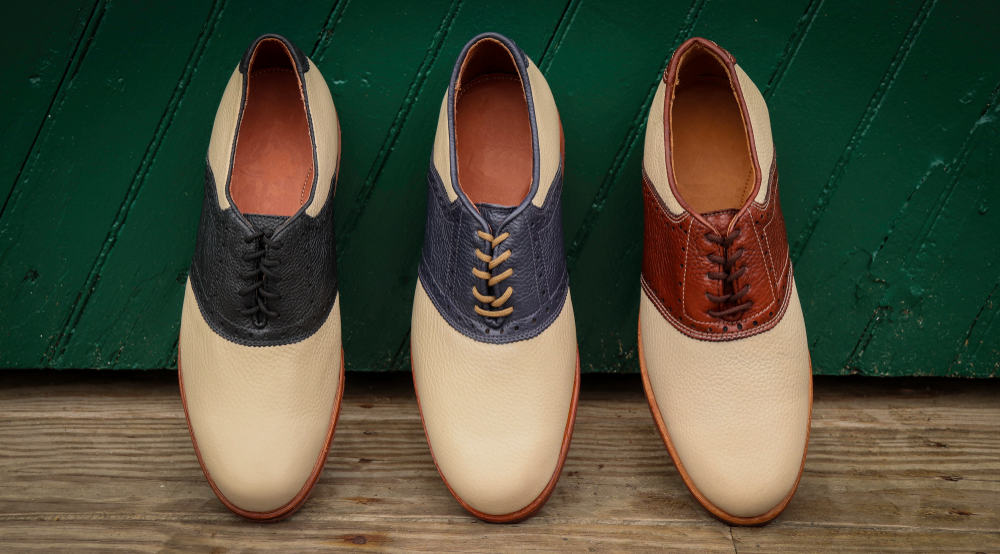 PGA Professionals have a few different methods they will use to decide if a golf shoe is a good fit for them.
Here are a few of the things that will play into a decision by a PGA Professional as to what shoes they should be wearing.
1. Sponsors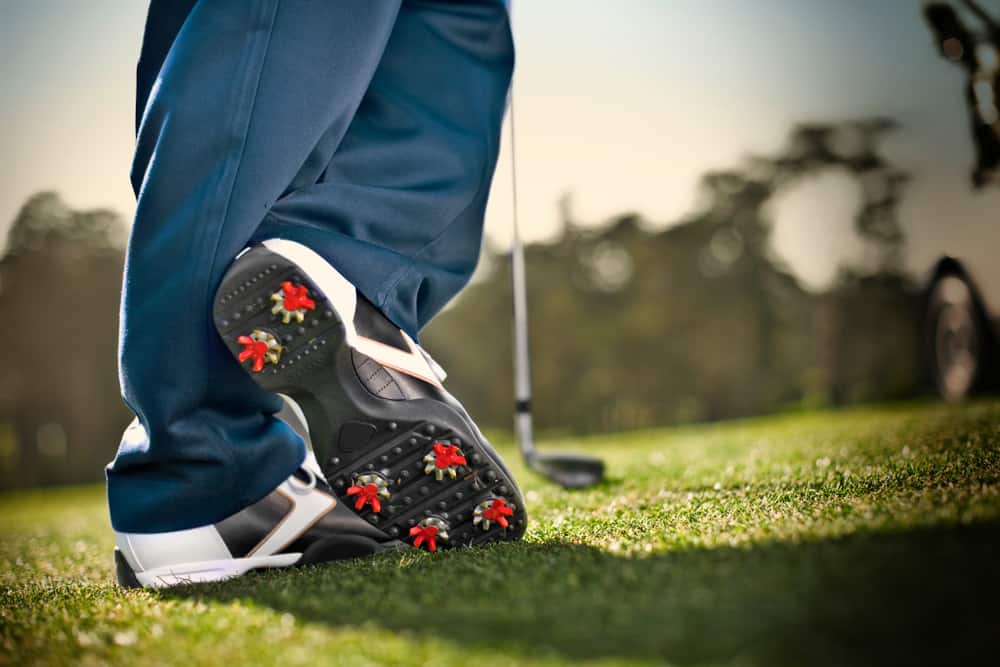 PGA Professionals will have sponsors that help them decide what equipment to play with and what clothing to wear.
When a company is paying you to wear their shoes, you will wear their shoes.
The majority of golf professionals make their money by promoting the products that their sponsors sell.
Overall, FootJoy tends to be one of the bigger sponsors of golf shoes on the PGA Tour.
Professionals who are sponsored by FootJoy will be allowed to choose which FootJoy shoe they want to wear, but they will need to keep it within the Foot Joy brand.
Sponsorship really narrows down what a golfer can and cannot wear.
If you see a golfer wearing a pair of shoes that may look out of character or unique, it could be something they were asked to wear.
2. Match Clothing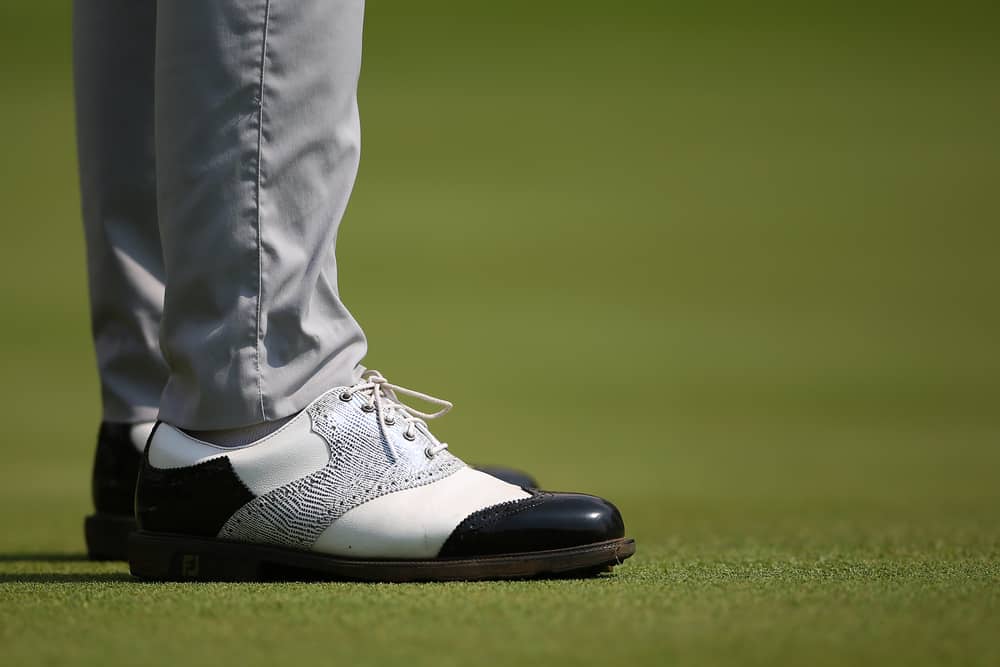 Although golf professionals will have some say in the clothes that they wear when they play, for the most part, they need to choose shoes that will also match their clothes.
The outfits that professionals wear are typically made with very high quality, and they will have matching accessories and shoes included.
Since the golfers all wear pants, the shoes are very noticeable and are often made to contrast or blend in with the pants a player is wearing.
It is still quite popular to wear a pair of white golf shoes.
This has been the standard golf shoe color for many years, and it doesn't seem like it will change any time soon.
3. Performance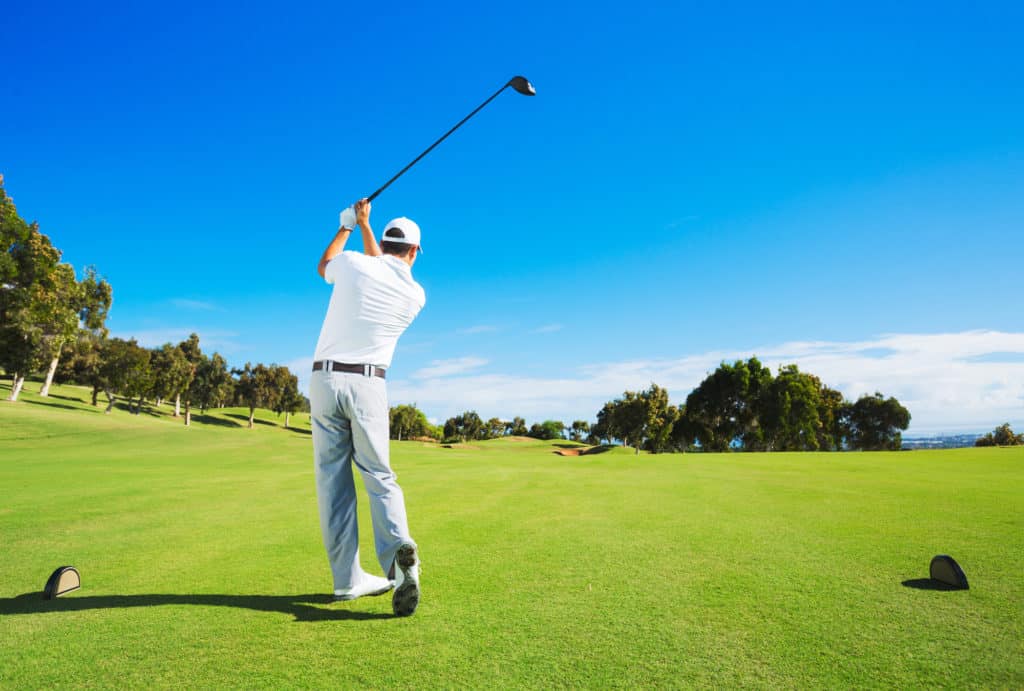 The performance of the golf shoe is likely the most important part of the entire process.
A high-performing golf shoe allows a professional to swing at full speed and get tremendous balance and stability from the shoe itself.
Without a high-performing golf shoe, it is really difficult for golfers to feel as though they are grounded and connected to the earth as they swing.
Overall, PGA Professionals need to consider their performance.
Many of the shoes that they wear can have soft spikes or metal spikes depending on the type of golf shoe and the performance benefits needed.
Golf professionals will put golf shoes under some of the strongest pressure that they will be under, and the shoe must be able to hold up.
If a shoe does not match up to the performance that a golfer wants, it will quickly be taken out of the lineup.
4. Style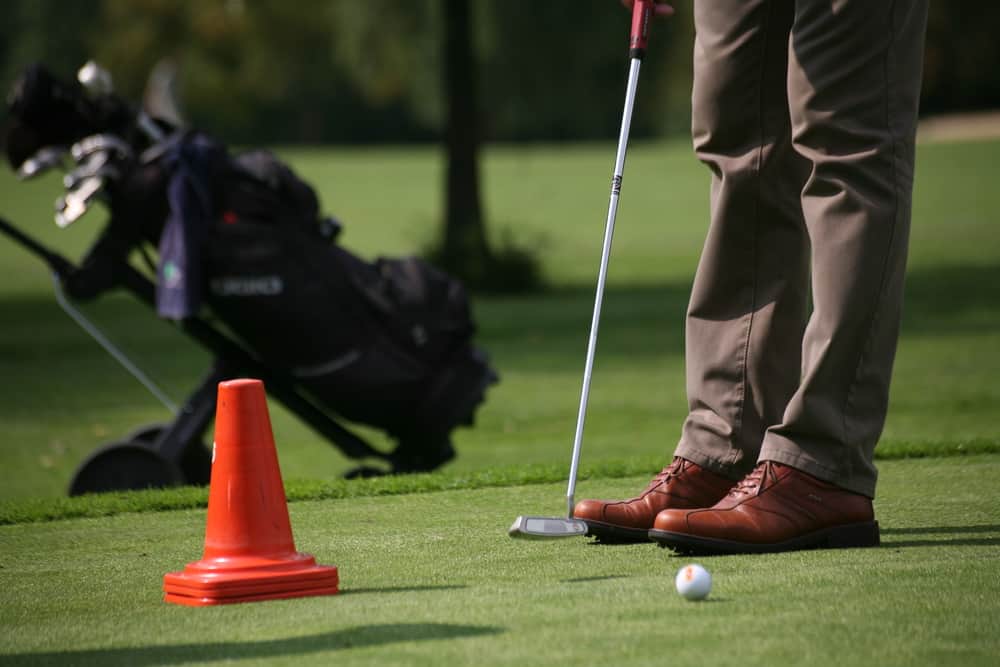 Some golfers are going to have a more traditional style, while others want a modern look.
There are all types of golf shoes out there for players to choose from, but the styles can look completely different.
Style is important as each golf professional wants to have a unique look to them.
Most golf professionals will have a few different styles of shoes so that they can change the way they look on the course throughout the week.
Sometimes on Sunday afternoons, you will see the most premium of the shoe collection come out as it is the day when everything matters.
If a player feels good about the way they look on the last day of the tournament, they are giving themselves a better shot at winning the event.
What Types Of Shoes Do PGA Professionals Wear?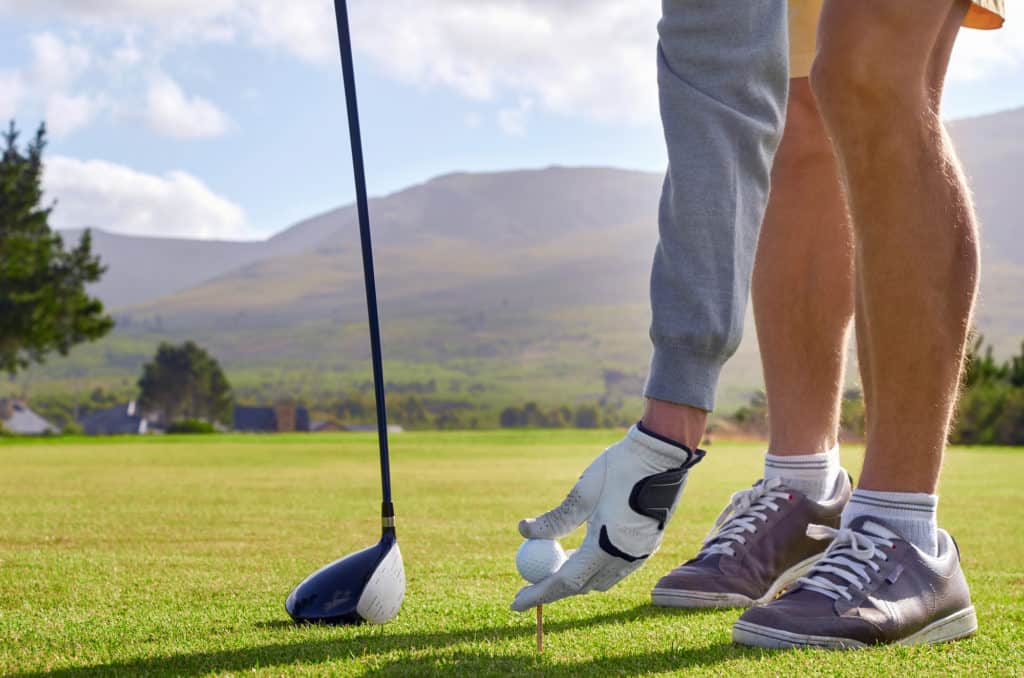 There are three types of golf shoes that PGA Professionals can wear, but only one type that most players will wear.
The three types are spiked golf shoes, soft spikes, and spikeless.
Each of these shoes has some important performance benefits to ensure that they are going to be able to hold up to what a player needs.
1. Metal Spikes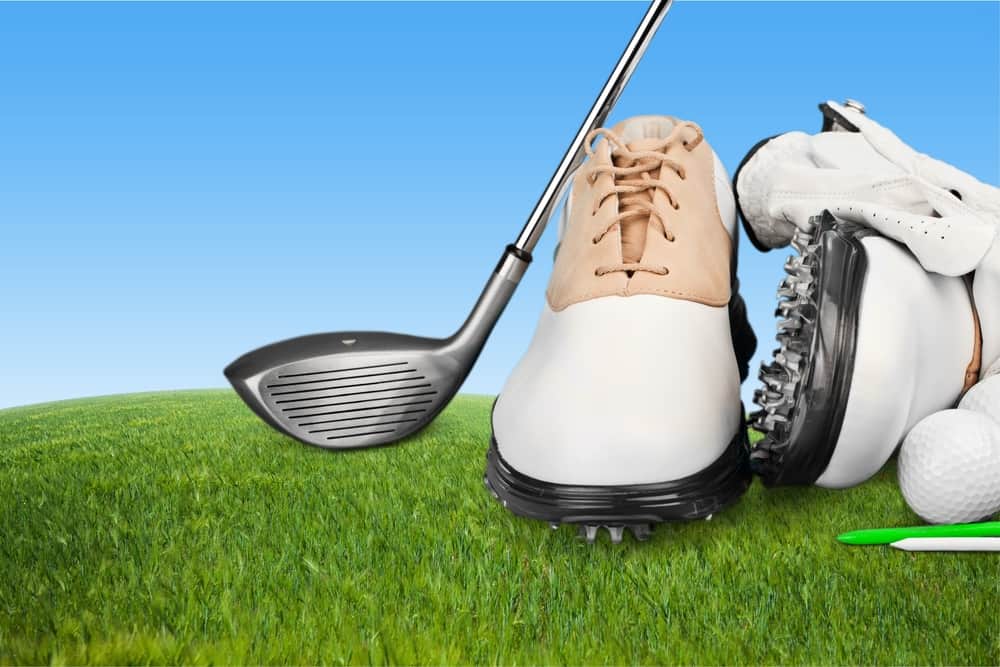 Golf shoes with metal spikes are not legal for amateur golfers to wear.
These spikes were doing too much damage to golf courses, making it really difficult for golf course superintendents to keep up.
The metal spikes were replaced with soft spike technology.
However, in today's world of golf, professional golfers are allowed to wear these metal spikes.
These players know how to wear metal spikes responsibly, and they know that the performance is what they need.
Professional golfers have such high swing speeds that they must use a golf shoe that keeps them grounded and connected while they swing.
Metal spikes are important for players who are looking to increase stability, but it is something that not all professional golfers want to deal with when they play.
2. Soft Spikes
FootJoy Men's Sneaker Golf Shoes, Black, 10.5 Wide
Soft spikes are still the most popular type of golf shoes on the market.
These shoes have good stability and performance, but they can do much less damage to the golf course.
Soft spikes are replaceable so that the body of the shoe is going to hold up for quite some time.
There are, of course, downsides to the soft spike shoe.
Some of the issues are related to the soft spikes deteriorating quickly when walking on certain surfaces.
In addition, the soft spikes will not be the best when walking on wet turf, as the metal spikes tend to give a bit more traction.
However, the soft spikes do tend to be more comfortable than the metal spikes as they have a softer feel.
3. Spikeless
adidas Men's Codechaos 21 Primeblue Spikeless Golf Shoes, Footwear White/Grey Four/Grey Two, 9
Spikeless golf shoes are the newest on the market, and they have helped to eliminate several problems in the game of golf.
Spikeless golf shoes can be worn on and off the golf course, and that makes it much easier to transition from the office to the course.
However, spikeless shoes will offer the least amount of stability and traction when looking at all of the different types of golf shoes available to players.
Spikeless golf shoes are a strong choice for those who want the most stylish golf shoes available.
The shoes come in a variety of colors and styles to make them easy to match any outfit.
How Often Do Pro Golfers Get New Shoes?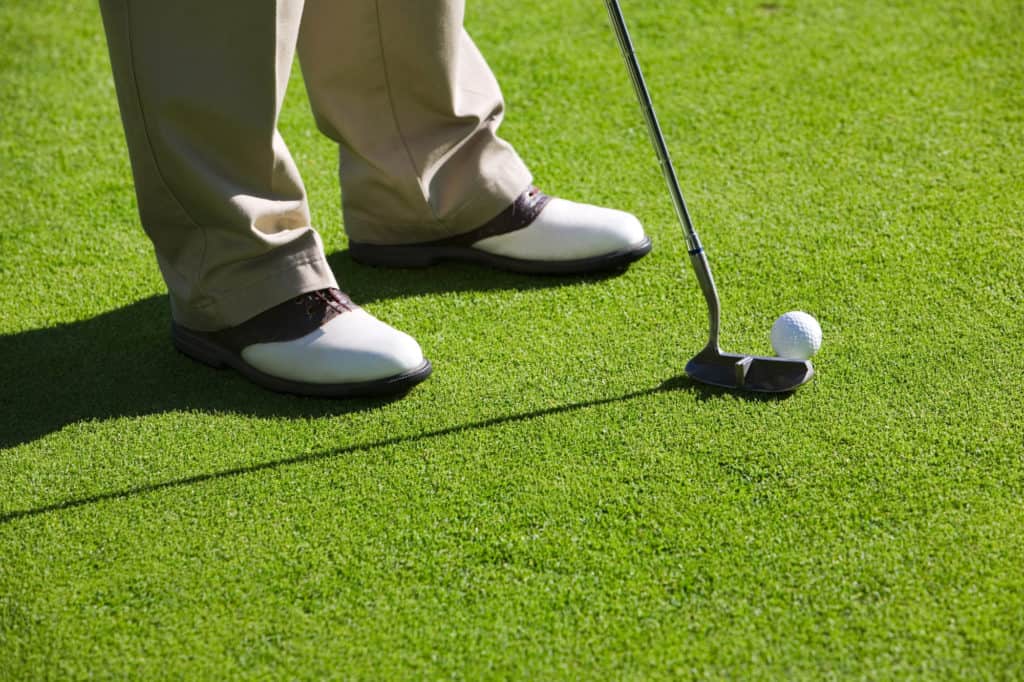 Pro golfers get new shoes very often, maybe even weekly, depending on their sponsor.
However, they will leave a shoe in the rotation for several months as long as it is a good one.
Golf shoes for an average player should last several years, so the fact that a professional gets several months out of a pair of shoes should come as no surprise.
Some golfers feel as though they break a pair of shoes in exactly as they want them to be, and they may keep it in the rotation for even longer.
Professional golfers are in their golf shoes all day, every day.
This is why many of them will have several pairs of golf shoes so that they can give their feet a break and not get too attached to one pair of shoes.
Most golf professionals will tell you that they could not have just one pair as it helps them to vary the performance that they are getting from one round to the next.
Do PGA Tour Players Wear Spikeless Shoes?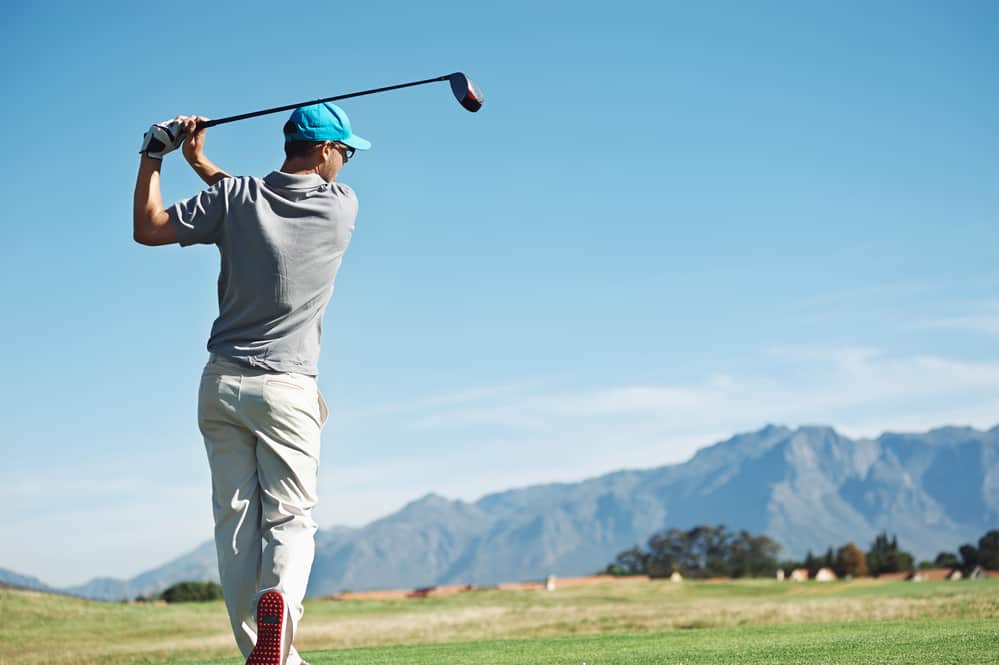 Some PGA Tour players will wear spikeless shoes as they are allowed to and sometimes want to promote a different look to a different shoe style for a company.
However, spikeless golf shoes are not always the best fit for a PGA Tour player because they don't have the stability and traction these players need.
Tour professionals have swing speeds that are much higher than the average golfer.
To help these players get stability when they are swinging a club this fast, they need some extra traction from their golf shoes.
Unfortunately, with a spikeless shoe, although there is a traction pattern, it still will not be quite the same.
PGA Tour players are not going to consistently wear spikeless golf shoes, but they will wear them from time to time.
Can You Change Golf Shoes During A Round?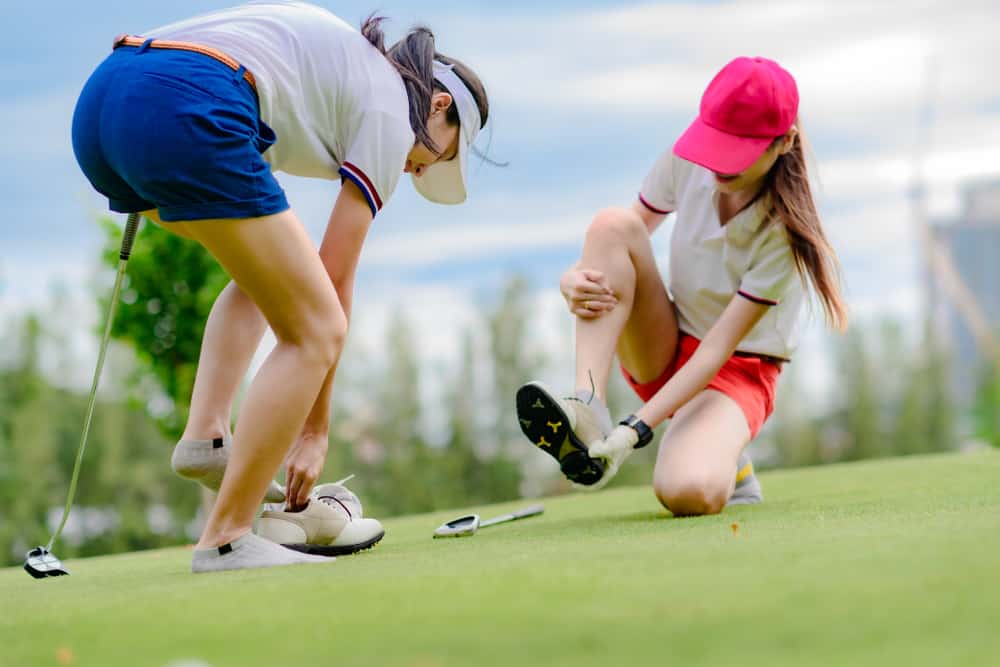 One of the most interesting rules and questions that comes up for golfers is whether or not you can change shoes in the middle of the round of golf.
Of course, this is not a situation that comes up often, but there are times when your shoes may get wet, or you simply find that the sole is starting to separate in the middle of the round.
If this is the case and you need to change the shoes out in the middle of the round, you can.
However, you must also consider the fact that you cannot deal with this in the middle of a round of golf.
For those who can run into the clubhouse and quickly change shoes or purchase a new pair in the golf shop, this is completely acceptable.
However, if you are not able to do this because of time or other restrictions, then it is best to just keep your golf shoes on.
There are rules about changing golf balls and changing golf clubs when you are playing a round of golf.
This has many players believing that the same rules are going to apply to shoes.
However, there is nothing stated in the rules of golf about the shoes that you play with and the fact that they need to be the same ones that you start the round with.
Are Pros Required To Wear Golf Shoes?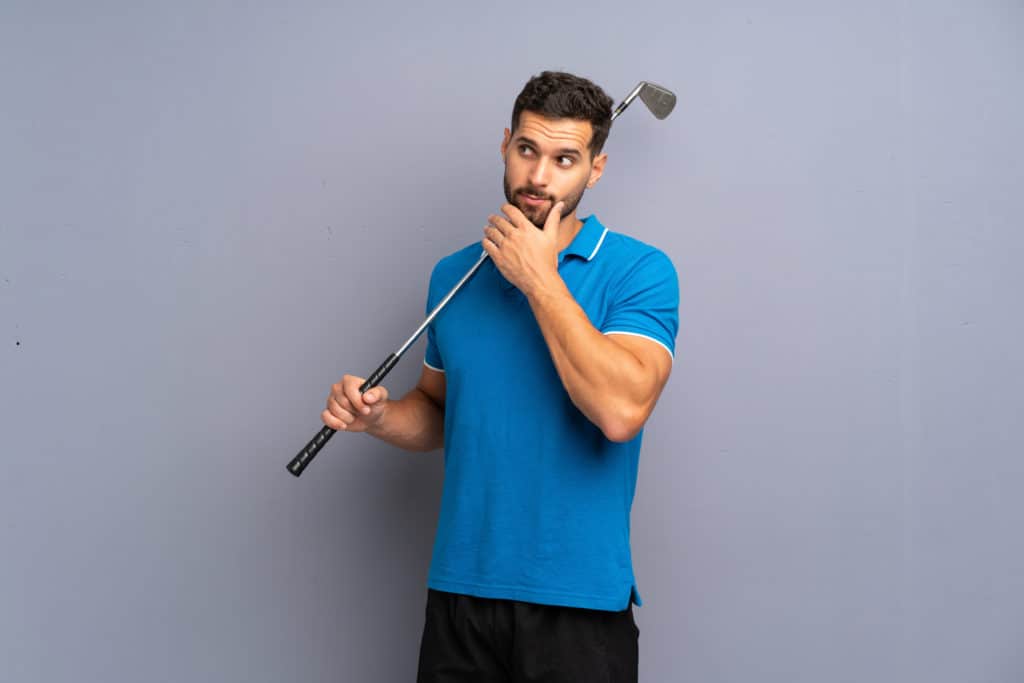 If a golf professional wants to wear a sneaker the next time they head out to play, they are allowed.
However, this is really not in the player's best interest.
Golfers are supposed to take every advantage they can get to help improve their overall performance on the golf course.
The best way to do this is to play with a golf shoe that is comfortable, high-performing, and stylish.
A sneaker or a tennis shoe will not offer this same performance that a player needs to really see success on the golf course.
With players winning a million dollars and more for a successful tournament, it makes a lot of sense to take full advantage of the equipment options available to them.
Conclusion
We hope you now understand that professional golfers do not wear new golf shoes for every round.
Although it may seem as though these golfers have access to endless equipment and funds, they know that it is excessive to wear these new shoes for every single round.
Instead, it makes much more sense for players to wear a shoe that is broken in, feels comfortable, and gives players the confidence they need.
Golfers who use new shoes every round are likely just trying to advertise a new release for their sponsor.
Outside of that, you can expect a player to keep a shoe in the rotation for at least a few months.
Alternating between three and four different types of golf shoes will make it easier to coordinate outfits and give your feet a break from the demands of being in golf shoes all day, every day.
If you see a professional practicing with a different pair of shoes than they play with on the course, this is not uncommon.