Do Golf Carts Have Titles?
Many potential golf cart owners are likely curious about whether or not they need to have a title for their cart and maintain the title as they do with their normal vehicles.
This question is a very reasonable one and is both easy to answer and surprisingly complex in its depth.
As a result, you need to understand the nature of golf carts, how they are defined as vehicles, and when they do need a title in order to own and operate them.
Thankfully, there are only a handful of circumstances in which you will need a title for your golf cart.
Golf Cart Titles are Not Necessary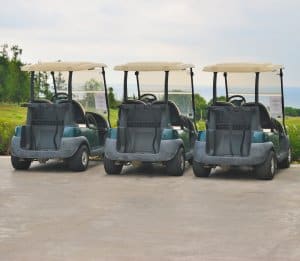 Simply put, golf carts are not considered road vehicles – without modification – and, therefore, do not need titles the way that trucks or motorcycles require.
This fact doesn't mean that golf cart titles are available but not necessary for ownership.
In fact, there are no such things as golf cart titles, specifically for fleet carts or those used for private purposes. As you can imagine, there are positives and negatives to this lack of a title.
The positives of requiring no title when buying or owning a golf cart include a smoother transfer of ownership when buying a cart.
Instead of having to pay for the vehicle, license it, and maintain its title correctly, you just pay money to the owner and take ownership of the cart immediately after receiving a bill of sale.
As a result, you can typically buy a golf cart from a manufacturer and take it home the very same day, riding it after the battery has charged.
However, owning a golf cart without a title does open you up to problems with ownership dispute.
For example, somebody could literally walk onto your property and steal your cart and leave you stuck without one.
While you may have a bill of sale that shows you paid for the cart, the lack of a title makes it harder to prove you own the vehicle. The thief may claim that you sold it to them without giving them a bill of transfer and, unfortunately, there is little you can do to get your cart back.
Low-Speed Vehicles Must Be Titled
While most golf carts won't require a title to own or operate, there are instances in which a title may be assigned to a golf cart.
Individuals who modify a golf cart to turn it into a low-speed vehicle will need to get a title for the cart. That's because they have adjusted the operation of the cart in such a way that it is now capable of riding on the road alongside other vehicles.
The differences between golf carts and low-speed vehicles lie primarily in their engines and their power.
For example, non-road-ready golf carts cannot go over 20 miles per hour with their standard motor and battery.
However, owners can add more powerful batteries and engines to increase their maximum speed to over 20 miles per hour but not more than 25 miles per hours.
Other modifications, such as improved safety devices, are also necessary for conversion to low-speed status.
At this point, the golf cart is now considered a low-speed vehicle and requires a title to operate appropriately.
All operators of a low-speed cart need a driver's license, or they are breaking the law.
Essentially, a low-speed cart is a road-ready car that drives much slower than standard vehicles on the road. As a result, all traffic laws must be obeyed when driving low-speed vehicles.
Conversion to Low-Speed Vehicle Status
After a cart has been updated to a low-speed vehicle – including adding safety features, like seatbelts and headlights to the cart – the cart must be registered and titled.
Failure to do so could result in severe fines or tickets if you try to drive a golf cart on the road. Thankfully, the titling process is relatively simple in most states across the country.
For example, you will need to go to your motorist services office – such as a DMV or a DMS center – and get an application for a low-speed title.
You must then fill out the paperwork required for the title, including showing a bill of sale, detailing how the cart has been modified, the year in which it was converted, and any other legal requirements asked for by your state of residence.
After the application is verified and approved by the proper authorities, you must pay any necessary fees to obtain a title and a license for the vehicle.
At this point, you can drive the cart as a low-speed vehicle on specific roads in your area.
Remember, though, that your cart is likely to be exempt from odometer disclosure laws. As a result, it may be impossible to tell how much mileage one has if you plan on buying one from another person.
Roads on Which Low-Speed Vehicles Can Be Driven
Low-speed vehicles, like golf carts, cannot simply go wherever they want.
For example, a driver cannot take a low-speed vehicle on a freeway because the cart won't go fast enough to maintain reasonable traffic flow. Beyond that, the driver will be in danger as high-speed drivers angrily flow around them or pass too close for comfort.
As a result, low-speed vehicle use is typically limited to only a handful of roads in each state.
For example, drivers in Alabama can only drive on municipal streets in class 2 municipalities during daytime hours.
The streets on which the cart can travel must have a speed limit that is no higher than 25 miles per hour. Other states, such as Alaska, are more forgiving. Here, drivers can take low-speed vehicles on roads with a posted limit of 35 miles per hour or less.
Therefore, drivers of low-speed vehicles need to carefully understand what their city and state ordinances allow before assuming that they can go anywhere with their cart.
Most states limit these carts to roads that are no more than 45 miles per hour. Others may restrict operation to particular roads in a city. Talk to your local government officials to get a listing of these ordinances or a map where you can drive a low-speed vehicle safely.