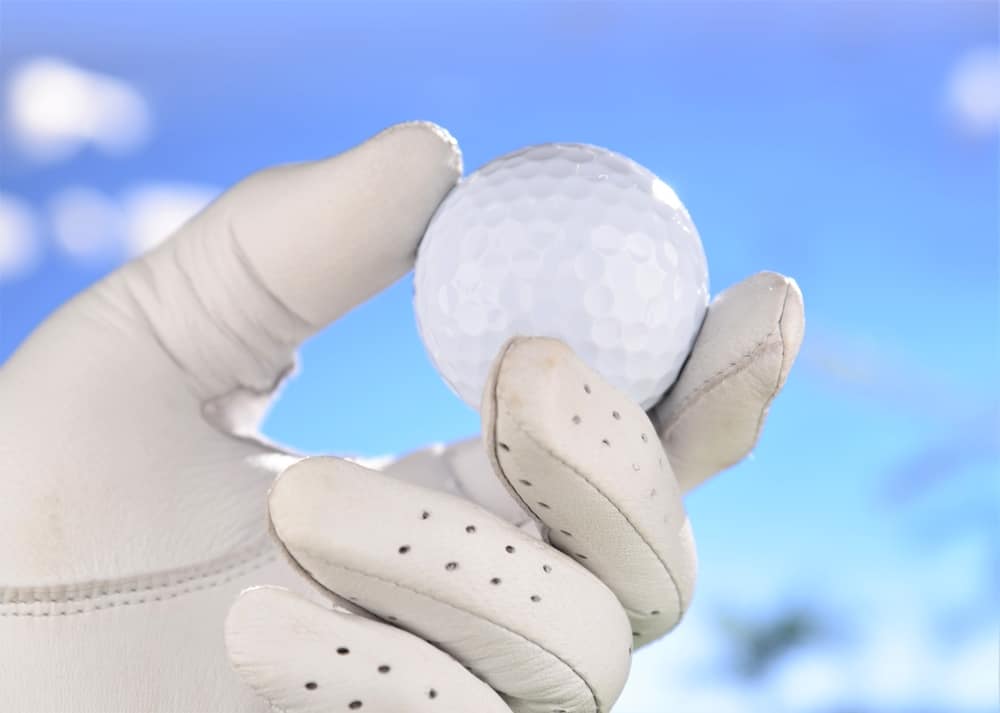 Golfers can get very particular about the equipment that they play with.
If you are not using the right equipment, you may find that your scoring is impacted.
Luckily, there is lots of information out there to help you choose which golf equipment is best for your game.
The question becomes, do all of these golf equipment choices really matter?
Does it matter which golf balls you play with?
We will give you our honest feedback about what matters and what does not matter when it comes to the golf ball you choose to play with.

Do Golf Balls Really Matter?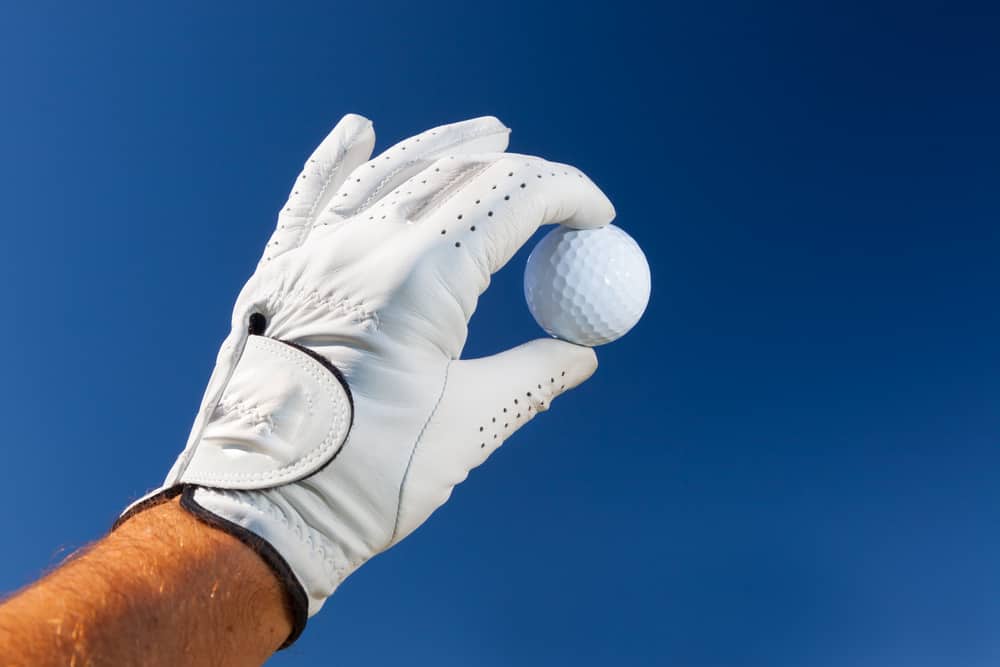 The golf ball that you play with will make a difference in your golf game.
If you are playing with a golf ball that is not suited exactly to your game, then you should consider paying a little more attention to this decision.
Playing with the wrong golf ball can result in golf shots that don't go as far as they should and don't travel directly to their target.
In addition, playing with the wrong golf ball can also mean a decrease in spin where you need to spin the most.
There are some characteristics of golf balls that you should know before you go shopping for your next dozen balls.
Let's take a look at those and help you find the match you need for your game.
Characteristics Of Golf Balls To Consider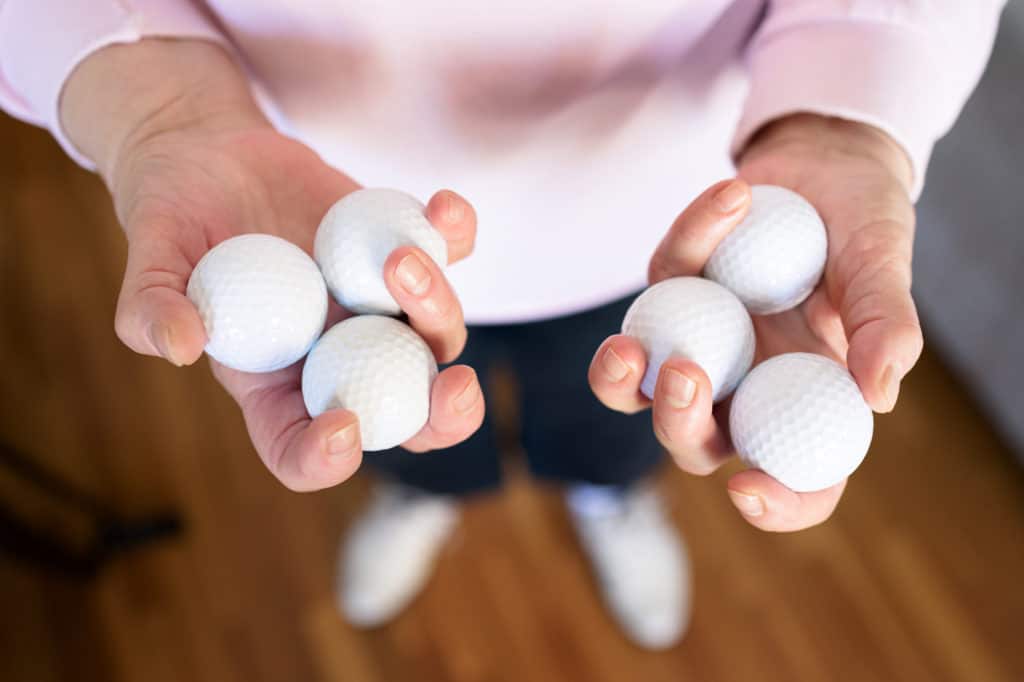 Here are the different characteristics of golf balls that you should learn to pay attention to.
If you have a better idea about these, you can certainly find out which is going to be the best choice for your game.
Having no idea what golf ball technology matters will likely lead to you pulling a random golf ball off the shelf and hurting your game.
1. Compression
Golf balls have a compression rating.
The compression rating of a golf ball will determine how easy it is to compress the golf ball.
When a golf ball is compressed, it will then expand and head down the fairway a reasonable distance.
The more you can compress a golf ball, the better the results that you can get.
The golfers with higher swing speeds are going to need higher compression golf balls.
Golfers with slower swing speeds need lower compression golf balls.
A lower compression golf ball tends to feel a bit softer and is a better choice for the slower swing speed player who needs extra distance in their game.
You will typically notice compression ratings ranging from about 40 to 100.
One of the more popular Callaway golf balls, the Callaway Supersoft, has a compression rating of 38.
This is a very low rating and has helped the slower swing speed golfers gain some extra distance.
Overall, you can choose your golf ball based on the compression that you need, and you will be well on your way to getting the results that you want.
2. Number Of Pieces
Most golf balls are two or three pieces.
Some golf balls on the market are constructed with four or five pieces.
The more pieces a golf ball has, the more levels it has and, therefore, the more performance it can offer.
When a golf ball is a two-piece golf ball, it can only offer the golfer so much performance.
When the golf ball switches to a five-piece ball, you will see that there is a large difference in what advantages the ball can provide.
For instance, a five-piece golf ball will likely be able to give you distance off the tee and spin around the greens.
With a two-piece golf ball, you will likely only get distance off the tee and potentially some soft feel on the greens.
As far as the spin rate is concerned, you may not be able to get much with the two-piece ball near the putting green.
Traditionally speaking, the more pieces a golf ball has, the more expensive it is going to be.
Higher prices are a result of the fact that there are more materials and a more complicated manufacturing process involved in the production of the golf ball.
Overall, you won't make a decision on a golf ball based on the number of pieces alone, but you will likely find that the three- and four-piece golf balls tend to feel quite a bit better than the two-piece balls.
Some players will find that the three-piece ball is worth the extra money that you pay.
3. Materials
Golf ball manufacturers use all different types of materials when they make their golf balls.
Some will use Surlyn and others Urethane.
Some golfers have preferences about the materials that are used in the golf balls they purchase.
One of the more popular covers on the market currently is the Ionomer cover.
With the Ionomer cover, you get durability as well as an excellent feel.
If you are playing golf with a ball that you like, try to do a bit of research to see what type of materials that the ball is made from.
If the golf ball is made with Urethane, then you should try to consider using the Urethane cover again the next time you purchase golf balls.
If you have a very strong golf swing, there is a chance that you can cut the golf ball when you hit it.
One of the best ways to prevent this from happening is to use a golf ball that can handle a stronger impact and one that is known for durability.
4. Color And Design
Have you noticed that more and more golfers are using colored golf balls?
There are actually some important reasons behind this.
Players are switching to colored golf balls because of visibility.
It is easier to see the golf ball as you follow it through the air, and it is easier to find it once it lands on the ground.
In addition, golfers have a better time focusing on the golf ball when they set up to hit their shots.
Since the golf ball stands out so much, it makes it much easier to pay attention and focus on the task at hand.
Some golf balls now have designs on them to make it easier to focus and stay concentrated.
There are lots of distractions on the golf course, and one of the best ways to avoid being overly distracted is to have an object to focus on.
For instance, a golf ball like the TaylorMade Pix has images that players can watch, and it can be a trigger to start the golf swing and keep it on track.
In addition, some golf balls will have a line on them that players can use to line up their shots or line the ball up on the putting green.
The line, for many years, was just the name on the ball, but now it is done intentionally to provide an additional alignment aid for the player.
Overall, the color and design of the golf ball can be a personal preference, but there are some performance benefits to these golf balls as well.
Don't assume that the golfers using a yellow or green golf ball are just fans of that color.
Chances are they also enjoy the performance benefits they get by using a different color and design.
5. Spin Characteristics
Typically speaking, golfers want low spin from the tee and high spin around the greens.
Higher levels of spin can help players stop the ball where it needs to stop and sometimes even spin it backward.
When you have a lot of spin, you can control the way your golf balls perform on the green.
The downside to spin, of course, is that as you are hitting from the tee, a high spin rate can cause your drive to stop in its tracks.
Keep this in mind and look for golf balls that have a low spin rate off the tee and plenty of greenside spin to help your short game.
To find a ball that really handles both of these aspects of the game, the three- or four-pieces balls may have to come into play.
Are Expensive Golf Balls Worth It?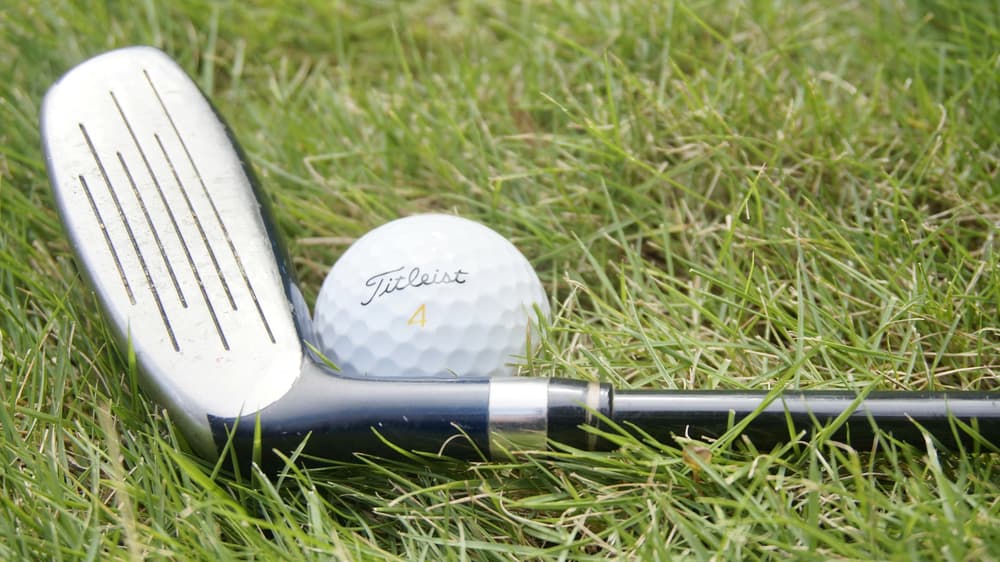 Some golf balls are $20 a dozen and others are $50 a dozen.
If you are an average golfer, you have likely asked yourself what the appropriate price to pay for golf balls really is.
The truth is if you can feel the difference between one golf ball and another, the money you spend is justified.
If you have no idea if you are hitting a Titleist high-end golf ball or one of the old range balls that you found in the rough, then you shouldn't bother to spend much money on golf balls.
The first place you will really start to notice a difference in the golf balls that you play with is in and on the green.
Most beginners will start to realize that, when they putt with certain golf balls, the feeling is going to be hard or soft.
This then translates into some understanding of what the golf ball feels like on a wedge shot and eventually up to the tee shot.
It takes some time to develop this kind of feel, but eventually, golfers will start to notice the difference.
Once you feel that you can tell the difference between the golf balls that you put into play, it's time to start considering paying a bit of extra money for the golf balls you play with.
The good news is that sometimes the right golf ball for your game is the ball you can get for $20 per dozen.
Other times, you may be doing yourself a disservice by not investing in the better golf ball.
Overall, it can make sense to purchase golf balls that work for your game if you are committed to scoring lower and seeing where you can go with your game.
If you play once a month with some friends and use some old golf balls from the bottom of the bag, don't spend too much on your next golf ball purchase.
Some players assume that any golf ball will do, but if changing from one golf ball to another can take a few strokes off your game, it will likely be well worth the money you pay.
Conclusion
Hopefully, you can now see how important it is to look at the golf balls that you have and find ones that will work best for your game.
If you don't play with the right equipment, you could be leaving strokes on the table.
Instead, learn to identify the strengths and weaknesses in your game and see how a golf ball can help.
Chances are there is a characteristic that we discussed that can help you find a better match for your golf game.