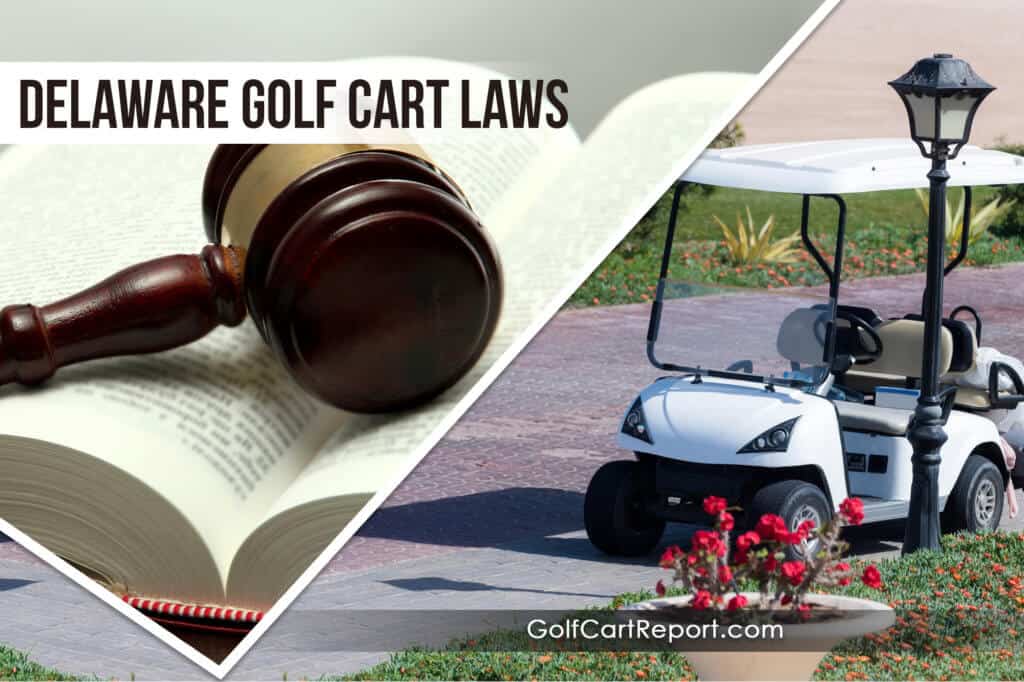 Delaware Golf Cart Laws
Though a small state, Delaware takes its road safety very seriously.
As a result, they have some of the most detailed and restrictive golf cart laws in the country.
Therefore, anybody interested in riding golf carts on public roads needs to read through this information carefully.
Breaking a law would be very easy to do if you don't fully understand every aspect here.
Federal Laws for Golf Carts
The federal government does not control the usage of golf carts on any state roads.
That's because golf carts, as manufactured, are low-speed vehicles.
The federal government only worries about medium- to high-speed vehicles, as these are the only that will be riding on their federal highways.
Instead, the government lets states come up with rules and regulations for low-speed vehicles.
Some have very relaxed rules that allow many different riding scenarios.
Others, like Delaware, are more strict. Read on to learn more about these rules and how they affect you.
Delaware's Definition of a Cart
Currently, Delaware defines a golf cart as a low-speed vehicle by their state laws.
These vehicles are defined as four-wheeled motorized vehicles, other than a truck, who can obtain 20 miles per hour in speed over a one-mile distance.
However, these carts can get no faster than 25 miles per hour on a paved and level surface.
Any faster than they are medium-speed (up to 45 miles per hour) or high-speed vehicles (any speed at 45 miles per hour).
Golf carts, as manufactured, are not considered low-speed vehicles because they cannot obtain these levels of speed without upgrades to the motor and other parts of the cart.
They state that retrofitted golf carts do not fall under this heading, for example, which means that your golf cart must be manufactured or upgraded to meet these conditions before they can ride on any roads.
When using a golf cart as a low-speed vehicle, you must title, register, and insure the cart.
This process requires getting a manufacturer's State of Origin for the vehicle.
This document states that the cart is a low-speed vehicle and that it is qualified for registration as one.
An inspection technician will examine the cart to make sure that it qualifies and will then give you a vehicle identification number.
Then, you can register the vehicle in your name and add a license that must be placed on the back of the vehicle.
This license makes sure that police and others know that your cart is legal to ride.
Your insurance must be applicable to your vehicle and include property damage and liability coverage.
These bare minimum coverage options ensure that you are protected.
State law dictates that cities and towns dictate where carts can ride, though state law also regulates the top speed of roads on which carts can ride.
Carts and other low-speed vehicles are restricted to roads of 35 miles per hour or slower.
Any road with a limit higher than this is off-limits.
More restrictions on roads will be discussed in the section below for further examination.
Roads On Which You Can Ride
Delaware's restrictions on cart road travel are very specific.
As mentioned above, carts can never travel on roads that have speed limits higher than 35 miles per hour.
The only time that this is very briefly allowed is when they cross intersections.
Moving from one appropriate road to the next over a faster highway is allowed in certain circumstances.
Typically, carts can only cross these roads at designated interactions.
These are designated in appropriate communities with signs that showcase it is safe to cross there.
People cross roads in this way where there is no designated intersection may be prosecuted if caught.
This rule applies to all highways in the state, with the exception of federal roads.
Carts can never pass on these roads, even to cross to another appropriate road.
They must, instead, find an alternative route.
Other operating restrictions include the inability to pass any dual-highway in the state.
These dual-highways include freeways that have separate lanes for both directions of traffic.
However, a small number of designated intersections may be available to cross these roads.
Talk to your local highway authorities about this factor to get a map showing where these designations exist.
And make sure to always wear seat belts when on your cart.
Breaking any of these rules can result in fines.
Remember: you are in a licensed vehicle and will be subject to the same rules and laws as normal automobiles.
One fine is usually worth $50 but may be as high as $100.
Subsequent fines may result in $100 to $200 costs.
Depending on the violation and its severity, some may even get no less than 10 but no more than 30 days along with or instead of their normal fines.
Federal Golf Cart Laws
Helpful Links
https://www.dmv.de.gov/VehicleServices/specialvehicles/pdfs/sb17_low_speed_vehicle.pdf
Disclaimer
Even though our guides are thorough and researched, it is highly recommended that you perform your own research and check with your local municipality on rules as well.