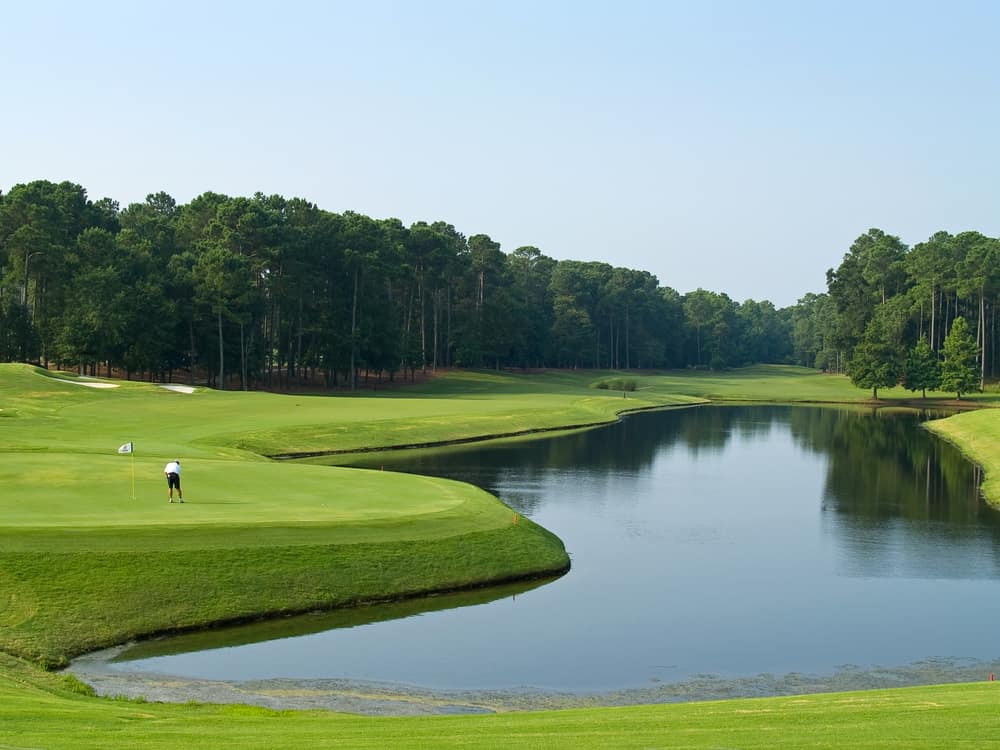 If you live where the temperatures are a bit cooler, you may be dreaming of getting away to play some golf in the winter.
Even just getting one or two golf trips in can really change how your golf game performs when the weather starts to warm up again.
The only problem with traveling to play winter golf is that you are not the only one looking to do this.
The demand for great places to play golf in the winter is rather high.
When demand is high, prices tend to go up.
If you are thinking that you need to get out and enjoy a round of golf but don't want to break the bank, we have some of the best spots for you to try.
We picked locations all across the country so that you will have some options that could be close to where you reside.

Cheap Winter Golf Destinations (Top 10)
1. Santee, South Carolina
Most people think of Myrtle Beach when they consider playing golf in South Carolina, but there is quite a bit of great golf available throughout the state.
Sometimes avoiding an area like Myrtle Beach, where tourists are known to frequent, can mean that you save a bit of money on your destination.
It's important to remember that in South Carolina, you are not always going to have beach weather in the winter months.
Chances are you will have a mix of some warmer days and cool nights.
The courses won't be packed, and if you are a player who thinks a 55-degree starting temp on the day is balmy, you will be pleasantly surprised with South Carolina winter golf.
Santee, South Carolina is not an area that many people know about.
This is precisely what makes it a perfect travel destination for cheap winter golf.
The Santee area is located more in the middle of the state, but it is surrounded by close to fifteen great golf courses.
In addition, these are courses that you can get access to as they are not all private clubs.
Each of the courses in the Santee area has affordable greens fees, and there are many package type stays available.
For instance, if you need to pair your winter golf with a hotel, there are options to stay and play at several of the area hotels.
If you want to get away with a group of friends and play in a tournament, Santee National Golf Club offers some great options.
Of course, in addition to playing golf, it's important to make sure there are other things to do in the area.
You will notice that the Lake Marion area is very close, and one can enjoy fishing, hiking, and boating on the lake.
The area is growing, and that makes this an ideal time to get out there while the prices are still so fair.
You will get some mild temperatures, cheap golf, and a laid-back and enjoyable lifestyle in Santee, South Carolina.
2. Brooksville, Florida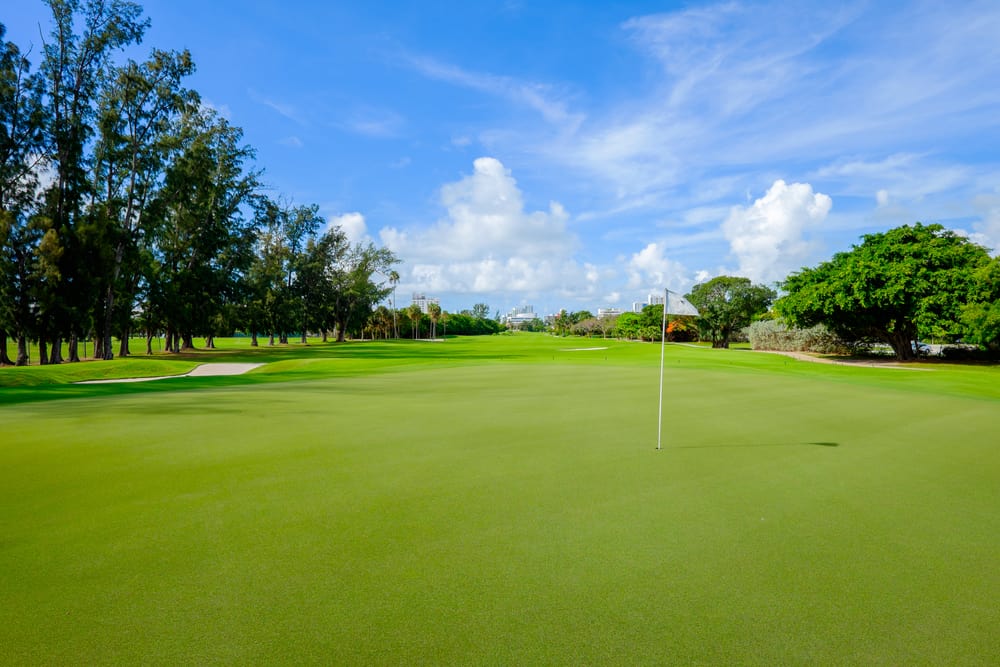 In the winter, it can be a nightmare for golfers looking for value in Florida.
There is no way around the fact that the state of Florida has some of the best weather conditions for winter golf.
However, just because it's winter and the state is bustling with people from the North, it doesn't mean that all areas are exempt from deals.
There are some areas of Florida that don't get as much attention, and these are the ones that you will need to find.
The Brooksville area of Florida is located near Tampa.
You will find a wide range of golf courses designed by top professionals, and there are packages for those who want to play in the winter months.
The most important thing to remember about golf in the Tampa area is to play during the early part of the winter.
Many people think that from late October to March, the state of Florida is expensive and packed with golfers.
However, those who know the golf scene a bit better will tell you that the real truly prices and crowds start after the new year.
November and December in Florida are actually great months to get down and enjoy some affordable golf.
One of the courses in the Brooksville area that is worth checking out is the Lake Jovita course.
This is a spot where many local championships and college golf tournaments are held.
The facility has a beautiful design with 36 holes, and you can usually get a vacation rental right in the neighborhood to make your stay complete.
At Lake Jovita, you get great pricing and beautiful golf course conditions as well.
The general area of Brooksville, Florida offers plenty of night life and great restaurants.
Since this spot is not located directly on the beach, the overall pricing tends to be a bit fairer.
Chances are, if you can find a spot in the Brooksville area that allows you to play several affordable rounds in the perfect temperatures, you will keep on going back.
These under the radar golf destinations are the way to go when it comes to affordability.
3. Mississippi Coast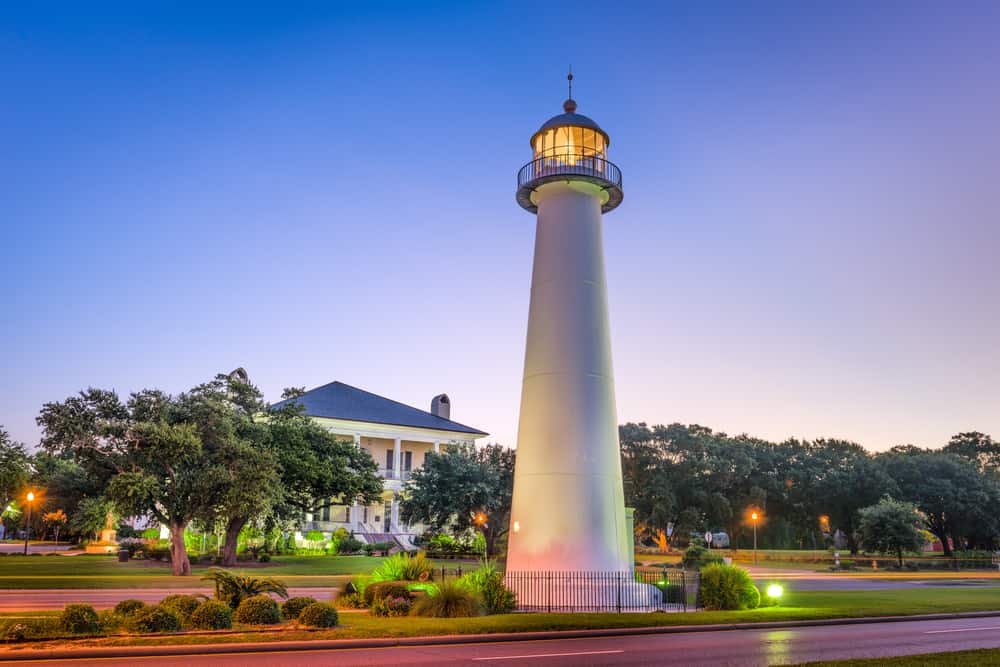 The coast of Mississippi is an area that flies a bit under the radar when it comes to great golf destinations.
For some reason, people often forget the Mississippi area, even though the winter temperatures tend to be rather mild.
The coast of Mississippi is located on the Gulf of Mexico.
Since the Gulf tends to stay a bit warmer in the winter months, you should have no trouble getting in a few mild days of weather on the course.
The Biloxi and Gulfport areas of Mississippi are the places to visit in the winter.
In the fall, spring, and summer, you are going to see higher prices and more crowds in this area.
However, in the winter, everything is rather fairly priced.
In addition, when you are in the Mississippi coastal area, you are not all that far from New Orleans.
New Orleans has plenty of great golf options, and some of them are Donald Ross designs.
In the Biloxi area, there are some courses that are located almost directly on the water.
You may have to prepare for some winter wind coming off the Gulf, but overall, the area is very comfortable and affordable.
Although the Mississippi coast won't be quite as active as downtown New Orleans, there is plenty to do and see while you are in the area.
Depending on when you go, you may even be able to sneak in a bit of time at the beach.
4. St. George, Utah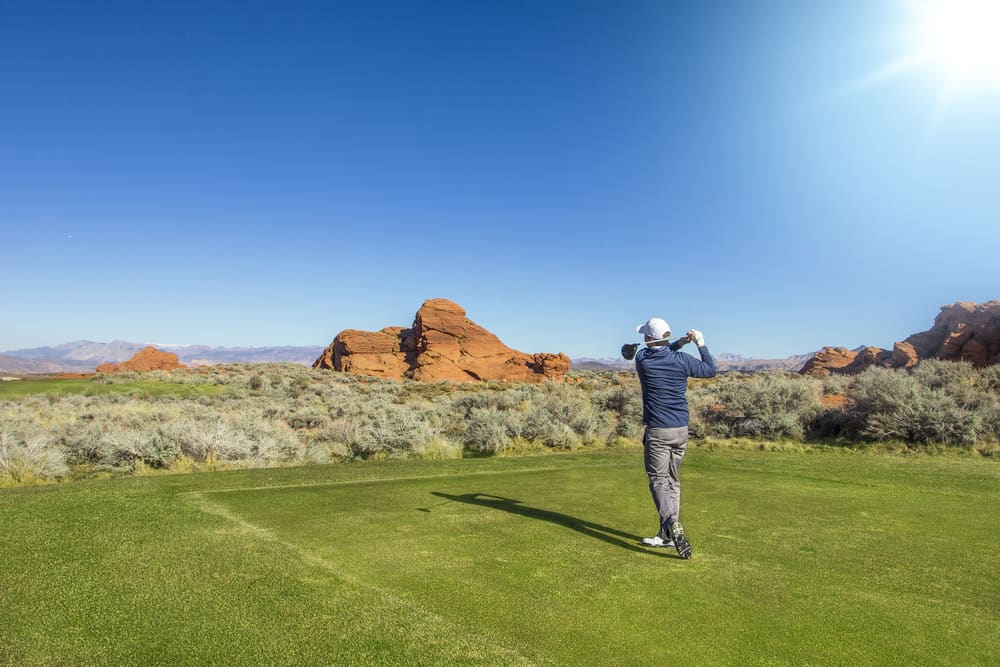 Although Utah may seem like more of a ski trip vacation, you can absolutely play golf in Utah as well.
The most important thing to remember is that not all of Utah is going to be a good fit for winter golf.
The state is large, and the northern parts of the state are going to have more options for winter sports.
St. George is in the southern part of Utah, and golf is considered to be a year-round sport.
Similar to other areas on our list, you won't be completely free from any cold days, but you have a chance for many 70-degree golf days while in St. George.
Now that we have the weather figured out, you may be wondering what the golf is like.
Golf in Utah will be a bit like golf in Arizona and Las Vegas.
If you enjoy some courses with the red sand bunkers and elevated greens, you will love this golf trip.
If you are coming from the east coast where the weather is cold and are used to lush green courses, the golf in St. George will give you a unique perspective of what the area has to offer.
One of the most popular areas not far away from St. George is Coyote Springs, where there is a casino, and there are typically golf vacation packages associated with it.
In addition to the affordable and well-maintained courses in St. George, you will also have access to the nearby Zion National Park.
The Zion National Park is known for having some of the best views and hikes in the country.
It is undoubtedly worth dedicating part of your trip to taking in this natural scenery and enjoying all that Utah has to offer.
With the diverse climate and natural beauty, Utah is becoming more popular.
Go for your golf trip now before prices start to increase.
5. South Padre Island, Texas
If you have noticed that most of our cheap winter golf destinations are skirting the southern east coast, you are right.
This is the area where the temperatures stay just mild enough to be great for golfers yet keep the other vacationers away.
This is a key feature to look for when thinking about a golf destination that is affordable.
South Padre Island is a very popular area in Texas because of how far south it is.
You will notice that the pricing in this area is incredibly affordable compared to some areas in South Florida that are just as far south.
We love the South Padre Island area for courses that are on the water and affordable.
This combination is a bit hard to find, but the area offers some great choices.
The beaches in this part of Texas are said to be some of the most pristine, and there are lots of places to get great food and entertainment as well.
If you look hard enough, you can find some accommodations that include both golf and lodging.
These stay-and-play packages tend to be some of the best values on the market.
We highly recommend choosing somewhere in Texas for your next winter golf destination.
The value that you get will be well worth it.
6. Pinehurst, NC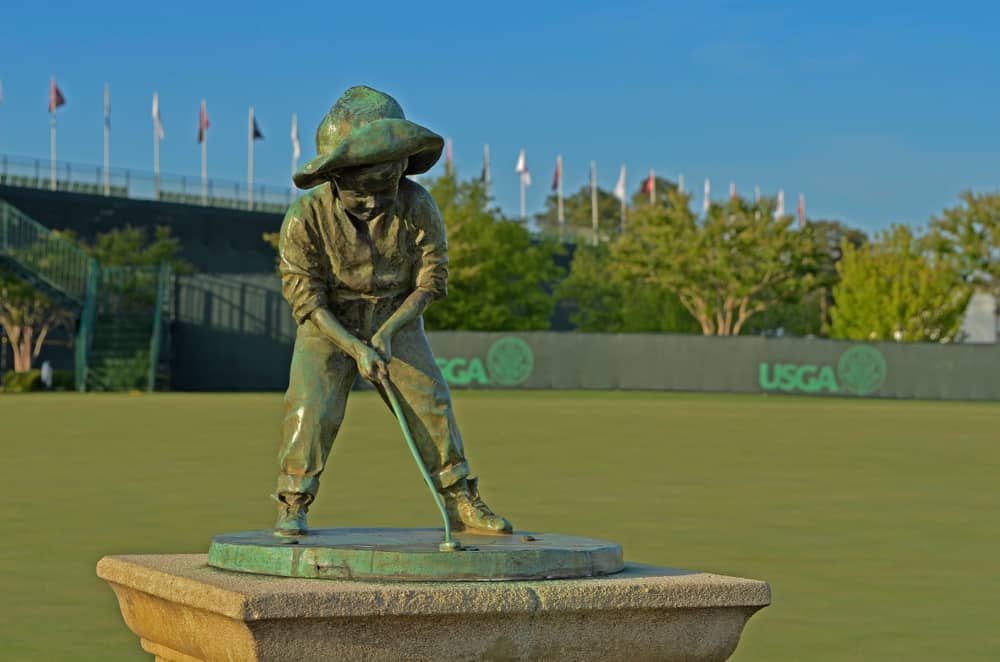 Seeing Pinehurst on a list of cheap golf destinations may come as a surprise for many golfers.
Pinehurst is mostly thought of as a premium golf destination.
Of course, there are times of the year when Pinehurst is going to be quite premium and cost quite a bit of money to visit.
However, there are other times when you can get a great value visiting Pinehurst.
During the winter months, the weather is cooler in North Carolina.
Since the days of shorts and tee shirts are gone, the prices on trips to the area start to go down.
Therefore, the winter is an ideal time to head to the Pinehurst area for a game of golf.
Pinehurst is like a golfer's dream, with more courses than you could ever play and plenty of golf history to keep you engaged the entire time.
Many people don't realize that the area surrounding Pinehurst is filled with great golf courses.
You won't have to be staying within the Pinehurst facilities to have access to some great rounds of golf.
We love the idea of visiting Pinehurst during the winter months when it is a bit cooler, and then, if you love it, coming back when you can enjoy the perfect weather.
7. Gulf Shores, Alabama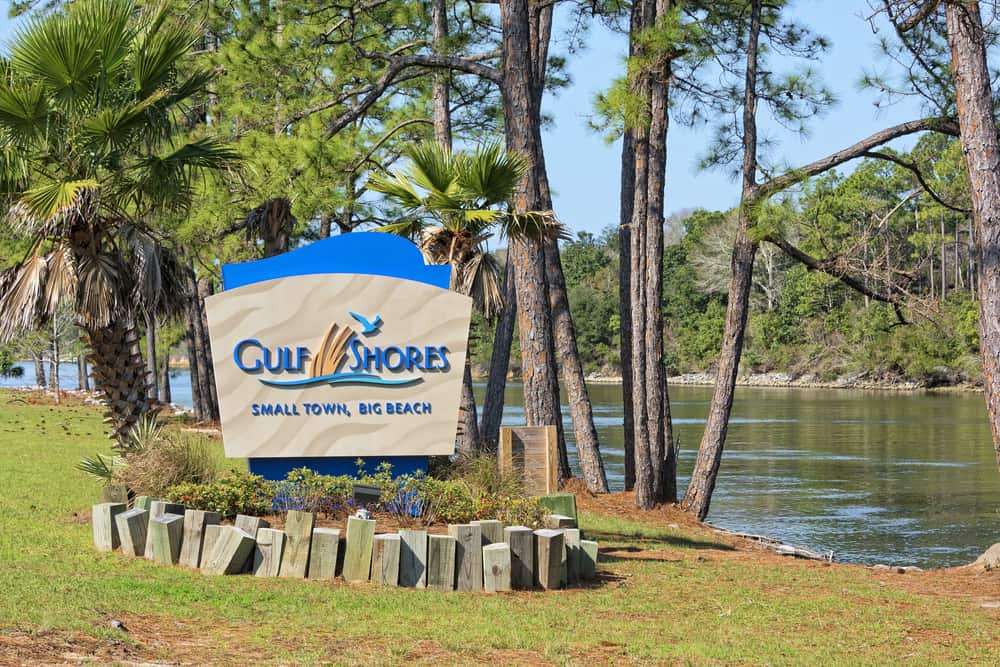 The Gulf Shores area of Alabama is another one where the temperatures will likely be quite warm throughout the year.
Although you can get some cooler winter days, the chances that you can still get a round of golf in are quite high.
You may have to skip a beach day or two, but overall, the golf temperatures could require just a warmer shirt and pants.
The lodging and greens fees in Gulf Shores are very fairly priced.
You will notice that, because of the number of options to stay and play, the courses need to compete with each other.
This works out best for the golfer dealing with shopping for the lowest greens fees around.
There are several resorts located in the Gulf Shores area if that is the type of stay that you are looking for.
One popular resort is the Kiva Dunes Resorts.
With its location near the beach, you will certainly pay a bit more than other Gulf Shores golf courses, but it is worth playing a round or two while you are in the area.
Golfers find that the Gulf Shores area provides the perfect combination of golf and fun on your next destination.
If you are a player who likes to enjoy a morning round and then get out and explore the local entertainment scene, this is a smart spot to visit.
Overall, just make sure you keep an eye on the weather forecast.
The winter tends to be the rainy season in Alabama, and the worst part of a winter golf trip is certainly the rain.
Colder temperatures are bearable, but the rain starts to take some of the fun away from your time on the course.
8. Phoenix, AZ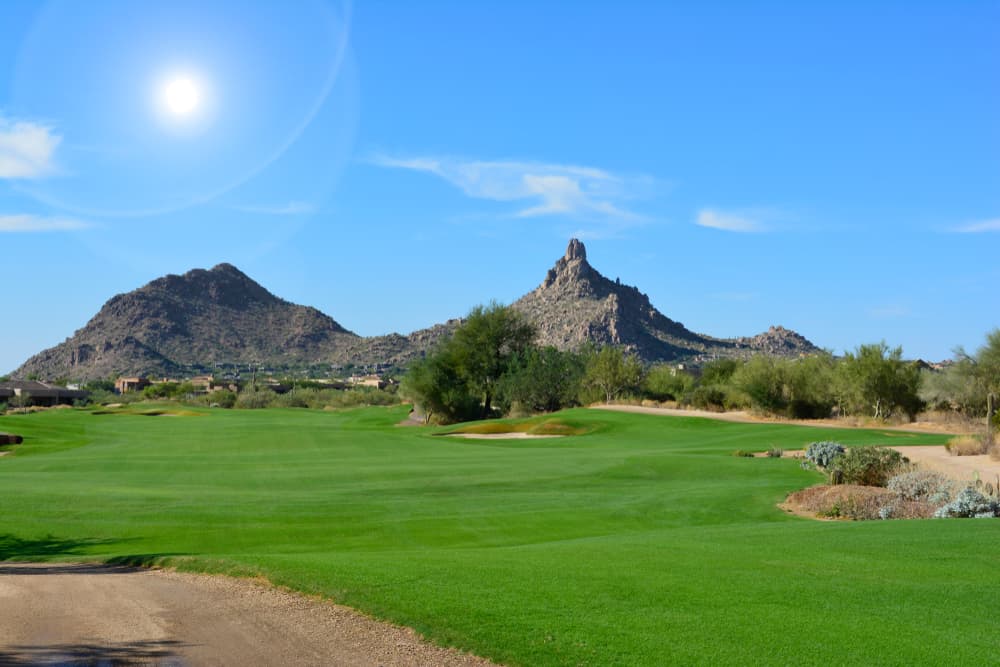 The Phoenix, Arizona area is packed with golf courses.
If you love dessert-type golf and unique and beautiful resort courses, you will love everything that Phoenix has to offer.
The Phoenix area has lots of premium private clubs that are not open to those traveling to the area.
However, Phoenix is also packed with resorts and public golf courses for the average player.
With the amount of golf that Phoenix has to offer, quite a bit of it will remain fairly priced.
Since the pricing needs to be set at a competitive level for golf courses to compete with each other, golfers can get better deals.
In addition, the flights to the Phoenix airport always seem to be priced rather fairly.
This is an easy place to travel to, and the number of different resorts is almost hard to imagine.
If you like finding stay-and-play type packages, this is a place that you are going to want to look into right away.
The weather in Phoenix in the winter is perfect.
You will be comfortable because the humidity is low, and you won't be experiencing the summer dry heat that Phoenix can be known for.
The only thing that could make your price go up a bit is that most of the Phoenix courses are built for use with a golf cart.
The desert landscape often keeps holes kind of far apart from each other and makes it difficult for a walk.
9. Hilton Head, South Carolina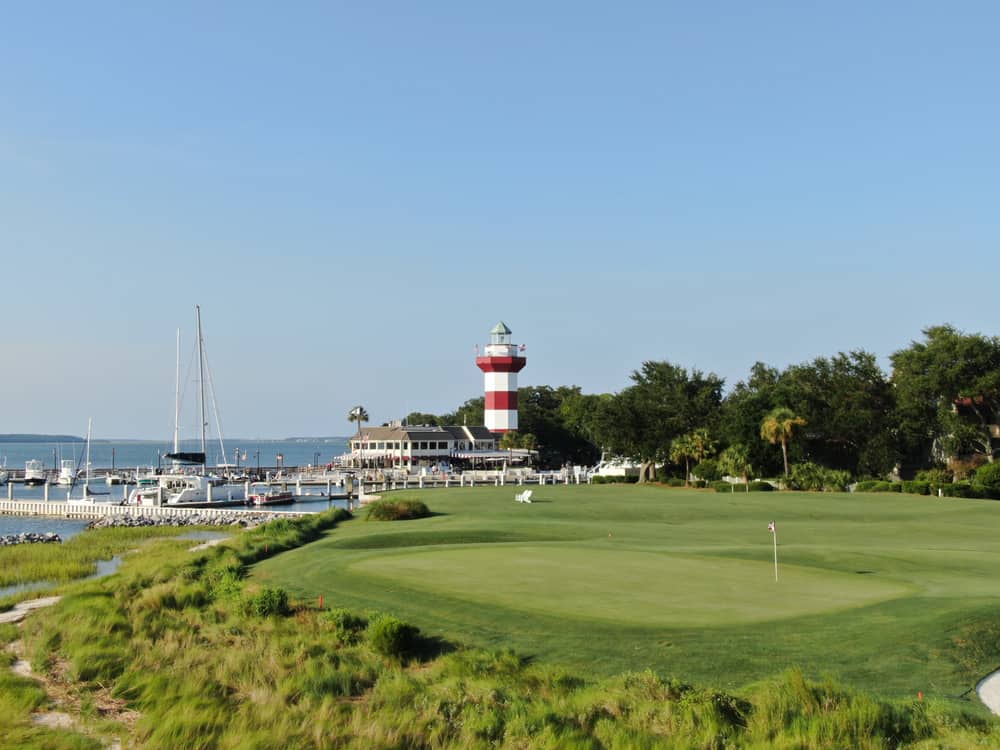 Hilton Head is known for being a very popular vacation destination.
This area of South Carolina has beautiful beaches, tons of restaurants, and all the biking you could ever want.
There are golf courses all over Hilton Head Island and some large resort-type areas like Palmetto Dunes and Sea Pines Plantation.
The Hilton Head area is generally very fairly priced, but it can get a bit more expensive and difficult to get spots on the golf course in the summer.
In the winter, golf courses in Hilton Head are not nearly as crowded, and you can find some great deals.
There are also lots of vacation rentals on Hilton Head.
These rentals are generally quite roomy, offer lots of amenities, and give golfers a great place to stay while they enjoy their time on the golf course.
One of our favorite things about Hilton Head is that you can find areas to stay where you can walk to everything.
You can park the car at your rental and then walk to the golf course, the beach, dinner, and more.
This is the kind of vacation that you will need in the winter months if you are escaping from the cold.
The temperatures in Hilton Head are not all that warm in the winter, but they are plenty comfortable for you to enjoy some time on the course.
10. Orlando, Florida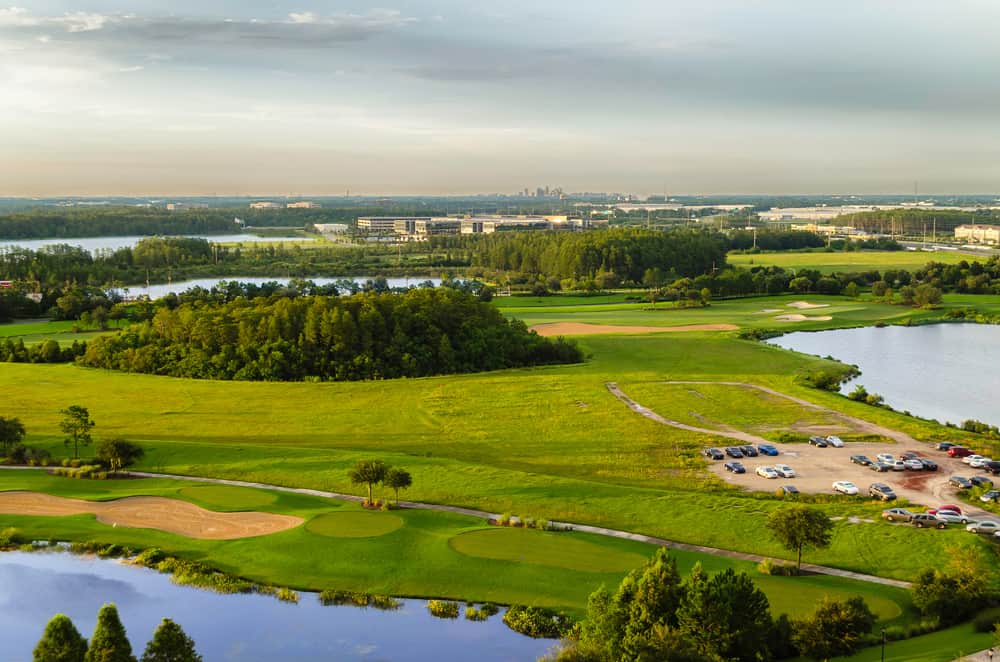 Orlando, Florida is known for the most popular destination in the world, Disney World.
However, people who have frequented this area know that there is lots more to do in the Orlando area than just go to Disney World.
The great thing about the Orlando area in the wintertime is that the temperatures are a little cooler, and there are lots of deals on the golf prices.
There are so many courses in the Orlando area that they will compete to get golfers to choose their course over another.
In the end, this results in lower pricing for the golfers.
The month of February is one of the slowest at Disney World which means that the entire area will have much fewer people visiting.
If you want to find the perfect time to get in some inexpensive winter golf in Florida, Orlando is a great place to do it.
If you are smart about where you go in Florida, there are more opportunities for winter golf than you may realize.
The better deal you can find, the more golf trips you can take over the winter.