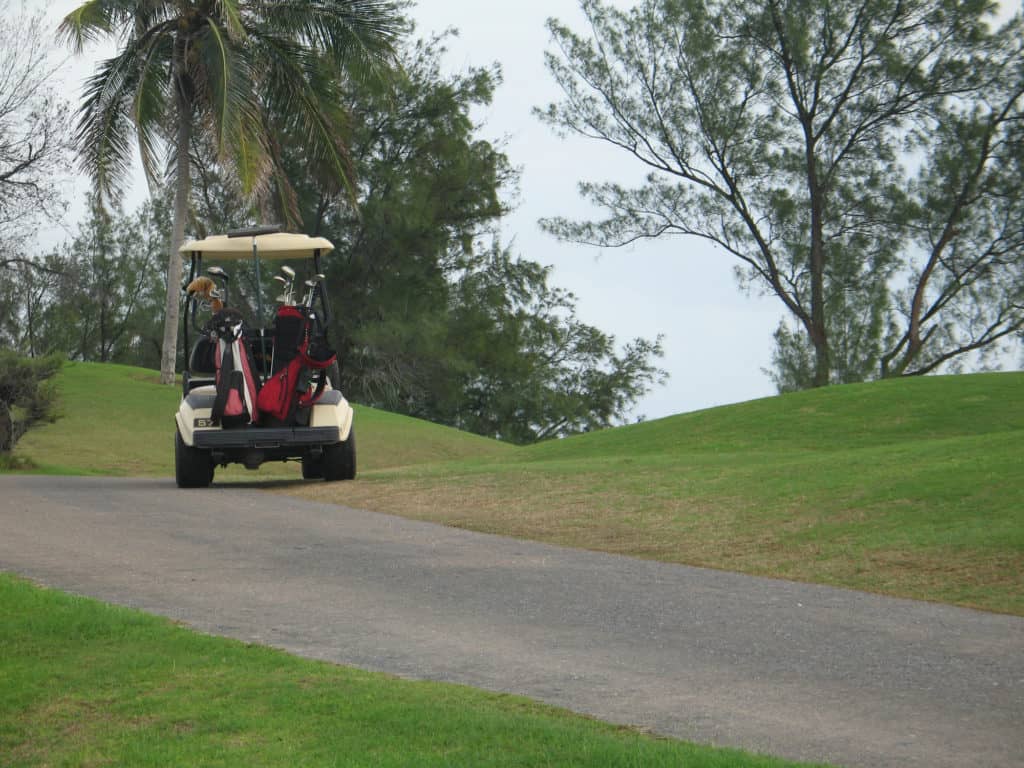 Can Golf Carts Climb Hills?
Do you remember the first time you drove in your golf cart?
A golf cart can be handy for various purposes like college tours, hunting and camping.
People even use their golf carts for regular transportation.
There are two types of golf carts.
Some golf carts run on gas, while others use electric power.
The two types of carts have their own features, pros and cons.
Based on these facts, some golf course owners restrict one or the other type of golf cart.
Golf courses can be hilly, but not all golf carts can travel up a hill, which often becomes a serious problem.
This aspect too is to be considered by the course owners to allow the usage of carts.
Why Can't Your Golf Cart Travel Up a Hill?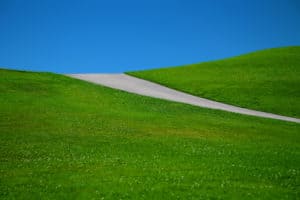 If you face trouble in taking your cart up a hill, it might be due to the following reasons.
1. Your Golf Cart Is Too Old
Older electric golf cart models are usually slow and do not get enough power to move up a hill easily.
They need a better power supply to move on a steep path.
2. Your Golf Cart's Tires Are Not Big Enough
Larger tires can easily drag a golf cart uphill and increase the cart's speed and security.
If your cart has smaller tires, they will slow down your cart's speed and performance, leading to trouble moving up.
3. The Battery Does Not Have Enough Voltage
Your golf cart will face difficulty moving up a hill if its battery is losing power.
It usually happens when the battery connection loosens or corrodes.
4. The Electric Motor Has Cobwebs
Electric golf carts, like other electronic devices, need to be restarted at some point.
The reset button acts as the motor's circuit breaker, which solves the minor issues faced by the motor and prevents the motor from having further issues.
5. Fewer Amps
The motor might have the right voltage but not the amps, which does not allow it to go up a hill.
How to Take Your Golf Cart Up a Hill?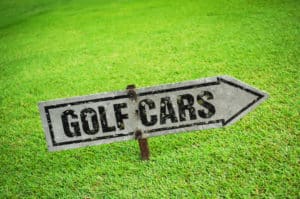 The factors mentioned above drastically affect the performance of your golf cart.
If you too experience trouble driving your cart up on a hill, it is probably due to one of these issues.
To help you resolve these issues, we have found out some proven solutions.
They are effective and can help you take your cart up a hill.
Optimum Volts
Voltage determines the power in a battery.
A golf cart powered by a 36-volt motor would either move too slow or not at all when going up on a hill.
It is recommended to use a 48-volt battery for optimum performance as it creates more low-end torque and faster acceleration.
It also picks up speed faster than a 36-volt battery.
Therefore, a 48V battery enables the cart to move faster.
The higher power also allows the cart to be driven over rough terrains other than hills.
New models with 72V batteries have also been designed, but they can cost you a fortune.
If you are not willing to spend that much, 48V is the way to go.
If you are wondering what to do with your 36-volt golf cart, there are some ways to modify it.
You can do it on your own or get it done by a mechanic.
If you plan to do it on your own, here is what you can do:
Remove unnecessary and additional parts from the cart such as racks, windshield and roof as their weights can slow down your already slow cart.
Give your cart a power wash. You can use a hose and soap to remove all the dirt.
Make sure there is nothing below your ignition pedal preventing you from pressing it down all the way. If there is anything, use a screwdriver to remove it to give your pedal more space.
Larger tires have a larger surface area, allowing them to cover more ground with the same 36-volt power. Hence, replacing your smaller tires with bigger ones can help you speed up your 36-volt golf cart.
Replace the old parts like gear and pedals if they seem to slow down the cart. Do check for the worn-out parts to replace them.
Use Bigger Tires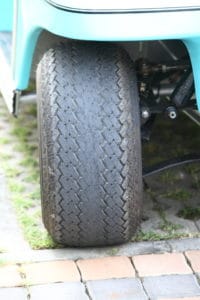 Bigger tires offer better performance.
Many golfers remain oblivious of the impact of tire size on their golf carts.
A golf cart usually comes with a standard size of 18×8-10.
Here, 18 represent the diameter of the tires, which is 18 inches.
8 inch is the width of the tire, and 10 inch is the diameter of the wheel.
This size can be efficient for a powerful cart, but a low-power cart will be slow with such tires.
For maximum performance over hilly terrains, it is recommended to opt for tires ranging from 20-24 inches.
They add extra speed to the cart.
Although they look quite big, they perform well and are reliable to drive over hills.
Golf cart tires also come with different tread types.
These include turf tires which are also known as street tires, off-road or knobby tires, and all-terrain tires.
These tread types also affect the movement of the golf cart over a hill.
Street tires are the most common type of golf cart tires.
They run smoothly over a regular golf course.
If you plan to use the cart only to move between the holes on the golf course, this tread type is perfect.
However, if you try to move up or down a hill with it, you will be regretting your decision.
These tires are not suitable to use on hilly terrains, so you need to consider changing your tires if you want to use your golf cart to climb up a hill.
Off-road or knobby tires are a fit for muddy and sandy areas.
You can also use them on farmlands, graveled paths or bumpy paths.
They look like the ones you find on ATVs or quads.
These treads provide good traction to offer smooth rides.
However, they are not designed to be taken up or down a hill either due to the extra grip that they offer.
The third type of tire tread is the all-terrain tread.
These treads do not have a high grip and neither are they smooth.
They might sound like the worst treads, but they are the best ones for hilly terrains.
This type offers a trio of good balance, grip, and speed to your golf cart over a hill.
It is good enough to be taken on the streets.
However, the tough and aggressive treads make these tires inappropriate to use over a golf course.
Hence, the choice of tires is an important one depending on the type of terrain you plan to drive on the most using your golf cart.
Troubleshooting the Cart's Battery
In order to check whether the cart's battery is good enough to take it up a hill, you need to know how to troubleshoot it.
Don't worry, as it is not necessary to be a technician to know how to do this.
It can be done by just using a voltmeter.
We have our most recommended voltmeters we talk about in this article.
Let's see how:
Firstly, just look for the following symptoms in the cart to know there is something wrong with the battery in the first place:
It faces difficulty while starting.
It conks out.
It consumes more power and, as a consequence, its charge finishes sooner than expected.
Encountering any of the above conditions is a sign to check your battery's health before it gets too late.
There are a few things to keep in mind before inspecting your cart's battery:
Ensure that the battery is fully topped up. Once it's fully charged, you are good to go.
Go for a good clean-up of battery terminals and cables.
Give an extra turn to all the screws and bolts for a more secure checkup.
Once you ensure all the above steps have been followed, grab a voltmeter.
Look for the clamps on the battery.
Attach the positive and negative terminals of your voltmeter to the positive and negative clamps.
The voltmeter will start displaying the current-voltage reading.
The voltage that appears on the voltmeter is supposed to be high.
If your voltmeter shows a low voltage, the battery is probably failing.
That is not all.
Your battery might be showing an ideal amount of voltage, but the amps might be stuck somewhere else.
For optimum performance, it is important to check both the volts and amps of the battery pack.
To understand amps in a gas-powered cart, you have to know the relationship between horsepower and mpg in a normal car.
Horsepower determines the acceleration and power of the car.
On the other hand, mpg determines how far you can travel on a full tank.
The voltage in a golf cart is akin to horsepower in a normal car, while amps is more like mpg.
If the voltage is optimum but the cart has low amps, it will not travel far on a single charge or refill.
The more amperage a golf cart battery offers, the father you can drive in it without having to refuel or recharge the battery.
To check the amps of the battery, you can use a multimeter, which works in a similar way to a voltmeter.
You can also run a test using your voltmeter to find out your battery's amps.
For the test, you have to follow the given steps:
Connect your battery to the voltmeter.
Slowly press the pedal with your foot.
Note the readings on the voltmeter.
Press the pedal again but this time a little harder.
Note the reading on the voltmeter again.
Repeat the process until you touch the pedal with the ground slowly.
If the voltmeter reading is all fine, the amps are fine too, and your cart should perform fine throughout your ride.
Types of Golf Carts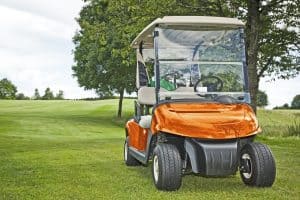 Golf Carts Powered by Gas
The golf carts that run on gas have combustion engines.
Some of them run on the four-stroke cycle, while others use a two-stroke cycle.
These carts use the same gasoline like a normal car or truck, which can be filled by a normal gas pump or through a gas can.
Pros
Can carry a heavy load
Easy to refuel
Stronger and powerful engine
Have a longer run time than electric-powered carts, which is usually around 120 miles in one tank
Quite expensive
The burning of gas creates a smell
Cons
Slower than an electric-powered golf cart
Require maintenance every now and then
Runs on expensive fuel
Noisy
Golf Carts Powered by Battery
The electric-powered golf carts need battery cells to work.
Most of the batteries are either 36 volts or 48 volts.
The batteries have to be recharged to keep the cart functioning.
Most people prefer an electric cart over a gas cart due to multiple reasons.
Each of these carts comes with various pros and cons.
Let's see what appeals to the buyers when they make a decision.
Pros
Require less repair
Have greater speed
Easy to charge
Do not create noise pollution
Less expensive
Do not have a gas smell or any other form of emission
Environmentally friendly
Cons
Can only run up to 30 or 40 miles at once before they have to be charged again
Do not indicate before the power ends
Difficult to charge
Conclusion
Knowing all this about your golf cart, you must be able to drive your cart up a hill by making the required modifications or buying a completely new golf cart.
Keep this information in mind before making any decision about your golf cart.
If you plan on buying a new one, make sure to choose one with 48-volt power for better performance.
However, if you find it is out of your budget, you can add larger tires to a 36-volt golf cart and keeping the tread type all-terrain.