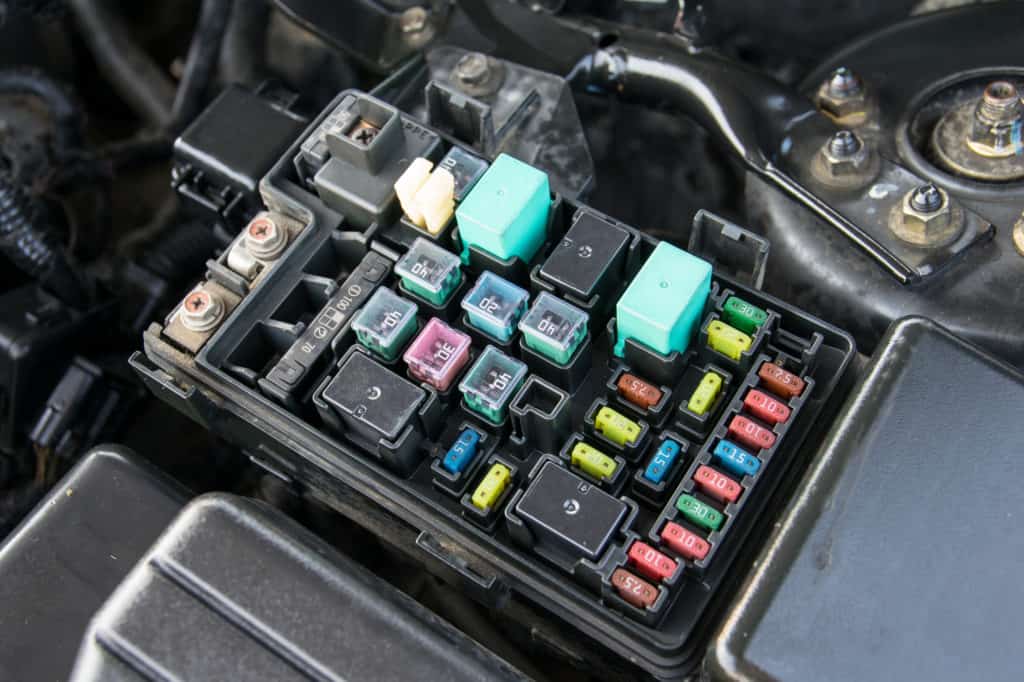 The fuses on a golf cart are critically important for protecting your cart from electrical damage and ensuring that it runs smoothly and efficiently.
However, these fuses can blow at various types and leave your cart unable to run.
This common issue is almost always related to another concern with your cart that is triggering it and making it more persistent.
As a result, it is important for you to know where to find your fuses on all three major cart brands, the types of issues that affect them, and repair methods.

Fuse Box Location on Yamaha Carts
Yamaha typically places the fuses on its golf carts in the same location for each model.
This choice is designed to create a uniform style between each of these models that makes it easier to work on them without running into any complications.
The same is true of each of the manufacturers we are going to discuss, too, so these sections are not going to be very long – there's just not much that you can say about these locations when they are so uniform between most models within each brand.
For example, the 2014 Yamaha golf cart has a fuse box on the left side of the controller – which requires you to open up the engine of the cart to look for it.
This location is common between gas and electric Yamaha carts, so be prepared for that when you try to seek it out.
However, there are also some differences here – for example, the G2 electric cart has the fuses on the rear inner fender on the front of the driver's side.
And the G29 has fuses just below the cup holder.

Fuse Box Location on EZGO Golf Carts
Like Yamaha golf carts, EZGO tries to keep the fuse boxes in pretty simple locations for their users.
That said, these fuse boxes aren't always immediately easy to find even if you know right where they are located.
As a result, it is important to pay attention to these factors before you go seeking out the box.
For example, the 2008 TZXT utilizes what is known as an inline fuse, that attaches to the key switch with a small wire.
You'll need to open up your cart's engine hood to find this fuse.
By contrast, the fuse box in 1990 EZGO golf carts – and those before and after – may be located in the wheel of your golf cart.
By this, we mean the steering wheel – you'll need to pry off a small cover to get easier access to them.
However, this location was changed in later models because it caused a higher risk of shortages.
For example, the 2005 EZGO electric cart put the fuse box below the driver's seat.
All you need to do is lift the seat and open the box to get easier access to these fuses on your cart.

Fuse Box Location on Club Car Golf Carts
Club Car carts are like Yamaha and EZGO in that they have their fuse boxes in pretty specific locations that make them easier to access and repair.
For example, those who may still be rocking a 1986 CC DS gas Club Car cart – and we envy you if you've got that baby still running – has the fuse box behind the dash.
This location stayed the same for most golf carts they produced around this time, which made it easier to find them and change them compared to a few other Club Car years we may discuss here.
Likewise, the 1997 Club Car – and many years in and around this model – put the fuse box in the black electrical box by the battery.
This box usually requires a few tools to open but should be quite easy to get open without a lot of extra effort.
By 2004, they had moved the fuses into two plastic holders and then put them underneath of the seat for the 2005 Club Car Precedent.
You should see blue and white wires connected to these harnesses.
However, you may also find some fuses near the controller harnesses, too, particularly in later models – around the 2008 production year.

Types of Fuses You May Find
Golf carts typically utilize a large range of different fuses that are designed to handle a myriad of different levels of electrical charge.
Understanding these types is critical for ensuring you don't run into any operational troubles.
First of all, you're likely to find a 10-amp fuse that is typically associated with your solenoid, and is important to keep operating to ensure that this part doesn't fail.
Often, this fuse is located behind various panels and near solenoids in your cart.
If you don't keep this fuse in good shape, your ignition may end up failing, and you may be unable to start your cart and run into issues with its operation.
This fuse may also end up failing if there are many other issues that may be triggered throughout your cart, such as cables mixed up behind the starter generator, connections in the battery may be reversed, or the ignitor may end up failing.
So make sure that you replace these fuses as soon as possible to ensure that your cart doesn't fail to start and leave you stuck.
There are also 50-amp fuses that may be located throughout your cart and its fuse box that help to controller higher-powered elements of your cart.
You typically run into issues with the D-plug or the D-receptacle that may cause the fuse to trigger.
Miswirings are not uncommon with this fuse, so pay attention to the white and black wires to ensure that you don't run into complications.
The 60-amp fuse is another type that you'll find throughout your cart – usually, it is located in managing the high current circuit for your motor connection.
Unfortunately, there are times when the flow can be too low and cause the fuse to switch.
Often, you can find this fuse in the power circuit rather than the charging station or the fuse box, so make sure to look to this location when replacing and repairing your fuse box.
Finally, there is the 400-amp fuse, which is almost always located as near the power source or the battery as possible on your cart.
Often, it is located on the positive or negative terminal of a battery to make it easier to access.
This fuse typically helps to prevent surges in your engine and stop it from putting your cart out of commission.
Make sure to check it regularly to ensure that you don't have any problems with your cart.
These fuses are just a few that you may find on your cart and may be located in many different spots.
For example, some carts may center all – and not just a handful – of their fuses in the fuse box.
Others may have them spread about as mentioned here.
You may need to check with your cart schematic or manual to make sure that you find every fuse that may be spread throughout your cart's design.

Reasons Fuses May Blow
Knowing where your fuses are located on your golf cart is half of the battle because you can inspect and replace them more easily.
But why do fuses blow on golf carts and leave it operating poorly?
There are many reasons why this may occur.
In some cases, the problems with your cart may be quite minor and easy to fix on your own.
In other cases, you may need expert help to manage them.
Whatever the case, it is critical to understand the many reasons why your fuses may blow because they are often related to more persistent or even dangerous issues with your cart's operation.
For example, there may be real issues with critical parts of your cart that leave it prone to failure.
The following issues are the most common reasons your fuses will blow on your golf cart:
A grounded wire exists somewhere in your system – you may need to inspect all of your electrical connections and tighten them up to ensure that they don't trigger this issue
Shorts may exist throughout your golf cart's electrical system – this type of dead-short is often most common after the start switch and can be repaired by professionals with ease if handled properly
Gas pedal issues may often cause many types of fuse failures – typically, you're going to see this on the start/stop switch or the starter relay that are connected to the gas pedal and its operation
Cable issues with your cart may be another common issue – they may be loose in various areas or could be connected to the wrong terminals, such as a positive wire connected to a negative terminal
The battery terminals are broken or no longer sending out appropriate amounts of electricity – this problem may overload your system and trigger a fuse to safe your cart
Melted plastic on the key switch may occur if there is a short that melts the cable around the wire – this problem can easily trigger a fuse and requires immediate attention to avoid any dangerous results
The starter generator may be shorted and causing the solenoid to stay closed – this issue can cause your cart to get too much power as it runs and cause serious malfunctions with its operation
The wrong fuse was placed in the system and it couldn't handle the electrical flow – this problem is more common than you may realize and may be embarrassing when it happens to you
Vibrations from the cart, including from the starter generator, cause the cart's wires to work loose and trigger excessive electrical flow – this is one of the most common reasons you'll find for this issue
Remember: fuses trigger for a reason and do so to save your cart from issues.
That's because they only switch when too much power is flowing through a system on your cart and threatening to overload it.
Without these fuses, your systems could end up melting or even catching on fire.
This issue could obviously render your golf cart useless and create a huge problem for you.
And just because you know what is happening to your golf cart doesn't mean that you can just leave it be and hope for the best.
Instead, you need to take positive action and replace the fuses as soon as possible.
The nice thing about this process is that it is something just about anybody should be able to handle.
You won't have any challenges here between different models, either, because the process remains the same between Yamaha, EZGO, and Club Car carts.

Replacing a Fuse Properly
When you find one or more fuse that has blown on your golf cart, you need to remove it and replace it with one that works properly.
Thankfully, replacing fuses in this way is surprisingly easy and shouldn't be too challenging for you to handle if you know how to use a few different tools.
Using the information above, you should have found where your fuse box is with little difficulty.
Now, open up the fuse box and identify the fuse that has blown.
This step should be quite easy – the fuse will look "burned out" and may even have burns on its side.
There may be a warning icon, too, that lets you know when a fuse has burned out.
Whatever the case, you must note the voltage level that the fuse uses by reading the side and then carefully follow these steps to get the best results:
Take a pair of needle-nose pliers and use them to carefully pinch the fuse – don't be delicate, here, because you are just going to throw the fuse away and don't need to save it for any purpose
Pull backwards on the fuse slowly, wiggling it in place if necessary to loosen its connections – this should take only a few seconds to finish, so don't overdo it, or you may damage the fuse connectors
Remove the fuse and examine it to double-check the voltage level that you need to use – you need to be absolutely sure in this situation because the wrong level may cause damage to your cart's electrical system
Purchase an appropriate replacement fuse from a manufacturer or dealer of your golf cart brand – as long as it is appropriate for the voltage level; you should be fine with whatever brand you can find
Open the package and double-check the fuse to make sure that it is the right type – though rare, manufacturing errors may put the wrong type in the package and cause damage to your cart
Slide the fuse into place using either your hands or the pliers – make sure that you keep the fuse straight and avoid forcing it into place, as you should feel a "click" when it is set in place
Close your panel and drive your golf cart – make sure to use whatever element of the cart the fuse controls to test the fuse and see if it will burn out again on you
If the fuse doesn't burn out after about 10-20 minutes, you are probably safe – though you may want to pay attention to any repeated burnouts of a specific fuse type in your cart
In most cases, your replaced fuse should work well and not have any issues with operation that make your cart act up.
However, there may be situations in which your fuse burns out very soon after you install it.
If you find that your cart's fuse burns out more than once in a year, there is something wrong with your electronics that needs to be repaired by a professional as soon as possible.
Replacing the fuse in this situation will be nothing more than managing the symptoms of a deeper issue – like putting a bandage on a broken arm with a cut in the skin.
And the complex nature of golf cart electronics makes it unwise for you to attempt to repair them without any help.
So contact a manufacturer or retailer near you and take your cart to their shop to get it fixed.