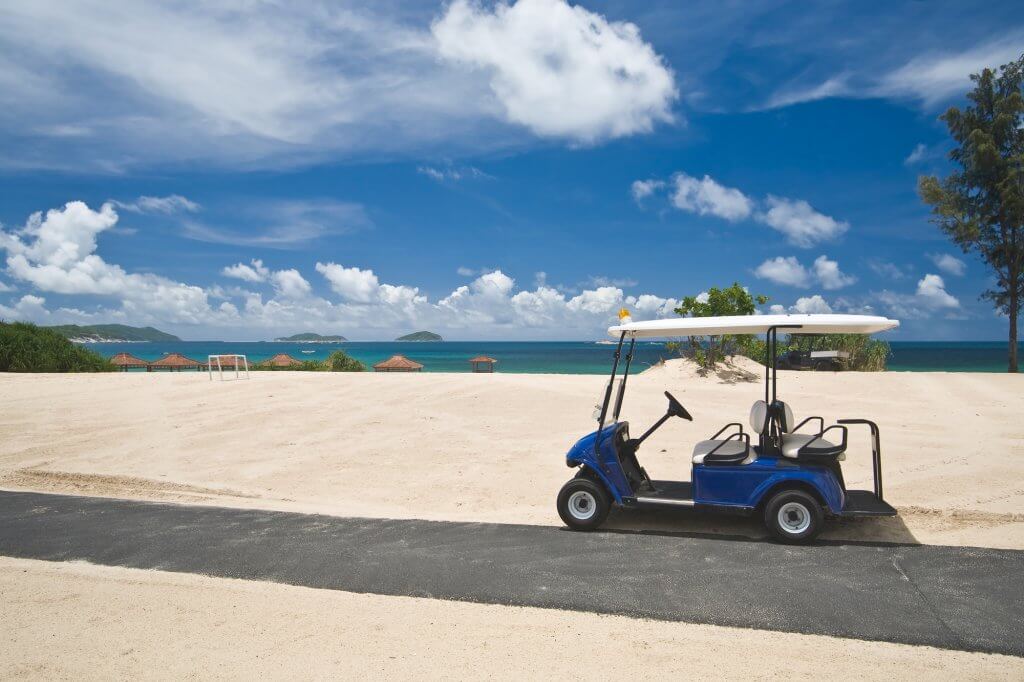 Have you recently been on the street and noticed a golf cart that looks a little more updated than what you're typically used to?
Do these golf carts seem to have some upgrades that are making you scratch the side of your head?
What are they?
They are called low-speed vehicle (LSV) golf carts, and they are sweeping the nation as the future of electric vehicles in golf carts.
What Is A Low Speed Vehicle (LSV) Golf Cart?
An LSV is considered a four-wheel vehicle that reaches the maximum speed of 25 miles per hour when it is on a paved surface.
It can typically withstand up to 3,000 pounds.
They are often used for meter maids, groundskeeping, campus security, hunting, and even yard work.
Some of these vehicles can even be considered street legal.
Because the carts have a low weight limit, it is often used for lightweight activity.
This means it can be used to carry up to six individuals, including their luggage, if it weighs under 3,000 pounds.
An excellent benefit to these vehicles is that they are extremely fuel-efficient and save drivers a lot of money when it comes to gas.
They Are Street Legal
When it comes to an LSV golf cart being street legal, it depends on which state the driver plans to operate in.
Currently, there are 33 states that support the limit to Low-Speed Vehicles to roads where the posted speed is less than 35 miles per hour.
Although technically by federal law, it is universally legal, it depends on individual states to regulate LSV activity on the streets.
An LSV is similar to being treated like a car or motorcycle when it comes to the DMV.
It must relieve a license plate and is typically subject to inspection in order to make sure it is street legal.
Also, it must be equipped with mandatory safety equipment to protect those who ride.
There Are Many Benefits
Drivers may be asking themselves why they should choose an LSV versus a golf cart.
While both have many pros and cons, it really depends on the individual driving the vehicle and what the use will be for.
The biggest advantage of most people looking for carts is the similarities of a standard car.
Unlike a golf cart, they can go up to 25 miles per hour and stay street legal in many jurisdictions.
This allows drivers to get the opportunity to take their vehicle to another part of town if needed.
An LSV is also safer than its competitor.
Because the vehicle needs a registration from the DMV, it is forced to undergo safety requirements.
This makes it a much safer choice to the driver when compared to a golf cart.
How Does It Compare?
When compared to a golf cart, there are many differences and similarities.
When it comes to physical differences, the main ones are as follows:
-Safety: An LSV must follow safety stands in order to be street legal
-Price: An LSV is typically higher in price due to its features and versatility
-Speed: An LSV is faster than a golf cart
-Features: An LSV is equipped with a horn, windshield, lights, mirrors, etc. typically not found in a golf cart
The Law
Keep in mind that if you drive an LSV in a residential area, they don't need to be approved by the DMV.
This means that you will not need insurance to protect the driver.
Local law enforcement does not have the authority to check for these as long as your LSV is approved in the community it is operating in.
However, a driver still holds the possibility of being held accountable for issues.
This includes drinking and driving and accidents involving the LSV.
The same can be said for those caught drinking and driving or crashing while operating a lawnmower or a bicycle.
Remember, nobody is above the law.
Any individual controlling an LSV that can potentially harm others will be held responsible.
A Fun Fact To Know
Were you aware that in both golf carts and an LSV, the driver does not need to be of legal driving age or carry a valid driver's license?
This means that those who operate the vehicles can be any age.
Get Yours Today!
When it comes to choosing between a golf cart or a Low-Speed Vehicle, the choice is always obvious.
There are many benefits and reasons to get an LSV.
These vehicles have a very bright future when it comes to communities all over the world.
They are affordable, easy to park, and even make for a greener earth!
They do not waste natural resources.
When choosing the perfect one for you, be sure to do your research and shop around.
Be sure to compare the many features each individual LSV has.
Say goodbye to your old beat-up cart.
In no time, you will be saving a lot of time and money when it comes to these dependable vehicles.