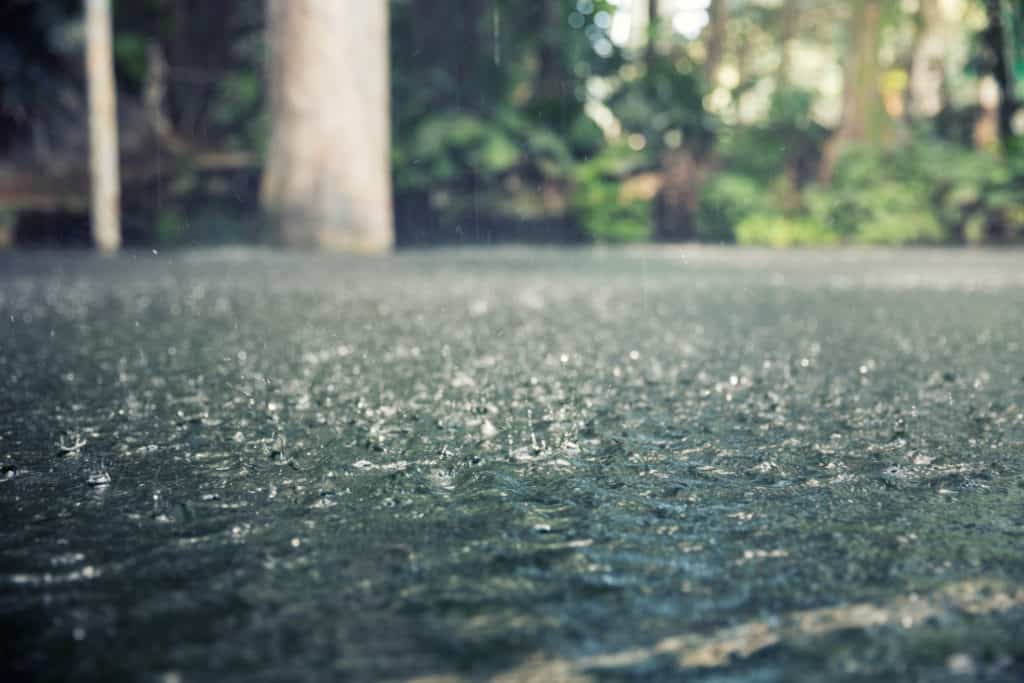 Keeping your golf cart operative requires making sure that nothing affects its various components, such as the battery.
And water on your batteries is often not a huge deal – but can become one quickly.

Can Golf Cart Batteries Get Wet?
A little bit of water isn't going to hurt your battery too much, the cover is designed to be strong and to protect it from damage.
However, too much water may cause issues with your battery's electrical components.
For example, water on the terminals may end up causing sparks that are dangerous and may spread to cause damage to the battery and other areas of your cart.
And if non-distilled water ends up getting into your battery's acid, you may end up sparking a fire or at least a short in your cart.
Water that has not been distilled should NEVER be in your cart's battery because it has minerals and metals that can cause sparks and failures.
Therefore, it is crucial to pay attention to the water exposure of your cart's battery and to take steps to minimize it as much as possible.

Avoiding These Dangers
Although your battery can tolerate a little bit of wetness and isn't likely to short out with a little dampness, you may still want to take steps to keep your battery safe from water and any moisture.
The following steps are things that are quite easy to do and shouldn't cost you a lot of money to perform.
None of them require any specialized training and are things you can do in an afternoon.
And if these steps keep your battery from failure due to water and excessive dampness, then it is more than worth it for your time and monetary investment.
Just a few steps that you can take to protect your battery from water include the following:
Place a Cover on Your Battery – If you are worried about your battery getting too wet, you may be able to find a cover that goes over its surface. This step is a good choice because it can ensure that your battery is strong and secure from various types of damage issues. Make sure you buy an appropriate cover, one designed for your cart and its battery, as well, to avoid concerns.
Store Your Cart Properly – Next, you need to make sure that you store your cart in a way that minimizes battery wetness. Place your cart inside of a storage shed that has a dehydrator installed inside. Doing so keeps out excessive moisture and protects your cart from water leaks. You may also want to check the roof for leaks or place a cover over it to increase its usefulness.
Cover Your Cart – When your cart is in storage in your shed, you should place a cover over top of it to keep it extra protected from moisture. This may seem like an excessive step – but it can help by providing a double barrier against moisture. Just make sure that your cover is snug against your cart and to tie it down to keep any moisture from creeping onto your battery.
Avoid Wet Operating Conditions – Though a little water isn't going to cause your battery to short out, you may just want to keep your cart stored during wet conditions. Don't ride it when it is raining or snowing and avoid high-moisture days without precipitation. Though this may seem excessive, it does help to keep your battery from getting wet and damaged during storage.
Wipe Down the Battery – Lastly, you may want to check the battery periodically – say, once every week or two – for any moisture building up on its exterior. If you see any, wipe it down and check your dehumidifier and other areas of your shed to make sure that no excessive water is getting into your cart's battery. This step may even be pushed back to once a month if your moisture levels are low.
Now, most of these methods aren't necessary for keeping your cart in good operating mode.
Remember – a little water won't hurt your battery as long as it doesn't hit any electrical components.
But the risk of this happening may be too high for some people to tolerate.
And the more steps you take here, the better chance you have of avoiding this problem completely.
And if your battery does get wet and starts working properly, reach out to high-quality repair experts to get it fixed up as soon as possible.
Doing so is a smart decision because it ensures that you don't end up damaging other areas of your cart.
And you may have to replace the battery, anyway, if it fails due to excessive moisture.