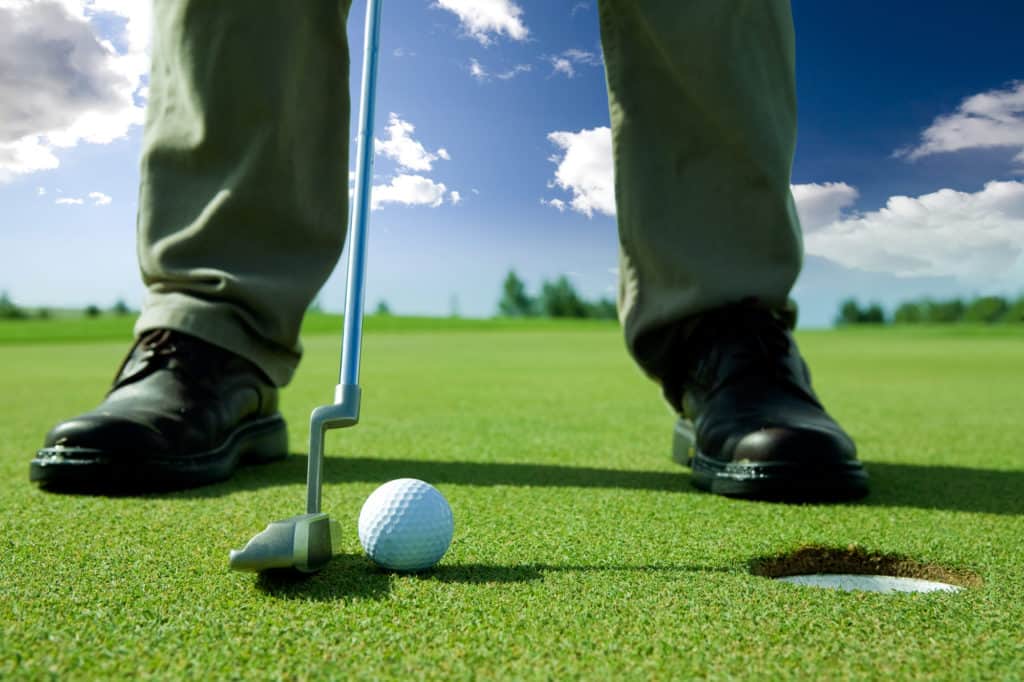 If you want to purchase a new putter but want to keep the price fair, we have an excellent list for you.
These putters are all going to be less than $200.
There are options on this list for all handicap levels, and many of the putters will cost less than $100 as well.
You can add a great putter to your bag in this price range and one that will stick with you for years to come.

Top 10 Best Golf Putters Under $200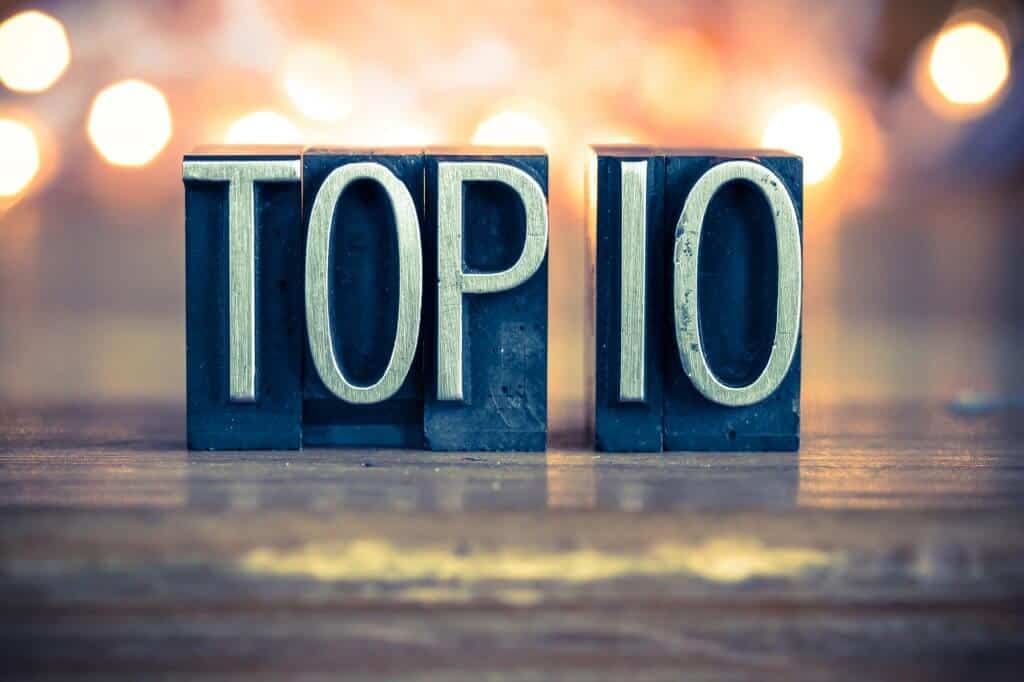 1. Odyssey Works 2020 Putters
The Odyssey name is very well known in the world of golf putters.
If you have never had an Odyssey putter in your bag, now may be the time to add one.
This Odyssey O Works Putter comes in several different styles to suit the needs of any player.
Our favorite is the number seven style.
This particular model is a mix between a blade and a two-ball putter.
The combination leaves you with a larger putter head that will help with distance control.
If you happen to have trouble determining distances on your putts and staying consistent, the O Works is a great fit.
The Odyssey Putter comes with a micro hinge face insert.
Odyssey is big into the inserts, and they like to make sure the putters have a very soft and responsive feel.
The design of this putter is an all-black pattern that makes it look even sharper.
The contrast with the putting green will help with alignment as well.
Each one of the shapes that the Odyssey is offered in will be very high performing.
Choosing which one you want is a matter of preference.
When these putters were first released, they were priced quite a bit higher than they are now.
This is a great time to add an Odyssey putter to your bag.
Pros
High-quality design
Very soft feel
Sleek black finish
Comes in a variety of styles and lengths
Cons
Not all golfers like a face insert putter
2. Bettinardi Golf 2018-2019 BB1 Putter
The reason the Bettinardi putter makes it to the top of our list is that the Bettinardi putters very rarely fall into the $200 and under category.
Bettinardi is a premium putter manufacturer.
Each of their clubs is hand made and proven to obtain some fantastic results.
If you have ever struggled with consistency and feel on the putting green, the Bettinardi is an excellent choice.
This is a blade-style putter that will appeal to the lower handicap player.
It is a tour-proven design made from one block of carbon steel.
If you don't want something that has a face insert and you want a trustworthy and accurate putter, the Bettinardi is a perfect choice.
The black finish on the Bettinardi BB1 provides you a glare-resistant look at your putter and easy alignment.
You can get the Bettinardi putter in a few different lengths, and you will have a choice of a standard or jumbo grip.
Everything about this putter screams classic and performance.
If that is what you had in mind, go with the Bettinardi.
Pros
Classic design
Blade style
Black finish for anti-glare
Cons
At the top end of the price range
3. Cleveland Golf 2019 Huntington Beach SOFT Putter #11
The Cleveland Golf Huntington Beach Soft Putter is very similar to the Odyssey Putter at the top of our list.
The design and shaping of these two putters are very similar; however, there are some subtle differences.
The Huntington Beach Soft line of putters was an upgrade from the original Huntington Beach lineup.
Although golfers loved the shaping and the performance of the original Huntington Beach, they found the face to be a little hard.
With the release of the SOFT line of putters, things have changed, and this putter has taken off.
Although the Soft Putter is available in many options, we like the 11.
The face of this putter has a diamond CNC milling pattern.
What this pattern ensures is that when the ball leaves the clubface, your ball will be headed on an excellent line.
Without this pattern, you may have experienced a jump or a slide off the putter face.
These will cause you to miss quite a bit of your putts.
The Cleveland Huntington Beach Soft has an optimized center of gravity to make the putter feel very stable.
There should be minimal movement of the clubhead and face when you make contact with the ball.
Overall this is an exceptionally reasonably priced putter for the technology that you are getting.
Pros
Very soft feel
Diamond CNC pattern for true roll
Stable putter
Available in several lengths
Cons
Some lower handicap players say this putter feels a bit light
4. TaylorMade Golf Club Redline Daytona Heel-Shafted Putter New
The TaylorMade Golf putters are great; they are just usually costly.
The Redline Daytona Putter is a few years old but still offers some fantastic technology.
The Redline is a blade-style putter that will work best for those with an arc type putting stroke.
If you play on fast greens, the blade putters are a great way to develop and maintain some excellent feel.
This putter is constructed from 304 stainless steel and gives an excellent feel.
The putter face is a red milled aluminum.
For players that like the face insert putters, you will enjoy how soft this face feels.
We are not sure if it's the red design or not, but the putter feels very easy to align as well.
Even on the top of the putter, you will see clean alignment lines to help you stay on track and head towards your target.
The Redline has one major downfall, and that is that it is only available in the thirty-five-inch model.
Not all players will be able to use a 35-inch putter.
Since this design is a few years old, you get a fantastic price but a few less options when it comes to the specs.
Pros
Blade style great for fast greens
Clean looking putter
Very easy to line up
Cons
Only available in the 35-inch design
5. S7K Standing Putter for Men and Women
If you are looking for a unique design to add to your putting game, the S7K Standing Putter is very interesting.
This putter will stand by itself.
You may think this is a bit of a gimmick, but when you stop and understand the technology behind this concept, you may think otherwise.
If a putter can stand up on its own, you can stand behind it and make sure it is lined up.
Once your putter is lined up correctly, you need just to trust your stroke and your line.
Even when your putter is on a bit of a slope, it will still stand.
If you are a new golfer or a player who has trouble with alignment, this is a great option to consider.
Outside of the alignment technology, you will be very impressed with the feeling this putter provides.
The sound and the feel on the S7K putter is quite impressive.
We were intrigued by the fact that S7K was able to not only stand up on its own but stand up against other putters when it comes to technology.
The S7K comes with a one-year manufacturer warranty should you have any issues.
From what we have seen and the results that golfers are having, you should not have any issues with this design.
Pros
• Stands up on it's own
• Very easy to line up
• Comes with a warranty
Cons
• Lower handicap players will not like the feel
6. Odyssey White Hot Pro 2.0 Putter, Black
The Odyssey White Hot Pro 2.0 is a classic and functional design from Odyssey.
These putters have been designed and remodeled several times throughout the years.
The White Hot is a putter that will likely never go away.
Players of all handicaps will enjoy the performance and feel of the 2.0.
The insert of the White Hot putter is what seems to change from model to model.
This most recent version has an improved sound and feel.
Many people don't realize the importance of sound when it comes to putting.
Great putters want to hear a clicking noise and not a thud when they hit the ball.
The White Hot Pro provides the perfect click.
Overall this is a forgiving putter that works well for a beginner looking for a quality option they can keep in their bag forever.
Pros
Good forgiveness
White Hot insert for feel
Available in a few different lengths
Cons
Not as easy to line up as other larger mallet head designs
7. Cleveland Golf Frontline Elevado Putter
The Cleveland Frontline just barely makes it into our under $200 category.
The Frontline putters are a brand new release from Cleveland that focuses on forgiveness and stability.
If you have trouble keeping your putting stroke consistent, the Elevado can help.
The face on the Cleveland Frontline Elevado utilizes speed optimized face technology.
When you hit the golf ball, you will get a very consistent speed from every putt.
This is an excellent thing as anytime a ball jumps off a clubface, or is slow to come off the face, you will notice that your putting becomes inconsistent.
You want a putter that has a normalized and consistent speed coming off the face.
In addition to the consistent speed, you will love the alignment that this Frontline putter provides.
Cleveland calls their alignment technology the 2135 technology.
This is just a way that the putter lines along with the alignment lines and the sleek black coloring combine to provide a great solution.
The only reason the Cleveland putter is not up a little higher on our list is that it is a bit expensive.
This is only because it is a new release, but there are some other options like the O Works for slightly less money that may make sense.
The Cleveland does offer two different hosel configurations to make sure that you get a putter that looks and feels as though it should for your game.
Pros
Easy to line up
Clean black look, great alignment lines
Good weighting
A bit heavier club head
Cons
Priced at the top of the market
Extra-large clubhead that may not appeal to some
8. Wilson Golf- Infinite West Loop Putter
Wilson Golf's name is sometimes known for being a beginner's golf putter.
However, with this line of putters, they have stepped up their game.
The Infinite West Loop Putter has a new dark PVD finish that significantly reduces glare.
You will love how easy this putter is to line up and the forgiveness you get with the hosel design.
This putter will really appeal to the golfer who loves the forward press in their putting stroke.
This is a counterbalanced putter that moves the balance point of your putter closer to your hands.
This helps promote a much smoother stroke and will make you more consistent.
The Wilson putter has a double milled face that will help with your distance control.
Overall this is an exceptionally reasonably priced putter that will keep you improving and lowering your scores for quite some time.
The Infinite West Loop Putter is available in the 34 and 35-inch design and falls in well below our budget.
Pros
Very forgiving putter
Nice finish
Easy alignment
Cons
Does not have the best feel compared to some of the Odyssey
9. TaylorMade 2018 Spider Tour Diamond Silver Putter
If you are an avid golfer, you have very likely seen the success that people are having with the Spider Tour putter.
The Spider Tour has been one of the best selling putters that golf has ever seen.
There is no question that the Spider putter has made putting easier and more consistent for many players.
One of the most significant advantages of this club is the fact that it is quite heavy.
It helps to keep the clubface square and stable at impact.
The TaylorMade Spider Tour has some of the highest moment of inertia on a putter.
The only reason we moved this putter down a bit on our list is that it is not the latest release Spider.
The newer releases have become even better when it comes to distance control and feel.
Don't let that stop you from considering an older model; it's just something to keep in mind.
This particular Spider Tour Model has a pure roll insert that helps players become better at distance control.
This is something that takes a great deal of time, but with the stability and consistency of the Spider, it seems to come faster to players.
In addition to the fantastic feel and stability, you will also get moveable weights in your Spider putter.
You can adjust this club to be the perfect fit for your game.
Pros
Excellent feel
Vibration dampening insert
Heavy and great for fast greens
Helps golfers learn distance control
Cons
Not the newest release
Only available in the 34-inch model
10. Pinemeadow Golf Men's PGX Putter
We saved the best deal for last.
Now only can this Pinemeadow putter earn a spot on this list, but it could also earn a spot on the best putter under $50.
You will be amazed by the feel and consistency of this putter.
The PGX putter is made with a precise white finish.
The finish helps it stand out against the white, putting green and helps when it comes to alignment.
Since this putter is on the cheaper end, you will want to protect the putter head well.
If you don't use the putter cover, there is a good possibility that this club will chip rather quickly.
If you take care of the putter, it shouldn't be an issue.
The Pinemeadow PGX is quite heavy for a very inexpensive putter.
This is usually not the case with less expensive putters.
The PGX comes standard in a 34-inch length; you won't have much choice when it comes to different lengths.
However, a large majority of golfers can use a 34-inch putter, and it will be a perfect fit.
Pros
Amazing price
The white design stands out great
Easy to align
Tour weighted
Cons
The paint job does not hold up well
Only available in the one length
As you can see from our list, the trouble is not finding a putter for less than $200; it's choosing which one you want.
There are putters here that will work for a wide range of players; however, the Odyssey putters seem to win in this category.
They are priced right, feel great, and will help you become a more stable and consistent putter.