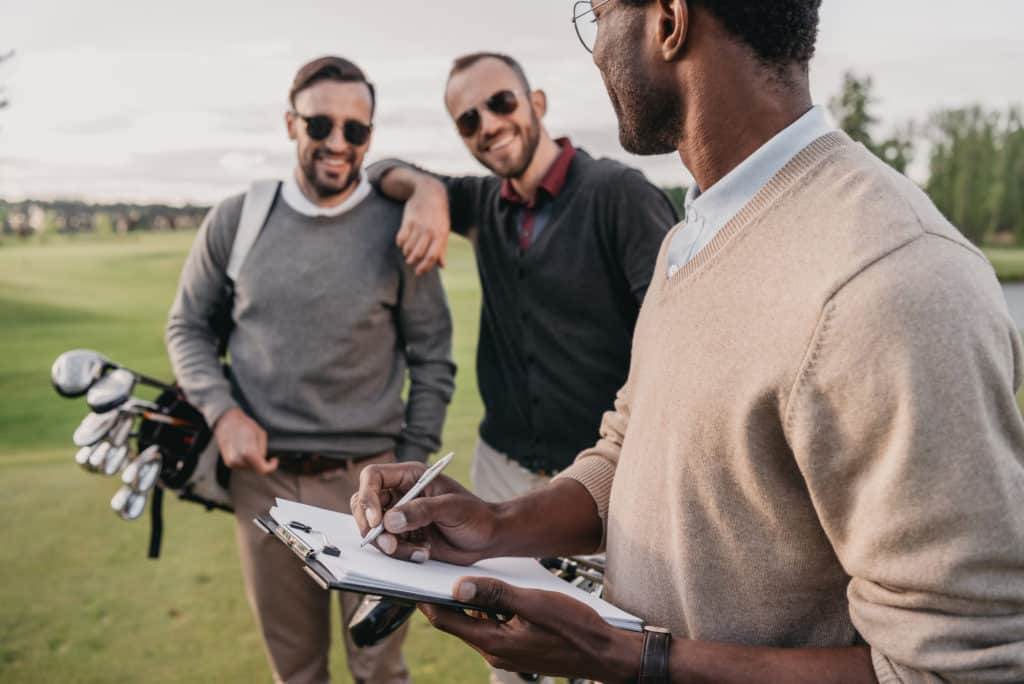 If you watch golf on the television, you may see golfers writing in a small notebook.
This notebook is usually a yardage book.
Golfers consider this yardage book to be their primary source of information while on a golf course.
When professional golfers arrive at a golf course on the first day, they will start working on their yardage book.
During the practice round, they will add information and keep it updated as they play.
In this guide, we will explain more about these notebooks and what is being written down.
Even if you are not a professional, you may benefit from some of the practices that professionals put into place.

What Do Golfers Write In Their Notebooks?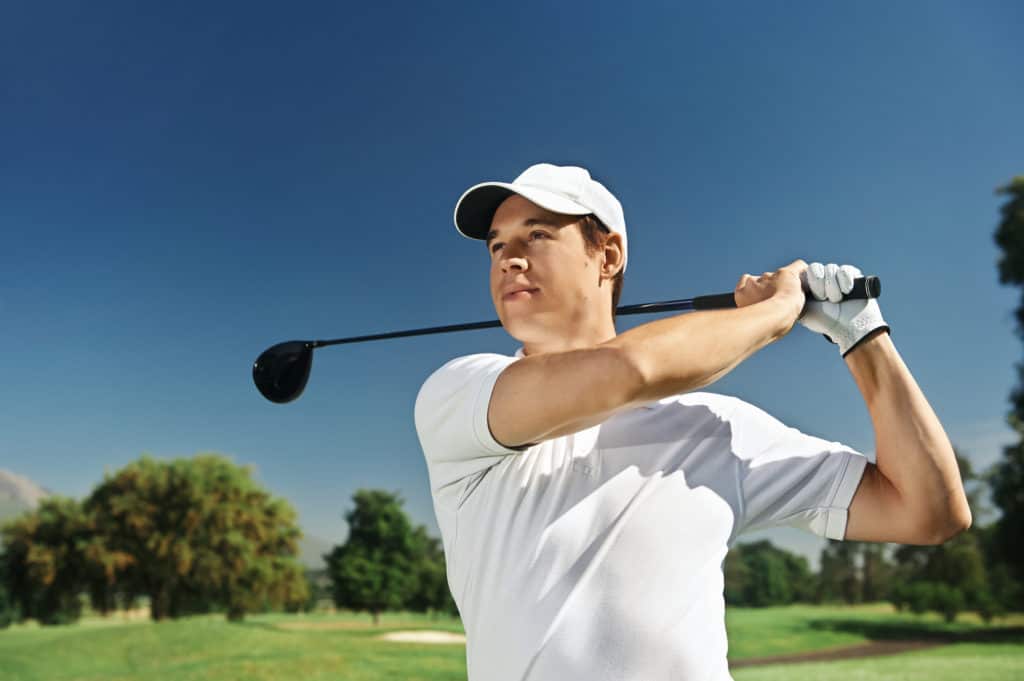 When it comes to professional golfers, the stakes are quite high.
The difference in a few feet could make the difference between winning or losing a US Open.
Not only do professional golfers use the numbers in the yardage book, but they also write a bunch of their numbers.
They personalize the yardage book to create their plan for getting around the golf course in the least number of strokes.
In their yardage books, they will put scoring tips and ways to approach every hole.
Here are some of the most important things that professional golfers book in their notebooks or yardage books.
1. Putting Green Notes
Each putting great has different breaks.
It would be impossible to learn all of this information and retain it during a tournament.
Golfers make lots of notes about how the greens break and which the grain flows on the green.
If a putt is headed down grain, it will roll much faster than if it is into the grain.
Many golf greens also have two tiers.
Golfers need to know the yardage difference between the first tier and the second tier.
If they miss the top tier by just a few inches, they could be looking at a forty-foot putt or a ball rolling off the front of the green.
2. Misses
You have likely heard before that golf is a game of misses.
If you miss the ball in a good spot, you give yourself a chance to get up and down and make it a decent hole.
If you miss the ball in the wrong spot, you could end up with penalty strokes and big numbers.
Professional golfers will record where on the hole is the best place to miss.
If a golfer is prone to hitting a draw, but there are some terrible rough spots on the left side of the hole, they will make these notes.
If they happen to hit a three wood the exact distance from the tee to get into the bunker, they may use a five wood on that hole.
It will cost them a few yards in the distance, but they will end up in a better spot and be able to attack the green from there.
These spots that make it safe to miss are essential to consider from both the tee and the approach shot.
3. Club Selection
Club selection will change from day to day based on the weather, course conditions, and plenty of other factors.
However, golfers like to have a general idea of what club to hit on each hole.
When they play their practice rounds, they will record which club they used on each shot.
If they end up coming up short on a hole, they will know they need a little more club during the tournament.
For Par 3's, the club a professional chooses could very well be the same from one day to the next.
4. Aiming
On holes where golfers do not have a very good look at the green, they may choose other spots or lines to aim at.
If there is a tree behind the green that they know is in line with the pin, or in line with a safe area, they will make this note.
Aiming is just as necessary as distance control when it comes to scoring a round of golf.
If you do not have your aim correct, you will end up in a lot of bad spots.
Aiming may also be recorded for putting as well.
Sometimes a putting green tends to break more than another.
Golfers will make a note like "aim to the left side of the cup, but not outside."
5. Wind and Weather
Golf courses change considerably when you introduce wind.
The same goes for rain as well.
Professionals will record what clubs they hit when the wind was a specific strength.
They will also make general observations about how the wind tends to blow on each hole.
For instance, some courses get a breeze that flows a bit left to right from the tee box.
This information could mean the difference between hitting your drive in the fairway or the rough.
When your driver is hit in the rough, it is much harder to hit the ball on the green.
As you can see, these little notes can add up to several strokes throughout a round of golf.
When a professional is trying to shoot 65, they will need to make every single shot count
What's In A Golfers Yardage Book?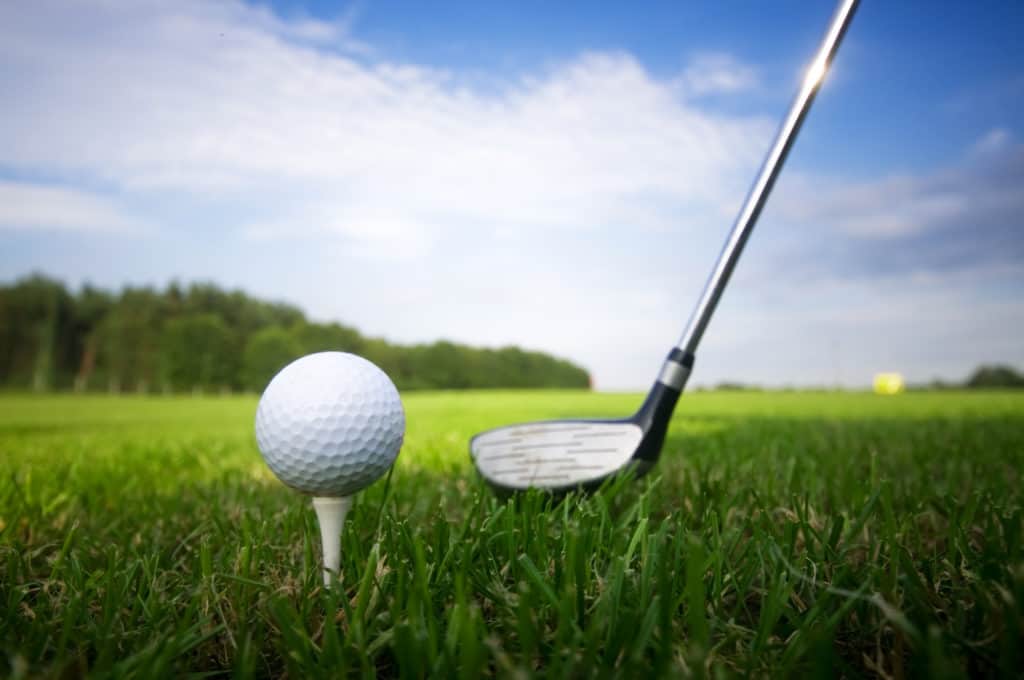 A golf yardage book is going to be broken down into pages for each hole of the golf course.
On each page, you will be able to see different yardages that amateur golfers don't typically get access to.
When you look at the page of a yardage book, it will generally have a picture of the entire hole and a ton of numbers.
These numbers take a little bit of time to figure out, but they are valuable.
On a scorecard, you will get the total distance of the hole.
Although this is a good number to have, it's not quite enough to get you through the entire hole.
Yardage books have many yardages on them.
They will tell you distances to individual bunkers or hazards.
They will tell you the size of the greens.
They will even show some slope that may be on the golf course.
If you are wondering how much clearance you have over the water hazard, the yardage book will tell you.
The yardages and information given in a yardage book can really help you plan your shots around the course much better.
One of the places that golfers will find the most benefit from a yardage book is on their approach shot to a green.
Approach shots can be off by quite a bit, depending on the pin placement on a green.
There could be ten or fifteen yards from the front of the green to the back of the green.
When you change this to feet and think about a one-foot putt or a thirty-foot putt, it makes a significant difference.
How Much Do PGA Tour Players Use A Yardage Book? (Video)


How Can Amateur Golfers Get Accurate Yardages?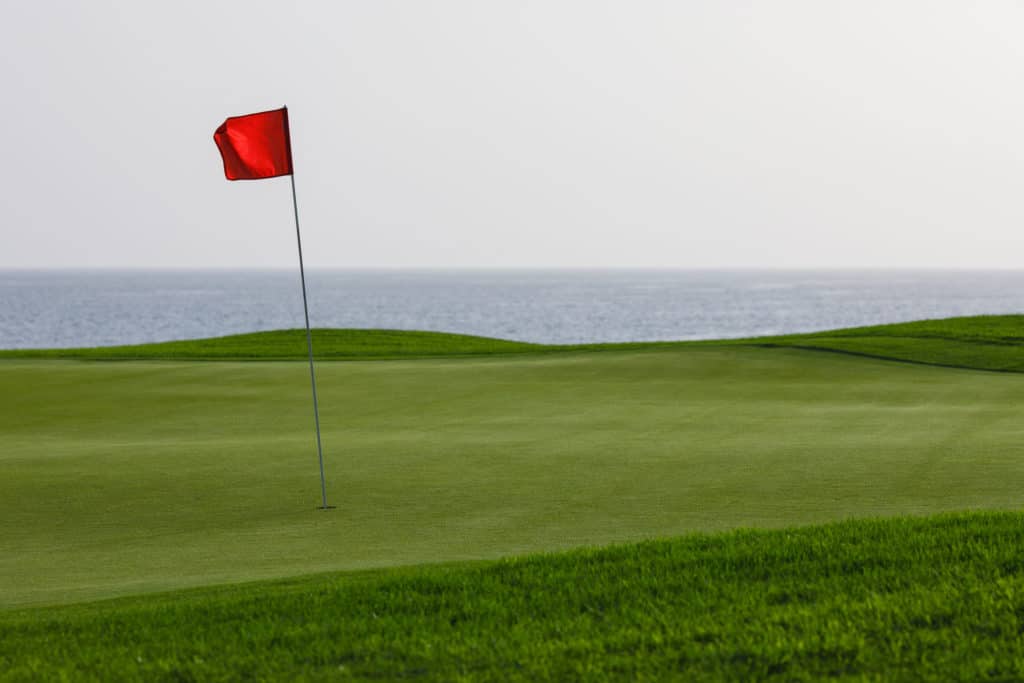 Although it would be a wonderful thing if every golf course had a yardage book, it is unfortunately not the case.
You should always check in a pro shop to see if the course has a yardage book, but it is not always common unless it is a high-end golf course.
In addition to availability, another problem with yardage books is that they take time.
You have to do some math, make notes, and write all of this information in your book.
The problem with this for the amateur golfer is that it is going to slow down the pace of play seriously.
If you have several, twenty handicap golfers, playing in front of you all trying to mess with their yardage books, you will get frustrated quickly.
There are ways that golfers can get some accurate yardages without using a yardage book.
A rangefinder is an excellent alternative for the amateur player.
These devices will give you exact yardage not just to the pin but to different targets and areas around the course.
Many rangefinders can tell you exactly how far a bunker is from a tee, or how far a water hazard is from the green.
Some rangefinders will also tell you slope on the green or the golf course, but those are usually not allowed in tournament play.
However, if you are preparing for a tournament, they can help you get some deeper course understanding and allow you to make notes.
Final Thoughts
If you play the same golf course every week, chances are you do not need to purchase or use a yardage book.
However, if you are playing somewhere different or going on vacation, it may be worth looking into a yardage book.
Professional golfers need more precise numbers than an amateur golfer.
You do not want to fill your head with unnecessary information.
However, a general awareness of how a golf course is laid out, where the danger areas are, and the best places to score from could mean the difference between a good round and a bad round.