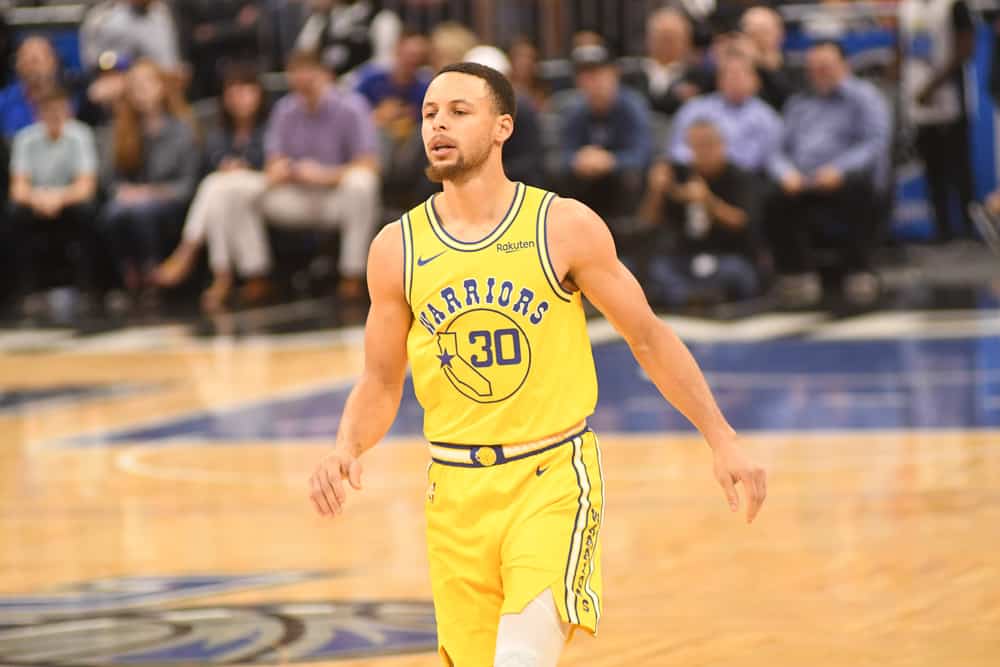 Steph Curry is a basketball player that many consider one of the best of all time.
However, in addition to being a really impressive basketball player, Steph Curry is also a golfer.
Like many other professional athletes, Curry likes to have some kind of a release from his work, and golf tends to be the perfect fit.
If you are wondering how good Steph Curry is at golf and why so many professional athletes like the game, we have you covered.

How Good Is Steph Curry At Golf?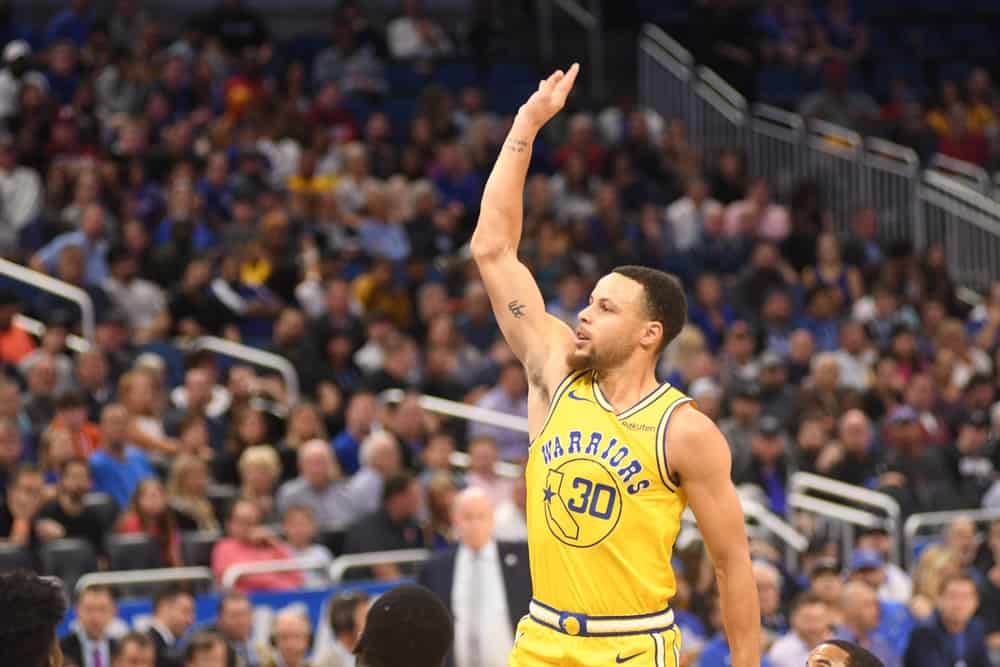 Steph Curry is a scratch golfer and is better than a large majority of the golfing population.
Although Curry is not quite as good at golf as he is at basketball, he has mentioned that golf is a close second for him when looking at his favorite sports.
Curry has been playing the game for a long time, and to remain a scratch golfer, he puts a lot of work into his golf game.
When Curry needs a release from basketball, he finds himself on the golf course.
Although it is a much different sport than basketball, he feels as though there is a challenge there that makes it well worth his time spent on the course.
Curry has mentioned that his handicap has, at times, traveled into the positive, meaning that he was shooting a majority of his rounds slightly under par.
However, many golfers and fans wonder if Curry is good enough to play on the PGA Tour or Korn Ferry Tour.
Even though Curry is better than most amateur golfers, he is still not quite ready for a career on the PGA Tour.
Playing golf on the PGA Tour requires a much lower handicap and a full-time dedication to the sport.
Right now, Steph Curry plays golf in his free time and works on the sport because he enjoys it.
In order to take the game to the next level, he would need to work on it full time.
Even if he did, it might not be enough to make it on any professional circuit.
Why Do Professional Athletes Like Golf?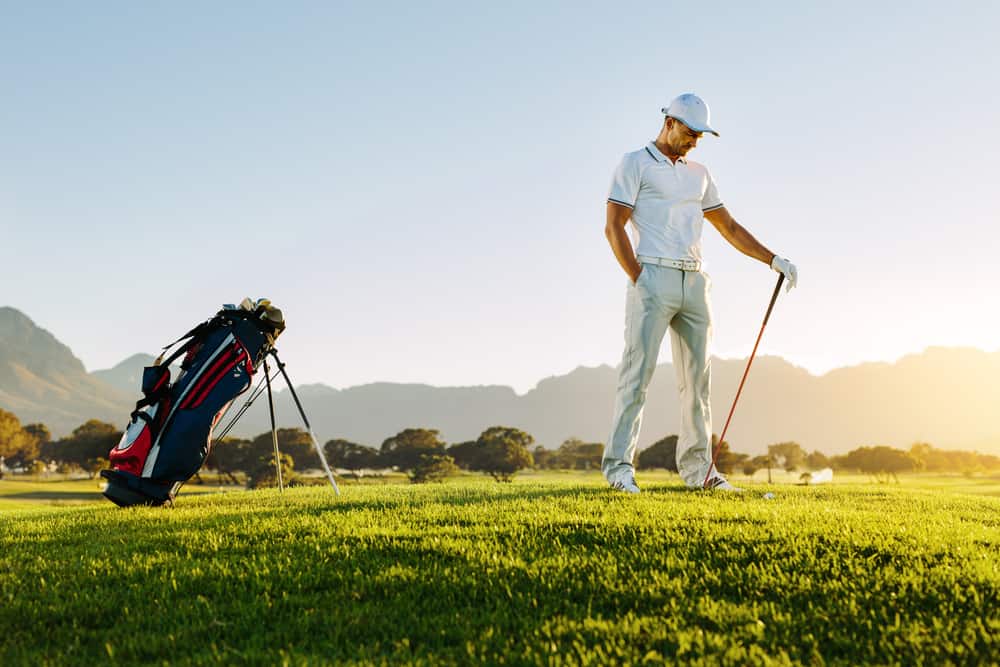 If you are a fan of sports, you may know that professional athletes often become golfers.
Many football players, baseball players, and basketball players who play at the professional level are going to be interested in golfing in their free time.
This has quite a bit to do with the nature of the sport and the way it challenges you.
Let's take a look at some of the top reasons that professional athletes like the game of golf and play it quite often during their time off.
1. Availability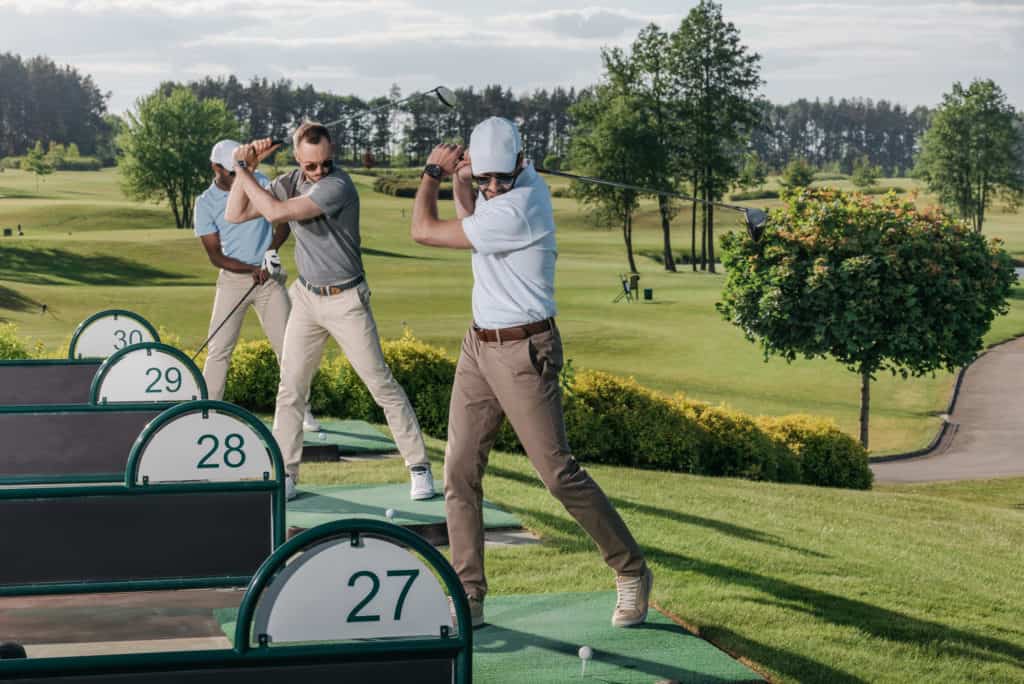 One of the best things about playing golf is that it is always available to play.
You will not need an entire team to help you organize a game.
There is no worrying about waiting for others as you can simply head out to the course and play against it.
The game of golf makes you play against the course, and although a competitive match is fun, true golfers know that playing the course is the most important part.
Finding a golf course to play is not hard for professional athletes.
So many of these athletes have memberships at private country clubs because they can easily afford the costs associated with this.
In addition, professional athletes find that playing golf at courses where they don't belong is also quite easy.
Sometimes it just takes a phone call to express interest, and the club is happy to invite them out as a guest while they are in town.
With the availability and access that professional athletes have, it's really hard to find a better sport to play during their off time.
When an amateur golfer wants to head out to the golf course, the red carpet is not rolled out in quite the same way.
In fact, players often have to fight for a tee time and make sure they are ready for anything that should come up.
2. Challenge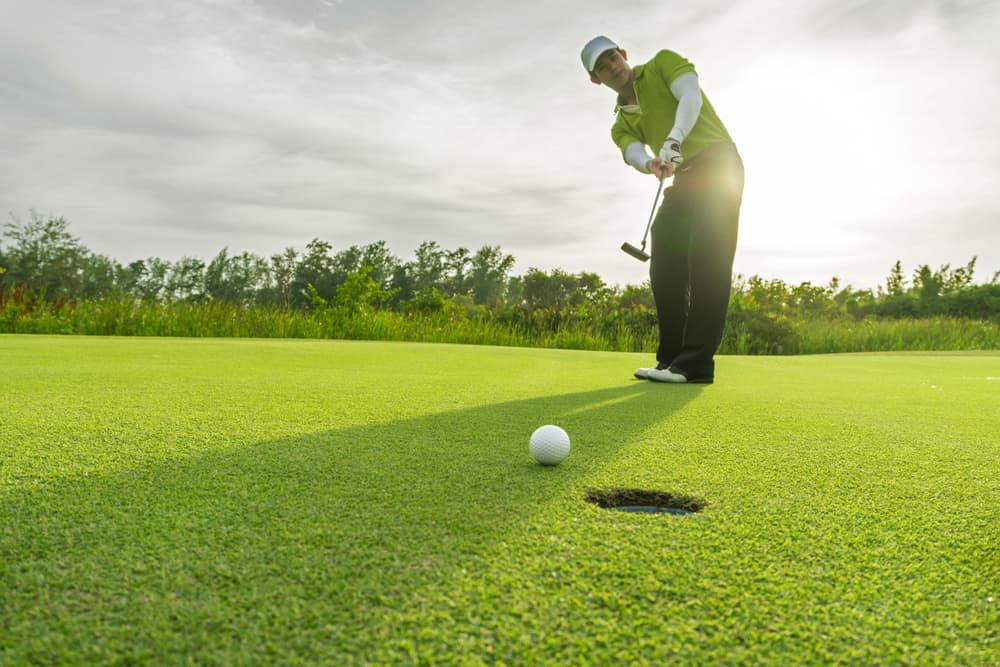 Golf is a challenge.
In fact, it is such a challenge that many professional athletes will say it is just as hard if not harder than the sport that they play.
There are lots of jokes about bad golfers and the way the game of golf can make you crazy, but it is true.
Golf is one of the most challenging games there is, and it's very often voted the hardest sport.
Now, it is not that difficult to learn to hit a golf ball.
In fact, even learning to hit the golf ball straight is something that most amateur golfers can do.
However, when you look at controlling the golf ball to the point that is necessary to become an incredible golfer who shoots in the 60s, this brings an entirely different challenge.
Golf is not an easy game, and that's what keeps you coming back.
Sometimes you can have several bad holes in a row and then start making a few birdies.
When that happens, golfers often joke about coming back again next time.
The game of golf keeps you coming back even on those really tough days because it is a challenge like no other.
Although professional athletes are challenged every day in the way they prepare for and train to be great at their sports, it's not quite the same as the training that goes into becoming a professional golfer.
3. Mental Strength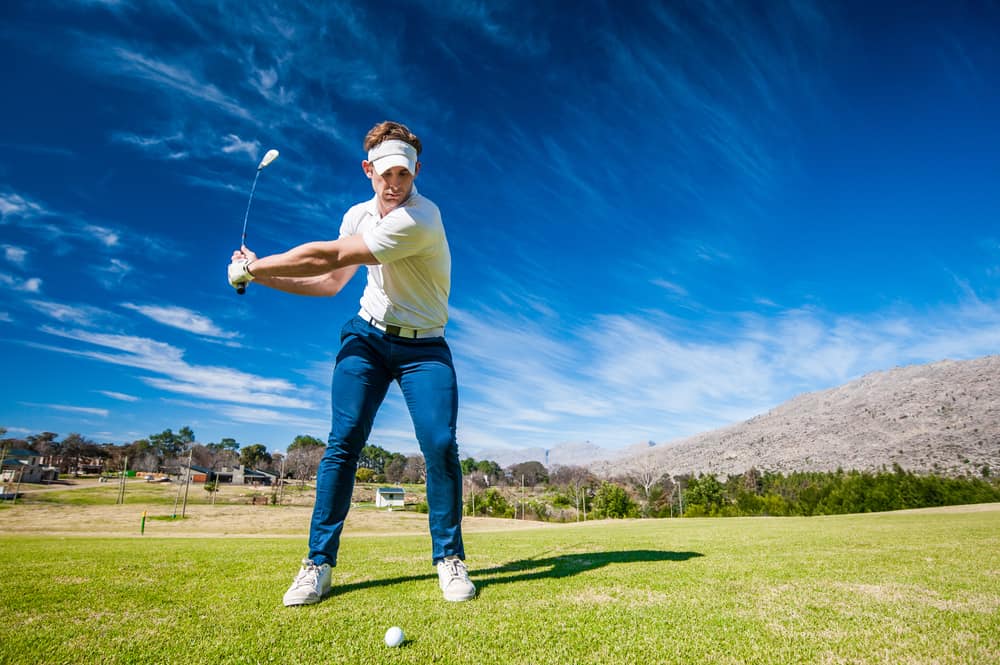 Golf tests your mental game.
As soon as you let a bad thought get into your mind about a golf shot you are going to hit or your score, you have already lost.
When you want to become a great golfer, you must be very diligent about how you think about the course and how you use your mental headspace.
For golfers who are not considered mentally strong, it's very difficult to shoot low scores.
Professional athletes know the importance of positive thinking and mental strength or capacity.
Although some nuances will change depending on what sport you play, it is still a commonality among professional athletes.
Mental strength is something that takes time to develop, and although many players would like to say they have mastered it, chances are there is still plenty of work for the golfer to do.
Over time, you can build up your mental strength and start to convince yourself that you are a great player, but it takes work and research, and study.
This is a great outlet for a professional athlete, and it will likely carry over to their sport and their capability.
For a basketball player like Steph Curry, he knows how important it is to stay focused and pay attention to the mental game.
Without this factor in the game of golf, the overall sport would be much less appealing to other professional athletes.
4. Low Risk Of Injury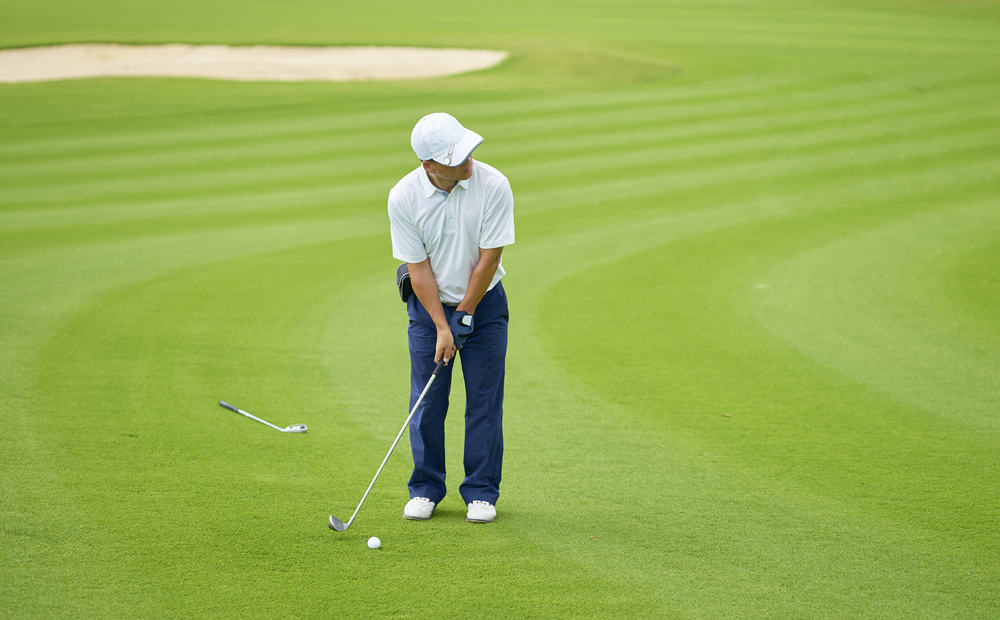 Professional athletes need to be careful with the activities they choose in their off time.
If they choose activities that have a higher risk and can cause injury, this creates a problem for the career they have and the way they make a living.
Although professional athletes still want to be able to live and enjoy all that life has to offer, being careful about the activities they choose is very important.
For instance, you may notice that a lot of football players and even basketball players or baseball players will skip out on skiing.
As fun as skiing can be, it is not nearly as fun if you end up hurting yourself and requiring a break in your normal career or even a short road to retirement.
Skiing is a sport that is dangerous and leaves players susceptible to injury.
Of course, when you play golf, if you don't warm up properly, there is a chance you could strain a muscle, but this is unlikely and not something that a professional athlete won't overcome.
In the end, you will have to remember that golf has all the ingredients of a perfect activity for a professional athlete who has some time off from their sport.
5. Complete Release From Normal Life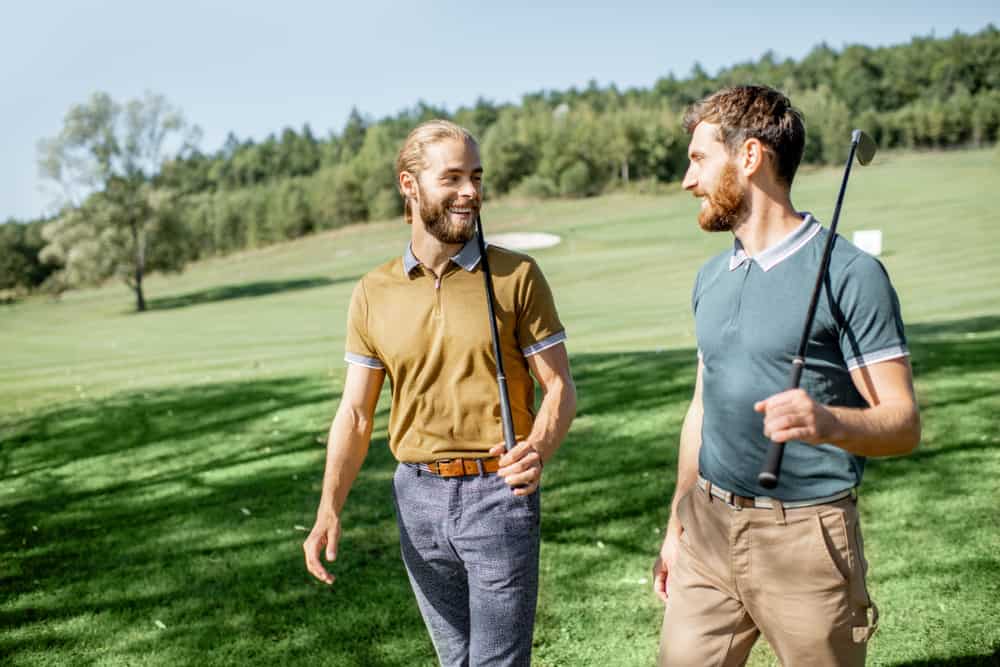 The game of golf makes you stay present on the golf course.
As you are on the course, you must focus on all that you are doing and leave everything else behind.
For professional athletes that have a stressful and demanding career, there are not too many activities that can get their minds away from their sport.
This is why athletes will want to ensure they have golf in their lives.
This complete release from playing the sport that they use to make a living can be a positive thing for their head and body.
When you are on the golf course, you must focus on your game and stay present.
For the most part, you can turn off the outside world and relax and focus on what you need to do on the golf course.
This is an activity that is rare for professional athletes, especially with their farms.
At a private country club, it's usually quite easy for the professional athlete to make their way around the course and ensure that they are not being bothered by anything else, at least for a few hours.
6. Addicting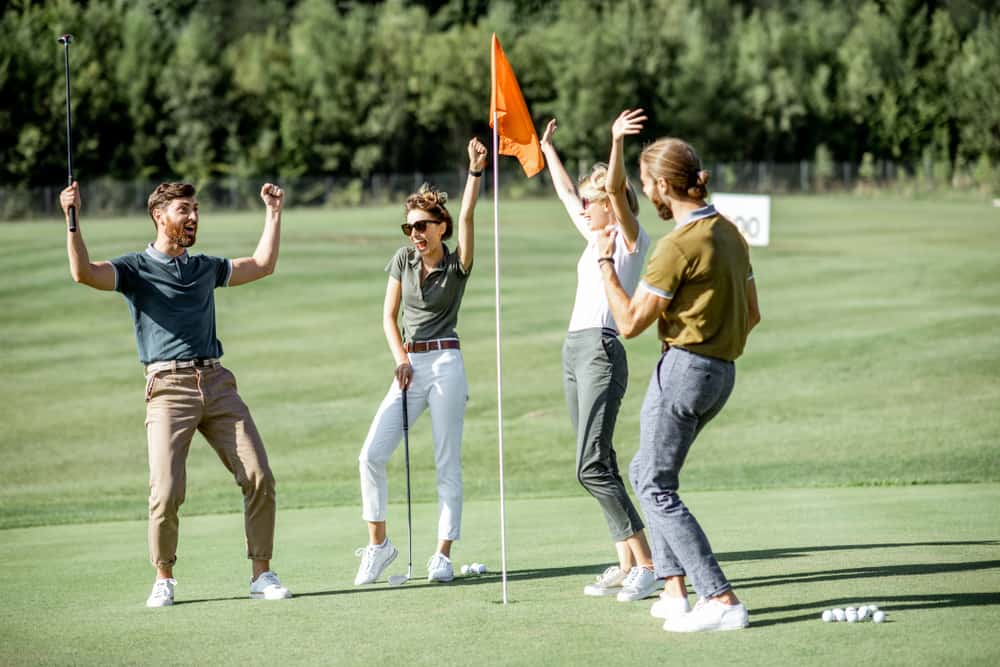 Last but certainly not least, golf is addicting.
Highly successful people love the game of golf because it is an addicting sport that gives people the outlet that they need.
Golf keeps you coming back even after you've had a terrible day on the course.
It's rare to find a sport that allows for this, and it will take quite some time to find any other activities like golf that are safe, enjoyable, and keep you coming back.
The sport is not for everyone, but if you know your personality and you know that you are ready to get out there and be challenged, then it's time to start up as a golfer.
Is Basketball Good For Golf?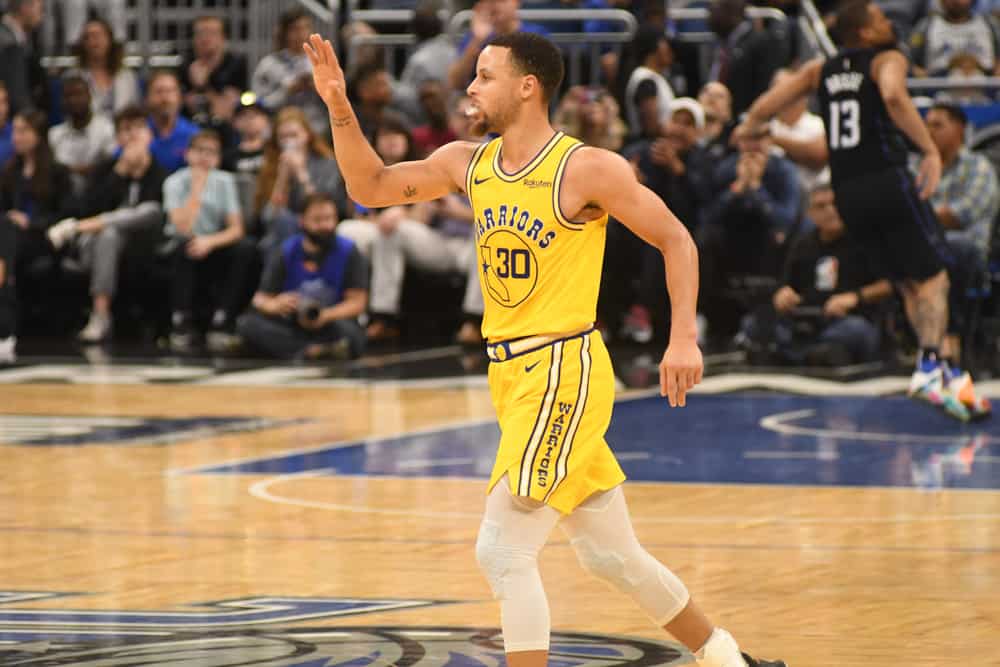 Now that you have some idea of why Steph Curry plays the game of golf and all of the positives that it can heave for his game, you may wonder if the cross-training is good.
The great news for a basketball player is that the walking and flexibility needed in the game of golf are much improved when the golfer is a basketball player.
It takes a lot of physical strength and conditioning to be a professional basketball player.
That same strength and power can be applied to the golf swing and will typically result in more consistency and better performance throughout the day.
Basketball can make you quick, and it can certainly improve your hand-eye coordination, all things that will also help golfers.
When you look at the skills needed to play basketball, a few of them will cross over into golf, but none of them is going to hurt a golfer's game.
There is nothing about the game of basketball that will cause a golfer to slice it or struggle with consistency.
This makes the two sports a great fit to play.
Can Golf Help Professional Basketball Players?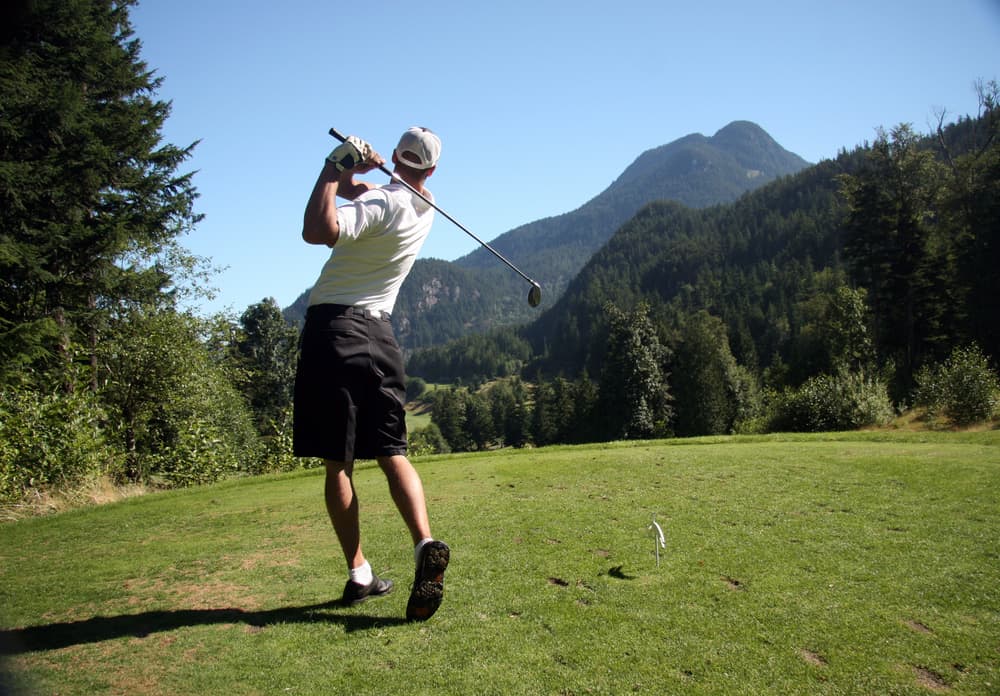 Now that we understand the fact that physical strength and conditioning from basketball can help golfers, you may be wondering if golf can help basketball players.
Golf tends to help players who are looking to develop more coordination and flexibility.
If you want to play great golf, you must be flexible and able to get your body in a variety of positions without straightening yourself.
In addition, it is a good idea to consider the mental game of golf and how it makes players stay present and involved in their sport.
This is good practice not just for basketball but also for people who are trying to take control of their own thoughts and their lives.
Golf can help in the sense that it is a release from the current world and gives professional basketball players a release.
Many professional athletes have a hard time sitting still or resting on their days off, and golf can be a perfect solution for them.
If you are serious about the game of golf, it can become the outlet that a player needs to succeed and make this one of their favorite sports.
Conclusion
At this point, you should feel as though you have a better idea as to the type of golfer that Steph Curry is and why this game means so much to him.
The reasons professional athletes like the game of golf so much are very similar to the reasons that amateur golfers like to play.
It takes a lot of time and effort to understand the sport and play it well, and it gives these high-powered and highly successful people a chance to challenge themselves.
Most professional athletes are used to being good at things, and golf can step in and make you realize that you may not be quite as good as you thought.
The game is humbling, it teaches mental strength, and there are negligible effects on your body or the chance of injury.
Don't be surprised if you see more and more professional athletes pick up the game of golf, especially as they near retirement.