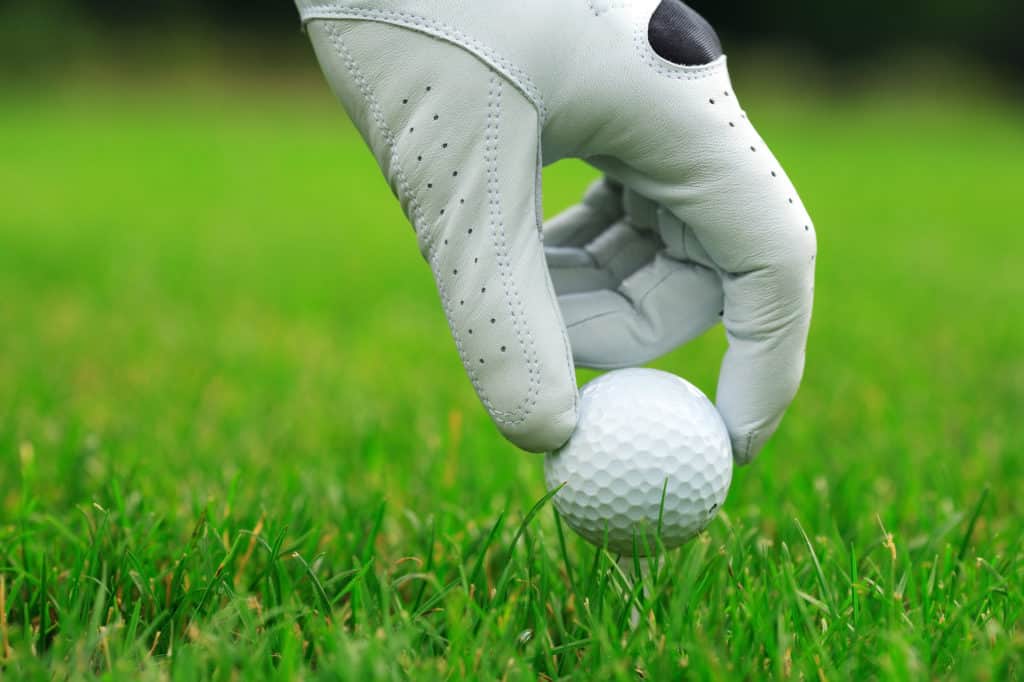 The perfect golf glove for hot weather needs to do a great job of keeping your hands on the golf club while still making sure your hand doesn't get too hot.
This is certainly no easy task, but several companies do a great job.
We have put together our favorite golf gloves for the hot weather.
There is an option on this list for all player types.

Top 10 Best Golf Gloves for Hot Weather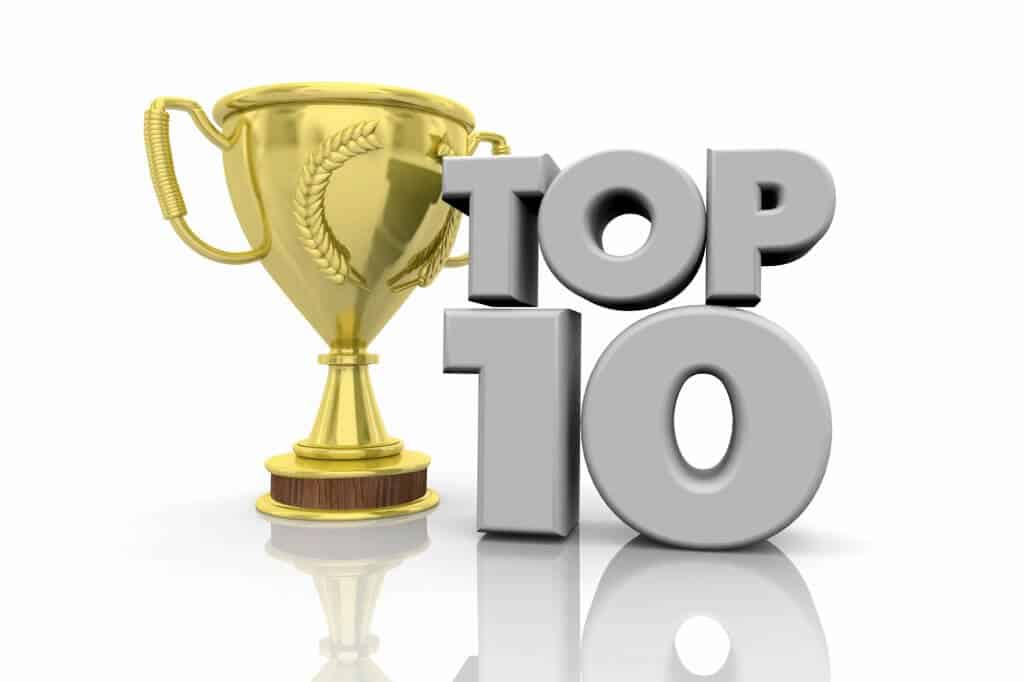 1. FootJoy Men's WeatherSof Golf Glove (White)
Key Features
Advanced performance leather
Very secure fit
Soft feel
At the top of our list is the FootJoy Men's WeatherSof golf glove.
FootJoy is most well known for the golf shoes they produce, but they have many products to help your entire game.
Footjoy gloves, jackets, and hats are helping players to perform better in all types of conditions.
The WeatherSof gloves come in a variety of sizes and feel, and they are quite durable.
One thing you may notice in the hot weather is that gloves can get wet when you sweat.
Since the WeatherSof is a bit thicker than some of the other leather golf gloves, it tends to hold up longer in hot weather.
The WeatherSof golf glove gives players the thickness in the glove they need in all the right areas.
If you notice that you get a blister from time to time when playing golf, you will enjoy the way the WeatherSof feels on your hand.
The closure on the WeatherSof glove is a Velcro fit, and it holds up quite well even in warmer conditions.
This is not a glove that will feel as though it is slipping off your hand as you play.
Perhaps the thing that makes this glove stand out as the best option for the hot weather is the breathable mesh fabric in the knuckles.
With this fabric, you will have increased breathability, comfort, and flexibility as well.
Letting some air into your hand will undoubtedly help cool you down on those brutally hot days.
Pros
Very affordable
Come in a variety of sizes
Fits the hand well
Breathable in the knuckle area
Cons
Thicker than some other options
2. Callaway Golf Men's Dawn Patrol 100% Premium Leather Golf Glove
Key Features
Leather construction
Premium feel
Thin and light
The Callaway Golf Men's Dawn Patrol is a premium leather golf glove.
Although the WeatherSof is made with leather, it is not considered a premium design.
This glove has a very thin and light feel, and it is designed to feel like an extension of your hand.
Players who like this type of a golf club are very interested in feel.
If a golf glove is too thick, it can affect the performance around the green.
The connection to the club will not be as pure as it is with a thin and light golf grip.
The Callaway Men's Dawn Patrol has the thickness the better players seek.
The construction of this glove is very high quality, and it comes with perforations on top of the knuckles and the fingers.
We love that this gives your hand lots of areas to breathe and it will help to reduce moisture as well.
The closer on the Men's Dawn Patrol helps to make sure you get a complete and secure fit.
Many players will tell you the Dawn Patrol is one of those gloves you forget you are wearing.
That is potentially the best compliment when looking for a great golf glove for hot weather.
Pros
Premium quality
Tight fitting
Lightweight
Lots of holes for breathability
Cons
Since it is a premium leather construction, it won't last forever. Continued play in the hot weather will stretch it out
3. FootJoy Men's StaSof Golf Glove (White)
Key Features
Very soft feel
Secure closure
All climate grip
Another FootJoy that earns a spot on this list is the Men's StaSof Golf Glove.
The StaSof is a bit different from the WeatherSof in that it is thinner and made with higher quality leather.
The leather in this glove is called the Taction3 Advanced Performance Leather.
This is designed to stay in better shape longer and stay soft as long as possible.
One of the best things about the StaSof is how well it fits the hand.
Regardless of your hand size, the StaSof seems to grab on in all the right places.
This is also considered to be an all-climate glove.
Since hot weather is a condition which could result in more water and sweat on your golf grips, an all-weather design could be an essential feature.
There is also Power Net mesh that helps to keep air moving through the glove.
Anytime you see a golf glove with no perforations on the top part of the hand, you should know that your hand will likely get very hot.
Combine this lack of breathability with the hot temperature, and things could get uncomfortable.
The StaSof is usually a bit more expensive than the WeatherSof gloves, but if you want something thinner that still does an excellent job with adverse weather, this is a great choice.
Pros
Advanced performance leather
All climate glove
Breathable
Cons
Priced a little higher than some other gloves
4. MG Golf Glove Men's DynaGrip All-Cabretta Leather (Regular Sizes)
Key Features
Cabretta leather
Quality material
Great pricing
There is no question that the MG Golf Glove is one of the best values you can find as far as golf gloves are concerned.
This is a Cabretta leather golf club which has perforations all across the top and the fingers.
You will be very surprised at how cool your hand can stay while in this golf glove.
The style of the MG is going to be very similar to the FootJoy Sta-Sof we have on our list.
Several golfers on tour are playing with this glove and having great luck with it as well.
You can get the MG Golf Glove in many sizes, and it is a simple and non-complicated glove.
The closure on the glove does a great job of making sure you have a snug fit over all of your fingers and nothing is lost.
When it comes to golf gloves, don't be afraid to go with a glove that is not a name brand.
Some of the brands that are lesser known can provide great value while still offering quality.
Pros
High-quality leather
Very low pricing
Higher quality
Used by some golfers on tour
Cons
5. FootJoy Contour FLX Golf Glove
Key Features
Three directional closure
Comfortable wrist elastic
Moisture control
The FootJoy Contour FLX is a glove with very similar characteristics to the StaSof.
Where the StaSof is a classic fitting soft and thin golf glove, the Contour FLX is more of a modern, sporty fit.
This glove will easily align with your hand and give you a very comfortable fit.
Another great thing about the FLX is the fact that it has moisture control.
On those hot days when the thought of wearing a glove may make you dread being on the course, this glove helps you stay cool.
The overall fit is improved with the exceptional three directional closure.
The way this closure is positioned, it pulls the glove tight in all the right places.
This Cabretta leather design leaves the player with a very soft and comfortable fit.
Pros
Superior fitting
Sporty and athletic design
Easy to adjust
Moisture control
Cons
A little thicker than the StaSof gloves
6. TaylorMade Men's Tour Preferred Flex Golf Glove
Key Features
Very flexible fit
Enhanced breathability
Moisture-wicking
If you are a TaylorMade fan, this is a glove you should check out.
The TaylorMade Men's Tour Preferred Flex Golf Glove has a four-way stretch nylon insert.
The nylon helps the glove to have a perfect fit and a high level of comfort.
This glove feels as though it grabs onto your hand each time you put it in.
We love this particular choice for hot weather because it has the moisture-wicking fabric.
There is a very high chance you are going to sweat while playing golf.
Since TaylorMade knew that was going to happen, they prepared this glove to help accommodate you and make things more comfortable.
The glove will dry fast and keep your hand in a cool and dry glove.
Pros
Lots of flexibility
Perforated leather
Made with moisture wicking fabric
Cons
Some players had trouble with the glove ripping over time
7. USA Blue Line Mesh Golf Glove
Key Features
Unique styling
Breathable mesh design
Cool mesh
The Bender golf gloves offer some different features than other manufacturers.
The most significant difference you will see between Bender and other golf club companies is their glove styling.
If you want a glove that has a pattern or unique coloring, this is undoubtedly going to be an excellent choice for you.
This particular model is the Line of Duty golf glove.
Although you can choose whatever style you like, we love the mesh elements in this glove for a hot day on the golf course.
The Bender golf gloves may cost a little more money than some others on the market, but with the coloring and design, you have to think of this as an accessory as well as a glove.
The Bender Gloves fit very well on your hand, and they have a spandex insert for any time you feel as though you need a little extra room.
This glove is made with AA Cabretta Leather Palm with a reinforced patch.
If you have had trouble in the past with a glove getting a hole in it, this Blue Line Mest Golf Glove should give you the support you need.
If you like golf gloves that have comfort, style, and breathability, this is an excellent choice for you.
If, for some reason, the coloring of this particular glove is not your style, take a look at the other breathable mesh Bender golf gloves.
Pros
Breathable mesh material
Spandex Insert
Reinforced patch for added support
Cons
Need to find a coloring/style that you prefer
8. KIRKLAND SIGNATURE Men's Golf Gloves Premium Cabretta 3-Pack
Key Features
Three pack
Cabretta leather
Holds its shape
The Kirkland Signature Men's Golf Gloves come in a three-pack.
If you find you go through quite a few golf gloves, this is undoubtedly a great value.
The Kirkland resists moisture and will hold its shape for many rounds of play.
These are not available in cadet sizes, so you will have to look elsewhere if you have shorter fingers.
The one thing we love about these gloves is the perforations all down the fingers.
Your hand will stay cool, and the leather on this glove is of good enough quality that it will hold up from one round of golf to the next.
Finding a glove that has a good fit for a great price is not always easy.
The Kirkland provides everything you need in a glove, not just for a hot day on the golf course but for a cooler day as well.
Pros
Great value
Available in a three-pack
Cabretta leather
Holds its form
Cons
Cannot get in a cadet size
9. FootJoy Women's StaCooler Golf Gloves (White)
Key Features
Aloe Vera leather
Soft and dry
Moisture control
The FootJoy Women's StaCooler Golf Gloves are, by far, the best choice for the female golfer playing in the hot weather.
These gloves were released many years ago, and women enjoy the feel and breathability of this golf glove.
Aside from the palm of the glove, it is almost all made from a breathable mesh material.
FootJoy PowerNet Mesh makes it much cooler and more comfortable to have a glove on even in the worst hot weather conditions.
The StaCooler gloves are offered at fair prices considering the technology they incorporate.
Pros
Great for the female golfers
Lots of breathability and comfort
Comes in clean white design
Cons
Does seem to wear out a little because of the thinner fabrics
10. Under Armour Men's UA Iso-Chill Golf Gloves
Key Features
Soft Cabretta leather
Wicks sweat away
UA Tour Cool fabric
The Under Armour Men's UA Iso Chill Golf Gloves are specifically built for hot weather.
The UA Cool fabric is built to pull heat away from your skin.
It's kind of like having an air conditioner in your golf glove while you are out on the course.
The glove is made from 84% polyester and 16% elastane.
If you do happen to sweat while wearing the UA Cool Fabric, the glove works very quickly to pull the sweat away from your hand.
Under Armour is a high-performance company, and they know how important it is for you to have a great connection with the golf club.
You will feel very secure with the club in your hand while wearing this glove.
Pros
Built for the hot weather
Pulls sweat away
Will dry quickly
Cons
The feel of the glove is not as soft as some other brands