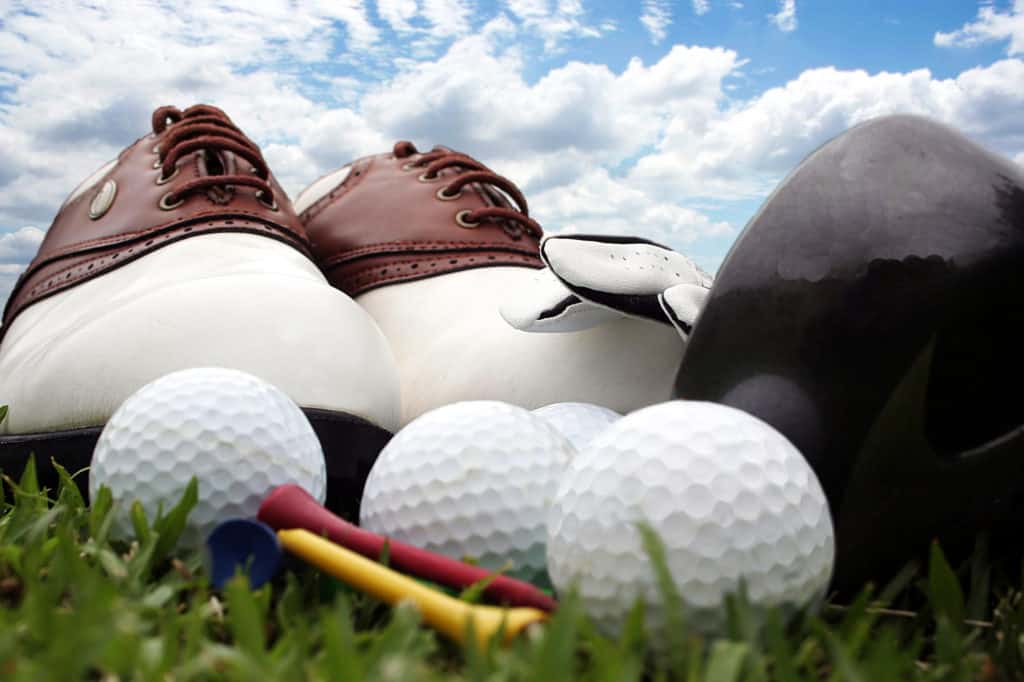 Golf shoes are an essential part of the golfer's wardrobe.
Not only do they complete the look of a golfer ready to play, but they are also very functional.
Golf shoes can help you increase your stability and balance on the golf course and mainly help you to improve your clubhead speed.
If you don't take care of your golf shoes properly, you will be replacing them quite often.
We have put together some easy-to-follow steps that will help you protect your golf shoes.

How to Protect Golf Shoes (Step-by-Step Guide)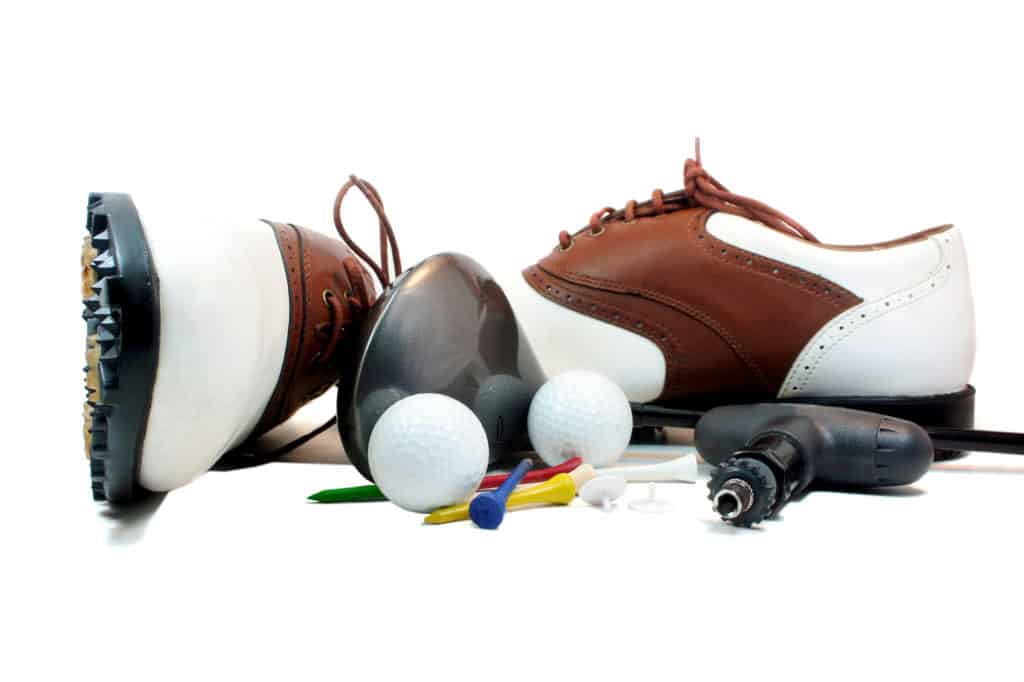 Step 1: Have the Proper Supplies
When you own golf shoes, there are some things you should make sure you have around to help you take care of your shoes.
Here are the most essential supplies to have when protecting your golf shoes…
Scrub brush/cleaning tool
Soap
Water
Waterproofing Spray (optional)
Extra set of Spikes for Soft Spike Shoes
Step 2: Scrub and Remove Dirt
The first part of the cleaning process to make sure your shoes stay protected and will last from one round to the next is to remove dirt.
You should remove dirt from your shoes after every single round of golf.
If you notice those shoe cleaning devices outside of the clubhouse, you should use them.
Of course, they are in place to help keep the floors of the clubhouse cleaner, but they do a great job of removing dirt from your shoes.
For your initial removal of dirt, it is okay to keep the shoe dry.
If you get it wet, the dirt turns into mud, and the project could end up being more complicated than just scrubbing away dirt.
Step 3: Wash
Once all of the visible dirt, dust, and grass is off your shoes, it's time to give them a good wash.
Depending on the type of shoes you have, you won't want to wash them after every round you play.
It is best for leather golf shoes not to be submerged in water.
In fact, you never really want to submerge and your shoes in water.
They should be hand washed to preserve their sizing and material.
When you wash a golf shoe, you should use a microfiber cleaning rag and some warm water and soap.
Simply dip the rag in the soapy water and wash the areas of the shoe that need it the most.
Sometimes you will be able to return your shoe to its original condition, and other times, there will be stains and discolorations that may be permanent.
Unless you have played a round of golf in some pretty muddy or terrible conditions, it should be fine to wash your golf shoes about once a month.
Step 4: Dry
An essential step when washing your golf shoes and trying to protect them is to make sure you let them fully dry.
You should make sure your shoes are dry after you clean them and also after a round of golf.
When you finish your golf round for the day, don't leave the wet shoes in the back of the car or your golf bag.
Set them outside in a spot where they can dry completely before being put away.
Sometimes you will notice issues with golf shoes retaining odor and shrinking in size if they are put away before they have a chance to dry.
When your golf shoes are immaculate and dry, you can either put them away or polish them.
Step 5: Polish/Treat With Waterproof Spray
When golf shoes are dry and clean, you can treat them with polish or a waterproofing spray if you would like.
The biggest thing to make sure of when deciding to do this with your golf shoes is that you match the material with the products you choose.
If you have a leather golf shoe, make sure you use a leather shoe polish.
If you don't use the proper polish, not only will it not be useful but it actually could cause some damage to the shoes themselves.
Step 6: Check Spikes
This step is only going to apply to people who have soft spike golf shoes.
If you have soft spike golf shoes, you are going to need to replace them periodically.
You should be able to tell if the spikes are ready for replacement when they start to wear down.
The ends of the spikes will break off, and you may notice a sharp edge on them as well.
Sometimes a spike can even fall out of the shoe entirely.
Golf shoe companies and golf spike companies are going to tell you to replace your golf shoe spikes very often.
You don't need to replace them after every 15–20 rounds like they recommend.
Most players can get a good 30–40 rounds before having to change out their spikes.
You can do this on your own at home with the proper tools, or you can take it to a local golf shop or locker room where they replace spikes.
The process only takes a few minutes, and you should feel as though you have much better traction.
The Spikeless golf shoe is becoming very popular in golf.
These shoes are a mix between a golf shoe and a walking shoe and a sneaker.
They have a rubber bottom that has no spikes.
The design on the bottom of the golf shoe is in place to help a golfer get a good grip with the turf.
These shoes do not need their spikes replaced, but because they are more versatile shoes, they tend to be worn more often and wear out a bit more quickly.
How to Keep Golf Shoes from Smelling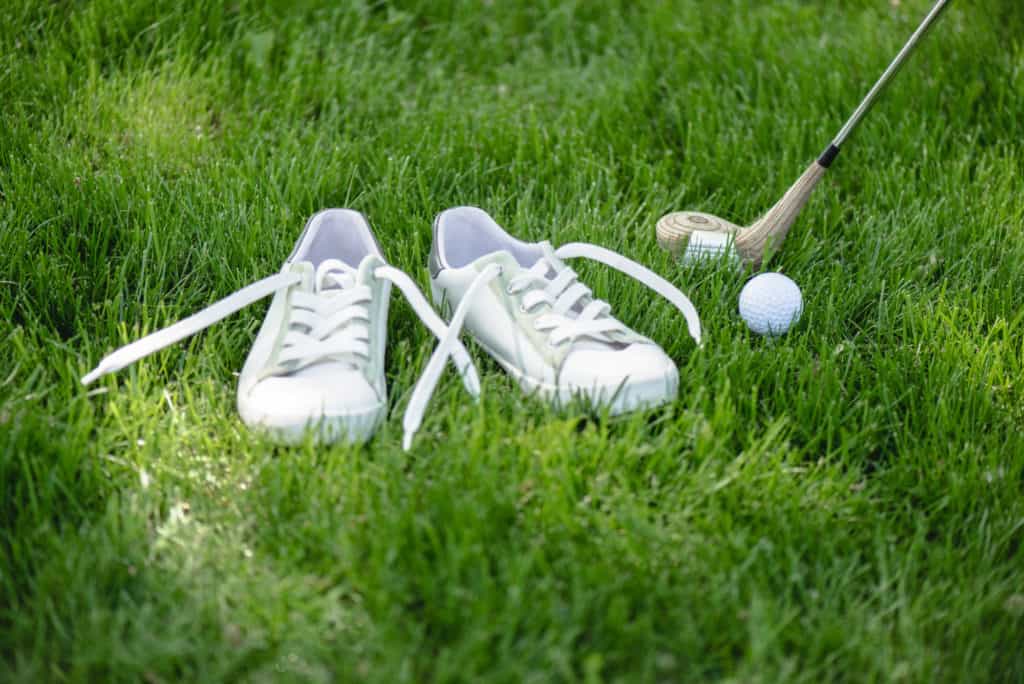 One part of protecting your golf shoes is to protect them from odor.
Since golfers play in wet conditions, it is prevalent for golf shoes to pick up a smell and hold onto that smell.
Many shoes are made with antimicrobial materials which help to keep odor down, but sometimes this is not enough.
One great way to keep golf shoes fresh is to put baking soda in them after a round of golf.
All you need to do is pour a few tablespoons of baking soda in your shoe when you set them outside to dry.
The baking soda does a great job of absorbing any unwanted odors and leaving your shoes ready for your next round.
After letting the baking soda sit for a bit of time, all you need to do is dump the extras into the trash can.
Conclusion
Most people don't protect their golf shoes the way they should.
This is not because protecting golf shoes is hard. It's only because it takes a few minutes of time.
If you spend just five minutes here and there taking care of your golf shoes, you could get an extra year out of them.
That is undoubtedly worth the time and effort to save the money on the shoes.
With golf shoes costing anywhere from $60 to $300 a pair, it's a product that is worth taking care of.