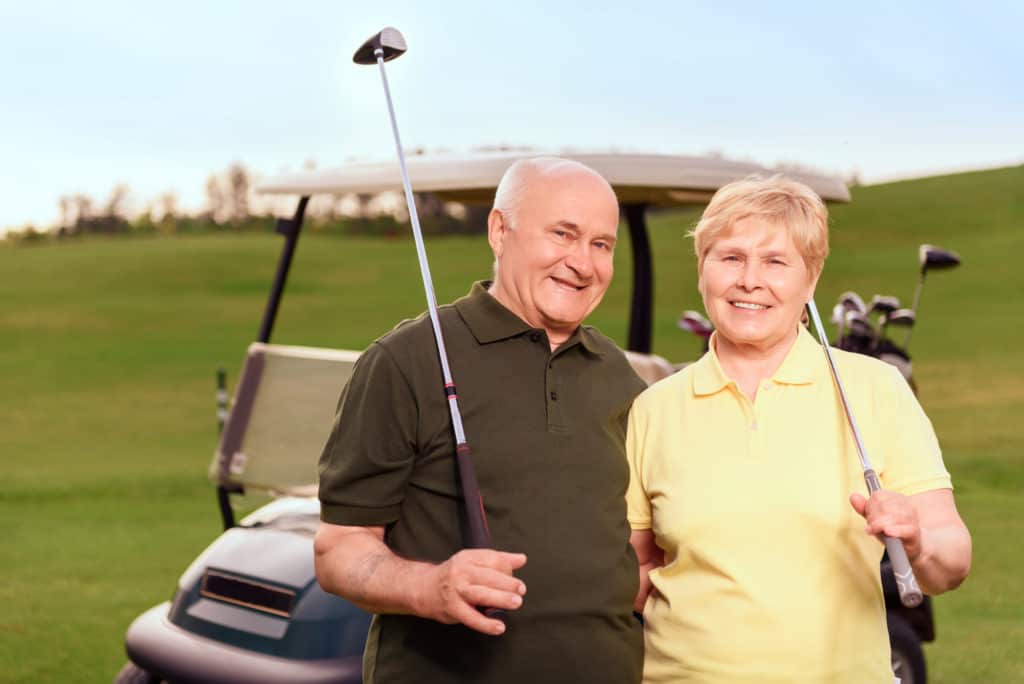 Senior women golfers do not have all the same luxuries that senior men golfers do.
When a man gets older, he switches to a senior shafted club.
When women get older, they don't have this option.
They will still need to use a women's shaft as there is no such thing as a senior women's shaft.
This is a gap in the golf market that we think will correct itself at some point.
In the meantime, you will need to be a bit creative and find golf drivers that benefit the senior woman golfer.
Most of the time, this means a lightweight, more forgiving, and a higher lofted club.
Here are our top ten best drivers for the senior female golfer.

Top 10 Best Drivers For Senior Women
1. Cobra Women's 2018 F-Max Driver
At the top of our list is the Cobra Women's F Max Driver.
The F Max series of golf clubs have always been about forgiveness for the slower swinging player.
This driver is designed for higher launch and more draw bias.
If you find yourself starting to slice the ball a bit more often as you age, you will love this club.
The F Max is a very lightweight clubhead that is designed to help the slower swinging older player get more distance and speed.
As female golfer ages, her swing speed will undoubtedly slow down.
As it slows, it's crucial to use technology to try and help increase that speed.
The center of gravity on this driver is low and in the back to help promote much straighter shots.
If you struggle to line up your shots at times, the crown alignment features on the F Max will help you.
This golf club essentially makes golf just a bit easier.
If this is what you have been looking for in a driver, the F Max is worth a shot.
It is also priced incredibly well for a driver.
Pros
Very forgiving and high launching
Suitable for players who slice
Lightweight design
Helps to increase ball speeds
Cons
Some players don't need an offset design
2. TaylorMade Women's RBZ Driver
The TaylorMade Women's RBZ Driver is a large and sleek looking golf club.
The RBZ Driver is a few years old, but it was made with the slower swinging female golfer in mind.
The good news about the technology in this club is a few years old is that the pricing has dropped considerably.
The shaft on the RBZ driver is a White Tie 55 gram shaft.
This is a well known and high performing shaft that will help with both launch and distance.
The loft of the RBZ driver is a high launch.
This usually means it will be right around 13 degrees and sometimes higher.
With the RBZ being adjustable, you can change the loft to be even higher or lower if you wish.
We suggest setting the loft as low as you can and seeing what results in you get.
As you raise the loft, the club will become more forgiving.
If you can stop at the mid-launch mid forgiveness, you will likely end up getting more distance from the driver.
The TaylorMade Speed pocket technology is what makes their drivers so long.
The speed pocket concept started with the RBZ driver.
So even though you would be purchasing a driver that is a few years old, you are still getting very modern and relevant technology.
This club has dropped in price considerably since it's original launch.
Pros
Speed pocket technology
Great feel and distance
Adjustable loft
Cons
Some golfers will want lower launch
Not draw bias to help with a slice
3. PGX Offset Driver (Ladies, Right Hand, Graphite, Ladies Flex)
If you have been waiting for us to come up with a more budget-friendly option, you will love the PGX Offset Driver.
This is a lightweight and easy to hit club perfect for the senior woman golfer.
The PGX is an offset design, so it will help players that tend to slice the golf ball.
The clubface of the PGX driver is slightly closed, and it has a massive sweet spot.
If you like a more sleek black finish to your golf clubs, you will be happy with the way the PGX looks.
The one thing that we recommend doing with the PGX driver is using the club head after each shot.
Since this is more of a value type driver, we have found there are some issues with paint chipping over time.
If you keep the headcover on, you should not run into this problem.
The loft on the PGX driver is only 10.5, so it will not be the highest launching driver on this list.
If you happen to struggle with getting enough height on your driver, this may not be the club for you.
Pros
Very low pricing
Offset and forgiving design
Large sweet spot
Cons
Only offered in 10.5 loft
Must use headcover to protect the golf club
4. Cobra Golf 2019 F9 Women's Speedback Driver
We like this Cobra F9 Speedback Driver best for the female who still wants to score.
If you are still competitive and looking for top performance out of your clubs, you will love this driver.
This was one of the best selling golf clubs in 2019 because of it's incredible distance, forgiveness, and adjustability.
The F9 driver is a highly adjustable Driver, which is why we love it for the senior woman golfer.
If you happen to notice that you struggle with a slice as you age, you can set the clubface on this club to be a bit closed.
You can also very easily adjust the loft on the F9 with just the turn of a wrench.
When you do this and make the driver a higher loft, you will make the club more forgiving.
The F9 Speedback has a very low center of gravity and some of the highest ball speeds on the market.
The F9 driver is specifically designed to help increase the roll out on a driver.
The amount of roll that a driver gets can help when every yard starts to count.
Another appealing thing about the F9 driver is the fact that you can track the distances of your drives on an iPhone app.
For all of your tech-savvy golfers, it may help to know precisely how far your driver is going.
If you switch the loft from 11.5 degrees to 12.5 degrees, it will be great to know what type of impact this has on distance.
Although the price of this driver is a bit higher than some of the others on our list, it comes at an incredible value considering it was once close to $500.
Pros
Very high-end technology
Adjustable
High ball speeds
Cons
Priced a little higher than other options
Not an incredibly lightweight shaft
5. Callaway Golf 2020 Rogue Driver
The Callaway Rogue Women's Driver was a big hit for Callaway last year.
This driver used the Jailbreak Technology mixed with the X Face technology to provide incredibly high ball speed.
There is no question the Rogue is a distance driver.
You will love the fact that this driver is also adjustable so you can set it to work correctly for you.
Many of the drivers we have reviewed have shafts that are around 50 grams in weight.
The Rogue shaft is 40 grams.
It is one of the lightest on the market and will help the senior golfer that is losing clubhead speed.
When Cobra made the Rogue driver, they consulted with Boeing to make sure that they were creating a club with incredibly fast speed.
Certainly, Boeing knows how to propel an object through the air at great speeds.
The driver is available in both the 10.5 and the 13.5-degree lofts for women.
This loft is adjustable both two degrees up and two degrees down.
If you are a senior woman golfer that struggles with launching the golf ball, go with the 13.5.
Then you will be able to get the loft to 15.5 for a very forgiving and high launching option.
Pros
Jailbreak technology for incredible distance
Adjustable driver
Very lightweight shaft
Cons
Feel is not as great as some other options
6. Senior Women's Majek High Launch Golf
Majek is a company trying to fill that gap in the market for the senior woman golfer.
They recognize that none of the major manufacturers are developing golf clubs for senior women.
This driver has an enormous club head and 12.5 degrees of loft.
If you remember when we first stated the requirements for a stable women's driver, we mentioned a high launch.
Anything above twelve degrees is going to be plenty of loft.
If you end up going too high on the loft, you could sacrifice some distance.
The real reason that Majek calls this their senior shafted driver is because the shaft itself is very lightweight.
In addition to being lightweight, the shaft is also flexible.
This is an excellent option for a slower swinging player looking to get a bit of their distance back with the help of a high performing driver.
Pros
Very lightweight golf shaft
Clean looking design
The perfect loft of 12.5
Cons
Not a top manufacturer
Some quality control issues
The shaft still doesn't seem that much lighter
7. TaylorMade Golf M2 Driver Women's 12.0 Loft Right Hand Ladies Flex
Next on our list is the TaylorMade Golf M2 Driver.
This is not a new release from TaylorMade, but it has remained extremely popular since it's release.
The M2 is an affordable option for a driver with a ton of technology.
The center of gravity on the M2 is very low and will help to promote much higher levels of forgiveness.
Overall this is a very lightweight clubhead and shaft.
If you want some extra clubhead speed, this driver will certainly help.
The M2 does have adjustability, so you can fine-tune this club to work for you.
Although this M2 was developed at the beginning stages of the twist face technology, it still has great forgiveness should you miss the center of the clubface.
If you are playing with an older TaylorMade driver and looking for an upgrade, the M2 is a perfect choice.
Pros
Adjustable loft sleeve
Lightweight head
Lots of ball speed
Cons
Technology is a few years old
8. PowerBilt Women's TPS Blackout Driver
The PowerBilt Women's TPS Blackout Driver is more of a beginner driver than a senior driver.
However, these two things can go hand in hand.
Golf club manufacturers assume that beginner golfers need plenty of forgiveness and that they have slower swing speeds.
The PowerBilt Driver is built for a player that needs some help getting the ball in the air.
Probably one of the best things about this club is the incredible price point.
You likely won't find a driver cheaper than this that has any quality to it.
The head of the TPS Blackout is 460cc, which is the maximum legal limit.
You will be getting the same size club head as the $500 drivers for a fraction of the price.
The weighting of this club is very low and in the back of the club to help improve the center of gravity location.
This is a good club if you don't necessarily need an anti slice driver, but you want something forgiving.
Pros
Lightweight
Forgiving
High launching
Cheap
Cons
Not as high quality as some of the other models
9. Cobra Golf Women's 2019 F-Max Superlite Offset Driver
The Cobra Women's 2019 F Max Superlite is one of the lightest golf drivers on the market.
This club is available in both a 10.5 and a 15-degree loft.
If you happen to struggle with getting enough launch and forgiveness from your driver, you will love the Cobra Superlite.
Cobra was able to save a great deal of weight with this driver by making it with a lighter shaft and lighter grip as well.
Most companies work to create an overall more lightweight club, but this is one of the first times so much weight was saved from the grip as well.
The face on the Cobra driver features the E9 technology.
E9 is a very thin material that helps to make sure the golf ball jumps off the clubface at impact.
This particular design is also very offset, which will allow for help when it comes to a slice.
If you happen to slice the golf ball, you will love the closed clubface and easy alignment that the F Max provides.
Pros
Very lightweight driver
Offered in a high loft
Thin face for maximum distance
Cons
Might be a bit too lightweight for some players
10. Callaway Epic Flash Star Driver
Last on our list is the Callaway Epic Flash Star Driver.
Truly the only reason that this club ends up at the bottom of the list is the pricing.
This driver is more expensive than any other driver on the market.
You will get plenty of technology for the price but it would have to really be worth it to spend the money on this club.
As far as distance improving technology is concerned, not much will compare to the Epic Flash Star.
If you feel as though you have been losing yardage in your game, the Epic Flash Star does everything possible to get it back.
The Carbon crown makes this an incredibly lightweight clubhead.
The shaft itself is only around thirty grams making it very lightweight as well.
If you need distance and you are not worried about what it costs to get it, the Epic Flash Star will provide some fantastic results.
Pros
The lightest shaft on the market
Helps improve distance
Low center of gravity
Cons
Hopefully, our list of the top ten best drivers for senior women has helped you see how many great options there are.
Senior women need to look for forgiveness and a lower weight on a club.
The lightweight golf clubs will help you with both launch and distance and make this crazy sport fun again.
Don't be afraid to choose a driver with a little extra loft.
Many golfers think this will cause you to lose distance, but if you hit the proper trajectory, you will gain distance.