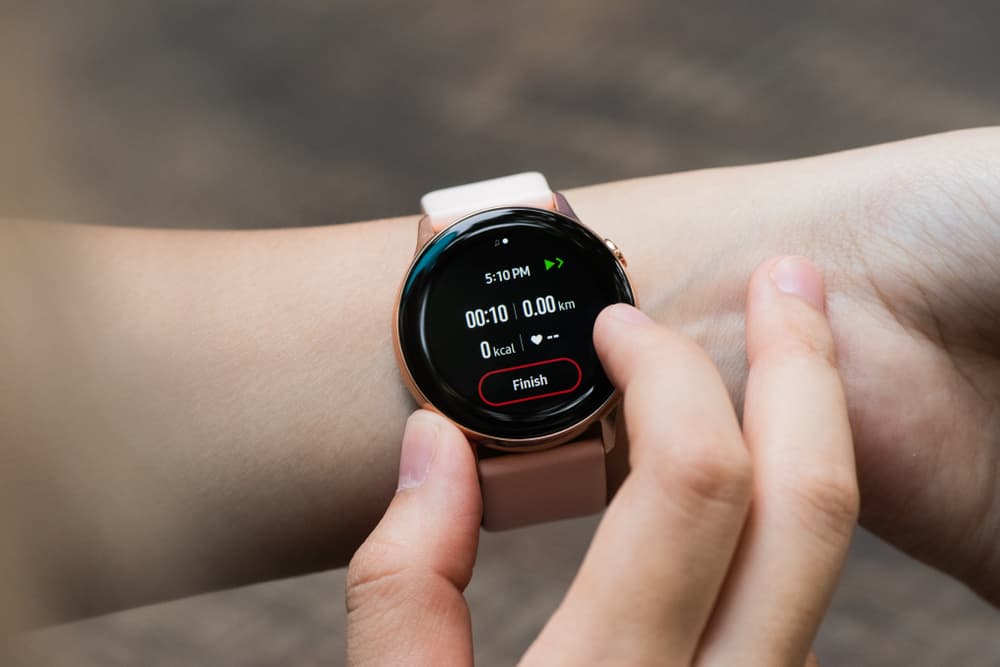 If you have a Samsung Galaxy watch, you may be looking to add a few apps to help your next round of golf.
Luckily, with a Galaxy Watch, there are lots of ways that you can help your golf round and potentially even lower your scores.
Some apps are going to have a cost associated with them while others will be free of charge.
Always try to choose a watch based on the functionality that you will get from it all year round, not just for your golf game.
However, since you already have it on your wrist, let's take a look at how you can enjoy it on the golf course.

Best Golf App for Galaxy Watch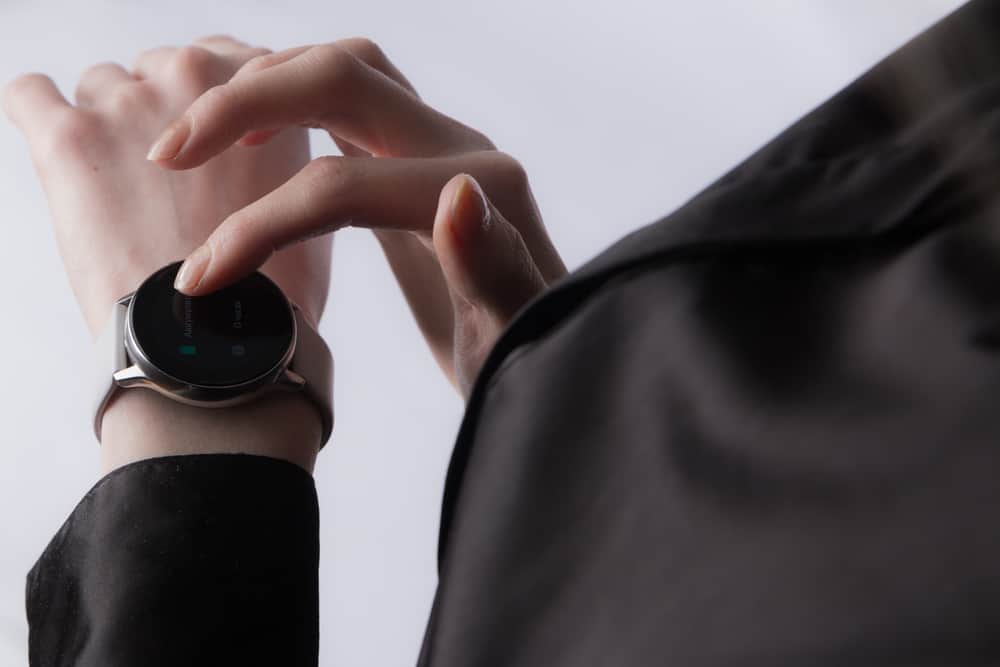 1. Golf Shot
Golf Shot is a GPS-type app that is available for the Galaxy Watch.
The Golf Shot app has several different versions, and some of them are paid versions.
You will have to decide whether or not the information on the paid version is going to be worth it for you to make the investment.
This app is going to be very similar to owning a golf GPS watch.
There are 40,000 golf courses already loaded onto the watch to make it easy when you go out to the course.
You won't have to spend much time updating the watch and getting it to load up the current golf course where you are playing.
The Golf Shot app will give you approximate yardages to the center of each green, and eventually, it can start to recommend which club you should use based on your performance.
When you download an app like this, you are going to be saving yourself quite a bit of money.
It's like getting an entirely different golf device for quite a bit less money.
2. My Round Pro
Golfers are beginning to realize how important it is to track their scoring and their performance.
If you are not tracking your round, you are likely not paying enough attention to how you can get better at the game of golf.
One way to track your round and see how you are doing is to download the My Round Pro app.
With My Round Pro, you can get a statistical analysis of your game, and it will give you detailed information about yardages as well.
The My Round Pro will also pair with your phone and keep track of all the shots that you are making as you get yourself around the golf course.
Things like fairways hit, greens in regulation, and other data like this are going to help you decide what parts of your game need the most work.
You may realize that the driver that you thought was hurting your game is actually not the problem.
You will likely find out that the issues related to your higher scores are probably occurring around the green.
3. Hole 19 Golf GPS and Scoring
Tracking and scoring used to be something that only the best golfers would do for their games, but this has changed in recent years.
Golfers of any ability now want to have the ability to track and score their way around the golf course.
Hole 19 is a free Samsung app that can be used to access more than 43,000 golf courses and some information about each hole.
You will get an accurate distance to the center of the green and a scorecard that will allow you to track your score during the course of your round.
There are different types of scorecards as part of Hole 19 so that you can change how you are going to play.
You will be able to send your scoring and your round information to your friends after play so that they will have access to it as well.
4. Smart Caddie
Smart Caddie is a paid app that will require you to make an investment after the free trial.
Even though this is a paid app, and you will have to decide whether it is worth the money, most people are very impressed with the capabilities of the Smart Caddie.
This is a GPS app, but it tends to very accurate and can give you information about your shot history and even the pin placement.
Finding a golf course on the Smart Caddie is easy, and you will be able to keep all of your scores and information in one convenient location.
There are even distances related to the elevation that you can get when you are using the Smart Caddie.
Truly, this app will turn your Galaxy watch into a full golf GPS watch.
Be prepared that, with all this app can offer, there will probably be some effect on your watch battery.
Chances are the battery is going to decline in power much faster when in golf GPS mode.
As long as you are prepared for this, you should have no long-term issues dealing with the problem.
5. Live Golf Scores
Real golf fans like to keep track of their favorite pros just as much as they keep track of their own game.
With a major tournament on TV, chances are you are going to want to keep an eye on who is playing well and who is struggling on the course.
If you are at work or are out on the golf course and want to see how the pros are faring at the Masters or the Open, the Live Golf Scores app is a great choice.
This is a free app that gives you quick and easy access to the latest golf scores.
You won't have to work through a bunch of other sports scores or websites just to get the information you are looking for.
If you are going to be downloading some apps to work on your game, you might as well download this one as well, so you can find out how the pros are playing.
Should I Play with a Golf Watch On?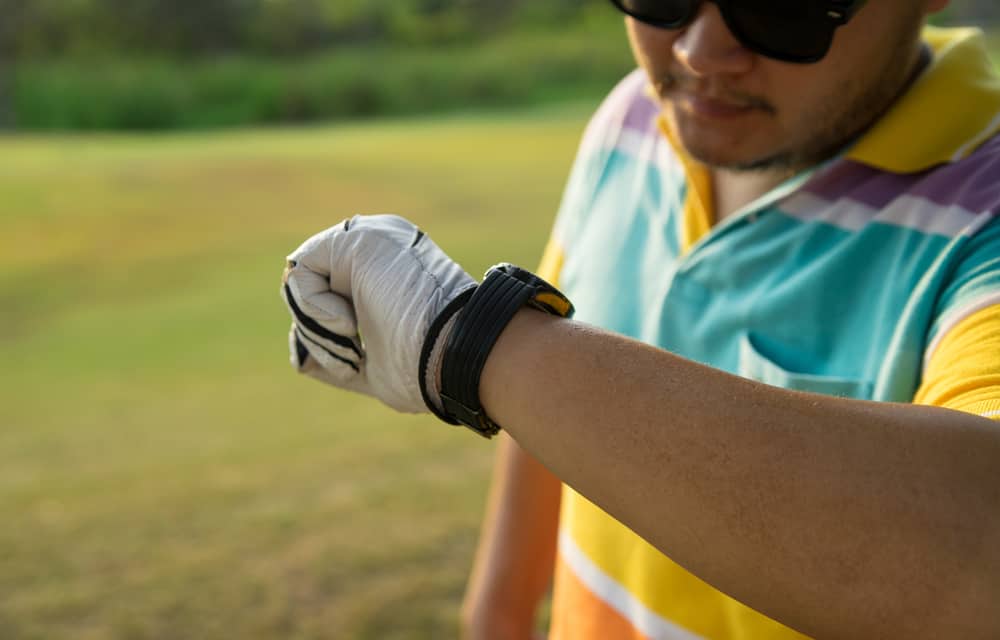 Now that you have some great apps to use with your Galaxy watch, you will need to make the decision of whether or not you want to play your next round with a watch on.
A golf watch can be great for some players, but others will really struggle to wear it during the course of a round.
The positives of owning a golf watch include having easy access to yardages and other information that you will need.
Instead of having to carry an extra device in addition to your watch, you will have all the information you need right on your wrist.
In addition to the watch having all of your information, it is usually very quick to give you the numbers you need, and it will have lots of functionality in other parts of your life.
The downside that most players struggle with is interference with their swing.
For some people, the watch can cause irritation on the wrist as you swing through the impact position.
This can sometimes be fixed by changing the band that you are using.
Other times, you may not be able to get the watch to work at all with your swing.
This is unfortunate, but it does happen for some golfers.
There are others, however, who find that playing with a watch on the wrist is a better solution than playing with a rangefinder in their pocket.
You will have to try some different solutions to come up with something that works well for your golf game.
Regardless of the way that you decide to go, it helps to know that the Galaxy Watch does have some compatibility with golf apps.
Is It Worth It to Track My Round Using a Golf Watch?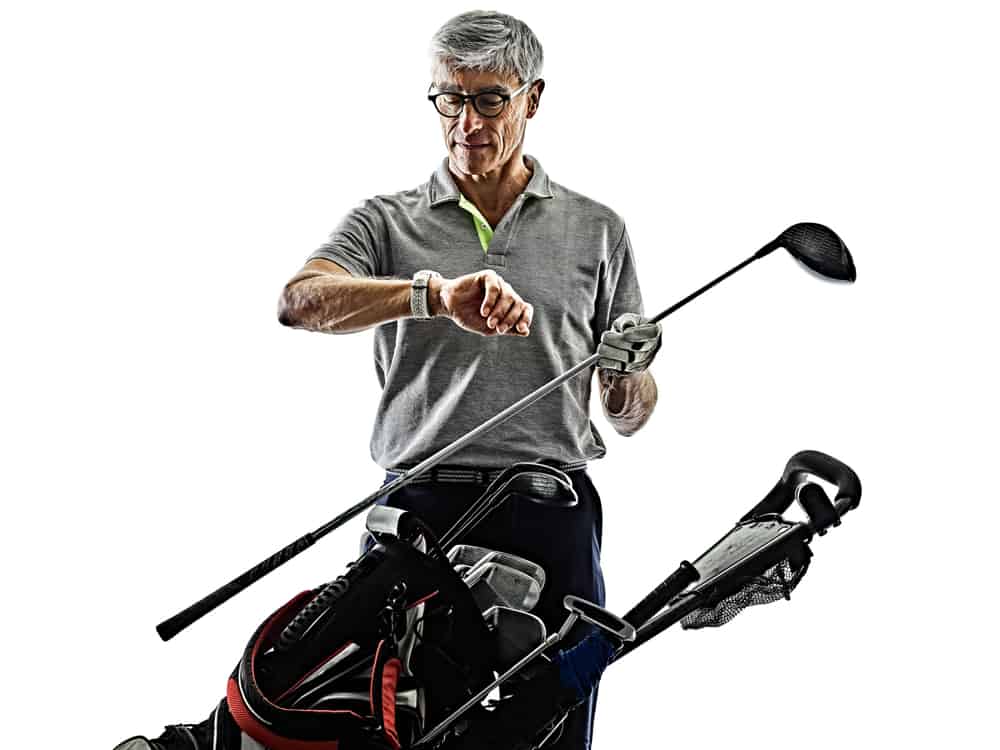 For some golfers, tracking a round of golf is a great thing.
For others, it can be too distracting and difficult to pay attention to.
This brings up the question of whether or not it makes sense to track a golf round on your watch.
The benefits of tracking your round are that you will know the greens you hit in regulation, the fairways hit, and the number of putts that you made.
You can then look at this information and decide which parts of your game are going to need to be worked on.
Chances are the majority of your shots were lost in the short game area.
As soon as you start to realize this, you can then start to practice and work on improving in these areas.
The only real downside to tracking your golf stats is that it can become distracting.
While you are trying to focus on your pace of play, the course you are playing, and more, you will also need to enter your golf round into your watch.
This is a lot going on at once, and it can cause players to slow down and lose their focus.
If you don't want to create this hyper-focus on tracking every golf shot, then it's possible you need to consider skipping the tracking on your watch.
The other option is that there are some watches built for golfers that will track a round automatically.
The watch can tell where you are using the GPS, and it will give you stats at the end of the round.
Although these are not always 100% accurate, they can give you a decent idea of how your round went.
The real need for tracking a round really only comes when a golfer is trying to improve and lower their scores.
If you find you are ready to take your game to the next level, you must track it so that you will be able to see what you can do with your game.
If you are a Saturday afternoon golfer who just wants to have some fun on the course, knowing exactly how many fairways you hit is probably not going to matter.
Try to find the right balance between what makes sense and what doesn't.
Golfers with very high handicaps should focus on trying to improve their chips and putts and worry about tracking their rounds later on when their scores get below 100.
Before this point, try to enjoy playing the game for fun.
Conclusion
Even though the Samsung Galaxy Watch is not built specifically for golfers, there are still some apps that will work quite well.
Choose something that you can easily read and that you feel is giving you accurate information.
Although you may need to pay a bit extra for some apps, they can be well worth the price.
If you are not taking advantage of all your watch has to offer, you should download a golf app today.
Chances are you will enjoy the benefits that the golf apps have to offer.