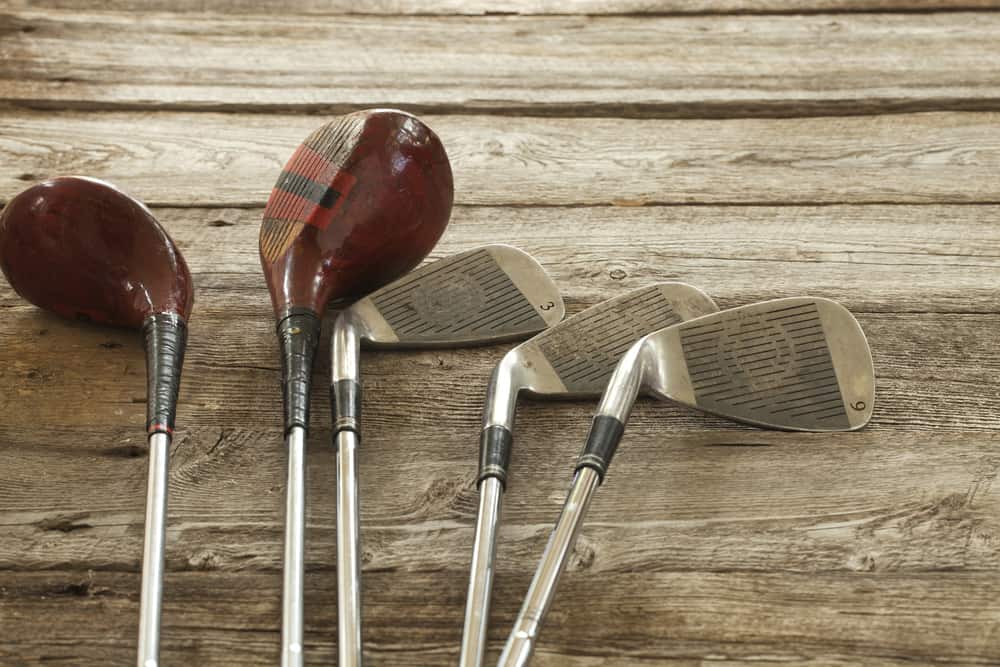 For golfers, it can be hard to get rid of a great set of golf clubs.
Players often like to hold onto old equipment for a sentimental reason.
Maybe the clubs were your grandfather's, or maybe you won a junior championship with that set.
The reason you decide to hold onto your old clubs really doesn't matter because the most important thing is that you display the clubs correctly.
Not only do you want to make sure that nothing happens to the old golf clubs, but you will also need to ensure that the clubs look good on your wall.
Let's take a look at some of the best ways to display old golf clubs in your home or business.

How to Display Old Golf Clubs (9 Ways)
1. Golf Club Wall Rack
A golf club wall rack is a very common way to display your golf clubs on the wall.
With the golf club wall rack, all you will need to do is hang the rack on the wall.
Once the rack is on the wall, then you will have to place the clubs into position as you please.
The golf club wall racks are often made with a dark wood that is stained.
When the rack goes up, the clubs are going to fit in place exactly, and it will hold irons, putters, and sometimes even drivers.
You will sometimes need to make sure that there is enough wall clearance for a driver, but truthfully, more people display irons and woods than drivers.
Many times, the golf club wall rack will have a green felt-type fabric on the inside of the rack.
The dark green felt and wood color of the rack itself are fairly classic designs and patterns in the world of golf.
A golf club wall rack can be purchased to hold three clubs all the way up to ten clubs.
Depending on the number of golf clubs you have to display, you should be able to find a golf club wall rack that will work quite well for your needs.
We would recommend hanging these wall racks where there is a stud.
If the clubs are a bit heavy, which they can be sometimes, you will need to make sure that the wall rack is not going to move from the wall at all.
Golf club wall racks are a great long-term way to display your old clubs without doing damage to your wall or to the golf clubs themselves.
2. Golf Club Floor Rack
Have you ever been to a golf shop or golf retailer that had a small putting green with putters on display?
In this area, it's likely they also had a golf club floor rack.
These floor racks are built to hold clubs upright with their head or grip on the ground.
With a golf club floor rack, you will have lots of room to display old golf clubs.
These floor racks are a great choice if you think you may like to use the clubs on display from time to time.
With putters and wedges, it can be nice to grab an old club and hit a few shots with it.
The golf club floor rack is set up perfectly to keep your clubs upright and prevent them from falling over.
The racks are built so that there are small indentations that the club fits in.
These keep the clubs upright, and they will not be able to slide left or right when they are on display.
If you are setting up a golf room in your house that has a small putting area or even a golf simulator, purchasing a floor rack is a great idea.
These can be rather large and accommodate a lot of golf clubs, but you could also build one to suit your needs exactly.
Regardless of the size you choose, the golf club floor rack is a great choice for displaying old clubs.
3. Corner Golf Club Holder
Another type of golf club floor rack is a corner golf club holder.
They are usually round, and they have a place for you to insert the clubs so that they stand upright.
The corner holders are designed to keep the clubhead up off the ground.
The club rests on the butt end of the grip.
The corner golf club holder is a unique way to display old clubs, so if you have a corner in your home that is missing some sort of decorative piece, this could be a great solution.
A corner golf holder will typically hold between five and 10 golf clubs.
This is really meant to be used more as a display piece than something that holds your clubs you are currently using.
As with most golf club display features, this corner golf club holder is going to be made partially with wood and probably some felt to protect the clubs.
4. Golf Club X Hanger
A golf club X Hanger is a piece that you put on the wall to hold your golf clubs in place.
The X Hanger will put one club one way and another club the opposite way.
When the X hanger is on the wall, the clubs will be displayed in sort of an angled cross pattern.
This is a very simple way to store and display old clubs, but it is a really nice accent piece on a wall.
This is something that you could hang in a dining room, above a fireplace, or even in a guest bedroom.
Since the piece has some unique design perspective to it, you will not need to worry about this being put in a golf room specifically.
Of course, if you are lucky enough to have a golf room in your home, then the X Hanger could absolutely work in there as well.
When the clubs are in the X Hanger, they will be locked into place so that they don't fall from the wall.
This makes it difficult to take the club off the wall and use it.
If you decide to go with this particular option, it makes sense to use clubs that are not going to be included in your typical club rotation.
The golf club X Hanger looks like more of a modern design than some of the other options on our list.
If you like a more minimalistic look in your home, you will likely enjoy the golf club X Hanger the most.
5. Staff Bag
Have you seen the golfers on tour and the staff bags that they play with?
These golf bags are huge, and they are capable of holding a large number of golf clubs.
When you have your golf clubs loaded into this type of bag, there is sometimes room for twenty clubs or more.
A staff bag is a big purchase.
These bags are typically branded with a certain manufacturer, and they come in many unique styles and designs.
When you have old clubs to display, one way to do it is to put them in a staff bag.
The staff bag is plenty sturdy enough to be able to stand on its own in the home.
You won't have to worry about the bag tipping as it has a large and stable base to keep it in place.
The staff bags are a great choice if you are a person who has quite a few old clubs to display.
Although the clubs won't be on the wall of your home, they will be placed around in areas where they can easily be seen and admired.
A unique way to display clubs like this is to purchase more than one staff bag and store different types of clubs in the different bags.
Maybe you could put woods in one bag and irons in another.
Another idea is to store the sets based on the time period in which they were sold.
Whichever way you decide to do this, the clubs will look great and be appropriately displayed and protected for years to come.
6. Vintage Golf Bag
Sticking with the golf bag idea, another option is to find a vintage golf bag.
If you have a set of golf irons from the 1960s, it may make sense to purchase a golf bag from this time period as well.
You can display the vintage clubs in their vintage bag to give your home a unique look.
There are lots of different ways you can display this vintage bag in your home.
Sometimes it looks good just simply draped in a corner of the room.
Other people will try to hang the entire bag with clubs in it on the wall.
Only do this if you know how to hang something that has quite a bit of weight.
Chances are you will need more than one hook to complete this project successfully.
The vintage golf bags are going to bring an entirely new level of design and history to your display of old golf clubs.
7. Fan Display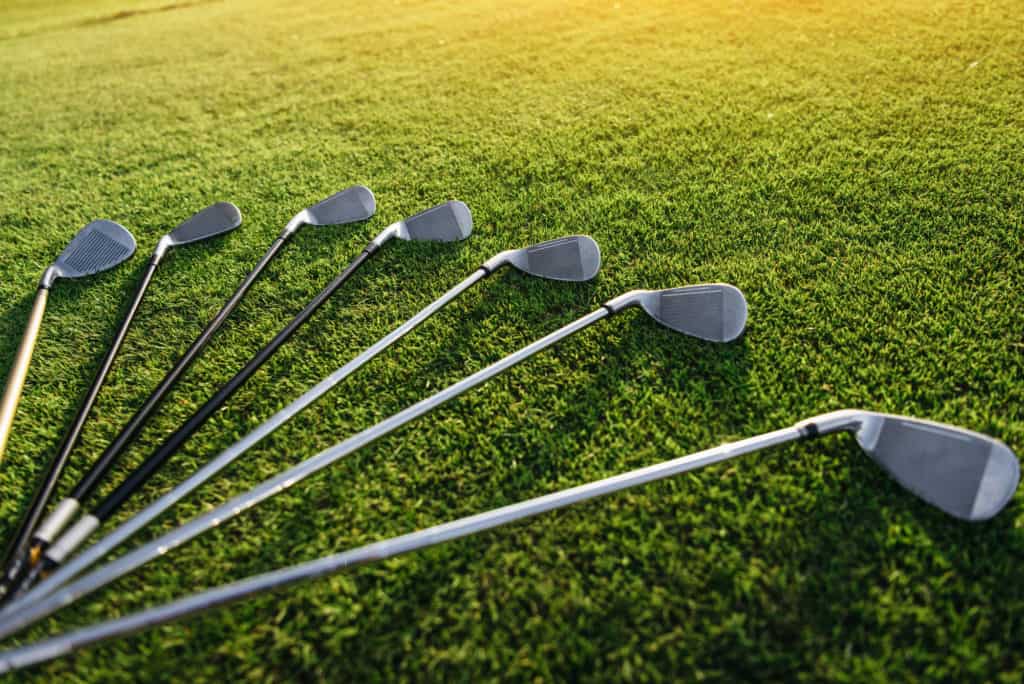 A less common but unique way to display the golf clubs on the wall is to hang them in a sort of a fan pattern.
You can think of this as similar to the tail on a peacock.
The base of each of the golf clubs is going to be at the bottom, and then the clubs will all fan out from there.
You can place the clubs evenly spaced on the wall to have a large semi-circular display on the wall when finished.
The golf club fan display takes quite a bit of time and patience to create.
You are going to need to make sure that both the head and the grip of each club are properly supported.
In addition, you will need to work on the spacing of the display so that it looks as though it should be on the wall.
The finished design will be quite large and take up a lot of wall space.
Make sure you start the butt end of the golf club far enough down on the wall that it won't hit the ceiling when you get to the middle clubs.
The clubs in the middle will be almost upright, and you must make sure that they have enough clearance to be hung properly.
The fan-type display is a unique design, and it will be a project that you can admire for years to come.
Don't take this project on unless you have made sure you are up for all the measuring and precision nailing involved.
8. Shadow Box Display
A shadow box display is a very common way to store golf gear and historical items.
The shadow box is a good choice to store something like a golf ball used for a hole in one or the scorecard of your lowest round.
The golf clubs can also work well in a larger shadow box.
The unique thing about a shadow box is that you can add more than just golf clubs to the box.
If you have a glove or a golf ball from the time period that the clubs are from, then you can put that in the box as well.
Some shadow boxes are going to look good with three or four clubs in them, and others are going to be better with seven or more clubs.
The golf clubs are usually pinned into place inside the box so that they don't slip down while displayed on the wall.
Hanging a shadow box with a set of clubs is certainly an easier method than trying to hang each club on the wall individually.
When you try to hang each club on a wall individually, you will end up with a lot more holes in your wall as well.
Most shadow boxes have one or two hooks, and it can typically be pretty easy to get a box to hang level and straight on your wall.
9. Display Table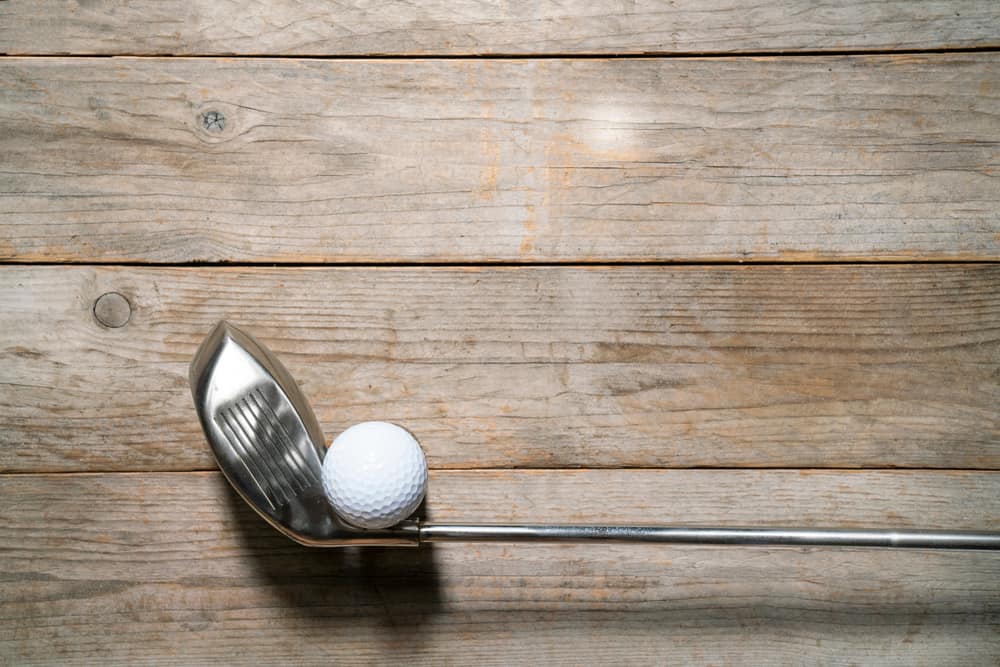 Last but not least is an option that golfers have been choosing for many years.
If you never have heard of golf coffee table books, you would be quite surprised by the options that are out there.
People like large books with beautiful pictures of golf courses and players that they can display on their coffee table.
These things are unique conversation pieces, and they also remind guests to the home that the homeowners are fans of the game.
If you like the idea of a coffee table book but want something even more special, you can turn your coffee table into a golf display box.
Simply build or purchase a coffee table that has a display box under a glass top.
The clubs can be arranged inside the box along with other golf historical information and memorabilia.
The glass top will cover the coffee table, and therefore the belongings inside will be protected even if food or drink should be spilled.
The great thing about a unique piece like this is that you won't have to put any holes in your walls.
You won't have to worry about things looking level or neat either.
Simply spend some time arranging the display the way you want it to look, and then put the glass cover on the top.
The entire process will be quick and easy, and you will never have to worry about your old golf clubs getting damaged.
In addition, when your friends and family come over, this is going to be quite an entertaining piece.
Of course, this is a choice that is best for old golf equipment that is unique and historical looking.
The beginner set that you used last year that didn't quite work out is not going to look all that great in a display coffee table in your living room.
Conclusion
Old golf clubs can be rare to find.
When you find a unique set, especially with a wood shaft, you are likely going to want to display them in your home.
You can transform the look of your living room, dining room, or even your office by displaying your old golf clubs.
These clubs are going to help protect the clubs for the long term, and they will also keep them in excellent condition.
If you want to display your old golf clubs in your home, there are lots of possibilities.
Take some time to research the possibilities and find the one that works best for you.