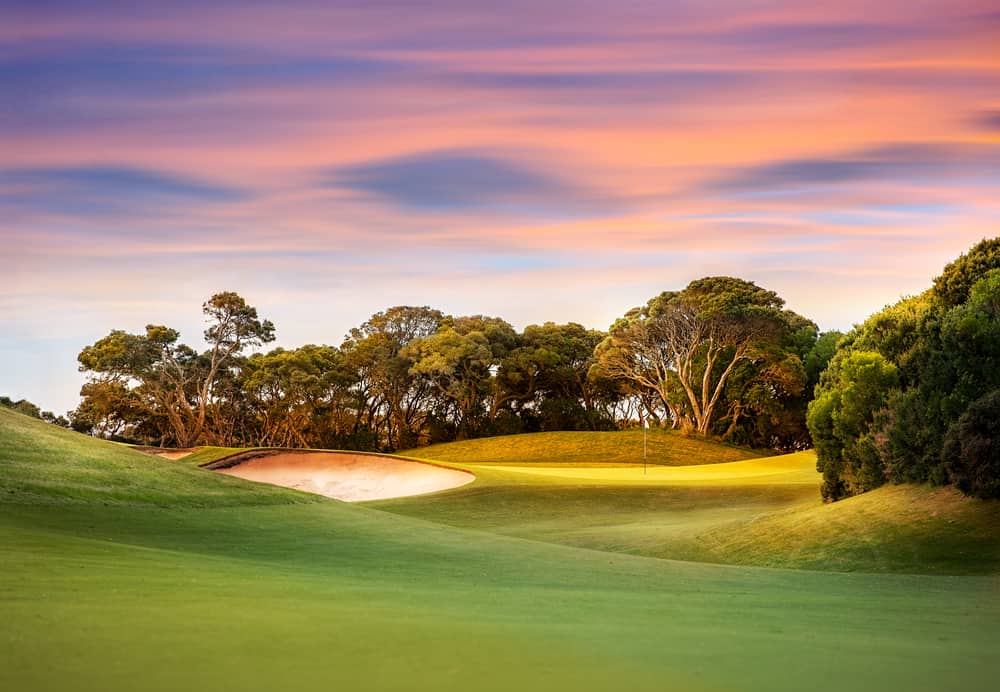 Golf courses can be broken down into a variety of different categories.
Whether you are looking to play a certain type of landscape or are simply trying to pay a particular fee to play golf, there are lots of different types of golf courses out there.
Luckily, there are some great choices for golf courses all over the world.
Regardless of your playing style or ability, there will always be ample golf courses for you to play.
Let's take a look at some of the types of golf courses available and how you can start to break down which are the best for your golf game.

14 Types Of Golf Courses
1. Par 3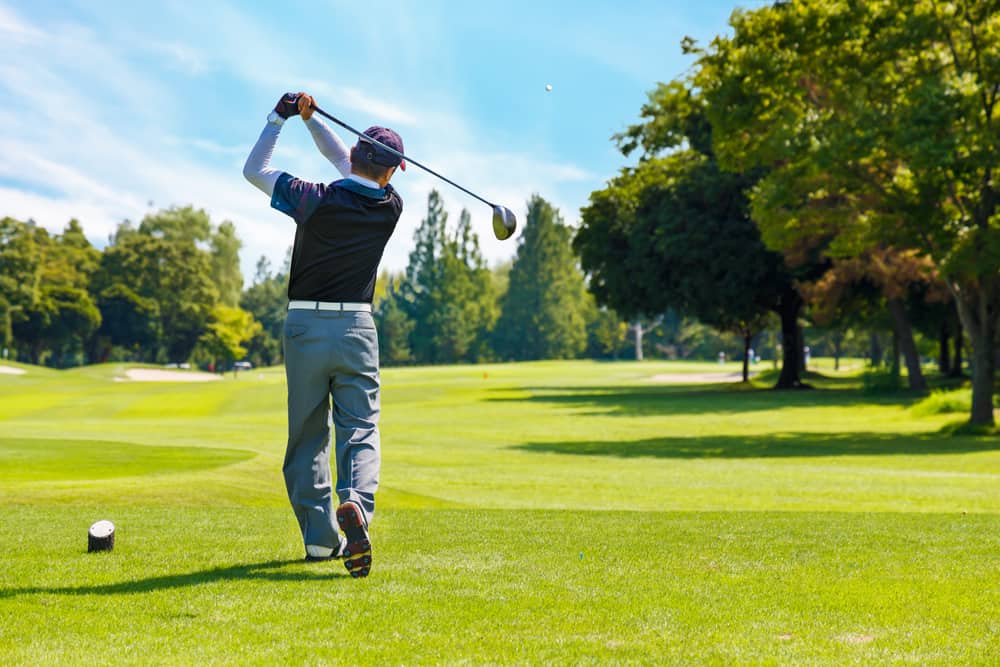 A par 3 golf course is made up of nine or eighteen holes of short par 3s.
When you play a par 3 golf course, you will likely never need to pull out a driver, and most holes can easily be hit with just one shot.
The Par 3 courses are great for those who are just starting out in the game, and also golfers who have trouble with their short game.
Since you won't even have the option to take the driver out of your bag, you will have to learn how to use the shorter golf clubs in your bag.
Most golfers who are learning to play on a par 3 course have to hit a lot of chip shots and make putts to save par.
If you practice this part of your game enough, the next time you head to a regulation golf course, the results could be considerably better for you.
Having the chance to practice and perfect your shorter shots is only going to help give you confidence in your long game.
For kids who are learning to play the game, the par 3 golf course is an ideal situation.
With a par 3 course, kids can play right from the tee box and not have to adjust where they are teeing from on each hole.
It takes some time for kids to learn the game and rules and etiquette involved, but the par 3 course is a great place to teach these things fast.
2. Links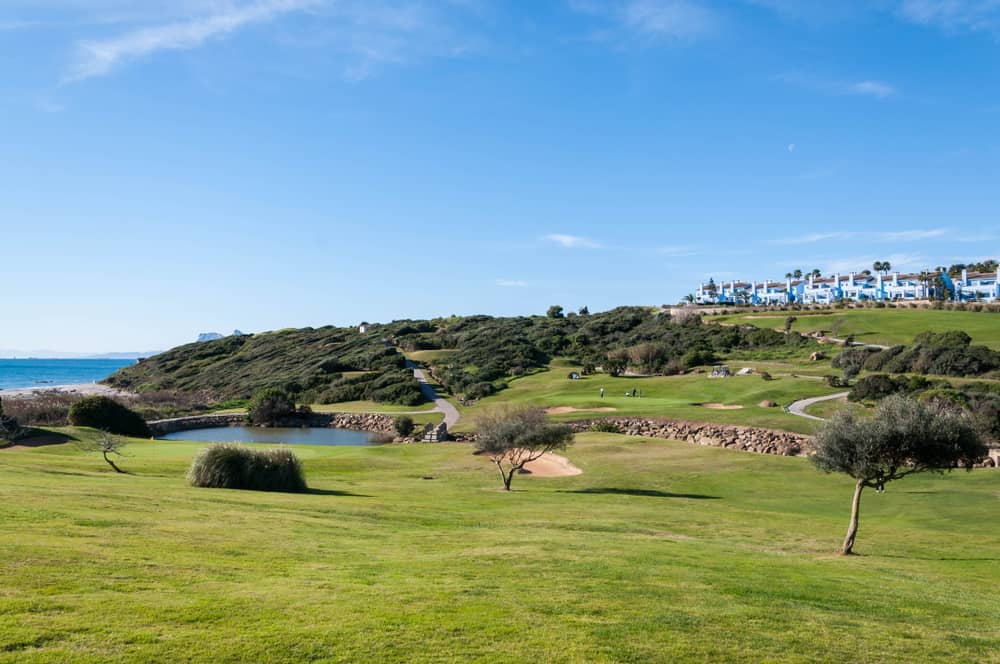 If you have ever watched a British Open Championship, you will have an excellent idea of what a links-style golf course is.
Links golf courses are going to provide players with a very unique look that includes lots of slopes, bunkers, and no trees.
The links style of play is something that will appeal to a golf traditionalist.
Links golf courses bring a lot of history back into play as this is really where the game of golf was first developed and grown.
The links courses in the world are some of the oldest around, and it is essential to keep these golf courses in excellent condition for years to come.
If you are going to play a links-style golf course, get ready for large greens that will require expert green reading skills.
In addition, you will need to know how to hit out of a pot bunker with ease.
These bunkers can sometimes have you hitting shots backward just to escape from the mess that they create.
Links-style courses are typically considered hard to score low, but it is easier sometimes to find your ball and keep it out of the woods.
If you know how to hit lower knockdown type shots, then you will enjoy playing a links course.
Overall, the golf course is very unique, and you will find many of them in England and Scotland.
There are plenty of courses in the United States that were made with a links-style design, but the authentic ones are really going to be found overseas.
3. Desert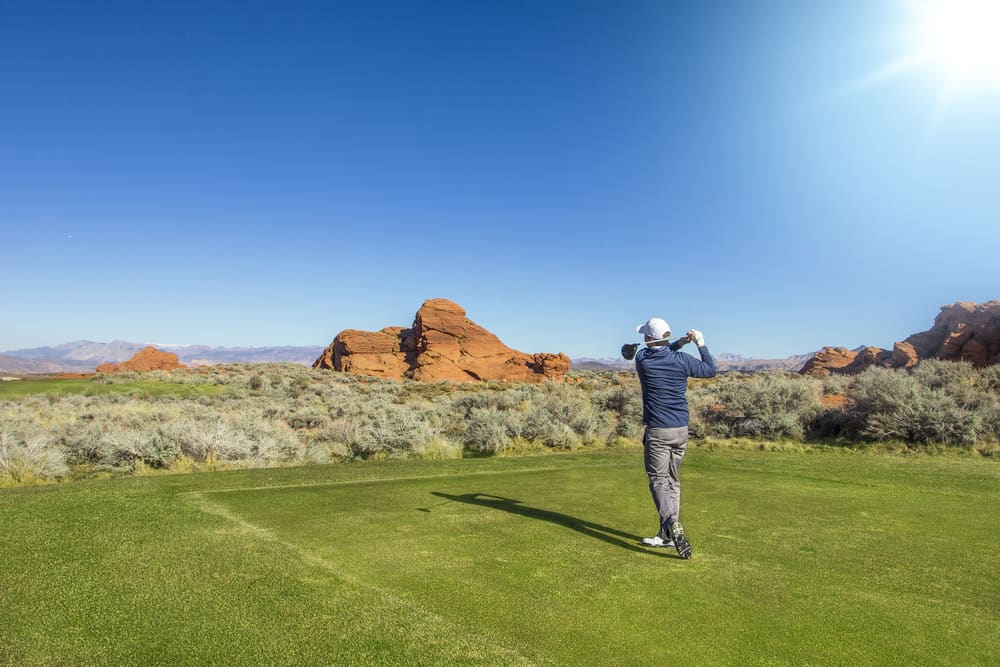 A desert course is precisely what you would expect it to be.
These courses are typically in hot and dry climates, and they often have cactus and other plants that you won't want to go near.
The thing that makes the desert courses stand out is the contrast of the green grass with everything sandy and light around it.
Looking out and seeing how green the fairways are when the rest of the area seems so dry is quite interesting.
Desert courses tend to be relatively dry, and you will get lots of roll in the fairways.
In addition, it is a good idea to learn to hit the ball straight before going to play a desert course.
Since these courses are typically on a rather flat piece of land, there are many man-made hazards put into play.
Large waste areas, bunkers, and places where the large plants have overtaken are going to be just some of the challenges that you have to deal with.
If you are used to playing lush green golf courses in the woods, the desert golf courses are really going to change the way you feel about the game.
This is an experience that is worth getting, and you can find plenty of these courses in Arizona and Nevada.
4. Executive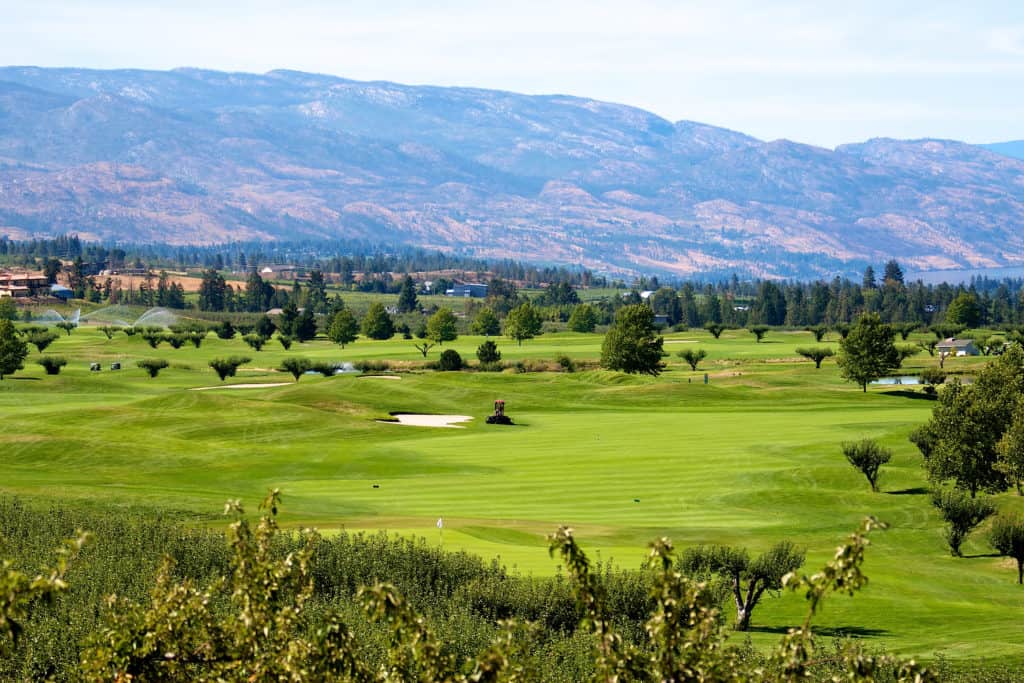 An executive golf course is longer than a par 3 course but not quite a regulation golf course.
At an executive course, you are going to find that you have a few par 4s mixed in with some of the other par 3s.
The total par is going to be around 60 or so for an executive golf course.
There is really no set number for par that makes a course an executive one, so you will see quite a bit of variation here.
This is one of those courses you may play and feel as though you shot a really low score.
However, when you consider that the par is ten or more shots less, the score may not feel quite as good in the end.
Executive golf courses are a great way to practice some of your short game as well
Similar to the par 3 courses, since you won't need your full distance shots all the time, you will be able to work on chipping and putting quite a bit more.
Learning to score well on an executive course is only going to help you become a better player on a regulation golf course once you have the chance to take the longer clubs out of the bag.
Great players will realize that executive and par 3 courses are not just for fun, but they are also smart places to work on the golf game.
5. Stadium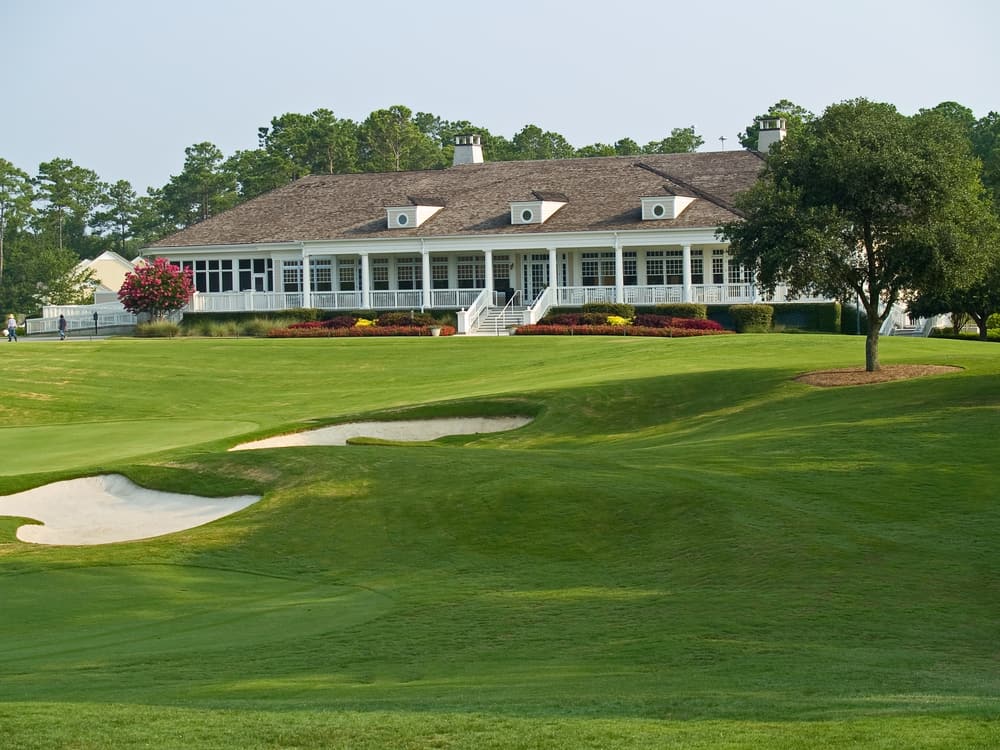 Stadium golf courses are often called championship golf courses.
Many golf facilities across the country will have two or three golf courses as part of one facility.
The longest one with the most potential for having a golf tournament or event is likely going to be called the stadium course or the championship course.
Some golf courses are built with the sole purpose of one day hosting a championship, and those will be called championship or stadium courses.
As soon as a course gets a distinction like this, you will sometimes notice that the course itself is actually quite a bit more difficult.
If you can learn to play stadium golf courses and shoot low scores, chances are you are a pretty good player.
A stadium golf course, like some of the TPC courses, does a very good job of offering room for spectators and a general tournament setup.
Overall, this type of play on a course is going to be best for those who can hit the ball a long way and know how to score.
If you are traveling and have the option to play a stadium golf course, always look at the slope and rating and make sure that your game is ready for it.
6. Sandbelt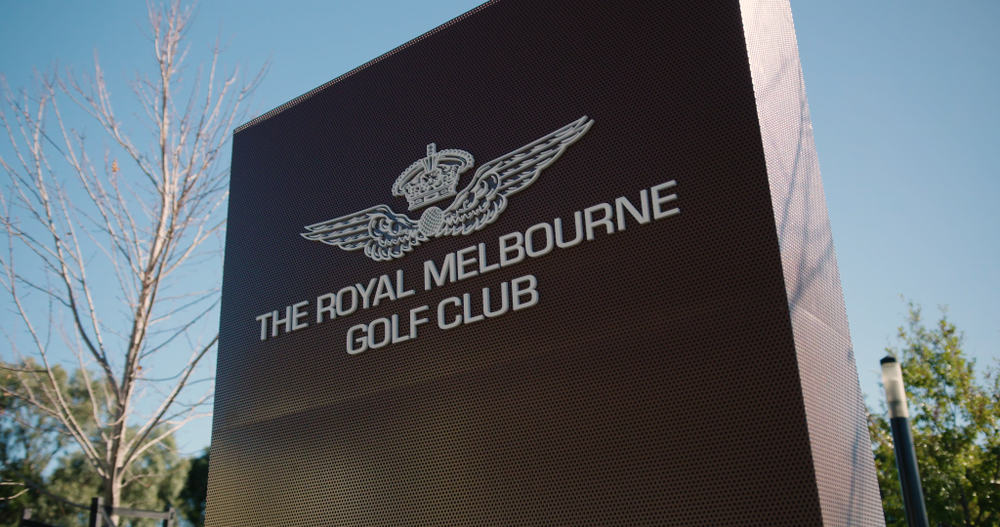 Sandbelt golf courses are located in Australia.
The sandbelt region is an area in Australia where the soil is quite a bit different than it is in other areas of the world, and therefore leads to some unique golf courses.
Overall, the turf and the area where you will play will be quite a bit more sandy.
This leads to a softer feel of the turf and some unique bunker edges as well.
The Australians take their golf seriously, and during the season, the golf courses are packed with players.
Those who are lucky enough to play in this sandbelt region will learn a unique type of golf.
The sandbelt can't really be compared to a links or a parkland course, so it has earned its own category.
One of the most famous sandbelt golf courses is the Royal Melbourne Golf Club.
However, with the way this soil works and how well people enjoy golf in the area, it's hard to find a golf course that isn't great in the sandbelt region of Australia.
7. Heathland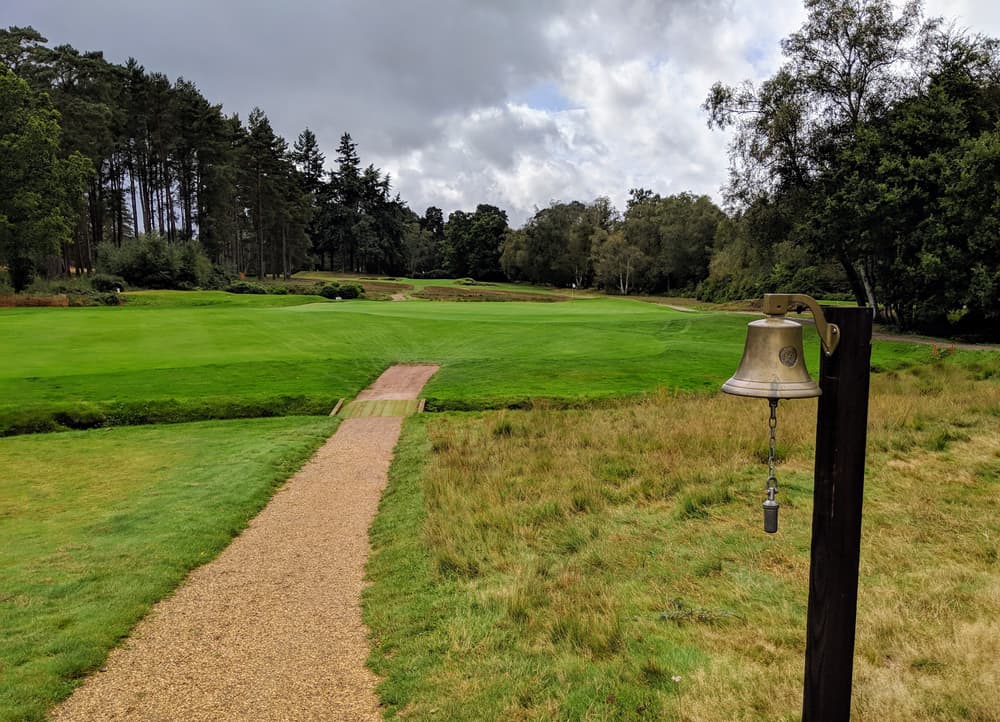 A heathland course gets its styling and design from the concept of a links course.
However, when you compare a links with a heathland, you will notice that there are quite a few differences.
The easiest way for us to remember the heathland course is to think of something like heather.
Heather plants and thick roughs are going to make up a large portion of a heathland golf course.
There will be plenty of areas where you should not hit the ball on the heathland golf courses, but they won't be as clearly laid out as you would see at some other golf courses.
Let's take, for instance, a desert course.
As we mentioned, one of the things that makes the desert course stand out so much is that the contrast of green and yellow is quite impressive.
With a heathland course, you may sometimes have a hard time knowing where to hit the golf ball.
If you hit the golf ball in the fairway, you should be fine, but once it leaves the fairway, there is really no telling what conditions you may be in.
Since the heathland golf courses are a bit different than links, they are also not manicured in the same way.
When you play a heathland golf course, be prepared to look for your golf ball quite a bit and practice those punch shots necessary to get you out of trouble.
Heathland golf courses sometimes have trees, but for the most part, they will be more like a links-style course that looks as though it is not nearly as well-manicured.
8. Parkland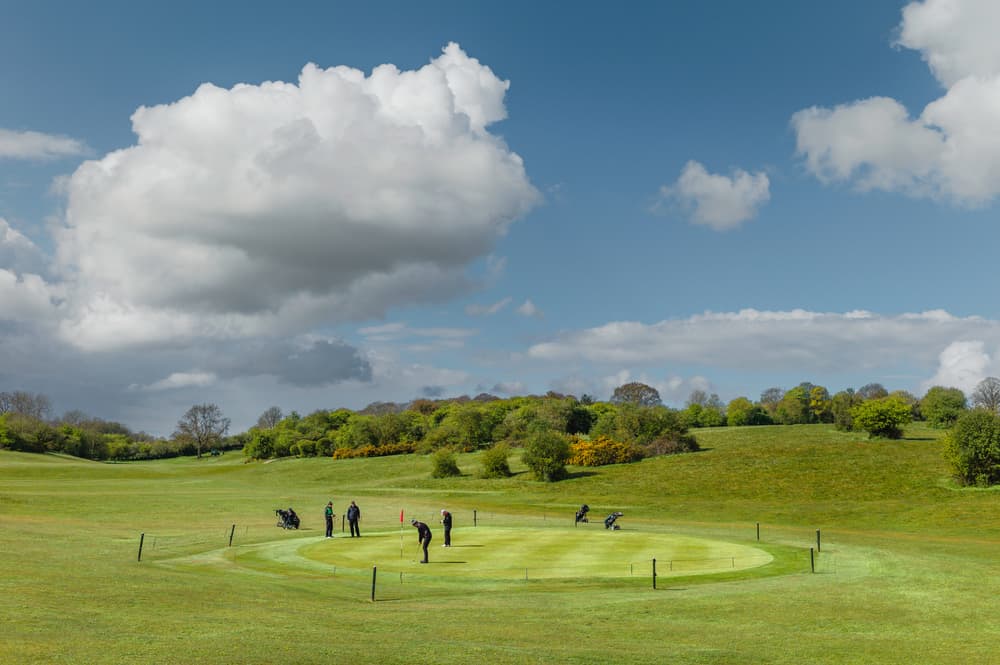 A parkland course is not built near the ocean.
This is a course that is built kind of in the forest.
These are the typical golf courses that most Americans are used to playing.
Your fairways will have trees, and the greens are going to have sand traps surrounding them.
You may encounter some water hazards along the way, but these will not be ocean golf courses.
Parkland golf courses make up the majority of the golf course world, and they are an essential course to learn how to play well.
If you can't keep the ball out of the trees, you will struggle at a parkland golf course.
Many people say that the parkland golf course gets its name from the idea that it feels like you are out for a walk in a park when playing at one of these courses.
9. Ocean Course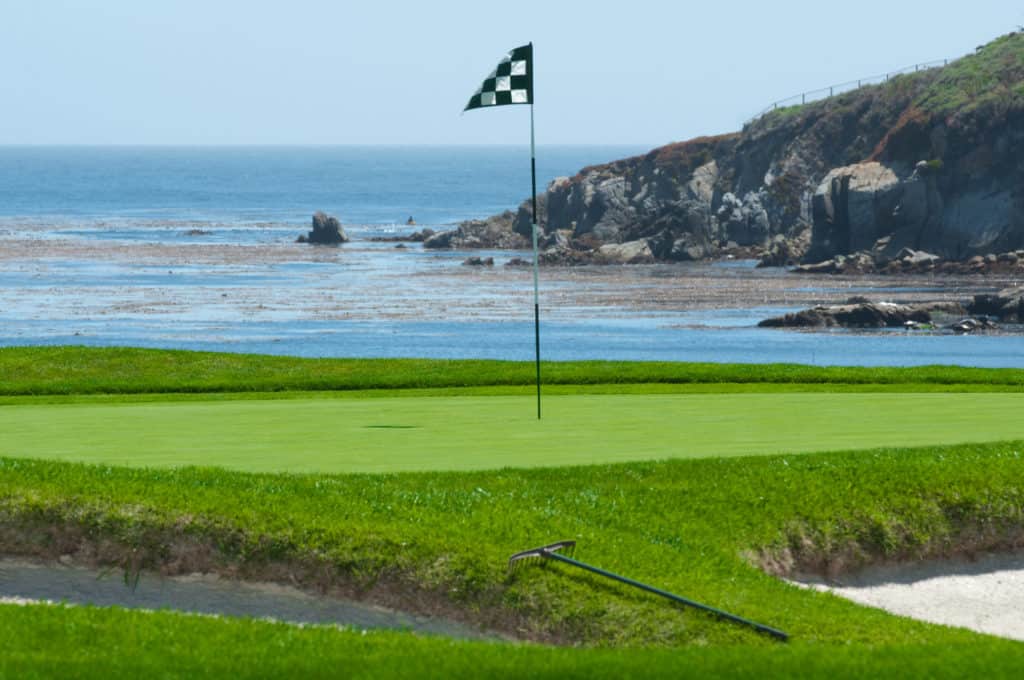 An ocean course is any golf course that is built near the ocean.
When you play an ocean course, there are likely going to be holes that give you a view of the water and others that allow you to play a shot or two where your ball will actually go out over the ocean.
Perhaps one of the more famous ocean golf courses is Pebble Beach.
If you have ever watched players at Pebble Beach, you can see how challenging that course is and how beautiful it is as well.
One thing that is good to remember is that when you play an ocean course, you are going to be very subject to the weather conditions.
Plan on dealing with a lot of wind and plenty of salt spray from the ocean.
Playing ocean golf is quite a unique experience and a great test of your golf game.
10. Regulation Course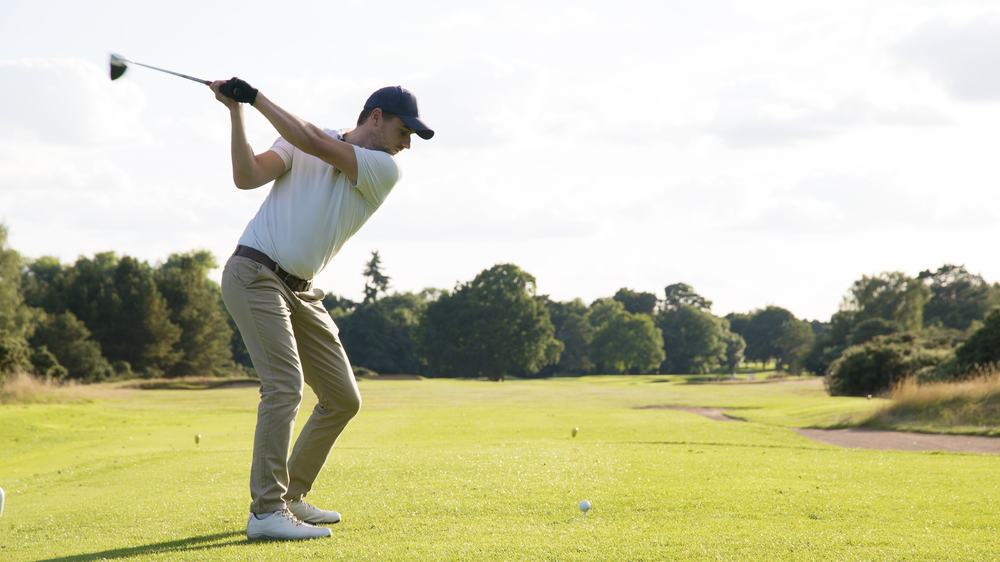 A regulation golf course is a typical golf course of standard length.
Most of these golf courses are going to be around 6,000 to 8,000 yards, and they will offer several sets of tees for players of all handicap levels.
Most regulation golf courses have a par of 70, 71, or 72.
This will include a combination of several par 3s, par 4s, and par 5s.
Players who play regulation golf courses will typically choose to play either nine or 18 holes each time they go out to play.
11. Private Course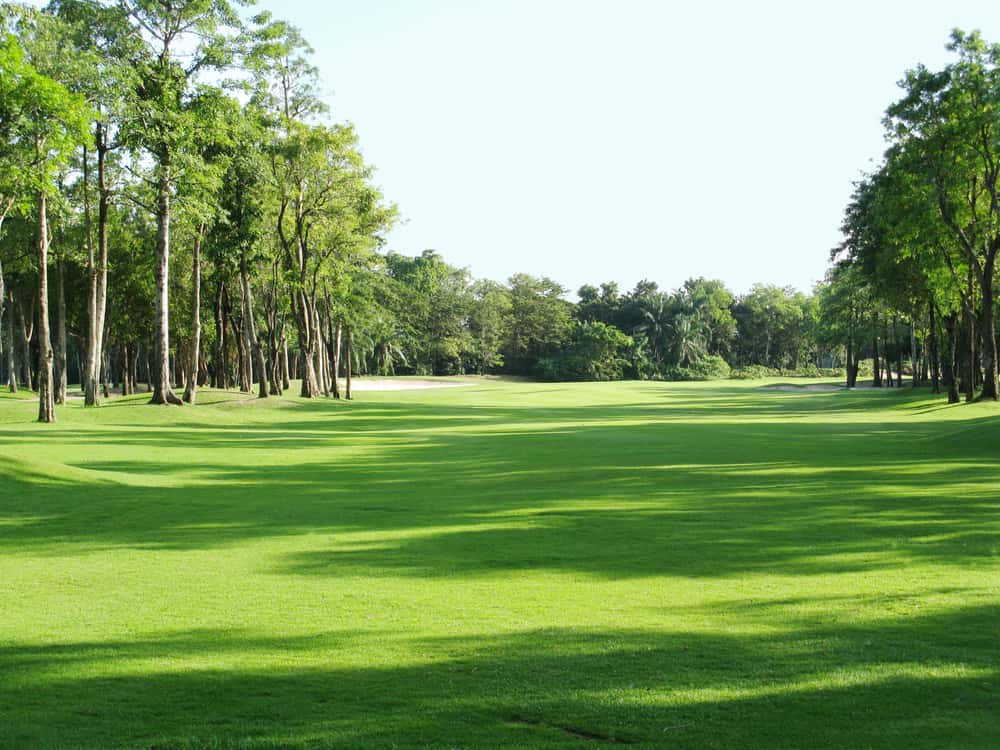 A private golf course is one that only allows members to play the course.
Since private golf courses have an initiation fee and dues that must be paid in order to play, this type of golf course tends to be one of the more expensive types.
Golfers will pay a certain amount of money each year to ensure that they have access to the club, but the money is paid whether you use the club or not.
Private golf clubs tend to have other amenities in addition to the golf.
You will often have access to a restaurant, pools, tennis and more when you belong to a private course.
Depending on where you live, you may or may not have private golf clubs in your area that are available for you to join.
Some of the best private clubs have waiting lists that you must get on in order to one day gain entry to the club.
12. Semi-Private Course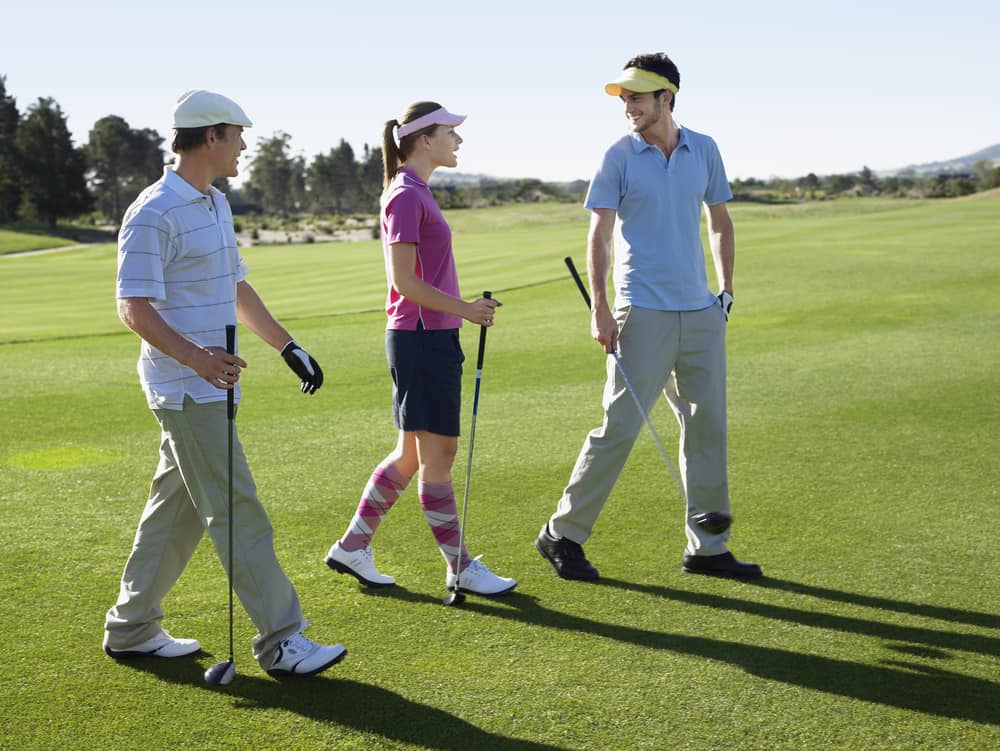 A semi-private club is private for part of the time and public the rest of the time.
Although this may seem confusing, it actually works quite well for some golf courses.
You can join a semi-private club, and there will be restricted times during the day that only members can use the club.
Then, on certain afternoons or times when there are very few members playing, the course will be opened up to outsiders for play.
The semi-private courses can also offer their members reduced rates for joining because they do have to share their golf course a bit.
If you are a member of a semi-private golf club, you will not pay nearly as much as you would at a private golf club.
However, having some access to a club that is just for members for part of the day/week is really an excellent option.
Depending on where you are located, these courses are set up in a variety of ways.
Sometimes the club is closed on weekends to outsiders, and other times, it is just in the mornings.
13. Daily Fee Course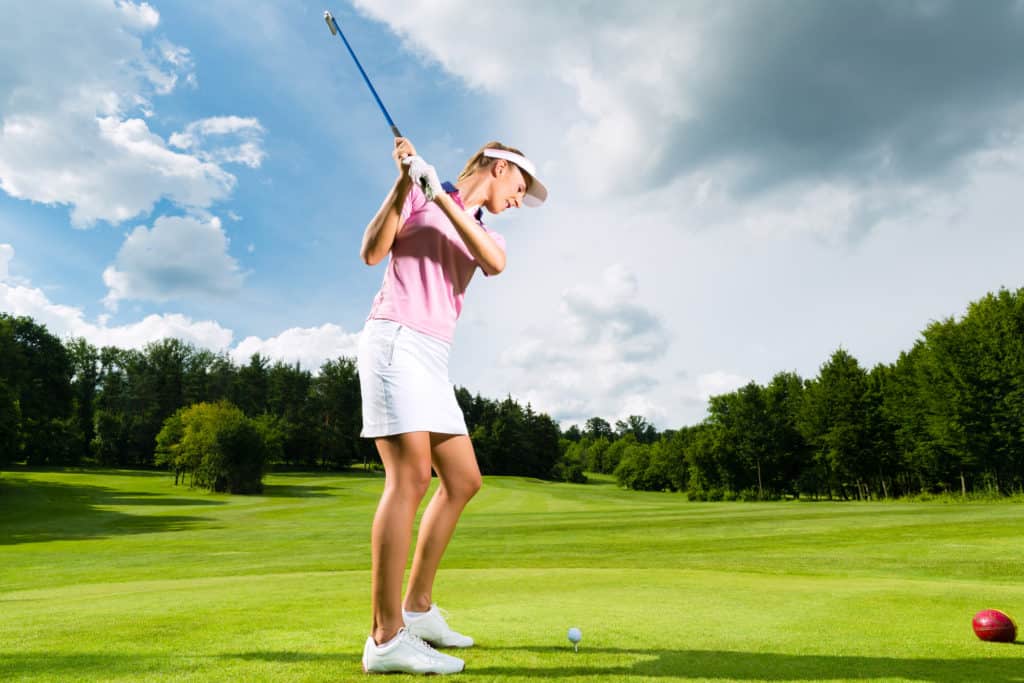 Daily fee golf courses charge a fee each time you go out to play.
The fee is typically going to be a cart fee plus a greens fee, and it will give you access to all 18 holes of the golf course.
Daily fee courses are the most popular type of golf course, and they can be parkland, executive, links, or really any type of golf course.
The daily fee course will offer such a unique experience from one course to another.
Some golf courses are going to be higher-end and cost hundreds of dollars for your greens fees.
Others are going to be very reasonably priced, and they will give you rewards and bonuses for continuing to support the course.
If you are a serious golfer, it is good to find a few daily fee courses in your area that you enjoy.
Alternate between these courses to work on your game and never get too accustomed to the golf course that you are playing.
14. Municipal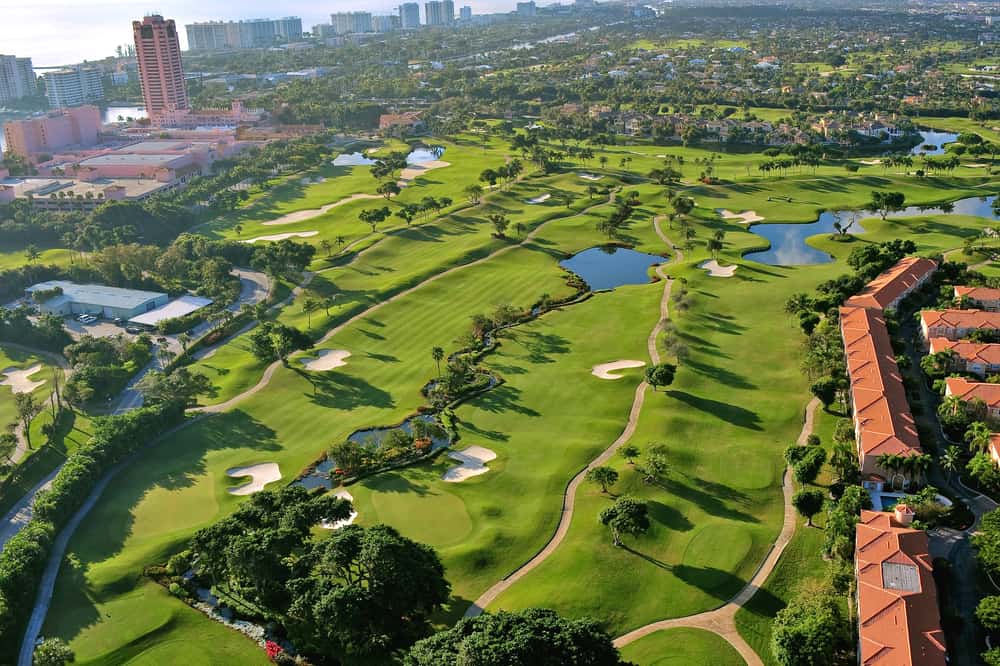 A municipal course is owned by the town or local government where you live.
The great thing about municipal courses is that there are typically discounts for those who live in the general area.
If you can prove that you are a resident, you may find yourself getting some very moderately priced rounds of golf.
Municipal courses are not difficult to find, but the only issue you will sometimes see is that golf course conditions are not quite as good.
With some municipal courses having limited budgets, it can be hard to get on one that really makes you feel as though you are playing pristine conditions.
However, if you balance your love for the game with your budget, the municipal course will probably allow you to get quite a few more rounds of golf in.
Keep this in mind if you want to ensure that you are playing plenty of golf each year.
Overall, there are so many types of golf courses, you could never possibly get bored being a golfer.