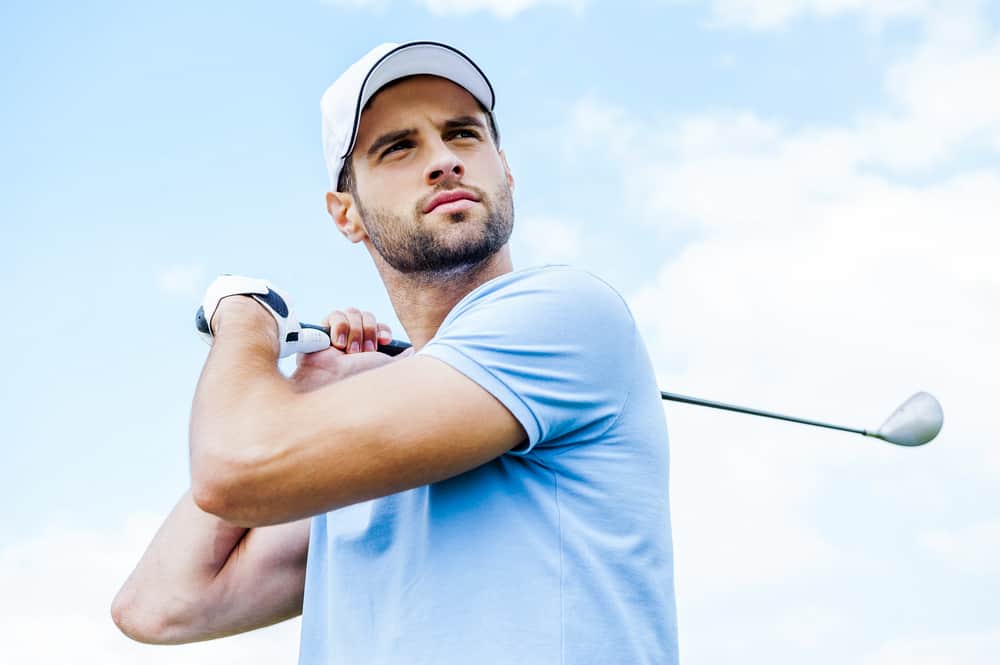 Have you ever looked at the golf equipment and accessories that professional golfers use?
Professionals can often give us good insight into which golf clubs we should be using and which golf accessories are worth investing in.
However, one golf accessory that is rarely seen used by golf professionals is sunglasses.
Golf sunglasses can help to protect your eyes and make it easier to see on the golf course, but professionals rarely use them.
Let's take a look into why this is and what you should consider for your next round of golf.

Why Don't Golfers Wear Sunglasses?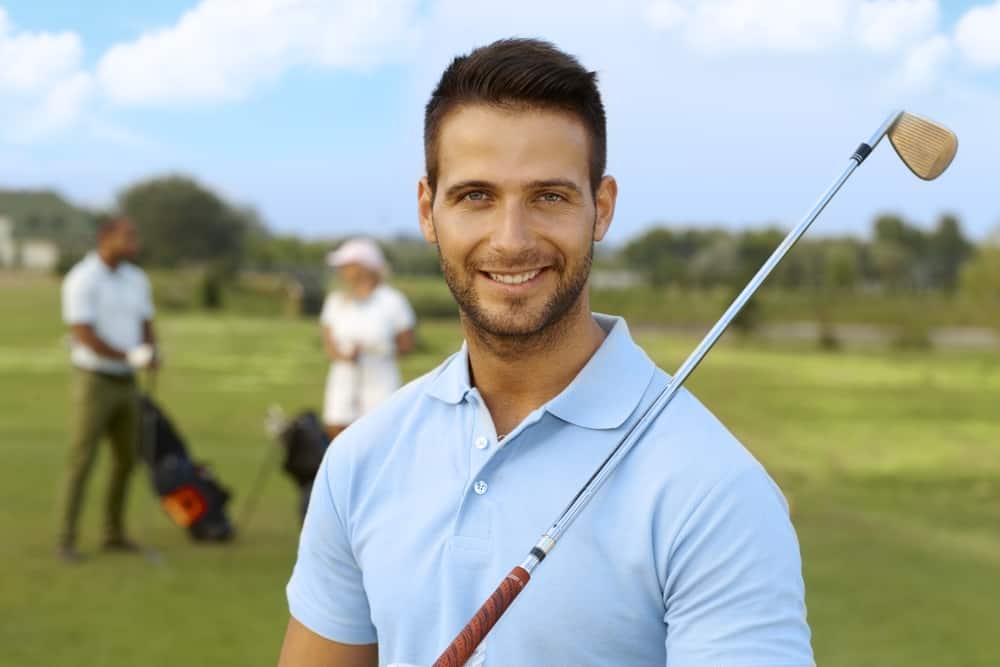 Golfers do not wear sunglasses because it can change their depth perception and make it difficult to make consistent contact with the golf ball.
This is a mistake that many amateur golfers make on sunny days.
They will wear sunglasses that are not specifically designed for the game, and it will affect the consistency and contact that a player makes.
It takes time to find a great pair of golf sunglasses, and golf professionals simply don't want to risk the fact that they may not be able to see the golf ball properly.
Professional golfers often wear a hat so that they can block some of the glare that they are getting when they play.
Many players feel that the risk and reward of wearing sunglasses is a difficult one to balance and manage.
Let's take a look at whether or not you should wear sunglasses when you play golf.
Should I Wear Sunglasses When Playing Golf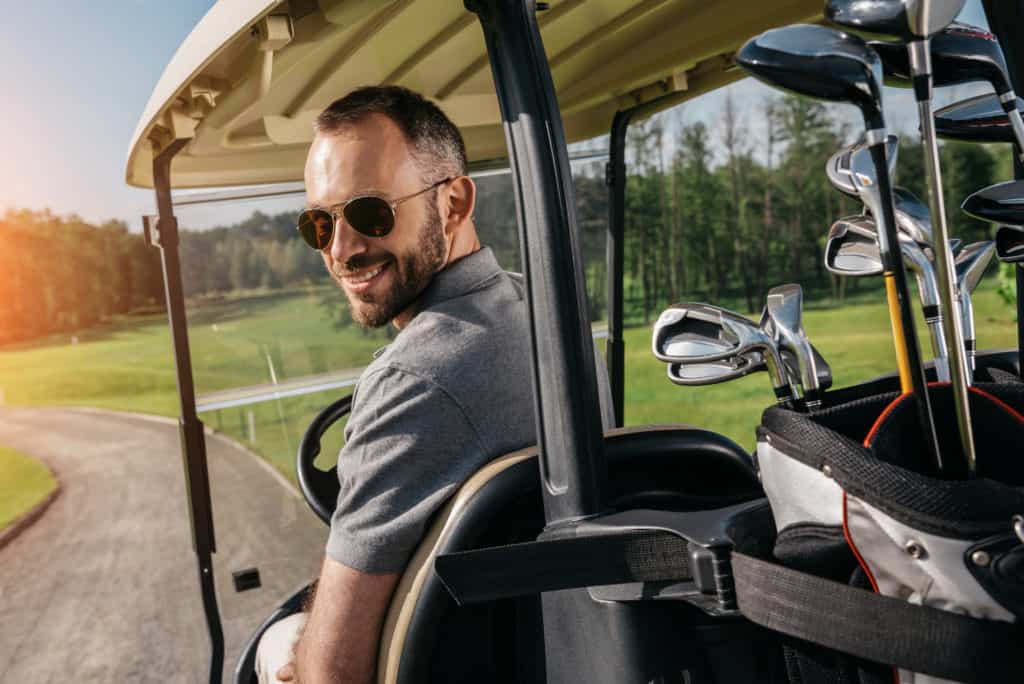 Deciding whether or not to wear sunglasses on the golf course can be a tough task.
The benefits of sunglasses for your physical health and well-being are unmatched.
However, are those benefits going to transfer over into your golf game?
Be sure that you fully consider each of these things when deciding if you should wear sunglasses for your next round of golf.
1. Protection Of Eyes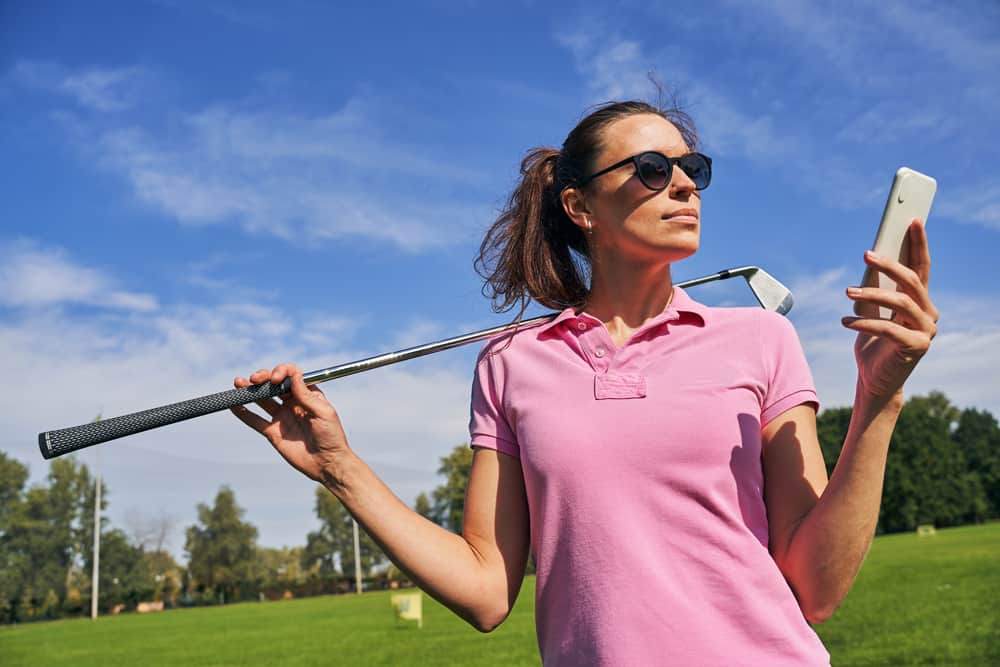 The number one benefit of wearing sunglasses on the golf course is to help protect your eyes from the sun.
If you are a smart golfer, you likely have protection in your clothing, and you are wearing sunscreen as well.
Taking the time to protect your skin and body is very important to prevent skin cancer.
Golfers spend a great deal of time out in the sun, and they will be exposed to five or six hours of sun at a time.
If you are not adequately protecting yourself, there will be long-term consequences.
The same can be said for your eyes.
If you have ever experienced this the hard way, you may have had an experience with a burn or sunburn in the eyes.
This is extremely painful, but it can happen when you spend too many hours in the sun without proper protection.
If you are going to play golf and don't want to wear sunglasses, make sure you think about other ways that you can protect your eyes.
Perhaps you have noticed that most professional golfers will wear a hat of some kind to help protect themselves from the strong sunlight on the golf course.
If the eyes can be somewhat protected from the sun with a hat, the chance of long-term damage is going to be considerably less.
2. Quality Of Play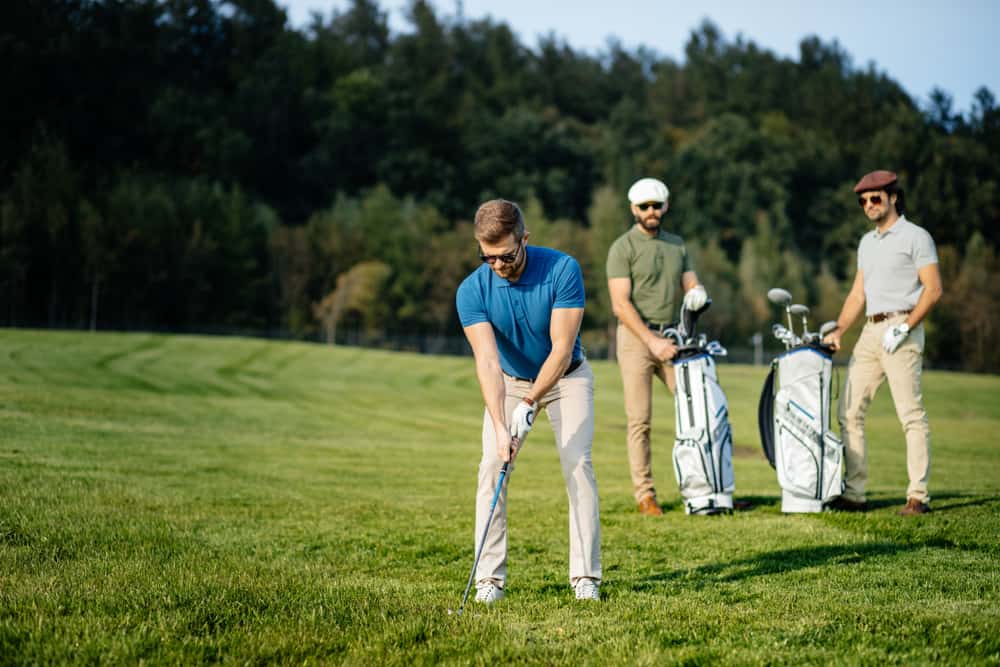 Golfers should attempt playing golf with sunglasses on and sunglasses off.
Having a decent idea of whether or not your eyes are thrown off by the sun or wearing sunglasses will help ensure that you are making the right decision.
Some golfers can play with sunglasses on, and it will not affect their golf game.
Others will find that as soon as the sunglasses are put on, they can't make proper contact with the ball.
Decide which type of golfer you are and the impact that sunglasses have on your game.
Obviously, professional golfers can't take too many risks when it comes to the impact of sunglasses.
These golfers are playing for millions of dollars and need to take every precaution that they can.
However, amateur golfers who are playing a friendly round of golf with friends should try to consider how much of a difference the sunglasses are really going to make in their quality of play.
3. Type Of Sunglass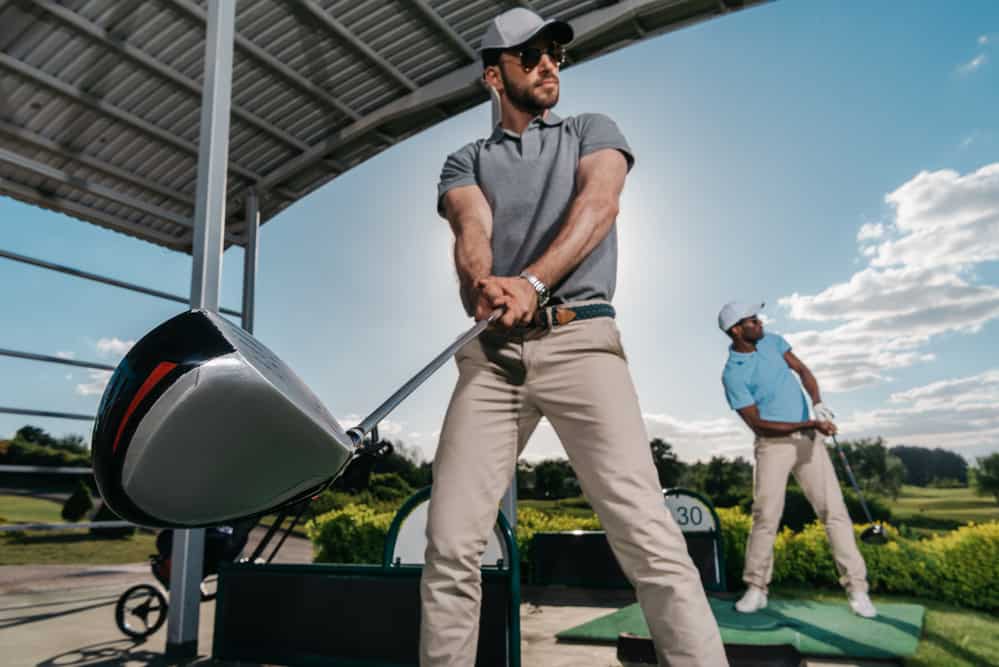 Several different types of sunglasses are available to golfers.
The most important thing is that you play with a pair of sunglasses that are made for golf.
If your sunglasses are not made for golf, they could have rims that will block your vision.
In addition, many lenses will make it harder for golfers to maintain the proper depth perception when playing.
Overall, the type of sunglasses that you purchase could make or break your decision to wear sunglasses on the golf course.
There are several companies out there that focus specifically on making sunglasses for golfers.
Do some research on these companies and decide which of these types of sunglasses will make it easier for you to play the game.
Don't assume that just any old pair of sunglasses will work on the golf course.
If you are a fan of the game and have been watching professional golf for many years, you may remember the sunglasses that David Duval used to use when he played.
David always played better with sunglasses on, and he didn't want to stop wearing them because of anything other golfers were saying.
The bottom of David Duval's sunglasses had no rim, and he could easily look down and focus on the golf ball in front of him.
This is what makes these sunglasses a perfect fit for golfers who wants to protect their eyes and still play great golf.
4. Comfort And Visibility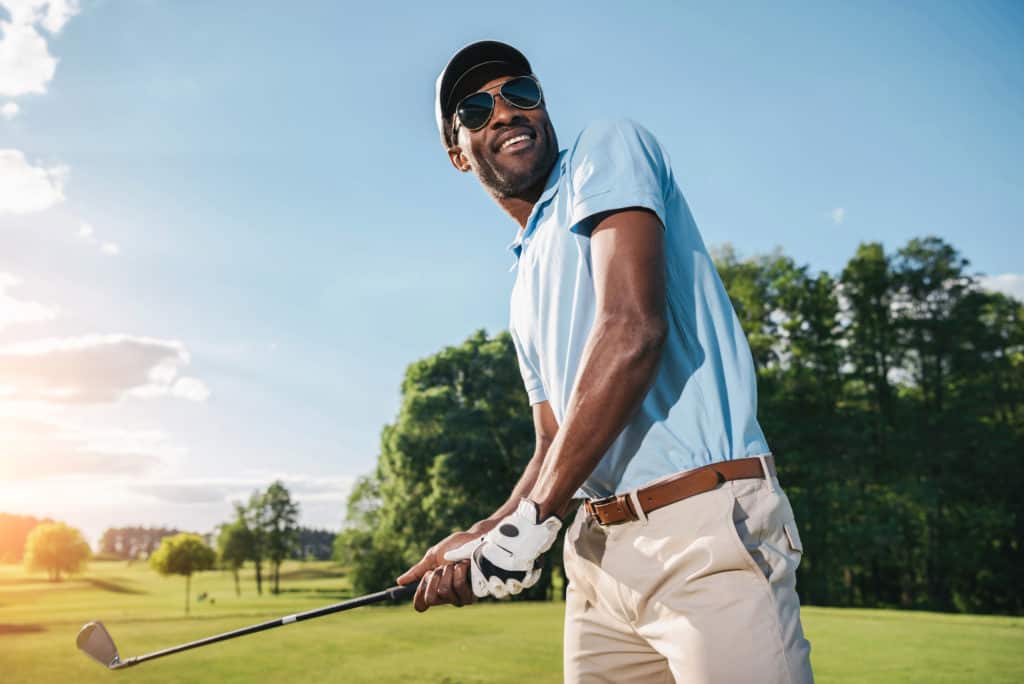 Sunglasses are often a problem for players when it comes to comfort.
If you have to keep the sunglasses on throughout your entire round, they can become uncomfortable on your face.
The best golf sunglasses are those that are lighter in weight and do not require you to weigh down your head the entire day.
In addition, the best golf sunglasses are also going to have a fair amount of grip on them to keep them in place as you swing.
Some golfers swing a golf club more than 100 miles per hour.
This will greatly increase the amount of movement on a player, and sunglasses have been known to fly off as golfers come through the impact position.
In addition, the visibility of the golf sunglasses has to be quite good.
Make sure that you can see exactly what you are doing and that the color of the environment has not been altered too much.
Sometimes using colored lenses can make it difficult to see specific details around the golf course.
You may find that the fringe and fairway all blend in, or the rough does not look that much different from the fairway.
This will have an impact on the way you swing and the direction of your golf shots.
Instead, choose a very basic sunglass option that will allow you better overall visibility and comfort.
5. Glare Reduction Techniques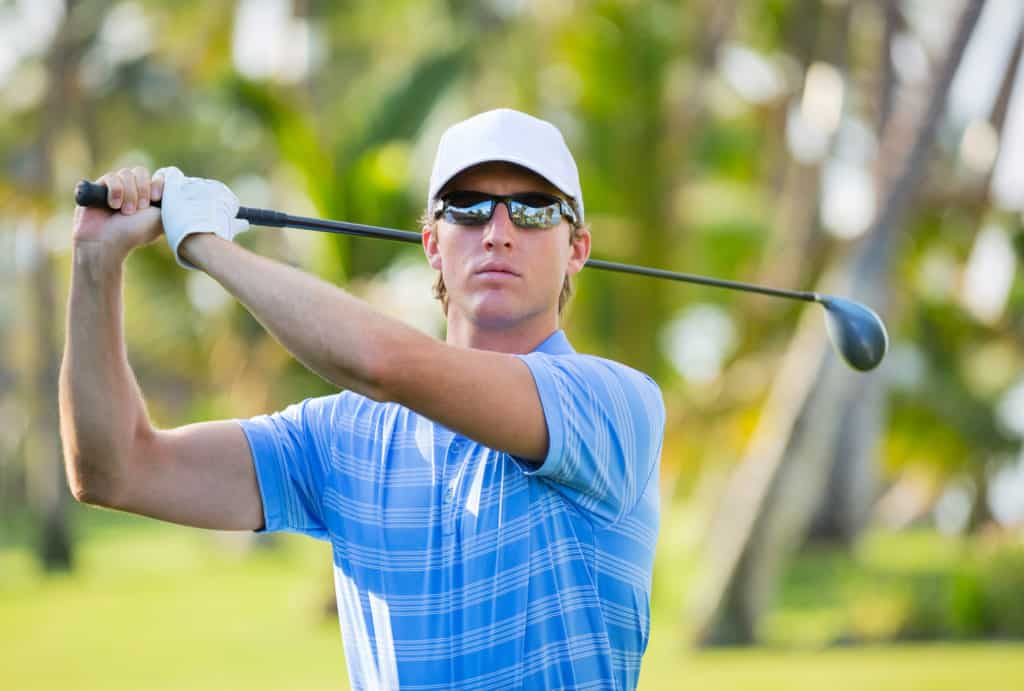 If you are set on the fact that sunglasses are not for you, there are certain glare reduction techniques that golfers are going to want to consider.
For instance, some of the newer colored golf balls on the market are made in a matte finish.
The matte finish helps to reduce overall glare and make it easier for a player to see what they are doing on the golf course.
Without wearing sunglasses, these matte finish golf balls will make visibility on the golf course a little better.
The other technique that golf companies are putting into place to help reduce glare and make visibility easier for the customer is to produce golf clubs with decreased glare.
For so many years, manufacturers made golf clubs as shiny as they possibly could.
Although golf clubs still look great, they are no longer as shiny as they once were.
Almost every golf company has some kind of anti-glare technique incorporated in their golf irons.
There are even some options on which the club head is entirely black.
If you have had trouble in the past with having to squint when you look down at a golf ball, the new technology on the market can really make a difference.
Can You Wear Glasses When Playing Golf?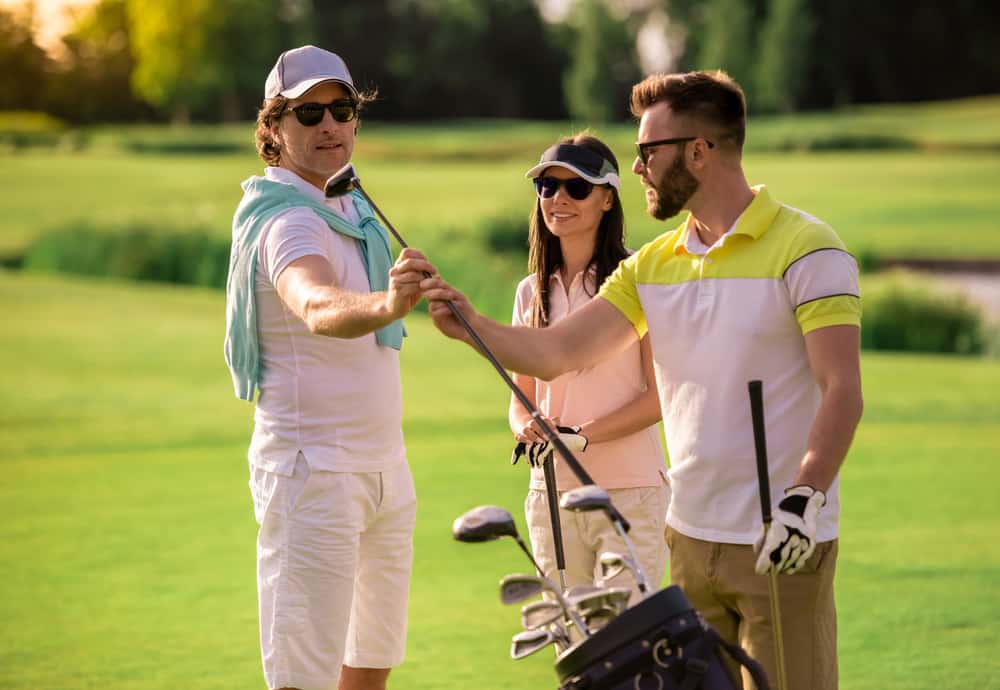 In addition to wondering whether or not golfers should wear sunglasses when golfing, many wonder about whether or not regular glasses are going to impact a player's ability.
Plenty of golfers have learned to play golf with glasses on.
You will have to choose a lens that makes it easy for you to see the ball when looking down, and the fit of the glasses has to be a good one for your head.
Again, the same issue with sunglasses flying off as you come through impact could come into play with glasses as well.
Many golfers like to wear contacts when playing golf because it is just one less factor to deal with when golfing.
For players who are worried about the sun on the golf course, several companies offer prescription sunglasses for use when playing on the golf course.
Phil Mickelson has stated that he often wears prescription sunglasses when playing a round of golf.
Even though you will have to be careful about your depth perception, being able to see the ball is undoubtedly more important than losing your visibility entirely by not wearing sunglasses at all.
Are Polarized Lenses Bad For Golf?
Polarized lenses have caused some issues with changing depth perception for a golfer.
This issue with depth perception has led to issues with the polarized lens and getting a bad name in the world of golf.
However, there are some things that players need to consider about polarized lenses that could actually help with golf.
For starters, the lenses used on golf sunglasses today are much different from those used ten years ago.
Golf sunglasses technology has come a long way, and golfers who are worried about their ability to see with polarized lenses on should be a little less concerned.
The polarized lenses are much less likely to alter depth perception than ever before.
Today, polarized lenses are known for giving the clearest view of an image in front of you.
In fact, polarized lenses are so good that you can actually see into water with them when you are out on a boat.
In addition, if you hit a golf ball into a water hazard with your polarized lenses on, you may even be able to see the golf ball.
Overall, there were a few years there when golfers decided polarized lenses were not a good fit for their game, but that has changed recently.
Players are learning that polarized lenses can offer a great benefit, but the biggest key is to test these sunglasses before you purchase them.
If you have a local golf course with a sunglass selection to choose from, you should consider going to the course, trying them out, and then deciding which are best for you.
Many of these golf shops will allow you to take your sunglasses out to the putting green, take a few putts and see if you have any issues with visibility.
Chances are that the sunglasses will only help you see better and enjoy even better rounds of golf.
Conclusion
We hope you now feel as though you can make a good decision for your game regarding sunglasses.
The decision of whether or not to wear sunglasses is a personal one, but you will want to make sure there are no performance impacts.
If you find that your golf game is struggling because of sunglasses, look for other ways to reduce glare and protect your eyesight.
In the end, most golfers will not struggle when wearing sunglasses to play golf.
Try to stick to golf-specific sunglasses so that you don't end up with issues relating to visibility, comfort, or depth perception.